Tamworth Bands History : 1984 :
February
Tamworth Herald – 03/02/84
Musicbox – Unrestricted Power from a so-crazy quartet!
The Restricted – The Rugby Club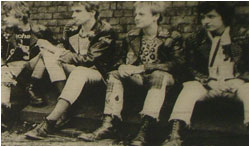 OH how good it was to see the Restricted again…with so much wimpy, listless music around, watching Tamworth's hardest, meanest quartet back in head-splitting form brought a definite smile to my face.
Compromise is a word that the Restricted can probably only say through gritted teeth because their music shows no sign of taking the easy option of weakening up or selling out.
It fact it has probably gone to the other extreme. In the past whe they hurtled through 'Don't Believe in Anarchy' you could almost hum to the well-structured tune.
Now you can't even hear the tune as it tanks along at a steamrolling pace that sounds like the Sex Pistols at 78rpm.
It may not put the Restricted on Top of the Pops but I can't help thinking their music is some of the most honest and powerful around.
Long may they continue to experiment in their glib, break-neck but ultimately highly endearing brand of musical chaos.
Sam Holliday
Tamworth Herald – 03/02/84
Musicbox – What a great show
Select Elect/Sitting Pretty – Tamworth Arts Centre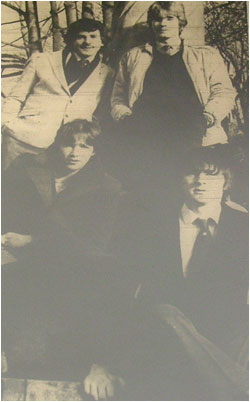 IF anyone needed proof that Tamworth's music scene is now in a healthier state than ever they should have been at the Arts Centre on Friday.
For on that night two of the area's most exciting prospects – Select Elect and Sitting Pretty – turned in a great show to a large crowd that was noisy and enthusiastic,
Four months ago – the two acts – plus BHX – played a free concert at the Arts Centre which managed to fill only half the theatre.
But now with tickets costing 50p apiece and with one less group on offer – Tamworth's music fans piled into the Arts Centre making the night a hugely successful sell-out.
Select Elect were first on stage and after beginning with a quite disastrous mix they soon settled down to play an entertaining and always interesting set of modern synth pop.
They are clearly a duo that are maturing all the time and their adventurous approach to songwriting makes them a potentially winning force.
Mark Brindley, who looks like a trainee Paul Young and sounds like a trainee Phil Oakey has a very strong voice indeed and a great line in off-the-cuff chatter between songs.
After a break Sitting Pretty – who must be congratulate for a quite splendid programme – took the stage to an unprecedented crescendo of applause from the audience.
They burst straight into a set brimming over with great tunes and sheer unrestrained energy. The band had certainly taken to the idea of sharpening their stage presence and now with talented Greg Stevenson on keyboards Sitting Pretty are almost like a totally different act.
The keyboards give the sound a new dimension which manages to fill the gaps that guitars inevitably leave. The best example of all comes in the moving 'Inspiration' where Greg must take credit from turning a very good song into a truly great one.
The biggest surprise of the night came when the band encored with the Classified Ads standard 'Black is the Night', Ironically perhaps this shows that the new guard may well be taking over where the older bands left off. In the end however – nobody loses – only music wins.
Tamworth Herald – 03/02/84
Musicbox – Snips
BHX have announced a whole series of dates for the next few months. On February 5 they will be travelling to Birmingham to play at the prestigious Barrell (Organ – Ed.) and on the 17th they will also be in the Second City to play at the Dogpool pub. In between these nights they will be at the Tavern on the 16th and to round off the dates they should be playing at the Arts Centre on May 11.
One on One are looking to play another gig at the Arts Centre in February following their highly enjoyable debut there last week. Now they are looking for a good band to support them.
Love On Board, the highly promising new acoustic dance band who list the brilliant Aztec Camera as one of their biggest influences, have now completed their line-up and are all ready to take their sound onto the road. The new member is Glen Lewis who joins on bass. The band should be making their Tamworth debut shortly.
A5, an original and exciting new wave band who once traded under the name of Lambent Lamella, will be making their town centre debut on Thursday, when they will be appearing at the Tavern in the Town. Like all Tavern gigs entrance is free and a great night looks in prospect.
05/02/84
BHX
Barrell Organ
Birmingham
09/02/84
A5
Tavern in the Town
Tamworth Herald – 10/02/84
Musicbox – Explosive! Our Donald hits the big time


FOUR YEARS ago when Donald Skinner was happily strumming his guitar for that most endearing of schoolboy bands, The Fretz, appearing at venues such as the Birmingham Odeon probably seemed like a dream that would never be fulfilled.
But now that distant dream has become reality for the talented guitarist.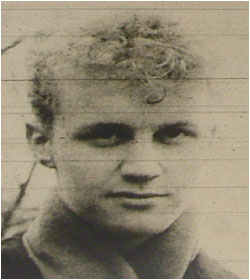 For Donald has been appointed as the lead guitarist for Julian Cope's forthcoming national tour which includes not only the Birmingham Odeon but also venues like the world-famous Hammersmith Odeon.
Donald's remarkable transition from the youth clubs to the country's premier stages comes after building up a close friendship with Cope now that he has returned to his native Tamworth.
Donald who ahs always been a big fan of the Teardrop Explodes, impressed Julian with his guitar work – particularly with his latest act, the excellent Dead Captain Speaks.
But the offer to play on Julian's forthcoming nationwide tour came completely out of the blue for Donald.
"I helped him out with a session on Kid Jensen's Radio One show but I was still amazed when he asked me to play on the tour," said Donald.
The Cope tour, for which dates are still being arranged, is the man's first major outing for more than 12 months and marks his return to the national spotlight after his much-praised work with Teardrop Explodes.
Next month he will be releasing his first debut album "World Shut Your Mouth" which, judging by his popularity in the Musicbox poll, is certain to be one of the year's biggest sellers in Tamworth.
Donald starts rehearsing for the tour later this month and although he is understandably nervous, he admits that his greatest fear if for the Birmingham Odeon gig on Saturday March 24.
" I have been to see gigs there and I just cannot imagine actually being on stage," he said.
Donald is aware that scores of his friends and family – plus many more Tamworthians – will be at the Odeon for the gig which promises to be all at once one of the most frightening and exciting nights of Donald's life.
It is all a far cry from the days when Donald was the most respected musician on the infamous schoolboy band tours.
Then he would be the gig saviour running around fixing amps, setting up drums and even in moments of great crisis playing with bands of which he was not really a member.
The Fretz, Fetch the Comfy Jigsaw, Thirty Frames a Second, DHSS, Private Property and a whole host of other bands have all so far been enlightened by Donald's modest, enthusiastic presence.
And now Donald is all set to achieve national – as well as local – praise behind one of the country's most colourful and original vocalists.
For once, that age-old cliché 'it couldn't happen to a nicer guy' seems perfectly in order. No one deserves this success more than Donald Skinner.
Sam Holliday
Tamworth Herald – 10/02/84
Musicbox – Punk came crashing back in!
The Filth – Tavern in the Town
WALKING THROUGH the doors at the Tavern on Thursday was like walking back in time…for the popular venue was full of the sorts of hairstyles, fashions and sounds that made 1977 infamous.
Yes, punk rock was back in town – and it was wonderful!
The Filth are the sort of no-holds barred band that would have fitted in perfectly seven years ago. Much of today's punk is a pale shadow of its former glorious self but the Filth still have the sort of tunes and power that made 1977 THE year to be young.
Their sound has the sort of crash-bang-wallop effect that made music exciting and immediate and with five talented musicians playing it, the Filth could not fail to slay their audience.
The most enjoyable thing about the Filth's powerhouse sound is the strong melodies which give them a strong resemblance to three of the greatest hard-punk bands, Slaughter and the Dogs, The Damned and the grotesque Anti-Nowhere League.
Particularly impressive was the scorching guitar work of Captain Sensible – soundalike 'Toughy' on lead.
Add to this the violent hysteria of vocalist Scruffy and you have one hell of a sound – and one hell of a band.
It made me pine for those days in 1977 when nearly everyone called themselves things like "The Filth" and "Scruffy" and played 100mph rants like 'Emmerdale Farm Orgy' as this outfit did.
Music can never be quite the same again but thankfully there are still a few bands left who can show us what it was really like.
Sam Holliday
Tamworth Herald – 10/02/84
Musicbox – Snips
Musicbox would like to say a farewell to Robin Preston the co-owner of Tamworth's top record shop Tamdisk, who will be leaving the shop shortly to set up one in Hereford.
One on One are at the Arts Centre on Saturday and they will be playing with a promising new rock band who we plan to feature in a future Musicbox. A night not to be missed.
A new and adventurous band influenced by the likes of Theatre of Hate, Death Cult and Killing Joke are on the lookout for a vocalist to complete their line-up. The band, who are as yet nameless, offer an original sound for the town and are looking for an equally original vocalist to join them. Contact Simon…
The Dream Factory, whose latest tour really has got off to a 'dream' start have announced two more dates to their hectic schedule. On Wednesday, February 22, they will be travelling to play Baddesley Ensor Youth Club and on March 15 they will be in action at the Mercian Ward Community Centre on the Leyfields.
16/02/84
BHX
Tavern in the Town
17/02/84
BHX
Dogpool Pub
Birmingham
Tamworth Herald – 17/02/84
Musicbox – NEW DOUBLE FROM THE OLD BLUES KING
Album review
A COUPLE of albums which have been re-issued by the late-Tamworth blues player Duster Bennett may be of interest to the local, loyal fans who once followed his career.
The first is "Smilin' Like I'm Happy" and the second "12 db's"
The 'Smilin' album has early shades of Fleetwood Mac and was Duster Bennett's first album o Mike Vernon's Blue Horizon.
So if you have a copy of either of the aforementioned albums which are full of scratches and wearing a bit thin, you might like to replace them with new copies and play the blues to your heart's desire.
LEIGH SMART
Tamworth Herald – 17/02/84
Musicbox – Night when a dream came true
The Dream Factory – Tamworth Progressive Club
ON A day when Tamworth FC were walloped eight-nil it was going to take a very good band indeed to revive my flagging spirits. But I am pleased to say that the Dream Factory did just that.
The enthusiastic Factory managed to overcome all the hassles of a far-from-ideal venue to turn in a stylish performance that delighted their fanatical followers.
Bouncing on stage with the energy and confidence of a band who know they are good, they delivered two short, sharp sets which brought the sleepy venue out of its slumber and its regulars onto the tint dance area.
The first thin you notice when the band takes to the stage is that their line-up has undergone yet another metamorphosis. Gone are the girl singers and the keyboard player and in comes an extremely impressive brass trio.
The two trumpets and especially the brilliant Andy Codling on saxophone add new life to the Factory's sound, making it fuller and more uplifting.
Visually the band still revolves around the Mortimer/Goode partnership. Tim Goode seems to be getting better at his craft every time he goes on stage and his increased confidence and maturity wins over any doubters in the audience.
Musically the band sound far cleaner and error-free than in their somewhat faltering early days. The co-ordination between instruments and vocals made the band seem unrecognisable from the times when their abundance of ideas outweighed their capability.
The best songs of the night were the moving 'Created Feelings' and the quite magnificent rendition of 'Keeping Myself To Myself'.
This latter song has followed Mr. Mortimer around many bands but this time he really has added a whole new dimension to the tune and ensured that this classic Tamworth song will not disappear as so many others have.
All in all The Dream factory played well, looked good and seemed in such an ambitious frame of mind that it is hard to see how they can really fail.
It really is time that a record company boss takes a trip to Tamworth, a look at the Factory and then produces a contract before someone else snaps them up.
The band is clearly on the verge of something very big and instead of talking about if it will become successful, it is now time to discuss when.
The time is right and the band is ready. Now all we can do is wait…
SAM HOLLIDAY
Tamworth Herald – 17/02/84
Musicbox – Snips
Congratulations are in order for the young Polesworth trio, Nomadic Dreams, who recently scored a big success in a top TV talent show. The band were taking part in the heats of the BBC's Superstore Superstar contest for which nearly 2,000 acts originally entered. Despite being up against some stiff opposition, the band pulled off a remarkable second position with hundreds of votes pouring in for their electronic pop sound. The combines forces of several local schools helped to boost the band's total votes and they are now hoping that they will have picked up enough to put them in the overall final as 'close seconds'.
We must all keep our fingers crossed that the band can go onto even greater success and we must pass on the thanks of the group and their families to everyone that took the trouble to vote.
Child's Play, Tamworth's newest rock band, got off to a great start last week when they were called back for an encore in their debut gig at the Arts Centre. The band members now feel they need a vocalist/frontman to complete their line-up. Any good strong singers prepared to buckle down and work hard at making the band a success are asked to contact Graham Phelps.
Neighbouring Lichfield has pulled off quite a coup by staging a gig by the world famous Geordie band Lindisfarne. The band, famous for such classics as "Meet Me On The Corner" and "Running Back", will be visiting Lichfield Civic Hall on Monday, March 5, at 8pm. The tickets, all costing £4, can be obtained from the hall.
Tamworth Herald – 17/02/84
Musicbox – Revved-up A5 take road to originality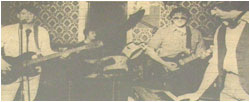 A5 – Tavern in the Town
IN AN effective combination of diverse influences, A5 have succeeded in achieving an original sound. On Thursday night at The Tavern they delivered an exciting nine-song set.
A5's music incorporates an innovative use of synthesizer (Tim Burgess) with more traditional rock-guitar work.
The strength of this group lies in the powerful pulsing beat – built up by Steven Hayes and Chris Edden – and the vocals; a curious and provocative combination of Robert Smith and Julian Cope.
Personal favourites were 'The Night That Lasts Twenty-One Years' and 'Love To You' which I understand the group will be taking into the studio shortly.
Although I thought the band were entertaining, it seems I was in a minority – maybe it's un-hip to clap – most of the appreciation of the band came from Buttercup (the resident DJ) and the Thin-Kim Morrison-lookalike behind the bar. The band deserved more.
A5 have a track 'Mind Transmitter' on a compilation album entitled 'Breakaway' (Venture Promos) to be released at the end of the month.
Their next gig is at The Nag's Head, Nuneaton, on February 25 and they return to the Tavern in April.
RACHEL HARRIS
18/02/84
Prophecy
Elford Working Mens Club
22/02/84
Dream Factory
Baddesley Ensor Youth Club
Tamworth Herald – 24/02/84
Musicbox – VOICE YOUR IDEAS FOR YOUTH NEEDS
TAMWORTH has the chance to get another music venue in the town – if you are prepared to do something about it.
Council leisure chiefs want to see how they can improve facilities for young people after a survey revealed most were dissatisfied with activities available.
The survey, among almost 300 12 to 19 year-olds in Tamworth showed discos were a top priority followed by night clubs.
Now the council is to hold talks with youth clubs and other similar organisations to try to see how to best meet teenagers needs.
So here's your chance to tell youth leaders how you feel about what is (or isn't) laid on.
It's about the first time Musicbox can remember this sort of opportunity coming up.
We say don't waste it.
CATHY PETTIGREW
Tamworth Herald – 24/02/84
Musicbox – SOUNDS GALORE FOR '84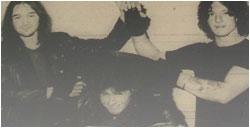 IN TAMWORTH music terms at least, 1984 has got off to a cracking start. Confidence in bands like the Dream Factory, Sitting Pretty and BHX has never been higher and the town is eagerly awaiting the debut of several new and varied bands that are springing up throughout the area.
Already we have had the chance to see the exciting One on One and now Musicbox can welcome another potentially superb rock band to the area – Child's Play.
Child's Play were formed late last year and took their name from bassist Norman Yates' former town favourites Wild Child.
Norman had always been an enthusiastic member of the heavy blues band and when the group split he immediately started pining for a new act to take to Tamworth stages.
And then Norman discovered Graham Phelps. At the time, guitarist Graham was musically unemployed and after discussing some ideas with Norman, the two decided to form a new band.
The duo then enlisted former Dream Factory sticksman Jason Farrow on drums and set about writing original songs. Now they have built up a good strong set and are bursting with that now universal Tamworth feeling – confidence, ambition and sheer determination to succeed.
"We want to go all the way with this band. We think we have the sort of sound that should go down well in Tamworth and beyond and we are very excited about the future," said Norman.
Child's Play find it virtually impossible to generalise about their sound although they accept that they play a broad-based rock sound.
"Although it is heavy, we do sometimes sound a bit like U2, so putting a general label on the music is very difficult," admitted Norman.
And Norman believes the key to what he hopes will be the band's eventual success is the original enterprising guitar work of Graham.
"I couldn't believe it when I first heard Graham. I really believe he has the potential to be the best guitarist not only in the town but also in the Midlands. He really is very good indeed."
Child's Play made their debut as a trio with One On One and earned an encore in just their first show. But now the band feel they could do with a vocalist just to make the line-up complete.
"We always thought we could handle the vocals between us but now we think it is best if we let someone else take over to give us more time to get better on our own instruments," said Norman.
Anyone who thinks they would like to front this bright new outfit is asked to contact Graham.
One thing is for certain, singing for such a committed and ambitious band is going to be hard work. In fact it will be anything but child's play.
SAM HOLLIDAY
Tamworth Herald – 24/02/84
Musicbox – SNIPS
BRILLIANT drummer Stuart Blaine has left Eyes – to the surprise of all the other members of the band. Although the departure was entirely amicable, Stu's decision to give the band up after months of hard work has come as bitter blow to fellow member Robin Bowen.
"He was a really great drummer and I suppose his desire to do more live work made him leave," said Robin.
25/02/84
Prophecy
Shuttington and Alvecote Social Club
25/02/84
A5
The Nag's Head
Nuneaton