Tamworth Bands History : 1984 :
May
03/05/84
Eddie Hicks
Rock and Roll Roadshow
Two Gates Working Mens Club
04/05/84
Sitting Pretty
Select Elect
Tamworth Arts Centre
Tamworth Herald – 04/05/84
Musicbox – Snips
DON'T forget Sitting Pretty will be in action again tonight for their second consecutive appearances at the Arts Centre. Supporting will be exciting synth duo Select Elect who have promised a new look set. Tickets for the gig cost 50p and the doors will open around 8pm.
Tamworth Herald – 04/05/84
Musicbox – Dream dates
THE Dream Factory, who are now busy preparing for their triumphant return to the Arts Centre on May 18, have announced more dates: Saturday May 5 – Dordon Working Men's Club with The Crowd; May 25 – Burton Technical College Venue. The band will be running a coach to the Burton gig which will leave the Arts Centre at around 7pm at a cost of about £1.10. Watch this space!
Tamworth Herald – 04/05/84
Musicbox – Great Giants in the dark…
WHAT MUST a band do to attract a decent crowd in Tamworth? Advertise in the local paper and on local radio? Stick up giant posters throughout the town? Or even give out special stickers and ballrooms in the middle of Ankerside?
Well, the Sumo Giants did the lot and their reward from an ungrateful Tamworth public was a loss of £200 on their Assembly Rooms gig.
Perhaps it was the fact that One on One and A5 were both playing on the same night in the town, or perhaps, it was sheer apathy that kept the crowds away, but whatever the reason, the real losers were those who missed out on a very varied and colourful event.
The Sumo Giants who topped the bill are unlike any band that has ever entered the confines of the Tamworth music scene before.
Their set combines a visual show with a powerful musical backdrop to produce a multi-pronged attack on the senses. At times they are heavy, at others less so, but whatever they are playing they have that unique ability of never losing their audience.
Unfortunately, however, the same cannot be said about the lights. The Sumos lost them three times in the first 10 minutes when too much power led to no power at all and the hall fell into a strange and somewhat eerie darkness.
But with smiles as broad an a, opera singer's hips, the Sumos bounced straight back when the lights returned to deliver the rest of their dramatic, entertaining set.
Dancing girls, glam rock attire and backdrops were the order of the day and the band sound up a quite spectacular – if financially crippling – gig with a fine encore.
The three bands that played alongside the Sumos were all rather overshadowed by them – but certainly not overawed.
BHX, who I unfortunately missed, are said to have turned in yet another tight, varied set with drummer Richard Deane in apparently excellent form.
The SAT Band suffered from a lack of identity and a lack of feedback from a clearly unimpressed audience, but Bashful Alley suffered no such problems.
Look good
The Alley, who have played to enthralled audiences in Tamworth before, are seasoned heavy rockers who realise that to win over all the audience you have to look good, bounce around and try to generate enthusiasm.
Their sound was as good as any I have heard from a heavy band recently because it involved enough twists, turns and build-ups to stay interesting throughout.
Once the Sumos had wrapped up the gig, it was time for the fun to stop and the serious matter of the inquest to begin. Money had been lost, the crowd had been disappointing, but surprisingly confidence had not been lost.
Lichfield's entrepreneur promoter, Tetley, was full of praise for the Assembly Rooms as a venue and he vowed that his musical circus would be back.
Moves are now under way to put on more big special rock events as the Assems and so, despite the near-disaster of last week's gig, it seems this will be the first – and not the last – stage in turning the Tamworth Assembly Rooms into a major Midlands centre.
Tamworth's rock fans will therefore be given a second chance to show they want name acts in the town.
SAM HOLLIDAY
11/05/84
Mothers Worry
Hurley Working Mens Club
Tamworth Herald – 11/05/84
Miners' Strike – Birch Coppice
11/05/84
BHX
Breaking Point
One On One
Tamworth Arts Centre
Tamworth Herald – 11/05/84
Musicbox - All set for 'big three' sell out
THREE OF Tamworth's top bands will tonight (Friday), converge on the Arts Centre to play a special charity concert.
The bands – BHX, One On One and Breaking Point – have all volunteered to give their services free in aid of the Marie Curie Fund aiming to fight cancer.
And with tickets costing just 50p, it means that local people can do their bit for charity – and have a great night out in the process.
The idea to do a charity concert came from top rockers BHX, who will tonight be aiming to re-state their case that they are Tamworth's most popular heavy band.
The quartet, who recently gave a fine show alongside glam rockers The Sumo Giants, ahev a varied, melodious rock sound that many local punters have likened to Rush. The group who are getting more ambitious with every gig, will probably headline tonight's show which begins at around 8pm.
Alongside BHX are One On One who have been steadily building up a following since they launched they launched themselves on the area earlier this year.
Much praise
One On One's sound, although rock orientated, has a feel all of its own which distances them somewhat from the straight rock sound that some people have tried to confer on them.
Their recent show at the Arts Centre brought widespread praise, and they will be keen to keep up the momentum when they step out for tonight's performance.
Also aiming to keep up the momentum are the excellent Breaking Point, who, after just two viewings, have convinced me that they are potentially the best band in Tamworth.
With passion
The trio play a set of nearly all their own material packed full of rousing guitar breaks, sing-along choruses and that vital spark of passion that can send shivers through an audience.
They are Tamworth's answer to the Alarm, U2 and New Model Army, and I would urge anyone who likes bite and feeling in their music to come along and cheer them tonight.
All three bands have a lot to offer, and with a worthy cancer charity standing to benefit, Tamworth's rock fans should pack out the Arts Centre and make it a night to remember.
SAM HOLLIDAY
Tamworth Herald – 11/05/84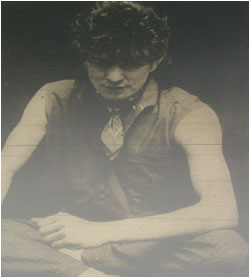 Musicbox - Ex-Magnet links up with Sway
RIKK QUAY, one of the founder members of Those Attractive Magnets, has joined a new band – and regained all his former enthusiasm in the process.
Rikk, who surprised a lot of people by leaving the Magnets earlier this year, has joined The Sway, a band who have had considerable success in their native Lichfield.
Rikk's new venture into The Sway comes after his brief flirtation with a solo career which he claimed later was both frustrating and rewarding.
"I enjoyed being my own boss, but you miss the security and fun of having people around you," said Rikk.
Experiment
Rikk left the Magnets because he was worried about the musical direction the band was taking. Although the band were enjoying their biggest wave of popularity at the time. Rikk felt he was distancing himself from the other members musically and he was keen to experiment on his own.
Rikk's first venture into the recording studio as a solo performer resulted in the quirky, weird 'Decree Nisi'. The song itself is far less interesting than the recording techniques that were used to make it – including reversed tapes and computer tracking. The overall effect was to create a sort of 'Malcolm McClaren Meets the Magnets' sound, which has a good dance beat.
After recording this number in February, Rikk got into conversation with Chris Barlow and Brian Cropper – the only two remaining members of The Sway. He found that he had much in common with the duo, and invited them to join him in his second visit to the recording studio.
Full of hope
This time everything went right and Rikk came out of the studio with the demo version of the brilliant "Rhythm Ritual". This number is a very bouncy, dance song with a strong rhythm and an excellent lead vocal which understandably has left Rikk full of hope that a record company may well pick up on the song.
After working so well with Chris and Brian, Rikk decided to join the duo on a full-time basis, and he says the new Sway sound will be far away from that of The Magnets.
"It is something totally different, and I am looking forward to a new challenge," he said
Demo Cassette
Both 'Decree Nisi' and 'Rhythm Ritual' have joined one of Rikk's favourite Magnets' songs, "The Art of Innocence" on a three-track demo cassette, which anyone is welcome to get just by taking along a blank tape to Rikk at the Tavern in the Town.
SH
18/05/84
Dream Factory
The Crowd
Tamworth Arts Centre
Tamworth Herald – 18/05/84
Musicbox - Crowd savours this platter of treats
BHX/One On One/ Breaking Point
TAMWORTH'S music fans turned out of force on Friday night to give a bumper boost to a leading local charity.
For the Arts Centre was packed to near capacity to enjoy the special charity gig which was held in aid of the Marie Curie Fund for fighting cancer.
And the reward for Tamworth's big-hearted music followers was a varied and highly enjoyable gig by three of the town's best groups.
Opening the proceedings were the spirited Breaking Point, who had to battle not only against a fairly rock-orientated audience, but also some terrible sound problems.
The latter hampered the trio's set from the beginning but despite this, the sheer awesome power and passionate delivery that characterise the band still shone through. Newer numbers like 'Resurrection' fitted in comfortably by 'old' favourites such as 'My Love Lies Bleeding' and the apocalyptic 'Nicholas Romanov' which still sends a shiver down my spine every time I hear it.
After the gig, Breaking Point were clearly very unhappy because of their sound problems – but the crowd still loved it and gave the band one of the best receptions ever.
Next up were One on One and although I prefer Breaking Point's songs and style, I have to admit that they were the real show-stealers on the night.
Playing with a relaxed air of confidence, they delivered a set which had the audience mesmerised and the compliments flying round the room.
Musically they have no equals in the town, from the solid drumming of Stuart Blaine to the sheer skill and inventiveness of guitarist Tim Latham. For me the real icing on the cake is still the cool and harmonious vocal work of Dave Ingham, who seems to get better and more confident with every show.
How long Tamworth will be able to keep One on One remains to be seen for I have no doubt that sooner rather than later, someone is going to pluck them out of the town and make them very, very big indeed.
In the meantime just enjoy them while you can…
Thundering
Completing Friday's line up were the gig organisers BHX, who brought their own original brand of rock to the still-enthusiastic Arts Centre crowd.
BHX turned in their normal high-powered selection of thundering heavy numbers and more gently melodious rock numbers. They have come on in leaps and bounds recently and now look like a total rock package.
They have sharpened up their image (always important in these look-conscious days) and they have become a tighter, more accessible outfit.
Perhaps they could have shortened their set somewhat – we had to wait until the encore to hear the excellent 'Superstar' – but that apart, they played a crowd-pleasing and entertaining set which has probably gained them even more followers.
So closed a highly-successful night which was good for the bands, goof for the crowds and, best of all, good for the Marie Curie Cancer Fund.
With the success of this one, it strikes me we ought to have more charity concerts…
Tamworth Herald – 18/05/84
Musicbox - A night of Dreams with a new plot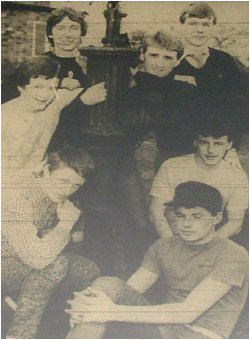 TAMWORTH'S most popular band, The Dream Factory, will tonight step out onto the Arts Centre stage for their long-awaited return to a major tow venue.
The band who have spent the past few months building up a following throughout pubs and clubs in the area will be hoping to show their legion of supporters just how much their set has been revised and upgraded since their last appearance at the Centre late last year.
Since, then their line-up has changed slightly, their songs have changed completely and the band are now much closer to the national recognition they crave.
Their excellent demo cassette, plus the superb promotion done by their new ambitious manager, Andy Payne, from Belgrave, has helped the Factory to be in the sort of position where the next inevitable step is a succession of visits from record company PR men.
Originality
For anybody who may not know the Factory's sound, the group play Sixties-style soul music which has a force and originality all of its own.
Recently, the band has been influenced by many obscure psychedelic acts whose majestic moments reflect in many of the group's most recent numbers. It adds up to an enjoyable and very varied set which is certain to be a winner with the capacity Arts Centre crowd that is expected tonight.
Joining The Factory tonight will be kindred spirits – The Crowd – who will be making the journey from Atherstone in an attempt to win over the town's audiences.
The Crowd have received generous praise from many quarters – including the Factory themselves – because despite their age and relative inexperience, they can still turn in an enthusiasm and well-balanced set.
Musically, they are on a similar level to the Factory and although they have played considerably less gigs, it is unlikely that this, their largest concert to date, will unduly worry them.
Tonight's gig begins at 8pm and the 75p tickets are going fast, although there may be a few available on the door.
For the Factory, tonight's show will be the continuation of a long series of gigs which will continue next week when they take a coachload of supporters to a special gig at Burton Technical College.
This prestigious gig takes place on May 25 and just three days later, the band will be on show at the Boldmere pub, in Sutton. On June 6 the Dream Factory entourage will converge on the Mackadown pub in Birmingham and they will close this present series of dates with a trip to Minworth Social Club on June 14.
Obviously things are really moving now for the band and if you want to find out what all the fuss is about, the place to be is the Arts Centre tonight.
With the added attraction of The Crowd, it all looks set to be one of the most exciting gigs in the town for a long time – miss it at your peril!
SH
Tamworth Herald – 18/05/84
Musicbox - Snips!
The Magnets (Formerly Those Attractive Magnets) will be returning to the Tamworth music scene with a vengeance next week when they are headlining at the Arts Centre (see next week's Musicbox). In the meantime in an effort to show how the band is changing they have this week launched an appeal for a guitarist (preferably who can play keyboards) to join the line-up. If you like the idea but would like to see the band in action first, they will be at the Arts Centre on Friday, May 25. More details from any of the band members via the Tavern in the Town pub.
25/05/84
Dream Factory
Burton Technical College
25/05/84
The Magnets
Select Elect
Tamworth Arts Centre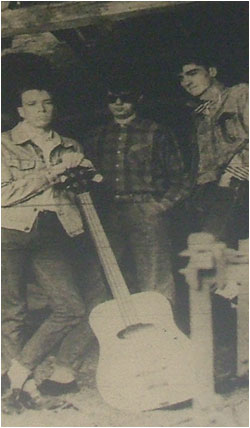 Tamworth Herald – 25/05/84
Musicbox - Curtain up on a busy weekend
Band box full of tricks…
TAMWORTH Arts Centre will be under the spotlight again over the weekend when it plays host to two of the most intriguing gigs in the town for many months.
Tonight sees the welcome return to the town stage of The Magnets who will be playing with enterprising young synth duo Select Elect. And just 24 hours later the hard working Sitting Pretty will be joined by new outfit Love On Board who will be making their first town centre appearance.
Tonight's concert will be particularly interesting for it will be the first time the immensely popular Magnets will be playing live since reducing their line-up – and their name.
Rikk Quay has left, the words Those Attractive have been dropped from the moniker, and The Magnets are now a totally different proposition.
The once-familiar backing tracks have been dropped and the band are now going to play their new-look set totally live.
As an indication of what the listener can expect, the band have just released a new two-track demo recorded recently at Steve Adams' studio.
Both songs reveal a new depth and commercial aspect to the Magnets' sound and both – particularly the magnificent 'Breath On Breath' – show that the band has been given a whole new lease of life and should soon be chasing once again the crown as the town's top band.
Alongside the Magnets will be kindred spirits Select Elect, a band whose confidence and enthusiasm has never faltered since their first impressive gig last November.
Good reaction
The band whose music sounds at times like early Human league, now have several more songs at their disposal and with the right mix and a good reaction from the crowd, Select Elect can do their career a power of good by turning in an entertaining set tonight.
Another band who will be keen to win over the town's audiences are the new quartet Love On Board who are literally bursting with anticipation to play at the Arts Centre.
The group, who had to delay their debut concert when guitarist Nick Read was involved in a serious road crash earlier this year, have already won a local talent contest although they see Saturday's gig as their first real test in Tamworth terms.
"We are hoping that Tamworth will like what we have to offer and we are very keen to see how we go down on Saturday," said Nick.
The band who were recently strengthened by the addition of the energetic Glenn Lewis on bass, say their sound is similar in parts to modern pop outfit Orange Juice and Friends Again.
It is certainly a sound that will never have been heard in Tamworth before and for that reason alone, Love On Board are guaranteed a captive audience.
Also guaranteed an enthralled audience are Sitting Pretty. The band who are now coming under close scrutiny from the record companies, should be releasing their debut single in a couple of weeks and Tamworth fans will be able to hear the contents in their live form by popping along to see the group in action tomorrow.
The weekend's gigs conclude four such events in the space of just three days. At one time it would have seemed impossible in a place like Tamworth and shows just how the town scene has improved over the past few months.
All it will take is two big audiences at these gigs (which both start at 8pm) to confirm that the Tamworth scene is now healthier than it has ever been.
Sam Holliday
Tamworth Herald – 25/05/84
Musicbox - Factory flood-gates!
Dream Factory/The Crowd – Tamworth Arts Centre
Going to see The Dream Factory these days is becoming quite an inspiring experience.
For not only do the band turn on the style musically but they have managed to do what very few Tamworth bands have ever done – fill a venue with fanatical, devoted followers.
The spectacle of seeing literally scores of people crowd around the band dancing and singing is not an everyday happening in Tamworth.
The moment the Factory hit the stage, the audience hit the roof and then proceed to hit the dance floor. It is an overwhelming site and you just can't help admiring the Factory for taking the trouble to find their market and capitalise upon it.
But it wasn't all the Factory's show on Friday, for they were supported by an exciting new outfit from Atherstone called The Crowd. The Crowd are a band who everyone I spoke to liked for some reason or another.
They were a young, energetic and full of genuine feeling for their music – in fact a perfect example of the type of band Paul Weller is now championing.
Their relative youth only server to make their tight, well co-ordinated sound even more impressive and with their smattering of melodious original songs it is clear they are a band with a great future.
A special mention must go to superb vocalist Paul Hanlon who carried off every song well and young Phil Ford who, despite his stature and age, turned in some of the most naturally flowing drumming I have heard in a long time.
If the gig was a success for The Crowd, then it was almost a triumph for the Factory. With the audience on its feet, it seemed the band couldn't go wrong – and they didn't. Their set was totally different to previous gigs, with newer numbers outweighing their standards such as the absorbing 'Haze' and the climatic 'Keeping Myself to Myself'.
Of the newer numbers, two stood out for me – the delicate 'Waterfalls' and the exciting 'Leisure Land'. The latter was built around an enticing distant guitar sound which combined with all the other instruments to make a powerful and very catchy chorus.
After a lengthy set the weary band left the stage to allow the even more weary audience to disperse out of the Arts Centre.
Watching the masses pour out, you can't help feeling that some sort of movement is under way. If the Factory and indeed The Crowd – can excite this sort of response locally, what happens when they step outside the narrow confines of this area Long may both bands continue to excite and delight their enormous group of supporters.
SH
The Dream Factory have changed their venue for this Friday's gig at Burton. The concert will now be held at the social club of Burton Albion FCs Eton Park ground and a special coach will call at Polesworth Square at 7.30pm and call at the Assembly Rooms at 7.45pm. The all-inclusive fare and entrance fee is £2.
26/05/84
Sitting Pretty
Love On Board
Tamworth Arts Centre
28/05/84
Dream Factory
Boldmere Pub
Sutton Coldfield