Tamworth Bands History : 1984 :
April
01/04/84
Dream Factory
Polesworth Miners Welfare Club
04/04/84
Dream Factory
Rawlett School
Tamworth Herald – 06/04/84
Musicbox – The time for action is now
MUSICBOX noted with great interest last week's report in the Herald that claimed Tamworth was "sitting on a timebomb" unless it provided more facilities for the town's young people.
The report, published by a group of youth leaders, claimed that facilities for young people were at an appalling level; buried inside their statement was also a call for more local venues for bands to play at. This is something for which Musicbox has been campaigning for a very long time, and we are glad that someone has at last seen the problem and may now act upon it.
At the moment without the admirable Tavern in the Town and The Arts Centre, Tamworth is a cultural desert for local bands and it really is time for action.
Looking over our shoulders at neighbouring Lichfield, we can see a bumper, healthy scene with venues-a-plenty and loads of local bands having the sort of back-up that is so essential.
If a smaller place like Lichfield can do it, why can't Tamworth? Well, a few clubs and youth clubs are now tentatively opening their doors to bands, but we need even more venues to attract not only local bands but also better known national ones.
With such a massive percentage of young people in the town, the interest and potential is certainly there, and it is now time that the powers-that-be took heed of last week's accurate report, and gave Tamworth's strong rock scene more venues and more help.
SAM HOLLIDAY
06/04/84
Breaking Point
Hardware
Tamworth Arts Centre
Tamworth Herald – 06/04/84
Musicbox – Live Review
Talkback – The Tavern in the Town
Possibly one of the most entertaining bands to appear at The Tavern this year has been Talkback who played on Thursday. They gave an unqualified performance; both visually and musically, employing backcloth, lighting and a guest musician. The handful of people present seemed to appreciate their set which included the anthem "Talkback" both the A and B side of their single "Pleasure" as well as two encores.
For these Talkback were joined by Tamworth's own Mr. Charisma, Rikk Quay, who supplied his own vocal interpretation of two "Talkback" songs, "Burning Bridges" and "Gallery".
When a band have put so much energy and effort into producing such a performance, it must be disappointing for them to have to play to a small group of fellow musos! A gig at The Tavern has been a starting point for many of the town's successful bands. So go and see some of the new bands who need support and encouragement. You may see next year's big thing!!
RACHEL HARRIS
Tamworth Herald – 06/04/84
Musicbox – A two-day gigful…!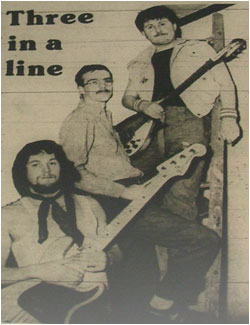 IT'S going to be a busy weekend for Tamworth's rock fans, with two major gigs in the town over the next couple of days. Tonight sees ever-popular rock outfit Hardware take to a Tamworth stage for the first time this year, when they will be joined by new trio Breaking Point in an exciting-looking double-bill at the Arts Centre.
And the Arts Centre will be under the spotlight again tomorrow (Saturday) when One on One will team up with Lichfield group Artful Dodger in another potentially enjoyable evening.
Tonight's concert looks interesting for a number of reasons. Hardware who still have a loyal following in the town, will be making their first Arts Centre performance in many months and will also be parading their new drummer Rob Horne for the first time.
The band, who many will remember for their triumphant headlining performance at last year's ourdoor rock festival, have a well-balanced set of their own material which has a broad appeal along rock lines.
Their support band, Breaking Point, look equally intriguing. Although they have already played at the Tavern in the Town, tonight's show is likely to be the first time most people will have had the opportunity to see them in action.
Comparison
The trio, Kevin Briggs on guitar and vocals, Steve Child bass and vocals and Clarke Stewart on drums, have a sound that has been compared to that of U2 and the Alarm.
Although this makes their sound quite raunchy, the band still have basic rock roots, with Kevin formerly a member of Java and Steve of Wild Child.
Breaking Point have promised a set packed full of original numbers, and with their variety of influences they look certain to appeal to a wide cross-section of the town's music followers.
Just 24 hours after this double bill, the town's premier venue, will welcome One on One, the band featuring a number of top well-known musicians from bands such as Omen and Ethis.
Mainstream
One on One have already built up quite a reputation for their quite original brand of rock, which encompasses influences from The Pretenders to more mainstream rock sounds.
Support group Artful Dodger come with a good pedigree from their native Lichfield where they have already built up a large following.
Both Arts Centre gigs kick off at around 8pm with entrance to Hardware being a pound and to One on One just 50p.
Both gigs look equally enjoyable so if you are in a quandary as to which to attend the solution is simple – go to both!
Sam Holliday
Tamworth Herald – 06/04/84
Musicbox – Snips
SITTING PRETTY will be going into the studio on Saturday, April 14 to record their first single. In the meantime the band are busy promoting two gigs at the Arts Centre on April 27 and May 4. A third gig with kindred spirits, The Classified Ads may be announced next week.
THE DREAM FACTORY have wasted no time replacing their departing brass players. Already they have enlisted 16-year-old Bolehall trumpeter Damon Wraxton and they have also had an enquiry from a 33-year-old trumpeter! The band, who will be playing a totally unorthodox set at Polesworth Top Club on Saturday, have also announced another date at Dordon Working Men's Club on Saturday, May 5th.
07/04/84
Dream Factory
Top Club, Polesworth
07/04/84
Lynn Perry – Coronation Street's Ivy Tilsley
Polesworth Working Mens Club
13/04/84
Friday The 13th Blitz
Classified Ads
Sitting Pretty
Mystic Hero
Tamworth Arts Centre
Tamworth Herald – 13/04/84
Musicbox – Blitz trio make it a lucky 13th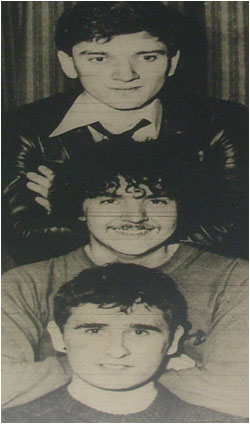 TAMWORTH ARTS CENTRE will once again be under the spotlight tonight (Friday) when three of the town's most energetic and diverse bands will take part in the 'Friday The 13th Blitz'. Topping the bill are the town's longest-serving band The Classified Ads who will be playing their own unique brand of hard, melodic new wave music.
It will be the Ads' first show in three months, and they are all looking forward to it to make-up for the disappointment of having their mid-day concert at QEM School cancelled at the last moment because of industrial action by teaching staff.
Joining the Ads tonight will be two-other entertaining young bands – Sitting Pretty and the new Mystic Hero.
Sitting Pretty, whose popularity is starting to reach fever pitch, have grown steadily better and more confident with every show and tonight launches an extremely busy month for the quartet.
Tomorrow they will make their second trip to the studio and then on April 27 and May 4 they will return to the Arts Centre for two more headlining concerts.
Both Ads and Sitting Pretty have a vast number of gigs under their belts but tonight will be a stage debut for Mystic Hero.
The trio, comprising Mike Bygrave on lead guitar and vocals, Dave Goode on bass, vocals and keyboards and Bill Morton on rhythm guitar and vocals, have influences ranging from Steeley Span to Big Country.
Listening to their debut demo-cassette, the band appear as varied as their influences with high-powered, cheerful numbers like 'July beaches' sitting comfortably by more soothing and well-crafted tracks like 'It's Too Late'.
On the strength of this cassette, the trio certainly have a lot to offer the Tamworth scene.
The contrast in the styles and sounds of tonight's three bands make it look like an enjoyable event and with tickets costing just 50p, there is no excuse for the Arts Centre not to be packed to the rafters.
Tamworth Herald – 13/04/84
Musicbox – Pounding, Punching Powerful!
Breaking Point/Hardware – Arts Centre
When you go to see a new band for the first time it is normally dangerous to either dismiss or praise them on the strength of just one performance.
Many local groups need to be heard several times to be fully appreciated – and it takes a very special band indeed to have an immediate, over-powering impact.
But such a band is Breaking Point. After just 45 minutes in their company, I was left quite breathless after a show which exuded energy, style and power from start to finish.
With the impact of a giant cannon ball crashing into a china shop, Breaking Point took to the stage with a dynamism and fire that is sadly lacking in most Tamworth bands.
Their original and melodious sound soon became irresistible and the trio's undoubted enthusiasm quickly transferred itself to the paying customers – many of whom clearly had never seen the band before.
The sound is similar to the new wave/rock crossover spearheaded by the likes of U2, The Alarm and Big Country. Based mainly round infectious melodies, they use stirring guitar breaks, pounding rhythms and airpunching lyrics, slaying the audience into voluntary submission.
Sparkle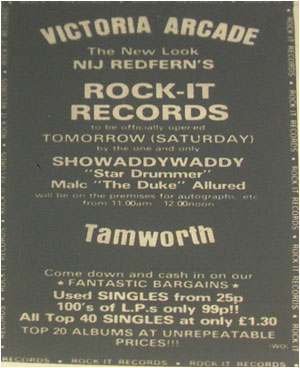 At times the music does slip into ancient rock riffs but no sooner do they start to lose their sparkle when they hit straight back with anthemic numbers like "My Love Lies Bleeding", "Run For Your Life" and "Fighting For the Gods".
But the best number of all was saved right until the end, "The Ode To Nicholas Romanov" closed their set and was both exciting and very moving, making it without doubt the best new song I have heard a local band perform in a long time.
It was simply magnificent and I for one will be waiting with excitement to see them perform that and many of their other fine numbers when they take to the Tavern in the Town stage next Thursday. A band to support, a band to enjoy and a band for the future.
After the sheer delights of Breaking Point I felt Tamworth's die-hard, enthusiastic rockers, Hardware would prove to be a little of an anti-climax.
But to their eternal credit the band soon won over the audience – many of whom were Hardware's loyal clan-like followers – and they turned in a set which showed that the passing years had not dented their enthusiasm, drive and sheer enjoyment at making rock music.
Triumphant
Unfortunately the band had to pack in after around half an hour when illness forced one of their members to retire. The band promised to re-appear at the Arts Centre when everything is back to normal and judging by their determination to regain the crown as Tamworth's top rock band, it promises to be another triumphant night for the fans.
So an evening of disappointment for Hardware but 100 per cent success for Breaking point. Leading into one of their cover versions U2's "I Will Follow", Breaking point's lead singer Kevin Briggs said "Thank God for U2".
Looking at the trio's potential in Tamworth terms it is really a case of thanks God for Breaking point. See them as soon as you can – you cannot fail to be impressed.
SAM HOLLIDAY
Tamworth Herald – 13/04/84
Musicbox – Snips
DONALD SKINNER'S new band Freight Train are on the look-out for an ambitious and dedicated keyboard player to complete their line-up. Donald who, you may remember has been closely involved in Julian Cope's recent work – wants a keyboard player to join him and bassist Barry Douce in their original and creative band. The duo have already had a sniff of a record contract with ex-Teardrop Explodes player David Ballfe and national gigs are now ready in the pipeline. If you think you are good enough – and committed enough – to join Donald and Barry.
LOVE ON BOARD, the promising young outfit who recently won a local talent contest, have told their fans that they will soon be back in action. The band who had to cancel gigs when guitarist Nick Reed was involved in a serious road accident recently, say they are staying together and indeed are bursting with confidence and determination to get on stage as soon as Nick is up and about again. Musicbox would like to add a 'get-well-soon' message to Nick because like many others, we can hardly wait to see this exciting young outfit live on stage!

Tamworth Herald – 19/04/84
Gary has an arty offer
Tamworth Herald – 19/04/84
Musicbox - James is a Whizz
TAMWORTH can this week boast that it has produced another genuine 'pop star'. For recently Clifton-based drummer, James Woodward travelled to Tyne Tees TV station to record a slot on teen-pop package 'Razzamatazz' with his band Whizz For Atoms.
The recording, which will now go out on April 25, is of the band's new single, "That Sinking Feeling', which has already found it's way onto the hallowed airways of Radio One.
The single, with its tuneful modern dance feel, has been released on the band's new label, Graduate Records.
Graduate, you may remember, were responsible for bringing UB40 to the world and we must all keep our fingers crossed that Whizz For Atoms will follow the UB's into a bright and successful future.
Tamworth Herald – 19/04/84
Musicbox – Rocking in with Giant size surprise
TAMWORTH'S Assembly Rooms is the scene later this month for the biggest rock event in the town since last year's open-air festival.
For on April 26 the Assems will come alive to the original and devastating sound of cult rock band the Sumo Giants.
The band, who promise an extravagant and eye-opening stage show, will be joined by three bands in a night which could put Tamworth firmly on the rock map.
For the Giants, who have played extensively throughout Europe and America, intend to bring coachloads of supporters to turn the gig into a major Midlands event.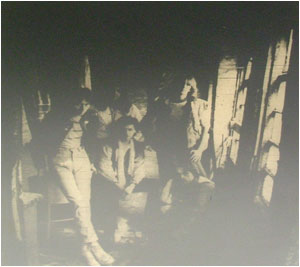 And entrepreneur Lichfield promoter 'Tetley' believes the gig could eb the first in a whole series of major concerts in Tamworth.
"Tamworth has such a percentage of young people that it really could become a very important place for concerts," he said
Tetley added that Tamworth is ideally positioned to take top bands and he hoped a big turnout for the exciting Sumos would provoke interest from other promoters.
"Tamworth has the potential – it must show it is now ready to take named acts," said Tetley.
Joining the colourful Sumos, who's fans include no less that John Peel and Tommy Vance, will be two Lichfield acts the SAT Band and Bashful Alley and our own top rockers BHX.
For BHX, gaining one prestigious gig could be the first of many that the band will be involved in, because a German tour early next year now seems on the cards.
At the moment the talented rock band have a more pressing problem due to the departure of guitarist Keith.
BHX have sent out an urgent appeal for a replacement guitarist but in the meantime they hope to 'promote' drummer Richard Deane to fill in the gap.
The band are confident that everything should be in order by the time they line up with the Sumos at the Assembly Rooms.
Visual
For anyone who does not know the Sumos sound, it is a whole mixture of rock from heavy to R 'n' B with an emphasis on the visual side.
They promise the show will be unlike anything Tamworth has ever seen before and with tickets costing a meagre £1.50 for all four bands, it certainly looks a winning night for Tamworth's rock fans.
And remember, the Beatles once played at the Assembly Rooms, so a big turnout for the Sumos may make people look again at Tamworth and bring some more famous names to this gig-deprived town. It is all down to you.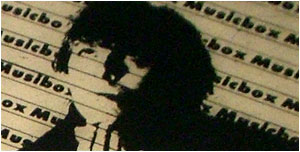 Tamworth Herald – 19/04/84
Musicbox – Coming Soon…
The Dream Factory and The Crowd are now selling tickets for their exciting-looking double-bill at the Arts Centre on May 18. Tickets are just 75p from band members. But is seems that Dream Factory fan-clubbers will get a discount and priority.
Knights, Tamworth's newest night club, will be putting well-known local middle of the road band 'Chalkie' onto the stage next Wednesday night. The band who already have a big local following are said to have a broad based appeal and this will be their second visit to the club.
21/04/84
Paper Lace
Glascote Working Mens Club
Tamworth Herald – 27/04/84
Musicbox – Proud day for a band that's come a long way
SITTING PRETTY last week emerged from the studio proudly clutching the tapes that will soon be turned into their first-ever record. The three-track cassette is now on its way to be pressed – and the resulting single should be in the shops by the end of May.
All three songs have a maturity and craft that shows just what a remarkable transition Sitting Pretty have made from their nervous, indiscriminate first show at last year's Bank Holiday Rock Festival.
Then, they seemed to be a band who needed time to develop, time to turn youthful enthusiasm into polished entertainment and time to realise their real direction. And just eight months later it seems that their time as come.
The songs you will soon be able to hear on record look set to transcend barriers and provide the band with a broad-based following. While it is true that they are all in the more gentle vein than Sitting Pretty's normal high-spirited pop, their impact is still very strong.
The best of the three is the sensual, 'moody' 'Inspiration'. The first time I heard this track live, I found it to be both moving and rather dreamy. Now with the complement of Greg Stevenson's superb grand piano playing and Mike Turner's genuine and passionate vocals, the song is quite mesmerising and conjures up images and colour in a way that a live song rarely can.
Choice
The band are still debating whether to make this the A-side of the single. The debate should stop – there really is no better choice.
The other two songs also show the band's variety and skill at mood-creating. Pete Long's superbly-written 'Sunshine Promises' boasts some magnificent almost Spanish-style guitar work from Julian Amos and has a far-away feel all of its own.
The third song 'Broken Glass Lies' livens up the proceedings somewhat with its chirpy, catchy melody that will already be well-known to most of Sitting Pretty's fans.
Overall, the three songs reveal a calmer, less energetic version of Sitting Pretty than I have ever heard before.
There is no bitterness, anger or real power in their sound and if I had to be critical I would say that they were playing it just a little too safe and perhaps a little sharpening up would not go amiss.
But the sheer quality of the tape makes criticism rather redundant. The record, when it is released, will delight more than just the band's followers – and it is commercial enough to creep onto the radio airwaves where the sky really is the limit.
The single should be available from Tamdisk Records in Lichfield Street by May 22. The cost will be just £1.20 and for three, excellent songs that is something nobody can complain about.
SAM HOLLIDAY
N.B. People will be able to see Sitting Pretty in action on the next two Friday nights at the Arts Centre. Although support acts have not yet been named, the Pretty will headline both gigs, and a few tickets are still available from Tamdisk Records. Tinight's show begins at around 8pm.
Tamworth Herald – 27/04/84
Musicbox – Snips
Eddie jives on back
Caption: EDDIE HICKS…still rocking after all these years.
The fifties will be returning with a vengeance on Thursday night when well-known rock and roll showman Eddie Hicks will be appearing at Two Gates Working Men's Club.
BHX have pointed out that guitarist Keith Edwardes is still with the band despite reports that he left an internal bust-up. Keith, who has been with the talented rock combo since they reformed says he wants to carry on in the group and singer Mick Goodby confirmed this week that he would do so.
Tamworth Herald – 27/04/84
Musicbox – Heroes and villains pack a pretty punch
FOR SMUG, complacent souls content to drift through life, don't go to see the Classified Ads.
The experience will hit you below the belt, twist you inside out, and send you freaking to your nearest doctor. Not only do the Ads ask questions, they demand answers. Through a combination of frenzied sound, and passionate vocals, they tear at the social conscience of the audience.
Lashes out
Brandishing a whip, frontman Sam Holliday, lashes out with a venom reminiscent of early punk. And strains of punk, in fact, are clearly discernable in the rawness of the music, though the final effect is individualistic.
In the song 'Take A look At Yourself' the result is mind-bogglingly impressive. It swirls around the anguished lyric 'this society makes you selfish', before breaking into a drum-thumping chant, made even more moving by a superbly dragging bass line.
The final number 'I Fear the Outcast' is enough to send you racing for cover. Built up around a squelchy, keyboard riff it works up into a frenzy of sound that not even the most passive member of the audience can ignore.
The opening act of the night saw the Mystic Hero make a refreshingly relaxed stage debut.
The vocal harmonies of lead guitarist Mike Bygrave and Bill Morton on rhythm guitar, create a warm bank of sound pleasing to the ear. It's a quality one suspects, good enough to carry a bad song.
Not that the songs are bad. They are not. The band turned out a surprisingly bright and varied set – which though often poetical and evocative of pastel colours, contained enough drive to prevent and descent into insipidity.
'Gloria' for instance, proved an instant winner. Mike Bygrave's powerful delivery, immediately stirred the audience and would no doubt, in a larger venue, have incited many to join in the chorus.
And as if to prove they hadn't come to play safe, the band saved their most adventurous number until the end. About an alien from outer space, the music constantly threatened. A recurrent whiff throughout repeatedly surged forward and retreated, leaving everyone in suspense.
A pleasure
As for Sitting Pretty, the name says it all. Immediately they cam under the spotlight they had the evening's success sewn up.
The textures in their music, the interplay of guitars and keyboard and their easy stage style make the band a pleasure to watch. Their popularity, after all, is no fluke.
From the steely 'Concrete City', with all guitars thrashing, to the beautiful 'Inspiration', with its catchy melody, the band laid on a set with sufficient diversity in tone to prevent boredom.
In fact with three such different bands performing on the same night, variety was the hallmark of a very enjoyable event.
MARCUS DAY
20/04/84
Artful Dodger
One In One
Tamworth Arts Centre

Tamworth Herald – 27/04/84
Musicbox – REVIEW – One on One + Artful Dodger : Tamworth Arts Centre
Artful Dodger gave an all round excellent performance with every number of the band working as one, and the group never faltered through the set.
Most of the credit should go to the lead singer/guitarist who played an excellent part in expressing the songs.
The music ranged from Dire Straits to a more funky rock. And the overall verdict? A very promising band, very entertaining.
Next up were One on One who I think gave a more relaxed performance. Many people who haven't seen the group, think they are just another heavy metal outfit, they are very much mistaken. There is something about them that is a bit special.
Although their set wasn't as polished as Artful Dodgers', One on One created a far more lively atmosphere.
What makes the band special for me is the communication with the audience, the sing-along choruses and the excellent vocal work.
Dave Ingram (Ingham – Ed.) has an excellent night – his voice getting better all the time.
Tim Latham played some superb lead at times but others became a bit predictable. And it was also nice to hear two people working as one in the rhythm section. Ralph Sandland playing some good funky bass and Stuart Blaine showing he is progressing all the time with his skilful drumming.
S. T.