Tamworth Bands History : 1984 :
January
Tamworth Herald – 06/01/84
Invite as Dennis Portrait set for unveiling
THE specially-commissioned portrait of the late Mr. Dennis Taylor is to be unveiled at a social evening at Tamworth Arts Centre on Friday January 13.
Tamworth Herald – 06/01/84
Musicbox – After our massive music poll…
Wake up and make music exciting!
MUSCBOX'S record-breaking poll clearly gave a lot of people clearly gave a lot of people pleasure, judging by the enthusiasm it generated. But this week we received a desperate letter from a local musician who wishes only to be known as 'Kowalski' who thinks that the selection of national bands and records can only deter local acts from producing original and different types of music. Musicbox agrees with many of Kowalski's comments and his concern for the locals scene is something shared by many musicians in the town.
Tamworth Herald – 06/01/84
Musicbox – Sitting Pretty and set for a video debut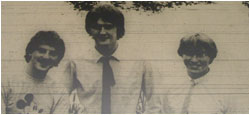 SITTING PRETTY are in the process of completing one of the first-ever music videos in the town. The 30-minute video-tape is currently being put together and includes story-type videos and live footage.
Several of the bands most popular numbers are included on the tape which will be available from Tamdisk Records in Lichfield Street.
The video – as well as being a highly enjoyable exercise for the group – will serve as an excellent promotional device for the band who have already attracted considerable interest from national record labels.
The first stage of the recording took place just before Christmas at a special concert at drummer Mike Turner's birthday celebrations at Tamworth Rugby Club.
The band's entire set was filmed by the video director Robin Preston and on Boxing Day, Sitting Pretty continued filming at Doshill Park and Belgrave Lakes.
On the 'location set' the band did various silly sketches which will be used as the visuals to the band's three-track tape that got them off to such a brilliants start late last year.
The whole is now being edited into a digestible compilation which should serve as a great introduction for those local music fans who are still to hear the band's sound.
"We are absolutely knocked out with the way the video looks," said drummer Mike Turner. "It was great fun to do and it will be a great way of spreading our name."
The tape comes at a time when Sitting Pretty are looking in better shape than ever before. They have just added the services of a highly promising new keyboard player – one of six people to apply for he vacant post when it was advertised in Musicbox.
The new member is Greg Stevenson, an inventive, keen player.
"He has a great interest in all types of music and he clearly has a lot of playing and songwriting ability. After just 30 seconds we knew we wanted him in," said Mike.
Greg should be making his debut with the band in the near future but in the meantime, all Sitting Pretty's fans have got their eyes fixed firmly on the video-screen.
SAM HOLLIDAY
Tamworth Herald – 06/01/84
Musicbox - Fans turn on to Talk Back
Talk Back – King of Denmark
TALK BACK's determined bid to put themselves firmly on the local music map took an enormous step forward at the King of Denmark.
For the quartet played a superb set of modern, commercially-orientated pop music which brought praise and applause from a large crowd.
The band's attractive broad-based sound went down extremely well at the Denmark – and it is clear that venues such as this hold the key to the group's success.
If they can continue to win over ordinary non-concert-going pub audiences like this – which many of Tamworth's less commercial acts would not be able to do – they will start a bandwagon effect and could soon eclipse the popularity of many other local acts.
And with a good local base to spring from Talk Back van then move on to the higher echelons where, with tracks like 'Guessing Games', 'Pleasure' and the marvellous 'Every Day' in their repertoire, the sky really is the limit.
So the heartening message Talk Back must take from a concert like this is that things really are beginning to move in their direction.
With more successes like this under their belt, they can only grow in confidence, stature and popularity.
Now they must try to keep up this momentum – and get ready to reap the rewards which will inevitably follow.
SAM HOLLIDAY
07/01/84
Assembly Rooms Disco
O.T.T. Fancy Dress
DJ Nij Redfern
08/01/84
Mothers Worry
Belgrave Sports and Social Club
Tamworth Herald – 13/01/84
Musicbox – Couple of gig crackers
THE year gets off to a cracking start this month when the Arts Centre at Tamworth plays host to plays host to two exciting looking gigs.
On Friday, January 20 a double-bill of top heavy music is on the menu in the appetising shape of BHX and Roseham.
The gig will be the Tamworth debut for Roseham which comprises a number of former town favourites and the '84 debut for BHX who are currently bristling with confidence and ambition after a highly successful year.
On the following Friday two of Tamworth's talented young pop bands will take to the Arts Centre stage. Sitting Pretty, now in their guise as a quartet, will join Select Elect for a night of modern, original music.
Both bands boast new songs and for Sitting Pretty fans, there is the added bonus of seeing new keyboard player Greg Stevenson in action.
Both gigs cost a modest 50p, and for the Sitting Pretty concert tickets will be available shortly from Tamdisk Records in Lichfield Street.
Tamworth Herald – 13/01/84
Musicbox – Long Live the Ads. Infinitum!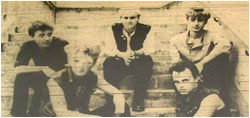 Classified Ads – Tavern in the Town
THE first thing you notice about the Ads as they squeeze uncomfortably on to the tiny Tavern stage is how much they've CHANGED since I used to see them regularly at St. John's Youth Club.
Then – when the song 'Schoolboy Bands' still had some relevance – they were fresh-faced young and blessed with an endearing enthusiasm.
Not much of that has changed but these days drummer Simon Webster, bassist Paul Clements and keyboard player Derek Goodwin look very from young and fresh-faced.
Sitting uncomfortably
The music has also changed beyond recognition. Old classics like "Black is the Night" and "Telephone" sat rather uncomfortably alongside newer numbers like "Where" and "Helpless (In the Hour of Need)".
Despite this apparent problem, the audience enjoyed and applauded every number, and most didn't even mind a level of volume which could be described as paralysing.
Musically it was as near a spot-on performance as you could wish to see from the Ads, although when Alan Turner strummed a few chords of tasty blues guitar in one number, it seemed as out of place as a mud pie in a launderette.
Vocals and jokes
Vocalists Sam Holliday was, as always in lively form, sharing a joke with the audience between each number, and adding a touch of colour to some monochrome music.
Nowadays the Ads are only playing gigs when various band members are at home from university, and all credit to them for carrying on this way.
They may cringe at the thought, but the Ads are as much a part of Tamworth's music heritage as Brewster. Long may they prosper.
Richard Whitehead
Tamworth Herald – 13/01/84
Musicbox – Star news for Dream
Tamworth's most popular band the Dream Factory have taken their first tentative steps towards securing a major record contract.
For the band have heard that a scout from the giant WEA Record label is coming to see them live, after being impressed with their debut tape released late last year.
The encouraging news comes at the best possible time, because the band have just announced a series of dates for the next couple of months.
The biggest and most prestigious of these is a gig at the popular Chasewater venue, The Junction on Thursday February 9.
The Factory will be lining-up with a similar band called, Soul Exit, who have already built up a following in the Cannock area.
As an indication of the popularity of the Factory, they have arranged a coach to ferry their army of fans to the Chasewater gig. More details are available from Mark Mortimer.
Also on the band's gig list is Mile Oak Youth Club on Thursday January 26 and Tamworth Progressive Club on Saturday February 11.
More dates are expected shortly – including possibly Nuneaton College and the Rugby Club – but in the meantime the band are keen to hear from any brass players who would like to help them out in the future.
20/01/84
BHX
Roseham
Tamworth Arts Centre
Tamworth Herald – 20/01/84
Fantastic evening of tributes to a favourite chairman
Unveiling of a certain smile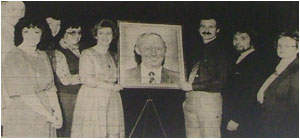 A FANTASTIC evening – that was how organiser Brian Nicholas summed up the unveiling of the portrait of the late Dennis Taylor
Specially commissioned by Tamworth Little Theatre, the portrait was unveiled at a get-together at the town's Arts Centre on Friday.
Tamworth Herald – 20/01/84
Musicbox – Rockin' back to a heavy revival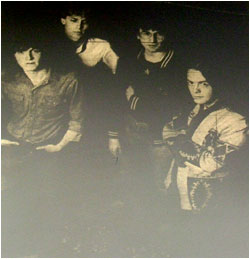 HEAVY ROCK music in Tamworth is all set for a comeback in 1984. That is the confident prediction of top rock guitarist Tim Latham who tonight launches his new band One On One at the Arts Centre.
Tim, the former Omen star, says that One On One are just the first of many heavy bands set to emerge in the town over the next few months to change the current musical climate.
Recently, heavy rock, which once dominated the town's music scene, has been in decline as new, more modern-sounding groups have taken control.
Only BHX and Hardware have managed to keep the rock flag flying, nut now Tim says One On One are ready to step into excite Tamworth's power-starved fans.
"We play traditional heavy rock with a commercial base," said Tim. "It is quite different to most labels on our sound, but I hope it will go down well."
The line-up for One On One (who were briefly called Roseham) implies that they are going to be a tour-de-force in local music circles.
As well as the highly talented Tim on guitar and backing vocals, One On One also boast Dave Ingham on guitar and lead vocals.
The drummer – for the moment at least – is Eyes sticksman Stuart Blaine, arguably the most experienced and exciting rock drummer in Tamworth.
And just to complete the excellent line-up is former Ethis frontsman Ralph Sandland making a welcome return to the local scene on bass and vocals.
The quartet begin their campaign to turn Tamworth 'rockwards' tonight when they line-up with BHX at the Arts Centre.
BHX will be looking to further consolidate their position as the town's most popular heavy band with their original and exciting brand of accessible rock.
The gig, which begins at 8pm and costs just 50p, promises to be an exciting night for the town's rock fans.
"We are intending to go all the way with this band," said Tim. "We have all been in bands before but we are confident and enthusiastic enough to try and make this oen the big one."
Tamworth fans will have the chance to judge for themselves when the doors open tonight at around 7.30pm.
SAM HOLLIDAY
20/01/84
One On One
BHX
Tamworth Arts Centre
Tamworth Herald – 20/01/84
Musicbox – Meeting a Thin Ferg on a dark night
The Thin Fergs – Tavern in the Town
ON A gloomy, wet and miserable night the dark and somewhat sinister sound that the Thin Fergs brought to the Tavern seemed very apt indeed.
For the band who hail from the Coventry area, offered the Tavern an imaginative musical score to the depressing picture outside.
They offered no smiles, no warmth and precious little humour.
In fact it seemed as if the night was pre-determined to provide the best possible atmospheric atmospheric backdrop to their sound.
A larger than average Tavern crowd greeted the band with a roar of expectancy as they took to the stage.
The crowd, serious and earnest, mirrored the band perfectly and you immediately knew the gig was destined to be a success.
The band, who have been together for 12 months have a sound that at times resembles Siouxsie and the Banshees, but with a slightly less grandiose feel.
All the songs are based around solid, well constructed rhythms care of Neil Byrne on bass and the excellent Neil McAllister on drums.
Added to this stark, bold backbone is the sizzling guitar work of Ian McAllister and the rich vocals of the band's most colourful member Liz Nemeth.
Although on the night Liz was suffering from a sore throat, it was still apparent that she had a strong vice with the sort of force that once characterised Hazel O'Connor.
Her voice gives a subtle charm to music which would otherwise seem slightly claustrophobic.
The highlight of the short, well-balanced set was an excellent tune entitled "Summer of My Life".
But the song that most typified the Thin Fergs – and indeed the night was – "Turning Black". It was a song that was powerful enough to make you depressed yet good enough to immediately cancel that depression.
The band will be re-appearing at the Tavern in the near future and on the strength of this fine showing, will have no trouble filling out Tamworth's premier venue.
SAM HOLLIDAY
Tamworth Herald – 20/01/84

Tickets are now on sale for next week's exciting team-up of Sitting Pretty and Select Elect. The tickets costing just 50p are available from any band member or from TamDisk Records in Lichfield Street, Tamworth.
The Dream Factory have added another date to their tour which begins at the end of the month. The gig is at North Warwickshire's Arley Sports Centre on Wednesday February 1.
BHX have sent out an appeal to any venue or organisation willing to let them put on gigs in aid of charity. Anyone interested is asked to call Mick.
26/01/84
Dream Factory
Mile Oak Youth Club
27/01/84
Sitting Pretty
Select Elect
Tamworth Arts Centre
Tamworth Herald – 27/01/84
Musicbox – A night of rock solid sounds


BHX/One On One – Arts Centre
DESPITE THE considerable attraction of live televised football, scores of local music fans turned out on Friday night to greet the return of 'rock' to the Arts Centre.
The fans were there to witness the first Tamworth gig by One On One and another exciting instalment in the short but impressive story of BHX.
One On One opened the proceedings and turned in a quite superb show. Every member performed creditably but for me, vocalist Dave Ingham was the star.
His voice never faltered throughout the 45-minute set and at times showed quite inspiring flashes of skill.

With their melodic, well-structured sound, putting a label on One On One is very difficult. They are about as far away from traditional heavy rock as an Eskimo is from a suntan, yet their music still has a hard feel to it.
The best number of the night was the excellent 'Nightshift', closely followed by 'Cuba' a thought-provoking number which closed the set.
All in all a quite splendid debut which has certainly planted the seeds from which One on One are sure to grow.
After a short break, BHX took to the stage to play their finest set to date. Everything went right for the talented quintet – their sound was tighter than Superman's trousers, their songs were varied and the overall effect was to leave the listener more than a little stunned.
With every gig the band are clearly maturing and newer songs like the epic 'Journey to Asgard' fitted in very nicely with the more established tunes such as 'Superstar'.
For me, BHX's greatest asset is their talent for continual, skilful songwriting. Song-writing is something that clearly comes easy to them and that is a rare gift indeed.
So closed a very interesting night of music. For BHX it confirmed that 1984 really will be their year and for One On One it proved that they too have enough talent and ideas to go all the way.
Tamworth Herald – 27/01/84
Musicbox – Peel gives Magnets a new year boost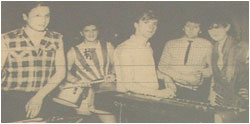 Those Attractive Magnets had a great start to 1984 when Radio 1 DJ John Peel played their latest single. But none of the Magnets, pictured here, heard Peel singing their praises when he played their single "Nightlife" on his late-night show recently. Other Magnets fans did, and told the lads. But they didn't believe it until they rang up Radio 1 and checked! "It's great stuff." Said band member Rikk Quay. "We've certainly put Tamworth on the map."
Tamworth Herald – 27/01/84
Musicbox
FOLLOWING last week's highly-successful 'rock' concert, the Arts Centre tonight plays host to two of the town's most-enterprising young pop bands.
Electronic duo Select Elect will join forces with 'video-superstars' Sitting Pretty for a gig that promises to be as entertaining as it will be varied.
Select Elect have only a small number of gigs under their studded belt but their youthful enthusiasm and attractive sound make them an extremely tasty prospect.
After Select Elect the Arts Centre will come alive to the sounds of Sitting Pretty – now with new keyboard player Greg Stevenson. The doors open at 8pm and there are a few tickets still left on the door at 50p.
The Dream Factory, who are just about to embark on their biggest ever tour, have added the services of two new brass players, Stuart Ashmore and Robin Maxwell.
28/01/84
Assembly Rooms Disco
Tramps and Tarts
DJ Nij Redfern