Tamworth Bands History : 1984 :
December
Tamworth Herald 07/12/84
MUSIC BOOST
TAMWORTH'S music scene is being given a major boost this weekend with the launching of a new club where both professional and amateur groups will perform.
Local music lovers are being invited along to the club which will meet weekly at the Castle Hotel, Tamworth. Organisers promise them a good night out.
The club is being launched by local musicians who felt Tamworth's contemporary music scene lacked venues for amateur and professional artistes to perform.
The club's first meeting will be on Sunday at 8pm in the Hayloft at the Castle Hotel.
Tamworth Herald 07/12/84
Win a signed guitar – and help save lives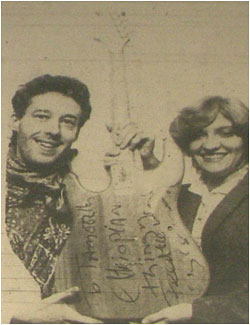 Rock star helps our famine 'special'
TAMWORTH Herald readers are being given the chance to win a guitar autographed by one of Britain's top pop stars – at the same time as helping the famine-stricken people of Ethiopia.
For next week, the Herald will launch a unique competition to win a guitar specially signed by Boomtown Rats' lead singer Bob Geldof – the man behind the smash hit single 'Do They Know It's Christmas?'
The single was recorded a fortnight ago by many of Britain's top pop stars who gave their services free to make a record especially for the Ethiopian campaign.
The idea inspired Boomtown Rats fanatics Ian Gibbons and Lorna Ring and they decided to try and get Tamworth people involved.
Ian contacted Bob Geldof and asked if he would sign a guitar that Ian himself would donate.
Bob was delighted to do so and both he and Ian decided to run a competition through the Tamworth Herald to try and raise as much money as possible.
The Herald will next week publish an entry form to win the guitar and will charge a small fee for each entry. All this money will go straight to the Ethiopian campaign and at the same time as helping people, the entrants will have a chance to win a unique and very exciting prize.
Message
"We want to raise as much money as possible for the campaign and it seems Tamworth people are ready to respond," said Ian from Fazeley Road Estate.
He ahs so far collected more than £110 for the campaign after visiting a number of local pubs – but he is hoping the guitar content will raise even more.
The guitar which has been specially varnished to protect the signature, comes with the message: "To Tamworth Ethiopian Thingy, Feed The Word Bob Geldof"
"Bob is very interested in the idea and there is a chance we may be able to get him to come and make the presentation," said Ian.
In the meantime, Ian is continuing his one-man fund-raising. Last week he collected money at The George, The Marmion, Corvettes, Three Tuns, The Fox and Wigginton and also made an appeal in the centre of town with the help of a tape recorder provided free of charge by Wigfalls.
For full details of how to enter the contest, make sure you get the Tamworth Herald next week.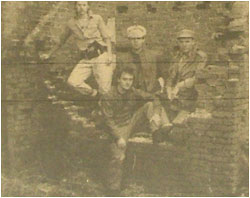 Tamworth Herald 07/12/84
Musicbox – GOING SHARP SHOOTING IN THE WOODS
EVERYONE wants to make a video. For all the pleasure of doing concerts or making demos there is surely nothing that can beat the delight of seeing yourself jumping around on the tele.
Well for one Tamworth band the dram of being in a story-based video has just come true. Talk Back joined forces with local video David Tighe to make a visual accompaniment to their brand new excellent demo 'Get Up and Shout'.
SAM HOLLIDAY
Tamworth Herald 07/12/84
Musicbox – Bubbling spirits brim with style
Spirit of Water – Demo
THERE IS nothing more refreshing than a god shock to the system. For that is exactly what I received when I put Spirit of Water's debut demo onto the cassette deck.
I expected to hear fairly average rock music with just a touch of individualism to mark it from hundreds of other similar demos. But instead I was treated to one of the most inventive and professional local demos I have heard all year.
It is a tape brimming with style and innovation which reveals that there is a band who should not be ignored.
Best of all the three tracks on offer is an irresistible number called 'The Fo?' which has a distinctive Sweet style rhythm section and a luscious, atmospheric very reminiscent of early Yes.
Once again Dylan Haddon's vocals shine through and there is also the tasty Nigel D. keyboards which supplement the overall sound.
Spirit of Water are a tight intelligent quartet who deserver far more credit than they so far been given. They are currently looking for gigs in the Tamworth area, so anyone who wants to play alongside a band bursting with ambition and genuine promise should get in touch immediately.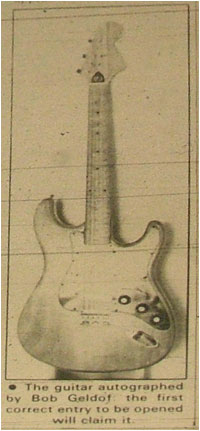 Sam Holliday
Tamworth Herald 14/12/84
Herald Contest to Aid Starving
Win a special Geldof guitar
Tamworth Herald 14/12/84
Musicbox – Noisy carollers raise the roof
BOTH Breaking Point and Sitting Pretty will this week play their special Christmas Party gigs. Breaking Point will line up alongside popular Lichfield act Artful Dodger on Sunday and Sitting Pretty fans will have to wait until Thursday to hear their Christmas good tidings.
Pretty's Arts Centre gig will be unique for a number of reasons. Not only will the band selling videos and tapes on the night but they will also be coordinating, a strange Christmas Carol Service by many of Tamworth's local musicians.
People as varied as Mike Turner (Sitting Pretty), Brian Lacey (The Parade) and myself will join together in a series of traditional carols while a hat goes round for donations.
All the money raised will go straight to the Ethiopian appeal and any local musicians that want to help by joining in this most original of carol services is urged to come along on the night.
As well as the carol service the night will feature Sitting Pretty playing a host of new seasonal tunes and dynamic young trio The Parade – currently doing well in the Musicbox poll.
Farewell
The night of fun starts at 7.30pm and everyone is urged to be early. For Breaking point their farewell to 1984 comes this Sunday and it will probably be the first time many fans have seen new powerhouse drummer Chris Orton in action.
Chris, formerly of Wild Child, has helped to instil a fresh power into the band and they are hoping to play several new numbers to make it a night to remember.
"1984 has gone pretty well for us and we are now confident that '85 can be even better," said Breaking Point vocalist Kevin Briggs.
So, two unmissable concerts which should put you really in the mood for a noisy, happy Christmas.
Tamworth Herald 14/12/84
Musicbox – Snips
SPIRIT of Water currently lining up a gig with Caprice have sent out a call for a new drummer and guitarist. Spirit whose primary influence is T. Rex , want people who are totally dedicated and willing to give 100 per cent to the band.
Talking of Caprice, they too are keen to expand their line-up and are seeking another guitarist to supplement their sound. Preferably the band want someone who could double up on keyboards to broaden their sound.
Tamworth Herald 14/12/84
Musicbox – Fun and fantasy in McCartney land…
Give My Regards To Broad Street – London Premiere
"THE most expensive home movie ever made" is how one critic described it and in a way that's a perfectly accurate judgement.
However, the way in which Give My regards To Broad Street has been dismissed as just another McCartney wheeze is a little unfair.
16/12/84
Breaking Point
Artful Dodger
Tamworth Arts Centre
20/12/84
Sitting Pretty
The Parade
Tamworth Arts Centre
Tamworth Herald 21/12/84
Musicbox – Big bands set for seasonal sound-off
MUSICBOX is having a seasonal break this week in preparation for a bumper full page special next week which will give you all the details of who has won what in out record breaking poll.
The polls have been piling in since Day One and we have now passed the magical figure of 500 votes – including those for 20 different local bands.
Everything will be revealed next week but in the meantime there are three good gigs to put I your diary over the Christmas period.
'Rock' ranks
Tonight (Friday), rock hits the Arts Centre in the shape of two of the areas biggest and boldest outfits – BHX and Scarab.
And then tomorrow, the outrageously wonderful Wolfsbane will join up with the equally wonderful One On One for a Christmas special that promises a lot. Wolfsbane who were delighted to be banned from The Railway tavern for being too outrageous – have promised their normal high spirits, and with One On One's consistent style, the Arts Centre looks like being packed to the rafters.
Better late…
And finally The Dream Factory will be playing a belated Christmas show on December 27 at Grendon Working Men's Club. The Factory are expecting hordes of people to turn up to a gig that will be the culmination of a year that the band are unlikely to forget.
It just remains for me to wish all Tamworth's musicians and music fans and MUSICBOX contributors a very happy Christmas packed full of your favourite Yuletide spirit.
SAM HOLLIDAY
21/12/84
BHX
Scarab
Tamworth Arts Centre
22/12/84
Wolfsbane
One On One
Tamworth Arts Centre
27/12/84
Dream Factory
Grendon Working Men's Club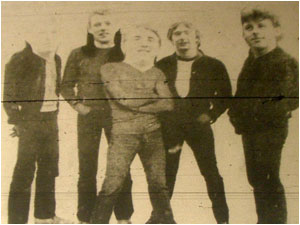 Tamworth Herald 28/12/84
Musicbox – Musicbox nets a Dream of a result in best poll ever
Factory romp home second year running
Top local bands
1. Dream Factory
2. Dickens
3. The Parade
4. A5
5. Freeway
6. Sacred Oath
7. Wolfsbane
8. BHX
9. Sitting Pretty
10. Classified Ads
11. Breaking Point
12. Love On Board
13. Dance Stance
14. One On One
15. Ideal Standard
16. Talk Back
17. The Elusive They
18. Chalky
19. The Black Market
20. Alien Emotions
THE DREAM FACTORY have done it again. Tamworth's busiest band of the year have proved for the second year running that they are also the town's most popular act. In a staggeringly successful poll (which closed with 590 votes counted), the Factory ran out as clear victors, taking more than 250 votes.
They never looked like being caught from the first day but the votes just kept rolling in as if there was a chance they may lose their treasured crown at Tamworth's most popular act.
Their obvious delight at winning the Best Band category will be heightened by their triumph with Top Local Song – "Wine and Roses".
The song due out as a single early next year, won comfortably despite a concerted challenge from "Hit and Run" by Dickens.
Elsewhere The Factory had four more of their tunes in the Top Local Songs.
The band will shortly pick up two winning trophies – donated by MUSICBOX – ut until then they have the satisfaction that their bandwagon just keeps in rolling.
Also with the right to feel satisfied is Mick Rutherford and his new band Dickens.
Their solitary gig at the Arts Centre inspired nearly 90 of you to make them your band of the year and also to put the band and Mick into the Top Singles, Top Album and Top Local Songs section.
If Dickens can have this effect after one gig, you can't help wondering what they will do after a string of them.
If the Dickens tally surprised some people, so will several other results.
Probably the one that will have people scratching their heads is the amazing success of Christain rock band Freeway – fifth Local Band, 18th in Top Albums and 13th and 15th in Top Local Songs.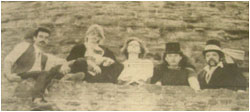 Sandwiched between Dickens and Freeway we find two young bands who have obviously built up loyal, cult followings. Both the Parade and A5 will undoubvtedly be delighted to see their hard work rewarded and both will be able to build on this support in '85.
The towns rock fans showed themselves to be really divided and the end results proved very, very close.
Sacred Oath now defunct in their original form, came sixth with 24 votes, Wolfsbane seventh with 23 and BHX eighth with 22. So Wolfsbane and BHX will not that just a couple of votes more would have given them Sacred Oath's new title – Tamworth's most popular rock band.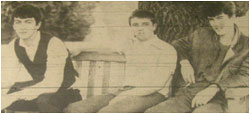 Elsewhere in the top Local band section, there were few surprises, although Sitting Pretty may well feel disappointed to have only scraped ninth in a year when they have made such a big impact.
A couple of new bands also made an impact including Lee Phipps and Martin Higgs' outfit The Black Market and a band called Alien Emotions of whom I know nothing.
Top Song By A Local Band
1. Wine and Roses – The Dream Factory
2. Hit and Run – Dickens
3. Fashion Toys The Dream Factory
4. Welcome to the Working Week – The Parade
5. Confused – Dickens
6. Love To You – A5
7. Gypsy Woman – BHX
8. Clutching at Straws – Wolfsbane
9. Game Of life – The Dream Factory
10. Protest – Sacred Oath
11. I Just Want to Tell You – The Dream Factory
12. Wonderful World of Sex – Classified Ads
13. Freeway – Freeway
14. Crucial Class – The Dream Factory
15. Wish you Could Be There – Freeway
16. She Called the Storm – A5
17. Take Me To You Leader – Sacred Oath
18. Going Over – Dickens
19. Sold My Soul – Wolfsbane
20. The Inspiration – Sitting Pretty