Tamworth Bands History : 1984 :
June
01/06/84
Delusions of Grandeur
Elusive They
Rikk Quay
Tamworth Arts Centre
Tamworth Herald – 01/06/84
Musicbox - Synth's back and it's no delusion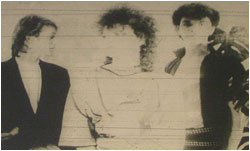 SYNTHESISER MUSIC in all its forms will be on display at the Arts Centre tonight when popular Burton outfit Delusions of Grandeur will spearhead an exciting triple bill.
With impressario Rikk Quay making his first and last – solo appearance and new Tamworth trio The Elusive They also playing, the night promises to be one of the most enjoyable showcases of modern synth pop that the town has seen since the heyday of Those Attractive Magnets.
Headlining tonight's show are Delusions of Grandeur a band who have put a lot of faith in Tamworth and are hoping to build up a big following in the area to match that which they already have in their native Burton.
The band – Geoff Noble, Julian Butt and Julie Richins – say they are influenced by top synth bands including Depeche Mode, OMD and Ultravox. However, they are quick to point out that their sound is not as simple or as formularised as some of the bands they follow.
"We are determined to be an original band because we aim to produce a far more powerful sound than most synthesiser bands," said Geoff.
The band, who also place great stress on a good visual show, write songs that deviate from traditional love themes and they are confident that the Tamworth audience will respond to what they have to offer.
"Tamworth seems to have great potential for concerts and so we are hoping a big crowd will turn up – we can guarantee a good show," said Geoff.
Another trio who will be keen to take the Arts Centre by storm are Tamworth band The Elusive They who will be making their first appearance at the popular venue.
The group who have recently been helping Rikk Quay with his demos, are influenced by similar bands to Delusions although vocalist Richard sees Tears for Fears as his main spur.
The Elusive They who recently made an excellent demo tape, say their sound is commercial enough to be well liked but original enough to keep people interested throughout.
Joining these two bands tonight will be Rikk Quay who has decided to play a short set of hiw own composition with the use of back tracking.
Rikk, who is now a member of The Sway, promises his usual high-energy show and with his normal mixture of on-stage antics and humour he is sure to be a big drawer tonight.
So a big night for lovers of synthesisers, tacking tapes and varied modern music.
Who knows, it may be the start of a synth revival, so if you want to stay one step ahead, make sure you make your way to the Arts Centre tonight at 8pm. Tickets are available on the door.
Tamworth Herald – 01/06/84
Musicbox - Winning Message for Love on Board
Love On Board/Sitting Pretty – Tamworth Arts Centre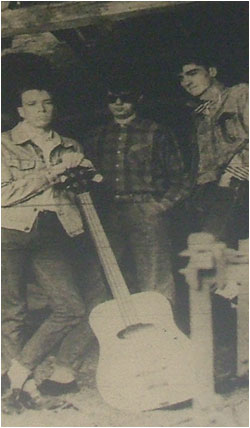 WHEN Love On Board stepped out to play their first major gig in Tamworth, the apprehension on all their faces was clear to see. After being forced to delay their debut appearance for many months, the quartet were understandably nervous to play to an eager and very large Arts Centre crowd.
At first the nerves began to tell in the music but gradually, as the band's confidence began to grow, so did the appreciation of an audience unused to the group's original and quite refreshing sound.
Love On Board are an acoustic-based outfit who play modern pop music – with an emphasis on strong melodies and rather lush atmospheres.
They came over as a mixture of The Farmers Boys, Aztec Camera and early Orange Juice although they still create an original feel all of their own. Particularly enterprising is the acoustic bass sound of Glenn Lewis which makes for a very restive change from normal grinding bass lines.
At times, however, the combination of an acoustic bass, an acoustic guitar and a lead guitar makes for a rather cluttered sound and if the group were less determined to use all the instruments all the time it would increase the effect they are trying to achieve.
As songwriters, however, Love On Board, certainly seem one step ahead of their contemporaries as they can write simple and endearing pop tunes and place them side by side with uptempo songs with far greater depth.
Favourites on first hearing were the cheery "Holiday, Holiday" and the catchy and very memorable "Crazier Than Most." The latter song closed the bands set and after ignoring a few cheers for an encore, the group disappeared into entirely unjustified post-gig depression.
They felt they had let people down and not played very well – but they were wrong. As a gig itself it was an enjoyable entertaining affair but as a debut performance it showed so much promise and potential to convince me that they will soon be a tour-de-force in the town.
In fact Love On Board only have to look at headliners Sitting Pretty, who show just how quickly a band can be transformed into a winning, consistent, combination.
Sitting Pretty have reached the stage now when the tight, well rehearsed sound they produce is so clinically executed as to give it an almost studio-like quality. They rattle every number off with a professionalism and enthusiasm that makes them immensely listenable -even if visually they would be the first to admit they hardly set the world alight.
The band really are crying out for a frontman and with every other aspect of their sound and set spot on, you can't help feeling that a frontman would be the straw that would finally break the record companies' back and get Sitting Pretty their much-craved deal.
As it was the crowd loved it (again) and after the show the band were called on to sign autographs – something that they now seem to take very much in their stride.
A few months ago Sitting Pretty were a nervous, relatively unknown outfit and now they have a large following, a single out this week and an optimism that is infectious.
There is a message there for Love On Board. I hope they are patient enough to allow their style and ability to shine through as they become more seasoned at their art.
SH
06/06/84
Dream Factory
Mackadown Pub
Birmingham
Tamworth Herald – 08/06/84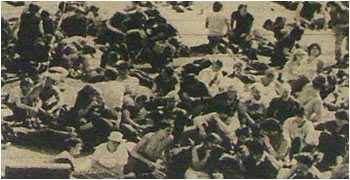 Musicbox - Countdown to a rock special
Planning a real summer sizzler
SUMMER is just around the corner and for Tamworth's rock fans and musicians that means one thing above all – the Bank Holiday Rock Festival.
Last year this revived event bought 700 enthusiastic fans pouring into the Castle Grounds to see six very different bands ranging from Sitting Pretty to seasoned headliners Hardware.
And this year, having got the provisional go-ahead already, it is time to begin organising an even bigger and better event.
Last year the festival was organised around six bands who each played an hour at a time.
But this year so many bands have already come forward to try and get on the bill that it would probably make sense to allow each group, 30 minutes playing time, which with 15 minutes between each act, should allow eight bands between 2pm and 7.15pm
The main problem will obviously be choosing the eight bands. Preference must go to groups who did not play last year and particularly to those who have a big following in the town and have done a lot to promote it over the past few months.
If you feel this applies to you – or you would simply like to help organise and promote the event – a meeting is being held on Sunday week at the Tavern in the Town.
All that is needed is one representative from every interested band (or individuals who just want to help).
A spokesman for Tamworth Borough Council's recreation department has said that he can see no objection so it is hoped to get everything worked out and pass over full details to them.
Ever band interested must therefore send a member or two to the meeting on Sunday 17th starting at around 8pm. If it is impossible for someone to attend it is important that if you still want to get on the bill you ring me, Sam Holliday on Tamworth 68023 (evenings). Failure to do so will mean that you miss out on the chance of appearing on without doubt the best day for the local music scene in Tamworth.
Last year the event was a massive success and this year with everyone's support we can make it an even better occasion. It's up to you – don't miss being at the Tavern a week on Sunday at 8pm.
Tamworth Herald – 08/06/84
Musicbox – Select pair turn in the surprises
The Magnets/Select Elect – Tamworth Arts Centre
ALTHOUGH ON a national basis synth music seems to be very much in decline, in Tamworth at least there are still bands trying to make mileage and careers out of much-heralded 'techno-revolution'.
Of these bands, The Magnets and Select Elect are probably the best known – but judging by the smattering of empty seats at the Arts Centre it seems as if even these groups are finding it difficult to convince would-be gig-goers that the musical statement they are trying to make is still a valid one.
Fans seem to have turned their back on this style of music over the past few months which is a shame as both The Magnets and Select Elect have a lot to offer.
The Magnets particularly come over as a band who, if given the right break, could be very big indeed. With Rikk Quay no longer part of the set-up the band have decided to completely change direction – but have managed to stay on the right road.
Their new material seemed as strong as any from the past and certainly seems less simplistic and straightforward than more traditional Magnet creations.
The rather seductive 'Breath On Breath' is a notable highlight where Andy's vocals add an attractive sideline to a very well written and spacious tune.
Even better was the group's last composition – an off-the cuff epic-length track which built up gradually and ended on a musical and vocal crescendo unlike anything the band has previously produced. It rounded off their short set nicely and convinced any doubters in the audience that the Magnets are back fresher and more committed than ever.
After a short break, headliners Select Elect took to the stage and delivered their longest set to date. Having seen the band several times, I had a general idea of what they would be like but they still turned in a few surprises. Foremost among these was the sudden appearance of female bassist Joanne Caloon who played in one of the band's newest and more subtle numbers.
It turned out to be easily the best number Select Elect played all night because whereas the rest of their numbers are a little predictable, the dual guitars used added an extra dimension and point of interest to their set.
The band clearly still have a long way to go but now they are experimenting with new instruments and new ideas, things should soon start to move for them.
For both acts the next few months could be crucial so we must hope that local people will start returning to see synth-orientated music to give this always interesting musical style the sort of reaction it deserves.
SH
Tamworth Herald – 08/06/84
Musicbox – Snips
ATHERSTONE Rugby Club, which regularly puts on bands, has made an appeal for any groups who feel they can entertain a wide cross-section between the ages 18-35 to come forward. All the bands will be well paid, provided they can play a long enough set and are available on one of the five particular dates.
A unique and potentially very exciting band, None But The Brave, will be making their debut Tamworth performance at the Tavern in the Town on Monday night. The band who say their influences include bands as diverse as U2 and Death Cult have promised a full-scale event, including militaristic costumes and a visual stage show. Entrance as with all Tavern gigs, is free.
11/06/84
None But The Brave
Tavern in the Town
14/06/84
Dream Factory
Minworth Social Club
Tamworth Herald – 15/06/84
Musicbox – Chat-show turn off on a night of fun
Delusions of Grandeur/The Elusive They/Rikk Quay (Tamworth Arts Centre)
In the mid-Seventies rock and roll became a paralysed, stagnant art-form because of the elitist attitude of the bands of the time.
Groups had an arrogant self-importance that led to a severe lack of communication between group and fans. But the revolution in the mid Seventies changed all that as, suddenly, bands did not want to be put on a pedestal any more and their fans were accorded respect and equality.
So it was with a certain amount of discomfort and dismay that I had to watch Burton trio Delusions of Grandeur.
For although their sound is very much of the Eighties their attitude is so mid-Seventies that watching them was like being forced to take another look at the horrendous 'Old Grey Whistle Test' circa 1974.
Between every song the band indulged in verbose self-important speeches about what THEY like, what THEY think and what THEY feel about everything from love to soap operas. It was as if the band thought the audience was completely gaga and needed smothering. It was also very insulting.
But all this is a great pity because the band so clearly have plenty of technical merit. Their songs are tight, well-written and enthusiastically performed, particularly by the multi-talented Geoff Noble.
Most of their tunes are immediately accessible and for a synth-based band that means one thing above all – HITS!
The lick professionalism of Delusions of Grandeur proved a marked contrast to support acts The Elusive They and Rikk Quay. Both acts were bountiful in their off-the-cuff good humoured spirit and for that reason alone they both provided great entertainment value.
The Elusive They never stopped smiling and dancing, implying they had something far more sinister than ants in their pants. The sound was very reminiscent of Soft Cell – that is, synth music with a telling punch.
It made you smile and tap your feet all at once and with so many serious bands around, that is a rare and very pleasant mixture.
The occasional hiccup – for example treading on someone else's drum machines and getting an additional unrequested rhythm section – only served to make their set even brighter and I for one will be keenly awaiting the trio's next manic and highly enjoyable set.
And Rikk? Well as usual the maestro of rhythm and dance was in top form bouncing around the stage with an urgency and buoyancy that quickly won over the audience.
Ever since his Magnets days, live work had always been Rikk's forte and the more I see of his stage show, the more I'm convinced he should go solo.
The way he is all his own boss and there are no bodies to bump into as he strides, jumps and plunges from one side of the stage to the other.
The songs are well delivered, always interesting and have a strong beat which never stops drilling into the listener's ears. The music like Rikk's image has that often craved but rarely achieved quality – style.
He should not waste it for it is a precious commodity and one that has always impressed the legions of record company personnel whose interest Rikk has been trying to cultivate.
So an overtly interesting night which showed that synth-based music can still be fun. Its halcyon days may be in the past nut is a music form that can still make for great entertainment and Delusions of Grandeur's verbal onslaught apart, that is exactly what this trip to the Arts Centre turned out to be.
Tamworth Herald – 15/06/84
Musicbox – Rock festival reminder…
DON'T FORGET – This Sunday at the Tavern in the Town we will be holding a meeting for any band that wants to appear at the Bank Holiday Open Air Rock Fetsival on August 27.
Every band that wants to take part must send along a representative so we can plan well in advance the line-up and the organisation for this extremely enjoyable event.
Any band that does not send along a member to Sunday's meeting will vote themselves out of the event by their non-appearance so if you still want to take part but cannot attend the meeting please ring me, Sam Holliday beforehand. Sunday's informal meeting will start at 8pm.
Tamworth Herald – 15/06/84
Musicbox – Snips
Both The Dream Factory and Sitting Pretty look as if they have broken into the prestigious university circuit. Pretty, who have a single out in a fortnight, are just putting the finishing touches to an extensive tour while The Dream Factory kick off their latest batch of gigs with a return visit to Dordon Working Men's Club tomorrow night (Saturday). They will follow up this date with an appearance at Warwick University next Saturday when they will support popular cult band The Bouncing Cheques. More details of dates will be announced shortly.
The Original Royal Family – who brought pleasure and mirth to millions – played their last gig recently at the Tavern in the Town. By all accounts it was a great night and a fitting farewell to one of the most original and refreshing bands the town has seen. They will be sorely missed!
16/06/84
Dream Factory
Dordon Working Mens Club
Tamworth Herald – 22/06/84
Police swoop on naked witches in woods
Tamworth Herald – 22/06/84
New "Mr. Arts" named
TAMWORTH Arts Centre has a new Administrator. He is Londoner Nicholas Ewbank, who was chosen from 40 applicants from all over the country.
In his early twenties, Mr. Ewbank is a graduate of Durham University.
He has had experience of arts administration in the London area and has also been involved in pub theatre and running drama workshops.
He takes up his post in Tamworth next week.
Go-ahead
"He is very lively and go-ahead, and we were impressed with his businesslike attitude," said Mr. Peter Edden, chairman of Tamworth Arts Advisory Council which runs the Church Street Arts Centre.
"He wants to promote youth theatre in Tamworth, and sees the Centre as a place where unemployed people can come and take part in the arts."
Mr. Edden said the post for administrator – which is officially part-time – was advertised nationally and the response was tremendous.
Mr. Ewbank succeeds Gary Holt, who has moved on to a full-time arts job in Swindon.
Tamworth Herald – 22/06/84
Musicbox – FESTIVAL IS ROCK SOLID!
Town bands in bid for two-day holiday event
TAMWORTH'S Bank Holiday Rock Festival is going to be the biggest and best the town has ever seen – that was the message that came over on Sunday night when scores of local musicians turned out for a preliminary meeting to launch the event.
Many people had expected just a handful of bands to turn up, but no fewer than 18 bands sent along representatives – or messages – that they wanted to be included in the exciting event.
It was the first time many of the bands had met each other, and the degree of solidarity between groups covering the whole spectrum of modern music showed kist how an event like this brings people together.
From the Dream Factory to Child's Play and from modern synth to traditional hard rock, it seemed every for of music was represented and it means that this year's festival will be even more varied than last.
The main problem for the acts that want to get involved is that with 18 bands all having an equal right to take part, one day is simply not enough.
Eventually, it was decided that the festival organisers would approach the council to try and allow the event to carry on over two days – making it by far the most ambitious outdoor gig of its kind the town has ever seen.
If the council agrees to the plan, it will mean that nine bands will line up on Sunday, August 26 and a further nine will take to the stage on Monday, August 27. If this goes ahead, the bands are all hoping to be able to play 40 minute sets which, with link-ups and DJs between times should make both days last a full eight hours.
The festival will be organised by the musicians themselves who will be responsible for every aspect of the event.
Another meeting of all the bands is set to be held this Sunday, when a clearer impression of who will be appearing should emerge. Bands so far confirmed are: The Dream Factory, Sitting Pretty, Love On Board, Child's Play, Breaking point, Prophecy, A5, Wolfstone (Wolfsbane – Ed.), The Elusive They, Classified Ads, Eastern Block, The Magnets, Talk Back, Capprice (Caprice – Ed.), Spear To Water (Spirit of Water – Ed.), Vin Rouge, Eyes and Mystic Hero.
Several other non-Tamworth bands have also tried to join the list but it seems unlikely that they will be able to play because of the already jam-packed line-up beginning to emerge.
NB: Will everyone in the bands who intend to appear at the event please be at the Tavern at 8pm on Sunday.
22/06/84
Sitting Pretty
Mystic Hero
Tamworth Arts Centre
Tamworth Herald – 22/06/84
Musicbox – Sounds Varied…
SITTING PRETTY, who have their debut single out next week, will be playing another gig tonight to promote the release.
The gig at the Arts Centre is the latest in a series by the band and has been hastily arranged. In spite of this, tickets are already selling well, confirming the ever-increasing popularity of this ambitious quartet.
Supporting Sitting Pretty tonight will be Mystic Hero, the young pop outfit whose recent performance at the Arts Centre and the Tavern in the Town have made a lot of people sit up and take notice.
Mystic Hero play a varied selection of modern pop with influences varying from rock and roll to the more mainstream synth rock. Tickets for the show should be on sale at Tamdisc Records and can also be bought on the door. More details about Sitting Pretty's single will be available in next week's Musicbox.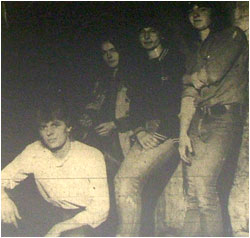 ONE ON ONE, the ever-improving rock outfit who are filling various venues everywhere they go, have announced a series of dates to promote their soon-released demo tape. The gig kicks off on Saturday when the band will enjoy a prestigious spot at the Wilnecote Carnival at Ninefoot Park. The band will be on at around 5.40pm and it is hoped that they will be selling their long-awaited tape on the day. Other gigs so far confirmed for the outfit are June 27 at Tamworth Progressive Club, June 29 (provisionally) at Atherstone Memorial Hall and July at Donisthorpe Colliery.
ROCK fans who are looking for something different to do tonight might enjoy a trip over to Lichfield where entrepreneur promoter Tetley is staging an exciting, five-act gig. The bands, many of whom will be known to Tamworth's rock followers, will be playing from 7.30pm onwards at the all-in price of £1.50. The acts appearing are Arabia, Five Miles High, Artful Dodger, Hellfire plus duo Alcatraz and Winson Green.
23/06/84
Bouncing Cheques
Dream Factory
Warwick University
23/06/84
One On One
Wilnecote Carnival
25/06/84
Dream Factory
Burton Albion FC Social Club
27/06/84
One On One
Tamworth Progressive Club
29/06/84
One On One
Atherstone Memorial Hall
Tamworth Herald – 29/06/84
DJ's specs shattered by 'violent blow'
A PIECE of glass was driven into a disk jockey's face when he was struck a violent blow which shattered his spectacles, it was claimed this week.
The DJ, Colin Wall, was taken to hospital to have a deeply-embedded splinter removed from just below his eye, Mr. Sidney Gray, prosecuting told town magistrates.
Mr. Gray claimed that Mr. Wall was violently assaulted following a disco at St. John's Guildhall, Tamworth.
Before the court accused of maliciously causing grievous bodily harm to the disc jockey, was 17 tears-old Jonathan Bryn Williams, of George Avenue, Mile Oak.
He claimed that he told a police officer: " I only slapped the DJ around the face to split up a fight. No way did I hurt him or smash his glasses. His face was already bleeding when I slapped him."
Tamworth Herald – 29/06/84
Musicbox – Debut single is pretty fantastic
Dream became a vinyl reality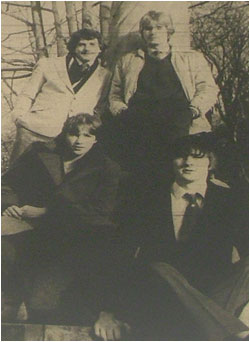 SITTING PRETTY will this weekend see the fulfilment of a dream when their first-ever single will be available on general release. The double A-sided single has been cut, pressed and packaged and the first batch of 1,000 should be arriving at Tamdisk records today (Friday).
As with all relatively unknown bands, Sitting Pretty, who admit the single has cost "a lot of money", know they are taking a big financial gamble.
Although they are confident that advance orders and curious record buyers should account for several hundred sales, a further 120 are being sent to record companies, music papers and radio operations – and they all go for free.
But as drummer and vocalist, Mike Turner, is quick to admit, Sitting Pretty do not see the single as the one that will make them into millionaires.
"We know this one isn't going to break us and we will probably lose money but we are just hoping that the record companies will like it and put up the money for the next single," said Mike.
Several record companies, particularly UB40 bosses, Graduate – have already shown considerable interest and Mike is only too aware that the best way to get across the band's music is via a single. All the talk, promoting and hyperbole count for nothing against what is on the actual vinyl and for that reason, Sitting Pretty are lucky that their disc is as good as it is.
"The Inspiration" a haunting and rather beautiful ballad, which is a far cry from Sitting Pretty's normal uptempo pop. The flip side is more standard Pretty music in the form of 'Broken Glass Lies' which has already become a live favourite.
The single, which will be available not only in Tamdisk but also Smiths, Boots and possibly other record shops in the town represents not only a vast achievement for Sitting Pretty but also a big incentive to other bands in the area.
Twelve months ago Sitting Pretty were merely a dream in Mike Turner's head, and now they are on the brink of a success that owes much to their own die-hard determination.
I would urge everybody to put this record at the top of their shopping list because it show that the food guys can win and it offers hope to everyone who has said at one stage or another, "One day I will make a record…"
Tamworth Herald – 29/06/84
Musicbox – Snips
DREAM FACTORY, fresh from their weekend at Warwick University, have been confirmed to play at an all-nighter scooter rally at Weston-Super-Mare in September, supporting an as yet unnamed Motown band.
Also in the pipeline for the band are gigs at Tyburn House (Erdington) on Monday, Bubbles, Night Club, Hinckley on Thursday, Austrey Working Men's Club on July 20 and the Three Crowns, Walsall, August 17.
A SPECIAL committee has been set up to organise the Bank Holiday rock festival. The committee will be made up from one member from each band involved and will be meeting every week until the event at the end of August. The first such meeting will take place at the Tavern in the Town this Sunday at 8pm.
SIMON Hewin, the former Ethis and Anti-Dote guitarist has joined The Magnets in an attempt to change the band's emphasis on a totally keyboard sound. Simon, best known for his work with Rupert Dale and Gary Preece in the Anti-Dote, will be playing live with the band later in the summer.
Tamworth Herald – 29/06/84
Musicbox – New peaks from three strong bands
Gig reviews – Just a quick plug for three young bands I recently saw live and thoroughly enjoyed…
LOVE ON BOARD, Nuneaton
If you fancy a good night out, DON'T go to Nuneaton – but do go to see Love On Board. For in spite of playing in an insipid town to a dreary audience. Love On Board overshadowed even their Art Centre debut with a very jolly and entertaining set. Filled with new zest and confidence, they turned in a relaxed set which never faltered once and had more peaks than many a mountain range.
MYSTIC HERO, Tamworth Arts Centre
A what a difference a drum makes…The last time I saw Mystic Hero I thought they had all the right ideas, but there was something missing. That something was a drummer – but now they have the equivalent of six in the form of manic Adrian Goodman.
Venom
He literally murdered his drum kit with a venom that in other circumstances would have been quite disturbing. Still it all helped to complement a string, well-paced set which was dominated by chirpy commercial numbers, like 'Gloria', and the terrific 'Walkout'. The best yet from a very promising outfit.
THE VISITORS, Tamworth Arts Centre
With a burst of energy, anger and power. The Visitors crashed out of their self-imposed exile and onto the Arts Centre stage as special guests of Sitting Pretty. It was as surprising as it was enjoyable and it was good to see another "new wave" band in the town ready to belt out powerful three-minuters and tease the audience with a mock arrogance.
Quickly
Honest, pure vitality that will carry the band forward very quickly. See a later Music Box for more details of this exciting new combo.
SH