Tamworth Bands History : 1984 :
November
Tamworth Herald 02/11/84
Musicbox – Ads split after emotional finale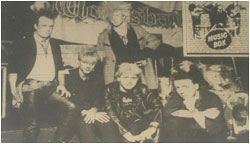 THE Classified Ads, Tamworth's longest serving band have officially split-up. The band, generally regarded as the town's only truly 'alternative' outfit, announced their surprise decision to quit in the middle of Sunday night's Hallowe'en gig with Wolfsbane.
The decision was taken by the band a few weeks earlier, but they decided to wait until they were up on stage before announcing it to the people who have supported them over the past four and a half years.
The reason for the split-up is described as 'purely geographical'. For the past three years, the group has carried on despite its members going to universities and colleges all round Britain. Now, however, with bassist Paul Clements and keyboard player Derek Goodwin working in Manchester, guitarist Alan Turner working in Basingstoke and drummer Simon Webster at university in Liverpool, only one member of the Ads is permanently based in Tamworth.
"It has come to the point where we have had to say it is impossible to continue, although that is very, very sad," said keyboard player Derek Goodwin.
The Classified Ads – originally called The Cuts – were formed in January 1980, at a time when Tamworth's music scene was dominated by long hair, guitar solos and denim. The Ads were never quite sure what they wanted to sound like but they were determined to broaden Tamworth's heavy based image. Their songs at the time were a cross between The Stranglers and The Beatles and the band were described in their first MUSICBOX article as being 'new wave rock 'n' roll'. The Ads however, were always keen to change and as they joined the increasing throng of St. John's Youth Club based schoolboy bands, they gained something of a reputation for energetic, if not always musically, spot-on live performances
They made just one visit to the recording studio, coming out with a three-tracker, featuring their most famous number "Black IS The Night", the riot song "Summer of '81" and the heartfelt appeal for fame "Mr. Nobody".
The tape brought considerable local interest and the Ads continued gigging at their normal rate, playing shows in aid of Oxfam and also giving a special performance to a group of mentally and physically handicapped people from all over the area.
By now, however, their minds were set on leaving Tamworth to pursue university and college courses – but they were determined to carry on gigging.
Every holiday they had, the Ads would arrange a gig, often turning up at places such as their favourite pub, The Tavern or the Arts Centre, unrehearsed but determined to enjoy themselves.
However, their dreams of permanent survival came to an end on Sunday night in a moving concert at the Arts Centre. The band poured 'bubbly' over the audience and they all came back at the end to say thank-you to everyone who has supported them over the years. In their time, they twice won the Tambeat records' Band of the Year, and last year came third in the MUSICBOX poll. Now, all five members are hoping to have a bit of a rest before coming back in new guises and new disguises.
For reasons obvious to most MUSICBOX readers, I would also add my voice of sadness to the passing of the Ads. For me, for the band and for the town's scene as a whole, it really is the end of an era.
N.B. A review of the Hallowe'en gig will appear shortly.
Tamworth Herald 02/11/84
Musicbox – Snips
SITTING PRETTY have lost the services of bass guitarist Pete Long. Pete who was one of the founder members of the band, announced his decision last week, but Sitting Pretty have vowed to carry on regardless.
They have already drafted in a temporary replacement and are hoping the bass position should be filled permanently in the next few weeks. In his time with the band, Pete helped to lift them from a nervous outfit into a confident, ambitious group with an enormous local following. He helped to write a number of the group's best known songs and was also involved in the band's finest moment yet – their debut single released earlier this year. Pete is said to be going into a new band, but for Sitting Pretty the show will go on…"The decision has come as a bit of a shock after a recent upturn in our fortunes, but we are determined to go on," said vocalist Mike Turner.
Sitting Pretty will be playing the first ever Thursday night gig at the Arts Centre next week. The show starts at 8pm.
ONE of Tamworth's favourite heavy bands, Scarab have now released their debut single which MUSICBOX will be reviewing in the near future when we will also have five copies of the single to give away. In the meantime the band are planning a double-decker coach to take fans to a special party gig at The Coach and Horses at West Bromwich on December 1. For just £2 fans will be taken to and from the gig and will be allowed to get into the concert free to see Scarab and support act After Eden. Tickets are available from the Arts Centre next Friday when Scarab will be playing alongside Sacred Oath.
THE DANCE STANCE have sent out an urgent appeal for a saxophonist or trumpet player to join their tightly-knit youthful outfit. The band who already have quite a following, feel they are being hampered by the lack of a brass section and they urge anyone who may be interested to ring them as soon as possible.
07/11/84
Dream Factory
Winshill Youth Centre, Burton
08/11/84
Sitting Pretty
Tamworth Arts Centre
09/11/84
Scarab
Sacred Oath
Tamworth Arts Centre
Tamworth Herald 09/11/84
Musicbox – Mick's rocking right back from the Ice age!
ONE OF TAMWORTH'S best know musicians of all time returns to the local scene on Thursday night when he brings his new band to the Arts Centre.
The re-appearance of Mick Rutherford will bring back floods of memories to former Ice fans who look set to fill the Arts Centre once again.
Mick's new band are called Dickens and they are part of the new Organisation set up which has sprung up in Tamworth. Already Dickens have supported the hugely popular Budgie on a national tour and now they have their own plans for a single and album and a European tour.
Their decision to start their rebirth in Tamworth shows the faith Mick has in the town which springboarded him to fame. Just for the record, Mick has made a staggering 21 singles, six albums and a maxi-disc, during his long career.
He has also made a solo album and has worked with a host of people including The Alexis Korner Blues Band, Tank, Power and Glory, The New Spencer Davis Group and many, many more.
Toured
Mick is not the only 'name' in Dickens. Drummer Paul Reeves is another ex-Ice man who has toured the country extensively and also played as a session musician on a number of TV commercials and theme tunes.
Another Dickensian is guitarist Paul 'Bram' Braimbridge, who, as well as working throughout Europe, has also toured the world with Gillan stablemates Firebrand.
Just to complete the picture is the bassist of the band Ron Hall who used to be in No Comment, a band who played support to the irrepressible Ian Dury. With keyboard player Brian Johnson this is the line-up of Dickens a band packed full of experienced musicians and five highly-charged musical brains.
Their sound is original rock displayed perfectly on their powerful and memorable four-track cassette spearheaded by the excellent 'Hit and Run'. This song will be one of many the band will be performing at Thursday night's show where they will be ably supported by local r 'n' b outfit La Grange who have become a Tavern in the Town favourite. All in all a terrific night out is in prospect for just £1 a ticket.
For Mick and for Tamworth's music scene it promises to be a night of nostalgia and hope. Kick-off is around 8pm on Thursday. Miss it at your peril.
Tamworth Herald 09/11/84
Musicbox – Scarab throws down the challenge…#


ROCK returns to the Arts Centre with a vengeance tonight, when the mighty Scarab will hit the stage along with kindred spirits Scared Oath.
Both bands have been busy building up a following in Tamworth for several months and they are confident that a packed Arts Centre crowd will reflect just how much work they put in so far.
For Scarab the occasion will be an excellent one to promote their new single 'Poltergeist/Hell On Wheels' which the band are hoping will finally break them into the big time.
The single, which comes in an attractive sleeve, was written, arranged and produced by Scarab and will come under the Musicbox microscope next week. In the meantime the band have kindly handed over five singles for readers to win a simple contest.
All you have to do to win a Scarab is to say what a scarab is? Send your entries as soon as possible to Sam Holliday.
For those of you who don't know the answer – or want to get your hands on the single straight away – copies should be available at tonight's show. As usual Scarab will be dishing out their normal high-voltage, high-energy performance which will no doubt be matched by the ever-enthusiastic Sacred Oath.
This youthful power outfit have had considerable success already and their impressive ability to combine hard-hitting numbers with subtle melodies is sure to endear them to Tamworth's massive rock following. So another night of eardrum popping is in prospect and the fun starts at 8pm.
10/11/84
Dream Factory
The Barley Mo, Birmingham
11/11/84
Ha, Ha, Ha It's the Folk Circus
Old Stone Cross
Tamworth Herald 16/11/84
Cheers! Here's to a 'real' change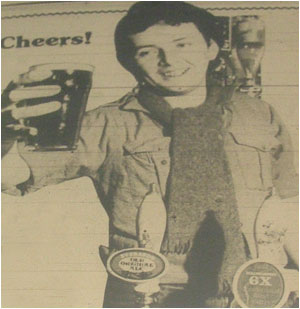 TAMWORTH Arts Centre is used to welcoming visiting shows and visiting plays, but now it has introduced something new – visiting beers!
The Church Street centre has stepped up its interest in real ale and has decided to have a change of beer every six weeks.
"Since we started changing our ale our turnover has boomed because people seem interested in trying out new things," said Arts Centre administrator Nick Ewbank.
As well as the permanent, popular, Everards Original, the centre currently has Wadworth 6X – but it isn't staying long, "The idea of guest beers is a very popular one, especially as they are all good traditional beers, " said centre cellarman Gerard Moore.
15/11/84
Dickens
Tamworth Arts Centre
Tamworth Herald 16/11/84
Musicbox – Leaping out with a whole new bag of tricks
Love On Board
Tamworth Herald 16/11/84
Musicbox – Talents on parade for a fun night
Tamworth Herald 16/11/84
Musicbox – Splitting Oath's plea : could you follow a Star?
18/11/84
Ha, Ha, Ha It's the Folk Circus
Tavern in the Town
20/11/84
Mungo Jerry
Polesworth Working Mens Club
Tamworth Herald 23/11/84
Musicbox – New club will show 'folk' is fun
A NEW folk club will be opened in Tamworth next week.
The club which will meet every Wednesday at the Kettlebrook Working Mens Club hopes to attract local enthusiasts and anyone who may like to do a 'turn' themselves. The idea for a new club came from Tamworth's top folk band Ruffins Well who have noticed a massive surge of interest in folk recently.
The time is right and the town is obviously ready to have a club of its won. Anyone who wants to do an act can just come along and we will make them into stars!" said Ruffins Well member John Priest.
Tamworth Herald 23/11/84
Musicbox – Make it biggest music poll yet!

New prize trophy for the top vote-catchers
YES, it's that time of year again. The time when Musicbox lets you, the readers give your verdict on the good, the band and the ugly of the past year of music.
Last year's poll broke all previous records with nearly 400 local music enthusiasts putting pen to paper to choose their favourite records and bands.
It was the biggest opinion poll of local music tastes that Tamworth has ever seen and the reason for its success was undoubtedly the inclusion of a best local band section.
As you probably remember, The Dream Factory beat The Magnets to claim first prize and win the '83 title and there is no doubt The Factory go into the '84 contest as hot favourites.
As well as headlining the town's pop festival, the Factory have done hordes of prestigious gigs and their following now is bigger than ever. But what is certain is that this is not a one-horse race.
Sitting Pretty recently packed out the Arts Centre almost twice over and it is clear that Mike Turner's outfit have a chance of toppling the Factory if they can get all their supporters to vote.
And another band who must also have a very good chance of winning are Wolfsbane. At their debut gig, they packed out the Arts Centre and since then Tamworth's top glimmers have picked up enthusiastic believers wherever they go.
A lot of people have whispered to me that Wolfsbane can and will win the poll – but it is all a case of which of the 'big three' can get the votes.
New outfits like Dance Stance, Sacred Oath, The Parade and Love On Board have their own supporters and more established acts like Breaking Point, The Magnets and BHX could also pull off a surprise.
In fact, the whole event is wide open and you can vote for any band who have gigged or been around in the local area during 1984, providing they are based in the Musicbox circulation area – Tamworth, Atherstone or Coleshill.
This year, as an extra incentive to carrying the title 'Tamworth's Most popular Band' the winners of the content will pick up a special Herald trophy to put on the mantelpiece alongside the gold discs!
Another trophy is on offer for the best original song by a local band. This is included because I think the songwriters who put so much work into an original number deserve a pat on the back. Once again, you can vote for any original song by one of 'our' bands, and as a pointer, I have listed some of the numbers that have really impressed me this year.
Breaking Point – 'Ode to Nichola Romanov', 'Escape', 'Emergency', 'Love Lies Bleeding'; Dream Factory - 'Leisure Land', 'I Just Want To Tell You', 'Wine and Roses'; Wolfsbane – 'Sold on Souls', 'Clutching At Straws'; Sitting Pretty – 'Inspiration', 'Concrete City'; Love On Board – 'Crazier Than Most', 'Holiday, Holiday'; BHX – 'Superstar'; The Parade – 'Welcome To The Working Week'; Talk Back – 'Every Day'; The Magnets – 'Breath on Breath'; Rikk Quay – 'Age of Innocence'; Caprice – 'Girl at the Bus Stop'; One On One – 'Poppy Red'.
These are just few that have hit me this year, but remember you can choose any song at all as long as it is performed by one of our local bands and it is an original.
A guide
In addition to the local angle, we want you to choose your top singles, albums and national bands of the year. I have chosen my top ones below to give you a guide to what's been around but you can vote for anything at all, providing it has come out in 1984.
My top band (surprise, surprise) is The Stranglers and I have decided to make Breaking Point my band of the year and their 'Ode to Nicholas Romanov' as the best local song. Now its over to you. Think about it, then get those votes pouring in. It's your chance…don't waste it.
SAM HOLLIDAY
N.B. All entries must be on the special Musicbox poll form below.
Here's MY choice
Sam Holliday picks his own chart-toppers…you may not agree!
TOP SINGLES
1. Bruce Springsteen – Dancing in the Dark
2. Frankie Goes To Hollywood – Two Tribes
3. The Stranglers – Skin Deep
TOP ALBUMS
1. The Stranglers – Aural Sculpture
2. The Smiths – The Smiths
3. The Waterboys – In a Pagan Place
Tamworth Herald 23/11/84
Musicbox – Snips
Child's Play one of Tamworth's most endearing rock bands, will play their last-ever gig next Thursday, with new-boys Caprice.
Child's Play, who only burst onto the scene earlier this year, have decided to throw in the towel and rumours of their members' new acts are flying around.
Catch Dream Factory at Kingsbury WMC tonight at 8.30pm along with The Parade. News of The Factory's first single soon.
23/11/84
Dream Factory
Kingsbury Working Mens Club
Tamworth Herald – 23/11/84
New club will show folk is fun
25/11/84
Prophecy
Glascote Working Mens Club
29/11/84
Child's Play
Caprice
Tamworth Arts Centre
30/11/84
Wolfsbane
BHX
Tamworth Arts Centre
Tamworth Herald 30/11/84
Musicbox – Glam rockers are blasting in
TAMWORTH'S two most powerful rock bands will tonight join forces to bring a glam-orientated wall of sound to the Arts Centre.
After their last performance together, Wolfsbane and BHX decided to drop the idea of a battle of the bands and tonight are just intent on giving the audience a concert to remember.
For both outfits, tonight will be an unusual one. For headliners BHX it will be the first Arts Centre performance for new drummer, Rob Baxter, Rob who used to be with popular Lichfield rockers, Bashful Alley, made his BHX debut last night (Thursday) but tonight in front of a packed Arts Centre he looks set for his first major test.
"He is a good drummer and he fits in well with our look and sound so we are quite happy at the moment," said BHX vocalist Mick Goodby.
BHX have added a couple more songs to their repertoire and are aiming to go straight for the audience's throats. And – they will be armed with their best ever sound.
"We have got ourselves a good sound system which we think will give us the best sound we have ever had in Tamworth. People might even be able to hear the vocals," said Mick.
For Wolfsbane, who came into the gig as late replacements for Spirit of Water, mystery surrounds who will be their drummer tonight. Rumours that original drummer Poo-Poos has had to leave due to other commitments have been flying around for the past few weeks and there is a very strong possibility that tonight may well see a Wolfsbane debut for former Childs Play drummer, Jasper.
Whoever is behind the 'skins' there is no doubt that Wolfsbane will take full advantage of the powerful sound system on offer to try and blast their way into the ears of all their fanatical supporters.
The gig, which is almost certain to be a sell-out starts at 8pm, and it promises to be a very noisy way to blow away the winter blues.
SAM HOLLIDAY
Tamworth Herald 30/11/84
Musicbox – Factory with a big heart
MUSICBOX would like to give the Dream Factory a pat on the back for a heartwarming gesture they made in last week's Kingsbury concert.
On the day of the gig, the Factory learned that one of their biggest fans – from Birmingham – had been killed in a motor accident and so they immediately arranged a collection.
During the course of the concert the band raised £30 which is going to buy a wreath for the boy's funeral. A nice gesture by the Factory and one that proves that young people aren't so hard as some people make out.
The gig, incidentally, was a complete success for the band who are now bristling with confidence with their debut single just a few weeks away from release.
EX-CHILD'S PLAYER Norman Yates has sent out an appeal for a new bassist into music such as The Alarm. Norman currently joining in the fun of the Folk Circus is after someone with power, talent and a brilliant understanding of the bass.
If you can sit this bill and want tom play alongside one of Tamworth's most experienced and well liked musicians, you can normally contact Norman by popping into the Tavern in the Town.
LUCKIEST person of the week must surely be Beatle-fan and Sitting Pretty impresario Mike Turner. For this week, Mike received a telephone call from London inviting him down to the world premiere of Paul McCartney's new film 'Give My Regards to Broad Street'.
Not only will Mike be allowed to sit among the rich, the famous and the critics at the premiere but he will also be able to join the rich, the famous and the critics the following morning for McCartney's official press conference which will also feature Ringo Starr.
Mike earned the right to attend through his work with the Beatle's magazine "Every Little Thing" and understandably, he is delighted. We hope to persuade Mike to give an account of his magical mystery trip in a future Musicbox.
In the meantime, Mike is keyed up for the Sitting Pretty Christmas spectacular at the Arts Centre. Pretty will play a host of new seasonal songs as well as all their favourites.
Tamworth Herald 30/11/84
Musicbox – Dickens of a night out – LETTER
I ALWAYS read your music page in the Herald and your article on 'Dickens' interested me enough to go along to the Arts Centre.
Like many people I felt a great sadness when Mick Rutherford left 'Ice' and the inevitable split came.
It was with mixed feelings that I went along with two of my daughters. I wondered whether Dickens would be a poor substitute for Ice or, Mick's voice would be as good three years on.
However, Dickens are the best band I have ever heard. No way are they a substitute for Ice. The sound and the atmosphere they create, left me feeling exhilarated, to say the least.
Mick Rutherford's voice is better than ever before and it's hard to believe that he's been away for so long. Paul reeves has always been a great drummer and I believed that no-one could improve on perfection…but he has!!
Mrs. M. Ford
Glascote Working Mens Club

Musicbox understand that Dickens are in line to support Slade on their forthcoming tour. At the moment this is unconfirmed.
31/11/84
Warlock
Tamworth Progressive Club