Tamworth Bands History : 1984 :
August
Tamworth Herald – 03/08/84
Musicbox – Come and join the Factory convoy
THE DREAM FACTORY are planning a 'Quadrophenia' style scooter convoy to their now-confirmed convert with classical soul singer Edwin Starr at Weston-Super-Mare.
The event, which goes on all night, will be the highlight of the band's already quite full career and so the Factory are determined that as many of their fans as possible should be able to go and see them.
A coach is being organised for the morning of the concert – September 15 – but the band hope a lot of people will join them on the night of the 14th for a mass scooter and car convoy down to Weston. Many of the band's fans – including the scooter group the 'B5000 Burners' – have said they will join the entourage, the like of which Tamworth will probably have never seen before.
The Factory's billing alongside Edwin Starr is the climax of a series of gigs for the band over the next few weeks. On August 16 they will be playing at the Boldmere Pub and the week after on August 24 they will be at the Mermaid pub – also in Birmingham.
On August 26 they will return to home territory to headline the first day of the Bank Holiday rock festival and then on September 8 they will play at one of their most popular venues at Dordon Working Men's Club. With new gigs springing up all the time the band now must regard a single – or at least a new demo tape – as their next most important requirement.
Tamworth Herald – 03/08/84
Musicbox – May the curse be with you
Wolfsbane/Child's Play – Tamworth Arts Centre
"WE ARE WOLFSBANE and the curse be with you!" With this menacing cry the curtains of the Arts Centre opened to reveal Tamworth's newest and most outlandish act – the delightfully eccentric Wolfsbane.
Dressed like renegade extras from the 'Mad Max' films the group hit the audience with the effect of a thunderbolt – demolishing most of the spectators eardrums' in the process.
Without inhibitions or worries they tore into a set packed full of well-written and for the most part very original numbers which at the close brought the audience to their feet – a rare sight indeed Tamworth.
It was hard to believe as you surveyed the packed, enthralled audience that this was the band's first ever gig in Tamworth and even more surprising was the complete and utter absence of nerves on behalf of the quartet handing out the onslaught.
Bayley Cooke, who for all his acrobatic posing, still managed a superb vocal performance teased, tormented and tantalised the audience with a show of gritty self-confidence. On his left, Jeff Hateley (who gets my award for the coolest looking person on the night) turned in an enthusiastic performance and he was helped in the rhythm section by the solid drumming work of 'Poo Poos' who had also clearly left her nerves at home.
But for me Wolfsbane's start of the night was the self-effacing guitarist Jase The Ace.
For his tender age, Jase really has awesome talent and one particularly memorable break in 'Clutching at Straws. Brought an unnatural silence from an otherwise boisterous audience. He brought delicacy where delicacy was needed and fire where fire was required. Given time Jase could easily become one of the best guitarists in the town and I for one will be keen to see his progress over the next few months.
So closed a unique and wholly enjoyable set. As a gig, it was excellent but as a debut it was outstanding.
Following such an eye-opening act as Wolfsbane should have been if not impossible, at least very difficult. But Child's Play took it all in their stride. Bassist Norman Yates delighted everyone with his off-the-cuff chatter which perfectly complemented the band's relaxed and very confident performance.
I a similar manner to Wolfsbane they broke down barriers by giving all the varied people in the crowd at least something to cheer about. Their nicely-balanced set sped up and slowed down and with the addition of a number of popular cover versions they soon won over the crowd who gave them support right until the end.
The me the band's greatest asset was their musical ability – particularly timing which was faultless. Graham Phelps was particularly impressive on guitar playing a number of always interesting breaks throughout the set.
By the time they had finished, everyone – band and crowd – was smiling and as the people began to file out of the Centre with the contrasting styles of Wolfsbane and Child's Play firmly engraved on their mind. It seemed as of rock had finally returned to Tamworth.
SAM HOLLIDAY
Tamworth Herald – 03/08/84
Musicbox - Snips
LOVE ON BOARD, the modern pop quartet who have quickly established themselves as one of the town's top bands, have sent out an urgent appeal for a manager. The group, whose material embraces musical influences from Velvet Underground to Aztec Camera, feel that a manager will give them just the edge they want to take them out onto the road to success. As The Dream Factory have proved, there is simply no alternative to having a non-playing member of the band taking full charge of arranging gigs and so Love On Board are keen to find someone young, keen and enthusiastic to help them.
THE RESTRICTED still Tamworth's only hardcore punk band, are looking for a new bassist and drummer to join them. The band who are influenced by everyone from Discharge to The Damned and Death Cult are determined to carry on as a band even though there are only two remaining members – vocalist Andy Wiggall and guitarist Roger Moore.
A NEW YOUNG HEAVY BAND, who are bursting with enthusiasm and a desire to play live, have sent out an appeal for a drummer to complete their line up. Sacred Oath, a band who are keen to get involved in the local scene as soon as possible, want a drummer who is ambitious and almost ready to play gigs. They say they have a sound that is 'heavy with a melodic feel'.
Tamworth Herald – 10/08/84
Musicbox - A real night to remember
None But The Brave/Breaking Point – Tamworth Arts Centre
OK, I will stick my neck out – this was probably the most exciting concert I have ever seen in Tamworth.
Over the past four or five years, I have seen many memorable concerts – the first Fretz gig, Breaking Point at the Tavern, Reliants at The Guild Hall for example – but none have ever made my spine tingle more than the two acts who stepped out at the Arts Centre one Friday night recently.
Both bands turned the amps up, turned their sights on the audience and then turned on the style in a show that made an almost numbing impact.
First, Breaking Point, who were bursting with confidence after a hugely successful show the night before at Nuneaton. With real gusto and energy, they played the best I have ever seen them, to rapturous – and long overdue – acclaim.
Kevin Briggs gave a truly passionate vocal performance, screaming out the words of the frenzied 'Emergency' with a feeling that was almost too real. His guitar sound was spot on and with Daydo in racy, powerful form on his brutal bass, the effect was the sort of layered forceful sound rarely achieved by a trio.
'Ode to Nicholas Romanov', 'Resurrection' and the beautifully simple 'Love Lies Bleeding' wormed their way into the ears of the enthralled audience before the band stopped dead and left the stage.
An encore was called for, an encore was given and Breaking Point left the stage safe in the knowledge that they had done everything they could have done to win over the crowd. The best band in Tamworth? No danger.
After a short break. None But The Brave hit the stage and the excitement reached fever pitch. The band dazzled and distracted the crowd with their original, twisting and multi-faceted musical backdrop.
They gave a tight, very powerful set complemented perfectly by an eye-opening visual show. Engulfing dry ice, flashing lights and very evocative stage movements, showed that bands who work on the eyes often work better on the ears.
Particularly impressive was vocalist Sean Purcell who brought his wide-ranging voice down to bear on a variety of songs from direct U2 type anthems to the more sophisticated Death Cult style numbers which the group clearly felt more at home with.
The highlight of the set was saved right until the end when vocalist Sean was left alone on the stage singing the immensely powerful and moving ' Tomorrow Belongs To Me'. It is a number that was stolen by the Hitler Youth as a propoganda weapon and for that reason alone has quite a haunting feel. Carefully synchronised, flashing bombs marked the end of the set and None But The Brave received a much-earned crescendo of applause.
They will be again in the future and I for one intend to be there. Gigs like this are a rarity to be savoured, so don't miss either of the bands the next time you get the chance.
SAM HOLLIDAY
10/08/84
Elusive They
Talk Back
Tamworth Arts Centre
Tamworth Herald – 10/08/84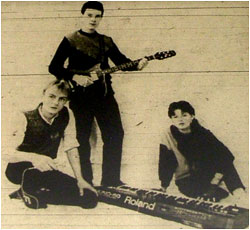 Musicbox - Come join the bands
It's going to be another hectic week end for gig-goers, with five of Tamworth's top bands in action over the next two nights at the Arts Centre.
Tonight (Friday) The Elusive They will headline the first show alongside the rejuvenated Talk Back, who have promised a totally different set.
And the tomorrow night, ever active Love On Board will headline a show which will also feature the return of The Classified Ads and confident pop outfit Mystic Hero.
Tonight's two-band show looks interesting for a number of reasons. The Elusive They, who made such an impression with the loopy Delusions of Grandeur, have a rich synthesiser based sound which has more than a touch of Soft Cell about it. Avoiding many of the normal synth band clichés, the group play an enthusiastic set of originals which are made all the more palatable by the buoyant onstage antics of the trio.
They are the sort of band who are determined to enjoy themselves no matter what anyone else thinks and it is that easy-going attitude that will probably make them a big hit tonight.
Support act Talk Back, who are probably one of Tamworth's most consistent live acts, have promised a totally different set to what spectators may have been used to in the past. The band have spent a long time writing new material in time for the Bank Holiday Rock Festival and they are keen to test the water at the Arts Centre in advance.
The gig is set for an 8pm kick-off and tickets should be available on the door.
Twenty-four hours later on Saturday night, Love On Board will step out to headline at what is expected to be a capacity Arts Centre gig. The band, who have made the summer all their own, have a very broad-based appeal wrapping up several musical passages inside a commercial framework which guarantees a big following.
They have a sound that fits into the current wave of 'modern pop', an all-embracing term covering bands such as Aztec Camera, Orange Juice, Friends Again and The Farmers Boys. The band have several other elements creeping into their sound, chiefly a touch of the late 60s/early 70s, Lou Reed and Velvet Underground, which helps to add even more colour to their overall panorama.
The Velvets are a band who have also recently influenced support act the Classified Ads. The Ads who have gone through several waves and changes in their past four and a half years appear to be coming through their very black period and have added a touch more commerciality to their hard-edged new wave music. The band have promised a good visual display and are hoping to improve on what they see as their disastrous last appearance at the Centre.
Opening Saturday's show will be lively quartet Mystic Hero who are bursting with enthusiasm and seem to improve with every show. Mystic Hero can also boast a very broad appeal and have the ability to combine simplistic pop songs with more meaty numbers packed with a carefully concealed warmth.
Tamworth Herald – 10/08/84
Musicbox - Snips
Entrepreneur Lichfield promoter Tetley, who has made it his mission to put as many Tamworth bands as possible on to our sister town's stages has appealed for any groups who would like to play in Lichfield to ring him. Tetley who has recently dealt with Wolfsbane, BHX and Eyes, is interested in taking bands who cover the whole spectrum of music.
11/08/84
Love On Board
Classified Ads
Mystic Hero
Tamworth Arts Centre
16/08/84
Dream Factory
Boldmere Pub
Sutton Coldfield
17/08/04
Dream Factory
Three Crowns
Walsall
Tamworth Herald – 17/08/84
Musicbox - Just nine days left before weekend of fun
ALL SET FOR A TWO DAY BONANZA!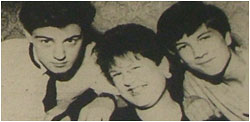 MUSICBOX special festival preview by Sam Holliday
EXCITEMENT HAS NOW STARTED to build up for Tamworth's greatest ever local rock event – the outdoor Bank Holiday Festival now just nine days away.
All the planning and organising has passed along smoothly and now the sixteen groups involved have turned their attention to the most important thing of all – making sure the music is right.
As a guide to what listeners can expect MUSICBOX is this week giving a short summary of all the groups who will be playing, in the order they will take to the Castle Grounds stage.
SUNDAY AUGUST 26th
(Disco and other entertainments throughout the day)
12.30 – Select Elect – This electronic outfit have been drafted in as a late replacement for The Visitors and Western Block who both decided to opt out. Select Elect are a surprisingly experienced band despite their relative youth and they play synth-based songs with a distinct Human League feel. They should open the whole event in style.
1.15 – Vin Rouge – A lively, enthusiastic funk band who will be making their town debut at the show. The band have recently lost their guitarist and there is a chance that this could force them to pull out. If they decided to carry on they are assured of a sympathetic reaction from the Castle Grounds crowds.
2.00 – Spirit of Water – A new band whose recent line-up changes have made them harder to categorise. The effect they are aiming for is for a rock sound with feeling – a cross between Sprinsgteen and T-Rex. The band have been involved in the festival from the start and are eagerly awaiting the reaction of the Tamworth audiences.
2.45 – The Elusive They – A lively trio who are trying to bring a bit of fun to the occasionally po-faced synth side of music. The band are full of energy and commitments and believe in making well-structured, simple pop music with a biting edge.
3.30 – Wolfsbane – Without doubt the heaviest act on the two days. Wolfsbane go straight for the throat and don't let go until blood starts to show. Visually exciting and musically enjoyable.
4.15 - Talk Back – A band who already have several gigs and a single under their belt and yet manage to show first-timers enthusiasm for everything they do. Their electronic pop sound owes as much to bands like The Police as to the synth movement and they are likely to make a lot of friends with their commercial sound.
5.00 – Mystic Hero – Another band who believe music should be fun. Mystic Hero only burst onto the scene a couple of months ago but already they have developed a reputation for playing entertaining and well-written original pop songs. Bound to go down well.
5.45 – The Dream Factory – Sunday's headliners and without doubt the most eagerly awaited act over the two days. Their popularity outside Tamworth ahs meant that a lot of local people still haven't seen them and this is a chance to really see what the band has to offer. The band play a mixed bag of sounds which has a touch of psychedelia, a touch of the sixties, a touch of the eighties and a healthy dose of soul. They will be out to make the event their own and are sure to guarantee a memorable end to the first day if the proceedings.
MONDAY, AUGUST 27th
(Disco and other entertainments throughout the day)
12.30 – The Magnets – The second day kicks-off with a band whose roots go very deep in the town. Andy Baldwin is now the only remaining member of the original Those Attractive Magnets but he ahs made sure that the band has changed to fit its new line-up. Guitarist Simon Hewin has been drafted in to add meat to the sound and it will be his first appearance with the group at the show
1.15 – A5 – An intriguing outfit who are certain to appeal to a good percentage of the crowd. A5 play music that has been inspired by acts such as The Banshees but is far from being traditional new wave. They are very difficult to categorise – you will just have to wait and see.
2.00 - Child's Play – Lively, entertaining rock outfit who boast ace busker Norman Yates on lead vocals. Childs Play perform a mixture of original and cover songs which go for the rock and rill end of the heavy scene and have more than a touch of the Stones.
2.45 – Breaking Point – Regular readers of MUSICBOX will know exactly what I think of this band – they are superb. They play powerful U2/Alarm inspired rock music with an emphasis on musical and lyrical feeling. If they are on form they could steal the whole event.
3.30 – Classified Ads – Once again in the thick of the local action. The Ads play an original set with influences from The Doors and The Beatles to the Stranglers and T-Rex. Tamworth's longest surviving band the group are regarding the Festival as perhaps the highlight of their career to date.
4.15 – Caprice - In contrast to The Ads this will be Caprice's first ever show and one that has eagerly been anticipated by guitarist Mad Mike. The band say they have a light rock feel which allows influences like Nazareth to creep in. The recent loss of a drummer means Mystic Hero's Adrian Goodman will step in to help.
5.00 – Love On Board – An exciting new find for Tamworth. Love On Board bring a fresh enthusiasm to the town which is as infectious as their catchy pop sound. Sure to be one of the biggest successes of the two days.
5.45 – Sitting Pretty – What a difference a year makes…this time last year Sitting Pretty opened the festival with their first real public performance. Now they are headlining the second day and are sure to bring masses of people along to watch their stylish, modern pop.
So there you have it – the sixteen bands who will be out to give the Tamworth music scene the biggest shot in the arm it ahs ever received. We will give all the final details of the event next week but in the meantime we hope that all Tamworth's young – and not so young – rock fans will make a special entry in their diaries – it should read August 26/27 – Castle Grounds, Bank Holiday Rock Festival. DO NOT MISS!
Sam Holliday
17/08/84
Elusive They
Select Elect
Tamworth Arts Centre
Tamworth Herald – 17/08/84
Musicbox - Snips
THE ELUSIVE THEY will be making a return trip to the Arts Centre tonight alongside Select Elect.
For the Elusive They the gig will be a nice warm-up for the festival and for Select Elect it will hep to introduce Joanne Calcott to the band's sound. Select Elect say they will be playing more live than they normally do, and are looking forward to their gig which is their first at the Centre for a couple of months. Tickets for tonight's show are available on the door.
A5, the unique combo formed out of the members of Lambent Lamella, have just released an excellent new demo track which MUSICBOX hopes to review in the next couple of weeks. The tape is an experimental and very adventurous four track collection which encompasses influences as varied as The Banshees and The Police. Copies of the tape are now available at the Tavern in the Town where all four tracks are currently hyped beyond proportion by the town's top DJ Buttercup.
WILL all the musicians who are due to play in the outdoor festival please attend the final meeting about the event this Sunday at the Tavern in the Town at 8pm. As this will be the very last meeting we will be able to discuss exactly everything that will happen over the two days and so it is vital that every musician involved – not just committee members – attend.
SPACES ARE STILL AVAILABLE for the Tamworth Herald/LK Records pop quiz which has now been pencilled in to take place on Thursday, September 27 at the Embassy Suite.
18/08/84
One On One
Austrey Working Mens Club
24/08/84
Dream Factory
Mermaid
Birmingham
24/08/84
Sitting Pretty
Classified Ads
Tamworth Arts Centre
Tamworth Herald – 24/08/84
Musicbox - Pretty's latest line-up goes on view


SITTING PRETTY will tonight unveil their new six-piece line-up when they step out to play at Tamworth Arts Centre with Classified Ads.
Pretty decided to shake-up their line-up several weeks ago and tonight will be the first public showing of just how changes have affected the group's sound.
The most obvious difference will be that vocalist Mike Turner is no longer behind the drum kit. Criticism had long been voiced at the band that they lacked visual interest and so Mike decided he would forsake the drums to allow himself to improve his vocal concentration and give the band a much-needed frontsman.
Jon Peat is the new sticksman who was chosen out of a whole battalion of people who tried to fill the post when it was advertised inn MUSICBOX.
Another new person the group's fans will be able to see is Anice Byfield who will be joining Mike on vocals. Anice is said to have a very confident and impressive voice and there is no doubt that this added sideline should enhance the band's sound completely.
The group see tonight's show as a chance to warm their fans up before their headlining appearance on Monday at the Castle Grounds Festival.
Joining Sitting pretty tonight will be sleaze-merchants the Classified Ads who have promised another enthusiastic watchable performance. The band whose music attempts to go in several different directions all at once hope to play some entirely new material to augment their recent songs which include 'Anger Can Be Power', 'Wonderful World of Sex' and 'Blockbuster'.
Tickets for tonight's show cost just 75p on the door and it looks like being an intriguing night of very different music.
Tamworth Herald – 24/08/84
Musicbox - ROCK FESTIVAL – NOW IT'S UP TO THE FANS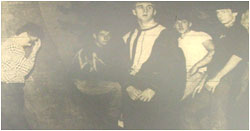 Sam Holliday makes a plea for bumper crowds at the two day event
THIS Sunday at 12.30pm electronic outfit Select Elect will strike the opening bars that will signal the official start of Tamworth's biggest and boldest ever musical event – the Bank Holiday Rock Festival.
For the first time in its chequered, inconsistent history the festival will stretch over two days on Sunday and Bank Holiday Monday and offers music listeners a veritable feast of musical variety and styles.
The festival is aimed at bringing the diverse Tamworth sound to as wide an audience as possible. Many local bands realise that playing at the town's two premier concert venues – the Arts Centre and the Tavern in the Town – inevitably only reaches a small proportion of young people in the town. Now with a central slot (in the middle of the Castle Grounds) and with an entirely free entrance fee, the bands are hoping that many people who have never been to gigs before will feel interested enough to come along and see just what the town has to offer.
What they will see is a musical solidarity that is quite unique to this town. Unlike previous events that have been organised by one band who took all the credit and the billing, this event has been out together by all the musicians involved.
With the excellent co-operation from the police and Tamworth Borough Council the musicians have taken on the task of making this the best event of its kind Tamworth has ever seen – but now it needs your help.
To prove that all the work, organisation and expense were justified Tamworth people must show 'like never before' that they support the bands who are trying desperately to bring a bit of life back to the town.
Everyone who enjoys good pop and rock music and wants to see Tamworth bands do well must prove it by piling into the Castle Grounds on both days. Refreshments will be available and there will be a running disco (starts 11.30) between bands courtesy of the Tavern Roadshow – Rikk Quay, Buttercup and Booie.
There is music to please everyone, from synth and rock and roll to heavy and modern alternative music. It is all played by bands with spirit, enthusiasm and a genuine belief in trying to give Tamworth an air of musical respectability.
The bands need your support so bring some sandwiches, bring some cans, bring some friends and make a weekend of it.
Tamworth Herald – 24/08/84
Musicbox - Riding a new exciting road to studio play
A5 – demo tape
THE great thing about going into a studio is that suddenly a whole new world of sound is open to you. Instead of the drab confines of guitars and amps which is experienced at concerts, bands have a chance to fiddle around with a variety of switches and come out with a totally different, unique type of sound.
Studios open the door to experimentation and on this tape it is clear A5 went straight through the door and locked themselves in the room.
For here is a tape that has so many twists, turns and diversions that you can easily get lost inside its all embracing technological jungle.
Take the opener 'Love To You'. It is a simple, tuneful number which unveils the fact that it is a really very complex song which has obviously taken a great deal of time to write and properly structure. It is catchy enough to be a hit and yet interesting enough never to be a throwaway. And that is a winning formula.
The other three songs although less commercial still have a powerful body and combine a list of influences which include The Banshees, the Police and The Cure.
There is even a touch of The Doors on 'Strike a New Line' and just to complete the picture the opening to 'She Called The Storm' is a dead ringer for 'The Lebanon'.
All this makes for an intriguing assault on the ears from a band clearly enjoying the music they make. It is different, diverse and occasionally bizarre. Music like this shows that experimentation can and does work and there is a message there for people content to go into the studio and come out sounding wooden and half-hearted.
SAM HOLLIDAY
Tamworth Herald – 24/08/84
Musicbox - Chance to hear new Oath
TAMWORTH'S music fans will be able to see a totally new band Sacred Oath in action on Saturday night, at the Arts Centre, alongside Birmingham rock band Scarab.
Sacred Oath are a powerful young rock band in the mould of their friendly rivals Wolfsbane.
It will be Sacred Oath's first major gig and it shows that Tamworth's scene just keeps rolling on and on.
25/08/84
Sacred Oath
Scarab
Tamworth Arts Centre
Tamworth Herald – 31/08/84
Musicbox - Full Page
Holiday rock with sweet taste of goodwill
Musicbox Festival Special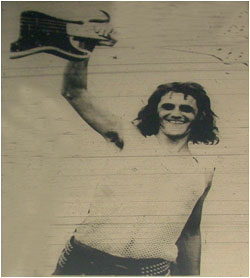 Happy Day…
A joyous day for a joyous Day, the bassist in Breaking Point, shows his delight at a hugely successful set – and the fact that he has just become a father. For on the eve of the gig, while most musicians were preparing to play and were enjoying a sleep, Steve was biting his nails at Nuneaton as his wide gave birth to a bouncing baby girl – named Lisa. "It has all been great and I am really happy," said Steve.
TAMWORTH'S music lovers turned out in their thousands over the Bank Holiday weekend to enjoy the biggest and best ever local pop festival the area has ever seen. Organisers, spectators and the musicians themselves hailed the event as a glorious success with everyone treated to a feast of music covering all shades of modern sound.
What made the event such a unique success was that the idea, organisation and all the funding had come from the musicians who were determined to make the event a free one.
The bands had clubbed together to provide a powerful public address system and also did all the moving, lifting and litter clearing to ensure the event ran as smoothly as possible.
The festival officially kicked off at 1.30pm on Sunday afternoon when scorching August sunshine and an already healthy-sized crowd greeted the first band Select elect.
Like all the 14 bands that were to follow over the two days, Select Elect were treated to a superb sound system and a generous reaction from the sprawling crowd of spectators who seemed as eager to lap up the music as they did the sunshine.
Crowd numbers were difficult to predict as the open nature of the event meant people drifted in and out of the Castle Grounds over the two days. What is certain is that the organisers achieved their aim of a rolling crowd more than 1,000 on each day with a 'hardcore' of several hundred who stayed the full 17 hours.
Family groups to children alike enjoyed the event, but it was dominated – as expected – by young people who were keen to show that when they are given the opportunity to do something, they will always respond.
Sunday's line-up consisted of seven very different bands all of whom did well enough to win over at least a percentage of the audience.
Outrageous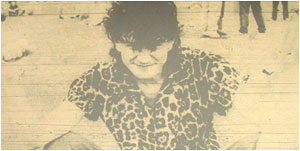 Rikk salutes scorcher of a success
"We did it!" That's the defiant message from compere DJ and festival treasurer Rikk Quay who along with the chirpy Buttercup and Booie, kept the event running smoothly.
Special credit on Sunday must go to the outrageous Wolfsbane who raised the temperature even higher with a steamy, confident set that earned them the best reception of the day.
Talk Back also recorded one of their best-ever sets and congratulations are in order to the Dream factory who, despite not hearing a note they played because of technical problems, pushed out a superb sound which won over not only their own loyal contingent of followers but also many people who had never seen the band before.
Monday kicked off in similar style with the same ingredients of good weather, an excellent crowd and a running time that bore no resemblance whatsoever to the printed schedule!
Once again it was the more rock-orientated bands who received the better reactions with the endearing, enthusiastic Childs Play gaining a much deserved encore and the sizzling Breaking Point turning in another dynamic set to universal acclaim.

On route to a good set...A5, one of the top bands on Sunday, get into the swing of things
For Breaking Point, the day was even more memorable as bassist Steve 'Daydo' Day had become the proud father of a bouncing baby girl just ten hours before he took to the stage – clearly a day he will never forget.
Towards the end of Monday as the light began to fade, Sitting Pretty stepped up and emphasised the whole spirit of the event. They were due to start their set at 5.45 but because of a number of problems, throughout the day, the schedule ran later and they didn't start until 8.10.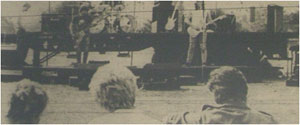 New band Spirit of Water, another outfit who embodied the spirit of the festival.
Crowds still stayed to cheer them on and with a touch of professionalism and spirit they carried on regardless of the sinking sun to show everyone just what the festival was all about.
Cars came forward and put on their headlamps so the band could play on and as they did so, people from all round the grounds joined in a big litter clearance operation.
Afterwards the police, who had done such a splendid job over the two days, were almost as enthusiastic as the people involved.
"It was a great success and there was no trouble at all. There is no doubt that this is a good form of entertainment for the young people of this town," said Inspector Brian Bromley from Tamworth police.
The musicians' equipment over the two days was housed in a lorry given free for the event by Aucotts of Fazeley.
What is clear is that everyone involved in the event now want a similar two-day bonanza of music every year. Despite the hiccups along the way, the sheer spirit of the event – and the varied excellence of the 15 Tamworth bands who dished out the music – means Tamworth's 1984 rock and pop festival will be remembered with affection by everyone involved.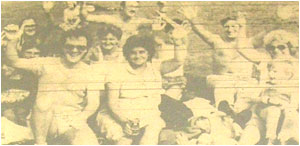 A FAMILY AFFAIR
Keep it in the family…Alan Watkins (left at the front) the keyboard player of Talk Back, shows off some of the band's biggest fans – his family. They sit a long way from the stage thinking, no doubt, that seeing Alan was one thing but bursting their eardrums was something totally different.
SAM HOLLIDAY
Special Video captures the day
A SPECIAL video – an hour in the life of the pop festival – made by Herald reporter Sam Holliday and photographer Johnny Walker will receive its premiere show at the weekend at the Tavern in the Town. The video, made on Sunday, features interviews with band members, organisers and people in the crowd and will hopefully be shown on Sunday night at the Tavern.