Tamworth Bands History : 1985 :
July
Tamworth Herald – 05/07/85
Cash crisis revealed - A shutdown threat to Arts Centre?
TAMWORTH Arts Centre could close down next year unless more money is found to fund it.
A five-year grant to the Arts Centre from the Borough council is due to run out in spring 1986. There are no plans for any more direct financial aid, and the centre has not sufficient funds to be self-supporting, it has been revealed.
Members of the Tamworth Arts Advisory Council were told at their annual meeting by centre administrator Mr. Nicholas Ewbank: "The Arts Centre will not be able to continue to operate without a considerable degree of financial aid from the Borough Council."
He said his latest report from the accountant showed that by April next year, without a further cash injection, the centre's assets would be exceeded by its liabilities. The only financially viable move to take would be to shut it down altogether.
£10,000 grant
Five years ago the borough council awarded the Arts Centre, which is run by the voluntary Arts Advisory Council, and initial £10,000 grant. Since then the annual grant has decreased each year, the intention being that at the end of the five years the centre would be self-supporting.
Tamworth Herald – 05/07/85
Musicbox – BIGGEST AND BEST EVER FESTIVAL!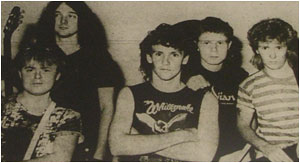 TAMWORTH'S 1985 August Bank holiday Rock Festival looks all set to be the biggest and best the town has ever seen. Preparations are now in full swing for the event which, as well as encompassing 18 bands on the main two-day outdoor bill, will also kick-off with a special two-night warm up at Tamworth Arts Centre.
The format for this year's event is similar to the 1984 version, which brought thousands of local rock fans into the Castle Grounds over the two days.
Each of the 18 bands on view will be given 30 minutes each to show the world (or at least, the Tamworth bit of it!) just what they can do. For some bands, like old favourites The Royal Family, Love On Board and One On One, it will be just another show, but for several smaller groups like Depth Charge and Pulsebeat, it will be their first real chance to play in front of a large – and generally – appreciative audience.
The only sadness about the festival this year is the absentees, who for various reasons, won't be taking to either the Arts Centre or the Castle Grounds stages. Scarab, who have done so much in the area in the past 12 months, have had to pull out because of the band's original line-up breaking up, and BHX, who have also lost their place because they have lost their bass.
Also missing will be the dream factory, who have a festival in the Isle of Wight, The Parade, who have holiday commitments, and Sitting Pretty, one of last year's headliners, who have decided not to enter this year.
The Order
There was also a hope that Freight Train may get involved, but as this now seems unlikely, the final line-up for the two days looks something like this. The times have yet to be finalised, so in alphabetical order, the bands appearing are:-
Sunday, August 25:
Deth Charge, Dickens, Femme fatale, Love On Board, One On One, Powerplay, Pulsebeat, Spirit of Water and The Sway.
Monday August 26:
Breaking Point, Caprice, Dance Stance, Gaf The Horse In Tears, The Magnets, The Royal family, Sacred Oath, Wild Child and Wolfsbane.
The line-up promises to be even more varied than last year, combining everything from the new wave of Femme fatale to the very, very old wave of Caprice via good-time rock and roll (Wild Child), high-energy pop (The Sway), sheer dynamism (Breaking Point) to eccentric heavy metal of the delightful Wolfsbane.
Kicking off the whole festival will be two party nights at Tamworth Arts Centre, featuring bands who just missed out on the main line-up. Playing in this section will be the new-look A5 (highly praised for last week's Arts Centre show), Blackout and filth-rock merchants Shooting from The Hip.
All the evidence points to it being the best four days of the year for Tamworth's Rock fans, so I would urge you all to cancel holidays, marriages or divorces and make sure that on August 23 and 24 you are the Arts Centre and on August 25 and 26, your bottom is placed firmly on the lawns of the Castle Grounds.
Tamworth Herald – 05/07/85
Musicbox – Black Spirit, super 'power'
Spirit of Water/Powerplay: Tamworth Arts Centre
FROM the moment that the set opened, to nearly an hour later, I could see that the Atherstone 'Black Metal' merchants, Spirit of Water were not playing anywhere near their usual standard.
As they began to play their doomy opening number, it became apparent that the show had not been properly organised. First, the curtains failed to open, and when they did, the houselights were left on, and the stage lighting was non-existent.
The band themselves sported another new 'image' with inverted cross mikestand and dark 'satanic' make-up. The songs were moody and depressing, giving over quiet a corny 'Black Sabbath' feel.
This was met with only limited audience appreciation. One brief respite however was embodied in the old favourite 'The Fox' which I think is one of the group's best-ever creations.
After a relatively short interlude. Powerplay hit the stage. Boasting ex-Childs Play guitarist Graham Phelps on lead guitar, the band played an excellent debut set of well-written songs raging from quiet pieces in the Brian Adams/Bruce Springsteen genre, to some good old raunchy rock 'n' roll numbers which were almost in the style of early AC/DC! One particular song which springs to mind had certain nameless members of the audience bouncing in their seats with the sheer energy and excitement of it all.
The set only suffered one major problem when the bass amp ceased to function, but this was soon remedied by the kind loan of Spirit Of Water's amp to save the evening.
Overall, the band put on an extremely entertaining show. Mr. Phelps' guitar work was melodic and articulate and with a great rhythm section to back him up, the vocalist gave a performance which increased in confidence and power as the show went on. I look forward to seeing how this band progress in the near future, because after such an impressive start they must surely go on to great things.
K.E.V. (Musicbox Metal Correspondent)
Tamworth Herald – 05/07/85
Musicbox – GOSSIPBOX
Here's a chance for all local bands to get their music – and their voices – across to a very wide audience indeed…Paul Melloy A DJ who works on BRMB's Razamataz programme, has written to MUSICBOX saying he has set up a unique cassette-magazine called Streetlevel. The idea is to create a superior fanzine which you can listen to and for £1 a month, it will feature a tape full of interviews and music by a host of local bands. Paul is homing in on the Lichfield/Burntwood and Tamworth area, but hopes to sell his excellent-sounding magazine much further afield than that. If you are interested in getting involved – and personally I think you would be mad not to – Paul is waiting to hear from you.
05/07/85
Love On Board
Nineaton
05/07/85
Wolfsbane
Lichfield Arts Centre
Tamworth Herald – 05/07/85
Musicbox – GOSSIPBOX
Just a quick mention for a number of gigs this week. Tonight, Love On Board are at Nuneaton, Wolfsbane are headlining a major show at Lichfield Arts Centre and those self-same reality-rejects will be at JB's Dudley on Tuesday. Two days after that, at Tamworth Arts Centre, a band who play 'shock rock metal' and base their image on a bunch of rebels who have survived a nuclear holocaust on their own planet and have come to earth to take it over (!!!) will take to the stage. They are the pleasingly eccentric feedback, who will be joined by a Greek-influence group called Eastern Beat. Hardly a conventional night out, what?
Tamworth Herald – 05/07/85
Musicbox – GOSSIPBOX
Finally news of a former Musicbox editor who has now moved on to bigger things. Annette Witheridge, who was editing the column in the halcyon days of the post-punk Tamworth revival, has now joined the team of the world's most detested and yet best-read rock journalist John Blake, who writes for The Club section of the Daily Mirror. The section is easily the country's most influential rock column now, and with a Tamworth mole inside it, I have already tried to make a dream come true for a well-known bunch of Factory boys…It just goes to show you that you should always treat your Musicbox editors with total, undying respect. After all, John Blake has got to retire from his £40,000—year post one day!
09/07/85
Wolfsbane
JB's Dudley
Tamworth Herald – 12/07/85
What a rush to save the Centre!
RESPONSE to the campaign to save Tamworth Arts Centre from the threat of closure has been "magnificent".
Over 1,000 people have already signed a petition appealing to the Borough Council to continue to help fund the Church Street centre.
Manager – Mr. Nicholas Ewbank – said no-one had been pressed to sign the petition.
"What is so encouraging is that people have been coming into the centre asking what they can do to help," he said.
"The response from the public has been marvellous. Clearly people are very worried."
Running out
A five-year grant to the Arts Centre from the Borough Council is due to run out next year, and the building could then face closure unless the council continues to give financial aid.
Mr. Ewbank said talks were being held with councillors, and council officers to discuss the situation.
The Arts Centre is run by the voluntary Tamworth Arts Advisory Council, although the building itself is owned by the Borough Council.
Tamworth Herald – 12/07/85
Young folks fear closure - 'Band aid' for town's arts centre
YOUNG TAMWORTH MUSICIANS, alarmed by a closure threat facing the town's Arts Centre, are planning a series of money-raising concerts.
The events, starting tomorrow (Saturday) are being arranged by local bands as their attempt to stave off a cash crisis that hangs over the building.
"Without the Arts Centre, bands like us would have nowhere to play and we wouldn't be here now," said Paul Keeton, singer with Sacred Oath who are staging tomorrow night's event.
"It is a terrible situation and I am sure a lot of bands will be keen to help out the Arts Centre," said Paul.
The group have chosen the Arts Centre itself to stage Saturday night's show. And they are convinced it will be the first of many such concerts.
"We are also thinking about setting up a 12-hour sponsored show involving a host of bands with all of the money going to the Arts Centre," said Paul.
Destroy
Sacred Oath say the loss of the Arts Centre would not only destroy the Tamworth rock scene but would also be a body-blow to everyone else in the town who likes live entertainment.
"It is a unique centre in Tamworth. Without it the bottom would fall out of the cultural scene and we must do everything we can," said the group's drummer Josef Pighand.
Arts Centre administrator Nick Ewbank said he was 'overwhelmed' at the enthusiasm of local groups about the concert venue.
"There has been a very positive response and it shows that the Arts Centre is very important to a lot of young people in the town," he said.
Saturday night's show starts at 8pm and all the proceeds from the 60p entrance fee will go to the Arts Centre.
12/07/85
Femme Fatale
Love On Board
Tamworth Arts Centre
Tamworth Herald – 12/07/85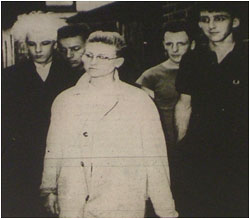 Musicbox – Femme fronts the boys with a fatale sound…
AN exciting new alternative band, who list influences as varied as Siouxsie, The Cult, Sisters of Mercy and The Stranglers, will make their eagerly-awaited Tamworth debut tonight.
Femme Fatale, who say they appeal to the blacker side of alternative music, will hit the Arts Centre stage with a 60-minute show which looks like being a hit with the scores of local people who have been patiently waiting for a new spark of individualism.
The band refuse to be tied down to any particular sound but their own personal musical taste implies that they could appeal to a wide cross-section of modern music lovers.
"We all like basically like the same sort of music although we all have different tastes. We like everything from psycho-billy to punk and people who have listened to us have said that we have touches of The Cult and Sisters of Mercy," said singer Debbie Witty.
Sexism
Debbie's presence will undoubtedly prove one of the most interesting facets of Femme Fatale. Tamworth seems to have taken up the national trend of sexism in music to the extent that a couple of drummers apart, locally females tend to be in the audience rather than on the stage.
Debbie is the first female rock singer in Tamworth for many years and she is aware that this will bring its own problems. "I sometimes think the only reason the band want me in is because I am a woman," she jokes. "And I guess because I am female, people will automatically assume we are like Siouxsie and the Banshees or The Cocteau Twins."
Well, the band are influenced by these two acts, but it seems that between them they are influenced by virtually every decent post-77 band. Guitarist Mark Poyner was one of Tamworth's earliest pinks but he now cringes at the mention of his 'Sid Vicious' nickname and doesn't seem to embrace anarchy with his former tenderness.
Keyboard player Nigel Horton is also very much a visual attraction combining his love of dressing up and looking good with a love for music like The Cult.
According to the rest of the band, Nigel is sponsored by 'Avon', but it is refreshing to see someone prepared to indulge in a little showmanship and invention.
Drummer Jim Goodman also enjoys psycho-billy side of life and happily enjoys the title 'flat-top' whilst bassist Martin Higgs is a man to be respected and adulated as a good clean living Stranglers fan who has tried to bring a touch of The Meninblack to the group's overall sound.
"This is just the first step really but we hope people are going to like what we can offer now," said Debbie.
Joining the band tonight will be Love On Board who have established almost a residency at the Arts Centre. The group who have probably spent more time at the venue recently than its administrator, will be hoping to impress the curious who turn up for Femme Fatale with their own brand of energetic modern pop.
Combining a set of oldies and newies, Nick, John, Neil and 'The Phillipono' will be hoping to make it a double-bill to remember.
But as tonight is really Femme Fatale's night , let's leave the last word to them. Do they see themselves as Tamworth's top alternative banner-wavers?
"What is 'alternative?' If it means we are different, then yes we are, and we expect that it will mainly be punks and cult fans who like us," said Martin. "But we think everyone will find something interesting about us and it is up to people to come and make up their own minds."
STOP PRESS: New Tamworth band 'Another Promise' and 'Love on Board' will be playing a special free concert at Tamworth Arts Centre on Sunday night.
Tamworth Herald – 12/07/85
Musicbox – So-cool crowdA5/Love On Board; Tamworth Arts Centre
A5 WENT on first and went down well with the local crowd having a fair response to the half hour set they delivered.
The opening number in particular impressed me – "She Came From the Ice Age" – A5 have a lot of edge. Another enjoyable number was a slower one, a love song titled "Without A Trace".
Love On Board, I felt, didn't produce one of their better performances, but two numbers stood out for me in their one hour performance – "Train Across The Canyon" and "Responsible For This" which showed their potential.
The crowd didn't go overboard, and I felt more appreciation should have been shown. There is a chance to catch both bands again on August 17.
J.C.
Tamworth Herald – 12/07/85
Musicbox – Giving voice to save vital venue
The town's premier venue the Arts Centre is under threat because of lack of finance. No-one is sure yet how serious the threat is, but one thing is certain, all local rock musicians and fans should make the local council well aware of how important we regard this venue. Without it the Tamworth scene could virtually evaporate overnight so keep your eyes out for a petition that is being started to save it and also keep your ears open for a planned series of 'Save The Arts Centre' concerts…
Tamworth Herald – 12/07/85
Musicbox – SNIPS
Among Arts Centre's greatest stalwarts are Sitting Pretty, and their irrepressible singer Mike Turner has been in touch to try and squash two mysterious pieces of gossip. Firstly, he has not recently had a secret marriage as some people are saying and secondly, he has not quit the band to form another one. He is, however, very interested to find out the sources of these bizarre rumours…
Tamworth Herald – 12/07/85
Musicbox – SNIPS
Bizarre was also a word that probably went through The Sway's mind when they recently turned up to do a radio session for Radio W.M. The group, still reeling from being described as a Stourbridge band over the airways, were expecting to record their demo in a well-equipped expensive studio. Instead they were led into an office and told to set up their gear there. Rumour has it that even the normally buoyant Rikk Quay wasn't smiling at the time…
Tamworth Herald – 12/07/85
Musicbox – SNIPS
Someone who is smiling is former Classified Ads drummer Simon Webster who this week drives another nail in the coffin of the idea that rock musicians are one-track minded, by passing his degree. Simon is now a BA Hons in Modern History although as yet the wonderful world of work seems to have passed him by. Never mind Simon, there are not many drummers in Tamworth who know everything there is to know about the rise and fall of the Nazi empire…
Tamworth Herald – 12/07/85
Musicbox – SNIPS
And finally this week, Bruce Springsteen may have left these shores – sadly – but fear not. One of Bruce's greatest assets in the incredible length of his sets. Now, Tamworth has its own answer. Last week I went to see Breaking Point and the trio served up a set which included encores, ran to nearly two hours. It was all tremendous stuff of course and what's more, it was only one-thirtieth of the price of Mr. Springsteen's show – and one million times less painful!
14/07/85
Sacred Oath
Arts Centre Fundraiser
Tamworth Arts Centre
15/07/85
Love On Board
Another Promise
17/07/85
A5
Love On Board
Tamworth Herald – 19/07/85
Musicbox – Relax, you're great, but give us a dance!
Femme Fatale – Tamworth Arts Centre
THE ARTS CENTRE as full. Everyone was buzzing with keen anticipation for the first Tamworth show by Femme fatale. Everyone that is, except Femme Fatale. To say they were nervous was an understatement – their fears seemed to border on terror.
They were worried about playing a bad show and losing a potentially large audience for ever. They were worried about accepting such a high profile in their very first show and they were worried that people wouldn't like what they served up.
Well they shouldn't have worried on any of those counts. As a concert in itself it was very impressive, and as a debut show it was quite remarkable.
There were a few problems – not least Nigel Horton's keyboards becoming 'Bolshie' and refusing to work – but there was so much good about Femme fatale that I can't help but feel positive about their future.
The most impressive thing of all was the skill of their musicianship. None of the band members are particularly experienced – but they all played as if they were. The main talking point was obviously Debbie Witty's voice which was very strong indeed.
She carried the vocals with confidence and style, drawing complimentary comparisons with Siouxsie Sioux. In fact the Banshees were stamped all over the music and there is no doubt that of all their many influences, it is the Hong Kong Gardenites who are nearest to Femme Fatale's sound.
Guitarist Mark Poyner is another person who obviously plays "The Scream" a lot and his work was always interesting – and occasionally inspired.
Several other guitarists told me how impressed they were with Mark and there is no greater compliment than to earn the praise of your peers.
Tribalistic
Drummer Jimmy also turned in a faultless performance, hitting out a series of tribalistic drumbeats with a natural and very consistent sense of rhythm. Finally, Martin Higgs gave a sterling show on the bass, looking – and playing – nearer to his hero JJ Burnel than anyone else I have seen in the town.
The main problems with the band as a whole however, was that despite playing well and serving up a host of strong songs, they were visually disappointing.
Some of the songs are so clearly danceable that if the band swayed around a bit to them, it may have encouraged the audience to do likewise. There is nothing more frustrating than sitting down to music that SHOULD be dance to, but when the band don't lead you in that dance, it tends to dampen your 'get up and go.
Still, that apart, there were strong and well-structured and they also handled a couple of cover versions (The Cure's 'A Forest' was tremendous) with a touch of real class.
They were refreshing and enjoyable to listen to and judging by the amount of smiles underneath the spikes of the audience, it seems they have captured the hearts of a much-neglected audience in Tamworth.
If they can just spruce up their stage show, somewhat, there is no reason why they can't be one of the brightest – and most – original – bands in the area.
Tamworth has been waiting for a band like Femme Fatale for a long time – and now we have got them, we should enjoy them while we can.
S.H.
Tamworth Herald – 19/07/85
Musicbox – Turning on the States style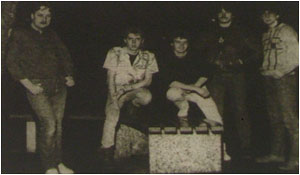 One On One – Demo
SOMETIMES WHEN you listen to a group's music you get the distinct feeling they have been born 10 years too late – or even 10 years too early. With One On One, however, their timing is not the problem – they have just been born 3,000 miles away from their natural home!
For after just one playing (and several more to confirm my 'suspicions') I could hear America all over this tape. Listening to it like listening to American FM radio – it is neither 'rock' nor 'pop', just, something vaguely between the two.
Personally, I don't particularly enjoy this style of music, but I pride myself ona t least being able to separate the good the bad – and this is definitely in the first category.
Its greatest asset is the sheer quality and purity of the sound which leaves all – and I mean ALL of the 50 or so demos I have heard in the last couple of years – well behind. It sounds like vinyl quality and the only noises you get on the tape are the musical ones you are supposed to – there's not a hiss in sight.
The sings – to my surprise – are all relatively brief which is an advantage for possible radio play, but personally, I think a disadvantage for One On One.
We all know the band's most outstanding feature is the sheer professionalism of their musicianship, but not once do they allow themselves even the minor self-indulgence of a decent guitar break by Tim Latham.
This is a guitarist of the highest quality but apart from a couple of skilful Lathamesque tricks, Tim's true ability, sadly, does not really come out of the speakers on this demo. Still, at least that gives Dave Ingham more prominence and once again this modest singer really turns on the style.
I have often harped on about his undoubted talent, but on this tape, it really does speak for itself. He is capable of both tender sensitivity and more jovial vocalising and I would boldly say he is the best local singer I have ever heard in my six years of following the Tamworth music scene.
Elsewhere, the rest of the band also perform well (Stuart Blaine is becoming a drumming dead ringer for Phil Collins to my ears) and I am sure the whole group listen to this tape with immense pride.
I still can't help wishing they were still producing the sort of rock that made 'Poppy red' and 'Don't Stop The Captain' such treats, but I suppose I will have to accept that One on One have matured beyond the barriers of my musical taste.
DON'T FORGET
Sitting Pretty return to live action tonight when they take their new look set to The Masonic Rooms. At time of going to press it was uncertain who the support would be, but a full live-up is assured for the show which kicks off at 8pm at the Lichfield Street venue. Tickets are 50p in advance or 75p on the door.
Tamworth Herald – 19/07/85
Musicbox – GIG GUIDE
JUST a quick guide to the gigs you can watch this week-end…tonight, Femme Fatale make their second Tamworth appearance when they join the band Certain Circles at the Arts Centre.
Certain Circles play entertaining pop with a touch of Simple Minds and they already have a single to their credit. A very promising looking show indeed. Then, 24 hours later, the Arts Centre is the place for the heavy rock of the experienced Hard Road, a band who have their own brand of pulsating, powerful rock and will boast a very interesting support act.
On the subject of rock, if you fancy a trip out of town tonight, why not join Wolfsbane on a coach trip to The Coach and Horses in Castle Bromwich. The £2 fee includes entrance and an exciting show is assured. Contact band members or Brian.
Tamworth Herald – 19/07/85
Musicbox – GOSSIPBOX
Tamworth is all set to have its first-ever local music compilation tape. The idea is one I have been trying to promote for a long time, but now local music fan Wayne Pell-Walpole has agreed to compile the actual tape which we hope will feature as many local bands – past and present – as possible.
I am passing on to Wayne all my old demos, with suggestions as to what track to use, but id there are any other bands who want to be featured on this unique compilation, let me know as soon as possible.
It will be a non-profit-making tape which should hopefully be ready in time for the Rock festival….
Tamworth Herald – 19/07/85
Musicbox – GOSSIPBOX
A RECENT Musicbox contest for the Dickens album was won by Miss Antonina Allsop of Rosemary Road, Amington. The second prize of an autographed poster and programme went to Theresa Heaven, Glascote Heath.
Tamworth Herald – 19/07/85
Musicbox – GOSSIPBOX
IT LOOKS as if one of he splinter groups from BHX will now be joining the rock festival's two-day warm-up gigs at Tamworth Arts Centre. The band are full of ambition and determination but they need a bass player to complete their heavy rock line-up.
If interested, give the ever-enthusiastic Mick Goodby a call.
On the subject of heavy rock, lovers of this form of music have now got their own regular disco. Run by the talented Colin Wall, the disco will be every Monday at – wait for it – The Marmion.
19/07/85
The Sway
Tavern in the Town
20/07/85
Femme Fatale
Certain Circles
Tamworth Arts Centre
21/07/85
Wolfsbane
Coach and Horses, West Bromwich
Tamworth Herald – 26/07/85
TAM AID SET FOR TAKE-OFF
Town's 'band of hope' waves Live Aid flag
TOP local rock artistes, inspired by last month's Live Aid spectacular, are combining to blast their own message of hope to the world's starving masses.
They aim to set the area rocking for charity by linking up to form the first-ever Tam Aid.
The unique 'band of hope' will launch into spectacular action on August 11, when it lays down two historic tracks on tape.
Eager buyers will be able to snap up at least 200 of these special tapes, with all money going to the Ethiopian Appeal.
Organiser of what should be a blockbusting milestone in Tamworth's musical history is Sam Holliday, lead singer of the now defunct Classified Ads, who will be re-united for the session.
'Unique'
"It will be totally unique," he said, "Nothing like it has ever happened in Tamworth.
"There is still a tremendous feeling from the Live Aid rockathon, and we want to channel it locally, I am convinced that not only the musicians, but all the people in Tamworth will give us their full support."
The two tracks which the 20 musicians in Tam Aid intend to record are classic Classified Ads favourite, "Just Take A Look At Yourself" and "Anger Can Be Power".
"Both songs focus on the Third World and hit out at the selfishness in the West," said Mr. Holliday. "They should be very appropriate for the event."
New studio
Mr. Holliday heaped praise on the owners of the new recording studio Expresso Bongo, Lichfield Street, Tamworth, where the tape will be made – free of charge. Both Paul Speare and Phil Smith were a major factor in getting the idea off the ground he said.
Among the 20 'stars' taking part will be Bayley Cooke from Wolfsbane, Mike Turner from Sitting Pretty, Rikk Quay from Sway and Kevin Briggs from Breaking Point.
Also joining in the chorus will be Rock for Ethiopia organisers Ian Gibbons and Rob Bowker, whose fundraising efforts have earned them widespread praise.
"I just hope Tamworth people will lend their support to a significant local contribution to a world wide appeal," said Mr. Holliday.
The historic charity tapes will be available at the end of August from local record shops, as well as from the musicians themselves.
Tamworth Herald – 26/07/85
Council 'yes' to rock festival
TAMWORTH'S rock scene is all set to go off pop at a festival in the Castle Grounds, on August Bank Holiday weekend, following a go-ahead from the borough council.
The town's musical youth have put their hands in their pockets to finance the annual two-day extravaganza to keep admission free for the band's followers.
Eighteen local groups whose music ranges from punk to pop, will perform in front of the tennis courts in the castle grounds. The music will go on from 12 noon to 8pm on Sunday and Monday, August 25 and 26. Each group will play for half an hour.
The borough council's recreation and community committee gave the go-ahead for the festival on condition that if there is any crowd trouble the music will be stopped until offenders are dealt with. Councillors have also demanded the area be cleaned up after the festival, that no overnight camping be allowed and that the bands play only at the time laid down.
Borough recreation and community officer, Mr. Geoff Stevenson said "It proved quite successful last year. The musicians taking part put a heck of a lot of their own money into it."
Herald's Musicbox columnist, Sam Holliday, said each of the musicians taking part in the festival had this year paid £5 to cover the running costs. Any cash left at the end of the festival would go to charity.
"There is so much enthusiasm from everyone involved. The musicians will actually be out of pocket paying for this show," said Sam.
"It says a lot for the spirit of the youngsters that they are willing to give up their services and money in order to provide the show of the year."
"We are all expecting the event to be a great success. When young people in Tamworth are given a chance to do something they will always respond. We are aiming to make it a weekend to remember for Tamworth's young and not-so-young music fans," he said.
In the run-up to the festival there will be two warm-up gigs at the Arts Centre on the preceding Friday and Saturday.
Tamworth Herald – 26/07/85
Musicbox - Tam Aid will put sound duo on right track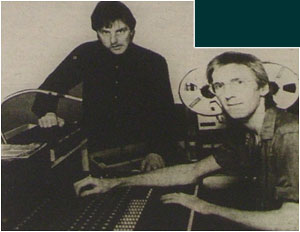 TAMWORH'S music scene has been given a much-welcome shot in the arm – the opening of a new recording studio right in the heart of the town centre.
The Expresso Bongo studios have been set up by two keen local musicians Phil Smith and Paul Speare, who are determined to give Tamworth's musicians first class facilities on their doorstep.
The studio boasts all the latest equipment and is ideal for the most experienced groups – or new outfits making their first tentative steps into the recording world.
"We aim to give bands just what they want. If they need a lot of help and advice we can give it, but if they have a clear notion of what they want to do we won't interfere with their plans," said Paul.
The studio – which is a 16 into eight track – is based in Lichfield Street at the back of what used to be "Tamdisk Records." Phil and Paul rented the site and have spent the last four or five months constructing a modern, well-equipped studio out of what was a virtually derelict building.
"There has been so much work to do, everything from wiring and sound-proofing to things like painting which itself takes a lot of time," said Phil.
The Expresso Bongo studios have had a little luck on their side so far. At just the time they were trying to get something together, Steve Adams' studio at Birchmoor sadly gad to close down, allowing Phil and Paul to pick up some tried and tested equipment at the right price.
Since then they have also brought in their own equipment and the studios are now bulging with equipment including polyphonic synths, Roland drum machines, digital delays and a full Premier drum kit.
In addition – if needed – musicians can use other keyboards, amps, and guitars. In fact, all the musicians need to bring is themselves and their ideas and Phil and Paul will probably be able to do the rest.
Quality
"We spent time making sure we got a lot of good equipment because we want to make sure everything that leaves this studio is of a good quality. We want to gain a reputation for making demos and no one should leave here disappointed."
The studios are hoping to produce jingles and tapes for schools and musical societies but there is no doubt that they also hope to become the recording focal point of the local rock scene.
To get the ball rolling in this direction the studios have agreed to offer their services and facilities free for the recording of the Tam Aid tape "Just Take A Look At Yourself" which should be recorded in the second week of August, proceeds which will go to the Ethiopian Famine Relief Fund.
The duo are enthusiastic about doing their bit for the Ethiopian cause, and they are also hoping the tape will really put them on the map.
The prices at the studio are below the average charged by most similar sized places - £8 per hour or £70 for a full 10 hour session. They are now open for initial bookings and enquiries.
Tamworth Herald – 26/07/85
Musicbox – Swayed…on the sea of songs and fine skills
The Sway – Tavern in the Town
IT WAS hard to believe watching The Sway last week that it was the first time they had ever played at the Tavern. After all, the pub's DJ Buttercup unashamedly hypes the group's demos every night of the week and now famous tunes like "The Age of Innocence", "Rhythm Ritual" and "Funk For thought" are now as much a part of the pub's atmosphere as the much-loved Buttercup himself. But a debut Tamworth show it was – and a fine one it was too.
Despite what the band described as "technical problems" The Sway turned in a short and very professional set which brought the biggest Thursday crowd in the Tavern for many months. And few of those people could disagree that The Sway have all the ingredients to become as big as anything Rikk Quay is involved in, and deserves to be.
All four members are sickeningly good looking and they are also very good at their craft. Bassist Tim Ellison was the really outstanding musician to my mind, unleashing a whole series of tremendous bass lines with nonchalance that belied the skill needed to produce such seductive sounds.
Elsewhere there was a fine fusion of guitar, keyboards and drums and to top it all the band employed some excellent vocal work which included a veritable plethora or rounded harmonics.
Songwise, the band produced all the Tavern's fave raves (including an uplifting and vibrant 'Rhythm Ritual') but the best of the new material was a very thoughtful, well structured track called "The Sea".
This flowed with a melodious liquidity which plunged the listener into a suitably aqueous atmosphere with a ripple of aggression throughout.
Barriers
The band stayed on stage for just about half-an-hour but were called back for tow well-received encores which showed that their claims of being able to cross musical barriers do hold a lot of water.
It was an enjoyable show which confirms that The Sway really do mean business. They have already come under close scrutiny from a lot of music business people and this show proves that this interest is more that justified.
The only thing is they were so good that no doubt Buttercup will hyoe them even more, but I don't think anyone is going to mind too much about that!
Sam Holliday
Tamworth Herald – 26/07/85
Musicbox – GOSSIPBOX
Come to the Aid of the party
THE TAMWORTH Rocks For Ethiopia crusade is now well under way again. As well as the Tam Aid cassette (see separate story in news pages) the ever-energetic Ian Gibbons and Robert Bowker are now working on the second Rock For Ethiopia concert at Tamworth Assembly Rooms.
The event – just before Christmas – looks set to be a massive party with the town's most popular band The Dream factory already lined up as headliners.
The rest of the musical 'cast' has still to be finalised but it is great to see the Geldof spirit still alive and kicking in the hearts of Tamworth's young people…
Tamworth Herald – 26/07/85
Musicbox – GOSSIPBOX
Also still alive and kicking are Breaking Point – who very nearly reached their own breaking point last week. Following a dramatic post-gig row, drummer Chris walked out on the band and their future looked in serious doubt. But guitarist Kevin and Daydo reconciled their differences and the band once again started to breathe.
Tamworth Herald – 26/07/85
Musicbox – GOSSIPBOX
Also losing personnel are Atherstone-based Spirit of Water who have lost their bassist and have decided to pull out of the TamworthBank Holiday Rock festival at the Castle Grounds.
They will be replaced by first substitute, A5, who are delighted to have the chance to let the world hear their new-look sound.
Tamworth Herald – 26/07/85
Musicbox – GOSSIPBOX
And finally on the subject of new looks. Tamworth's most popular DJ has just acquired one. Buttercup, already known as the oldest swinger in town (he is 37) has had a bizarre mohican gut. It shows that the town's best promoter for local bands still has an idea of 'street credibility' and will now probably be known as the oldest punk in town!
Tamworth Herald – 26/07/85
Musicbox – GIG GUIDE
IN AT THE DEEP END!
NEW Tamworth outfit, Depth Charge, make their Arts Centre debut tomorrow night – playing with a nationally recognised psychedelic outfit, Mournblade.
For Depth Charge who will be opening The August Bank Holiday Festival, this will be a welcome return to the local stage.
Former Flash Harry favourite, Trevor Mugglestone will be playing his first gig for three years.
Depth Charge are a heavy outfit who are something of an unknown quantity, but are determined to get their name known before they kick off the festival next month.
Playing with them, a band who already have their name very well known in certain circles, Mournblade have already played gigs with Hawkwind and Lick Turner and they were also on the main bill of the now infamous Stonehenge '84 festival.
The band who hail from London are currently on a national tour to promote their new album "Time's Running Out" on Flick Knife Records. They promise a visual as well as an audio performance with theatrics and projector shows to keep people entertained.
Tickets for this intriguing gig cost just £1 on the night, and it certainly sounds like a treat for the town's rock fans. The whole show should get under way at about 8pm.
27/07/85
Depth Charge
Tamworth Arts Centre
Mournblade