Tamworth Bands History : 1985 :
March
Tamworth Herald – 01/03/85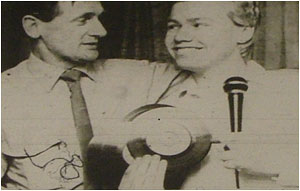 Musicbox – DJ dad hands over a sound business
Now firmly at the controls of the family's disco and audio systems, Paul has taken over from his dad.
A catering student at Tamworth College, Paul held his first solo event recently, a disco at the Jolly Sailor pub in aid of Ethiopia.
And behind the scenes he has already spent a lot of time helping his father build their own audio equipment, which, says dad, stretches for 200ft when it's all lined up.
Johnny Slade, an electrician for Tamworth hospitals, held his first show at the age of 26, when he put on a party at St.Editha's Hospital.
How Johnny says he is happy to hand over to his son "because he was brought up in the business".
Paul is using his dad's name and is now officially known as Johnny Slade junior.
Tamworth Herald – 01/03/85
Musicbox - It's party time with a single message…
THE Dream Factory will be playing their eagerly-awaited single-release party tomorrow night.
The show at the Polesworth Top Club looks set to be a big sell-out as it is the band's first Tamworth area concert in a long time. Copies of the group's debut single 'Wine and Roses/Fashion Toys' will be on sale during the night when the band hope to dish out a number of new songs.
The Factory are promoting the gig as one of their most important yet and they see it as a way of saying thank-you to the hundreds of local people who have helped to push the band forward.
The group now regularly take coachloads of followers to each non-Tamworth gig, and so they are hoping this more central concert will bring in a bigger crowd still.
The single will be on sale at the gig at just £1.25 – the reduced price which people can also get the record at L.K. Records and Rock-It. The 12-inch single described by bassist Mark Mortimer as 'weird' will also follow two weeks later, and Musicbox hopes to have a longer look at this longer record when it is released.
Bit for now, all the factory's attentions are turned towards making tomorrow night's gig one of the best.
Colin Wall's disco will provide the support and tickets are just £1 on the door.
Tamworth Herald – 01/03/85
Musicbox – Cream of the bands surfaces in fine battle
LAST SATURDAY saw the climax of one of Tamworth's biggest ever rock contests – with the trio, Breaking Point, being hailed as the town's top band.
Fore the past fortnight, Tamworth's music scene has been monopolised by the "Battle of the Bands" competition. It has been a full-blown fight between 16 competitors to find out the cream of the local groups.
After a series of heats which have seen musicians smashing up their instruments on stage, lead singers "bleeding" fake blood, a judge being disqualified for seeking refuge in the bar during the heat of the action and the Arts Centre filled to the brim night after night, there was no knowing what would appeal to the judges of the final.
Breaking Point did. The three musicians delivered a potent package with professional verve. Where other bands leaned heavily on the impact of barrages of sound, they concentrated on detail. Vocals were clear and rhythm and bass powerful and gripping.
Breaking Point were awarded 88 points out of a possible 100 and will receive their trophy at the Young People's Arts Festival night later this month.
Five bands qualified for the last leg of this sonic spectacular. The five brought with them the crowds of faithful fans who were packed like sardines into the rainbow-lit auditorium.
Unlike sardines they represented five wildly different types of music. The discrepancies of opinion in the audience were mirrored in the judges' panel…each judge showed a tendency towards extreme reaction to the bands – they loved them or hated them.
Poor imitation
Joint fifth place went to BHX and Spirit of Water. BHX were the first to perform and it was a disappointing start to the evening. The band were a poor imitation of some of the more forgettable heavy-metal groups.
No matter how much the vocalist screamed and bawled, he didn't manage to put himself over at all. I did detect a melody at one point but it fizzled out pretty soon beneath the drummer's monotonous onslaught. I hear BHX have a national tour on the cards. Perhaps they were having an off night?
I was surprised that Spirit of Water didn't do better. There was plenty of variety in their performance and the group had the advantage of a talented vocalist. They were seen at their best in their final number called The Fox.
One On One were placed next. They produced a well rounded sound though unfortunately the performance was a little disturbed by microphone trouble.
The outrageous Scarab were the runners-up. If there had been a prize for the highest number of decibels achieved, they certainly would have won. After the fireworks, the fake blood, the amazing verbal ad-libbing from the band and the blatant flouting of the 20-minute time limit. I scarcely noticed the music. But frenzied fans seemed to like it. And that, as the lead singer pointed out in no uncertain terms, is what it's all about.
01/03/85
Tamworth Youth For Christ
Queen Elizabeth Mercian School
Tamworth Herald – 01/03/85
Musicbox - What's in a name
GLAM merchants, Wolfsbane, will be returning to live action in two week's time – and Musicbox has two sets of tickets to their gig – to be won in a simple competition.
The band will be one of six groups lined up in another Tetley Promotion in Lichfield and the group has offered two sets of VIP guest tickets for the first correct answers to the following questions:
1) What does Wolfsbane mean?
2) Why do Wolfsbane meet outside a house with a red light every week?
The questions have been set by the band themselves so if you send in the correct answers I will be grateful as well! Please return to Sam Holliday.
TAMWORTH's Queen Elizbeth Mercian School will play host to another of the successful 'Youth for Christ' gigs tonight.
The Tamworth 'Youth for Christ' group have put on many successful gigs in recent months and tonight's visit by the popular Phil and John looks like being another success. Joining them tonight will be Gary Gibbs.
Tamworth Herald – 01/03/85
Musicbox - Gossipbox
WHICH well-known local guitarist nearly discovered the rage of the train last week? The answer is Sitting Pretty's Pete Long. Intrepid Pete was in a rush to get back to Tamworth for a band rehearsal and saw his train pulling away from New Street Station.
Desperate Pete threw his books through an open window and then clung for dear life on to the door of the speeding train. He was eventually hauled in by people on the train and he arrived at the band's practice session shaken but smiling…
Also smiling are Wolfsbane because they have found a new drummer in whom they have great faith. The man, John Buckingham, is a former fan of the band and he is currently looking for a stage name…talking of stages the band have said that they are willing to play with Sacred Oath around April, although it is unknown whether this will be as a 'battle' as Sacred Oath originally requested…
Love On Board may be on the verge of adding a well-known keyboard player to their line-up…
Tamworth Herald – 01/03/85
Musicbox - SNIPS
AN ASHBY-BASED heavy band, who are due to play Tamworth later this month, have sent out an appeal for a new drummer. The band, Killer Elite, already have a demo tape out and there are plans for a single within the next two months. In addition they have several prestigious gigs lined up and so the successful applicant can expect to be very busy, very quickly. If you are interested, the person to contact is John Haynes.
A NEW rock band who list U2, The Police and Big Country as their main influences are on the lookout for a new singer. The band, as yet unnamed, have a basic line-up and are now looking for a new frontsman to put the cherry on the rock and roll cake. For more details contact Brian Robinson.
Tamworth Herald – 01/03/85
Musicbox - Work floods in for the Well

RUFFINS WELL, Tamworth's top folk band are growing in status – they have been offered TV and radio spots and even a Royal audience!
The ambitious outfit, formerly known as Patchwork, are enjoying the sort of enthusiastic response most local bands only dream of.
Their twice-weekly Tamworth performances have put them in line for a spot in the BBC TV show "Barmaid's Arms" and also a set for Radio WM.
In addition they have been invited to play in from of Lord Lichfield at a special St. Giles' Hospice fund-raiser at Shugborough Hall. Work just keeps piling in for the outfit, and according to band member John Priest, this is a very good time to be in a good folk band.
"We are getting so many offers at the moment, we don't know where we are and it is really exciting," he said.
The band's itinerary for the next few months looks so full and diverse it is a wonder they get anytime at all to relax.
As well as the Shugborough event they will be playing at the Tamworth Spring festival, Amington Spring Festival and continuing their residencies at New Queen's Head, Wilnecote on Friday nights and The gardeners Arms, Amington on Sundays.
The BBC are still trying to work out times and dates for the band to appear both on TV and radio but in the meantime they have set their sights on the Lord Lichfield concert as the most important event on the calendar.
"The band have already appeared six times for St. Giles' Hospice helping to raise £600 by way of American-style barn dances at the Florendine School, Amington," said John Priest.
The Shugborough Hall event, which will also feature several other top local folk acts, is expected to raise more than £2,000 for the hospice.
As well as helping a very worthwhile charity, it will also put the Ruffins Well name even more in the spotlight.
02/03/85
Dream Factory
Single Release Party
Polesworth Top Club
Tamworth Herald – 08/03/85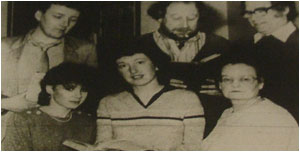 Poetic start for literary group - £75 boost for famine fund
POETRY-lovers gathered for an evening of fun and fundraising when they met at Tamworth Arts Centre.
The stage was set for a recital of love songs and poems through the ages – ranging from the Old Testament "Song of Solomon" to the modern-day Squeeze hit "Up The Junction".
The readers were professional actor Harold Rhead, Tamworth Herald editor-in-chief Mr. Keith Boughey, 14-year-old Rebecca Forune, who recently won a major competition for public speaking, Samantha Davis, David Dewes, Maureen Paisley and Jed Moore.
During the evening, £75 was raised to help famine victims in Ethiopia.
It marked the launch of a new literary group in Tamworth, which hopes to hold further poetry readings in the town, as well as setting up discussion groups and hosting lectures and readings from well-known poets, playwrights and authors.
Anyone interested in finding out more about the group should contact arts centre administrator Nick Ewbank, or attend the first meeting at the arts centre, at 7.30pm on Wednesday, March 27.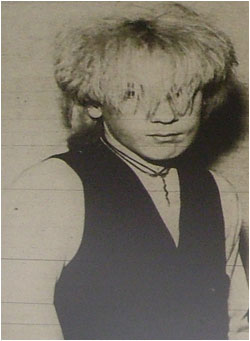 Tamworth Herald – 08/03/85
Youth who sports make-up and spiked hair
Disco fan Nigel is attacked again
OUTRAGEOUS disco-dancer Nigel Horton, who wears make-up and has spikey bleached hair, hit back this week at thugs who have beaten him up for the third time since Christmas.
"I'm not a gender-bender like Boy George," he said "I just like to dress up and be different>"
Former amateur boxer Nigel, aged 17, of Glascote Road, vowed he wouldn't be deterred by the 'bully boys'. He would continue dressing outrageously, he said.
In the latest attack he was viciously head-butted and kicked to the ground as he was in a lavatory at Dosthill Working Men's Club.
Then as he went to leave the club, the gang of seven men struck again.
Nigel a singer with a local pop group, said his main influence was a Liverpool band 'The Cult'.
On the last occasion he was attacked Nigel, who used to box at St. John's Guildhall, had one of his ears slashed.
Tamworth police are looking for a 19 to 20 year-old man, about 5ft 11ins tall, with short brown hair.
Tamworth Herald – 08/03/85


Musicbox - Mike's all set to pen two local mags
New chapter starts for Pretty good future
SITTING Pretty vocalist Mike Turner is this week sharpening his creative pencils in preparation for two magazines.
For Mike is to launch a brand new monthly Sitting Pretty magazine. And he also plans to re-launch the popular TAMBEAT magazine.
Mike, whose literary talents have already been displayed in various programmes and articles, knows that the two ventures will keep him very much on his toes – but he is not someone frightened of a challenge.
He was once the editor of a very popular Beatles fanzine called "Every Little Thing", which built up a worldwide circulation and gained Mike many valuable music business contacts.
Mike started Tambeat while still writing the Beatles fanzine, and featured many budding youth bands during the re-birth of the Tamworth scene in the early Eighties.
He continued the magazine after opening his Tamdisk shop, but now that is behind him he feels he has once again got time to bring back the magazine.
Elaborate
The Sitting Pretty magazine, is a new idea. The band have already become well-known for doing elaborate, informative gig programmes and Mike decided the popularity of these should lead to a more regular info-sheet.
No dates have yet been set for the release of Tambeat or the Sitting Pretty magazine, but anyone who wants info on the band's fanzine can write to Sitting Pretty.
Tamworth Herald – 08/03/85
Musicbox – Factory act is a dream
TAMWORTH'S most popular band, The Dream Factory, played their single release concert at the weekend to a packed Polesworth Top Club.
The show was acclaimed a huge success and here is a review which shows the impact it made on one of the 400 viewers.
The first thing you notice about The Dream Factory at their gigs these days is that they are no longer a "local" band.
The 400 fans present were from all parts of the Midlands, confirming the band's mass appeal.
And what a gig it turned out to be! Mixing in an excellent batch of new songs with old favourites, the band got the audience moving right from the start with the wonderful "Writing's On The Wall" and kept them on the floor for an hour and a quarter.
The crowd revelled in the majestic and jazzy "Memory Lane" and went into a frenzy at numbers like "Belated Revenge" and the Northernish "Mouse Trap".
The classic "I Want To Tell You…" sounded better than ever, and the hard funky on songs such as "Game Of life" and the single "Fashion Toys" had the crowd peeling their shirts off as temperatures soared.
Everyone around me agreed that The Dream factory are now looking like the sort of band who are on the verge of challenging big 'name' bands on a national scale after being voted the area's most popular band for the past two years.
Dynamic
The set ended with Barnett's new and dynamic anthem "The Beat Goes On…" But the band were soon back on stage for two sets of encores, the highlights of which were the heavy psychedelia-tinged songs "Cold Turkey", and Mortimer's "Kings Evil". So closed a mind-blowing set!
The band have always been dynamic and exciting live, but these days the words 'professionalism' and 'quality' find their way in to any description of their shows.
With their first single, selling well, a 'Sounds' feature to follow, a g=huge and fanatical following, national gigs in the near future, The Dream Factory have, it seems, broken through the barriers of being a 'local' band, In short they were brilliant by any standard. Go and see them while Tamworth still houses them!
N.R.
N.B. Musicbox will be giving away copies of the band's debut single in a speciaol competition next week.
08/03/85
Scarab
Tamworth Arts Centre
Tamworth Herald – 08/03/85
Musicbox – Scarab's 'thanks'
SCARAB, the runners-up in the Tamworth Battle of the Bands contest, play their last gig for several months in the town tonight.
The band have a heavy schedule ahead of them. They regard Tamworth audiences as their favourite and most loyal and have plans including producing a video and they area treating tomorrow's finale at the Arts Centre as a 'thank you' show to their fans.
In case you still don't know, Scarab play very heavy, powerful music, If they play as well as they did during The Battle of the Bands (Friday) looks like being an exciting night and the action starts at 8pm.
Tamworth Herald – 08/03/85
Musicbox – SNIPS
Former Tamworth favourites Wild Child are to reform. The band who were very popular two or three years ago, are now looking for a new bass player to complete their re-emerging line-up. If you are a good player and interested in playing rock music of various kinds…
Tamworth Herald – 08/03/85
Musicbox – SNIPS
Caprice lead singer Mike Fleming is looking for a female singer to help him work on a solo project.
Tamworth Herald – 15/03/85
Musicbox – Disaster as BHX head for gigs trail
BHX have been struck by disaster as they prepare for their first-ever national tour. For the hard-working heavy rock band have lost the services of their guitarist Keith Edwards.
The band was holding a special meeting with their commercial backer Philip Ball when Keith made his announcement.
It left BHX with a giant-sized headache with the first date of their country-trotting tour just two weeks away.
"Keith just said he had been wanting to leave since Christmas, He hung on for the Battle of the Bands to see if his feelings changed, but when they didn't, he decided to leave," said vocalist Mick Goodby.
The departure of Keith comes at a time when BHX have many gigs lined uo and a single in the planning stages. Now the band have got to find a good replacement – and quick.
Traditional
"We are looking for someone who can give all his time to the band and will enjoy playing our music," said Mick.
BHX's music is a mixture of traditional and metallic rock which is generally fast, direct and hard-hitting.
They know that finding a replacement at such short notice is going to be very difficult indeed, but it is an ideal opportunity for an ambitious rhythm guitarist. For with gigs all round the country and a single due shortly, the new guitarist could find himself pushed onto the path of success without having to do the normal customary 'slog' to get there.
If you are ambitious and talented enough to be interested, the person to contact is Mick.
Tamworth Herald – 15/03/85
Musicbox – Band take a monster leap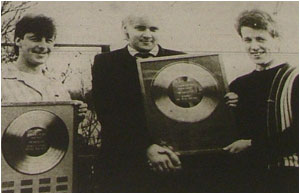 BAD MANNERS DATE IS A REAL DREAM!
THE DREAM FACTORY look all set to play to their biggest ever gig – supporting Bad Manners in front of a staggering 30,000 people. The concert in June is being billed as a "monsters of soul" event as it is being staged at the Castle Donington home of the 'Monsters of Rock' festival..
The whole event, which also features psychedelic outfit, The Meteors, is another of the popular scooter rallies which have grown in size and stature over the past two years. As with the halcyon days of 'mod' the rallies bring together thousands of scooter riders from all over the country to enjoy a weekend of music and festive fun.
The Factory have already played one such rally and now they have a single out, they have been invited to play several more.
At Easter they will be playing an all-nighter in Morecambe followed by a two-night headlining spot at Tiffany's in Great Yarmouth.
The first of these nights will be an Inferno Records promotion featuring to British soul DJs and the cult northern soul singer, J.J. Barnes.
Then two weeks later on June 8. The Dream Factory will be heading for Castle Donington for the three-day soul weekend. The band are under no illusions that this is going to be their most important concert yet – and the fact that they are on the bill at all confirms their growing status.
"This is obviously a big gig for us and there is talk of there being 30,000 people there." Said bassist Mark Mortimer.. "We are not, however, just concentrating on the scooter rallies. We are arranging other gigs at the moment," he added.
Eyebrows
The Factory's schedule has become more and more hectic now their debut single is in the shops. The single "Wine and Roses" and "Fashion Toys" has already raised many eyebrows and sales ate going very well.
The single is still available locally (L.K. Records and Rock-It for example) and a new improved 12-inch is set for imminent release.
As evidence of the way The Factory's tentacles are spreading far and wide, Sounds, Britain's best-selling rock weekly have just done a major interview with the band. It is hoped that the interview will appear in this week's issue. But if not, fans are asked to look out over the next two to three weeks.
Top song
And, just to complete The Factory's incredible run of events, this week they were presented with their first-ever "gold discs".
The records are actually the prizes the band received for winning both the Musicbox band of the year poll and the Musicbox top song award. The group expressed their delight at the prizes which they will be up for grabs again in the 1985 poll.
Tamworth Herald – 15/03/85
Musicbox – Win Factory's single
NOW here's your chance to win the Factory's excellent new single. We have five copies to give away to the first five correct answers to the following questions which have been set by the band's bassist Mark Mortimer. Send the answers to: Sam Holliday. If there are no totally correct entries – I couldn't even get one of them! – the singles will be presented to people with the highest number of correct answers.
Which Dream Factory song won the MUSICBOX best local song section in the 1984 poll?
Which of the following places was the first venue the Dream Factory ever played at under that name? A) Tamworth Arts Centre b)Tamworth Rugby Club c) Arley Youth Cub d) Tamworth Youth Centre e) Dordon WMC.
Which member of the band used to be a footballer for Aston Villa? Ws it: a) Andu Codling b) Lloyd Barnett c) Mark Mortimer d) Steve Quilton e) Tim Goode.
The Dream Factory's record company is Inferno records. Which if the following records hasn't been released by Inferno? A) "Out On The Floor" – Dobie Gray b) "Tainted Love" – Gloria Jones c) "Nobody But Me" The Human Beings d) "Queen of Fools" – Barbara Mills e) "A Good Thing Going" Phil Coulter and his Orchestra.
Tamworth Herald – 15/03/85
Musicbox – SNIPS
Wolfsbane will tomorrow (Friday) step out too play an important gig at Lichfield Arts Centre. The concert, organised by Tetley Promotions, features five top Lichfield names and gives Wolfsbane a chance to build on their already strong following in the city. Winners of the Musicbox contest which offered tickets for the gig were Gary Hale from Hockley and Helen Bull from Fazeley, who both answered the question "Why do Wolfsbane meet under a red light? In suitably graphic detail.
Tamworth Herald – 15/03/85
Musicbox – SNIPS
An important meeting for anyone who wants to play and help in the Folk Circus is being held at the Tavern-in-the-Town on Sunday night. The 8pm meeting aims to find people willing to help with transport and equipment as well as performances, so that the Circus can really go on tour.
16/03/85
Wolfsbane
Lichfield Arts Centre
Tamworth Herald – 15/03/85
Musicbox – GOSSIPBOX
TAMWORTH could soon find itself with a brand new rock club – which will feature local bands and alternative discos. The club, tentatively called 'The Rathole', is aiming to meet once a week, giving an ideal platform for local bands to show off their 'wares'. Full details about the club, must for the moment at least, be withheld, but the omens look very good indeed that within a few short weeks, Tamworth will have its first purpose-set rock club…
Talking of firsts, rumours are currently abounding that haircut-supremo Rikk Quay's new band, The Sway, are all set to play their first Tamworth gig. It seems they could be joining another as-yet-unheard local outfit featuring a well-known local music personality on vocals…
On the subject of new vocalists. Love On Board have just found one. He is 20-year-old John Minnion, a keen songwriter who surprisingly perhaps, hasn't been in a band before. Like his illustrious predecessor, Mr. Jones. John is a keen Elvis Costello fan. Still on Love On Board, their excellent young drummer John Twist has just bought some new drums – something apparently which has pleased the band very much indeed.
Finally this week, songwriter, singer and impresario Mike Turner, displayed another talent on Sunday. For the Sitting Pretty vocalist Mike Turner scored a hat-trick playing for Claremont Rovers Reserves FC in an important cup battle. "Stick that in Gossipbox" he shouted after netting the third goal.
As if I would…
22/03/85
Chalkie
Two Gates Working Mens Club
Tamworth Herald – 22/03/85
ARTS EVENT ENDS ON A HIGH NOTE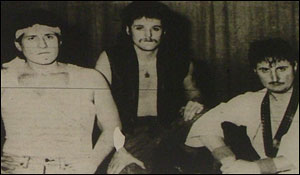 Young talents earn praise
Hundreds of people converged on Tamworth Assembly Rooms for the presentation night of the Young People's Arts Festival.
Dozens of young poets, painters and photographers were given special awards in recognition of their budding talents.
Tamworth Herald – 22/03/85
DJ's visit to chaos
TOP Radio One disc-jockey Peter Powell will be paying a visit to Tamworth on Monday. The DJ, who has become well-known on both TV and radio, will be visiting the Chaos Casuals shop in Bolebridge Street, Tamworth at around 1pm.
Tamworth Herald – 22/03/85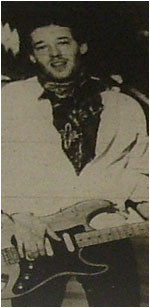 Musicbox – Launching rock down the Rathole
TAMWORTH'S first proper rock club is all set for a grand opening on Tuesday night. As Musicbox said last week, the club is to be called 'The Rathole' and it aims to be the first ever venue set up just for local bands.
The club which will probably meet once every two weeks, is the brainchild of 'Rock for Ethiopia' supreme Ian Gibbons.
"What we are trying to do is actually form a sort of working men's club for music. The club will be run by the members itself who will decide which bands or other events are put on," he said.
'The Rathole' will be based upstairs at the College Lane building by the side entrance of Woolworth's. For the time being, it will meet on alternate Tuesday nights although Ian hopes that in time it will become even more regular.
Chances
"It all depends on the response we get," he said, "It is up to the club members to make their club work, and so the more that turn up, the better the chances will be of us making this a regular venue," he said.
'The Rathole's' opening concert features Tamworth 'Battle of the Bands' winners Breaking Point, supported by the increasingly popular Royal Family.
Also in the pipeline are concerts by bands such as Talk Back and Ian says every local band can be considered for a performance.
"There are no restrictions on who play. We want bands of all types to approach us and we will try and get them on," he said.
And it is not just Tamworth, Atherstone and Coleshill bands that Ian hopes to attract. Several Birmingham and Midlands bands have been in touch and Ian believes putting them on with a well-known Tamworth act will server to make the Rathole even more varied.
Tuesday night's gig will be supported by alternative disco – something which the club hopes to provide on a regular basis.
"I want people to forma committee to run the whole thing. Then if they are involved themselves they will be more prepared to make the club work," said Ian.
The club has so far had a lot of official backing and Ian believes that if everyone behaves themselves, "The Rathole" could be the biggest boost to the Tamworth rock scene in many years.
Entry to the first 'historic' night of 'The Rathole' is a mere 50p. Miss it at your peril!
22/03/85
Sitting Pretty
Tamworth Arts Centre
Tamworth Herald – 22/03/85
Musicbox – Pretty Promise
STOP PRESS…Sitting Pretty will be playing their first full concert with their new line-up at Tamworth Arts Centre tonight (Friday).
The band, who have promised a new set – as well as the first edition of the Sitting Pretty magazine – should be on stage at 8pm, and they are billing the gig as one of their most important in recent times.
Tamworth Herald – 22/03/85
Musicbox – SNIPS
PULSEBEAT, who made such a big impression with their debut Arts Centre show, have sent out an appeal for a new full-time vocalist. The band say they are looking for someone into Queen style music, who is willing to take a serious interest in the group. If you fit the bill, the person to contact is Carl.
Tamworth Herald – 22/03/85
Musicbox – SNIPS
Femme Fatale, a new alternative band influenced by everyone from Killing Joke ad The Cult to the Stranglers and Siouxsie and the Banshees, are on the lookout for a guitarist. The band who formed out of the wreckage of the Black Market, aim to be Tamworth's only tru alternative band and they have set a date in June for their launch on the town.
They are looking for someone who is dedicated, and willing to work hard to get the band ready. If you want more details the people to contact are Martin Higgs or 'Batman'.
Tamworth Herald – 22/03/85
Musicbox – SNIPS
Paul Keeton, the former Sacred Oath guitarist, has come to the aid of BHX. Ambitious Paul has joined the band after former guitarist Keith Edwards pulled out just weeks before the group's first-ever national tour.
29/03/85
BHX
Tamworth Arts Centre
Tamworth Herald – 29/03/85
Musicbox – TOWN LAUNCH AS BHX GO NATIONWIDE


BHX tonight launch first ever national tour with a special performance at Tamworth Arts Centre.
The band, who will be travelling around the country over the next three months, will stop-off at Tamworth Arts Centre, three times – before appearing late in August in the Bank Holiday festival.
As well as being the first convert of the tour, tonight will also be the debut appearance in the band of Paul Keeton.
Paul who stepped in as a late replacement for Keith Edwards, has apparently fitted in very well and according to the group's manager Ralph Rea has picked up the songs at an impressive speed.
The whole tour is being staggered through the summer. The hope is that if the band make an impact in one part of the country, they will be able to return to it within the tour.
Confirmed
Several gigs such as Manchester, Wigan and Leeds have still to be confirmed but these are the 12 dates definitely confirmed at time of going to press:
Friday, March 29 – Tamworth (Arts Centre); Sunday, April 7 – Birmingham (The Railway); Thursday, April 11 – Coventry (General Wolf); Friday April 19 – West Bromwich (Coach and Horses); Thursday, April 25 – Dudley (JBs); Sunday, April 28 – East Ham (The Ruskin Arms); Friday, May 3 – Measham (Youth Club); Friday, May 17 – Tamworth Arts Centre); Wednesday, May 29 – Blackburn (Gally Greaves); Friday, June 21 – Tamworth (Arts Centre); Friday, June 28 – Stoke (Wagon and Horses); Sunday, July 28 – Burnley (Bank Hall Miners Club).
Tonight's show promises to be quite an important one for the band who, as well as showing off guitarist Paul for the first time, will also possibly be introducing some new material.
Tamworth Herald – 29/03/85
Musicbox – Gossip Box
We start this week with a curious tale. As you may remember, a couple of months ago, Love On Board lost their lead singer Neil Jones because he had "academic commitments" in Great Yarmouth. The band placed an ad in MUSICBOX for a new singer and lo and behold a gentleman named John Minnion turned up as the saviour. But the marriage didn't last very long. John it seems didn't understand Love On Board's bizarre sense of humour and so he disappeared. But Love On Board didn't panic they just found another lead singer. His name? Neil Jones, the same Neil Jones who left originally. Let's hope the line up strikes lucky second time around.
Also striking for success are Ideal Standard who have just released their first-ever demo tape. According to sources the tape is excellent and the first batch of 25 have been sold already. Hopefully we shall be reviewing the tape next week.
Tamworth Herald – 29/03/85
Musicbox - SNIPS
Remember, a highly-rated Nuneaton-based band, have sent out an appeal for a new guitarist. The position which will probably suit someone from the Atherstone area, is to complete a line-up which has been getting rave reviews in the Nuneaton area.
Tamworth Herald – 29/03/85
Musicbox - SNIPS
Magnum, the popular heavy band, with deep Tamworth roots, have just released an excellent new single. The band whose lead singer Bob Catley lives in the town, are about to release a new album "On A Storyteller's Night" which should include the single "Just Like An Arrow". The track, which has already received Radio One airplay, is fast, well-structured and very enjoyable, making it an outsider for top chart positions. Fans can see the band in action on The Tube late in April.
Tamworth Herald – 29/03/85
Musicbox - SNIPS
Another band who look destined for success are Tribal Sweatshirts, featuring former BHX drummer Richard Deane. The band, who play modern commercial pop, have already attracted considerable interest and now they need a new bassist to complete their line-up. Two qualities needed are dedication and ambition, and if you think you can provide these – as well as good funk rock bass contact the band. We hope to be reviewing the bands debut cassette in the near future.
30/03/85
Chalkie
Shuttington and Alvecote Social Club