Tamworth Bands History : 1985 :
January
Tamworth Herald – 04/01/85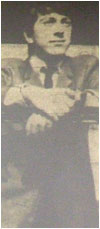 Musicbox – Brian's fine talent goes on Parade
The Parade – New Beginnings (Demo Tape)
A COUPLE of years ago a highly promising young band called The Visitors split up.
The band, spearheaded by the powerful forces of Brian Lacey and Mark Mortimer seemed destined for success but somehow the personalities of the two mainstays just couldn't click at the right time.
After the split there was a certain amount of regrettable animosity but through it all Mark Mortimer, who of course went on to create The Dream Factory, always said 'Brian will go far, he is genuinely talented'.
Mark still believes that, and after listening to this excellent new demo I think a lot more people will be believing it as well. For Brian's songwriting on this three-tracker reveals a maturity and talent that far belies his teenage years.
One number in particular – 'A Kinda Living' – is quite simply irresistible and is my first contender for next year's Musicbox local song of the year.
Strength
For it is the songwriting above all that makes this tape stand out like a shark in a fishpond. The actual playing, production and packaging are good but you get the feeling that the strength of the tunes on offer would shine through if the tape was recorded in a bathroom.
The tape opens with The Parade standard 'Welcome to the Working Week' which has nothing to do with the Elvis Costello song of the same name but is equally palatable.
It has a snappy, uncomfortable beat layered over by Brian's smooth textured voice which only hints at the onstage aggression with which he normally delivers this song. 'WorkingWeek' is over far too quickly. It acts as a perfect foil to the outstanding second track 'Before'.
Here, the beauty of Andy Stokes' bass line carries a mellow and rather melancholy lyric, evoking a mist of emotions which take you right into the mood Brian was feeling in when he wrote it.
That is an almost unnerving and unique experience but you're soon back to smiling with 'A Kind of Living'. This is a buoyant, good-humoured pop song packed with 'ba-ba-ba-ba-ba-baers' and complemented by a tune that would have fitted perfectly on the Jam's superb 'Sound Affects' collection.
Classics
It is exactly the sort of music that, if things had gone differently, The Visitors would now be making. As it is, this is a clear statement by Brian Lacey, which proudly says: "this is me as I am now – you can take it or leave it."
Well I will certainly take it, Drummer Ian Simpson and Andy Stokes both do their jobs well but the sheer presence of Brian Lacey's contribution to this tape takes it out of the Good Tapes League and into the Local Classics section.
If they can keep up this standard, The Parade look set for a very bright future and this tape can do nothing but good in their search for that elusive success.
SAM HOLLIDAY
Tamworth Herald – 04/01/85
Musicbox – Five-day special
ALTHOUGH NOT all the details are yet finalised, next month will see two big musical events in the town. First a special five-day rock talent contest will be held at the Arts Centre and then over at the Assembly Rooms a number of the town's top bands – spearheaded by Sitting Pretty – will launch into a special benefit gig for Ethiopia . Watch this space for full details of both these important events.
Tamworth Herald – 04/01/85
Musicbox – A5 route to success
A5 – Atherstone Memorial Hall
MORE than 300 people turned out to welcome A5 to a special Christmas gig at the Atherstone Memorial Hall in a good trouble-free atmosphere, the band launched straight into their set with the crowd-pleasing 'Activation'.
The first half of the lengthy set went down very well with the enthusiastic crowd but the band seemed to lose the audience midway through their show. One of the reasons was the distraction of three dancers who gave a spectacular performance during four numbers.
Eventually A5 won back the crowd and the best received song of the whole night was undoubtedly 'Love To You'.
A.F.
Tamworth Herald – 04/01/85
Musicbox – Snips
Talk Back, fresh from their trip to video land, will return to 'normal activity' on Thursday when they will return to the Tavern in the Town for their first gig of 1985. Entrance, as with all Tavern gigs, is free and the event stars at around 8.30pm.
Mega-Motown star Edwin Starr is said to be coming to live in Tamworth. The enormously successful singer has apparently bought a large house on the outskirts.
Tamworth Herald – 04/01/85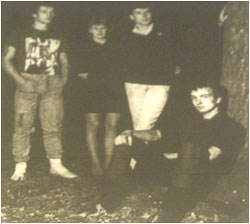 Musicbox – Band's debut was far from Ideal
Ideal Standard – Tamworth Youth Club
TAMWORTH Youth Club isn't the ideal place in the world for a gig – and especially not on a Wednesday.
For at this, the Standard's debut solo performance in Tamworth, the band were met with a less than enthusiastic response and vocalist Derek even had to say "pretend it's a Dream Factory gig!"
However, when Mark Taylor's opening chords of 'I Will Follow' rang in the air, all heads turned. It is obvious that the band are fond of U2, especially Mark who sported an 'Unforgettable Fire ' t-shirt and had U2 stickers on his guitar. The group who played 'I Will Follow', 'New Years Day, Jam covers and two originals.
After the excellent performance the band told me that they felt because they came from Coleshill the audience were holding back and that their forthcoming Coleshill Town Hall gig would be more successful.
There are obvious influences in the band but if U2 are Ireland's favourite sons, the Ideal Standard's are Coleshills.
ROBERT CROSS
05/01/85
Chalkie
Dosthill Cosmopolitan Club
05/01/85
Assems Disco
Nij Redfern
11/01/85
Talk Back
Tavern in the Town
Tamworth Herald – 11/01/85
Victim of a 'grudge' attack
CALLOUS thieves nearly shattered a Dordon disk jockey's music business in what he believes to be a "grudge" attack. They made off with valuable records and equipment worth almost £3,000.
Warm-hearted fellow DJs and friends, however, rallied round 31-year-old Barry John to replace some of his stolen items.
The raiders struck when they took the DJs van parked outside his home at St. Leonard's View and dumped it 100 yards away.
They plundered the vehicle making off with nearly 2,000 records – many unique – and an amplifier, light speakers and microphones. Much of the property not stolen was vandalised.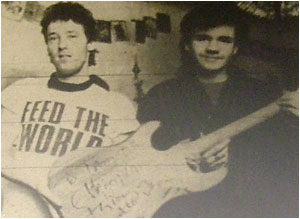 Tamworth Herald – 11/01/85
Guitar winner Lee strums the right note
A 16-year-old Tamworth schoolboy was this week happily strumming away on a unique guitar – thanks to a charity contest which could help to save lives.
For Lee Partlow of Greenhill Close, Dosthill was the delighted winner of the special Tamworth Herald contest to raise money for the Ethiopian famine fund.
Entry fees received for the guitar competition have gone straight into the famine fund – making it a prize for more than just winner Lee.
"I am very pleased to win because this is for a very good cause", said Lee. What makes the guitar so special is that is has been signed by the man who has done a great deal already to help famine victims – Bob Geldof.
Geldof successfully brought together many of Britain's top pop stars who produced the record-breaking Band Aid single from which all funds have gone to Ethiopia.
The guitar has been donated by local musician Ian Gibbons who went to the trouble of visiting London to get Bob's autograph for the prize.
Ian is currently busy organising a big pop concert at the Assembly Rooms – where all the proceeds will once again go to Ethiopia
Success
In the meantime, however, he is satisfied that this first venture proved a big success – not least for Lee.
"I am thinking of getting a band together and this guitar will obviously help along the way," he said.*
Ian will present Lee with the guitar again at the Assembly Rooms concert when there will also be other celebrity competition prizes on offer by bands such as UB40 and Meatloaf.
*Lee was later to form Rape in Yellow (later Banned in Yellow)
Tamworth Herald – 11/01/85
Musicbox – ROCK-BUSTER OF A CHARITY GIG
TAMWORTH rocks for Ethiopia! That's the proud banner under which six of the area's top bands will be getting together later this month for one of the most important gigs of the year.
Sitting Pretty, Talk Back, The Original Royal Family, Breaking Point, The Parade and Love On Board will join forces on Tuesday January 22 for an Assembly Rooms concert which looks set to be a fund-raising sell-out.
As well as being able to hear six of Tamworth's most exciting bands in action, spectators will also be given the chance to enter a competition – with some super pop prizes – up for grabs.
Gig organisers, Ian Gibbons, Mike Turner and Lorna Ring have managed to persuade a whole host of top British and American stars to donate autographed albums and other prizes.
Already up for grabs are goodies by UB40, Ultravox, Feargal Sharkey, Meatloaf, David Essex, The Drifters, Gerry and the Pacemakers, The Bootown Rats and old favourite Gary Glitter.
All prize winners' names will simply be drawn out of a box – but you have to go to the concert in order to enter.
Tickets are expected to go fast for the event because at just £1 in advance and £1.50 on the door, they really are excellent value. For that money you will be able to see six superb bands (plus a DJ) and also get a chance to come away with a unique prize.
And as well as that, every penny you spend will go straight to the Ethiopian famine fund. The organisers are banking on Tamworth not letting the cause down.
"We think there are going to be a lot of people there, and loads of local bands have already come forward volunteering their services," said Ian.
Ian admits that with several other bands willing to take part, it is a great pity that not everyone can play – but with just five hours available, the organisers are careful not to be over-ambitious.
"I think we have the right amount of groups – covering every musical style," said Mike Turner.
Tickets
Tickets are available in advance from any of the organisers or the bands themselves. There should also be several shops in the town selling tickets and people are asked to look out for special posters in these shop windows giving more details.
Musicbox loudly applauds the vision and hard work that has gone into organising the whole event, and we just hope that the Tamworth public – wether they are local music fans or not – will respond like never before. It is a night definitely not to be missed.
SAM HOLLIDAY
Tamworth Herald – 11/01/85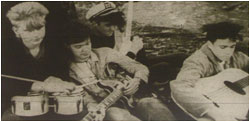 Musicbox - And more news from the line-up…
Love On Board – Demo
I AM sure everyone knows that sinking feeling when you listen to a record by a band you really admire and it just doesn't come up to expectations.
You keep playing it again and again in the hope that it will grow on you, but more often than not your disappointment just strengthens. Sadly this is exactly how I felt listening to this, the first demo by Love On Board.
As a band – and as individuals – I have liked and respected Love On Board from the start, and so I was very optimistic that this tape would make an immediate beeline for my heart. Well it didn't. For all the fine musicianship and production on the tape, the band are let down by the most important thing of all – the songs.
Everyone who knows them live is aware that their set is made up of a neat mixture of uptempo commercial numbers and more serious, mesmerising tunes. It is a pleasant marriage of extremes but on this tape the diversity is divorced.
All four songs seem to be stuck in the middle between fun and seriousness – and we all know what happens when you walk down the middle path.
The best track of all is the opener 'Goldmine'. This has the ever-present Love on Board ingredients of a good tune and nice sound and although the band may not like me for saying it, the songs sound exactly like teen-idol Nick Heyward.
That may sound a strange comparison, but just listen to Mr. Heyward the next time he's on the radio – there is more to him than fluff.
Sterling
The second track 'Love On Board' is another good one which features a marvellous intro and some sterling bass work by Glenn Lewis. The vocal mix, however, is far too low and you get the nagging feeling that the whole song could just be that little bit harder.
That feeling grows bigger with the third track 'Train Across The Canyon'. Why Love On Board put this track on the tape in preference to say 'Holiday, Holiday', I will never know.
'Train' is probably the worst song I have ever heard by the band. It's theme and lyric (canyons!) is so American that it is almost irrelevant and with a line like @With your eyes so blue, I'm in love with you', you could be listening to a forgettable country and western number.
Soothing
Finally, we have a far superior number which I think is called 'Listening In'. This is a subtle song which is well-written and soothing. It is 4 o'clock in the morning music and displays – as throughout the tape – some marvellous guitar mastery by Nick read who really shines on these tracks as a guitarist to be reckoned with.
So, three goodish songs and one bad song. That may not seem horrendous but the thing that is disappointing is that I – and Love On Board I'm sure – know the band can do much, much better.
They are a great band but this is not a great tape, yet I'm convinced they will bounce straight back with something bolder and better the next time they venture into the studio.
SAM HOLLIDAY
Tamworth Herald – 11/01/85
Musicbox – Dickens date
DICKENS, who made such an impact in the Musicbox poll, have arranged tow major concerts in the next two weeks. Tonight they are hitting the valleys, for a concert in Cardiff, and then next Friday, they are back a little nearer home when they play Nuneaton Arts Centre, with the unforgettably-named Remember.
Tickets for the Nuneaton concert cost just £1 on the night, or van be bought by ringing Mike Adcock.
Tamworth Herald – 11/01/85
Musicbox – Snips
TWO NEW bands have contacted Musicbox in the search for musicians to complete their line-ups. The first is The Black Market, currently only a two-piece (bass and guitar). The Market, who are influenced by everyone from The Jam and The Stranglers via The Who and Camel are looking for a drummer with enthusiasm and a willingness to play with a band who are starting virtually from scratch. If this sounds interesting, contact Lee Phipps.
Tamworth Herald – 11/01/85
Musicbox – Snips
Another band on the search for 'clientele' are an outfit influenced by The Police, U2, Big Country and The Eagles. This, as yet unnamed outfit, need a bass player and they are keen to get things going as soon as possible. The person to contact is Bryan Robinson.
Tamworth Herald – 11/01/85
Musicbox – Snips
BHX have decided to have a break from live work. The popular heavy outfit have decided to spend time writing new material and preparing an entirely new stage show. The band have stressed that they will be back soon – refreshed and raring to go.
Tamworth Herald – 11/01/85
Musicbox – Ideal set for home debut
IT'S A big night for Coleshill music fans tonight with the first 'home' appearance by promising outfit Ideal Standard. The band who were drafted in as late support for Scarab last week, will be in action tonight at Coleshill Town Hall.
The band, who boast U2 and The Jam as their two greatest influences, will be playing alongside the excellent Parade in a night that promises to be very enjoyable.
So don't miss out – show that Coleshill wants to get something going, and support both these bands tonight.
11/01/85
Ideal Standard
The Parade
Coleshill Town Hall
Tamworth Herald – 18/01/85
Concert tune-in
THE two organisers behind next week's Assembly Rooms rock concert in aid of Ethiopia, are to appear on Radio WM on Sunday afternoon. Ian Gibbons and Mike Turner have been invited to discuss the concert in a live interview when music by the Tamworth bands involved will also be played. Listeners can tune in to the interview at around 3pm when they can also find out more details about Tuesday's concert.
Tamworth Herald – 18/01/85
Musicbox – Listen in…to a single with a big future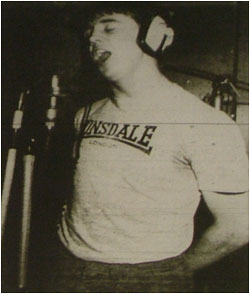 Factory's clocking in with a fine asset
The Dream Factory – Fashion Toys/Wine and Roses (single)
IF ANY OF YOU are still wondering how The Dream Factory managed to sweep the board in the Musicbox poll, can I tactfully suggest you give this record an airing.
For after all the speculation, hype and hope, The Factory have proudly emerged with the first demo copies of their debut single – and quite frankly, it's brilliant.
To people who already know and appreciate the band's music, this will come as no surprise, but I feel this is going to be a big winner with many people who normally wouldn't dream of listening to the Factory.
As a test I played the record to someone who doesn't particularly like the band without saying in advance who it was. The response was enthusiastic and it was only when I said "It's The Dream Factory" that the listener looked suitably aghast as if she had spoken out of turn.
For The Factory, this will come a great news. If their single can win over neutrals as well as fanatics, there is no reason why it shouldn't burst into Musician's Paradise – i.e. the charts.
The most wonderful thing about this single by a local band is that it doesn't sound like a local band at all. Some of the time local tapes are good – but only in the context of their environment.
This single however, would be good in any context. It is a double 'A' side comprising the funky "Fashion Toys" and the Musicbox song of the year the superlative "Wine and Roses".
Recorded in Handsworth in November, it boasts a clean, very well mixed production which perfectly seals all the bands musical assets.
Poseurs
"Fashion Toys" is a clever song about a certain pub in Tamworth, which the Factory says attracts poseurs, creeps and 'golden boys.' They don't need to name it – because we all know it anyway – but by keeping the identity guarded, it becomes a universal song – for every town has its public house black spots.
Musically it owes a lot to the funk of Frankie and the soul of the Sixties – a blending that should attract listeners from two very different musical cultures. Best of all, it has a high rating in the danceability stakes and from a purely artistic point of view, boasts some quite marvellous playing.
The 12-inch version of the single (yes they have even got those!) has an extended "Fashion Toys" which I am very much looking forward to hearing.
If "Fashion Toys" gets an 'A' rating, well "Wine and Roses" gets an 'A-plus'. No messing here, this is a wonderful Welleresque piece of Style Council pop which bounces along irresistibly.
Splattered with enticing backing vocals and brought on by a simple melody, the song is a triumphant burst which you have to be deaf – or ridiculously prejudiced – not to appreciate.
If Paul Weller had written it, it would go to number one so why should Factory writers Tim Goode and Lloyd Barnett be any less successful?
Seriously, it's great stuff and again for the purists there is an excellent sleazy jazz solo courtesy of Andy Codling.
Splendid
So, there you have it – a splendid 45 which should find its way into your record shops in the next few weeks. Personally I am going to hang on to my promo copy as long as possible and play it to as many non-Factory workers as I can.
My guess is that openly – or secretly – they are going to love it and my second guess is that The Dream factory have got a hit on their hands.
It makes you proud to think a product of the Tamworth music scene could produce such quality sounds – proud and very, very hopeful.
18/01/85
Dickens
Nuneaton Arts Centre
Tamworth Herald – 18/01/85
Musicbox – BIG HEARTS 'N' GLITTER GALORE GREET BIG GIG
THE FINAL touches are now being put to Tuesday's massive Assembly Rooms concert to raise money for Ethiopia.
The concert, which comes under the banner of Tamworth Rocks for Ethiopia has generated a wave of excitement throughout Tamworth and scores of tickets have already been sold.
Gig organiser, Ian Gibbons, has described the response as 'overwhelming' with dozens of local firms coming forward with invaluable, free help.
A number of Tamworth shops have agreed to put advertising into the concert programme and in addition everyone from Gary Glitter to West Bromwich Albion has offered raffle prizes to boost the Ethiopian fund.
Video
TV cameras from Central TV will almost certainly be coming along to do a story about the concert and local video maker, David Tighe has also offered his services free.
"We have really been knocked out and everything is going right," said Ian. The Rock for Ethiopia gig, which has also been backed by Oxfam, features six top local bands – Sitting Pretty, The Original Royal Family, Breaking Point, Love On Board, The Parade and Talk Back – plus DJs, comperes and a variety of special guests.
Tickets are fast running out although there should be some on sale tomorrow when the organisers are holding a stall in Ankerside to publicise the event. Tickets are also on sale at the Tamworth Herald.
Pouring in
New raffle prizes and offers of help are pouring in every day showing that the Tamworth public does care about this most important of issues. Tamworth Borough Council and Tamworth police have shown full co-operation and now the organisers are hoping that the gig lives up to the hopes being pinned on it.
If you still want to get involved and come to the gig there should still be £1.50 tickets on the door on Tuesday night although you are advised to get there early for a 7.15 kick off.
It is your chance to see a great concert, win marvellous raffle prizes and most important of all, help a disaster that hasn't gone away even if the TV cameras have. The curtain goes up at 7.15pm – be there!
Tamworth Herald – 18/01/85
Musicbox – Country Calling
A COUNTRY band, who boast a variety of influences, are on the lookout for a drummer and a guitarist to complete their line-up.
The band, who say they are not traditional country and western veer towards American rock, are looking for enthusiastic musicians to try something a little different.
Tamworth Herald – 18/01/85
Musicbox – Mature rockers all set for a mystic night
TWO BANDS who are desperate to make a big impact on the Tamworth scene, team up tomorrow for an Arts Centre gig with a difference.
Spirit of Water and Caprice may not be the most fashionable of bands in the current Tamworth atmosphere, but both have promised to try and win over neutral spectators with a show of original talent.
Democratically there will be no 'headlining' outfit but by virtue of Spirit of Water's reduced set, they will be going on first.
The reason for the set shortening is the loss of the Spirit keyboard player who contributed enormously to the band's excellent first demo tape.
To any of you who may not know the sound they aim for is a T-Rex/Springsteen feel which blends the old rockist traits of the Seventies, with the more passionate moods of the Eighties.
With two such superb influences, the band can hardly go wrong and they certainly won over many people at their last Tamworth appearance – at the Bank Holiday festival.
They are a band with a future and they are hoping many people will go along tomorrow and give them a boost in the hope of bringing that future just a little bit closer.
A band also waiting to springboard into your hearts are the cheery trio, Caprice. The group, a sort of serious man's good time rock and roll band, play a set that is as diverse as a box of liquorice allsorts – but not half as sickly.
At times they are intense, at others frivolous, but they are always very enjoyable.
In many senses this will be something of an old fashioned rock gig – both bands feel they attract quite a mature audience – but there is still plenty in their sets to appeal to the younger elements.
According to Caprice captain, Mike Fleming, this will be an 'amazing mystic experience – a blending of the spirits, that of the forest of Pan and the Spirit of Water.'
If you want to know what the blazes that means make sure you get along to the Arts Centre tomorrow night at 8.15 for a very intriguing looking gig.
S.H.
19/01/85
Spirit of Water
Caprice
Tamworth Arts Centre
22/01/85
Rock for Ethiopia
Sitting Pretty, Talk Back, The Original Royal Family, Breaking Point, The Parade and Love On Board
Tamworth Assembly Rooms
Tamworth Herald – 25/01/85
Concert sellout proof that young do care…


IT'S A BIG HIT – FOR FAMINE FUND
NEARLY £750 was raised on Tuesday night when Tamworth's young people staged a hugely successful 'Rock for Ethiopia' concert.
Hundreds of people poured into the Assembly Rooms venue to watch six local bands and DJ Paul Wassall give their services free to help the famine-stricken people in Ethiopia.
Organisers and spectators alike voted the concert a big hit and no-one was more pleased with the event than Tamworth's Mayor Counc. Tony Whitefoot, who said he was delighted to have been invited to such a special event.
"I think this is all marvellous," he said. "These young people have their own problems but when they saw the terrible scenes of poverty in Ethiopia they said 'to hell with it' we are going to do something! This night proves to me that the young people of Tamworth care a great deal about things and I am very proud indeed of their efforts," said Counc. Whitefoot.
The music was provided by six of Tamworth's top bands – Sitting Pretty, Love On Board, The Parade, Talk back, Breaking Point and The Original Royal Family. But rock wasn't the only thing to keep the concert-goers happy.
Twelve raffles were set up offering everything from Aston Villa footballs to signed David Essex records and , special fundraising buckets were also passed round to keep the money pouring in.
Tuesday's extravaganza came as the climax of several weeks hard work by organisers, Ian Gibbons, Lorna Ring and Mike Turner. Following the national example of Band Aid organiser Bob Geldof, the trio decided that the young people of Tamworth should be given the chance to show that they cared about what was happening in Ethiopia.
Nearly every rock band in Tamworth volunteered their services free and one of them – The Dream factory – made a special donation of £50 even though they were not even on the line-up.
The organisers persuaded local firms, soccer clubs and national pop stars to donate financial and material help and it soon became apparent that the event was going to be a sell-out success.
Musically all the bands made new friends particularly the incredible Original Royal Family who had the packed Assembly Rooms dancing and singing to their enjoyable brand of rhythm and blues.
At the Assembly Rooms concert all the organisers and musicians joined forces for a moving rendition of 'Do They Know It's Christmas' – the smash hit single that brought together all the country's top pop stars to help the famine appeal.
Afterwards a special post-concert party was held at Knights where more bands played, more buckets were passed around and the organisers were left to reflect on a highly-successful evening.
Tamworth Herald – 25/01/85


Friends sound idea
Two friends are planning their first business venture together – a sound recording studio in Tamworth.
Phil Smith and Paul Speare hope their studio will be used not only by local bands, but also by any music-making groups, ensembles, and societies.
They plan to launch a fully sound-proofed eight-track studio – hopefully expanding to a 16-track later on - at the rear of the former record shop, Tamdisk, at 17 Lichfield Street.
The shop closed last summer and has been vacant since then.
Phil and Paul now have planning permission for their studio which they hope will be fully functional by March.
"We have both done some professional work in the past and have been looking round for quite some time for somewhere to start up a small recording operation," said 31-year-old Phil, who is married and lives at Maypole Road, Warton.
Both he and Paul 29, who lives at Polesworth, are music teachers.
"This is our first business venture so naturally we're a bit apprehensive about it, and to start with at least we will be carrying on with our jobs," Phil said.
"But we are far from green – we have done quite a bit of recording and we already have all the equipment. We have gone into everything very carefully.
"Besides local bands, we hope to attract choral and instrumental groups, and schools too – anyone who is interested in making a tape."
Tamworth Herald – 25/01/85
Musicbox – On Board without a sign of sinking
LETTERS
REGARDING your recent article in Musicbox concerning Love On Board, after reading your criticism, I have to air my opinion.
For after purchasing and listening to the demo tape by Love On Board, I must say That I did not get that 'ever sinking feeling' that you mention.
I feel that you have obviously had too many pre-conceived ideas about their own choice of songs. I think it contains four well-produced and constructed songs which are more favourable than some earlier written songs, such as 'Holiday, Holiday', so can you please tell me how you can criticise a group of this potential when they show so much dedication and determination?
I am sure that the group welcomes criticism, but I feel that credit should be given where it is due.
Stud Farm Cottages,
Bonehill
· Thank you for your letter which was one of numerous comments both supporting and disagreeing with my review – which I regard as constructive criticism of Love On Board's tape.
I feel it is a little unfair that you say credit should be given when it is due, for I certainly try to do that with every band I hear.
Some people even accuse Musicbox of being too flattering to bands and although I disagree with this, I always try to be as positive as I can honestly be.
But my opinion of Love on Board's tape was that it was a let-down as I regard the band as one of the best Tamworth has produced in years.
SAM HOLLIDAY
Tamworth Herald – 25/01/85
Musicbox – Tasty mixture on this menu full of variety
Spirit of Water/Caprice – Tamworth Arts Centre
Is it fair to judge a sandwich after only tasting its filling? This was the vexing question that was on my mind after only seeing the middle bit of the concert. Should I review it even if I missed out on the first and last course.
I decided Yes because although I caught only half of both band's sets, there was plenty in them to give me a firm indication of what both outfits have to offer.
The first thing that strikes you about Spirit of Water is that they seem to belong to a long gone generation – each one looks like a member of the Charles Manson family and lead singer The Witch Doctor could have stepped right out of the flower power era. But the image is not sustained musically.
Slicing guitars and melodious vocals combine to produce a sound that has as many modern influences as it has psychedelic connotations.
The T Rex feel is strong throughout and occasionally the band dip into almost gothic new wave rhythms and ideas. It is all a very enjoyable mixture played by four very professional musicians who obviously know exactly what sound they want – and frequently achieve it.
They are definitely a band to look out for, and their impressive reception proves that people are already starting to listen.
Caprice also look as if they stepped out of the pre-punk world, unashamedly sporting long haircuts and even – wait for it – flared trousers!
But their sound is far from archaic. It appears to cover a very wide spectrum starting at one extreme with Dire Straits AOR and switching at the other to buoyant rock and roll which could easily make a stake in the pop world.
Musically the band seemed a lot tighter – and more confident – than I have ever seen them before, and they were helped even more by the increasingly positive visuals of "The Girls From The Bus Stop" who are playing an ever growing part in building up the band's image.
The best number I heard was a touching – and obviously heartfelt – song called 'Love Lies Bleeding' (which has nothing to do with the Breaking point song of the same name.
Fiery
Here the seductive guitar sound, almost whispered vocals and female harmonies help to create an infectiously romantic mood. But typically, caprice went straight into a ripping onslaught on a fellow Tamworth bands, with a fiery version of 'Snake In the Grass' which illustrated perfectly the two extremes that make Caprice such an entertaining outfit.
So, an incomplete sandwich but still nevertheless a tasty one. Next time, I may try to catch the other ends of both sets, then I can really make a meal of the review.
Tamworth Herald – 25/01/85
Musicbox - SNIPS
Putting new face in Pretty picture
SITTING Pretty, still one of Tamworth's most active and popular outfits, have sent out an appeal for a new bassist and drummer.
The band has recently had a huge internal shake-up which has left them exactly as they were almost two years ago – with just Mike Turner, Julian Amos and Pete Long remaining.
Now the band are determined to stabilise themselves and invite sincere and enthusiastic bassists and drummers to contact them with a view to reviving Sitting Pretty's fortunes.
If this sounds interesting the man to contact is Pete Long.
Tamworth Herald – 25/01/85
Musicbox - SNIPS
Also on the lookout for a drummer and a vocalist is a new band influenced mainly by The Cult. The group are as yet un-named, say that experience is preferred, but dedication and ideas are just as important.
If you would like to find out more the person to contact is Pete Steadman.
Tamworth Herald – 25/01/85
Musicbox - SNIPS
MAGNUM, the popular heavy band whose roots are very firmly in Tamworth, have just announced a new tour and single. Tonight the band are at Birmingham Polytechnic, on Friday 15 they will be at Rockhouse, Derby and on February 21 local fans will be able to catch them at Coventry (Lanchester) Polytechnic.
On February 4 the band will also be releasing a new single on FM Records entitled 'Just Like An Arrow' backed with a new song 'Two Hearts'.
There is also a possibility that a 12-inch single may be coming out featuring an extra track which included help from the Royal Philharmonic Orchestra!
Tamworth Herald – 25/01/85
Musicbox - SNIPS
RUMOURS are circulating that Tamworth's leading rock sex symbol Rikk Quay is all set to make a return to the gigging trail. His new band The Sway have already made several visits to the studio, and now it seems they are ready to take their sound out and about.
For more details about this long-awaited return, watch this space!
Tamworth Herald – 25/01/85
Musicbox – Calling all rock hopefuls….
WILL all the bands who have said they would like to enter February's Tamworth Young People's Arts Festival rock contest, please attend a meeting at the Tavern in the Town on Sunday night.
Every band who has said they would like to be involved can be, so everyone is urged to send a member to the meeting at 8pn on Sunday.