Tamworth Bands History : 1985 :
June
01/06/85
Chalkie
Dosthill Cosmopolitan Club
03/06/85
Dream Factory
Castle Donington
Tamworth Herald – 07/06/85
Stop this Cinderella treatment, say bands
ANGRY ROCK fans and musicians have blasted the lack of playing facilities in Tamworth. They say pop groups have become a "nomadic" breed, cold-shouldered by the borough council and the community.
Mrs. Jo Gwinnutt, 36 hit out, "It's an absolute disgrace. So many bands find themselves pushed from home to home. They don't have anywhere to practice and eventually they just fold up."
Tamworth Herald – 07/06/85
Musicbox – What a Dickens of a good time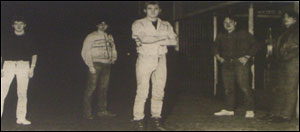 A HOST of Tamworth bands will be on show in the next few days in what promises to be the most exciting week so far this year.
The Dream Factory, Dickens, One On One, Gaf The Horse In Tears and Love On Board will all be in action in the next few days making it a week to remember.
Top 'billing' must go to The Dream Factory who on Saturday will step out in front of an amazing 20,000 at Castle Donington.
Major event
Then on Thursday the Dickens world tour comes to Tamworth Assembly Rooms for a three-band show which looks like being a major event in itself.
And finally tomorrow night sees One On One bringing their rich talents to the Arts Centre where they will be lining up with Birmingham outfit Chance.
For the Factory there is no doubt that their appearance at the Monsters of Soul event is a career highlight so far. The band were confirmed on to the bill two weeks ago and it means they will be playing with the burly, boisterous Bad Manners and the highly-rated Meteors. The event is seen as the scooter event of the year and there is no doubt that hundreds of local riders will travel along to cheer on their heroes.
Neo-legendary
The Factory, who looked in good form when I caught them at The Warren last week – should include the neo-legendary Dave Smith in their line-up making sure that one Royal Family – if not the other – is represented at the event.
The gig is the highlight of a spate of shows for the band and with all the expected media and spectator interest, it could really be a big break for the enthusiastic outfit.
Enthusiasm is also something which Mick Rutherford and Dickens will bring to the Assembly Rooms on Thursday. The band have many prestigious gigs lined-up all around the country but there is no doubt that there is something special about 'coming home'. The gig, to start at around 8pm costs £1.50 and punters will also have the chance to see two exciting support acts. They will be joined by the hard-to-define but easy-to-enjoy Gaf The Horse In Tears and the happy-go-lucky but determined-to-succeed Love On Board.
Dickens will be selling copies of their excellent album 'Standing Out' on the night and there is a good chance music company executives will be watching. EMI, CBS and Virgin have all confirmed they will be sending A and R men to watch the band on tour and the group have also heard that they are to get a half-hour show on the Steve Williams Radio Mercia show on June 16.
On film
As well as coming out of the airwaves Dickens may also come out of the little screen shortly as two gigs at Stafford and Nuneaton are being filmed for possible television shows. A Thursday night gig not to be missed.
Less grandiose maybe, but equally important to the group, is One On One's show at the Arts Centre tomorrow. There the band will be able to test out the numbers they are hoping to record on to new demo next week.
It will be the band's second trip into the studio following an excellent demo early last year. One On One will be playing with Chance a band who are not unfamiliar to me! Entry to this gig is just 60p and it looks like being another enjoyable night.
So a week full of excitement. For One On One to test out new material to be recorded. For Dickens a chance to get the 'home' verdict on 'Standing Out' and for The Dream Factory a chance to go further down the road to their inevitable success. It is further proof that Tamworth's music scene is buzzing at a wonderfully alarming rate.
Tamworth Herald – 07/06/85
Musicbox – Good, but not good enough
Breaking Point (demo)
PREPARE yourselves for a shock.
Regular Musicbox readers will be well aware that for the past 12 months, I have given more compliments and praise to Breaking Point than most husbands give their wives ina lifetime. But today – for the first time – the superlatives will be kept to (almost) a minimum. Now don't get me wrong, this demo is still light years ahead of most other releases I have heard recently but I just can't help feeling this could have been so much BETTER. Where I was expecting a major classic all I got was a minor one and I must admit to my first sense of disappointment in my 12 months love affair with Breaking Point.
The main problems is basically the sound. My copy at least sounds like it was recorded deep in Buttercup's armpit and that is hardly the place to get the best sounds.
This is very sad because the songs beneath the grind are of course quite brilliant. But, if you're trying to sell yourselves, the sound MUST be as pure as the songs. A record company executive listening to this with a hangover may well think 'good tune' but will be so put off by the sound that he will bin the tape regardless. As I say, very, very sad.
Songwise, although I feel 'The Phoenix' is a strange choice for an 'A' side track, it is still a very powerful number. Kevin Briggs tones down his normal aggressive voice to give a touch of the 'Bono's' to a song that is a typically, thumping piece of powerplay. 'Guns of Ambergold' is of course a love favourite but once again the sound mixing tends to muffle an essentially simple, powerful outburst that boasts a joyous chorus.
And finally, we have the song about John Lennon, the catchy 'Breaking The Rules'. This sounds like a baby produced by the fusion of U2 and The Alarm and is very enjoyable despite the train that seems to be running on my copy of the track.
So, in conclusion, I was disappointed by this tape. Apart from Wolfsbane and Dream factory's most recent releases, I can't think of anything in the same league but it is not half as exciting as the band's first tape – or any of their gigs.
It is now time for Breaking Point to go for broke and throw caution – and money – to the wind. Hey should go into a studio – as good studio – and record 'Ode to Nicholas Romanov' and 'Emergency' as a debut single. It is time the band took that firm decision to go for the big once because I am convinced they are good enough to go right to the top, but tapes like this won't help that cause.
08/06/85
Chalkie
Belgrave Sports and Social Club
08/06/85
One On One
Chance
Tamworth Arts Centre
Tamworth Herald – 14/06/85
Musicbox – Treading a pretty path to progress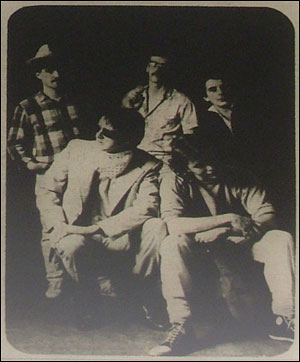 Sitting Pretty (demo)
FOR SOME strange reason, there are a lot of rock fans and musicians in Tamworth who don't like Sitting Pretty. Many dismiss them as 'just another kiddies pop band' and refuse to take them at all seriously.
But despite – or perhaps because of – this, Sitting Pretty have stuck at their job with dedication and optimism, and have refused to compromise the clean-cut pop image which has tended to distance them from every other band in the town.
And now that dedication is beginning to bear real fruit. Their following is growing all the time and now they have released their finest ever tape – a two-tracker aimed specifically for the growing list of record companies who have discovered the band.
It leaves the 'Inspiration' single at the starting post and is without doubt the most mature and professional work ever to come out of Sitting Pretty's highly-productive stable.
It is that word maturity which really sums up Sitting Pretty as they are now. Just look at the new picture here and compare it (if you can remember) to the first Sitting Pretty picture where they stood, arms folded, wearing Mickey Mouse jumpers and looking like they had formed 10 minutes ago.
Well that was then and this is now. And the band have a definite 'up-market' pop sound – and the music to compliment it.
The premier track on this demo, is 'Something Rich, Something Exciting', a lush ballad with a breezy melody and a beautiful sax background. It sounds like a fusion of Spandau English pop and modern Scottish romanticism and should prove equally palatable in either musical country.
Add to this a tender and impressive vocal from Mike Turner, and you have a winning combination, Mike's voice is in some ways a revelation. We all know he has a pretty face, but if this tape proves anything, it is that beneath the smile there is a powerful voice waiting to burst out.
'Blind to Reality' continues the theme, tending to steer more towards Spandau and adding a neat dance rhythm, making it very easy – and enjoyable – to listen to.
So a great tape and one which I hope – and believe – could start the ball rolling for Sitting Pretty.
Tamworth Herald – 14/06/85
Musicbox – GOSSIPBOX
TOMORROW night, local people will be given the chance to win something they have always dreamed of – yes, a scooter helmet with Paul Weller's autograph on it.
This bizarre prize is being raffled at the Dream Factory's long-awaited gig at the Polesworth Top Club. It was obtained by intrepid duo Ian Gibbons and Robert Bowker, who are still – very much to their credit – refusing to let us forget about the tragedy that is Ethiopia.
Tomorrow's show starts at around 8pm and judging by previous Factory shows at the Top Club, a great night is expected…
Still on the Factory, it seems their appearance at the Castle Donington scooter rally was a great success. The band earned an encore and widespread applause from an audience containing just about every youth cult conceived, except the Moonies. It should, hopefully, lead to bigger things.
On the subject of big things, all bands who are to play in the Tamworth Rock festival 1985 are reminded that there are just two weeks left to get in your £5-per-member levy. Afterwards, in true governmental style, we will start imposing financial penalties and, after that, you will become spectators instead of participants.
Drummer
Two bands desperate for new members have contacted Musicbox in search for elusive heavy personages. One band are after a vocalist (16-18) who wants to play loud heavy music and is reliable.
Another band desperate for a members is Steve Birch's Def Leppard style outfit.
Steve has been itching to get things moving longer than longevity and now all he needs is a drummer.
Finally, some very good news. A local person, Steve MacNamee, has been appointed as 'band booker' at the Cellar Bar in Birmingham University. And Steve wants Tamworth bands to go there. The Cellar Bar has featured groups like Duran Duran and The Beat in the past, so this really could be a big break for the town.
If you're interested, send tapes to Steve.
And if any band becomes bigger than Duran Duran, just remember GOSSIPBOX told you first!
14/01/85
Dickens
Gaf The Horse In Tears
Love On Board
Tamworth Assembly Rooms
15/06/85
Dream Factory
Polesworth Top Club
21/06/85
Spirit of Water
Power Play
Tamworth Herald – 21/06/85
Musicbox – In the Spirit for a special night of rock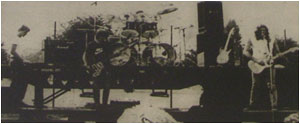 TWO ROCK BANDS keen to gain a foothold in Tamworth music scene, take to the Arts Centre stage tonight.
Topping the bill will be the Atherstone-based Spirit of Water, an energetic rock outfit who made many friends when they recently turned on the style in the 'Battle of the Bands' contest.
And making their Tamworth debut with them will be Power Play, a new and potentially exciting outfit who are intent on serving a unique rock and roll brew for eager Tamworth audiences.
Power Play have only been together a matter of months but already they have built their own style and sound. They say they want to play songs based on sleazy back street bars and fast American cars, and nor surprisingly, their influences are listed as people like Bryan Adams and Bon Jovi.
It is rock music, which the band are convinced will appeal to more than just 'rock' fans.
"We feel that we fill a gap in the Tamworth music scene and we also feel we could capture a larger section of the Tamworth audiences than most bands," say the group.
The band line as Mike Simpson (lead vocals), Graham Phelps (lead guitarist), Billy Campbell (rhythm guitar), Alan Page (bass) and Rob Chivers (drums).
Although not all the band members are completely inexperienced, this will be their first stage performance together – and it is something that they are all keenly awaiting.
Also looking to tonight's show with enthusiasm are Spirit of Water. The group now describe their sound as 'black metal' as it combines the heavy end of the rock spectrum with the more melodious rock and roll end.
Guitarist Dylan, for example, makes no secret of his love for Trex and that influence plus a very healthy Springsteen appreciation, makes them a tasty live treat to most rock fans.
"I think we have gone a bit heavier recently but we still think our music can appeal to a lot of people and we are also looking to boost the image of the band to make us more visually enjoyable." Said Dylan.
So an interesting – and rather special night of rock is in prospect – if all begins at 8pm so don't miss out!
Tamworth Herald – 21/06/85
Musicbox – A kaleidoscope of sounds – despite PAs!
There have been several interesting gigs in the town recently and Musicbox has been keeping tabs on most of them. Sam Holliday took a look at the Dickens/Gaf The Horse in Tears and Love On Board show; metal correspondent Kev Unwin saw Scarab's BHX benefit and the ever-enthusiastic Martin Webster put pen to paper about The Folk Circus. Here are a few snippets of opinions on these very different gigs…
SCARAB – Opening with 'Tonight We Take No Prisoners' they played their usual set in a different order. After a brief moment when lead singer Paul tried to excuse the rather expensive entry price, the audience lapped it up. The flame fountain was there again as was the 'gas mask'.
Unfortunately the power of Mick Goodby's voice was too much for the Scarab P.A. and it blew a fuse, 20 seconds into the song.
LOVE ON BOARD – Not even an extremely and unhelpful and stubborn PA could stop Love On Board impressing me that they have improved greatly recently. The old numbers seemed insignificant next to new powerblasts like 'Responsible For this' which was as exciting as it was memorable. Particularly impressive was the general musicianship of Nick Reed, Neil Jones and Glen 'Lofty' Lewis all played skilfully but the real honours were won by drummer John twist who was simply superb and sounded better than he has ever done.
GAF THE HORSE IN TEARS – Despite the fact that Tony Cole was still wearing THOSE shorts, Gaf turned in another interesting, varied set. They have so many facts and influences in their sound, that tying them down to one musical style is like trying to climb up a wall covered in grease. You get so far towards your goal and then you slip down again. Best number was a newie with an unpronounceable German title although I still have a soft spot for the catchy 'Machine motion' which was given two refreshing airings.
Friendly
FOLK CIRCUS – Perhaps Folk Circus is not such an apt title for this motley crew because you will never hear 'Greensleeves' or 'Wild River' at this gathering. No, mainly it is a celebration of what is good about modern contemporary acoustic music where all styles, blues, country, rock and roll and so on are covered. It's free, fun and friendly and yet further proof of Tamworth's rapidly expanding kaleidoscope of modern music.
DAN (part of Folk Circus)
All the way from the wilds of Canada we have Dan who is easily the most popular performer ever to grace the Tavern in the Town stage. He sung of "Wildwood Wood" and "Two Women Blues" with an infectious good humour that touches your heart and makes your soul sing.
DICKENS – With a spirit and enthusiasm that has always been Mick's hallmark, Dickens took to the stage. The set (I had to leave early unfortunately) was largely made up of the band's fine album 'Standing Out' and was for me dominated by 'Hit and Run' a show stealer if ever there was one. The sound coming out of the PA speakers, however, was not nearly as sharp as the one that comes out of the speakers of your record player and some of the more delicate touches that symbolise the band's panorama of sound were perhaps sadly lost in the vast Assembly Rooms arena. Still a very enjoyable set and let us hope it helps them to conquer the world as they begin their epic global adventure.
Tamworth Herald – 21/06/85
Musicbox – SNIPS
AN EXPERIENCED guitar teacher who has helped bands as varied as Love On Board, Sacred Oath, the Royal Family and A5 has reported a couple of vacancies for would-be rock guitarists. Mr. S Harrop was formally a professional player himself and has been successfully teaching people for 11 years. He can teach any style of music but the majority of his pupils seem to be HM guitarists which says a lot about the current trends in the local scene.
Mr. Harrop comes highly recommended by several of his protégés so if you have a guitar and want to learn how to play it contact him.
The new-look A5, who have just released an interesting new demo (to be released shortly), have lined up a number of dates. They are due to be playing with Love On Board at the Arts Centre (June 28) and are to headline shows at Rugby (August 5) and Hereford (August 9).
The new line –up of the band is Steve Hayes (drums), Chris Edden (bass and vocals), Richard Reeves (guitar) and Bryan Robinson (guitar).
Tamworth Herald – 28/06/85
Musicbox – Chance to win real Dickens of a treat
HERE'S your chance to win a special white-labelled copy of the excellent debut album by Dickens – 'Standing Out'.
The well-crafted album is a tribute to the continuing talent of Mick Rutherford who, backed with the fine musicianship of Paul reeves, Paul Bainbridge and Brian Johnson, has managed to produce an album which covers all forms of modern pop and rock music.
The album we are giving away is a specially autographed white label version which is a rare test pressing. The winner of that saucy treat will also receive an autographed poster and tour programme.
The second prize winner will also receive an autographed poster and tour programme. All you have to do is answer the simple question below and get your entry in as soon as possible:
1. Name Mick Rutherford's former popular band
2. Name the first venue in Tamworth where Dickens played.
It couldn't be easier so send your answers as soon as possible to Sam Holliday, Dickens Contest, Tamworth Herald.
28/06/85
Love On Board
A5
Tamworth Arts Centre
Tamworth Herald – 28/06/85
Musicbox – No metal on a weekend full of gigs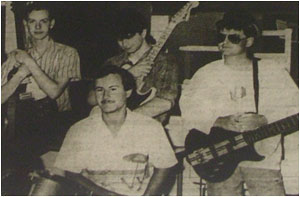 TAMWORTH ARTS CENTRE stages two impressive-looking gigs this weekend – and there isn't a heavy band in sight. For tonight the new-look A5 team up with the ever-hardworking Love On Board and then on Sunday night we have the partnership that gave us one of the gigs of the year – Breaking Point and The Magnets.
The two interesting looking gigs should provide ample evidence that Tamworth's non-heavy scene is alive and thriving. Recently several local music fans have been heard to moan that 'all we get at the Arts Centre is metal bands' but this weekend that
Theory can finally be laid to rest.
Tonight's show is vitally important for A5 who are now a totally different outfit to the Killing Joke style group who used to carry the same name. After the group's split, which came shortly after their bizarre show at the 'Battle of the Bands' contest, frontsman and bassist Chris Edden decided he would keep the A5 name and took the band's drummer Steve Hayes with him.
The duo then teamed up with two local guitarists Brayn Robinson and Ruchard reeves and suddenly A5 part two was born.
As well as shifting to a new sound, the band also now consider themselves as a Tamworth groups as opposed to an Atherstone one. With three members coming from Tamworth, A5 are now likely to be oncentrated more in this area.
And the sound? Well, Bryan and Richard have brought U2 and Big Country influences to bear on the band and the overall effect now is a neatly fused new wave guitar-orientated sound displayed perfectly on A5's entertaining new demo.
Love On Board, playing with A5 tonight, should need no introduction as they seem to have as many gigs under their belt as Elizabeth Taylor has husbands.
The group have revamped their sound of later and are now playing more intelligent Scottish pop with the triple guitar attack of Nick Reed, Glen 'Redneck' Lewis and Neil Jones and the enthusiastic beat of drummer John Twist.
If Love On Board need no introduction, what about Sunday's double-act the Magnets and Breaking Point.
The former is the longest surviving band in Tamworth while the latter is an outfit so weighed down with praise and hyperbole it is a wonder they can stand up! For the Magnets the gig will be another in a spaced-out series of shows to get the band in trim for the Bank holiday rock festival.
Image
They are still basically a synth band (they will probably never shake off that image) but over the past few non-Rikk Quaysian months, they have developed their sound along more traditional pop and rock lines. It all makes for a well-rounded and entertaining set and judging by the band's last show at the Arts Centre, a good reaction is certain.
Also, ready for a more-than-warm reception are Tamworth's most brash and brilliant act, Breaking Point. I have given up trying to describe the awesome strength of this band and now just beseech any lovers of fast, melodic, powerful music to pay an Arts Centre visit on Sunday night.
So, two most enjoyable looking gigs are on offer this weekend and with modest entrance fees for both, there is no reason why the Arts Centre shouldn't be packed on both nights. And if it isn't, well it will probably show that heavy music has the monopoly on fans as well as bands in the musically buzzing town…
Tamworth Herald – 28/06/85
Musicbox – SNIPS
SCARAB have lost two of their members and their immediate future could be in jeopardy unless they can find high-calibre replacements. The band, who are probably the town's most popular Arts Centre visitors, lost drummer Paul Brookes a couple of weeks ago due to his heavy work commitments. Then last week they herd the shock news that their bassist was also throwing in the towel. Now they are urgently seeking replacements.

Tamworth Herald – 28/06/85
Musicbox – SNIPS
HIGHLY-RATED trio Freight Train, who recently amazed many people by playing a gig with Sitting Pretty, have sent out an appeal for more local concerts. The group who feature Donald Skinner (ex-Thirty Frames A Second, Fretz and Julian Cope (guitarist), Josh Cope (producer, songwriter and Julian's younger brother) and Barry Douce (ex-DHSS and Dead Captain Speaks) want to play a series of local shows to build up a strong live set. The band have a single out shortly.
Tamworth Herald – 28/06/85
Musicbox – Festival call-up
ALL 24 groups involved in the Tamworth Bank Holiday Festival are urged to attend a full fee-paying meeting at the Tavern on Sunday.
In case bands have forgotten, all the £5 per-member-levies must be in by Monday, and so Sunday night is obviously the time for groups to pay their entrance fees.
Already a trickle of cash has flowed into the festival coffers, and on Sunday night that trickle should become a flood.
All the 18 groups playing in the outdoor section of the festival are reminded that financial penalties will start if money is late so this is a weekend to cut down on the drinking and start thinking about the paying for the playing!
MUSICBOX should be able to carry full details about the festival – include the line-up – next week, but as a final warning to bands, that line-up can be changed if you haven't paid your way!
30/06/85
Breaking Point
The Magnets