Tamworth Bands History : 1985 :
May
Tamworth Herald – 02/05/85
Musicbox – ALL ABOARD AS THE HOLIDAY FESTIVAL BANDWAGON ROLLS
SUMMER is nearly on us again and for Tamworth's young people that means one thing above all – the August Bank Holliday rock festival.
The festival, which last year was the biggest and best ever, has now become a permanent feature of the Tamworth music scene, eagerly anticipated by everyone particularly the town's musicians.
And this Sunday, the first meeting is to be held for anyone and everyone who wants to get involved in making the 1985 festival even better than last year.
Once again for the meeting is the Tavern in the Town – still rightly known as the centre of contemporary Tamworth music scene.
There it is hoped every single band who wants to get involved – and any video makers, stage-providers or non-playing enthusiasts – will attend so the first draft plans can be put together.
Changing
Many suggestions have been made in recent months about improving or changing the festival and anyone with any ideas can come and air them at this, the first of what will be many weekly meetings.
If there are any bands who want to be considered as part of the festival and cannot attend, can ring me, Sam Holliday on Tamworth XXXXXX between 6-8 tonight or Saturday. Alternatively, leave a message for me at the Tavern in the Town before Sunday night.
The festival is the best two days of the year for local music fans so if you want to get involved make sure you head for the Tavern on Sunday. The meeting should start at around 8pm.
Tamworth Herald – 02/05/85
Musicbox – WORDS FAIL ME AS THE HEROES SERVE AN ACE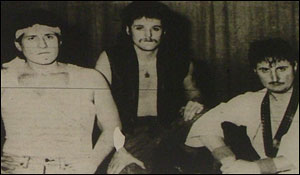 Breaking Point/The Magnets – Tamworth Arts Centre
IT IS NOT VERY often that I step out of a rock concert lost for words.
Mere adjectives were unable to sum up how I felt about this performance from Breaking Point.
Support act The Magnets were excellent themselves, but Breaking point were simply…incredible. I almost felt like weeping towards the end of their set as their magnificent power and purity swept over me like a rush of hope, and it was at this stage that I realised this band should be immortalised.
So what is so good about them? Well, everything, they have the sharpest ear for a good melody I have ever heard and anyone that does not find the hook of "Come The Day" or "Guns of Ambergold" irresistible must be deaf.
Also, they push the barriers of speed and power to new lengths, finishing one song bursting with energy and then going straight into another which is just as hard and uplifting.
Throw in superb musicianship all round, (Chris Orton drummed with a force and ANGER I have never witnessed in the town) and an excellent reaction from the crowd and you have a gig that to me could not be bettered.
Last Thursday, Breaking Point stepped out of being merely my favourite local band, now they join The Stranglers, Springsteen, Paul Weller and Joe Strummer as my heroes.
For The Magnets they probably had more to prove than Kevin, Daydo and Chris but they did just as well in their own way.
After starting nervously (to be expected after a six-match lay-off) but they got better and better and earned an enthusiastic response from the appreciative fans.
Pleasure
They played with the sort of spirit and sheer pleasure that was endearing to watch and exciting to listen to.
They looked good, and tighter, and displayed some of the youthful exuberance that convinces me they are going to enter an exciting new chapter in their history.
Some of the older more simplistic numbers have been replaced by tracks of sheer quality like "Breath on Breath" and the stupendous "No Crime" which had Andy Baldwin singing with Jim Foetus emotion and power.
Also improving the sound is Clive's transference to the bass which increases the visual as well as aural appeal of the band and also releases Gary Garry to play some more innovative keyboards.
Throw in some much-improved and often delightful syn-drum playing by Martin Woodings and you have a band playing crisp, tight, modern pop which is refreshing to hear and hopeful to think about.
So, a gig to beat most – if not all – gigs I have seen in months. They were bands steering along very different paths but both aiming and hitting the same target – sheer unadulterated entertainment.
Tamworth Herald – 02/05/85
Musicbox – Gossipbox
Buttercup's blooming…
IS BUTTERCUP the oldest swinger in town? This was the question on everyone's lips this week when the Tavern in the Town's beloved DJ announced to the world he had just had his 37th birthday.
Buttercup, who has fine musical taste, is delighted at the thought that he may be the oldest local musical fan around – and he is certainly one of the most ardent.
At last week's Breaking Point concert he nearly cried (along with me) with joy and he didn't look a day over 36. So happy birthday Buttercup and unless Gossipbox hears otherwise, I hereby declare you Tamworth's Oldest Hip Swinger. Long may you reign…
Tamworth Herald – 02/05/85
Musicbox – Gossipbox
It seems something unpleasant has shot up between former partners-in-chime Love On Board and Sitting Pretty. Love On Board apparently want some money from Sitting Pretty and lo and behold, Sitting Pretty wan t some money from Love On Board. All very interesting, I'm sure…
Tamworth Herald – 02/05/85
Musicbox – Gossipbox
Also intriguing is why The Sway pulled out of last week's gig with Breaking Point and The Magnets. Rumour has it that their manager pulled them out because he wasn't happy with the sound at the Arts Centre.
It left Rikk and the boys – not to say a lot of people at the gig – very disappointed, and perhaps their manager should think again next time.
Tamworth Herald – 02/05/85
Musicbox – Gossipbox
Finally, Gossipbox is offering a reward for anyone who can help to trace The Rathole. The club disappeared several months ago and no-one seems to know where it has gone or why. A free copy of the Complete Works of Enid Blyton to anyone who can find out whatever happened to Tamworth's biggest non-event…
Sam Holliday
Tamworth Herald – 10/05/85
Musicbox - Something exciting…and hopefully, rich!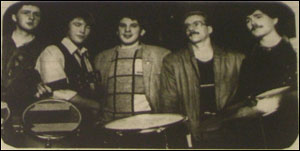 SITTING PRETTY, currently being chased by no less than four record companies, are all set to release a unique 19-track cassette album. The tape, called appropriately enough "The Complete Sitting Pretty (83-85)", features studio and live performances of all the band's most popular songs during their busy last couple of years.
As well as the single versions of "The Inspiration" and "Broken Glass Lies" the tape will contain a number of songs that have previously been unreleased.
Among them is the much-vaunted "Something Rich, Something Exciting" which looks set to be the second Sitting Pretty single later this year.
The whole of the first side of the tape was recorded recently at the Assembly Rooms Pop Quiz event which was described enthusiastically by some of the band's supporters as Sitting Pretty at their very best.
The tape, which should be available this week, will cost a mere £2.99 and can be bought either by writing to Sitting Pretty News or by visiting "Hole in the Wall" Records based at Fazeley.
Money
The band are hoping the tape will make them enough money to help them further their push for success. Only last week the band were having talks with Arista records and to confirm their fast-growing reputation they have now been invited to play a special gig with promising pop duo Strawberry Switchblade.
The gig at the Handsworth Open Air Festival which will feature a host of bands starting with Sitting Pretty and finishing with headlining Strawberry Switchblade.
It is hoped a coach will be running to the event and for more details, watch Musicbox or look out for the next copy of the Sitting Pretty News magazine which is out shortly.
The band have also booked Tamworth Arts Centre concert on May 31. Tickets cost 60p and once again are available from either "Sitting Pretty News" or Hole In The Wall records.
03/05/85
Wolfsbane
Tamworth Arts Centre
Tamworth Herald – 10/05/85
Musicbox – Wolfish thrills in the dark
If the idea of being a critic is to go along to a gig, let the band buy you drinks and then massacre them in print – as some people seem to think – that I'd better give up…
How can you massacre anyone when the bands are as good as the last couple I have seen? Breaking Point had me flying higher than the average Space Shuttle and now THIS.
Wolfsbane, were bold, brazen, broody and brilliant. In a dark, seedy, sweaty atmosphere Wolfsbane towered above the gloom to turn in a show that could have left less-inspired bands in the audience ready to split up on the spot out of sheer despondency.
Thrilling
They had everything. And more. At one stage all the lights packed in and yet they turned a power failure into an exciting new song as Blaze Bayley led the excited crowd in a series of arm-punching chants, which Marilyn Monroe look-a-like J.F. Bombshell would up as many people as he possibly could.
I mean nobody but nobody should be able to make a power cut thrilling but then again Wolfsbane aren't nobodies. In fact I think I enjoyed Wolfsbane's power cut more than I enjoy most people's sets.
And when the lights came back up – belters like 'G.S.B.' the tumultuous "Sold Our Songs" and a terrific smash-and-crash song where Bayley declared he was an axe-wielding maniac hit the audience with the effect of a tidal wave of power.
The crowd loved every second of it. Thos of us who thought we were too cool to act stupid felt secretly jealous of the dozens that did and it was clear where Wolfsbane's affections lay. Anyone that dared not sing along, jump in the air or get excited was put down in some of the crudest terms outside a Manchester United terrace.
Insulted
It was all quite Sex Pistolian actually. Sweating like madmen, the band insulted theor audience, made them feel excited to the point of mild hysteria and refused to let up the sheer venom of their sound.
I had to leave as the encores began because I simply couldn't handle it anymore. It was just so good, so powerful and so completely entertaining that I just had to get out before I lost my cherished cynicism forever.
All I can say is, I feel sorry for the next band I have to review. After crying out ,y left eye for Breaking Point and out of my right eye for Wolfsbane, I have no tears left and I am all set for a savage anti-reaction next time.
Finally let me say thank you Wolfsbane. You gave me – and scores of others – a night which we are unlikely to forget for a very long time. Long may you continue to slay, destroy and massacre everyone that dares to watch you.#
SAM HOLLIDAY
Tamworth Herald – 10/05/85
Musicbox – Swayed by a show of real polish
The Sway – JB's, Dudley
WALKING INTO the main room of this depressing little place it was hard to tell if you were in Lichfield, Tamworth or Dudley. For they came in cars, coaches, vans and on bikes, an audience of about 200-300 for the first live gig of the much-talked about Sway.
It was 11.20 before they finally emerged amidst flashing lights to the big build up into "Funk For Thought".
From there to "Random Hold" to "Life Is Like A Funfair" the band were certainly setting the pace and it was about this time that one realised that this was not a typical local gig.
They were dishing out entertainment of the highest order and thanks to some superb mixing by producer Chris and some cheerful patter between the numbers they provided a show with all the spit and polish of a band who had done it all a thousand times before.
Over the past few years Rikk Quay has given up more than his fair share of time to help promote other bands so it was good to see so many 'faces' had travelled to cheer the band on.
It was a gig that showed the band can really go for glory and it even made a night on the Barbican seem alright!
J.J.
Tamworth Herald – 10/05/85
Musicbox – Sacred Oath
SACRED OATH return to the Tamworth stage on Saturday night when they will be playing at the Arts Centre with leading Lichfield outfit Arabia. Sacred Oath, who many people thought would split when Paul Keeton took up membership of BHX, should hit the stage at around 8pm and have promised a good show to their loyal local following. The band now have some backing from PR Promotions a new Lichfield-based management firm who are moving into PA hire. There will be more details about the service they offer in a future MUSICBOX.
Tamworth Herald – 10/05/85
Musicbox – Review – Power and Class
Killer Elite – Tamworth Arts Centre
ASHBY-BASED rockers Killer Elite sent a small but appreciative audience home happy after a fine Arts Centre show.
Although technical problems hampered the opening number, they soon got down to the business with songs like "Rocking Mad" and "Time To Rock" standing out as numbers combining class and raw power - a rare combination these days.
Lead vocalist John Haynes led his troops from the front and had the crowd singing with him on the crazy "Let's Go All The Way". Another man to watch out for is Mark Walker, a potential axe hero if ever I saw one dong spur-of-the-moment solos and dominating the band's sound.
Rhythm section John Lee (bass) and Trevor Padgett (drums), remained solid throughout, completing a very useful combo. After a titanic version of "Chase The Hurricane" and a good encore, the band left the stage possibly to return in the future with Tamworth rockers Sacred Oath.
Tamworth Herald – 10/05/85
Musicbox – GOSSIPBOX
EVERYONE likes sax. It adds a certain beauty and feeling to any music and yet it seems for every good sax-man in the town there are at least ten good axe-men.
So it is refreshing to hear that Tamworth's leading exponent of the instrument has decided to start teaching it so you can learn everything you always wanted to know about sax but were afraid to ask.
Harry The Sax, who has played with The Royal Family and a host of other local bands thinks it's time that the traditional sax teaching (making people play 'Coming Round The Mountain', 100 times according to Harry) should be stopped in favour of letting people learn how to play soul and rock.
It all sounds very interesting so if you have a sax and want to learn how to play it give Harry a ring.
Tamworth Herald – 10/05/85
Musicbox – Festival footnote…
FINAL proof – if any was needed – that Tamworth's music scene is healthier than ever came at this weeks first meeting of the '85 Rock Festival where 20 bands turned up and three others sent messages. More details about the festival will be announced shortly but one of the most pleasing things was the appearance of bands no-one knew about including Power Play; Depth Charge and even The Total Anarchy Blues Band.
12/05/85
Sacred Oath
Tamworth Arts Centre
Tamworth Herald – 17/05/85
Musicbox – Off on tour with great expectations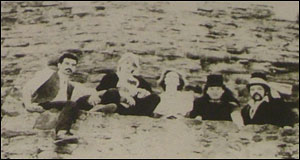 Dickens…the world really is their oyster
TAMWORTH rock band Dickens, have unveiled plans for a mini-world tour which will encompass gigs in places as far apart as France and Hong Kong. The group have been working hard recently getting the tour ready and the whole thing will kick-off at the start of June, when they will embark on a 13 date British tour.
And just to complete an ambitious and wide-ranging schedule, the band will be releasing their first ever album "Standing Out" on June 1.
Tamworth Herald – 17/05/85
Musicbox – Festival shapes up with 18 bands
THE 1985 Tamworth Rock festival is really starting to take shape with 18 bands lined up for the main two-day outdoor event and six more to kick-off the festival with indoor gigs.
The two-tier event has come about due to the fantastic response of 24 bands wanting to be involved – eight more than last year.
Several local bands who may have been expected to get involved have not done so. Thus, the Dream Factory (other commitments), Sitting Pretty, Talk back, the Parade and Ideal Standard will not be involved, but the 24 who will (at this stage) are as follows: Love On Board, Sacred Oath, Dickens, Spirit of Water, caprice, Wild Child, The Sway, Pulsebeat, Femme Fatale, Blackout, The Original Royal Family, Wolfsbane, One On One, BHX, Shooting From The Hip, Dance Stance, The Magnets Depth Charge, A5, Powerplay, Gaf The Horse In Tears, Total Anarchy Blues Band and Breaking point and Scarab who will headline the first indoor nights of the event.
A 10-man committee has been set up to organise the festival which if Tamworth Borough Council's permission is forthcoming, will run over the August bank Holiday weekend.
Tamworth Herald – 17/05/85
Musicbox – Factory steps up power
THE Dream Factory are stepping up the pace in their determined bid to hit the charts.
The band who recently became the only Tamworth band ever to make the Independent Record Charts have lined up more dates, more major interviews and are planning a brand new single.
According to bassist Mark Mortimer, optimism in the Factory camp is at a new peak.
Tamworth Herald – 17/05/85
Musicbox – WARNING SHOT
Watch out over the next couple of weeks for a new devilish feature in MUSICBOX – The Rogues Gallery. The MUSICBOX files are bursting with the pictures we didn't use of various bands, mainly to save the blushes of individuals which didn't perhaps look right at the time the picture was taken.
We also have the odd Musicbox picture of well-known local music people in all sorts of poses – one of whom we shall reveal shortly has even been snapped wearing a Batman outfit. So everyone who has ever wondered what happened to that Other photograph that was taken had better watch out.
Gossipbox is here to reveal the verbal dark secrets and now the Rogues Gallery is on it's way to reveal the photographic ones as well.
Anyone who has particularly embarrassing pictures of people on the scene can pass them on to me for possible inclusion. They will all be used without the unfortunate 'star' knowing who sent them in.
Tamworth Herald – 17/05/85
Musicbox – SNIPS
AN experienced local drummer has set up a unique drum school where he hopes to pass on his expertise to would be sticksmen. Dec Newman who has worked with a number of Lichfield-based bands believes there is a great demand from drummers to learn the tricks of the trade
Tamworth Herald – 24/05/85
Musicbox – Scarab leap in with a metal blast
TOP ROCKERS Scarab will play a very special concert tomorrow night (Saturday) – dedicated to recently split kindred spirits BHX.
Scarab say that they have always had great respect for BHX – particularly their frontman Mick Goodby – and now they want to show their appreciation with a unique show.
The band feel that BHX's recent split was bad news for the town's heavy metal followers – and they see it as their role to keep metallic music alive and kicking in the town.
Just to make the show even more of a thank you to BHX, it is rumoured that Scarab will resurrect some of BHX's former standards.
As well as being a BHX special, Scarab have also promised another two unusual items on the gig menu.
First of all, they expect tomorrow's show will be the loudest the Arts Centre has ever heard, because they are using a thumping 3,500 kw pa setup.
And secondly, the band are supported by a previously unknown band called Nothing – of whom I know less than nothing about.
The whole concert sounds like being one of Scarab's tastiest treats in a long time, so if you are in the mood to be vamped, deafened and BHX'ed make your way to the Arts Centre tomorrow night. The fun starts around 8pm.
Tamworth Herald – 24/05/85
Musicbox – Alternatively, for the spikey-haired brigade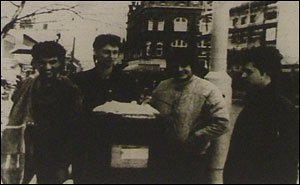 ALTERNATIVE music – so sadly missing in Tamworth recently – returns to the town with a vengeance tonight (Friday), with the first local appearance of the highly rated outfit Happy Content.
The band will be joined by Love On Board in a show which promises to be a big crowd puller among the town's 'spikey-top' brigade.
Happy Content, who are based at Burton, have played prestigious gigs all round Britain and will probably have a single out on Chrysallis shortly.
Their music is influenced by PIL and The Fall and according to vocalist Geoff Smith, it tends to stir passion – both for and against.
Brilliance
"Reactions have been very mixed so far. People either rant about our brilliance or think we're insane," he said. "But we certainly don't bore"
One thing the band do have in their favour is recommendation from the highest possible quarter. For among their fans they boast alternative music guru John Peel. He described their bizarre demo tape as 'wickedly brilliant' and actually went to the trouble of writing to the band for more info.
The band are hopeful that the Arts Centre will be packed tonight and they have promised a show to remember.
Also sharing this positive outlook are Tamworth's own Love On Board, whose modern Scottish romanticism puts them in their own niche of the wide-ranging alternative music scene.
The band have developed a new sense of confidence and ambition and according to guitarist Nick reed, they feel it is time they received the recognition they deserve.
"I try to go to see as many local bands as I can," said Nick, "But it is very disappointing when we play a gig and few other Tamworth musicians turn up. I think we should all support each other."
Nick is aware that one of the reasons that Love On Board are somewhat ignorant is that there is simply so little 'alternative music' left in the town.
Tamworth's only true punk band The Restricted have disintegrated, The Classified Ads have gone their separate ways and older bands such as Thirty Frames A Second, The Reliants and The DHSS are now just pleasant distant memories.
Demand
New alternative bands are around – Femme Fatale look a very exciting proposition and a young Atherstone outfit Mirrors of the Soul are just finding their feet – but at the moment, Love On Board carry the alternative banner alone.
"We just hope a lot of people will come along tonight to show that there really is demand for this sort of music in Tamworth," said Nick Reed.
The gig begins at around 8pm and entrance fee is just £1.
Tamworth Herald – 24/05/85
Musicbox - IT'S FESTIVAL CALL-UP TIME
WILL every band who is supposed to be entering the Tamworth Rock Festival 1985, please make sure they attend a full meeting at the Tavern in the Town a week on Sunday.
Any group that does not appear on Sunday, June 2, will be deemed to have elected themselves out of the festival. The ten-man organising committee have many ideas and decisions to announce and it is essential that every band send at least one member – or at least a proxy.
Failure to do so will mean automatic disqualifications from the festival.
Tamworth Herald – 24/05/85
Musicbox – Factory clock-on for mini-tour
THE Dream Factory's mini-summer tour seems to be gaining momentum and here are a few more dates for your diary: Friday, May 31, The Racehorse Inn, Northampton; Friday June 14, The Crown Hotel, Worcester; Thursday June 20, Karns Wine Bar, Hinckley; Thursday July 4, St. John's Social Club, Tamworth; Thursday July 11, The Mackadown, Kitt's Green, Birmingham; Sunday August 11, Nuneaton Rock festival; Tuesday August 20, Blue Posts, Burton; Friday August 23, Queens Hotel, Wolverhampton; August Bank Holiday weekend, Isle of Wight Festival. More date should be known shortly.
Tamworth Herald – 24/05/85
Musicbox – SNIPS
A new rock band influenced by acts such as Def Leppard has sent out an urgent appeal for a vocalist and a drummer. The group is all set to get things moving but is finding no luck at all in recruiting the final spokes in the wheel. If you think you can provide those final spokes, ring Steve.
Caprice who were once a trio, now seem to have lost two members leaving ever-enthusiastic Mike Fleming as the only man. Undeterred Mike says the 'band'(?) are still playing music that is 'uncategorisable' and refuses to touch heavy metal at all.
What Mike needs is more musicians to stop him being a one-man band. He is looking for drummers and guitarists interested in doing something different.
24/05/85
Happy Content
Love On Board
Tamworth Arts Centre
25/05/85
Scarab
Tamworth Arts Centre
31/05/85
Sitting Pretty
Tamworth Arts Centre
Tamworth Herald – 31/05/85
Musicbox – Dickens fulfil their great expectations…!
DICKENS - STANDING OUT (Album)
IF THERE is one thing worse than being able to easily categorise a band's music it is NOT being able to categorise them.
Fir, try as I might, I just couldn't find any convenient label to stick on this, the debut album from Tamworth's own Dickens.
At times it is unashamed, unabashed pop music, but the very next moment you could be listening to Genesis or Deep Purple or Ultravox, or any number of other bands who completely destroy and label that ma be slotting into place in your confused mind.
But, perhaps for the very reason of its diversity, I am glad to report that this really is a very impressive debut work.
Vocalist Mick Rutherford may well be the Godfather of the Tamworth scene, but the youthful enthusiasm he shows on this record is something the keenest teenager would find hard to match.
Own league…MISSING TEXT
Tamworth Herald – 31/05/85
Musicbox – Freight in train?
SITTING PRETTY return to the Arts Centre stage tonight (Friday) and there are strong rumours that they will have a very impressive support act.
For although it was not confirmed at time if going to press, there is a good possibility that Freight Train, featuring Donald Skinner, Barry Douce and Josh Cope will line up with Pretty's. Donald who has been working hard with Julian Cope of late, is said to see the Sitting Pretty date as the first step in a masterplan to take his band to the top. If it goes ahead the band (who already have a record contract virtually signed and sealed) will be making their first Tamworth appearance in their present guise.
But if you particularly want to see them, MUSICBOX suggests you ring the Arts Centre just before leaving home to make sure the Train is stopping at the venue.
For Sitting Pretty there are no such doubts – they will be ready and raring to go. Since their new line up came together the band's desire to work has grown and grown and they will be out to give another professional performance featuring a mixture of old and new tunes. The gig starts at 8pm.
31/05/85
Sitting Pretty
Tamworth Arts Centre
Tamworth Herald – 31/05/85
Musicbox – GOSSIPBOX
Let's start with some great news – Breaking Point are finally coming under record company scrutiny. Their new demo (reviewed shortly) has caught somebody's eye and we at Musicbox hope that somebody is a rich and powerful record company boss…
TALKING of the rich and powerful, the Folk Circus may be changing their name. According to ever-enthusiastic Norman Yates, people automatically switch off when they hear the word folk. Sorry, Norman what was that you said?
IF enthusiasm is the question, Rikk Quay is the answer. It seems Rikk and his fellow Sway-ers are to be interviewed on Radio West Midlands. Don't touch that dial boys…
AND finally on the subject of vicars (??) shooting from the hip, keyboard player Derek Goodwin has been cast as one in a play. It will be the wild and wasted warrior's first acting performance, but according to my sources, Marlon Brando isn't too worried about the competition.