Tamworth Bands History : 1985 :
September
Tamworth Herald – 06/09/85
Musicbox – A guessing game starts as TamAid tape rolls
TAMWORTH'S very own version of Band Aid is now on sale.
The first batch of 100 cassette copies of the TamAid songs have finally been delivered – and the final product has delighted everyone involved.
The two songs featured, "Anger Can Be Power" and "Just Take A look At Yourself" were taped on Sunday, August 11, at the Expresso Bongo studios in Lichfield Street.
In all, around 13 local bands were represented for the day, and in true Band Aid style every on of the singers had at least one line on one of the songs, making it a unique Tamworth venture.
Now the tape is finally out, it has already started a head-scratching guessing game as people try and work out which singer sings which line. Some voices – Bayley Cooke of Wolfsbane and Andy Baldwin of The Magnets in particular – are easy to gauge but after that the tape is a puzzle as well as a very enjoyable listen.
The 'A' side 'Anger Can Be Power' has already been on the radio, and will now be seen as the official Tamworth Rock For Ethiopia song. It is hoped TamAid will make their only live performance playing it at the major Christmas Ethiopia concert at the Assembly Rooms.
Premier
The tape itself took 20 hours to record – and many, many more hours to mix. Expresso Bongo producers Paul Speare and Phil Smith worked slavishly to get the tape sounding just right and they have already made a '12-inch megamix' which received it's premier at last week's Bank Holiday festival.
The final tape has been greeted with enthusiasm by the people involved. Simon Webster, the hippy drummer who played the drums on the tape said he thought it 'was an inspiring record of a wonderful day'.
The first 100 tapes are expected to go very quickly to the people involved but orders are now being taken for the second batch of the tapes. They cost £1.25 without a stamped addressed envelope or £1 with one. All the money apart from the tape costs wil go to the Tamworth Ethiopian Committee and so anyone who can afford more ethan £1 or £1.25 will know that their money is destined to help this most important of causes.
If you would like a tape, you can send a cheque or postal order made payable to the Tamworth Ethiopian Appeal to TamAid, Sam Holliday…
Copies may also be available in shops later or from the musicians involved but make sure you don't miss out on this unique and very entertaining two-track tape.
Remember, every tape sale can go towards saving lives so buying this cassette means you support your local music scene – and help the starving of the Third World at the same time.
*Tapes will be sent out as soon as possible, though there may be some delays.
Tamworth Herald – 06/09/85
Musicbox – Fast, furious and all set to dazzle you
Ao Terroa…powerful, bold and very ambitious


SAM HOLLIDAY Gets out his hair crimpers and makes for the band with the amazing name…
TAMWORTH'S punk and new wave fans will be out in force tomorrow night (Saturday) for an exciting double-bill of powerful alternative sounds.
Headlining the show will be the already well-liked Femme Fatale who will be joined by another Tamworth band bursting with ambition and enthusiasm – Ao Terroa.
Ao Terroa (which apparently means the Land of the Long White Clouds) made their first appearance at the Arts Centre during the August festival under the guise of the Total Anarchy Blues Band.
Dazzled
To put it mildly, that one short, sharp shock of a set dazzled everyone who witnessed it. The packed crowd gave the band a reception that few in the town can match – and in turn the band produced a set that even fewer in the town could possibly equal.
The music was powerful new wave embracing all the group's influences including The Sex Pistols, The Alarm, U2, The Stranglers and most noticeably of all, New Model Army.
It was music that the group are happy to categorise in that all-embracing term "alternative rock and roll".
"Basically we like to keep it simple and keep it fast," said lead guitarist John Reeman.
On my one scant viewing of the band, I would say that was a pretty fair description although another of their most exciting features is the ability to write very strong melodies which stick in the mind long after the amps have been switched off.
In many senses they are like a new Breaking Point – powerful, bold and very ambitious.
"We think we are good," said John. "We're not just mucking about, we fit together really well."
The rest of the band – drummer Batman, bassist Pete Wright and guitarist and extremely powerful vocalist Eddie Madden – are all, like John, keenly anticipating Saturday's Arts Centre show. After their last set brought almost universal praise from everyone from Breaking point to Wolfsbane – and back again – the group are hoping to use the show as a powerful thank-you to the people who have supported them so far.
Following this new and exciting outfit will be another group who server up a musical brew unlike anything else in the town. Femme Fatale aim more for the Banshees/Cult side of life, but manage to induce plenty of smiles through their grimacing music.
Experience
They have already got the relative experience of a small handful of well-received gigs under their belt, and while nerves are now a thing of the past there is no reason why they shouldn't blitz the Arts Centre tomorrow evening making it a double-bill to remember.
So, if you're the sort of person who prefers back combing to back-biting, tomorrow night looks like a real treat. The sparkling fun is dues to start at 8pm so get the hair crimpers, brush down the leather jacket and make a beeline for Tamworth Arts Centre. It should prove to be one of the most enjoyable concerts this year.
Tamworth Herald – 06/09/85
Musicbox – Pretty Pennies
ANOTHER Save The Arts Centre concert takes place next weekend featuring one of the venue's most prolific attendants, Sitting Pretty.
Tickets for the show are available now from the band members and at just 50p it is certainly with supporting. More details in next week's Musicbox.
Tamworth Herald – 06/09/85
Musicbox – GOSSIPBOX
Now Breaking Point are Smoke-bound…
THE wonderful Breaking Point have been lined up for their first major London gig with the highly-rated rock band Torme. Torme have a huge following and play 'straight to the head' rock, ensuring a major event for Breaking Point. The gig at the large Walthamstow Hall came about because major acts playing their often look for support acts and loyal Tamworthian Jo-Anne Caulkin is luckily in contact with the promoter involved.
So if your band would like a major London support slot (other bands lined up at the hall are Hawkwind, Alien Sex Fiend and A Certain ration) give me a copy of your tape and biog, and I will send it down…
Tamworth Herald – 06/09/85
Musicbox – GOSSIPBOX
Talking of major cities, former Classified Ads – and Tam Aid – guitarist Alan Turner is all set to go transatlantic shortly. What makes Alan's visit to the States so ironic is that Al was one of the writers of the highly cynical Classified Ads somg 'Brilliant America' which included the line about the USA that 'there entire system makes me choke. I certainly hope you don't choke on the plane Al!
Tamworth Herald – 06/09/85
Musicbox – GOSSIPBOX
First Single
Also flying high are The Sway who are just about to release their first ever single – which will be in 12 inch form.
The double A sided single including the popular 'Random Hold' will be the outfits first major release and understandably they are all very excited about the venture.
So keep your ears glued to the radio and look out for the single in your record shops.
Tamworth Herald – 13/09/85
Musicbox – Mr. Nice Guy turns nasty
EVERYONE who has ever been involved in Tamworth's music scene – including me knows only too well that there are a lot of people who don't like what we are trying to do. These people can normally be categorised in to well-defined groups, but today I have to tell you we have a new and unexpected critic.
Mike Turner, the Sitting Pretty singer, has revealed his real thoughts about Tamworth, the local music scene and the people who try and organise it, in a new and exciting fanzine "Anarchy in Wonderland" (which is excellent and will be reviewed at length later).
According to Mike Turner the whole scene is appalling and all but three or four bands deserve 'shooting'.
He cites Wolfsbane as being 'pathetic', Love On Board as 'embarrassing' and Breaking Point as 'HM liars'. He says last year's rock festival was a shambles – win which Sitting Pretty were light years ahead of anyone else – and he claims he doesn't want to stay in Tamworth any more.
Nowhere
"As soon as we make it and get out of Tamworth I ain't bothered if we ever play here again, Tamworth is a nowhere land," he writes. Now personally I don't care what people say about the music scene when they are outside it, but Mike Turner should realise he owes EVERYTHING to Tamworth.
Sitting Pretty are about as well known as the Chinese foreign minister outside the town, and in the past a lot of bands have worked hard with the group to help Mike Turner on route to his so called fame'.
He was given a prestigious spot in this year's 'shambles' festival, and was also involved in TamAid so how he can use the town and then abuse it is beyond me. I am sure a lot of people will be very angry at what he has said.
As editor of Musicbox, I feel rather betrayed by Mike's attitude. He reckons he never reads Musicbox anymore, yet he is without doubt the most written-about person since I took on the column – mainly because of his ability for self-publicity.
It is a real case of "Et tu Brute" and as far as I am concerned, if Sitting Pretty go on to be bigger than The Beatles I don't want to write another word about them. After all they don't need Tamworth and that is a fact that won't escape their dogged fans.
*As the final irony, Sitting Pretty are tomorrow night playing a "Save The Arts Centre" concert. Mike who never reads Musicbox, remember, gave me a large press release, to promote the gig as well as free tickets and in his letter he says how important it is to keep open the Arts Centre.
The irony is that in "Anarchy In Wonderland", Mike's description of the Arts Centre is not quite as rosy as in his letter. He calls it a "dive". Tomorrow's Save The Dive Concert starts at 8pm.
Sam Holliday
07/09/85
Ao Terroa
Femme Fatale
Tamworth Arts Centre
Tamworth Herald – 13/09/85
Musicbox – Star Trek boys head for home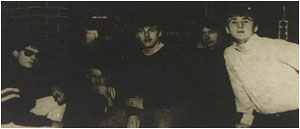 THE DREAM FACTORY have lined up a series of local concerts as they prepare to record their second single.
The band have booked to record the follow-up to the excellent "Wine and Roses" at the famous Abattoir Studios in Birmingham, where UB40 record their material.
The Factory, will be laying down a number of tracks and it is possible that they may come out of the Abattoir with enough material for a debut album.
"It could turn into anything, a single, an EP, an album or all of them," said bassist Mark Mortimer. "It is important however to keep the interest in the band that is growing all the time."
That "interest" includes interviews and photo-calls with a host of top magazines and papers. The group have so far been in "Sounds", "The Daily Mirror", "Scootering" magazine and a host of local newspapers stretching all over the country.
Their music continues to be played over the Radio One airwaves, and they have had a lot of interest from nationally recognised bands, not least The Style Council whose "spiritual Leader" Paul Weller has offered to design the band's next single sleeve.
With all the heady interest and claim that is coming in, it would be all too easy for the Factory to lose sight of their roots and turn their back on the area. But that is something they are determined not to do – hence the local gigs.
"I guess it will seem funny to some people that we are playing Tamworth Youth Centre, but we are ever-mindful of the fact that the town is our powerbase and even a concert like this will still be a challenge for us," said Mark.
The band will be returning to the scene of their former crimes, Tamworth Youth Centre on Friday September 27. Before then on Friday, September 20, they have lined up another concert at Polesworth Memorial Hall. Polesworth has become the heart of "Factory Mania" and the group know the place will be packed to the rafters on the night.
They will be at Polesworth again in October and over the next couple couple of weeks the Factory convoy will also be playing shows in places such as Hednesdford and Hinckley.
Brtightest record companies have also started to show a real interest in the group now and although no details can be released yet, a major national support slot could be on the way with one of Britain's brightest young groups
All in all, makes for a very busy, very exciting time for the Dream Factory. You can almost sense they will rise to further stardom and now it is just a frustrating wait for the inevitable to happen.
The Factory are beginning to fidget with anticipation, but they are determined to hang on until they can get the best possible deal.
But when it does come no-one can say they haven't deserved it. They have served their apprenticeship and now it is the time they were 'taken'.
Tamworth Herald – 13/09/85
Musicbox – SNIPS
Royal time as gigs explode.
The TamAid tapes are selling well – but organisers are already having problems. The tape orders have been received through the post without forwarding addresses. DO if K. Waterfall and Miss J, Chipman would like to send their address I will gladly sort out their tapes. As a reminder tapes are available for £1.25.
13/09/85
The Royal Family
Certain Circles
Tamworth Arts Centre
Tamworth Herald – 13/09/85
Musicbox – SNIPS
The Royal Family, fresh from their triumph at he August Bank Holiday festival, hit the Arts Centre tonight with the highly-rated Certain Circles. Certain Circles have influences including The Talking Heads and Simple Minds and they impressed everyone who saw them when they recently paired up with Femme Fatale. The fun starts at 8pm.
Tamworth Herald – 13/09/85
Musicbox – SNIPS
Scarab are back. The band who made the Arts Centre their metallic shrine have re-formed as a three-piece with Paul Britton moving to bass and vocals and Dave Parrish and Paul Brooks staying at their old instruments. They have already lined-up a gig at the Coach and Horses, West Bromwich with Sacred Oath and a coach is being laid on for Tamworth fans. Tickets cost £2 and can be bought from the Arts Centre. If you are wondering, by the way, whether Scarab have softened up while they have been away, think again! According to group secretary Angela Parrish "their new image makes Metallica sound like the Dooleys".
Tamworth Herald – 13/09/85
Musicbox
Breaking Point are organising a coach to their first ever London Show on Sunday October 6th. Tickets are around £5 which includes the coach, admission to the gig with Torme and a few hours in the capital. Book your seat at The Tavern.
Tamworth Herald – 13/09/85
Musicbox
The Royal Family have lined-up a major gig at Peacocks in Birmingham on Saturday playing alongside The Prehistoric Pets. The band have also managed to find support slots with long haired hippies, Balaam and The Angel and filth punk rockers Conflict. More details later.
Tamworth Herald – 20/09/85
Musicbox – LOVE'S LABOURS ON SHOW…


Love On Board have been lined-up as one of three bands in a special labour Party benefit show at the Arts Centre next week. The gig on Friday, September 27 will feature not only Love On Board (above) but also Breaking Point and The Royal Family in one of the first ever political gigs in the town. More details about this unique Arts Centre line-up in next week's Musicbox.
Tamworth Herald – 20/09/85
Musicbox – Taking the Oath with enjoyment…
PLEASURE TRIUMPHS OVER THE PAIN!
Sacred Oath – Demo
HEADACHES AND MUSIC do not make happy cocktails. So when I put on Sacred Oath's tape on Sunday afternoon with my head feeling like it had been kicked repeatedly by al elephant in Doc Martens. I was all ready to hate everything I heard.
But I didn't. In fact, quite the contrary, Sacred Oath may not have found a rival for Hedex just yet, but one thing's for certain, they have made a tape they can be very proud of.
To be honest, the songs are not the ones that really hit me when the band played at the August festival.
There, they bowled over a lot of people with a spirited brand of what they see as alternative heavy rock sound. The emphasis at the Festival was on speed and power, but on the tape they have decided to use the equally powerful weapon of subtlety and melody.
It is the sort of tape where, headache or no headache, the songs improve with every playing. The opener, for example 'Lie With Me, Love With Me' has so much going on that you need a couple of playings to fully appreciate it.
It has a catchy, well-structured melody which perfectly compliments Ian Greatorex's pleasing, well-toned vocal.
The worst thing about this very neat song is the title. If the band want to get away from the heavy metal image then they will have to drop heavy metal clichés like this but 'Lie' has enough touches to keep it interesting after a number of playings.
Equally able to sustain the interest is 'Love Kills' a mellow, mature number with a well balanced mixture of acoustic, rhythmic and lead breaks.
The dual guitar work of Paul Keeton and Murray Pickett has a faraway, dreamy feel and the song as a whole has more than the odd shade of Queen.
It could have made the 'A' side if there was one, but the band chose to extend the track perhaps beyond its natural length and keep it as the strong moody bridge between the two more direct songs that sandwich it.
Closing the tape is an archetypal 'rock' song 'On The Borderline'. This has another nice melody with some razor-edged guitars which build into a strong thumping chorus where the loveable drummer Josef goes all out to wreck the skins with considerable success.
Once again it could have been tightened up a little – there is one gratuitous guitar solo at the end for example but as a song it is crisp, lively and enjoyable.
Maturity
All in all a very inventive and enjoyable tape, skilfully produced by Expresso Bongo merchants Paul Speare and Phil Smith. I still don't know how to categorise Sacred Oath but one thing is certain they have improved beyond recognition in the past few months.
It is an improvement based on maturity and there is no doubt that Sacred Oath circa 1985 make Sacred Oath circa 1984 pale into metallic insignificance. It they can develop this much in such a short time, their future can only be bright and I for one am keen to see what they come up with next.
I just hope the next time I won't have a bottle of paracetamol by my side!!
Sam Holliday
Tamworth Herald – 20/09/85
Musicbox – Bands call up the new talent
A QUARTET of new bands have sent out appeals for members to complete their line-ups. First up, we have Poison Passsionade, a unique outfit in many respects as they have not only a female singer but also a female bassist among their quartet.
The group have been together for six months and now need a drummer so they can go ahead with a planned package of concerts. According to singer Anice Byfield the band play alternative pop and are looking for an energetic young drummer willing to inject fresh ideas.
Also looking for a sticksman are a current two piece, 'The Green Swings'. Made up of Lee Partlow (bass) and Robert Kinson (guitar). The band are inexperienced but ambitious and they say would-be drummers should have their own kit.
Moving
A new heavy metal band who are desperate to get things moving as soon as possible have sent out an appeal for a strong singer/frontman to complete their line-up. Talent and enthusiasm are essential – as is ambition – and so the likely candidate – aged 17 or over – can expect to be doing gigs very soon.
And finally another act looking for a drummer are the band 'Jinx' who include former A5 man Tim Burgess. The band who play music which has blues influences want a replacement for their current drummer who has turned out to be an ideal singer! So if you fancy getting involved here, give Tim a ring.
Tamworth Herald – 20/09/85
Musicbox – Guide to the gigs
THE DREAM Factory return to their most popular venue tonight with a special show at Polesworth Memorial Hall. The gig kicks off at 8pm and a capacity crowd is once again expected.
Also returning to the scene of one of their former crimes are Powerplay who will be teaming up with Sacred Oath at The Railway in Birmingham on Monday. Like Sacred Oath, Powerplay have just released a demo and Musicbox hopes to take a look at it later.
Tamworth Herald – 20/09/85
Musicbox – Guide to the gigs
Don't forget one of the hottest new name sin folk music 'Fastest Bar' will be playing at The Well folk Club tonight. The successful club built around Tamworth's premier folk outfit Ruffin's Well, aim to put on major folk names on a regular basis and they see tonight's prestigious gig as quite a scoop.
Other names are also booked for later in the year, so if you want to get involved and enjoy a good night out tonight's action takes place at the Queen's Hotel at Wilnecote.
Tamworth Herald – 20/09/85
Musicbox – Guide to the gigs
Breaking Point are to play JB's, Dudley next week, although their prestigious London show is still uppermost in the mind.
The concert at Walthamstow promises to be a major event in itself so the band are lining up a coach to ferry supporters for a capital day out. Tickets cost around £5 and to book your seat , put a £1 deposit sown at the Tavern in The Town, Tamworth.
27/09/85
Love On Board
Breaking Point
The Royal Family
Tamworth Arts Centre
Tamworth Herald – 27/09/85
Musicbox – TamAid's genial chief pops up
Midnight guy still smiling
WOULD YOU buy a second-hand demo fro the pictured-above gypsy? No? Well think again, for the gentleman above is none other than Paul Speare, the man who produced TAMAID and also added the sax on the tracks.
Paul is pictured from the inner-sleeve of the last Dexy's album "Too-Ry-Aye" where our resident Rosie Lee performed on such mega hits as 'Come On Eileen' and 'Jackie Wilson Said'.
The question is how can anyone who has spent hour after hour with that difficult genius Kevin Rowland still be smiling? Questions on a postcard to Expresso Bongo Studios, Lichfield Street, Tamworth.
Warning
A slightly less famous band than Dexys are Gaf The Horse In Tears who have decided to split up. The band, who have made quite an impact in their short career, have decided to change their name, line-up and sound. Ted, Stuart and Robin are staying together and now they are seeking new musicians to build a fresh group altogether.
Bass players and keyboard players are especially welcome…
Also changing are Depth Charge who appear to have recruited the ever-loveable Mick Goodby as lead vocalist. A wise move indeed lads, but just a warning – Mick's dog is a killer. In a word, AVOID!
Certainly not to avoid are Breaking Point who have completed their line-up by acquiring a new drummer, Jason Farrow. The ex-Wolfsbane, Childs Play amd Lost Johnny drummer has delighted bassist Daydo, who even had a shave by way of a celebration.
"He seems to fit in really well and we are delighted he has joined us," he said.
Still on joining things, Ian "When does he find time to sleep?" Gibbons has been appointed as the first ever rock representative on the Arts Advisory Council which overseas the Arts Centre. Ian has more devilish tricks to unveil and all will be revealed in the near future.
And finally, a sad farewell this week to Femme Fatale bassist 'Jean-Jacques' Higgs who is leaving the area at the weekend to go to college.
According to the handsome man-in-black bassist, he will still be returning occasionally to keep the Femme Fatale ball rolling.
The real question is how will he ever be able to drag himself away from the beautiful, picturesque and completely unviolent (!) City of Coventry?
Tamworth Herald – 27/09/85
Musicbox – Changing Fortunes down the Factory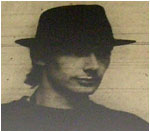 IT'S BEEN a strange week for the Dream Factory – with a mixture of very good and very bad news.
The bad news is that after the recording of their next single, sax player, Andy Codling is leaving the band after two years. Andy is to work with a new jazz outfit, Trout, but according to bassist Mark Mortimer the 'split' is entirely amicable.
"It's like losing a limb really but Andy is still out friend and always will be," said Mark. "We wish him luck in the future but it leaves us with a big problem."
The band have got to find a replacement quickly and anyone who thinks they can take on the role is urged to contact the band as soon as possible.
However, as one cloud descends another one rises. For the Factory look almost certain to be supporting the up-and-coming Faith Brothers on the Midlands leg of their British tour.
The Faith Brothers who have already been in the charts with their powerful 'Country of the Blind' have supported acts like The Alarm recently, although this will be their biggest tour under their own name.
Details of dates and venues are still unclear, but there is no doubt that if it all comes off the Factory are set for one of their biggest breaks yet.
"It's great news and the nice thing is that the Faith Brothers contacted us, not the other way round," said Mark.
Don't forget the Factory are at Tamworth Youth Centre tonight (Friday).
27/09/85
Dream Factory
Tamworth Youth Centre
Tamworth Herald – 27/09/85
Musicbox
Musicbox is hoping to introduce a new feature in the near future advertising major gigs coming up in Birmingham over the next few months. Many Tamworth people have complained that they don't hear about Odeon or NEC concerts until all the tickets are sold, so we will try and let you know who is coming and when.
Tamworth Herald – 27/09/85
Musicbox – Tuning up for Party time…
THE PARTY political conference season may be in full swing, but more unusually Tamworth hosts two party political concerts!
For the Arts Centre is staging a tremendous three-band line-up under the Rock Against The Dole banner, organised and funded by the Tamworth Borough Labour Party.
And just up the road on the same night, Femme Fatale will be joining rock and roll eccentrics Jet Morgan and the Phantoms in a St. John's Hall show in aid of the Ecology Party.
Both concerts look like being very entertaining but according to a MUISCBOX opinion poll, Labour has a slight percentage lead over the Ecology Party. The reason is that they have Breaking Point, The Royal Family and Love On Board rocking on their behalf.
The Royal Family, who have started to make a name for themselves out of town, bring their inspired lunacy to the Arts Centre at a time when interest in the group is at a new peak. And with love On Board, bringing their bubbling cocktail of talent and enthusiasm to the show it promises to be a night for literally rocking against the blues.
Up the road at the same time, you can rock for the greens with Femme Fatale's black melancholy sound providing the perfect foil for the rock and roll extravaganza that Jet Morgan and the Phantoms serve up.