Tamworth Bands History : 1985 :
November
02/11/85
Chalkie
Dosthill Cosmopolitan Club
Tamworth Herald – 01/11/85
Musicbox – Parading some fine musical talents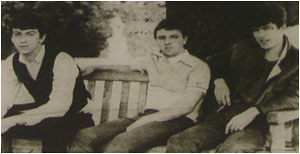 The Parade – Time For Change (Demo)
EARLIER this year The Parade made quite an excellent demo tape. Containing the now immortal 'Kind of Loving' it towered above many of its contemporaries as one of the best demos to have ever come out of the town.
Everything looked promising for the band at the time – but they sadly failed to capitalise on the success of the demo.
Gigs became fewer and fewer, they missed the Festival for the second year running and it seemed if all the zest that made their first demo such a triumph died a premature death.
Noe, enter the resurrection. For the band are back, raw and hungry and sounding once again if they have re-discovered their once illuminating vision.
The four songs on this demo are all very enjoyable and more proof – if it was needed – of the sheer weighty talent of Brian Lacey as a songwriter.
No matter how long he stays away he always comes back with something you wish you had written – songs of a craft and inventiveness that show his talent is a natural, vital one.
Whether they like to admit it or not, and I suspect they won't – the overall direction of the tape is still very much that of The Jam circa 'The Modern World'. One track in particular, 'Tonight' sounds just like an unreleased demo from that much under-rated album, and the ghost of Paul Weller still, however unconsciously, haunts the writing of Brian Lacey.
But there is so much more than The Jam's influence detectable to the discerning listener.
Almost as dominant is the feel and sound – particularly in the rhythm section – of The Who in their 'My Generation' mood. It is music with a sparse, dance-orientated atmosphere that would become very popular indeed with many of today's mods.
I am sure the band would rather stick pins in their eyes than be considered a mod band, but there is no doubt of their appeal in this arena.
Elsewhere, I spotted The Small Faces, The Boys and most pleasingly of all The Undertones. Put all these very strong elements together and surely The Parade can't fail – and they don't.
"Time For Change" is a memorable, well-rounded demo packed with good tunes and impressive musicianship. Drummer Ian Simpson lets rip with some occasional Rick Buckler-esque drumming and Andy Stokes beefs up the rhythm section with some never predictable and always interesting bass work.
Occasionally the bass becomes the lead instrument which sounds not unlike – dare I say it – Jean Jacques Burnel.
Stronger
And then of course, there is Brian. His voice is getting stronger all the time (the emotion on 'I'll Cry instead' is very real) and his guitar playing is faultless. With fine production from Expresso Bongo and a wise choice of 'A'-side (the catchy, powerful "All of the Time") it is a demo to play again and again.
Now the band's priority must be to ensure that they don't let the promise of this tape fall away as it did after the last blast from the recording studio. The Parade are a very good band who are slowly becoming a great band. Keep on keepin' on indeed!
Tamworth Herald – 01/11/85
Musicbox – Roll up, hear the gospel
THE INCREASINGLY popular rock gospel scene in Tamworth is all set for its biggest night ever tomorrow.
For the Tamworth Youth For Christ's musical movement – which has a hardcore following to dwarf that of any individual rock band in the town - is staging an impressive double bill of gospel entertainment.
Headlining the Glascote Elim Church show, is Paul Field and his band. Joining Paul Filed on the bill tomorrow will be the John Daniels band.
Tickets are £1.50 for jobless and £2.50 for others and an entertaining night is promised for everyone.
Tamworth Herald – 01/11/85
Musicbox – SNIPS
ALL TAMWORTH bands are reminded that the Tavern in the Town this weekend stages a very important meeting to discuss the future of the Tamworth Rock Festival and the possibility of staging another Battle of the Bands contest in the town.
Groups, new or well established are urged to attend this important meeting as it will have a big influence on the local scene during 1986. It takes place on Sunday at 8pm.
Tamworth Herald – 01/11/85
Musicbox – SNIPS
If jazz is your cup of tea, then Tamworth Arts Centre is the place to be on Saturday night. For the increasingly ambitious Arts Centre management are teaming up with a very highly-rated Birmingham jazz band, Icarus with an Indian dancer, from Tamworth.
Icarus feature flute and double-bass and come highly recommended. Tickets are £1.50 fir students, unemployed and pensioners and £2 for everyone else. A different and entertaining night out is promised.
Tamworth Herald – 01/11/85
Musicbox – SNIPS
Caprice are still trying to recruit a drummer. The current duo of Steve Harrop and the neo-legendary Mike Fleming are looking for someone interested in playing blues-based rock, with interest and enthusiasm being the two keywords. If you think you can fill this, contact Mike.
Tamworth Herald – 01/11/85
Musicbox – SNIPS
Response to last week's Rogue's gallery was encouraging enough to mean there will be another line up of ugly mugs in the near future.
So if you have any revolting snaps of former or current Tamworth music personalities, send them in to me for the next alternative top ten.
Tamworth Herald – 08/11/85
Singer in 'touch and go' surgery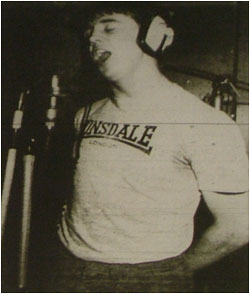 A MEMBER of Tamworth's top-rated band, The Dream Factory, is in hospital following a three-hour "touch-and-go" operation to remove a blood clot on the brain.
Tim Goode, of Hilltop Avenue Gillway, who is lead singer with the popular band, was said to have been in danger of being paralysed by the clot.
The operation came almost a week after a prank in which Tim was hurt when he fell off the bonnet of a moving van, being driven by a friend.
He was allowed home after spending a night in Sutton Coldfield's Good Hope Hospital but was taken to Smethwick Neurosurgical Unit five days later after he began to have headaches and was repeatedly sick.
There, a brain scan revealed a large blood clot which had formed at the back of his brain said his father, Mr. Terry Goode. "This is the area which affects movement – and already Tim had begun to lose the movement in his left side," he said.
Tapes
An operation to remove the clot was performed and doctors cautiously claimed it was a success, according to Tim's mother Valerie "So far it seems to have gone well, but we are watching to see if there will be any permanent damage," she said.
"The surgery was very serious according to the doctors, and Tim does seem a little jumbled up about things."
"It was touch-and-go for a while. We were very worried because there was a chance he might die. But at least now he's eating and recognises us all.
"He asked us to take in some of the group's tapes so that he can play them to the nurses," she said.
Tim's father said his son whose condition is "satisfactory" had lost weight, and added: "The doctors have told him he has to take care of himself."
Fellow band member Mark Mortimer who pays bass guitar, said: "Tim's accident has come as a terrible shock to us all.
"He's a great friend and we're all hoping he'll get well very soon. As soon as he recovers he'll be back with us.
The band recently went into the studios to record the follow-up single to their impressive debut, "Wine and Roses" called "Love 15", it will be available around Christmas time.
Tamworth Herald – 08/11/85
Musicbox – A night to remember


THE final details about Tamworth's exciting 12-hour musical marathon for Ethiopia have just been released.
The show on Saturday December 21, will feature among others, The Dream Factory, Wolfsbane, Breaking Point, The Royal Family, The Sway and Femme Fatale.
It will also include the first – and probably the last – live appearance pf 'TamAid' and as a whole it promises to be a night which musicians and spectators alike will not forget.
"This is our way of saying thank-you to Bob Geldof, all the artists involved in Band Aid and relief agencies all round the world who are trying their best to stamp out poverty," said crusading organiser Ian Gibbons.
As many of you may know, the show which can virtually be seen as a festival, is the centre of a nationwide 'Live Aid' bonanza which promises to raise thousands of pounds.
On the same night as the Tamworth show, there will be similar gigs all round Britain with around 30 or 40 other towns expected to take part. As an example Leatherhead this week sold out ALL of its 2,000 £8.50 tickets showing just how the idea has caught on nationally.
"Everything is going very well but we must make sure Tamworth which started the whole thing off, id the best of all," enthused Ian. "It is going to be a brilliant night."
The show has been given the full support of Band Aid – who have said they will try and fix a rock VIP to visit the town on the day to give the campaign a boost.
Also on the same day, the Ethiopian Committee are calling on all nightclubs, working men's clubs and a multitude of other organisations to join in a day of action for Ethiopia. Whatever happens it is going to be a night where a lot of money is going to be made for famine victims, and a night when Tamworth can hold its head up high."
"I am sure we will sell all our tickets in Tamworth, and as it is just £2 for the whole twelve hour show I am sure people will take part in raffles and put money in buckets," said Ian.
For that meagre £2, people can enjoy the spectacle of not only six brilliant rock bands but also the more diverse sounds of The Banned Wagon and The Trout Brothers. In addition there will be lots of good disco courtesy of Beuwey and the much-loved Buttercup and raffles, speeches and numerous other sidelines.
The doors open on the event at 11.30am and musically it gets off to the most powerful start with Wolfsbane at 1pm. The Banned Wagon appear an hour later, Femme Fatale are set for 3.30pm and then The Trout Brothers hit the stage at 5pm. At 6.30 Breaking point step out to do their passionate parade, and an hour later Rikk Quay and the boys are up on stage. The Dream Factory are due on at around 8.45 and then The Royal Family get into the swing of things at about 10.15, 'Tam Aid' are expected to hit the stage after 11.30 to round off a day that already looks exhausting just thinking about it!
Tickets should be available soon from Tamworth Ethiopia Committee members or members of the individual groups. They are expected to sell out quickly so be warned. It is a night which you simply cannot date to miss.
Tamworth Herald – 08/11/85
Musicbox - SNIPS
SACRED OATH have sent out an urgent appeal for a stand-in vocalist. The band's current singer Star Trek is likely to be out of action until April because of an accident, and the rest of the group are determined to keep active. Anyone with a liking for heavy and more alternative sounds who would care to try and help out the band can ring Paul.
Tamworth Herald – 08/11/85
Musicbox – SNIPS
Spirit of Water have re-emerged from their murky depths with the new name of Spirit Lake. Now the band want a drummer and bassist to help re-capture the band's original musical vision of a T-Rex/Springsteen style, powerful rock band. If you want more details contact Dylan.
Tamworth Herald – 08/11/85
Musicbox – SNIPS
Tamworth bands are being offered a chance to get involved in two new venues due to be opened in the Lichfield area soon. Tetley Promotions are keen to put Tamworth bands of all types on in the City, and Tetley himself wants local groups who want to play to new audiences to contact him now.
Tamworth Herald – 08/11/85
Musicbox – SNIPS
Musicbox would like to wish Dream Factory lead dinger Tim Goode a speedy recovery after his recent motor accident. Tim was rushed to Good Hope Hosiptal recently, and had an operation to remove a blood clot in his brain. The operation was a success, and on behalf of the entire TamworthTamworth Herald – 08/11/85
Musicbox – SNIPS music scene, I would like to wish Tim the quickest possible recovery so we can get him out of his hospital bed and onto a stage where he belongs.
Tamworth Herald – 08/11/85
Musicbox – GOSSIPBOX
Queen to visit her Royal Family?
THE Queen looks set to visit Tamworth. She is coming to meet The Royal Family – probably at Tamworth Castle. Amazed? Well things are not quite what they seem…The 'Queen' in question is world-famous look-alike Jeannette Charles, the woman who has appeared on countless TV programmes and adverts as Queen Elizabth II.
Although nothing is as yet confirmed, it seems Tamworth's own Original Royal Family want to make a video to complement their first-ever demo, and who better to appear in it than the natural head of the Royal Family herself? Negotiations are still at a tender stage, but if it all comes off, it promises to be a very intriguing session indeed…
Tamworth Herald – 08/11/85
Musicbox – GOSSIPBOX
Also intriguing are the former crimes of a new member of the Dream Factory. For Dave Laxton, the 24-year-old trumpet/cornet and keyboard player with the band, has previously made his mark on no less a record than 'The Floral Dance', that infamous little ditty which was all the rage in Derby and Joan clubs nationwide a few years ago. Now Paul is hoping for more success with the Factory, who also have more new brass players, Steve Hacking is handling alto-sax and clarinet, Paul Stansfield is playing trombone and Paul Langham is the new tenor-sax player. Anyone who can give me the lowdown on this trio's previous musical meanderings will be very welcome…
Tamworth Herald – 08/11/85
Musicbox – GOSSIPBOX
Shock-rockers, Scarab meanwhile, are meandering once again to West Bromwich's Coach and Horses' venue because their last venture there was a massive success. Apparently loads of Tamworthians joined the Scarab coach and enjoyed a great night out, so the band are repeating the head-banging exercise on November 30. A coach will leave the Arts Centre at 7pm on the night and it will cost £1 for the trip there and back,a nd another £1 to get into the club. Scarab will be selling tickets tomorrow (Saturday) November 9, at the Arts Centre and other places, but if you would like to book your seat over the phone, ring Angela.
Tamworth Herald – 15/11/85
Musicbox – Metal maniacs set to turn up the ouch factor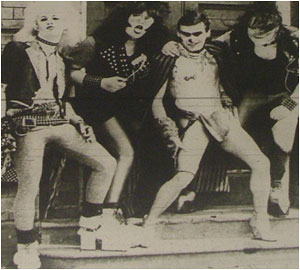 The shocking, garish and uncivilized Wolfsbane hits Tamworth Arts Centre on Sunday night, in what promises to be one of the shows of the year. For the maniacal metal merchants are playing downstairs at the Centre – the scene several months ago of perhaps their greatest show ever.
Down in the murky depths of the Arts Centre, there are no seats, no places to hide, just a small, sweaty dancing area where all senses of decorum and order go flying out of the window.
Last time Wolfsbane played in the room, the effect was dazzling. People bounced about like they had baby kangaroos in their socks, and the band unsurprisingly revelled in the freedom to go even further beyond their normal barrier-breaking borders.
Massacre
It was a night to remember and the band have spent months persuading Centre administrator, Nick Ewbank to let them use the room again. Now he has yielded and the band are lining up their artillery to try and massacre their audience once again.
Just to add extra spice to the night there is a chance that Depth Charge – with new lead singer Mick Goodby – may make their Arts Centre debut with their new line-up.
It promises to be a night of unrefined, ear-battering delight and to be sure you don't miss it, fans are urged to get to the Arts Centre about eight o'clock. But just a warning.
Even though this is Sunday, the tunes are going to be a touch harder than those 'Songs of Praise'. So leave your granny in front of the fire and come along and revel in sheer, unadulterated FUN.
Tamworth Herald – 15/11/85
Musicbox – Come on board, love…
LOVE On Board play an important concert at Birmingham University next Thursday – and they are hoping a lot of local people will travel to cheer them on.
The band have arranged a small coach to ferry fans to the show and anyone who would like a good night out can ring Nick.
Tamworth Herald – 15/11/85
Musicbox – Freight train on right track
TAMWORTH'S top psychedelic outfit, Freight Train are all set to release a new and very impressive single.
The band are currently using the precious few test copies of 'Man's Laughter' to try and secure them contracts and concerts around the country.
And on the strength of the record, they look likely to be very successful in both departments.
The record is a vibrant, bubbly single which has the unmistakable feel of Julian Cope stamped all over it.
This of course should come as no surprise as Freight Train guitarist Donald Skinner worked on Cope's last album and organist Joss is of course Julian's brother.
But there is far more to both tracks than simply Cope-s influences. The 'A' side has a nifty tune and a tasty modern pop feel which could bubble its way right into the hit parade.
'Well-crafted'
It combines, poppy keyboards with Barry Douce's solid bass and some slicing, enticing guitar work from Donald. The overall effect is of a very well crafted and very intelligent number. Pop music for adult mind sin teenage bodies no less.
The 'B' side, 'Head On A Plate' is far less commercial – but strangely endearing. It is a haunting, dreamy landscape of sounds that revels in a lack of distinctive form. It goes through several moods before appearing to fade out completely. An appearance that is inevitably deceptive.
All in all it makes for an incredible single from Tamworth's best kept secret. When it comes out (shortly I understand) make sure you don't miss it. Freight Train are almost certain to 'break' very soon and it would be sad if they broke without their home town first appreciating this rare and inspiring outfit.
Freight Train are looking for a dedicated, permanent drummer to join them. This is a unique chance to join a group who are already nearly 'there' so if you think you are up to the challenge and you enjoy psychedelic – orientated modern music then this could be your lucky day.
Tamworth Herald – 15/11/85
Musicbox – GOSSIPBOX
DANCE STANCIANS Paul Hanlon and Neal Sheasby get the Gossipbox award for hob-nobbing with the famous this week.
For recently the duo ended up backstage at a Dexys Midnight Runner show and came face to face with the immortal Kevin Rowland and his fellow celtic soul brothers.
The Atherstone would-be superstars chatted happily for half an hour to the Birmingham rather-wouldn't-be superstars but surprisingly Neil and Paul never mentioned one thing – that their group Dance Stance is named after a Classic song.
Talking of names, The Sage Side Psycho who has the most bizarre monicker of them all has taken his infamous fanzine 'Anarchy in Wonderland' into the Arts Centre after a somewhat disappointing sale so far.
In fact the loveable Sage is still left holding a great amount of anarchistic ramblings and so he is hoping people visiting the Arts Centre will now put their hands in their pockets to see what all the fuss is about.
Ambitious
Still on the Sage, he very kindly sent me a tape full of obscure bands featured in his fanzine. Best stuff of all is the tremendous Buzzcockian June Brides whose new LP is really something special. But that's another story…
Also 'another story' is the imminent success of former BHX bassist Rob Rea. Rob has joined much-noted Platinum Hi. They are an ambitious Liverpool band who have decided to go for broke by setting off for London.
It means Rob, always one of the most likeable and glamorous members of the local rock fraternity, will be leaving the area for a good while. See you on 'Top Of The pops' Bobby boy…
And finally, as you may know, Wolfsbane bassist J. F. Bombshell has just changed his name to 'The slut'. The reason for this is partly because he has changed his haircolour to black in the belief that bleach was slowly killing it. As a 'natural' blond I wouldn't know anything about all that, but I look forward to seeing it. 'The Slut's' change of name and hair colour affects the way he thumps those strings on Sunday.
16/11/85
Chalkie
Belgrave Sports and Social Club
Tamworth Herald – 22/11/85
Day of fun at the Arts Centre
IT'S party time this weekend as Tamworth Arts Centre celebrates its 10th anniversary. Local people will be joining in the celebrations, and to mark the occasion in theatrical style, resident puppet company "Roadworks" is laying on a specially written show telling the story of the Church Street centre.
The puppet production is among a whole host of free fun attractions aimed at bringing crowds in droves to a special birthday Open Day at the Arts Centre from 10am onwards tomorrow (Saturday).
There will be an exotic dance displays by an Indian dancer and the Arts Centre's youth theatre, the Saturday Club, will be performing sketches.
Local artists will be demonstrating their skills and selling their work. There will be a unique display of paper sculpture which includes a motorbike made entirely of card, and exhibitions of puppets, masks and photographs.
Arts Centre staff will be giving tours of the 200-year-old building and kids visiting the snack bar will be given lollipops and balloons.
The day's artistic events culminate with a performance of Shakespeare's "Measure for Measure" in the evening by Bardovan Theatre Company. Among the stars is Tamworth's town crier, professional actor Harold Rhead.
"The Arts Centre was opened just a decade ago, and we thought that was a good enough excuse to celebrate. I was hoping the Open Day will attract a lot of newcomers to the centre," said administrator Nick Ewbank.
Roadworks' anniversary show features three little puppet pigs. Its title "Bacon and Egg" is inspired partly by its characters and partly by Tamworth's notorious traffic island.
Tamworth Herald – 22/11/85
Musicbox – Love song ends as the boys leap overboard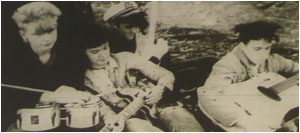 LOVE ON BOARD, one of Tamworth's most original and exciting bands, have split up. The group, who have been parading their own version of pulsating pop for around two years, have finally decided to throw in the towel after a number of setbacks.
The latest came when the band had to cancel their most prestigious gig at Birmingham University last night (Thursday). Lead singer, Neil Jones, who is away at college, simply couldn't get back for the gig, causing the band to cancel what could have been their biggest showcase to date.
The band's decision to split came as a surprise to many of their followers – although the writing has been on the wall for a number of months. Like many groups the band had to try and struggle on while one member – Neil – was on a full-time college course, in this case at Great Yarmouth.
For a while it seemed to work, with Neil coming back on a regular basis to play weekend concerts – and other shows during holidays.
But as highly-rated guitarist Nick Reed points out, it is bad when you have to cancel midweek concerts such as the Birmingham University one.
"We couldn't do it and it was an important show," said Nick. "It becomes pointless if you have to miss gigs like that."
What makes the split so sad for Tamworth is that Love On Board were genuine originals of the area. Their passionate crisp pop, which had touches of Lloyd Cole, Aztec Camera, The Bluebells and even Velvet Underground, made a refreshing change.
They were never afraid to break new ground, experimenting in acoustic guitars and other sounds and occasionally writing quite inspired numbers like the classics 'Crazier Than Most' and 'Responsible For This'.
The band played the Bank Holiday festival two years running and such was their commitment and involvement in the Tamworth scene, that Nick Reed was on the festival organising committee, and both he and Neil Jones were involved in the recording of the unique TamAid tape.
They also took part in the first Rocks for Ethiopia gig.
The future of the band's four members is uncertain. Drummer, John Twist, a man who seemed to improve with every performance and Neil Jones have not made their intentions clear, although bassist Glen Lewis and guitarist Mick Reed are unlikely to stay musically redundant for very long.
On a personal note. Love On Board's decision to split up has caused me more than a little sadness. They formed about the same time as I took over Musicbox and I have followed their 'career' with particular interest.
They have given me many great concerts and have also become personal friends.
I hope that although this may be the end of the Love On Board saga, the characters who made it such an enjoyable tale will soon be back in new, equally enticing guises.
Tamworth Herald – 22/11/85
Musicbox – Shattered…by the shocking showmen!
Wolfsbane/Depth Charge – Tamworth Arts Centre
SUNDAY is supposed to be a day of silent meditation, rest and pure tranquillity. But, when Wolfsbane enter the fray, you can forget all that. This wasn't a nice pleasant Sunday night concert, this was a MASSACRE.
Punks, poseurs, plebs and pop-pickers were shattered, splattered, shell-shocked and slayed by the sheer might of Wolfsbane, in a concert that was even worth missing Fawlty Towers for,
The group were simply magnificent, producing one of their finest sets to date and leaving the audience well and truly drained.
In fact the night as a whole was a great success. Sunday concerts are a rarity and the novelty proved such a draw that around 150 punters decided to sample a night of unashamed power.
The even was kicked off by Depth Charge making their fiirst Tamworth show with new lead singer Mick Goodby.
Mick seems really at home with his new bedpartners (in the nicest possible sense of course) and his voice has lost none of it's range and strength.
Musically the band are still dominated by the magnet-like sound of Trevor Mugglestone's guitar but that I no tot take anything away from Darren Milner, Tony Lakin and Garry Dobson.
The main feature could be 'Confessions Of A Sex Metal Outfit." For Lead Singer Blaze was as determined to give the audience a lesson in sex education as he was to slay them with music.
But Wolfsbane are not about individuals. Blaze Bayley may be the greatest showman around, but The Slut, Stakk Smasher and Jase the Ace don't come very far behind. They leap about, scream and gyrate as if they are possessed with a frantic fear that if they stand still they will disintegrate.
To look at, they are tremendous – to listen to, even better. What pleased me most was that they are now writing new material which is as strong as the old.
To my ears they still sound like an old 1977 punk band. I love the music, love the band and would also like to thank Bayley for the sex education lesson. It's not quite the way I heard it at school, but then Wolfsbane aren't quite like anything I have ever seen before. Especially on a Sunday!
Tamworth Herald – 22/11/85
Musicbox – Cradle – Rockers
TAMWORTH Arts Centre is the venue for the second consecutive week for an exciting concert this Sunday. The band on view is The Judas Cradle, previously Sacred Oath, who will be bringing their new sound and image to the Centre for the first time. If they are half as good as they were at last year's Festival it promises to be a tremendous show so don't miss out. Also appearing are top psychedelic band Mourn Blade.
Tamworth Herald – 22/11/85
Musicbox – SNIPS
Banned Wagon
Members who would like to take part in the Tamworth Rocks for Ethiopia gig in December, are urged to attend the outfit's show at the Tavern in the Town on Sunday.
The group have only one hour to play at the Ethiopia concert so they need to find out who wants an individual slot. Sunday's concert promises to be a truly enjoyable one, as one of the Band Waggon's most committed member Mike Fleming will be celebrating his birthday.
22/11/85
The Sway
JB's Dudley
Tamworth Herald – 22/11/85
Musicbox – SNIPS
The Sway
Make their third appearance tonight at JB's Dudley. The band who have just completed a video, promise another show to remember and they are hoping a lot of local people will travel to the venue.
Tamworth Herald – 22/11/85
Musicbox – SNIPS
Terroa who played a show at Wilnecote earlier this week, have sent out a public thank-you to all the people who have shown such an interest in their brief career to date. The group have been overwhelmed at the support, and they are now hoping to try and play a Wolfsbane-style downstairs show at the Arts Centre in the near future.
Tamworth Herald – 22/11/85
Musicbox – SNIPS
Next Week
Is the most important one in the Musicbox year – the launch of the annual poll which pitches record against record and local band against local band. This year there will be a few modifications, so bands can start counting up their followers to try and chase the precious prize of gold discs for the best local band and best local song awards. So don't miss next week's poll launch.
24/11/85
The Judas Cradle
Mournblade
Tamworth Arts Centre
Tamworth Herald – 29/11/85
How centre will spend £50,000
MAJOR IMPROVEMENTS are on the cards for Tamworth Arts Centre following the news of a £50,000 cash handout from the borough council.
There are hopes to use the cash which will be given out in grants over the next two years, to develop the 200-year-old building in Church Street as a centre of artistic excellence renowned throughout the Midlands.
The Arts Centre looked like being forced to close down die to crippling financial crisis before the borough council stepped in with the lifesaving grant.
Now the centre is being given £40,000 to spend on improvements to the building over the next two years along with a £5,000 grant per year to spend on running costs.
Refurbishment
Among priorities for improvements is the replacement of obsolete stage lighting equipment, refurbishment of the interior of the building and installation of new seats in the theatre.
Administrator Nick Ewbank said: "It is still very early days to say what we will do with the money. The wonderful news is still sinking in and we will have to have long talks with the council.
"The money will allow us to realise the potential of the arts centre both as an historic building and as a centre of artistic excellence.
"I'd like to see the arts centre busy with artistic activities every day. We want to provide workshops and courses for the unemployed and the handicapped."
Printing
Nick is also hoping to be able to equip the centre with small printing facilities for the production of posters and of the centre's news sheet Paper D'Art.
"From now on we will be working much closer with the council and there is a possibility that they will subsidise some of our professional shows from their own promotion budget," he said.
Tamworth Herald – 29/11/85
Musicbox – YOUR CHANCE TO PICK THE TOP SOUNDS
Here's top music battle of the year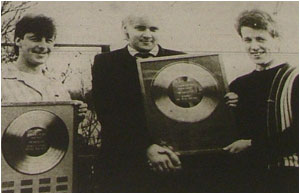 THIS WEEK, Musicbox is delighted to launch this year's biggest and best opinion poll of local music tastes.
Once again we are throwing the ball into your court, so you can tell us your favourite records, bands, personalities and local acts from the past 12 months.
The poll has become one of the most important parts of the area's music scene, as bands wait and see just how many people care about them enough to put pen to paper.
The local band – and song award – is the most fiercely contested and talked about part of the poll and this year once again, the battle will be strong.
The question on most people's lips is "can The Dream Factory be stopped?"
They already have one single under their belt, plus two successive Musicbox titles, and their popularity at local concerts makes them formidable opposition.
But the decision isn't cut and dried. The wonderful Wolfsbane get more popular by the gig and have surely done enough to earn the award. Then there is also the excellent Breaking Point, new heroes Terroa, and the slick Sway, with the sort of healthy-sized following that could prompt a shock result.
This year as well as the superb gold discs which the winners of the Best Band and Best local Song award will try and take them off the Dream Factory, we are also giving away spot prizes to entrants in the poll.
We will occasionally draw names out of the hat and these people can win albums or the star prize of 100 press photographs (worth £1.20 each) of top bands from our Musicbox files. More details about this in the next few weeks, but first a look at each category.
TOP SINGLE. It's been a strange year chartwise, where for once the supergroups haven't dominated.
Last year's fave-raves Frankie have disappeared into their Pleasuredome; Duran Duran have made different records under different titles, and Wham! Have surfaced but occasionally.
Among the best selling records of the year have been the absurd 'Power of Love', 'Do They now It's Christmas' and current number one 'A Good Heart'.
TOP ALBUM. Again something of a strange year, with many of the 'biggies' who shone in '84 (Springsteen, U2, Wham!) failing to release new long platters. Still, we have had very successful products from Madonna, Sade, George Benson, Elton John, Dire Straits, Kate Bush and many others.
One thing about this section – and indeed, the last – is that new products are still being released all the time, which means that one of my undoubted top three albums, The Jesus and Mary Chain's 'Psychocandy' had not been released at the time I had to make my decisions. Still choose on what you have heard so far.
TOP BAND. Self-explanatory just choose the current national band whose existence you value above all. The Stranglers get my vote for the 48th year running, but the choice is all yours.
TOP LOCAL BAND. This year we are going for a top three format, as so many people listen to so many different things. This year, once again, I am voting for the brilliant Breaking Point although I might add that Wolfsbane, The Dream Factory, Terroa and Femme Fatale all came close.
You can choose anyone from the Tamworth, Atherstone and Coleshill areas, but make sure they are a genuinely local outfit. If you like only one, please don't vote them first, second and third it will only count the first and if you don't like any of them, leave the space clear.
TOP LOCAL SONG. As you can see below, I have chosen my top 20, but you can choose anything you like – as long as it is an ORIGINAL. Thus Wolfsbane's 'Do You Wanna Dance', The Dream Factory's 'Knock On Wood' or The Royal Family's 'Treat Her Right' cannot count, however good they are.
The TAMAID songs can be voted for in this section, although for obvious reasons, I don't include them in my top 20 choice.
PERSONALITY. A new section, where we want to find out your hero/heroine. It can be a musician, a politician, a film star, in fact, anyone national, international or local, who you consider the personality of 1985.
My personal choice for all his amazing work is Ian Gibbons, but I must stress you can literally vote for anyone in the WORLD, Roland Rat – ANYBODY!
My Chart Toppers
Sam Holliday chooses his favourites (below) – now let's have your Top 20's.
TOP SONGS BY LOCAL BANDS
1. Come The Day – Breaking Point
2. GSB – Wolfsbane
3. Wine and Roses – Dream Factory
4. Kind of Loving – The Parade
5. Emergency – Breaking point
6. Thunder and Lightning – Terroa
7. The Sea – The Sway
8. Responsible For This – Love On Board
9. Clutching At Straws – Wolfsbane
10. Love 15 – Dream Factory
11. Man's Laughter – Freight Train
12. The Poseur – Dickens
13. Action Stations – Dance Stance
14. Love Kills – Sacred Oath
15. Machine Motion – Gaf The Horse
16. Poppy Red – One On One
17. No Crime – The Magnets
18. I'm Not a Baby – Wolfsbane
19. Running Away – Depth Charge
20. All of the Time – The Parade
Tamworth Herald – 29/11/85
Musicbox – SNIPS
DICKENS will be playing one of their first major shows for some time tonight (Friday) when they bring a two-hour set to Tamworth Arts Centre. The band, who are due shortly to record the follow-up to the highly successful 'Standing Out' album, will be playing a mixture of old and new material and are hoping they will be well supported by the town's rock followers. For those new to Dickens, they play AOR style music with touches of traditional rock and modern pop. They have a lively good-humoured stage show and are sure to provide a good night out for people wanting to hear well-written rock music played with genuine skill.
Tamworth Herald – 29/11/85
Musicbox – SNIPS
SCARAB take their mighty stage show to the Coach and Horses, in West Bromwich again tomorrow night (Saturday) with a coach going from Tamworth Arts Centre at 7pm. For just £1, fans of the metal marauders are promised the band's most powerful and explosive show, not for those of a nervous disposition. They intend to blind, deafen and dazzle their audience and warn people not prepared to undergo a complete transformation to stay in bed.
Tamworth Herald – 29/11/85
Musicbox – SNIPS
DEPTH CHARGE have lined up a special Christmas gig on December 23, at the Arts Centre, when they hope to be supported by a group called the Boozy Brothers whose lead singer has the wonderful monicker of Simon Le Chien!
Tamworth Herald – 29/11/85
Musicbox
APOLOGY to anyone who was waiting to see particular items in this week's Musicbox – i.e. Royal Family demo tape and Ian Mead's Hawkwind review – but the poll has obviously taken precedence. We hope to include these items soon.