Tamworth Bands History : 1985 :
August
Tamworth Herald – 02/08/85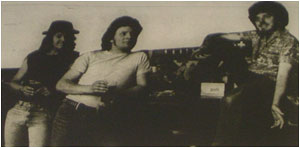 Musicbox – New trio aim for frenzied fun!
A BRAND NEW band featuring three of the most colourful characters on the Tamworth scene is just about to erupt on the area.
The group – Lost Johnny – say they intend to server up a vicious brew of what they describe as 'frenzied rock and heavy blues roll'.
They feel that music which embraces as many elements as theirs is sadly lacking in the town – and they are determined to bring back a touch of fun to the local scene.
Mixture
"Our music should appeal to most people because it is good time rock and roll and that is always popular," said bassist Norman Yates. "We are going to take it quite seriously but there is no doubt that our music should make our gigs fun," he said.
The trio making up Lost Johnny all have a strong local pedigree having been in and out of local bands for a longer time than they would like to admit. Norman Yates has been involved in Wild Child and Child's Play and is still an active member of the rambling folk convention "Bannedwagon". Drummer Jason Farrow, has also dabbled in Child's Play, but was more recently to be seen behind the drum kit of Wolfsbane. And guitarist Chippy has had more groups in his past than EMI.
"The last time he was in a band was Kill The Doctor and before that the Lounge Lizards," said Norman. "He is actually a very good guitarist and we are really glad to have got him."
The band have only been together in their present format for three months but already they have booked a number of impressive gigs. As well as a prime spot at the August Bank Holiday rock festival, the group are also travelling to The Graziers Arms at Nuneaton on Thursday and have other dates at venues as far apart as a riding school in
Austrey and a venue somewhere in the obscurity of Oswestry.
Popular
"At the moment the music we play is made up of a mixture of original cover versions and songs, although we are trying to write new songs all the time. Our own songs are moving a different direction to things we have done in the past which makes it exciting," said Norman.
So, everything looks bright for the trio at the moment but the question that must be asked is, is Tamworth ready for "frenzied rock and heavy blues roll". Or more to the point will Tamworth recognise it when it sees it?
Tamworth Herald – 02/08/85
Musicbox – Anyone for stardom?
A NUMBER of bands have contacted MUSICBOX in the hope of recruiting new members. So if you have nothing to do and fancy a trip on the road to stardom give the numbers below a ring. After all you never know what you are missing until you try it out…
THE DREAM FACTORY want a trumpeter. The band (in case you live on the moon and don't know) play hard-edged soul music that has earned them a local – and national reputation – for being one of the most exciting prospects on the current music scene. On the verge of recording a new single, the band want a trumpeter willing to give a lot of time and energy to the band.
LOVE ON BOARD also want someone who can play the trumpet – but they want something a bit more. They are hoping their trumpeter will also be able to do bits of percussion, keyboards and other instruments, making him an all-round utility musician to top off their lively modern pop.
BREAKING POINT are still looking for a permanent drummer to complete their line-up. They have a stand-in to help them through the transitional period but they want to find someone permanent as soon as possible.
TORTURED ARTISTS, a band from outside the Tamworth area but who would be interested to hear from someone local, have sent out an appeal for a vocalist into music which lists such varied influences as Billy Idol, U2, Sex Pistols, Dire Straits, Van Halen and Joy Division.
Tamworth Herald – 02/08/85
Musicbox – Wolfsbane/Power Play : Birmingham, Railway
WHEN Blaze Bayley stood at the front of an expectant Railway audience and began to sing a solo rock and roll version of "To Be A Pilgrim", I knew this was to be no ordinary gig.
Of course, nothing Wolfsbane ever do is merely "ordinary" but tonight with a host of supporters in tow from Tamworth they were even more outstanding than usual.
They were fast, loud, raunchy and exciting and as they delivered fave-rave after fave-rave, their loyal supporters became as eccentrically uninhibited as the band. Musically – if it is possible – they seemed to my ears to be getting even faster, but what is really remarkable about Wolfsbane at the moment is they hardly seem to make a mistake.
It doesn't matter how high Mike Monroe look-alike J.F. Bombshell jumps, his fingers still seem to land on the right note and the same goes for Jase the Ace who now looks, leaps and bounds better than ever. With Stakk Smasher handing out venomous treatment to his drumkit and Blaze combining blood curdling taunts at the audience (including a particularly vicious assault on my character I might add!) with powerful vocals. Wolfsbane simply couldn't lose. They get just better with every listening and they have reached the point now where every gig is a wonderful experience.
Also deserving a lot of credit are Power Play who opened the show and received almost as enthusiastic a reaction as their now infamous partners. Once again it was Power Play's musical ability that really made them stand out, with Graham Phelps showing he has lost none of his sparkling guitar form and the lead vocalist producing a show that was every bit as good as any of their contemporaries. Musically they veer very much towards American rock, but still throw a touch of good-old-fashioned British aggression to give them a unique feel. Best songs on my first hearing were "Stop Crying" and the commercial and entertaining "Caught Out in Love" which has Van Halen stamped all over it. A fine set in all, which when combined with the wonderful moments of Wolfsbane made for a show that was worth every penny of the £2 we paid for our coach and ticket.
Sam Holliday
Tamworth Herald – 02/08/85
Musicbox – Bands urgent meeting
ALL the bands involved in the Tamworth Rock festival are urged to attend an emergency special meeting this Sunday at the Tavern in the Town. A possible problem has arisen which may mean a levy of an extra £1 per musician so all bands are urged to bring the extra cash in case it is needed.
Every band - whether they are on the Castle Grounds or Arts Centre bill – should attend the meeting which is vital with just three weeks left to the Festival.
Tamworth Herald – 09/08/85
Musicbox – All set for the Tamworth 'Band Aid'
TWENTY local musicians will this week converge on the Expresso Bongo studios in Lichfield Street to record Tamworth's very own 'Band Aid'.
It is hoped that two songs will be recorded 'Just Take A look At Yourself' and 'Anger Can Be Power' – and in the classic 'Band Aid' style a host of top local vocalists will all be given a line each to sing with everyone joining in a special chorus.
The whole Tamworth Rocks For Ethiopia bandwagon is running so well that the tape has already been guaranteed airplay on both BRMB Radio and Radio WM – and the organisers are confident of selling all the copies of the tape very quickly.
The musicians involved – covering 14 of Tamworth's top bands – will meet for the first time at the Arts Centre tomorrow for a three hour singing 'lesson'. Chaos is expected to be the order of the day but all the musicians involved are confidently expecting that it will be alright on the night!
Everyone involved in Tam Aid should meet at the Arts Centre tomorrow at 1.30pm.
09/08/85
Wolfsbane
Tribal Sweatshirts
Tamworth Arts Centre
Tamworth Herald – 09/08/85
Musicbox – Something for everyone…


TAMWORTH ARTS CENTRE stages two exciting-looking concerts this weekend – which bring together two of the town's best known bands with two more who may be new to most people's eyes.
Tonight's double-bill sees the ever-watchable Wolfsbane team-up with a promising Birmingham –based dance outfit, Tribal Sweatshirts. It is a show that will be as contrasting as it is enticing and both groups are eagerly anticipating a packed Arts Centre audience.
Twenty four hours later Love On Board return to the Arts Centre stage after a non-existent absence, when they play alongside the Atherstone-based Dance Stance. Dance Stance last played at the Arts Centre under the name of The Crowd where they turned in a superb show as support to the Dream Factory. Tomorrow they hope to show that even if the name has changed that same spirit and excitement certainly hasn't.
Tonight's show, despite featuring two musically incomparable acts looks set to be linked by a common theme – energy. Wolfsbane of course are well known for their onstage exuberance and mania, which has made them a visual treat that few who witness them are likely to ever forget. Their sound is straight-for-the-throat HM packed with good tunes, memorable riffs and an overwhelming feeling of dynamism. If the Arts Centre walls don't shake tonight they have obviously been reinforced!!
Rather more subtle, the equally enjoyable, Tribal Sweatshirts, a band who have a pedigree rarely seen in the town. The band already have a highly professional demo out, which is packed full of commercial-orientated sounds which shows the vast range of influences in their music.
"We are influenced by everything from Go-West to Rush. There are traces of punk, pop and rock in our sound and I suppose if you were looking for a label it is alternative dance rock," said drummer Richard Deane.
As many of you may remember, Richard was a former drummer with BHX before he was snapped up by the Sweatshirts. The rest of the group – all of whom have had a lot of experience – is made up of guitarist Mark Thwaite, bassist Martin Betts, keyboard player Dave Pearson and vocalist Paul Edwards. Tonight's Sweathshirts/Wolfsbane gig starts at around 8pm so get there early to avoid disappointment.
Tomorrow's double-billing of Love On Board and Dance Stance also provides a neat contrast in styles. Love On Board play pop music with bittersweet feel which has put them firmly in the Lloyd Cole/Bluebells class. And Dance Stance? Well they can no longer just be summed up as the mod act which they were once considered to be.
"We are still influenced by Sixties sound and funk, but our sound is now veering more towards that of Haircut 100" said bassist Neil Sheasby, "It is hard to label the music at the moment."
The band's line-up has also changed since their Arts Centre debut with The Dream Factory. Exciting young drummer Phil Ford is still there, as is Neil Sheasby and highly-rated vocalist Paul Hanlon, but this trio has now been joined by Dave Delaney on lead guitar and his brother Dick on keyboards.
Dance Stance hope to produce a 40 minute set punctured with cover versions, and they see it as an ideal way to warm-up Tamworth audiences before their appearance at the Rock Festival in August.
"We think this show will be good training for the festival and we also have another show in Nuneaton in August to get us just ready," said Neil.
Tamworth Herald – 09/08/85
Musicbox – Magnum join the Monsters!
MAGNUM, the popular heavy metal band with deep Tamworth roots, have gained a place on the prestigious monsters rock bill at Donington next weekend. The group will be joining ZZ Top, Bon Jovi and the infamous Marillion in a show that promises to be both exciting and varied. The band, whose lead singer, Bob Catley, is a Tamworth stalwart, are also planning a live album which should come out in time for their national tour which will encompass the Birmingham Odeon on November 13.
Tamworth Herald – 09/08/85
Musicbox – Snips…Snips…
Another band who are treading the national boards are Dickens who have lined up quite a few gigs. On Saturday Mick will be leading his troops into war at South Wigston and on Sunday Dickens will be headlining the Nuneaton Festival. On Wednesday, August 21, you can catch Dickens at Queens Hotel, Stoke, and on Sunday August 25, they will be headlining day one of Tamworth Rock Festival.
The Dream Factory are also very busy at the moment as they get set to make their first trip to the recording studios since recording their highly-acclaimed single "Wine And Roses". A whole host of dates have been set up and included among them at this stage are Tuesday, August 20, The Blueposts, Burton (with Freight Train), Friday, August 23, Belgrave Sports Centre (for SPACE), Saturday, August 31, The Vine Inn, Rugeley, Monday September 2, The Malt and Hops, Stafford (with Freight Train), Friday, September 6, Kingsbury YC (with disco), Thursday, September 12, Karnes Winebar, Hinckley, Tuesday, September 17, HazelSlade YV, Hednesford, and Friday, September 20, Barton-under-Needwood YC.
Tamworth Herald – 09/08/85
Musicbox – Town out firmly on the map
IT'S been a good week for local bands trying to break out of the 'local scene'. On Monday the Dream Factory were given a large interview and photo in the three-million copy-selling Daily Mirror, and Breaking Point were given the possibility of playing a gig with the infamous Hawkwind.
In addition, another Tamworth band were having talks on Monday with one of the biggest labels in the world. At time of going to press the result of these talks was not know, but the band were keeping their fingers understandably well crossed…
Also spreading Tamworth's good name were Rock For Ethiopia organisers Ian Gibbons and Robert Bowker. The duo, who are now planning to extend their fundraising schemes further afield, were given a slot on BRMB Radio – who also interviewed the irrepressible Rikk Quay. The result of all these contributing factors is that Tamworth is suddenly becoming very much in the spotlight – which has got to be good news so near to the August Rock Festival . Festival fever is about to break out among the town's musicians but the only real worry at the moment id the dreadful 'summer' weather which threatens to sink the festival before it has even started.
And finally, this week, Gossipbox would like to apologise to the loveable Norman Yates for a couple of mistakes in the story about Lost Johnny which appeared last week. It seems we didn't get over the point that the band have changed their name from Wild Child and I also incorrectly said Chippy was the guitarist and Norman the bassist it is of course the other way round.
Tamworth Herald – 16/08/85
Musicbox – On the right track for Tam Aid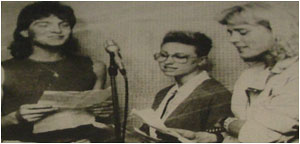 MORE than 20 young Tamworth musicians converged on the Expresso Bongo Studios in Lichfield Street at the weekend to record the town's very own version of Band Aid.
For 15 hours the singers and musicians, representing all of Tamworth's top groups, worked hard to make a two-track tape that will be released under the name of "Tam Aid".
It is hoped that as well as raising a lot of money for Ethiopia, the tape will also become the focal point of the town's crusade for famine relief.
Vocals
Both songs were written by the group Classified Ads who recorded all the music which was then added to by vocals of 15 top lead singers.
All the musicians involved had paid to take part in the event, and with the studio giving up their time for free it means all the money will go towards buying what are expected to be much sought after tapes.
The cassettes should be on sale later this month and everyone involved has already described the venture as a great success.
Tamworth Herald – 16/08/85
Musicbox – TAM AID SPECIAL
United we stand for marathon of sound!
Anger can be power
THE lyrics to Tam Aid's song for Ethiopia
We live in a world that has no feelings,
That tries to switch over to the other side.
We believe in the belief that our cause is the strongest,
Even if we're fighting am almighty tide.

But we must not lose hope and think that
Our voices are isolated in any way.

Because…

Anger Can Be Power – you know that you should use that
Anger Can Be Power – never, ever abuse that
Anger Can Be Power – and this is where we start to show you how…

You may sit at home and think it's hopeless,
But while there is life and breath there is hope.
If you can change things by voting then make that protest,
But don't think that means people will cope.

We must keep up the pressure until they realise,
We're not isolated in any way.

Because…

All around the world there are people who're angry,
Who won't let our Governments ignore those cries.
We must keep on fighting until we reach that stage,
Where it is not our fault if an African dies.

But above all we've got to realise
That we're not isolated in any way.

Because…

Copyright 'Tam Aid' 1985.

SAM HOLLIDAY reports on a special day of solidarity by the town's bands…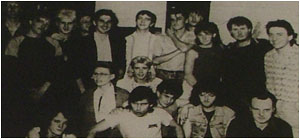 THE streets of Tamworth were all but deserted. It was 9 o'clock on Sunday morning and the rain was coming down with a force that would have sent many an early riser hurriedly scuttling back to the comfort of their bed.
The town centre was devoid of life except for a few intrepid umbrella-bearing churchgoers. But for five people at least, the rain was just a minor irritant – they had bigger things on their minds.
For at 9 am, the first five musicians involved in "Tam Aid" arrived at the Expresson Bongo Studios in Lichfield Street, ready to record Tamworth's very own song for Ethiopia.
Record producers Paul Speare and Phi Smith were already there to greet them, but little did the musicians or the studio owners realise that it would be a full 15 hours before they would finish the unique and exciting tape that will soon go out under the "Tam Aid" banner.
The day before, a number of the musicians had met at Tamworth Arts Centre to rehearse, but no-one doubted that in reality recording the tape with more than 15 singers and countless well-wishers in the studio would be a great deal more difficult.
The first priority was to put down the music that would be the foundations onto which the singers would lay their own lines and vocal emotions. Both songs – "Anger Can Be Power" and "Just Take A Look At Yourself" – had been written by the Classified Ads, and it was they who put down all the music on the tape.
First, drummer Simon Webster laid down two memorable rhythm lines and then he was joined by the guitar of Alan Turner, the bass of Paul Clements and the fine keyboard work of Derek Goodwin.
Finally, Sway keyboard player Rikk Quay put down some additional keyboards and then it was time for the vocalists to take over.
Emotions
They came from a host of different bands in the town – united for once by a common purpose. Firstly a series of choruses were recorded with everyone joining in chants, that may soon become synonomous with the whole Tamworth Rocks For Ethiopia campaign.
While video recorders and photographers milled around, the singers emotionally went through their choruses again and again, not content until everything was exactly right. It was a long – and exhausting – process, and it was nearly 9.45 at night – a full 12 hours after the initial work had begun – before the lead vocals could be put down.
In classic Band Aid style, all the singers were given tow lines each to sing, and with each one trying to outdo his predecessor with a display of true emotion, the effect was quite dazzling.
Weary but excited singers cheered each other as they successfully did their lines and suddenly at about 11.20 pm, with just one more line to do, the end was definitely in sight.
Paul Speare – who had handled the production brilliantly – collapsed onto his mixing desk with a smile. "It's great," he said simply, and his feelings were shared by everyone involved.
It had been a long, hard slog, but it had also been a day of considerable pleasure. Vocalists such as One On One's Dave Ingham and Sitting Pretty's Mike Turner, left the studio with a positive glow in their cheeks and by the end of the day the weariness evident at the fifth recording of the choruses had been replaced by universal smiles.
Money
On Monday, after Paul and Phil retired at 5 am, the tape was ready for its final mix and it is now hoped the first copies will be available in time for the town's August Bank Holiday festival. All the initial copies will be paid for by the musicians themselves and the Tamworth Ethiopian Committee and it is hoped that a great deal of money will be raised by them.
The Expresson Bongo Studios had given more than £100 worth of studio time for free, and the musicians had enjoyed a day that none of them will ever forget. And emerging 15 hours after first entering the studio, I noticed something else. It had even stopped raining…
Tamworth Herald – 16/08/85
Musicbox – SNIPS
THERE are two gigs to look out for this week-end at Tamworth Arts Centre. Tonight (Friday) it is the pairing of young metal outfit Sacred Oath and the older – and certainly not metal! – Gaf The Horse In Tears.
Sacred Oath who will be recording their first demo at the Expresso Bongo studios this week, will be playing a set largely made up of new numbers.
The ever-enthusiastic band are also busy organising a coach to a prestigious gig at Nottingham Palais with Killer Elite. If you would like to join the group on the coach, give Paul a ring.
16/08/85
Sacred Oath
Gaf The Horse In Tears
Tamworth Arts Centre
Tamworth Herald – 16/08/85
Musicbox – SNIPS
Tomorrow night, two very different bands – A5 and Love On Board – will tread the Arts Centre boards. Both bands have recently come in for praise – A5 for their Arts Centre show last month and Love On Board for what was described as a lively, entertaining support slot to Dance Stance last week. Both gigs look very interesting and are both scheduled to start at 8 pm.
Tamworth Herald – 16/08/85
Musicbox – SNIPS
The Dream Factory, the only name Tamworth band to have the dubious distinction of not being involved in either "Tam Aid" or the August festival, have asked us to point out that next week's gig for the SPACE scheme at Belgrave is only for SPACE members. The groups fans who aren't involved in the scheme won't be allowed in, so cross the date from your diary now.
Tamworth Herald – 16/08/85
Musicbox – SNIPS
Front row
And finally, if you like folk, the place to be is the Crown Inn at Elford on Tuesday night. For on that night, BRMB DJ Norman Wheatly will be setting up a special folk show which he describes as a mixture of the very serious and the rather silly.
He also adds: "There is one song I'm planning for the end of the evening during which I wouldn't advise sitting in the front row!"
17/08/85
A5
Love On Board
Tamworth Arts Centre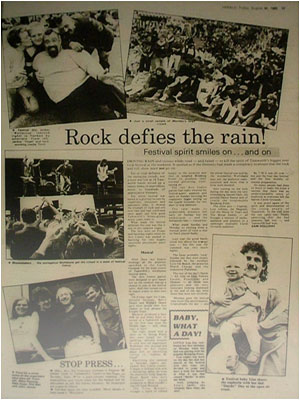 Tamworth Herald – 23/08/85
Musicbox - Festival fare is a band-box full of tricks


TAMWORTH'S rock fans will this week-end enjoy the biggest musical bonanza the town has ever seen. For on Sunday and Monday, Tamworth Castle Grounds will be filled with the sound of 18 of the very best bands in the area – all combining to make the most ambitious outdoor rock festival in Tamworth yet.
For three months now, groups covering the whole spectrum of modern rock and pop have been busy organising what they hope will be a show to remember.
At last year's hugely successful event, more than 1,000 people a day sampled the variety of music on offer over the Bank Holiday – and weather permitting, organisers are hoping for an even bigger turnout this year.
Surprisingly, perhaps there are only a handful of survivors from last year's outdoor event. Breaking Point, Love On Board, Caprice, The Magnets and Wolfsbane have survived, but they are joined by 13 bands who will be making their first August Bank Holiday performances.
The music covers every possible style, ensuring that there is something for everyone to enjoy during the course of the two days.
On Sunday, the action begins at mid-day when Depth Charge will be opening the proceedings. They will bring floods of memories to a lot of local people as they contain Trevor Mugglestone – the former guitarist with one of the most respected bands ever seen in Tamworth, Flash Harry. At 12.15, the all-new A5 will then take to the stage, bringing their Big Country and Dire Straits cocktail to the fore, and then at 1.30, the Kingsbury-based Pulsebeat will hit the Castle Grounds' stage with their youthful rock and pop sound.
At 2.15, enthusiastic 'veterans' Love On Board will put a little pop into the proceedings, and they will be followed by the electric dynamism of The Sway, who are due to entertain the multitudes at 3pm. After The Sway have returned to their 'dressing room', the subtle rock of One On One will take over and then at 4.30 local punks will warm to the sound of the Banshees-influenced Femme Fatale.
At 5.15pm on Sunday it will be back to biting rock with Powerplay, and then to finish off the first day the superb Dickens will turn in another major show. By now, most people will be more than willing to escape from music altogether, but just to keep the ball rolling, the Magnets will be back at the Tavern in the Town on the night.
Monday brings forth more variety, colour and drama. Caprice open the second day of the festival at 12 o'clock, and Mike Fleming's outfit will be followed by the metallic thump of the loveable Sacred Oath. Punchy pop is next in line, in the clean-cut shape of Atherstone's fine Dance Stance, and then at 2.15, the mighty Wolfsbane will take to the stage threatening unholy vengeance if the clouds dare to open during their slot.
At 3pm, Lost Johnny will try and 'find' themselves and then at 3.45, the Castle Grounds crowd will be given a dynamic taste of Breaking Point.
At 4.30, the much-loved Magnets will become the only band to have played the festival three years running and then at 5.15 onto the stage will walk Gaf The Horse In Tears armed with their unusual musical blend and their unusual line in humour.
To cap off the whole Castle Grounds event, it will be time for the highly-rated Royal Family. The ultimate good-time rock band. The Family are guaranteed to keep the crowd in good spirits and in the mood to travel to the Tavern on the night to watch The Banned Wagon wind up the whole festival.
So varied
So, with two concerts at the Arts Centre warm-up on Friday and Saturday as well, the festival is bigger, bolder and better than ever before. The music is as varied as a meeting of the United Nations and the sound will be unquestionably more interesting.
There will also be a chance to hear and buy copies of the TAM AID tape, see the legendary DJ Buttercup in action, and share with the town's musicians two days they regard as the best of the year.
The action on both days starts at 12 and runs through until 7pm, and as refreshments are available on site, why not bring the family and make a week-end of it?
Tamworth Herald – 23/08/85
Musicbox – Warming to a bizarre mixture


TAMWORTH'S 1985 rock festival gets underway tonight (Friday) with the first of two unique Arts Centre concerts to whet everyone's appetites for the 'main event'.
The shows are designed to be pre-festival parties and because of their unusual nature, feature an unusual array of talents.
Headlining tonight's show will be The Mike Turner Band – Whoever they turn out to be! Sitting Pretty cannot play the festival because of other commitments, bui the idea of leaving Mike Turner out was unthinkable, so he has managed to get together a group.
Playing with Mike will, hopefully, be another unusual combination – this one electric Rikk Quay, is hoping to do a slot, perhaps with the help of manic electronic trio Vicious Malicious, who turned the Battle of the Bands into a crazy riot in February.#
It is not known quite who will or will not be appearing, but fans of electronic music should have something extraordinary to sample.
Finally, tonight, Mike Fleming and Norman Yates will put on their Blessed Wagon hats to fill in the gaps in their own leisurely way to make it a night of sheer variety.
Tomorrow night, the Arts Centre will once again stage a unique, varied show. Headlining will be Breaking Point and they will be joined by two-and-a-half varied acts! The half is Mick Goodby's Witzend, who are not quite sure what they will be doing. The other two on the bill are the much-loved Trout Brothers, making their first Arts Centre stage show and the Total Anarchy Blues Band who – if the live up to their name – should be a real eye-opening experience.
So two bizarre and exciting nights are in prospect to really get the Festival show on the road. Just as a reminder, tonight it is Mike Turner, and electronic combo and The Banned Wagon and tomorrow it is Breaking point, Total Anarchy, The Trout Brothers and possibly Witzend.
The nights will be informal party nights with a mere 50p entrance fee. They should get the festival off to the best possible start, so be sure you don't miss a note as the action unfolds at 8pm tonight.
Tamworth Herald – 30/08/85
Musicbox – Rock defies the rain!
Festival spirit smiles on…and on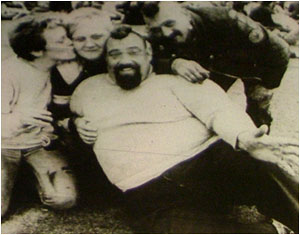 DRIVING RAIN and vicious winds tried – and failed – to kill the spirit of Tamworth's biggest ever rock festival at the weekend. It seemed as if the elements had made a conspiracy to ensure that the rock and roll show must not go on.
Yes in total defiance of the menacing clouds, not a note was lost as 18 Tamworth bands served up a meaty menu of marvellous music to hundreds of appreciative listeners.
The whole festival was hailed as a glorious success by organisers, musicians and spectators alike. It showed the triumph of rock and roll over rain and had confirmed once again just how good Tamworth's home-grown music scene really is.
What made the festival different this year was that it was in two separate stages.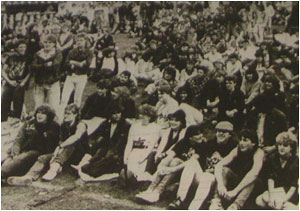 The first were on Friday and Saturday nights when the Arts Centre was packed to bursting for two hugely successful pre-concert party nights.
Musical
After these two bizarre evenings all the attention switched to the Castle Grounds for the main course of Tamworth's wholesome musical menu.
The Arts Centre parties were designed to give bands not on the outdoor line-up a chance to join in the festival spirit. And they turned out to be major events in their own right.
On Friday night Jos Cope, Donald Skinner, Barry Douce and Richard Deane gave most people their fist chance to hop aboard the Freight Train.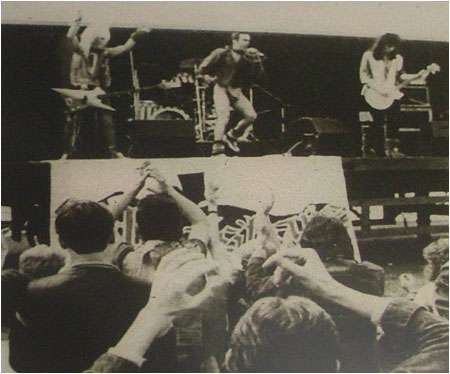 Showsteelers…the outrageous Wolfsbane get the crowd in a state of festival frenzy.
Blackout produced a fiery HM set and Select Elect returned to a Tamworth stage for the first time since the Middle Ages – well, three years at least!
The night closed with a short set by Sitting Pretty who were joined for 15 sparkling, splendid minutes by rock and roll degenerates Wolfsbane who shocked and shattered the Arts Centre peace with an electrifying version of "Johnny Be Good" (sic. "Johnny B. Goode").
Electrifying also summed up Saturday night's jam-packed Arts Centre concert. It began in brilliant style with a thundering set from the impressive Total Anarchy Blues Band who were followed with equal dynamism by Mick Goodby's one off band Witzend.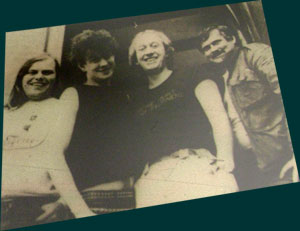 The Trout Brothers brought a touch of refined lunacy to the occasion and then in weighed Breaking Point to produce their normal glittering, roof-raising set.
The two Arts Centre parties had really whetted the festival-goers appetite and early on Sunday morning the organisers began setting up the Castle Grounds for two days of pop pleasure.
The rain made its undesirable presence felt early on Sunday but the enthusiasm – and the belligerent fans – stayed put.
What made Sunday and Monday so exciting froma musical point of view is that no band played badly.
Last year the good bands stood way above the average ones – but this year the standard was very much higher.
The Sway probably 'took' Sunday but they were closely followed by the excellent Love On Board, the powerful Depth Charge and the impressive Pulsebeat/
The rest of the day's bands – A5, One On One, Femme Fatale, Powerplay and Dickens – all made new admirers and the only musicians looking depressed at the end of the day were those that were not involved.
Minday gave the festival nine more fine performances. Undoubtedly the day – and the whole festival was won by the wonderful Wolfsbane who left the audience open-mouthed and more than a little shell-shocked.
Also turning on the style during the day were the very entertaining Sacred Oath, the punchy Dance Stance and of course the irrepressible Breaking Point.
The other acts – Caprice, Lost Johnny, The Magnets, Gaf The Horse In Tears and The Royal family – all brought a mixture of smiles, applause and pleasure to a seemingly insatiable Castle Grounds audience.
By 7.30 it was all over – not just the four day festival and the four months of preparation.
So many people had done so much to make the event a success that there was an understandable sense of euphoria as everyone left the barren Castle Grounds.
It was proof again of the spirit and determination of the young people of Tamworth. In the end even the sun came out, finally admitting that the bad elements had lost – and Tamworth had won.
SAM HOLLIDAY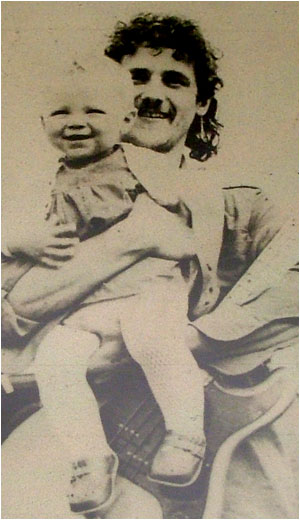 Tamworth Herald – 3008/85
Musicbox – STOP PRESS…
WILL ALL the musicians involved in Festival '85 please come to Tamworth's Tavern in the Town on Sunday 8 for a post-concert meeting. The organisation and future plans for the festival will be discussed as will the money situation. All musicians are asked to attend.
TamAid tapes are now available. More details in next week's Musicbox.
Tamworth Herald – 30/08/85
Musicbox – Baby, what a day…
LTTLE Lisa Day celebrated her first birthday on Monday when her dad was playing with the popular Breaking Point.
Lisa (right) was born on the day her dad last played at the festival and this time she decided to come and have a look for herself at what it was that caused 'Daydo' to miss her birth.
And judging by Lisa's smile, she certainly likes what she sees.