Tamworth Bands History : 1985 :
December
Tamworth Herald – 06/12/85
Musicbox – Royal Feast
The Original Royal Family – Demo
IT is a well-known fact that live on stage there are few bands to match The Royal Family. You would have to be deaf, cynical or completely out of your tree to come out of a Family gig without a wide-berth smile all over your face. There R 'n' B sounds reach parts other bands cannot reach and whenever they hit the stage, the floor starts to gyrate under the pressure of mass dancing.
Well now you can have this bubbly and loveable sound right in your own living-room, bedroom or airing cupboard. For the group have just released a smashing new demo tape which perfectly translates their stageshow onto your sideboard, OK, so you don't get the infamous Dave Smith facial tricks but the sounds are like music to your ears.
The tape is five tracks long and contains the first recorded 'original' by the band. Up to now they have been content to play cover material, well aware of its customer appeal, but as they are getting gradually bigger and more noticed, they wisely see the need to pen their own music. Their track is 'It's My Own Fault' a sweet little love song that wallows in its own sleaze. It has a neat atmosphere and to my mind should have been the first track on the tape.
The covers are all Royal Family classics the best of which is probably 'I Can Tell' which positively chortles along and is so irresistibly catchy you find yourself strutting around the bedroom like Mick Jagger gone do-wally.
Musically it is almost faultless, Dave Smith as always has been one of the town's greatest singers, and his tremendous vocalisms never let up once. Also there is some very impressive guitar work, by Les Jones, one of those truly annoying musicians who seem to do extremely good things but makes them look a relative doddle, and fine back-up by Nick Jones on drums, Harry Facer on sax, Steve Sutherland on harmonica and Daydo who guest-starred on bass in the temporary absence of full-time member Eddie. Oh yes, Paul Speare also chipped in with some baritone sax but then again a tape without him on it somewhere has yet to be released in Tamworth! Still in his other role as co-producer with Phil Smith, Paul has shone again proving the increasingly high standard of work to come out of the Expresso Bongo stable.
All in all a fine tape which couldn't be more timely. This is ideal Christmas music to dance, sing and make a fool of yourself to. Go buy yourself a smile…
Tamworth Herald – 06/12/85
Musicbox – SNIPS
DICKENS who are all set to record their second album, are on the lookout for a new drummer. The group have split with their former sticksman due to musical differences, and it is now imperative they find a high quality replacement as soon as possible. They have many forthcoming gigs on their books and are also putting the finishing touches to the songs that will make the follow up to the 'Standing Out' collection. What they need is a highly-talented and preferably commercial, powerful AOR music. If you can fit the bill, the band are arranging auditions, and you can find out more details by ringing Mick.
Tamworth Herald – 06/12/85
Musicbox – SNIPS
HEAVY metal outfit Scarab have sent out an apology to all their fans following the cancellation of their Coach and Horses gig at West Bromwich last week. Fans who went to the Arts Centre to catch the coach to the gig, were told it had had to be postponed due to an illness to Paul Brookes. The group say tickets will be valid for their Christmas bonanza at the Arts Centre on December 22 and they hope all their many fans in the town will accept their apologies for missing out on a potentially explosive night.
Tamworth Herald – 06/12/85
Musicbox – SNIPS
Trout Joins the Cavalry, a highly-rated jazz/blues outfit who already have their own residency, have sent out an appeal for a jazz influenced guitarist. The band who feature among others former Dream Factory sax player Andy Codling wants someone with a keen feel of the music and a professional attitude.
Tamworth Herald – 06/12/85
Musicbox – SNIPS
A new modern pop band who are just getting their act together are on the lookout for musicians – particularly drummers and singers – to help launch the outfit. The group are only just starting so they are interested in speaking to anyone who wants to try and play music which is just that little bit different.
Tamworth Herald – 06/12/85
Musicbox – SNIPS
Tim Burgess, former keyboard player with A5 is on the lookout for a new band. Tim, an accomplished musician with a lot of keyboard equipment, is interested in playing with any sort of band although he stresses that he has no transport.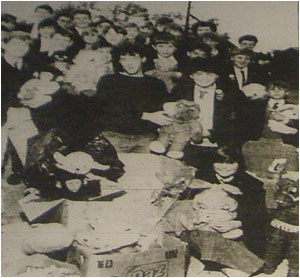 Tamworth Herald – 06/12/85
Tamworth's own 'Aid' mastermind is poised to take the lid off a nationwide Christmas booster
United…by a rock-solid drive to rescue a future
ONE MAN's PERSONAL crusade against hunger will reach new heights this Christmas. For Tamworth's Ian Gibbons will see his charity extravaganza blast-off and inspire thousands of people to give money for famine ravaged Ethiopia.
Tamworth Herald – 06/12/85
Sixties superstar says 'I'm proud to join big day'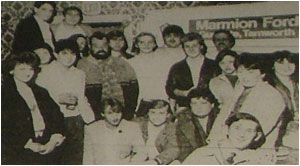 WORLD famous soul singer Edwin Starr will be in Tamworth on Monday to officially launch the build-up to the National Day of Action for Ethiopia on December 21.
Starr, who now lives at Pooley Hall, Polesworth, will be adding his weight to the campaign with a personal visit to the Assembly Rooms for a lunchtime disco and discussion.
The singer, famous for world-wide hits like 'War' and 'H.A.P.P.Y radio' has pledged his full support to Tamworth's Ethiopia concert – one of around 40 simultaneous shows throughout the country.
The whole campaign started in Tamworth, and according to Ethiopia Committee chairman Ian Gibbons, the soul singer is proud to be involved.
Delighted
"The only thing he moaned about was that he wasn't asked to help earlier," said Ian.
"He has said he will do everything he can to help and obviously we are delighted."
Edwin Starr will be at the Assembly Rooms between 11.30 and 1.30 on Monday and there will be a special disco during his visit. Everyone is welcome to attend and entry to the Assembly Rooms is free.
Tamworth Herald – 13/12/85
MAKING A STARR APPEARANCE
Soul singer boosts appeal

TAMWORTH'S Ethiopian Appeal teams received a massive boost this week when top soul singer Edwin Starr threw his weight behind their appeal.
The international singer, who now lives in Polesworth, made the short trip to the Assembly Rooms to give his seal of approval to the TEA's Christmas Mini-Aid.
He praised the hard work of Ian Gibbons and Dena Adams and said "For local people to organise something of this scale is tremendous. We must not forget the thousands who are still starving in Ethiopia and other African countries."
Mini-Aid, which will see over 30 towns up and down Britain staging festive concerts in aid of the starving in Ethiopia, is being launched later this month. Almost £100,000 could be raised by the project.
Edwin, who autographed records with the words: "Peace…Edwin Starr", was on hand to chat to fans who were there. But he went on in a serious vein, "We have all got to do something for these people – it is up to us. We have the ability to help if we really want to."
Tamworth Herald – 13/12/85
Musicbox – Depth charge put heart and sole into fun show


IN ALL the understandable euphoria about next Friday and Saturday's Tamworth Rocks For Ethiopia concerts, a special Christmas gig by one of the town's most interesting new bands looks in danger of being overlooked.
For on December 23, Depth Charge make their first headlining show at Tamworth Arts Centre alongside heavy outfit Earthquake and the eccentric Boozy Brothers.
It is a show that according to lead singer Mick Goodby will be packed full of traditional spirit of all kinds.
"It should be a good night and we are all looking forward to it," said Mick. Depth Charge play rock music which combines traditional progressive rock with the more modern 'pop metal' to make a guitar-dominated sound that can be both powerful and subtle.
They first came to most people's attention at this year's Rock Festival, where they successfully opened the show, with their old line-up.
It was 'old' in the sense that Trevor Muggleston and Darren Milner had been working together for some time, and had recruited Tony Lakin, Garry Dobson and Dave Fitzgerald en-route. When vocalist Dave left, in stepped Mick Goodby, the former BHX and Witzend singer, and one of the most popular people on the local scene. To put it mildly, he found his new band a bit different from BHX.
"It is a lot more relaxed and I am really enjoying myself," he said. "We take the music, very seriously and that always comes first, but we still have a lot of fun." Said Mick.
Depth Charge signals the end of Mick's hyped-up glam image. They are a band who think that the chords are more important then the corduroys. It makes fro a refreshing outlook and a refreshing sound, so if you have still got any money left after the alcohol-ridden Ethiopia gigs, then this is where to spend it. It costs just 75p for a rock and roll party and this includes the chance to see the legendary Simon Le Chien and his Boozy Brothers!
Tamworth Herald – 13/12/85
Musicbox – Cradle rocks so smoothly
THE JUDAS CRADLE recently turned in an impressive show alongside Mournblade at the Arts Centre. 'G.D.' sent in a long review of the show from which the following extracts are taken.
The epic 'Magdellana', a long track by Judas Cradle standards, showed the excellent dual guitar work of Keat and Muzz.
They then went into 'On The Border Line', the story of someone's battle with death in a hospital bed. Quite appropriate, considering what vocalist Star Trek has been through lately. He gave his best performance of the night singing straight from the heart, which looked to be the only part of his body he hadn't broken!
'On The Border Line' to me has to be one of the best tracks any band in Tamworth has ever played. The much-deserved encore was none other than The Cult's 'She Sells Sanctuary'. The band went wild to this one and to the tumultuous cheering of the crowd, gave their best overall performance of the night.
The name's new. The style's new. The show was better than ever. Eight out of 10 audiences prefer the Judas Cradle!
Tamworth Herald – 13/12/85
Musicbox – SNIPS
A new pop band, featuring Poison Passionade singer Anice Byfield and Sitting Pretty guitarist Julian Amos, have sent out an appeal for a bassist. Anice left Poison Passionade about a month ago, but she is keen to get something going as soon as possible with her new outfit. If you would like to find out more give Anice a ring.
Tamworth Herald – 13/12/85
Musicbox – SNIPS
Pulsebeat have split-up. The group who made quite an impression with their shows at the Battle of the Bands and Tamworth Rock Festival have now gone their separate ways. Talented lead singer Derek, is apparently trying to get back together the powerful Ideal Standard.
Tamworth Herald – 13/12/85
Musicbox – SNIPS
If you would like to help give a group of handicapped people a happy Christmas, this is your chance. The Burton-based unit for mentally-handicapped people is looking for a local band to play a selection of Christmas melodies at a special party.
Tamworth Herald – 13/12/85
Musicbox – SNIPS
Lock up your daughters! Rumour has it that the Sage Side Psycho, architect of the 'Anarchy in Wonderland' enigma, is forming a band. "We probably won't play locally because we'll be too brilliant". Modesty is not one of Sage's problems.
Tamworth Herald – 13/12/85
Musicbox – SNIPS
One On One, who have been very busy lately attempting a gentle metamorphosis of their sound, have lined up a special gig at JB's Dudley shortly after Christmas. They are hoping to take a coachload of supported to back them up. Prices are expected to be a reasonable £1.50 and if you would like to book, contact any member of the band.
Tamworth Herald – 13/12/85
Musicbox – SNIPS
Tim Goode makes his Dream Factory return tonight when the band play a special pre-Christmas party concert at Wilnecote Youth Centre.
Tamworth Herald – 13/12/85
Musicbox – SNIPS
Breaking Point return to Tavern-in-the-Town stage on Monday night when they finish off a special 24-hour pool marathon arranged to raise money for their debut single.
Tamworth Herald – 20/12/85
Wayne's top of the charts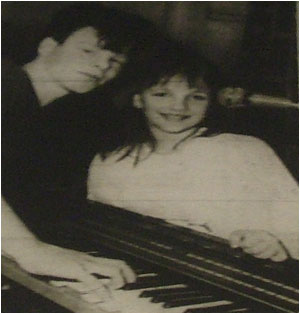 STUDENT Wayne Unwin is top of the Christmas charts.
The 17-year-old who lives at Dordon but studies music at Atherstone School, has won a national competition with a carol he composed himself.
Wayne scooped the BBC TV's national carol competition 'A Song For Christmas.'
He was one of the final three competitors in the senior section out of an original nationwide entry of over 5,000. In the final which was recorded last Sunday, he was unanimously chosen as the winner by the four judges – Barbara Dickson, Aled Jones, Peter Skellern and Susan Tully from 'Eastenders'.
Wayne wrote both the music and the words for his carol 'Snow in Moscow'. He shares the singing with 11-year-old Phillipa Nelson from Polesworth and plays all the music himself on synthesisers.
"The song is about peace at Christmas," said Wayne, "and about an improvement in East-West relations."
Although Wayne is a student of Polesworth School where he is taking 'A' levels in English, history and music., he has done most of his recent musical activities with Atherstone School where he studies half his 'A' level music.
Tamworth Herald – 20/12/85
ROCK SPECIAL
HUNDREDS of people are expected to converge on Tamworth Assembly Rooms on Saturday for the most lavish charity rock concert the town has ever seen.
The Rocks For Ethiopia show is the centre of a nationwide link-up which will see simultaneous shows in around 40 towns throughout Britain.
Tamworth's line-up includes a host of top local bands plus raffles, competitions and even a spot of breakdancing!
It all starts at 11.30am and runs through until midnight climaxing with all of Tamworth's top musicians singling the fundraising 'TamAid' songs.
Tickets for Saturday's event are just £2 and there are also limited places available on the door.
Tamworth Herald – 20/12/85
MUSICBOX – Big hearts fine sounds unite
Tonight we have the excellent Terroa lining up with alternative poet Joolz at the Arts Centre and then tomorrow night at the Assembly Rooms, we have probably the greatest local gig ever seen in Tamworth.
The Dream Factory, Royal Family, Breaking Point, Wolfsbane, The Sway and many more will present a 12-hour Christmas present for the town's rock fans and the silent millions such concerts are designed to help.
The doors open at 11.30am and after a nice session with that most impressive of DJs Buttercup, it is straight onto Wolfsbane at 1pm.
After the marvellous slice of ear-bashing, there is more disco and then it is the turn of the Banned Wagon to do their bit for charity and musical culture.
Femme Fatale hit the stage at 3.30pm to be followed by the DJ with impeccable taste Beuwey and then it is time for Trout Brothers. By now it will be time for Breaking Point…The Sway…The Dream Factory…The Royal Family.
During the day there is the possibility of a few star guests, new bands, raffles, competitions and fun by the literal bucketful.
Tickets for the event are a mere £2 and that entitles you to come and go as you please – although it would be better if you stayed of course!
It looks like being the best day of the year for the areas music scene, and one which will show that for thousands of people up and down the country the Ethiopia tragedy is still very much on our minds.
On a personal note. I would like to express a vote of thanks to everyone – especially Ian – who has helped to arrange this marvellous weekend.
Tamworth Herald – 20/12/85
MUSICBOX – Scarab Delay
SCARAB have had to postpone their eagerly-awaited Christmas gig at the Arts Centre due once again to the illness of drummer Paul Brookes. The band have sent out a sincere apology to their loyal fans and they hope to get everything back in order before their February show when current tickets will be valid. Don't forget however that on December 23, Depth Charge, Earthquake and the Boozy Brothers (hope you liked the Alarm gig guys!) will be at the Arts Centre. P.S. to all Musicbox readers, have a very spirited Christmas and a loud new year.
Tamworth Herald – 27/12/85
'Flagship' rocks to a £1,100 success
Concert tunes in to big-hearted town
TAMWORTH rock fans held their heads high at the weekend as the long-awaited concert in aid of Ethiopia got underway. And the local show that launched 'Mini-Aid' raised over £1,1000 despite a disappointing turn-out.
Tamworth Ethiopian Appeal secretary Dena Adams said the event had been a great success – even though only 400 people turned up for the charity spectacular at the Assembly Rooms.
"To raise that cash in one day is great – and once again the outstanding generosity of Tamworth people shone through. We hoped to do a little better, but we are very pleased with the way things went," she said.
"Last January's TamAid concert made around £850 – so we have improved on that tremendously. The whole day went well, with all the bands doing their bit – and everyone enjoyed themselves," she added.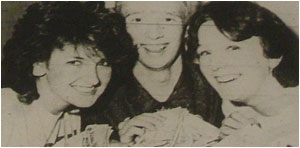 Most of the town's top bands took part in the 12-hour marathon event which was the flagship of a nationwide 30-concert booster. Their ear-splitting antics proved a big hit with the star-struck crowd.
From the heavy, heavy metal of Wolfsbane to the lively pop of the Dream Factory, all the bands provided a tremendously enjoyable show, which will be talked about for months to come.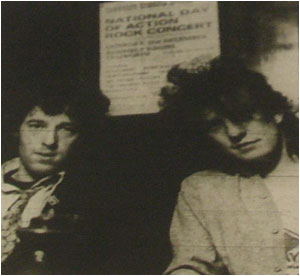 But the whole point of the event was to raise cash for the thousands of people still suffering the effects of the famine disaster. And the crowds who did make the effort to sample the music dipped deep into their pockets to find the cash to help make this Christmas a better one for the victims.
Large donations boosted the total further –and raffles raised pounds to help that little bit more.
Tamworth Herald – 27/12/85
Guitar thieves who soured charity special
MEAN-MINDED thieves soured the charity event by walking off with a guitar belonging to Royal Family bass player Eddie Blunt.
The Royal Family were the final band and as the last cheers were dying away, thieves entered the dressing rooms and took Eddie's guitar – a Westone Thunder One valued at £150.
The shocked and saddened musician explained that he had become very attached to the guitar, "It was the best one I have ever owned," he said. "As I am on the dole, it is going to be very hard to replace.
"In the meantime, I will have to borrow a friend's. It will take me ages to buy another," he added.
Tamworth Herald – 27/12/85
DAN COLLINS LOOKS BACK AT 1985
Terrible TV pictures of the starving in Ethiopia prompted the formation in June of Tamworth Ethiopian Appeal. In six months this group, under the guidance of chairman Ian Gibbons (left) has raised £10,000.
Tamworth Herald – 27/12/85

MUSICBOX – A year in the life…of a town's busy music scene
WELL IT'S been another tremendous year on the local music front. Some great bands have gone, others arrived and still more have grown in maturity and stature to the point where the town's 'big break' seems almost inevitable. MUSICBOX, we hope has been keeping it's fingers on the local music pulse throughout the past year and in this festive seasonal review I have delved into the past year's files to see what I have been saying about you during 1985. So here it is, the nice and the nasty of a year in the life of Musicbox – and the local music scene…
JANUARY
Love On Board demo – they are a great band but this is not a great demo.
The Parade demo – this tape can do nothing but good in their search for that elusive success.
The Dream Factory single – quite frankly it's brilliant.
FEBRUARY
Tamworth Rocks For Ethiopia – 'It's not very often we can feel so proud to live in Tamworth, but last Tuesday night we certainly could.'
A new band featuring Paul Clements and Derek Goodwin – the duo's first manic performance was described as a hideous noise, which apparently pleased both members very much indeed.

MARCH
On seeing the Stranglers at Amsterdam – 'Where you expect to see clog dancers, windmills and even the odd tulip, what you end up seeing is just about every vice you can think of - and many that you probably never dreamed of."
APRIL
Idea Standard demo – it brings together U2 ingenuity with Undertones simplicity.
One On One live – 'Dave Ingham is a man who belongs on a bigger stage than the Tamworth Arts Centre. He has the looks, talents and voice to go a very long way.
Wolfsbane demo – all you get is the sheer guts of their rock and roll which is spellbinding.
MAY
Breaking Point live – 'I almost felt like weeping at the end of their set as their magnificent power and purity swept over me like a rush of hope.'
The Rathole – A free copy of the complete works of Enid Blyton to anyone who can fond out what happened to Tamworth'd biggest-ever non-event.
Wolfsbane Live – 'It was just so good, so powerful and so entertaining, that I had to get out before I lost my cherished cynicism for ever.'
JUNE
Breaking Point demo – 'My copy sounds like it was recorded deep in Buttercup's armpit.'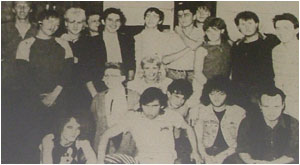 JULY
Springsteen Live – 'In a word – inspiring.'
Femme Fatale Live – 'Tamworth has been waiting for a long time for a band like Femme Fatale – now we have got them we should enjoy them while we can.'
The Sway Live – 'All four members are sickeningly good looking and they are also very good at their craft.'
AUGUST
On the recording of TAMAID – 'Vocalists such as Dave Ingham and Mike Turner left the studio with a positive glow in their cheeks…'
The Festival – 'it showed the triumph of rock and roll over rain'
SEPTEMBER
Mike Turner's comments on Tamworth 'a real case of 'Eh tu Brute'!'
OCTOBER
Star Trek's accident 'he has boldly gone where no man has been before – right into the back of a van.'
NOVEMBER
Freight Train single – 'an incredible single from Tamworth's best-kept musical secret.'
DECEMBER
The Royal Family – 'you would have to be deaf, cynical or completely out of your tree to come out of a Family gig without a wide-berth smile all over your face'
Tamworth rocks For Ethiopia (2) – Tamworth's musicians and rock fans can hold their heads up higher than ever before'
Well, that's covered a few of the best of '85.
Tamworth Herald – 27/12/85
MUSICBOX – Power and the glory boys
YOU CAN find all the details about Saturday's epic Tamworth Rocks For Ethiopia show on page five, but here is just a quick review of the music on offer on the two days.
Terroa – Another impressive show with the band spurred on to new heights by the fact that New Model Army singer Slade The Leveller was among the crowd. It was a powerhouse performance dominated by the irresistible 'Thunder and Lightening'.
Jed Moore – a star is born! An enjoyable set from Tamworth's scathing alternative poet who put the proverbial boot into such victims as womens libbers, synth bands and one Sam Holliday.
Wolfsbane – Loud, vocally and musically vicious as energetic as ever. 'The Slut' looked tremendous, Blaze Bayley looked obscene, and most of the audience looked bewildered. Terrific.
Banned Wagon – The normal alcoholic brew served up by the normal alcoholic characters.
The Magnets – Apparently (I missed them unfortunately) the band struggled on well despite the technical difficulties and showed that they have more staying power than 'Domestos'.
Trout Brothers – A good fun burst of non-too-serious music which left most people smiling (a surprise considering the bar was shut).
Breaking Point – The p.a. decided it didn't like Breaking Point and shut them up unceremoniously. Still they were as good as ever and one 'newie' Brotherhood of Israel' was an epic.
Femme Fatale – Their best show yet. The lay-off seems to have re-charged their batteries and they looked and sounded very good indeed.
Dream Factory - The show stealers - simply brilliant. All the oldies but goldies, were given a fresh burst of energy and life by the superb new brass section. The crowd loved it and so did I. 'Mousetrap', 'Wine and Roses' and especially 'Love Is' were triumphant. '86 will be the Factory's year and they ended '85 in the best possible way.
The Royal Family – Mass dancing soon became the order of the day as Dave, the boys and assorted guests brought the house down with another high-energy and highly-entertaining set.
TamAid – Truly horrendous. The stage was a seething mass of humanity most of whom had not a clue what was they were singing. The assorted musicians were buried and so was the tune. Still one thing shone through, and that was the most important thing of all – the spirit of an amazing day.
So the crowd wasn't as big as everyone had hoped, but throughout the day the message and the money kept changing mouths and hands.
Buckets were filled, raffle tickets were sold and people more than their fair share of time, money and effort to make the day work.
Backstage there were the odd murmurings of discontent but eventually all the wgos were replaced by a common sense of purpose.
That purpose was to help people who sadly cannot help themselves. And that purpise was realised. It was a day of pride.
SAM HOLLIDAY