Tamworth Bands History : 1985 :
February
Tamworth Herald – 01/02/85
Arts feast with fresh new looks
THE 1985 Tamworth Young People's Arts Festival is set to take off with a bumper package of exciting things to do, make and do.
Become a pavement artist, take up model-making from scratch with help from an expert, even write your own play – there's a host of activities for young people of all ages, as well as shows, films and competitions.
The third festival to be organised by Tamworth Borough Council, it will run from February 14 to March 13.
Tamworth Herald – 01/02/85
Musicbox – TOWN'S OWN BAND AID PROVES SUCCESS
ALTHOUGH Musicbox has decided not to do a full scale review of last week's Ethiopia concert, we would like to take the opportunity to praise everyone involved in the epic event.
All the organisers did a superb job but their task was made all the more easy by six bands who showed an unselfish and very co-operative desire to make the event run as smoothly as possible.
Hence the times were adhered to, the bands performed with enthusiasm and every one of the acts played well.
The Royal Family delighted everyone who saw them, Breaking Point turned in perhaps their greatest set ever (no small feat) and there were also rave reviews for all the bands with a special mention going to Love On Board who really turned on the style.
So for every person that helped to make the event such a success Musicbox can only say a sincere 'well done'. It's not very often we can feel so proud to live in Tamworth, but last Tuesday night we certainly could.
Tamworth Herald – 01/02/85
Musicbox – SNIPS
TAMWORTH'S most watchable band Wolfsbane are on the lookout for a new drummer. The group who have recently lost their second sticks person say they want a drummer with image, style and a certain amount of lunacy. If you can drum, pose and want to play with a band with a very bright and seedy future, the person to contact is Jeff.
Tamworth Herald – 01/02/85
Musicbox – SNIPS
BHX want a little light in their lives – and someone to provide it! The popular heavy band are looking for a dedicated lighting man willing to follow them to all their local and not-so-local gigs. More details from Mark.
Tamworth Herald – 01/02/85
Musicbox – SNIPS
Special videos of the Tamworth Rocks for Ethiopia concert should be on show at the Tavern In The Town in the next couple of weeks. Local video maker David Tighe did an excellent job of recording the show and he is now making a special compilation video which will receive it's first public viewing a week on Sunday at the Tavern.
Tamworth Herald – 01/02/85
Musicbox – SNIPS
A fast-growing local fanzine has invited Tamworth bands, poets and other artists to contribute ideas and articles.
Capital Letters, which is based at Chase Terrace, hopes to include material from any local acts wishing to push themselves outside the immediate Tamworth area.
It has now built up a readership of 300 and so it is an ideal platform for local people to air their musical, artistic and poetical ideas.
The next edition comes out at the end of January and features the excellent Three Johns, Balaam and the Angel, Playn Jayn, Glass Idols and The Apostles.
It costs just 20p from 131, Kingsdown Road, Chase Terrace, Walsall.
Tamworth Herald – 01/02/85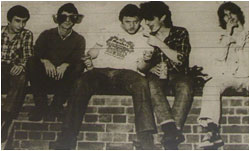 Musicbox – Bands get set to do battle in gig five-nighter
TAMWORTH is to stage its first-ever 'Battle of the Bands' competition next month. The contest, to find Tamworth's top group, is part of the Young People's Arts Festival event which is held in the town every two years.
The contest will stretch over five nights at the Tamworth Arts Centre and 16 bands have been lined up to chase the first prize of a special trophy.
The way the contest is run is simple. There will be four qualifying heats with the winners of each earning themselves a guaranteed place in the final.
In addition, there will be a place for the best runner-up, to make a five-band final on Saturday February 23.
The idea for the contest has been around for a long time, following the repeated success of a similar venture in Burton. When the idea was put before Tamworth's bands, the contest was greeted with universal enthusiasm.
The award follows hot on the heels of Musicbox's own popular top band contest in which Dream factory took first place.
Competing
The contest gets underway on Thursday, February 14, when Dance Stance, One On One, Love On Board and The Original Royal Family will be competing for a final place.
On each of the four nights each band will be given a maximum of 25 minutes to impress the five judges, who will each give points on content, presentation and, in tru 'New Faces' style, star quality.
The acts will be marked out of 10 for content and five for the other two categories, enabling the five judges to award a maximum of 100 points between them.
For the overall winner in each heat, their place in the final is ensured, but for the second-placed bands there will be a nail-biting wait to see which runners-up have the highest points.
As an added incentive, all the five finalists have been guaranteed a place in the August Bank Holiday Festival.
Each of the qualifying heat concerts will cost just 50p admission, and the final, on February 23, will cost 60p. For the bands themselves it will be a unique chance to see who is the local 'top of the pops', but for the Tamworth public, it will mean five very good – and very cheap – concerts.
The full night by night line-up is printed below.
Thursday 14th
Dance Stance, One On One, Love On Board, Original Royal Family
Friday 15th
Child's Play, Wolfsbane, Pulsebeat, Scarab
Saturday 16th
A5, Spirit of Water, Ideal Standard, Sitting Pretty
Friday 22nd
Breaking point, BHX, Caprice, Sacred Oath
Tamworth Herald – 01/02/85
Musicbox – Sitting Pretty's new faces
SITTING PRETTY will unveil their new line-up tomorrow when they line-up tommorow at the Arts Centre with kindred spirit Talk Back.
Pretty advertised in Musicbox last week for a new bassist and drummer, and although auditions were not held until Monday, the band hope to work flat out to get their new line-up ready for Saturday.
The last time the band played was as a trio at the Tamworth Rocks for Ethiopia concert. Pete long and Julian Amos both played guitar, with Mike Turner returning to his former position behind the drum kit.
The band, however, hope that normal service should be returned on Saturday, with two brand new members on stage taking the group into an entirely new phase.
Joining Sitting Pretty for tomorrow's gig will be Talk Back who have recently had a virtual re-launch in Tamworth and made many friends along the way.
The concert begins at around 8pm and tickets are available on the door for just 60p
02/02/85
Sitting Pretty
Talk Back
Tamworth Arts Centre
02/02/85
Chalkie
Tamworth Progressive Club
Tamworth Herald – 08/02/85
Two jailed in case of 'magic mushroom' post
TWO Tamworth men have been jailed for the part they played in importing "magic mushroom" drugs into Britain from Holland.
At Shrewsbury Crown Court on Wednesday 21-year-old Mark Homer Satterthwaite, of Honeybourne, Belgrave, was sent to prison for three years for importing LSD.
He was also jailed for three months to run concurrently for producing cannabis and possessing cannabis resin – charges which he had admitted.
John Allen Pratt (35) of Greatmead, Kettlebrook, was jailed for 18 months after he had admitted being concerned in importing LSD. He also received a three-month concurrent sentence for producing cannabis and possessing cannabis resin.
Tamworth Herald – 08/02/85
Musicbox – Sitting in on a poet with the pits at heart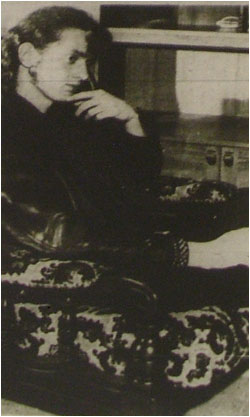 TAMWORTH'S alternative poet Edward ian Armchair will come out of retirement tonight to join The Parade and Love On Board in the first ever miners' benefit concert in the town.
Edward who gave up stagework in 1983, felt it was time local musicians did something positive to support the miners – and so he decided to take the initiative himself.
After gaining the support of fellow sympathisers The Parade and Love On Board, Edward booked the Arts Centre and is now set to perform tonight's unique show.
"Although I gave up performing a while ago, I have wanted to do a miners' benefit for several months, and so I finally made the decision to go ahead and do it," said Edward.
He is convince that local young people support the miners' cause, and he is confident many of them will rally round to attend the gig.
"I think is important we do concerts about issues at home because a lot of people are suffering hardship through this dispute. Even if they reach agreement there will be a lot of families in financial difficulty so we must do everything in our power to help them," said Edward.
Politics aside, the concert will also be a chance for some people to hear Edward's unique brand of poetry for the first time.
Rare chance
Since being a founder member of legendary punk band The Reliants, Edward has always had a high profile in the local scene. But it is with his original poetry performance that he has probably made most friends.
His poems cover a whole variety of modern issues – serious and not so serious – and give people a rare chance to hear modern live poetry.
Joining Edward tonight will be a superb trio The Parade who dedicated one of their songs at the 'Rock for Ethiopia' gig to the miners. The band who have an excellent three-track demo under their belts, play powerful new wave-orientated pop which combines speed with subtlety and aggression with sobriety.
Completing the official line-up is Love On Board whose recent re-appearance at the Tamworth Rocks for Ethiopia gig brought delight to many people. Their jovial modern pop sound has made them many friends and there is no doubt that their appearance will bring extra money – and people – into the event.
Tonight's gig – which may also feature other as yet unconfirmed names – kicks off at around 8pm and Edward is banking on a good response from local people.
"The miners are fighting for the working man and we will all suffer if they lose that fight."
Entry to the gig is £1.
08/02/85
Edward ian Armchair
The Parade
Love On Board
Tamworth Arts Centre
Tamworth Herald – 08/02/85
Musicbox – All change as bands zoom into overdrive
TWO OF TAMWORTH'S best-known heavy bands will hit the Arts Centre stage tomorrow night – both sporting line-up changes.
For Sacred Oath, voted in the Musicbox poll as the top heavy band in the town, there will be a brand new line-up following the recent 'abdication' of vocalist Star Trek and drummer Vicky the Viking.
The group have lost none of their enthusiasm however, and are bursting to return to the stage tomorrow night.
Also bristling with enthusiasm are tomorrow night's other band Scarab who have probably played more gigs in town recently than anyone else.
Scarab will be playing with a new drummer who they confidently believe is the best that Tamworth will have heard for a long time.
Paul Brooks, formerly a session musician has joined Scarab after spending a while teaching young drummers. His hallmark are special drum solos one of which is compared favourably to Motorhead's "Overkill".
So another meaty, beaty big and bouncy sound can be expected and tomorrow's rick double bill gets under way at 8pm.
Tamworth Herald – 08/02/85
Musicbox – Launching into a battle of contrasts
THURSDAY night sees the start of the first ever "Battle of the Bands" competition to be held in Tamworth.
The five-night contest, part of the Young Peoples' Arts Festival, kicks off with arguably the most varied line-up of the four heats.
Dance Stance, One On One, Love On Board and The Original Royal Family will all take to the Arts Centre stage chasing the one final place up for grabs.
Like all three other heats, the bands will be judged by five different people who will mark them on content, presentation and 'star quality'.
The judges
Among the pool of judges – five of whom will judge every night – will be Liz Swift and Sam Holliday from Musicbox, Richard Whitehead, the former editor of Musicbox, Nick Ewbank and Jed Moore from Tamworth Arts Centre, Geoff Beales from Tamworth Borough Council and musicians Rikk Quay and Ian Gibbons.
Thursday night's heat starts at around 7.45pm and entry is 50p.
One of the dates of the four heats has now been changed. There will not now be a heat on Saturday, February16, instead Sitting Pretty, A5, Ideal Standard and Spirit of Water will battle it out on Thursday, February 21.
09/02/85
Sacred Oath
Scarab
Tamworth Arts Centre
Tamworth Herald – 15/02/85
Rider at festival 'over limit'
A YOUTH who rode his friend's motor cycle in Tamworth Castle Grounds during a summer pop festival, was more than twice over the legal drink-drive limit, a court heard.
Simon Yates, aged 19, of Hastings Close, Wilnecote, pleaded guilty to driving with excess alcohol in his blood and driving on land not forming part of the road.
He was fined a total of £65 with costs of £71.90 and disqualified for 18 months.
Tamworth Herald – 15/02/85
Musicbox – Trio go 'Solo' with big ideas for local bands
TAMWORTH bands have been invited to submit tapes to what has been described as 'the biggest management organisation ever to hit the local area.' Solo Sound Holdings has been set up by a trio of music fanatics – Stuart Tregaskis (who among other things owns LK Records in Aldergate), Dave Carter (a record engineer who has worked at Abbey records) and our own Mike Adcock who set up 'The Organisation'.
The group already have a whole host of bands on their books ranging from Nuneaton outfit Tuesday's Child to the potentially massive Dickens.
Ambitious
Dickens are soon to record the organisation's first major album and a national tour is also in the planning stage.
If you want to find out more about Solo Sound and what they have to offer – or would like to send a tape – contact Mike Adcock.
Tamworth Herald – 15/02/85
Musicbox – Neil steps ashore
ONE of Tamworth's most promising bands Love On Board, have lost the services of their lead singer.
Neil Jones announced he was quitting the band after their appearance at the Arts centre last week.
Neil said he was having to leave because of his academic commitments - he has to spend most of his time at college in Great Yarmouth.
The shock decision means the band have had to pull out of the Battle of the Bands contest – but it is definitely not the end of Love On Board.
Instead the outfit this week sent out an appeal for a new singer and rhythm guitarist. Musically the band are influenced by a host of Scottish groups including Aztec Camera and Orange Juice as well as the more psychedelic acts such as Velvet Undergound.
If you have 'style and feel you would like to fill the vacancy – joining one of the best established local bands at the same time – the person to ring is Nick.
Tamworth Herald – 15/02/85
Musicbox – BHX set of national tour
BHX have been given the biggest break of their three-year history – a major national tour.
The band have been taken on by a new financial manager, local businessman Phil Ball, and he is keen to get the band on the road as soon as possible.
What it means is that the popular rock quintet will be travelling all round the country on a staggered national tour embracing many small venues in places such as Leeds, Manchester and London.
Actual dates have still to be finalised but the bans are delighted with the set-up.
"We are willing to go anywhere at anytime and it really is great news," said lead singer Mick Goodby.
The band will be playing a gig in the town after a long absence next week, and hope that this new twist in their fortunes will bring them the success they richly deserve. To coincide with the tour there is also talk of a debut single from the band to be released during the summer.
More details of dates and places for the BHX tour should be available in the next few weeks.
Tamworth Herald – 15/02/85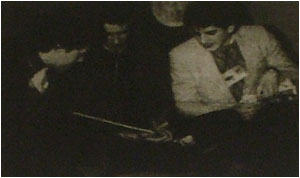 Musicbox – Geldof salutes Tamworth crusade
BOB GELDOF the man who helped raise £8 million for Ethiopia, came face-to-face with two of his Tamworth 'disciples' last week.
Mike Turner and Ian Gibbons met up with Bob after The Boomtown rats gig at Nottingham and explained to him all the details of the Tamworth Rocks For Ethiopia crusade.
Bob was suitably impressed and asked to be informed of all the future ventures Tamworth people will be doing for the cause.
Tamworth Herald – 15/02/85
Musicbox
THE Dream Factory have announced a date for their 'single release party'. The band, whose superb 'Wine and Roses' single has been reviewed by such esteemed characters as Paul Weller, will be playing at the Polesworth Top Club on arch 2.
Entry to the gig will be £1 and there will be a support act, as yet unannounced.
As an indication of the band's growing stature, Britain's biggest selling rock weekly 'Sounds' will be doing a special feature on the group in the nest few weeks.
'Sounds' writer and 'Oh' poet Garry Johnson was due to spend several hours in the band's company yesterday (Thursday) and the results of his musings should be in the magazine in the next few weeks.

Tamworth Herald – 15/02/85
Musicbox
DON'T forget tonight is the second night of the Tamworth Battle of the Bands contest. The late pull-out of Wolfsbane made the nigh even harder to predict as it brings together popular rockers Scarab and Childs Play plus the unknown of Pulsebeat. Like all the other Battle of the Bands heats, entry to the gig is 50p and the winners will be given a guaranteed place in the final on Saturday, February 23.
Tamworth Herald – 15/02/85
Musicbox – Gossipbox
THIS week Musicbox is proud to unveil a new feature – Gossipbox. This irregular spot will aim to keep you in touch with all the rumours, whispers and gossip that is circulating about Tamworth's bands and musicians.
Hopefully it will provide a quick reference guide to what is happening and with whom and if you know any juicy bits of gossip please let us know.
Let's start with our old favourites Wolfsbane…it seems that this popular glam quartet are planning a big and sinister publicity stunt to get them back into the headlines.
…Meanwhile fellow rockers Sacred Oath unveiled their new drummer Josef Pighand at the Arts Centre last week, and by all accounts the man was very good indeed.
…On the folk circuit it seems Tamworth's brightest outfit Ruffins Well have been offered a potentially lucrative TV appearance…a man also to be seen on the box rather a lot is Bob Geldof and it seems he got on like a house on fire with our very own Royal Family singer Dave Smith when the duo met up recently…
…Finally this week the happy news that Tamworth's rock musicians are going to meet up later this year to record a special Band Aid-style song to raise funds for Ethiopia. For more info on this and other topics keep your eye on Musicbox – and of course Gossipbox.
Tamworth Herald – 22/02/85
Musicbox – Shock waves on battleground
Smashing time as riot hits stage
TOMORROW night Tamworth Arts Centre will play host to the final of the keenly-fought 'Battle of the Bands' contest.
The final, featuring five groups will be the culmination of four strong heats, the last of which is at the Arts Centre tonight (Friday),
Already the contest has attracted great interest and has been packed full of surprises and controversy.
It all began last Thursday when three very different acts – Dance Stance, One On One and The Original Royal Family took to the stage.
Controversy started to rage however, when one of the five judges was disqualified for walking out half-way through the gig of the last band The Royal Family. The disqualification gave One On One a clear victory, making them the first band into the final – and therefore the Bank Holiday rock festival.
Overflowing
Twenty-four hours later at the Arts Centre a packed-to-overflowing audience saw an amazing four-band contest. Childs Play opened the proceedings with their former guitarist, who had been dragged out of the bar because their normal player had disappeared!
The shock continued when Vicious Malicious – an unholy alliance of Select Elect and The Elusive They took to the stage and proceeded to smash up guitars and tape recorders as well as run riot with a chainsaw. The word was bizarre. All part of the act, of course.
And, if that wasn't enough of a culture shock to the audience, then the new Pulsebeat, who after starting cautiously, had the whole crowd on their feet with some brilliant, individual guitar playing.
By now nothing could be surprising – but last band Scarab almost were. They came on and gave a blinding show bashing out 100mph rock anthems which sent their loyal fans into a state of acute frenzy. They threw in volcano-style fireworks, flashing lights and fake blood to provide a riveting performance. Needless to say they won, so booking their automatic place in tomorrow's final.
The third heat was held last night (Thursday) and one of the following four acts will be in tomorrows final – Ideal Standard, Spirit of Water and Sitting Pretty.
The final heat will be tonight when Breaking Point, BHX, Sacred Oath and Caprice will battle it out.
Each of the acts has a lot going for them and predicting the result is extremely difficult.
BHX have proved their status by being offered several dates all round the country; Sacred Oath are now back fresher and more determined; Caprice get more confident with every gig and Breaking Point are Breaking point.
Surpassed
Don't forget there will also be a place in tomorrow's final for the highest scoring runner-up during the whole contest.
On the first two heats, Childs Play and Pulsebeat both with 59 points held second equal though it is likely that this total will be surpassed tomorrow night.
So an extraordinary night is in prospect. The finalists will be given only 20 minutes to impress the judges that they are Tamworth's top band. The overall winner will be invited to play at the Young People's Arts festival night in March where they will also be presented with their winning trophy.
Saturday's final starts at around 8pm and entry is 60p. it is going to be packed to the rafters so people are advised to arrive early to enjoy this potentially tremendous occasion.
SAM HOLLIDAY
Tamworth Herald – 22/02/85
Musicbox – SNIPS
A BRAND new rock band who are eager to get things moving as soon as possible have sent out an urgent plea for a new bass player. The as yet untitled group play modern rock music and are interested in finding someone who is ambitious, keen and prepared to work hard to make the band a success. If you are interested – or want more info on the band – the person to contact is Steve Birch.
Tamworth Herald – 22/02/85
Musicbox – SNIPS
DON'T forget Thursday night is another big gig night. The Jolly Sailor is throwing open its doors for a major three-band show featuring The Original Royal Family, Talk Back and Sitting Pretty. Entry to the gig is just £1 with proceeds going to the Ethiopia Fund.
Tamworth Herald – 22/02/85
Musicbox
PULSEBEAT, the young combo who made such a massive impact at the 'Battle Of The Bands' event, have launched an appeal for a drummer. The band, who say they are influenced by Queen and more pop-orientated outfits, are looking for someone 15-18 willing to work with a group who are keen to go as far as possible. If you are interested the person to contact is guitarist Carl.
Tamworth Herald – 22/02/85
Musicbox – GOSSIPBOX
THIS column's debut was very well received last week and so we hope to make it a regular feature. If you have news about local bands or musicians be sure to let us know so the truth can be told!
Well we start this week with a happy rumour that Talk Back have been linked with no less a label than EMI. According to my reliable informant, the label are very interested in the ambitious quartet and are considering sending someone up to watch them in action.
On the subject of live action. Sacred Oath are apparently planning to ask Wolfsbane to another 'Battle of the Bands' at the Arts Centre. Although Wolfsbane did a similar highly successful thing with BHX last year, the indications are that they won't pick up the gauntlet. Sacred Oath however, claim that this would be an automatic victory for their outfit.
Sitting Pretty it seems are now 'back on course' according to lead singer Mike Turner. They have recruited former Breaking Point drummer Clark Stewart and experienced bass play Steve Parkin to the line-up and although it is the latest in a series of changes, there is a general feeling that this one is going to stick.
Talking of Sitting Pretty, what have their guitarist, Julian Amos, One On One drummer Stuart Blaine and Caprice singer Mike Fleming all got in common?
Well, strange as it may seem, they have all been members of heavy band BHX at one stage. This was just one of the fascinating facts I picked up when researching BHX's history for their forthcoming national tour programme. The tour has already started to blossom with venues as glamorous as Dudley, Blackburn and Stoke-on-Trent on the itinerary. More info later.
And finally this week, news that former Classified Ads members Derek Goodwin and Paul Clements have formed a new 'sexdeath' combo on Manchester. The duo's first manic performance was described as a 'hideous noise' which apparently pleased both members very much indeed. It's all a far cry from the Classified Ads playing 'Telephone' but then again who remembers the band anyway?
SAM HOLLIDAY
23/02/85
Battle of the Bands Final
Tamworth Arts Centre
29/02/85
Original Royal Family
Talk Back
Sitting Pretty
Jolly Sailor