Tamworth Bands History : 1985 :
April
Tamworth Herald – 05/04/85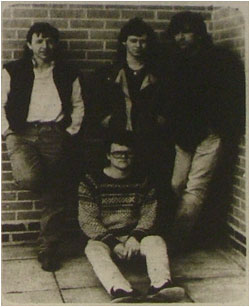 Musicbox – Sip this – a real musical cocktail
TWO of Tamworth's most original bands will hit the Arts Centre stage on Saturday for one of the most eagerly awaited gigs in the town this year. The highly-rated One On One will join forces with a band going by the bizarre name of Gaf The Horse in Tears for a very promising double-bill.
For Gaf, it will be their first ever gig in Tamworth, while for Bank holiday festival entrants, One On One, it will be another chance to sharpen up their stage show in front of a capacity audience.
Gaf have only been together a short while in the present format. Three of the members Tony Cole, Stuart Bailey and Robin Bowne used to play with Eyes, while the fourth member Ted Wilson will best be remembered for playing in Omen a few years back.
All four musicians have been itching to get back on stage and have worked flat out to prepare for tomorrow's event.
Different
"Eyes were a very lazy band really so I wanted this one to be different," said Robin. "After just a couple of practices with Ted we knew it was going to work and we set ourselves a time for playing our first gig," he added.
For Ted, finding Gaf was a great relief after several months of doing virtually nothing.
"I tried other bands but they never came up to much and I was ready to give it up altogether until I met this group," he said.
Like One On One the band is made up of experienced musicians who feel their music cuts across normal barriers. Trying to pin them down to what they sound like is about as easy as crossing the Atlantic on a rubber duck.
"Ever song is different which makes it impossible to label us," said Ted. The group did admit a few influences but even those didn't help as they ranged from The Police to Rush.
The emphasis is on short relatively commercial songs which the band hope will appeal to w wide cross section. But what I am sure most people want to know is where on earth did they get that name?
"It's from a book. We wanted to get away from one word names," said Robin. Tomorrow looks like being a testing time for Gaf but for headliners One On One there are no such worries.
Superb
Few people would argue that as musicians they have no equals in the town. Tim Latham is in my opinion the best and most consistent guitarist in the area for the past five years. Andy Malkin is a first class bassist; Nigel Rowed one of the most inventive keyboard players around; Davie Ingham has a superb voice and Stu 'Have-drums-will travel! Blaine is certainly the best drummer in Tamworth at the moment.
Put together, you have an amazing musical cocktail and one which will probably be drunk eagerly by the Arts Centre crowd.
Tamworth Herald – 05/04/85
Musicbox – Fame
THE Dream Factory had to cancel their concert at Burntwood this week because the organisers thought they wouldn't be able to handle the size of crowd.
The Recreation Centre said that hundreds of people have enquired about the gig and as they were trying to limit the amount of people coming, they thought it best to postpone it.
What makes the Factory smile about all this is that chart-topping King played there a few weeks ago and they didn't seem to have too many problems.
Tamworth Herald – 05/04/85
Musicbox – SNIPS
Pretty good start for band's mag
Sitting Pretty, who have had a fantastic response to their monthly magazine, have made a plea from the heart to people wanting information about the band.
If you want to write to them please send a stamped addressed envelope. As Mike Turner explains: "It is costing us a bomb to reply to all the letters and the money we made from our last gig just covered our postal bill!"
The magazine is actually very impressive and can be picked up for 40p plus that essential SAE. The band have many plans for the future which we will be announcing over the next few weeks in Musicbox.
Tamworth Herald – 05/04/85
Musicbox – SNIPS
A new band called The Androids have sent out an appeal for a 'heavy axe-man'. The band based around the Polesworth area are looking for someone into all aspects of rock who would like to join an enthusiastic sounding new outfit.
Tamworth Herald – 05/04/85
Musicbox – Gossip Box
SCARAB will be playing a surprise concert at the Arts Centre tomorrow (Fri.) – when they intend to reveal some sensational news.
The band, who were hoping for a rest, have had to revise their plans in light of 'things that could completely change their future'. These 'things' have not been revealed as yet so if you want to exactly what is going on in the cryptic world of Scarab, make sure you head for the Arts Centre tomorrow night.
Tamworth Herald – 05/04/85
Musicbox – Gossip Box
The A5 does not exist anymore. No, the ancient road is still there, what we mean is that the Atherstone 'alternative' band have thrown in the towel.
The reason is listed as 'musical differences' which is rather sad as many people recognised the band as a welcome breath of alternative air.
The highly-talented guitarist Peter Fulleylove is now looking for a new band. Peter, who is into the Banshees, Big Country and U2, wants to hear from any similarly-influenced musicians in the area.
Tamworth Herald – 05/04/85
Musicbox – Gossip Box
As one old band dies, another old one looks set to spring up again. The Magnets, who have had a voluntary exile for several months are looking to get things moving again, as is their former keyboard player Rikk Quay whose band The Sway play their first gig at JB's Dudley on Tuesday April 16.
Tamworth Herald – 05/04/85
Musicbox – Gossip Box
Finally this week, whatever happened to The Rathole? Many people turned up last week for the club's opening night only to find a sign saying it had had to be postponed. Knowing organiser Ian Gibbons, I can't believe this is the end of the story, but we must just hope that something gets going soon while people still remember what the Rathole is…
Tamworth Herald – 05/04/85
Musicbox – Forget the gimmicks, it's simply Ideal
Ideal Standard – Demo review
FOR many bands the first trip into the recording studio provides a chance to experiment with all sorts of technical tricks and electrical toys.
Occasionally this helps a group add more dimension to their songs, but more often than not it leads to the tunes being rendered unrecognisable as they are weighed down with often ill-conceived diversions.
So it is very refreshing to hear a band who have gone into the studio and resisted all the temptations to experiment in favour of keeping their songs as pure and powerful as their live performance.
For this is exactly what Ideal Standard have done. This tape, which has already sold an impressive 50 copies, is a faithful reproduction of some quite excellent numbers which show that Ideal Standard are very much a name for the future.
The best track of all is without doubt 'Silent World'. Placed second on the tape (although it certainly should have been first) it shines like a beacon as an example of a well-structured and very catchy tune.
Similar to The Parade's 'A Kind of Loving' it has the sort of tune that you can't get out of your head, and is very reminiscent of The Jam and The Undertones at their melodic best.
Thoughtful
The Jam also play a big part in the third track on the tape 'Abstract Town'. This is a very intelligent, thoughtful number which in theme and lyric is very similar to the jam classic 'That's Entertainment'.
It takes the listener on a tour of faces and places that are instantly recognisable, and is helped by another imaginative and endearing melody. Sandwiching these two mini classics are two numbers which show the strong U2 influence on the band's music.
Guitarist Mark Taylor dominates the opener 'Sounding Neat' with a tremendous example of fluent, inventive guitar work which helps to carry a song which is punchy but somewhat lacking in direction.
It is still, however a strong number, which improves with hearing as does the last track on the tape the bouncy, lively 'Adding Colour'.
This again brings together U2 ingenuity with Undertones simplicity and gives vocalist Dek a perfect opportunity to use his very strong voice.
So all in all a very impressive tape which shows that you don't need to use and abuse every studio gimmick you find to make an impression. If only Ideal Standard had made 'Silent World' the opening track it would have been even better, but that apart, it really is difficult to criticise this very enjoyable debut release.
SAM HOLLIDAY
06/04/85
Scarab
Tamworth Arts Centre
07/04/85
One On One
Gaf The Horse In Tears
Tamworth Arts Centre
Tamworth Herald – 12/04/85
Musicbox – COMMENT
Sticks and Stones
HERE is a warning to all bands in the town – don't trust the press – certain factions of it, that is.
Now that may sound strange coming from Musicbox, but if you saw The Dream factory's article in Sounds last week, you would understand why. They were interviewed by Garry Johnson who came over to them as a thoroughly nice bloke who was more than happy to enjoy the expensive hospitality they gave him.
Yet when he got behind his typewriter the horns started to come out of his head. He really ripped into the group in print making many comments that were either over the top or plain ridiculous.
He admitted to liking the single 'Wine and Roses' (also favourably reviewed in NME last week) but then went in to slam the band for things that really matter in music – such as clothes, scooters and the fact that they don't pander to London.
Personally, I was impressed with the way the Factory approached the interview, refusing to say all the nice, safe things in favour of saying what they really felt. The fact that they didn't say what Mr. Johnson expected, seemed to confuse him somewhat and so he felt it was his 'duty' to destroy the band in print.
Still the Factory don't seem to mind. They were given a full page to air their views which came over as far more interesting than Garry Johnson's, and it will no doubt lead many other people to take a bigger interest in the band.
The thing is though. I always thought the national rock press set bands up before knocking them down…
SAM HOLLIDAY
The Dream Factory will be at Tamworth College on Saturday night playing a special concert as part of Tamworth Police's SPACE scheme. Tickets should be available on the door. This could be their last major town centre concert for a very long tine.
Tamworth Herald – 12/04/85
Musicbox – Big ideas with a lot of Sway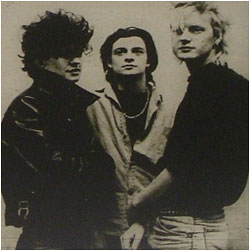 RIKK QUAY's new band, The Sway, play their first eagerly-awaited concert on Tuesday night. The former Magnets keyboard player, who has been out of live action for more than 12 months, will hit the stage at JB's Dudley – and he promises the show will be something to remember.
"We have spent a lot of time making sure everything is just right. We have worked very hard because we want people to enjoy what we have to offer," said Rikk.
What the band does have to offer is a very visual live show and a sound which they believe could set them on course for a very bright future.
"We have made sure everything is right because there is a great deal at stake. Reaction to our demos has been very good indeed, and there are a lot of record companies coming down on Tuesday so we want to be as good as possible," said drummer Brian Cropper.
One thing the band is not short of is words and confidence. It comes across as sheer arrogance but the band doesn't mind that at all.
"A lot of people are expecting a lot from The Sway and we can end them home happy. We know we are setting ourselves up a bit but we really think we are going places," said Brian.
Where the band want to go is clear – right into the charts.
Mouthpiece
"So many bands these days pretend they really just want to be cult groups but that is rubbish. Everyone wants to make money and we believe the music we have created can do that for us," said Brian.
And Brian goes even further. To him 1985 needs the Sway like 1977 needed the Sex Pistols.
"People want to listen to good strong dance music and we can provide it. I bet 99 per cent of people who buy GBH records have got a Frankie record in their collection which shows that you can appeal to everyone," he said.
Rikk, for once it seems not the main mouthpiece of the band, agrees. He says that although The Sway lean towards Frankie musically, they have the ideals of Killing Joke.
If The Sway are as good as they say they are (and I have come to trust Rikk these past few years) they look like they could soon leap a long way. The whole adventure begins on Tuesday night so if you want to be one of the first on the bandwagon, make sure you join the two coachloads of Lichfield supporters who will be descending on JB's next week.
Tamworth Herald – 12/04/85
Musicbox – Hey, good lookin'
Love On Board/Sitting Pretty – Tamworth Arts Centre
ON the face of it, Love On Board and Sitting Pretty are quite 'old hat' these days. Both bands have played dozens of concerts in the Tamworth area and you may think their faces, songs and ideals are known to everyone who could possibly care.
Yet recently both these 'golden oldies' have had new leases of life.
Take Sitting Pretty. They have had more ups and downs in the past 12 months than most bands have in a lifetime, yet still they battle on unperturbed.
Their durability is built mainly around Mike Turner's admirable and unshakeable optimism, and last Thursday this showed no signs of wavering. This time it is because Mike truly believes he has found the best ever Sitting Pretty line-up – and he is right.
Excellent bassist Steve Parking is a real find for the local scene, and there is no doubt that the twinning of Julian Amos and the underrated Pete Long on guitars is a potentially explosive combination.
The songs have certainly improved too. Gone is the sometimes meandering old set and in comes a new, polished and uptempo pop collection.
For Love On Board it was the first 'post-Minnion' concert with returned vocalist Neil Jones. Again optimism was much in evidence, and there seemed good reason for it. Love On Board simply look RIGHT together, Although they have had internal arguments in the past, they have become like the four sides of a square. They need each other to function and when they are together in good form (like this night) they really are a live treat.
Old favourites were rattled off with an enthusiasm which was matched by that of the large, spikey-haired audience.
In fact enthusiasm is the word that bonds Sitting Pretty and Love On Board together. They both clearly love what they are doing and that really does make it a lot easier to enjoy watching as well…
SAM HOLLIDAY
Tamworth Herald – 12/04/85
Musicbox – Gossip Box
A5 are still together. The band has not disappeared as we 'gossiped' last week – they have merely had a change of personnel – and sound. Singer Chris and drummer Steve have stayed together and recruited two new Tamworth-based members Bryan Robinson and Richard Reeves.
This according to Chris has taken the band along the U2 path but just to add more dimension to their sound, they now want a sax player.
Tamworth Herald – 12/04/85
Musicbox – Gossip Box
A new group with the grandiose name of The Fashionable Gents have sent out an appeal for musicians. They are looking for willing and adaptable musicians to come forward and help to produce commercially-orientated pop/funk.
Particularly in demand are drummer and keyboard players, but any other musician who may be interested can find out more by ringing Ian.
13/04/85
Prophecy
Elford Working Mens Club
14/04/85
Dream Factory
Tamworth College
17/04/85
The Sway
JB's Dudley
Tamworth Herald – 19/04/85
Musicbox – A dedicated pair offers style – and smile!
One On One/Gaf the Horse In Tears – Tamworth Arts Centre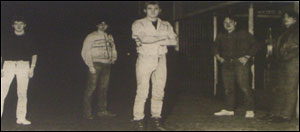 ALTHOUGH attendances at Tamworth gigs have never been better, there are still a great deal of young music fans who never go to concerts.
Many do not go because they suffer from that age-old Tamworth disease of apathy, but many even less inspiring people refuse to go because they moan 'none of the bands in the area can play their instruments.'
Well, there is little we can do to stop the apathy, but if One On One and Gaf The Horse In Tears have anything to do with it, the myth of unprofessional musicianship can be blown forever.
For here are two bands who have so much technical ability as any I have seen in my six years as a Tamworth music follower. Even those who do not like the music the two bands create, cannot help but admire the way they create it which smacks of dedication and talent from start to finish.
Gaf's ability is particularly noteworthy as they have only been together in their present format for a few months. Altough musically they tend to veer towards the mid-Seventies (which I regard with the sort of affection that a pretty teenager regards a facial wart) they do have a certain spring in their step which is endearing.
Their opening number for example was a jovial, well-paced song called 'Time Dancing' which appeared to mix the commerciality of Phil Collins with the feel of King Crimson or Crème.
"Machine Motion" is even better, as it is built around a mesmerising much-repeated guitar riff from Ted Wilson – a superb guitarist who has been away from the scene far too long.
Triumph
What also makes the band a treat is that unlike many technically impressive outfits they do have a great sense of humour. Tony Cole has a neat line in between track chat (although I wish he hadn't worn those shorts!) and the band as a whole seemed happy to play a two minute minuter which (I kid you not) sounded like an unholy alliance between Supertramp and The Wombles. All I all a very interesting debut set indeed.
For One On One the gig was yet another personal triumph which was lapped up by their eager followers. They hardly put a note – let alone a foot wrong and once again the key word of the night was professionalism.
But I do have a 'but'. The thing that slightly disappointed me about the band was the direction their new material seems to be taking.
What used to make One On One so special – and unique – was that they could combine a progressive rock feel with a nice array of melodies. This ensured that not only rock fans could enjoy their progressive sound.
However, it seems that the melodies and commercial elements have been pushed aside in search of ever-more technical prowess. This became noticeable when One On One played their oldies such as "Fade Away" and "Don't Stop The Captain".
These are clearly songs that can appeal to everyone whereas I thought some of the new material as perhaps a little self-indulgent and potentially less attractive to a wide audience.
Still, that apart, it was nevertheless an enjoyable set. Everyone performed with exuberance and enthusiasm particularly Gary Lancaster (who is not Nigel Roe in disguise!) on keyboards and Dave Ingham on vocals.
To me, Dave is a man who belongs on a far bigger stage that the Tamworth Arts Centre. He has the looks, talent, charisma and style to go a very long way and although a strong team unit, I feel the more they promote Dave the better their chances are of attracting national interest.
So, a memorable gig for a number of reasons. It showed two bands with similar appeal in the full flight of enjoying the music they produce. The market for their music is potentially enormous and I sincerely hope that both bands will seek out that hole in the market and fill it before someone less worthy does so.
Tamworth Herald – 19/04/85
Musicbox – Try an exciting triple
NEXT THURSDAY any local music fan who is not at the Arts Centre should be ashamed.
For on that night Tamworth's top venue stages a gig that is nothing short of enticing.
Just for starters there is the Battle of the Bands winners Breaking Point who will be dishing out their tremendous powerplay for the first time since winning the 'Battle' accolade.
Then we have the much-vaunted Sway who will be making their debut Tamworth performance after opening their concert-account recently at JB's, Dudley.
And just to complete this tasty trio we have the return to the scen of Tamworth's oldest outfit, The Magnets.
The exciting triple bill looks set to be a sell-out and should prove important for all three outfits.
For Breaking Point the only thing they now have left to prove is – can they get better?
There should be a chance to find out when new material will be thrown in to supplement the already established classics that we all know and love.
For The Magnets they have to prove that there is still life left in a band many people thought would never last 12 months, let alone five years.
It is the band's first full show since August and in many senses it will be just like starting over again for Andy and the lads.
One person who will have more than a passing interest in the Magnets' performance is the former member Rikk Quay who plays with his latest outfit The Sway. Here is a band that has promised a lot and will no doubt deliver with the same belief and conviction.
So a gig not to be missed, which – at just 75p – is not going to be the breaking point of anyone's finances.
Tamworth Herald – 19/04/85
Musicbox – Grabbed…by gutsy rock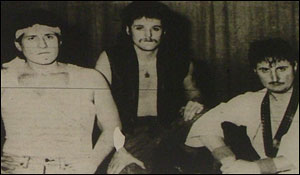 I CAN STILL remember the first time I heard Breaking Point's debut demo. It had me recharged with belief and hope for Tamworth's music scene and I felt the whole town should go and buy the tape. And I feel exactly the same about this demo.
Quite simply, it is magnificent and is so full of potential that you can just sense the imminent arrival of something very big indeed. What makes it so good is the sheer tour-de-force of the music.
Jealous cynics often dismiss Wolfsbane as tarted-up rock parodies but on this tape all you get is the sheer guts of their rock and roll which is spellbinding.
It leaps out of the cassette deck and grabs you by the neck and rubs your nose in the splendid power of their sound.
Take 'G.S.B' a catchy chorus, a Hanoi Rocks guitar line, a thumping melody and a wonderful middle section – just four reasons why 'G.S.B.' means great stuff boys to my ears.
Entertaining
"Manhunt" and "The Followers" are also powerful, dynamic and entertaining but the best of all is the rousing "Clutching at Straws". Here vocalist Blaze Bayley sings with an emotion most 'rock' singers would be too embarrassed to attempt.
Throw in another catchy tune (a Wolfsbane hallmark) and best of all a tear-jerking Jase the Ace guitar solo and you have a masterpiece to be put alongside "Ode to Nicholas Romanov", "Wine and Roses", "A Kind of Loving" and "Silent World" is the best ever vocal song section.
The excitement I feel about this tape is boundless. Wolfsbane have the live presence, the image and the charisma to go a long way. Now they have the tape to set them off. Put me on the guest list for the Birmingham Odeon lads!
SAM HOLLIDAY
26/04/85
Breaking Point
The Sway
The Magnets
Tamworth Arts Centre
Tamworth Herald – 26/04/85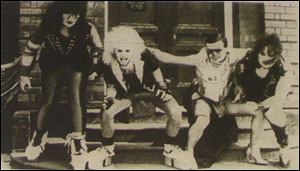 Musicbox – CURSES, HERE COME THE ROCK HORRORS
"If you think we are too outrageous, you're too old!"
MIGHTY WOLFSBANE will hit the Arts Centre stage next week with the avowed intention to 'kill and curse anyone and everything'.
The band, who proudly describe themselves as 'uninhibited, sick young boys' will be dishing out their own blood-curling version of rock and roll to an audience made up of fun seekers.
In a statement to Musicbox this week, Wolfsbane point out that some people are terrified to go to one of their group's concerts.
"There are a lot of people around who are scared to come to our shows. They are stiffs," said the group.
As well as being 'stiffs', no-Wolfsbanians are also 'old' according to the group.
"If you think we are too outrageous, you're too old. If you think that we are too fast, then you have got one foot in the grave," they said.
The sight of Wolfsbane in Tamworth next Thursday comes after a long absence. After a spate of local gigs, the band thought they may be going a little stale and the effect would start to wear off. So they disappeared and only surfaced occasionally in Lichfield.
"That's because somewhere along the rock and roll path we lost our way," say the quartet. "Our vision was clouded with over confidence."
That vision has been severely sharpened by the acquisition of Stakk Smasher on drums. Stakk has all the vital ingredients to be a card-carrying member of Wolfsbane – he looks, acts and thinks like a lunatic and believes that music can only be valid if it is fast enough to cause physical pain.
Wolfsbane, who only last week released their marvellous first demo tape will be playing a set littered with oldies and goldies and other numbers that may be less well-know to people.
They will almost certainly receive the sort of adulation reserved for just a handful of groups in the town – but they want their audience to be as uninhibited as they are.
"Don't come to a Wolfsbane show if you haven't got a sense of humour," they warn.
That sense of humour was displayed perfectly this week when the band marched into the Herald offices for a photo-session dressed like a City-gent's nightmare. They then paraded around the town – bringing the place to a halt by all accounts – and thereby proving that if you want to get noticed you have to get NOTICED!
Chicken out
Wolfsbane's guests next week will be a 'very heavy rock band' called Feedback. The outfit apparently have all the traits of a Sutton version of Kiss, probably meaning that Wolfsbane won't be the only outfit to raise an incredulous eyebrow on Thursday.
Next week's show (for that is what it will be) comes 24 hours after Wolfsbane invade the Birmingham Railway in Curzon Street.
On both nights the message, the sound and the impact will be exactly the same. But if you go along – or even chicken out – Wolfsbane have a message for you.
"The curse is upon you all."
Seems fair enough. Now where are my platform heels..
Tamworth Herald – 26/04/85
Musicbox – Band loses its way
BHX have split up.
The town's longest surviving heavy band have lost the services of two stalwarts – vocalist Mick Goodby and guitarist Mark Hopkins.
And, although it is not certain what remaining members Rob Rea, Robin Baxter and Paul Keeton intend to do, it looks like the old BHX has been consigned to the rock and roll grave forever.
"A lot of things have gone wrong lately," said Mick. "We were going to gigs and just thinking about the money while the music is more important than anything," said Mick.
Festival
Mick sees the demise of the band as happening quite recently and admitted that until the night of the split, things had been good among the members of the powerful outfit. A national tour was in the pipeline and there was also talk of a single.
Now, although it is still not certain whether the remaining members of BHX will continue to play together, it is certainly the end of the road for Mick's involvement with the band.
"We would like to get together to play the festival in August as sort of a final farewell gig," said Mick.
Mick now faces the difficult task of reviving himself to get a fresh band together with fellow BHX man Mark Hopkins. This new rock band are now on the lookout for a new keyboard player, bassist and drummer. Anyone interested can give Mick a ring.
Tamworth Herald – 26/04/85
Musicbox – GOSSIPBOX
Derek Goodwin, the former keyboard player in the Classified Ads is also swapping his organ for the stage. Derek is trying to get into a major play about the Spanish Civil War in Manchester.
He claims to be inspired by Bill Maynard and Roy Kinnear, but says he didn't want to cut his now notorious hair.
So if offered Startford-upon-Avon at the same time as a pair of scissors, it seems he will refuse both. The question now is – did they have bleach-blonde nail varnish-wearing poseurs in the Spanish Civil War?
Tamworth Herald – 26/04/85
Musicbox – SNIPS
A killer of a show
Ideal Standard, the tight modern outfit based in the Tamworth and Coleshill area have sent out a search for a keyboard player.
The group want anyone interested in playing their brand of punchy, intelligent pop to get in contact with either Dek or Vikki.
Tamworth Herald – 26/04/85
Musicbox – SNIPS
THE Killer Elite will be coming to Tamworth on Saturday night to play their first proper gig in the town.
The Ashby-based rockers play heavy music with a little bit extra, and are likely to cause a stir when they come out onto the Arts Centre stage tomorrow night. A support band should be helping them out and the fun starts at 8pm.
28/04/85
Killer Elite
Tamworth Arts Centre
28/04/85
Mothers Worry
Belgrave Sports and Social Club