Tamworth Bands History : 1990 :
November
02/11/90
The Yogots
Golden Cross
Aston
02/11/90
Eight Ball Joe
Nuneaton
Tamworth Herald – 02/11/90
Musicbox – It's MY Rathole!
Musicbox Letter
Dear Sam,
I would like to take this opportunity to inform any band who wished to play at the Rathole venue and the general public that all promotion and publicity (advertising etc) is now solely handled by myself and not Ian Gibbons of Magic Ear Ltd. Who looked after the advertising side of things for August and September.
If anyone needs information or wishes to enquire about a gig would they contact me personally.
Yours truly,
Neil Marklew
P.S. Sam. Please note there is now and always will be ONE name at the foot of this paper – mine.
Tamworth Herald – 02/11/90
Join the Paras
Quite a coup for the Rathole this weekend with the appearance of the much-vaunted Parachute Men on Sunday night.
The band currently on Fire Records, have just finished a nationwide tour with the excellent House of Love and have earned great reviews for both their live and vinyl work.
Their debut single was made into an NME Single of the Week and their debut album crashed into the charts immediately. They are highly regarded and highly entertaining and they are joined by a powerful Birmingham outfit called The Lost Forest. An interesting couplet. Should be a Sunday goodie.
Tamworth Herald – 02/11/90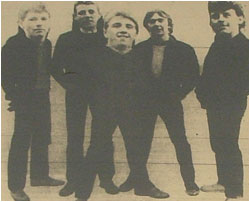 Musicbox – The recurring Dream?
PLANS are underfoot for a unique Christmas concert which could see the one-off reformation of four of Tamworth's most popular ever band – including the legendary Dream Factory.
The Factory boys – arguably the most important ever Tamworth band apart from Wolfsbane – could be reforming for a special charity concert which is also set to feature Love On Board, Sitting Pretty and The Classified Ads.
The idea initially came form Ian Gibbons who saw an 'oldies but goldies' night as a fun way to celebrate the Yuletide and it was made even more of a possibility when your friendly neighbourhood Box Editor Sam Holliday had such a ball reforming the Classified Ads for his wedding.
The four bands potentially on offer – all of whom genuinely feel they played their own part in creating the Tamworth music scene as it is today – were all very popular at the start of the Eighties and many of their ex-members are still actively involved in local music.
The idea is to try and reform the bands for a nostalgic bonanza with all the proceeds going to charity. Reactions to the idea from the various groups have been very enthusiastic with former Dream Factory bassist Mark Mortimer summing up the feeling…
"It would be great fun. I spoke to the Factory's old singer Tim Goode and he got very emotional at the idea which makes me feel it could be a winner."
The four bands all represent different strands of Tamworth musical history. The Factory were THE band of the Early Eighties, releasing a number of critically acclaimed tapes and records and playing to huge audiences throughout the country. They were the first Tamworth area band to get national publicity and were seen by many (though not unnecessarily themselves) as the forerunners of the renewed mod scene. Sitting Pretty were a pure pop band with a huge following who attracted various record company interest and a legion of devoted fans. Love On Board were simply YEARS ahead of their time, a classic Orange Juice style band who earned tremendous respect, while the Classified Ads were a post-punk bunch of pinko politicos who made a vile racket which surprisingly earned them a biggesh following at their demise. None of the four bands has been together properly for more than five years now but if all the ex-members can be dug up in time a Christmas charity bonanza is promised. It should be a great gig and it will also give any current local musician who has been slagged off by hacks Sam Holliday (Classified Ads); Mark Mortimer (Dream Factory) or Mike Turner (Sitting Pretty) a real chance for a revenge review!
Watch this space for more info.
Tamworth Herald – 02/11/90
Musicbox – Snips
A band with (genuine) major interest at the moment (a single out and music press coverage) are on the lookout for a young drummer. Enthusiasm is essential and the successful applicant must be into the Monday, Dee-Lite and dance things generally. Ring Nichola.
Tamworth Herald – 02/11/90
Musicbox – Snips
Ark's bassist John Jowitt has left the band in what is described as being an 'amicable split' over the group's musical direction. Any serious bass players interested should contact Richard Deane.
Tamworth Herald – 02/11/90
Musicbox – Snips
Bash Out The Odd are on the lookout for a new guitarist and drummer as they attempt to stabilise a new line up. Auditions are now being arranged and more info is available from Mark.
Tamworth Herald – 02/11/90
Musicbox – Snips
Banned in Yellow have lined up a prestigious gig at London's Mean Fiddler venue on Tuesday November 6, supporting highly rated bands Homeland and So They Say. The band have organised coach transport for followers who wish to see them in the capital and further details are available. Seats on the coach are expected to be £5 each plus £2 admission.
Tamworth Herald – 02/11/90
Musicbox – Snips
Soul fans are in for a treat on Thursday, November 8 when a soul/Motown night is staged at The Old Liberal House, Amington. Starts 8pm – late bar.
Tamworth Herald – 02/11/90
Musicbox – Snips
STOP PRESS – a four band Arts Centre bash takes place this weekend. Sunday night offers you lovely people Vesuvius, The Naked Touch, Empire Falls and Jump The Gun. Tamworth Arts Centre, Sunday 8pm.
04/11/90
Parachute Men
The Lost Forest
The Rathole
04/11/90
Vesuvius,
Naked Touch
Empire Falls
Jump The Gun
Tamworth Arts Centre
06/11/90
Banned in Yellow
Homeland
So They Say
Mean Fiddler
London
08/11/90
Soul/Motown night
Old Liberal House

Tamworth Herald – 09/11/90
Musicbox – Dance to the Tamworth Sound!
Tamworth's inevitable conquest of the musical world has taken another major step forward.
In recent weeks we have seen Wolfsbane play 20 sell-out concerts with Iron Maiden, Emma Gibbs earn national praise for their debut single, Spiral Eye grab a three-album deal and Atherstone's Catch 23 take an almighty step towards Gazza-size fame.
And now comes another boost. Last week's influential rock paper Sounds sent along respected hack Adrian Goldberg to watch Spiral Eye and The Yogots in action and returned with a report warning the world of the imminent Tamworth invasion. Mr. Goldberg said…
"Roll over Manchester, tell Seattle the news…Tamworth is back and tilting at pretenders to it's rock and roll crown. Already home of Wolfsbane, Saint Julian and Warlord Edwinn Starr, the Staffordshire groove garden has sprouted another healthy crop ripe for label plucking.'
Mr. Goldberg then went on to describe the Spiral Eye/Yogots and Moneygods show at the Barrel Organ last week and we are going to print some of his comment on these alongside other reviews of the same gig we have received from Lisa Roberts of the Lichfield Mercury and MUSICBOX correspondent 'J.C.F'. Here are a selection of their views on the three bands in question…
THE YOGOTS
Adrian Goldberg's View "A well-fried quintet of student dropout types. Dance-able and fanciable. These synth-swamped New Romantics have that rare enough combination of lovelorn innocence and instinctive pop nous to have the A&R men reaching for their cheque books".
Lisa Roberts' View "This band will be bigger than Cyril Smith's underpants. No, they weren't thick and creamy, they were nice 'n' natural and had the added tang to succeed in the wacky world of music. These guys proved they can hold their own."
J.C.F's View – "The Yogots are always good these days and the Birmingham audience is becoming used to their quality. One new fan compared them with early Duran Duran which may be good, may be bad."
THE MONEYGODS
Adrian Goldberg's View – "The Moneygods only play at coming from Tamworth but no matter they capture that crucial 'Tamworth Sound'. Hardcore lunacy renovating effortlessly the gone but not forgotten punk pathetique genre."
Lisa Roberts' View – "Definitely a live band these, they have to be seen to be believed'"
J.C.F.'s View – "They have their roots in '76 new wave explosion but unfortunately for them nobody has told them you don't have to be obnoxious anymore."
SPIRAL EYE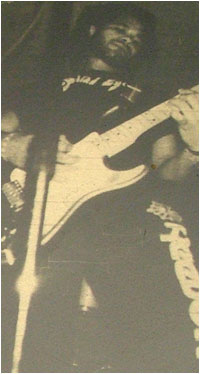 Adrian Goldberg's View – "Rampant funkaholics, schooled in the subtler arts of wah wah and mainlining on Led Zep, they hit the perfect 90s note of retro/revisionism."
Lisa Roberts' View – "I wasn't quite old enough to be caught up in the 70s music scene but the Spirals gave me a taste of what it might have been like – mellowing out round a candle with a group of scantily-clad psychedelics."
J.C.F.'s View – "Although the Spirals have their roots in the hippy drugs era of the Early 70s, they have a dance element that makes them as up to date as tomorrow."
Great praise I am sure you will agree and further proof that Tamworth is now in serious danger of having more credibility than it has had before. Wonderful.
Tamworth Herald – 09/11/90
Musicbox – Hi Bob!
The band with the longest name in rock 'n' roll – BOB – are this week's star guests at the Rathole.
The Bobbies hit the Church Street venue on Thursday night and are undoubtedly one of the best mainline attractions the venue has enjoyed for some time.
Before the BOB gig, there is a special rock/metal show on Sunday night at the Rathole and here in a nutshell is the venue's attractions for the week followed by more details…
SUNDAY AT THE RATHOLE – Rock night featuring Those Americans and Knucklebones.
THURSDAY AT THE RATHOLE – Indie special featuring BOB, Born Blind and The Great Divide.
More info? Well. Sunday's show is a rock couplet featuring two well-rated out-of-Towners. Those Americans are Leicester-based rock trio who have already impressed in Tamworth before at a special Night Moves show. They have recently released a first rate demo and they play all their own material. Teaming up with them are Knucklebones, a four piece West Midlands outfit who have recently supported Debbie Bonham at Stourbridge Town Hall. The busy live act have set up a 30 date tour in 1991 and are considered a useful rock band.
And Thursday? BOB are the big-name stars here and they are a band who have caused a very major ripple in the national Indie scene. I have in front of me as we speak a fax packed to the rafters with reviews aplenty from the likes of NME and Melody Maker.
With the added advantage of two of the Midlands finest in Born Blind and The Great Divide as support methinks that the Rathole has a winner here. Thursday's show costs £2, runs from 8-1 and should be pretty full. Sunday's show runs from 8-10.30 and should attract a fine crop of rock fans.
Tamworth Herald – 09/11/90
Musicbox – A fine Phoenix foursome
PHOENIX CONCERT SERIES – Fly On The Wall, The Jim Durkins Band, Crystal Injection and Emma Gibbs Loves Badges (Arts Centre)
Fly On The Wall
An impressive show from a band of young and enthusiastic pop-pickers. Their tender collective age was not reflected in a mature and accomplished sound which had touches of Echo and the Bunnymen at times and remained melodious, intelligent and stylish throughout. A little shy onstage at the moment but that will change in time and they clearly have a lot going for them; not least a good vocalist and a very tight and professional sound. One to watch.
The Jim Durkins Band
One of the most experienced bands on the line-up but ultimately the least riveting. The reason was that they started with a killer opening track but then went on to attempt to repeat it with every other track sounding like a poor replica of the opener. One tone, one speed and one basic good idea. I would buy a single but not an album.
Crystal Injection
Wonderful stuff. The most genuinely EXCITING new band I have seen at the Arts Centre for quite some time. They hit the stage – and hit is the operative word – with a blistering opener that raced on at eight million miles an hour and had all the anger and venom of a Rotweiller stung by a wasp. Never let up from the first note and despite ending in acute chaos they were very, very watchable. Reminded ,e of The Mary Chain meets Tamworth's own Birdland and left most of the audience open-mouthed. Nice one boys.
Emma Gibbs Loves Badges
Drummer Jim's last show – and what a way to bow out. What we have here is a pure pop band of immeasurable quality who have a real understanding of BEAT but retain their post-pink sensibilities as well. It's dance music with a cutting edge, suitable for practically everybody's ears and sounding for all the world like a band who know their time (and sound) has come. Strangely it still harked back occasionally to the Aztec Camera comparisons of old but this sounds far more relevant in 1990 than Roddy Frame does unfortunately. It'[s been a long time coming but they have finally arrived at the very top of the First Division. Dance, dance, dance, dance to the radio.
All reviews by Sam Holliday.
11/11/90
Those Americans
Knucklebones
The Rathole
15/11/90
Bob
Born Blind
The Great Divide
The Rathole
16/11/90
Beach Party
Pig in Shades
New Puritans
Chemikill
Tamworth Arts Centre
Tamworth Herald – 16/11/90


Musicbox – Shady Business
Tamworth Arts Centre stage a unique 'beach party' tonight (Friday).
The concert starring the all new Pig in Shades featured on our right is part of the Tamworth Borough Council Tamworth Tasters' package aiming to introduce the local populace to local art.
Pig In Shades are regarded as an exciting new band who proudly boast that they are trying to 'put the spectacle back into live music'. It costs £1.50 to get in and you are actively encouraged to wear beach wear, support will be provided by The New Puritans and Chemikill.
Tamworth Herald – 16/11/90
Musicbox – Permanent Ban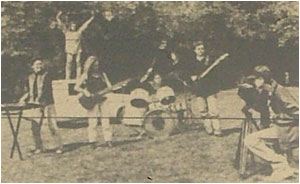 Banned in Yellow – one of Tamworth's brightest hopes for success – have surprisingly split up.
The shock split occurred just 24 hours before the band were due to play the prestigious Mean Fiddler in the presence of a host of record companies.
Lead singer and group founder member Graham Harwood said he no longer wanted to carry on with the project and as such the band were forced to cancel the Fiddler gig and then disband the group.
"To be honest, Graham was such an integral and important element within Banned in Yellow that without him there didn't seem to be any point in carrying on in that format." Said drummer Simon.
Banned in Yellow were originally formed as Rape in Yellow several years ago. I first became aware of them when I received their amazing 'Going Green' demo though my letterbox and I went on to declare it to be one of the best debut demos I had ever heard. By their own admission they never initially reached the same heights on stage as they did in the studio but in the past 12 months since they became Banned in Yellow and employed new musicians, new ideas and a new dance-sense their credibility improved enormously.
From the start of the year there had been mutterings that they had discovered something special and they proved it in dramatic fashion with an outstanding show at possibly the gig of the year alongside Catch 23 and The New Puritans at the mean Fiddler early in 1990. Since then their following has grown steadily as has the record company interest in them with Simon confirming that Rough Trade for example were within touching distance of signing them on a contract.
Now, however with fame really beckoning, Graham has left. Lee Partlow has decided to spend his time building up his shop and Banned in Yellow are no more.
"It is all very sad because we really felt we were close to something big," said Simon. "Ian, Dave and myself are carrying on but it will have to be with a new name, a new identity and a new crop of songs, banned in Yellow are finished."
MUSICBOX finds this all very sad indeed. Banned in Yellow had proven that if a band is talented and patient enough to wait for their time, the goods finally will arrive but now they appear to have waved goodbye to the chance of national success. They go however with the certain knowledge that they won't be forgotten by a host of local music fans and they leave behind them a legacy of a couple of cracking demos and several memorable live shows.
Gone but not forgotten, We will miss you Yellow-ones.
Sam Holliday
The three remaining members Ian, Dave and Simon are keen to hear from any musicians wanting to form a totally new band.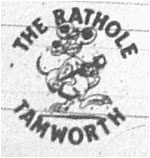 Tamworth Herald – 16/11/90
Musicbox – A fine Rathole collection
The Rathole stages two key concerts this week featuring both modern Indie music and a major rock line-up including one band described as a cross between Guns 'n' Roses and U2.
First of all, on Sunday night we see the Indie team-up of Langfield Crane and the Jain Faith and then on Thursday night is the time for the rock fans to pile into the Rathole for the team-up of Ark, the spirited Babyface and The Quest.
Thursday – Ark/Quest/Babyface
One for rock fans this one, headlined by the increasingly popular Ark who have now moved into waters populated by Guns N Roses and U2. Already a big cult band across Europe, Ark have moved into a more heavy sphere in recent months and now play music which attracts a very wide rock-loving audience. Their frontsman (and they are excellent visually) is described intriguingly as being a mix between Julian Cope and Peter Gabriel and they are certainly a band to watch. Babyface meanwhile recently played an excellent performance in support to Wolfsbane at the Rathole and their glammy style rock tickles many fancies while Quest are another popular and well respected Midlands rock outfit. A good combo for anybody's Thursday night.
The Rathole is planning a 'busker's night' which offers local musicians a chance to get up on stage and jam with a guitar for 20 minutes a time. Regular buskers and individuals from local bands wanting solo expression are urged to ring Neil.
Tamworth Herald – 16/11/90
Musicbox – A Soulful series of smiles
Soul and Motown night, The Old Liberal house, Amington Liberal Club
WHAT a refreshing change!
From start to finish tonight's music was wonderful.
Anyone sick to death of run-of-the-mill heavy metal, Indie pop, regressive punk rock imitations could not fail to be excited by the sound.
Although I didn't know most of the titles or artists of the records played, each one sounded like a classic.
A great night with great music and great dancing. I'll be there at the next one, November 22nd, 8pm.
EDWARD IAN ARMCHAIR
Tamworth Herald – 16/11/90
Musicbox – A mixed and interesting collection
Phoenix Review: Vesuvius, Jump the Gun, Naked Touch and Empire Falls, Arts Centre
STARTING the night, Vesuvius appeared and immediately failed to make any impact. Lacking confidence and stage presence, their music was hidden by an over-indulgent lead guitarist.
The band fought to keep a constant rhythm but any material worth listening to was obscured.
If this band concentrated on the levels of sound and decided on what to keep and what to drop, perhaps they would be somewhat better. Brownie points for the saxophonist – let him be heard!
Jump The Gun were on next and doesn't practice make a difference. Confident and happy with their music, they proceeded to deliver a very tight and professional set which appeared to go down very well with the audience.
It's nice to know Tamworth can get a band of this calibre to play the Arts Centre.
The use of a Chapman Stick added something extra to an interesting band – let's see more of this. On next, The Naked Touch – what can I say? A heavier style of funk than Jump The Gun, they produced a competent but uninspired set. Sadly misplaced energy, they were merely tolerated by the audience and lacked impact.
The final act of the night, Empire Falls found themselves playing to the wrong crowd and their powerful set was wasted, with a frontman who actually knows what a stage is for, they appeared set on providing a real show.
A strong thrash/funk style means that this is music to kill you. See them at your peril.
All in all a varied and interesting night that provided some real entertainment – bands to watch. Jump The Gun and Empire Falls.
Review by David Mitchell
Tamworth Herald – 16/11/90
Musicbox – Snips


MUSICBOX has this week said goodbye to it's esteemed Deputy Editor. For Martin Warrillow has left the Tamworth Herald to become the Sports Editor of the Sutton Observer ending four years in the deputy hot-spot for this distinctly metallic music-nut.
Martin, a krazed fan of Kraze, a devoted Wolfie fanatic and a Rikk Quay groupie, will still be living in Tamworth and contributing to this column on occasions but as he no longer resides in this office don't send your fan mail or hate mail here for him anymore! Thanks for everything Martin and Rock On Sutton!
Tamworth Herald – 16/11/90
Musicbox – Snips
A new Indie band featuring ex-DHSS men Adam and Martin and former Herb Garden dweller Daz Thurman are looking ro support local bands in Tamworth or beyond.
Tamworth Herald – 16/11/90
Musicbox – Snips
Good news for bands wanting to play out of Town. Former Shellshock guitarist Graham has wormed his way into the Students Union at a college near Manchester and he is now trying to book Tamworth bands to play there. Well done Graham! If you fancy a paid bash out of Tamworth ring Graham.
Tamworth Herald – 16/11/90
Musicbox – Snips
A brand new Indie group are on the lookout for a bass player.
22/11/90
Ark
Quest
Babyface
The Rathole
Tamworth Herald – 23/11/90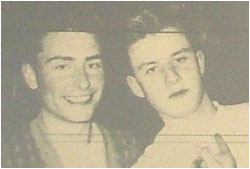 Musicbox – Get those votes in now!
MUSICBOX is this week happy once again to launch our annual test of local music taste and opinion. Yes folks, it's MUSICBOX poll time when you, the readers, can tell us, the writers, just how out of touch and how out to lunch we really are.
The poll, seen by musicians and rock fans alike as the definitive annual guide to who likes what in this music mad area always brings in hundreds of votes and always brings in surprises.
It is your only real chance all ear to give us an indication of what really turns your ears on and to help us to formulate what sort of coverage we can give to bands next year.
As usual, we are looking to find your favourite singles, albums and bands of the year but as MUSICBOX is predominantly the clear voice of LOCAL music, it is your views on the local scene that really intrigue us.
Once again we are looking for your top three local bands in descending order as well as your favourite song by a local group. 'Local' incidentally applies to any band who regard the Tamworth or Atherstone area as their natural musical home and thus world statesman of the likes of Wolfsbane, Birdland and Edwinn Starr do quality here.
So who is going to grab the local award? Well obviously Wolfsbane start off as red hot favourites after another cracking year. Their latest mini-album 'Kathy Wilson' fulfilled all their promise and could be in line to follow 'Live Fast, Die Fast' which was voted as the MUSICBOX album of 1989. Gigwise, Wolfsbane have played some brilliant Tamworth shows this year as well as earning mass acclaim for a 20 date tour supporting Iron Maiden. Paint the Town Red Hot Favourites.
Last year's winners Catch 23 have had a relatively quiet public year by their standards but their popularity and durability has continued to impress. They have saved their gigging to one or two key, exciting events while they worked hard at demo-ing new material to try and attract serious interest. They have now done so and a repeat victory in the 1990 poll would send them into an undeniably triumphant 1991 with a broad smile.
The next favourites for glory must be either The Yogots or Spiral Eye both of whom have had outstanding years. Magic Ear's determined and dedicated management has set both bands up very nicely in the public eye with the Spirals grabbing a highly deserved record contract and the Yogots attracting a huge amount of genuine national record company interest. For either band to win the 1990 poll would delight us all hear at MUSICBOX.
Elsewhere, Emma Gibbs have had a cracking year. Now that their musical time has come, so has the real interest and the support and there has probably never been a better time for those who have invested faith and belief in Lee Revelle Plc. Other biggies bound to make an impact are the New Puritans (a great year for a great band), Banned In Yellow (split up but still worth recognising for their admirable work this term) and Dance Stance, who have gigged far more extensively this year and produced a cracking show at Festival 90.
In addition you should never rule out Bash Out The Odd who despite many problems with line-ups, remain a first class high entertainment act.
Furthermore, any serious poll-voter cannot ignore the sheer might of Scream (they have gone a bit quiet of late amidst rumours of splits but they have had a wonderful year again). Chemikill who really came of age in 1990 with a blistering Festival set as the highlight and Eight Ball Joe who are now firmly established as genuine crowdpleasers.
And then there are the relatively new groups – the bands after all that keep the scene alive and kicking. Among those that have impressed this year in the 'new' stakes are bands such as the majestic Vindaloo Breakfast (a confirmed Holliday rave), Sindy' Sonic Garden, Shakespeare's Monkey (have I spelt that wrong again?), Fly On Wall and Rhythm Damage the latter of whom who have made a dramatic impact on the year's musical scene. There are many more old and new bands of course and you may also feel inclined to vote for a couple of bands who have split this year but still impressed before they went like Fetch Eddie, Kraze, DHSS and The First Conspiracy. In fact it is entirely up to you to decide who gets your local 1-2-3 and thus then grabs the MUSICBOX headlines when the poll results are announced. So pick your favourite records, bands and local songs and let us know NOW!
Don't forget, despite anything the musicians tell you, they ALL read the results of this very closely indeed and they are all considerably boosted if they have won your faith and your votes. Don't hand about, vote now and make your favourite local musos smile!!!
Tamworth Herald – 23/11/90
Musicbox – How WE would vote in 1990
Just a straw poll pf the Box scribes and their views…

(Musicbox Editor)
Local Band
1. Wolfsbane
2. Catch 23
3. New Puritans/Spiral Eye
Local Song
1. 'I Wanted To' – Catch 23
LP of the Year
1. 'Ten' – The Stranglers
Single of the Year
1. 'So Hard' – Pet Shop Boys
National Band – The Stranglers
Mike Turner
(Editor Herald Extra Entertainment Page)
Local Band
1. The Yogots
2. Spiral Eye
3. Emma Gibbs Loves Badges
Local Song
1. 'Assured' – Emma Gibbs Loves Badges
LP of the Year
1. 'Enlightenment' – Van Morrison
Single of the Year
1. Won't Stop Loving You – ACR
National Band – Prefab Sprout
Sean Atkins
(Box scribe and Vice Chairman, Tamworth Rock Festival)
Local Band
1. Wolfsbane
2. Catch 23
3. Emma Gibbs Loves Badges
Local Song
1. 'Pride and Joy' – Catch 23
LP of the Year
1. 'Kathy Wilson' – Wolfsbane
Single of the Year
1. 'Patience' – Emma Gibbs
National Band – The Alarm
Tamworth Herald – 23/11/90
Musicbox – Snips
Pop and rock bands are being sought by Atherstone Pool for special discos held there on Tuesday night.
The Pool is looking for bands to supplement the discos and if you fancy trying out a new audience…
Tamworth Herald – 23/11/90
Musicbox – Snips
This week's Rathole fare features two bands of whom MUSICBOX knows not a lot. They are The Becketts and Basinger and entry costs £1.50.
Tamworth Herald – 23/11/90
Musicbox – Snips
Wolfsbane have announced that they will play a unique Christmas show at the Rathole on December 27. This, the ultimate Tamworth Christmas Party, will be a special night for many reasons not least because the band will preview EXCLUSIVELY new material from their forthcoming third album. The gig will be strictly all ticket and they are available nowish from Wolfsbane, The Rathole, Inner Sleeve or Feedback Music. Support will be from Suicide Blonde and Harlan The Jester. An unmissable Christmas Treat!
Tamworth Herald – 23/11/90
Musicbox – Snips
Among bands currently recording for future single releases are Rhythm Damage and The Yogots.
Tamworth Herald – 23/11/90
Musicbox – Snips
Following on from last week's story of the Banned In Yellow split, it is rumoured the band may play one final show in Tamworth in the next couple of months.
Watch this space.
25/11/90
The Becketts
Basinger
The Rathole
Tamworth Herald – 30/11/90
Musicbox – Demo dazzlers!
Local demo special by Sean Atkins
MUSICBOX is pleased to say that Sean 'Two Coleslaws' Atkins is back from his nine week 'rest' on a journalism course in Portsmouth and he is now eager to get back into the swing of reviewing again. As a result his 'demo review column' is now open for business again so if you have recently recorded a demo and want it reviewed send it to Sean Atkins, Musicbox, Tamworth Herald, 10 Aldergate, Tamworth, Staff. All the reviews are rated out of FIVE stars and Sean kicks off here with the best of the three he has spotlighted this week – Shock Culture…
Shock Culture – Dixieland ****
No surprises here I'm pleased to say. These four tracks from Shock Culture are of a quality I've come to expect from them. They've come a long way since their first few gigs when their set included more than a few covers. These days Shock Culture are writing and performing some brilliant songs, and this tape confirms that they are now one of the Town's very best bands.
The music on the demo is bright and catchy without being throwaway pop, and it is unashamedly enjoyable. The tracks are 'Ripped Off Sold Out', 'The Master', 'Six Ways (To Your Heart)' and 'Love Story For Today'. I wouldn't like to list them in order of preference because they're all so good, but 'The Master' is about the best of a good lot.
What makes this tape so encouraging is that 'Shock Culture' already have a number of other good tracks. 'Dixieland' is not the greatest hits of a hit-and-miss set but a sample of the work of a band which must have a great future.
Naked Touch – Head Above The Crowd**
You may be pleased/upset/confused to hear that The Naked Touch will never make a other tape or play another concert. The reason for this is that, in a shrewd marketing decision, they have dropped the 'The' from the name of the band. Clever, eh? Well, not really. The cunning change of name if not enough to disguise the fact that this is still the same band,
It is still the legendary Mike Fleming and the boys and the music certainly doesn't seem to have moved on at all. This is of course, a good thing if you were already a fan of their outdated version of rock. But the three tracks on offer didn't win me over.
To be fair to the band, you could not really criticise the musicians on the tape nor the voice of singer Gary Brown. One track 'Teardrops Stare' does come over very well. But the style and the songs seem very tired and out of place in the 1990s. I'm sure this won't deter them though and I bet they'll return with another demo and their name reduced further to 'Touch'.
Curious Oyster – Fainting in Coils***
Well, this is certainly different. There are four titled pieces of music on this tape but I would hesitate to call them songs. The tracks have the surreal titles 'Pulses', 'The Blow Bug', 'Cloudscapes' and 'Water Nymphs', and the music is just as extraordinary.
No one track stands out because they are all so similar. This is not a criticism because I expect this would work well on an album with the emphasis on continuity and arty concepts. There definitely isn't any single material here.
Comparisons are difficult because Curious Oyster are so different, although I would say they are most like the Sugarcubes. Having seen them get a less than enthusiastic reception at the Arts Centre I can now appreciate why. The music is haunting and atmospheric, and far too fragile to be presented to a crowd of people. Curious Oyster definitely appear to be more at home in a recording studio.
Sean Atkins
Tamworth Herald – 30/11/90
Musicbox – three to make you smile!
Tamworth Arts Centre and The Rathole will be competing for your attention this week with three fine looking shows to choose from.
Sunday night offers two good strong alternative/Indie/pop line-ups and then on Thursday it is a very big night at the Rathole when the doors are opened to welcome the powerful Telesopes in a much vaunted show.
Here are more details of what to expect this week, so take your pick and plan your night(s) out…
SUNDAY NIGHT
Tamworth Arts Centre – Litany of Fear/The Ancestry and The Sherbert Trees
The Rathole – The Australians/Honeyjump
THURSDAY NIGHT
The Rathole – The Telescopes/Slow Drive/The Big Trip
That's the line-up in general then, here are the previews in a wee bit more details for those who may not know much about who or what is on offer…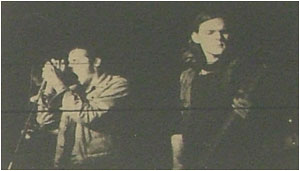 Litany of Fear/The Ancestry/Sherbert Trees – Tamworth Arts Centre
A rip-roaring line-up this, one which combines some fine local talent with some splendid out-of-town music. Litany of Fear and The Ancestry are kindred spirits who will be in action on Sunday as the first part of a series of link-ups between the bands in future months. Litany of Fear you know all about, a talented and powerful band from the alternative/neo-gothic frame of mind while The Ancestry are a three piece alternative group influenced by the likes of Ghost Dance and Siouxsie and the Banshees. It is hoped that the two bands will be on a major national tour together very soon and this will be the first chance for Tamworth fans to see them on the same stage. The Sherbert Trees meanwhile make a relatively rare Tamworth appearance as well bringing their unique charm to the proceedings and making it a very strong line-up for you all to enjoy. Tamworth Arts Centre, Sunday.
The Australians/Honeyjump – The Rathole (Sunday)
Another good line-up this one, which will appeal to those who like good modern pop and good dance music. The Australians are headlining and this will be their second visit to Tamworth following a hugely successful bash at Night Moves in April. The band are influenced by the likes of James, The Waltones and The Inspiral Carpets and they have the distinction of having their first single produced by James. Heavily praised in the national press they are big news – and getting bigger. Honeyjump represent the more sophisticated side of modern dance/pop and their intelligent sounds have already won over a lot of followers both here in Tamworth and beyond. They should prove to be a strong compliment to the Aussies and another good night is assured. The Rathole, Sunday, 8pm, £1.50.
The Telescopes/Slow Dive/The Big Trip – The Rathole (Thursday)
One of the highlights of the Rathole's Autmn programme! The Telescopes are a band who Neil Marklew has been raving about for ages and they are considered one of the biggest acts to hit the venue yet. The band, who play on the legendary Creation records, have a tremendous tracklist already including single of the week accolades in both Sounds and Melody Maker and a debut album which earned praise such as 'a sensuous debut' (Sounds) and 'full of sparkling gems' (NME). Livewise, the band have been heavily praised throughout their brief but busy career and among the influences that have been spotted by hacks are The Mary Chain, Spaceman 3, Loop and more. Sounds groovy. Support comes from The Big Trip (a confirmed Tamworth favourite) and Slow Dive who have the distinction of having the name of one of the best Banshees songs ever. A big night and a good one too and all that for a trifling £2 on Thursday night.