Tamworth Bands History : 1990 :
December
02/12/90
Litany of Fear
The Ancestry
The Sherbert Trees
Tamworth Arts Centre
02/12/90
The Australians
Honeyjump
The Rathole
06/12/90
The Telescopes
Slow Drive
The Big Trip
The Rathole
Tamworth Herald – 07/12/90
Musicbox – Salute the Golden Oldies!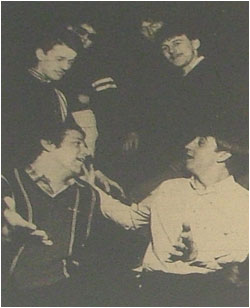 TWO of the greatest bands ever to come out of the Tamworth music scene reunite on Sunday for a nostalgic charity event.
The trail-blazing Dream Factory will team up with the sweet popsters of Love On Board to provide a musical tour-de-force which should make for a very special Rathole event indeed.
It had originally been hoped that both The Classified Ads and Sitting Pretty might be able to join them, but this isn't possible at the moment although there are already plans for 'Golden Oldies II' in the New Year.
The idea for a 'best of the 80s' event has been circulating for some time, and now it is finally happening it looks set to capture a potentially huge audience – especially as all the profits will go to heart charities.
Topping the bill will of course be The Dream Factory. For those who don't know, The Dream Factory can, I feel, be regarded as the most important band in the early genesis of this blooming music scene. Inspired by music-mad Mark Mortimer, they built up a huge following for their Sixties inspired Jan-style pop, releasing two singles, playing exactly 100 gigs and earning national as well as regional press acclaim. They directly inspired groups such as Dance Stance and Catch 23 and they practically made the MUSICBOX poll their own for a number of years. Over those years, the band went through a number of line-ups, a fact reflected by them having no less than ELEVEN musicians involved on the Factory stage on Sunday. They are; Mark Mortimer (Original member bass), Tim Goode (original member, vocals), Lloyd Barnett (original member , guitar and broken leg!), Dave Stevenson (guitar), 'Batman' (drums), Andy Codling (alto sax), Paul Scragg (tenor sax), Paul Stansfield (trombone), Neil Gledhill (alto and bass sax), Martin Cooper (trumpet) and Mark Allison (trumpet). We are promised goldies like 'Wine and Roses' and from the feedback I am getting we are also promised a pretty huge attendance. Many people loved The Dream Factory and I am sure many more will turn up on Sunday to see why…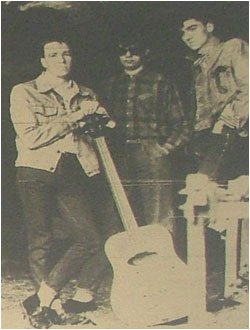 Teaming up with them are one of the best pop bands ever produced – Love On Board. The group generally agreed to be YEARS ahead of their time were inspired by Orange Juice and appeared in the early 80s at a time when the national music scene was fighting to find it's new direction in the wake of punk. Their impressive lovable pop is exactly the sort that the likes of Fetch Eddie and Emma Gibbs popularised later and individual members – Nick Reed (Dance Stance), Glen 'Fireburner' Lewis (Honeyjump) and Neil Jones – cannot be understated. Drumming for them on the night will be long term fan Nig Horton and all the indications are that this will be another night of nostalgic magic.
All told, a gig that can't be recommended highly enough.
A great night and just £1.50 with all the profits going to heart research. Get to the Rathole and miss it not.
Tamworth Herald – 07/12/90
Musicbox – Jingle Bells for Wolfsbane
I caught up with a couple of the Wolfies last week in the Tavern in the Town (I was the only one in there preaching against the evils of alcohol of course) and they informed me that they were in the middle of writing a jingle for the Steve Wright show on Radio One.
As Box readers will remember, Steve Wright took the band to his heart and allowed them to be the only heavy metal band ever to play live on the Radio One Roadshow. He also asked them to record a jingle and lo and behold that is what they were up to in the Expresso Bongo studio last week. On a more serious note, material from the new album is apparently sounding pretty fab. Don't forget you can hear exclusive previews of some of that material at the Wolfsbane Christmas Party on December 27 at the Rathole. Tickets available now.
Tamworth Herald – 07/12/90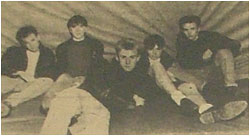 Musicbox – One Poll major won't win!
THERE is still bags of time left for you, the MUSICBOX reader, to decide who will be the MUSICBOX Band of the Year for 1990.
Yes, the annual poll is really starting to hot up and with each poll form the leaderboard is changing. As expected the biggies like Wolfsbane, The Yogots, Spiral Eye and Catch 23 are all doing well but they are certainly not having it all their own way and the contest is opening up nicely.
Entering the poll simply couldn't be easier. Just fill in the various sections on the form, add your name and address on the bottom and either post it to us at MUSICBOX or slip it through the Herald's door and your valued vote will be registered in the annual poll.
Previous winners of the poll like The Dream Factory, Dance Stance, DHSS and Catch 23 will all bear witness to the little glow it gives them to know they are Tamworth and Atherstone's fave-raves so if you want to see your local popster glow, then vote now.
You know what to do, you know who you like, so GET VOTING. It's all the more exciting, more unpredictable and far more important than that minor (or should that be Major?) skirmish in Downing Street last week, so get involved.
Tamworth Herald – 07/12/90
Musicbox – Snips
The winners of our recent Emma Gibbs and Rhythm Damage competitions were Hester Trivent from Ratcliffe Culey and my good friend Emma Storer from Gillway. Emma is a committed Tamworth F.C., Steve Webster and Licquorish Allsorts fan and as they are three things that I like as well she simply had to win didn't she?
Tamworth Herald – 07/12/90
Musicbox – Snips
Eddie Madden, the former Terroah man is looking for a bassist and keyboard player to join him in a new band influenced by the likes of Cream, Jimi Hendrix and The Stones.
Tamworth Herald – 07/12/90
Musicbox – Snips
Rhythm Damage are currently making a major impact on the nations airwaves. Radio One? Radio WM? Radio Four perhaps? No, it is the pirate radio station Starlight FM who have found a liking for the band's 'liberate and Desecrate' single and are pumping it out saying that the band are a bunch of 'Tamworth Massives' (whatever that means!). Gigwise the band look set for their first big major out of Town test in January with a show in Manchester. More facts when we get them.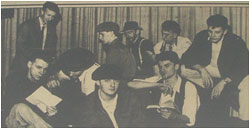 Tamworth Herald – 07/12/90
Musicbox – Snips
Dance Stance are desperately seeking a new keyboard player. The band, who are currently recording a new set of songs in advance of a major tour in 1991, seek someone committed and talented.
09/12/90
The Dream Factory
Love On Board
The Rathole
Tamworth Herald – 14/12/90
Musicbox – What a week!
Tamworth's music lovers are set for a real Christmas treat this week with no less than FOUR major concerts on offer.
Everyone from firm favourites like The Yogots and Rhythm Damage to the all-new Foundation and the revamped Scream Dream will be in action this week in easily the busiest week since the Festival.
In a nutshell here is what is happening, where and when…
SUNDAY NIGHT
Tamworth Arts Centre
The Foundation/Empire Falls plus Special Guests.
The Rathole
Scream Dream plus Guests
TUESDAY NIGHT
The Jolly Sailor
The Yogots/Crystal Injection/The Sherbert Trees/Fly on the Wall
THURSDAY NIGHT
The Rathole
Rhythm Damage/Catch 23/Emma Gibbs Loves Badges/Vindaloo Breakfast/Big Noise/Guilty Party/Sindy's Sonic Garden
Here in a bit more detail is what you can expect to see on the various nights, so take your pick of the shows on offer and get your dancing boots on.
Sunday – The Arts Centre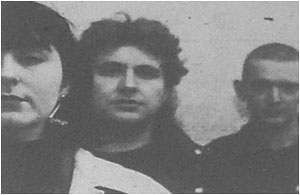 The Foundation/Empire Falls and guests.
A very major show this one because The Foundation are three-quarters of the classic 1989 DHSS line-up. Messrs. Edward ian Armchair, John Reeman and Anice McNamee have regrouped after several months apart and are now looking forward to taking the world on once again. Despite their much-publicised rift a few months ago the respect between the three has never diminished and according to John Reeman what they have now is something new, fresh and exciting.
"It will hardly be recognisable for DHSS fans because it is altogether a new sound with new ideas. We are very pleased with the sound and the songs and we are looking forward to the show."
Support will arrive from as yet unspecified special guests and the very specified Empire Falls who are hot news indeed. Powerful guitars. Stranglerish keyboards and a very attractive post-punk pop sound are on offer so get along and see for yourself. A good night indeed.
Sunday – The Rathole
Scream Dream
The return of the screaming ones complete with their wonderful collection of songs, their and their all together good eggish reputation. Support act is unclear at the mo, but a good night is certain.
Tuesday – The Jolly Sailor

The Yogots/Crystal Injection/The Sherbert Trees/Fly On The Wall
A big night for the Yogites as this is the highly popular band's Christmas party! The Jolly Sailor is a suitably jolly venue to round off the very jolly year for The Yogots which has seen them support the New Fast Automatic Daffodils and the Senseless Things, cut a single and earn mass press acclaim. New songs are promised and a jolly night is assured. In support are the weird and wonderful Sherbert Trees, those likeable, those likeable noise-mongers from the Birdland and Mary Chain school called Crystal Injection and finally Fly On The Wall a fresh-faced pop band with plenty of quality. It kicks off at 7.30 and don't forget the venue – the Jolly Sailor.
Thursday – The Rathole
Rhythm Damage/Vindaloo Breakfast/Catch 23/Guilty Party/Emma Gibbs Loves Badges/Big Noise/Sindy's Sonic Garden
Some big names here on what should be a big night – with all proceeds going to the Rock Festival Fund. Catch 23 will be dropping in just to play three quick tracks from their new demo. Rhythm Damage will be cranking it up to ruin everyone's Christmas and The Guilty Partner will be shooting down from Manchester to razzle , dazzle 'em. In addition The Big Noise will be providing just that. Emma Gibbs will be laying on the sweet pop-tones and Sindy's Sonic Garden will be planting some splendid blooms. Completing a hectic crazee line-up will be the lovely Vindaloo Breakfast who will blast their way to more undoubted glory on a night brimming with noise and quality. The actual line-up won't be known until the night but all proceeds will go towards the Tamworth Rock festival fund.
Tamworth Herald – 14/12/90
Musicbox – Enjoy Your Feedback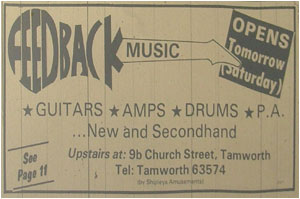 Former Banned In Yellow man, Lee Partlow, has gone into business with his own music store – and he's eager to help out local bands writes Sean Atkins.
The offer from the part-owner of Feedback, in Church Street, gives local musicians somewhere to sell tapes and other merchandise, publicise gigs, and get advice on instruments and equipment.
Because of his own experience in the brilliant Banned In Yellow and his six years working at Notes music shop, Lee knows what local bands are looking for and he hopes to provide a service that means Tamworth musicians don't need to go out of town.
"I am offering to sell merchandise in the shop, at no charge to the bands," he said.
"If bands want to give me their tapes I will play them in the shop and give them a plug. We will also have a notice board for band s to use."
He explained: "Having been in a band myself, I know what bands want, and I am ready to give advice and spend some time helping musicians get what they are looking for."
"We also have a soundproof booth at the shop so that people can try out an instrument without the embarrassment of people hearing you play it for the first time."
The shop is at 9B Church Street.
So a very busy time for Lee and his old band, Banned in Yellow will be leaving us something to remember them by. A tape of their most recent music is being put together as a conclusion to the project.
That will be something to look forward to for those of us whose only pleasure from music comes from listening to it, rather than playing it.
Tamworth Herald – 14/12/90
Musicbox – Situations Vacant
A psychobilly/rockabilly outfit are on the lookout for a new guitarist.
The All New Flower Experience require a young, enthusiastic vocalist/guitarist and punk flute player and/or keyboard player to complete the next generation. Must be into Deelite, the Happy Mondays and NOT Emma Gibbs.
16/12/90
The Foundation
Empire Falls
Tamworth Arts Centre
16/12/90
Scream Dream
The Rathole
18/12/90
The Yogots
Crystal Injection
The Sherbert Trees
Fly on the Wall
The Jolly Sailor
20/12/90
Rhythm Damage
Catch 23
Emma Gibbs Loves Badges
Vindaloo Breakfast
Big Noise
Guilty Party
Sindy's Sonic Garden
The Rathole
Tamworth Herald – 21/12/90
Musicbox – Christmas Joy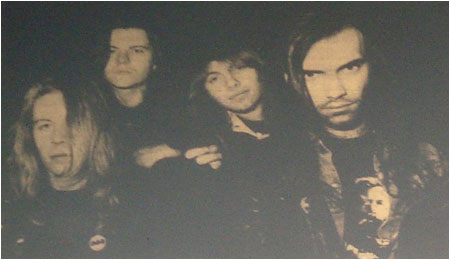 WOLFSBANE and Spiral Eye, two of the most important bands in the proud history of the Tamworth music scene, play their special parties this week writes Sam Holliday.
Spiral fans can catch their heroes at the Arts Centre tonight while Wolfsbane fans have only until Thursday night to wait before their favourite Metalmen play their Christmas Chaos gig at the Rathole.
Both nights promise to be mouth-watering celebrations of the Christmas spirit and with Wolfsbane already looking like being a sell-out this looks set to be a major Yuletide highlight for the majority of those who regard leather and studs as more important than tinsel and trees.
Here is info on both shows starting with the Wolfsbane event – which has been the talk of the town for some time.
THURSDAY DEC 27 – The Rathole
Wolfsbane/Suicide Blonde/Harlam the Jester
Already being touted as possibly the biggest FUN night of 1990, this will be Wolfsbane's wild and wacky end of year bash. It will be their first major concert since the Iron Maiden triumph, their first major showcase for some brand new material and their final way of thanking their local followers for their incredible loyalty.
FRIDAY DEC 21 – The Arts Centre
Spiral Eye/Nutmeg
Deviant dance trippers Spiral Eye round off the year with a show on hole ground before heading off in 1991 to begin recording their debut album.
The Spirals will be showcasing new material to supplement their timeless classics and a lengthy set is assured as it will be the band's final hometown show for many moons.
Joining the Spirals are another bunch of new age hippies – Colchester's Nutmeg. The band who are generally regarded as being excellent – will be on tour in the States in January so this is a fine coupling. With the possible added attraction of other special guests this £2.50 gig is a snip and should set you up for Christmas perfectly.
Tamworth Herald – 21/12/90
Musicbox – Impressive Foundations
Pondweed/Empire Falls/The Foundation
Tamworth Arts Centre
Pondweed
Pondweed are living proof that appearances can be deceptive. The reason I say that is that Pondweed look absolutely awful ( a bizarre mixture of boiler suits, beards, hippy garb and New Model Army t-shirts) but they manage to sound pretty good. They have two very impressive and intelligent vocalists, a stylish use of keyboards and samples and a couple of tunes that sat in the mind long after the band departed the stage. Despite the look (or maybe, perversely, because of it) they are immensely watchable and could I feel be quite a cult band in the next few months. Strange but strangely interesting.
Empire Falls
Devastating stuff! I was warned in advance by one or two people that I would like Empire Falls but they were wrong – I LOVED them! Blasting onstage with a ferocity and anger that has rarely been seen in these parts, the band went on to perform a blistering set of power-tunes which brought back happy memories of The Ruts, Killing Joke, The Clash and The Ramones. This was a vital, extraordinary power, unleashed and performed by three stylish looking hunks (my wife Carla was in a state of deep lust), who looked and sounded quite tremendous.
The Foundation
Wonderful! That is the only way to describe this excellent debut from The Foundation, a band who are living proof that in John 'Rocking' Reeman we have one of the finest songwriters this area has ever produced. For, in the past 12 months or so of stage-absence, our man Reeman has been producing some absolute gems to the extent that the Foundation's own crop of songs far outshine the two DHSS toons given a rehash on Sunday night There is still a lot of the old DHSS sensibilities in there of course, but John, Ed and Anice have injected the added ingredients of dance and pop so we now have a band that would be at home in any club you could wish to visit. At times the undisguised punk influence is supplemented by Pet Shop Boys relevance and as usual lyrics are every bit as interesting as the tunes in a way that so few local bands manage. Of the songs, I especially liked the dancey 'Paris', the charming 'Chime' and best of all the majestic 'Whispers' a song which is destined to be a minor/major classic in my books. It all finished in typical good-humoured fashion with a beaut of a track with the immortal hookline 'Never trust a hippy no-no, burn the hippy yeah-yeah' surely a new slogan for a new generation if ever I heard one.
SAM HOLLIDAY
Tamworth Herald – 21/12/90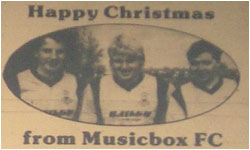 Musicbox – Happy Christmas from Musicbox FC
Have a wonderful festive time and here's hoping you don't get TOO many Ninja Turtles, Gazza posters and Rhythm Damage records in your Christmas stocking! Yuletide smiles from (l-r above) Mike 'Tickling-Stick' Turner, Sam 'Blondes Have More Fun' Holliday and Sean 'Biggles' Atkins.
Tamworth Herald – 21/12/90
Musicbox – Nostalgic Smiles
Love On Board/The Dream Factory – The Rathole
Love On Board – The Rathole
Two great new bands on here, both with a very promising future behind them! Love On Board and The Dream Factory might as well have been playing their first gig because I had never seen them. It's not quite that they split up before I was born but – while others remember these two acts with nostalgia – I grew up with bands like Wolfsbane, Catch 23, Emma Gibbs and DHSS as my Arts Centre favourites.
I soon realised what I could have been seeing on a Sunday night instead of doing my homework though. Love On Board are a great pop group with a great sense of fun. I don't know if they were always this relaxed on stage but they were certainly prepared to enjoy this charity gig. Musically, they sounded very good together considering it has been so long since they played and they performed a very enjoyable set by any standards. I'm afraid I couldn't name their best songs because I don't know what any of them are called, but the set definitely got better as it went on.
The Dream Factory – The Rathole
Despite the changes and the new bands in the Tamworth music scene. The Dream Factory remain a legend and they're a band I had always wanted to see. Dream factory fans are obviously a doddery old lot though and a disappointing number of them managed to venture out while there was so much snow on the ground. It was a shame there were so few people because it was a real treat to see The Dream Factory in action.
While others compare the old Dream Factory with later Mark Mortimer projects like Bash Out The Odd, I couldn't help making the comparison the other way around. It was a bit unfair to do so because – despite the involvement of Mortimer and the brass section in both projects – the bands are quite different. The Dream factory played an impressive set though, the highlight of which was 'Wine and Roses'. My only complaint is that their professionalism was so great that it made them take themselves a little too seriously at times on a night that I understand to be more for fun than anything else.
SEAN ATKINS
Tamworth Herald – 21/12/90
Musicbox – Soul Night
Thursday night sees another of the popular Northern Soul and Motown nights at the Old Liberal House in Amington. The event – which is by ticket only – will feature a host of good music and might feature a star spot from Polesworth's favourite son Edwinn Starr. Tickets are available from Rebel Records in Tamworth.
22/12/90
Spiral Eye
Nutmeg
Tamworth Arts Centre
24/12/90
Northern Soul and Motown Night
Old Liberal House
27/12/90
Wolfsbane
Suicide Blonde
Harlan the Jester
The Rathole
Tamworth Herald – 28/12/90
Musicbox – Dance Away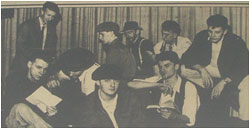 THREE top quality pop bands hit the Rathole on Sunday for a stylish dancey end to 1990.
Dance Stance, Honeyjump and Little Americans will team up together for the eve of New years Eve bonanza which should provide a calm and pleasant end to a turbulent year.
Dance Stance will headline the event to round off a year where they have regained their local live presence and produced many fine shows to boot. Recent personnel changes should make the band very interesting and the gig will be an important warm up to a planned major tour in the New Year.
Support will come from two well-established out of town acts. The Little Americans breeze in from Coventry with a big reputation while Honeyjump have their heart in Birmingham nut include popular Tamworth man Glen ' Rabbit-Hutch' Lewis. Honeyjump have already won over Tamworth audiences before and on a night like this they should shine.
Drivin' South are in action at the Cricketers Arms in Atherstone on Sunday night. The band who play a hard blues sound, feature Alan Cherry, Pete Riley, Simon Hayward and Terry Cooper and have already performed well at the venue a fortnight ago. A good night is assured so if you're in Atherstone on Sunday you know where to go.
Tamworth Herald – 28/12/90
Musicbox – Bags of smiles at festive shows
PRACTICALLY every local band worth is (or her) salt has been in action over the Festive period and here we try and catch up with two of the biggest shows on offer.
The first was the Jolly Sailor Yogots bash to which we dispatched Sean Atkins and the second was the Rathole Christmas Bonanza watched by both Mr. Atkins and Mr. Holliday. Here are our views on what we saw in no particular order…
Sindy's Sonic Garden – The Rathole
As extreme as Muslim fundamentalism and just as alien to my culture. I'm all for anti-pop but this was taking the form one step too far for my palate and it all ended up sounding like Sindy were merely testing and teasing the audience. The final track however was far superior to what preceeded it and in it's angry guitar-clash I saw the seeds of something all together more positive from the band. I dunno, maybe I'm just very old.
Sam Holliday
Fly On The Wall – Jolly Sailor
A young band with a very young audience. Fly On The Wall were well received by the packed function room at the Jolly Sailor. They seemed understandably, to be a little shaky but they still managed to impress and I did enjoy their songs. I look forward to seeing these chaps get better and better.
Sean Atkins
The Big Noise – The Rathole
It was a great Christmas treat to see The Big Noise back in action and making a bigger and better noise than ever. They've unplugged the drum machine and they now make their music with four very real musicians including new guitarist, talented ex-Conspiracy man Roger Moore, Ben 'Swan Lake' Machine was on good form, despite rumours that he had taken to watching the occasional ballet, and Carl Harris now aged 25, put in a good performance for a man of such advanced years, Highlights of an excellent set were the old fave 'Can't Help Myself' and a cover of 'Jumping Jack Flash'.
Sean Atkins
Emma Gibbs Loves Badges – The Rathole
The problem with a seven-band line-up is that whoever comes on seventh is usually left playing just to bar staff and the p.a. men. The fate looked set to befall Emma Gibbs when they hit the Rathole stage at a looney 1am but surprisingly and of great tribute to Emma, there was still a fair crop of people left and all were thoroughly entertained by what they saw. Frankly I thought the band were tremendous and for me they took the best band of the night award for a set which showed their modern relevance and their assured dance sensibility. More 'guitary' than usual and hence somewhat powerful, Emma Gibbs peaked with a tingling version of 'Patience' but that was just one major highlight in a set of substance and quality. A fine way to end what has been an excellent year for the band and all credit to the insomniacs, dropouts and blitzed types who stayed the long and winding road.
Sam Holliday
Sherbert Trees – Jolly Sailor
Not my favourite band, I must admit. They are good at what they do but the over-indulgent instrumentals didn't really capture my imagination and I found myself losing interest. Unfortunately, the set didn't get much better as it went on – maybe they should have covered a few classic Christmas songs to liven it up.
Sean Atkins
Catch 23 – The Rathole
Not a full set by any standards but a first chance to see the very different new material from Atherstone superstars-in-waiting. With help from Damage Control, Catch 23 have become the local music scene's equivalent to EMF and it is definitely the best music they have ever produced. Now wearing baseball caps and making use of samples, the band have abandoned the move to polished pop songs and are now making more raw, dancy music. 1990 should have been Catch 23's year anyway. If 1991 isn't I'll eat my baseball cap.
Vindaloo Breakfast – The Rathole
A cracking set from a cracking band. Vindaloo Breakfast have never disappointed me live and they certainly weren't about to start in this Christmas Rathole feast. Hitting the stage with the now customary mixture of guitars, sneers and belligerence, they went on to produce an electrifying if rather short set which showed that 1991 could well be their year. A band who I adore because they have the same Strummeresque influences as I have but they have managed to adapt them to the 90s which I haven't. Spiffing.
Sam Holliday
Crystal Injection – Jolly Sailor
Definitely a band who enjoy making plenty of noise. Their loud guitar music wandered aimlessly somewhere between punk and metal, but it made a refreshing change to indie pop. Although not particularly original, it was still done well and Crystal Injection are a band I certainly want to see again in91.
Sean Atkins
Guilty Party – The Rathole
Rhythm Damage – The Rathole
Despite spending a lot of time damaging Catch 23's rhythm recently, the busy trio have also been expanding their own vulgar but brilliant set. The new tracks sat well with 'songs' such as 'Taste the Rod', 'Twisted Mind', and 'N-R-Gyze' from the quite-well-selling Rhythm Damage single although there were the usual technical problems. During the breakdown Rikk 'Scrooge' Quay gave us his controversial views about the festive season.
Sean Atkins
The Yogots – Jolly Sailor
Despite the patchy quality of the other three bands at the Sailor I knew The Yogots wouldn't disappoint. They put in a great performance which included all the faves such as 'Mr. Rainbow', 'Don't Shout Taxi', 'She's Gone', plus one or two new tracks. 1990 has been a good year for the Yogs, hopefully they're in for a prosperous New Year as well.
Sean Atkins
Tamworth Herald – 28/12/90
Musicbox – Wanted
A guitarist/singer who can also turn his hand to keyboards is on the lookout for a new rock band. Dave who is influenced by the likes of Def Leppard, Whitesnake and Bryan Adams will be interested to hear from any similar musicians.
Tamworth Herald – 28/12/90
Musicbox – Kerrang Kings!


Wolfsbane have been given a very major boost by the highly-influential metal magazine Kerrang!
The magazine, generally regarded as being the most important organ in the metal world (ooo-errr!) chose Wolfsbane's marvellous 'Kathy Wilson' album as the second best LP of they year beating many very famous other elpees by the leather and studs brigade.
In addition to this proud record, Wolfsbane were chosen as the best new band by our very own Bob Catley of Magnum (nice one Bob!), and the best band of the year by an Iron Maiden member who also chose Bayley as the joint best singer of 1990 and 'Kathy Wilson' as the top album.
As you read this I have just closed the lid on the MUSICBOX poll and this time next week we will reveal what you think of Wolfsbane and indeed all our other local faves. It is fascinating stuff.
Wolfsbane have re-released 'I Like It Hot' as a single following Radio One's DJ Steve Wright's decision to play the record every day until it hits number one!
30/12/90
Drivin' South
Cricketers Arms
Atherstone
30/12/90
Dance Stance
Honeyjump
Little Americans
The Rathole
Tamworth Herald – 04/01/91
Musicbox – Wolf-it
WOLFSBANE, that fine, furry, feverish Fazeley foursome, have swept aside all comers to claim the title of the MUSICBOX band of the year.
In a landslide victory the Wolfies have not only taken the prized top local band award but also won the national band award AND both the single and album of the year accolades for the second year running. It is a marvellous result for the metalmen and proof positive that the affection you, the Tamworth music goer, has for them, the Tamworth trailblazers, has no bounds.
Amazingly perhaps this is the first time ever that Wolfsbane have won the top local band award. In the past they have been just pipped at the post by the likes of DHSS and Catch 23 but this year, despite at one stage trailing to The Yogots, they quickly took the lead and held it until the very end. What makes their result even more impressive, is that if you look at the rest of the choices in the singles, albums and so on, you will see that metal hasn't done particularly well. When it comes to Wolfsbane however, pop fans join with metal heads in appreciating the Bayley Boys appeal and as s result they have swept aside the rest.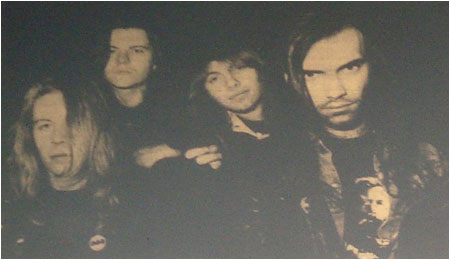 Just to summarise, the Wolfsbane achievement in the poll of 1990 – they won the best local band award for the first time ever, the best national band for the third year in succession and the best album (for 'Kathy Wilson') and the best single for 'I Like It Hot' with both of these record awards being for the second year running. Only in the best local songs were Wolfsbane denied the top slots but make no mistake this poll belongs to Jeff Hateley, Steve Danger, Blaze Bayley and Jase the Ace. A wonderful band comprising four lovely people and I for one am delighted they have at last earned your acclaim as the best local band because they have dominated the scene for so long now.
But, it wasn't ONLY Wolfsbane who deserve a smile this morning. The Yogots have deservedly taken the runners-up slot in the local band section for a magnificent year in which they have increased their support by enormous degrees and added a great deal of professionalism to their songwriting and for their attitude, Under the enthusiastic wing of the Magic Ear team The Yogots have really started to blaze a trail nationwide and 1991 augurs very well indeed for those five angelic popsters. Record companies watchout – the Yogots are coming with your mandate!
Third and fourth in our poll this year (and there was very little separating them in terms of votes) are Emma Gibbs and Spiral Eye. Both have had excellent years as well in which their profile both locally and nationally has increased greatly with Emma Gibbs hitting the singles trail to great effect and Spiral Eye proving themselves to be a live band with very few peers. Both firmly established now as local heroes as well. After all when you've got lead singers with the charisma and style of Lee Revelle and Barry Fix you can't go far wrong can you?
The highest new band in our poll this year are Vindaloo Breakfast, much to my delight. Clearly capturing the imagination of the musically enlightened (!) Vindaloo have swept into an impressive fifth in their first ever poll and it should give the chaps a big boost for the term to come. Eight Ball Joe grabbed the sixth slot as a worthy reward for their hard-working live record during the year and Catch 23 came in seventh slot, a slightly lower than usual position due to their low profile throughout the year. Hopes are very high that the band will be far from 'low profile' in '91 however and get set to see them in next year's Smash Hits poll as well!
Elsewhere in the poll's top 20 it is a nice mixture of the new and old. Of the newish bands Sindy's Sonic Garden, The Sherbert Trees, Shakespeare's Monkey and Crystal Injection have all caught your attention while Rhythm Damage have achieved a solid, respectable vote after a solid, unrespectable year. The New Puritans, The Big Noise and Chemikill also continue to hold a place in your affections and there will be much pleasure in the Banned in Yellow and First Conspiracy camps as the bands achieved top 20 slots even though they are now officially defunct.
In the national sphere of the poll, it is clear the whole dance/indie thing has caught Tamworth by the short and curlies. The Happy Mondays and the Beloved scored well throughout although amazingly perhaps there was not a single vote for the Stone Roses in any section. Other than that, the records chosen in the singles and LPs reflect very much what is going on nationally and I am enormously indebted to the handful who voted the last Stranglers LP into a mighty ninth.
So that's it, YOUR verdict on the music world circa 1990. What is clear is that you are immensely proud of Wolfsbane and their achievements and I think you have given the credit to the bands who have really worked at it this year – Spiral Eye, Emma Gibbs and Vindaloo Breakfast. The top five is about as reflective of locally popular taste as I can remember in my seven years of conducting this poll and I for one applaud YOUR choices this term.
Will these bands go on now to justify your choices or will the new pretenders to the throne unseat them by this time next year? Will impressive new bands like The Foundation and Fly On The Wall go on to take over from the big boys in the next 12 months or will we once again be cheering on the same heroes in 1991? There is only one way to find out – stick around and revel in 12 months more of local musical magic.
Sam Holliday
STOP PRESS
Just a line to say that this week's Rathole fare pairs popsters Jump The Gun with The Naked Touch, Sunday night, 8pm.
Tamworth Herald – 04/01/91
Musicbox – Local Band of 1990
1. Wolfsbane
2. The Yogots
3. Emma Gibbs
4. Spiral Eye
5. Vindaloo Breakfast
6. Eight Ball Joe
7. Catch 23
8. New Puritans
9. Sindy's Sonic Garden
10. Sherbert Trees
11. Rhythm Damage
12. Shakespeare's Monkey
13. The Big Noise
14. Banned in Yellow
15. Crystal injection
16. Cosmic Vibes
17. Chemikill
18. The Red Cardigans
19. Fly On The Wall
20. First Conspiracy

1. Wolfsbane
2. Happy Mondays
3. Wedding Present
4. Beautiful South
5. Deelite
6. The Shamen
7. Depeche Mode
8. UB40
9. The Pixies
10. Neds Atomic Dustbin
1. Assured – Emma Gibbs
2. Mr. Rainbow – The Yogots
3. Acid House Party – Vindaloo Breakfast
4. Badlands – Eight Ball Joe
5. Totally Nude – Wolfsbane
6. Hey Babe – Wolfsbane
7. 4x12 Groove Machine – Spiral Eye
8. Energize – Rhythm Damage
9. Patience – Emma Gibbs
10. Fatman – New Puritans
1. All Hell's Breaking Loose – Wolfsbane
2. Happiness – The Beloved
3. Pills N Thrills – Happy Mondays
4. Violator – Depeche Mode
5. Bossanova – The Pixies
6. Manic Nirvana – Robert Plant
7. Choke – Beautiful South
8. Some Friendly – The Charlatans
9. Ten – The Stranglers
10. Un-led-ed – Dread Zeppelin
1. I Like It Hot – Wolfsbane
2. There She Goes – The Las
3. Groove is the Heart – Dee Lite
4. Step On – Happy Mondays
5. Wicked Games – Chris Issacs
6. Assured/Patience – Emma Gibbs
7. Enjoy the Silence – Depeche Mode
8. Good Morning Britain – Aztec Camera/Mick Jones
9. So Hard – Pet Shop Boys
10. Three Babies – Sinead
Tamworth Herald – 04/01/91
Musicbox – Review in a nutshell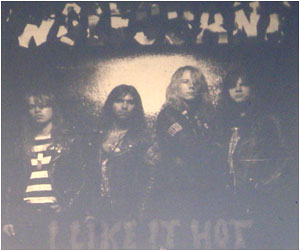 Wolfsbane – The Rathole
In front of the biggest and loudest Rathole crowd ever, the new MUSICBOX Band of the Year absolutely slayed them all with the wonderful Christmas bash.
The crowd itself was enough to leave you open mouthed in admiration. As well as a healthy crop of locals, the packed-to-bursting venue was swelled by people from Scotland, Wales, London and even in one heroic case Sweden, to make it a definitive Wolfsbane fan party. The noise those people made was almost as loud as what the boys produced and the atmosphere was SPINETINGLING.
It is very hard for me to say anything new about Wolfsbane any more because I have used up all the superlatives I know in the last six years. All I can say is that Wolfsbane have never sounded better than they do now and their set travels along a series of classic toons with a speed and style that makes even past highlights seem small. Oldies like 'Manhunt', 'Loco' and 'Killing Machine' sound as fresh and new as if they had been written yesterday and brand new tunes that probably WERE written yesterday like 'Cathode Ray Tube' and the magnificent 'Loveless' show the band to have depth and quality in their songwriting that augurs extremely well for the future. They looked as good as ever as well with Jeff in particularly chirpy mood and guest stars John Buckingham and Tim Latham adding a unique and exciting touch to the power sounds of offer. Wolfsbane have now realised all potential they have promised us for so long and all we can do now is sit and wait for their inevitable world domination. It could begin on January 20, when they join The Quireboys, Ozzy Osbourne and Magnum at Wembley Arena (ye WEMBLEY ARENA!) but, whatever happens Wolfsbane have ended 1990 as they began it – on top of the world and in a league all of their own.
Magic.
Sam Holliday
Spiral Eye – Arts Centre
Support act Nutmeg were so good, and so well received, that I thought there might be a danger of them upstaging headliners Spiral Eye. It didn't take long for the Spirals however to prove that they're only getting better and that the outcome of their forthcoming visit to the recording studio should really be something to look forward to in 1991. The set was a timely reminder of the brilliant collection of songs that Spiral Eye have produced and they didn't leave out any of their classic tracks. The night was a great way to kick off the seasonal celebrations and it meant a Merry Christmas and a Hippy New year for everyone.
Sean Atkins
Nutmeg – Arts Centre
The big Arts Centre crowd that greeted support act Nutmeg proved that a Friday night gig in Tamworth CAN work if the bands are right. Spiral Eye are one of the biggest crowd-pullers there is, and Colchester's Nutmeg also proved to be a band worth watching on any night. Their powerful music went down very well and they complimented our own Spiral Eye perfectly. Nutmeg's 70s style rock reminded me of The Cult more than anything else but that's mostly because of the fact that both seem heavily influenced by the decade. I for one look forward to seeing them at the Arts Centre again in the future.
Sean Atkins
Harlan The Jester/Suicide Blonde – The Rathole
These two support bands were of such quality that it made the Wolfsbane Party a good night all round and not just a good Wolfsbane concert. The Jesters made a great impact on the Rathole crowd (which was bigger at 7.30pm than it is for most bands at 10.30pm) and their Quireboys style music went down very well.
And Suicide Blonde? Well, it was a surprise to see such a non-metal band supporting Wolfsbane but it turned out to be a very pleasant surprise. Their powerful pop and very catchy tunes won over quite a few Wolfie fans and hopefully they'll be back in Tamworth playing to their own audience in the near future.
Sean Atkins
Tamworth Herald – 11/01/91
Musicbox – Bye-Bye to Sam's Box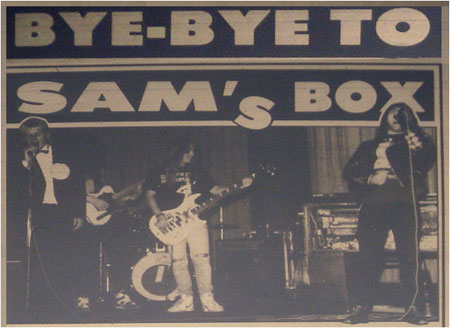 AND so we enter a New Year. A time for new resolutions, a time for new ambitions and a time for new dreams.
And, also a time for a new MUSICBOX Editor too. Yes, O'faithful MUSICBOX reader, I, James Samuel Strangler Holliday, have finally decided to knock it on the proverbial head. After nearly eight years of writing and editing this page I have decided to hand it over to a new (younger) man and let the 1991 column develop a new and exciting phase all of it's own.
As I have been your guide through the wonders of the Tamworth and Atherstone music scene for the past 389 weekly columns I hope you will now allow me the self-indulgence to look back at that period and at the same time explain why I am finally hanging up my leather jacketed pen and handing these hallowed columns over to someone else.
I first joined The Herald in July 1983 and within a week or so I had taken over the MUSICBOX desk. As the singer in an appalling punk rock band (The Classified Ads) I had already fallen in love with making and playing music and I saw in MUSICBOX a chance for the column to become the focal point of an emerging young local scene. At that time there was very little happening. There were barely six or seven local bands working but I decided to ignore what was happening nationally and concentrate solely on the local stuff in the hope that it would start to generate some interest with other would-be musos.
Slowly but surely it started to happen. Bands began to spring up from all around the Tamworth and Atherstone area and the old groups who had held sway over Tamworth for many years began to be outnumbered by raw young recruits who began to really get things buzzing. By the end of 1983 when I first launched my annual MUSICBOX poll, a scene was definitely 'happening' and in 1984 I tried to give the scene an annual focal point by setting up the Tamworth Rock Festival. The idea, which had been tried a couple of times before with limited success, was turned into something much bigger and better and at the inaugural meeting at the Tavern in the Town I was proposed as the first chairman of the all-new Festival committee by a loud, bearded chap called 'Blaze Bayley'. Such was his fame at the time that the following week in the Herald I called his band 'Wolftone'. That first two-day Festival – headlined by my old faves Sitting Pretty and The Dream Factory – was a massive success and it formed (I think) the basis of everything we call this 'scene'. It was the first time that bands of widely differing musical directions had come together with a single unified aim and I think it killed any of the usual rivalries to be found in music scenes. They still existed of course under the surface but for several days a year (in the organising and playing of the festival) groups of all shapes and sounds came together in a touching show of solidarity. It gave Tamworth a definable local music community and the success of the Rock Festival remains my proudest achievement as Editor of this column.
As the years moved on the scene got ever bigger and ever stronger. I felt it was time we got recognition for the bit we are doing for the Town and so I helped to get music accepted by the local 'establishment' with the Borough Council including us in their annual Arts Festival (via the controversial if fun 'Battle of the Bands') and by the council agreeing to help fund the Rock Festival. Now there is not a single Tamworth Borough Councillor who does not know of the Tamworth Rock festival and the presence of the Mayor at the last event shows there is now recognition from all quarters of the importance of local music.
As the 80s wore on, the bands kept piling in and great gigs became a regular rather than an occasional event. The opening of 'The Rathole' and the amazing charity work of Ian Gibbons kept Tamworth firmly on the musical map and towards the end of the decade we had seen big names like The Wonderstuff, Pop Will Eat Itself, Dr. Feelgood and more hit the town. There was now hardly a free Sunday for the local music goer and the whole area was alive with local music. All we needed now was for one of 'our' bands to finally make it. And, lo and behold, 'Wolftone' did just that!
The signing of Wolfsbane to Def Jam was one of the happiest moments I can remember. I had fallen in love with the band from the first gig (I know that sounds like a cliché but I have the review to prove it!) and I had followed them with undying admiration. The day they got signed proved to me that all the praise (and hyperbole) I had thrown at Wolfsbane and the scene in general was justified. To get phone calls from L.A., to read big interviews in 'Sounds' and to see Wolfsbane at the Marquee made all the abuse this job inevitably attracts worthwhile and it also allowed me a wry smile as the Wolfsbane bandwagon jumpers started declaring their love for them. Fickle thing the memory.
The other great smile the music scene has give me over the years has been Catch 23. This is a band who, like Wolfsbane, I loved from the start. They are five of the sweetest guys I know and the admiration I have for them – and their talent – is undiluted. Watching them win the TSB Rock School Contest (which saw them on national TV six times) and hearing them praised by stars like Stuart Adamson, Drummy Aswad, Robert Plant, Phil Oakey, Mike Read, Toyah Wilcox, Roy Wood et al made me as proud as punch and I still earnestly believe that they are the perfect pop package for the 1990s. I truly hope so.
So, looking back over seven and a half years who have been my favourite bands? Well, Wolfsbane and Catch 23 stand out as my equal firsts but my next five after that (in no particular order) are DHSS (circa 1989), Breaking Point (circa 1984-86), Spiral Eye, World Intelligence Network and Terroah! All these bands (and there's many more I could name) I have loved enormously and other such outfits as Dance Stance, Fetch Eddie, The Dream Factory and Scream (Dream) touched me deeply at times.
As for my hopes as I hang up my 'boots', well I sincerely hope that Wolfsbane DO go on to be bigger than Guns N Roses, that Catch 23 DO go on to be bigger than Duran Duran and on a personal note, that two individuals who never stop working finally make it. Rikk Quay is a man whose enthusiasm kept me going when at time I nearly walked away and I really hope he finally achieves his dream and I have the same hopes for Mark Mortimer, a man who I have never always seen eye to eye with but who I have always admired for his never-say-die attitude and his songwriting ability. If hard work and dedication won OBEs these guys would have been in the Queen's New years Honours List. In addition I really hope 'Gibbo' gets the success (and the recognition) he really deserves, that Reverb Sounds goes on to be the biggest P.A. in the known Universe and that Paul Speare's excellent studio is chosen to make the next Madonna LP.
Overall, the local music scene has been good to me. It has made me many, many good life-time friends and it even helped me to meet my wife (happy birthday Carla!) but now is the time for the music scene and I to go our separate ways. I am now 27 and no longer feel qualified age-wise to write a column predominantly read by people 14-25. A lot of the new bands arriving in Tamworth have an alien sound to me because I hate practically all current music and ignore most of it. I am an old punk rocker stuck in a 1977/8 timewarp and as a result it is best for me to bow out gracefully now rather than become the Rolling Stones of the MUSICBOX columns!
I will still edit this page for the new-man (Sean Atkins see below) and I will still contribute reviews and views at times but to all intents and purposes, Sean Atkins is the all new MUSICBOX boss. Write to him, phone him and make his work as hard for you s I think I have.
Concluding this article is a strangely emotional business. I have loved doing this column, but feel now that the increasingly demanding role I have as Sports Editor of the Herald means it is time to say a reluctant ta-ta. I know for a fact that many people have disagreed violently with things I have written over the years but I hope that even my critics will be able to say that my heart was always in the right place and I never let my personal feelings about a band stop me bulling up their concerts to try and keep interest at a premium.
To all my very loyal readers, I say a fond farewell. It's over to you now Sean, enjoy it.
Goodbye. And thanks.
SAM HOLLIDAY
MUSICBOX Editor – 1983-1990