Tamworth Bands History : 1990 :
October
03/10/90
Suicide Petch and the Juice MCs
The Marmion
04/10/90
Vindaloo Breakfast
Bash Out The Odd
Peter Tuesday
Crystal Injection
Big Trip
The Lost Forest
The Rathole
Tamworth Herald – 05/10/90
Musicbox – All hell breaks loose!
Wolfsbane – All Hell Breaks Loose at Kathy Wilson's Place (Def American Records mini-album)
This, quite simply, is the album Wolfsbane should have made.
While I would deny the quality of the songs on their still entertaining 'Live Fast, Die fast' debut LP last year, and I'm not about to leap on the bandwagon which says that that historic piece of Tamworth-originated vinyl wasn't up to standard, there were and are certain facts that have to be faced about it.
Namely, Rick Rubin's production made Steve Danger's drums sound as if they were being recorded in a bathroom, the wrong song was chosen as a single, and certain absolutely crucial Wolfsbane stage faves were not present.
But now, just over a year later, it's all been put right.
As Tamworth's finest start their triumphant tour around the country with Iron Maiden, they have hit the record-buying public with a six-track collection that steams and crackles and fizzes and explodes just like Wolfsbane should on vinyl and do on stage.
With their stage show likely to endear Bayley and Co. to even more fans, and boost the interest in them to even higher levels, this mini-album with proper handling by Def American, could be the breakthrough the band needs to make the step into the First Division of rock 'n' roll stardom.
Take for instance 'Pain The Town red'.
Criminally missing from the 'Live Fast, Die Fast' collection, despite having been a Wolfsbane classic for years, the version that appears here is the sort of singalong Bayley chant-led romp that radio One could play, without embarrassment, and yet metalheads could still slam to with wild abandon.
The other oldie that failed to put in an appearance on 'Live Fast…' and does here is 'Loco'.
Always tasty, and at its best on the 'Wasted But Dangerous' demo that got them where they are, it sounds even better here.
With Jase pulling out his finest Eddie Van Halen impression throughout, this again boasts the sort of singalong chorus Wolfsbane do so well, with the sort of meaty production values (courtesy of the excellent Brendan O'Brien) that the band need to show them at their best.
Elsewhere, it's all totally new and 'Totally Nude' which went straight to the top of my Wolfsbane playlist as soon as it was aired at the Tamworth Rock Festival, is the best of the lot.
A riotous condemnation of the sort of tasteless 'entertainment' the boys endured (?) on their American jaunt last year 'Totally Nude' boasts another classic hook and the sort of chorus that just MAKES heavy metal bands.
'Tough As Steel' the new set opener is a tale of life on the road in the back of a grotty van, before finally making it to the top, while 'Hey Babe' is the obligatory ballad.
Although I have firm views on HM bands 'turning it down a little' namely that most rock ballads should be shot at birth, I'm not about to slag this one.
It's Bayley's personal view of the end of a relationship, and if you can't write about something like that, then what's the point of being a songwriter?
Finally and incredibly, there's 'All Hell…' itself, the wild and wacky title track, wherein Wolfsbane go sci-fi and arty, and hi-tech.
Wolfsbane trying to write anything more technical than a heavy metal anthem may sound horrendous (and if that sounds like a huge insult, it's not meant to be), but amazingly, it works.
Bizarre sound effects abound throughout, Jase's guitar does a fine impression of a laser gun slicing through all the mayhem and madness and although I didn't think so at first, there's even a singalong bit.
It all adds up to the sort of marvellous package that will endear Wolfsbane to everyone.
Metal heads will love it, and even the new Mrs Warrillow, whose only interest in our heroes lies in counting the hairs on Bayley's chest, was left in awe by the version of 'Pain The Town Red' that surfaced at the Embassy two weeks back.
Release that as a single, give this the professional backing it deserves and Wolfsbane's climb to the top can truly be kick-started into action.
Quite, quite wonderful.
Martin Warrillow
Tamworth Herald – 05/10/90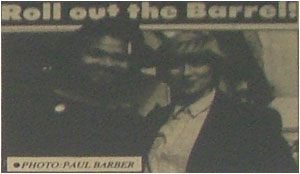 Musicbox – Roll out the Barrel!
SPIRAL EYE and The YOGOTS headline a showcase gig on Thursday, October 25. at The Barrell Organ, Birmingham.
The gig, organised by Reptile Records, whom both bands are signed to, will also feature stable-mates THE MONEYGODS from Lichfield and Birmingham outfit THE GIFT FACTION.
The Moneygods have recently released their 'All Roads Lead To Sedgley' single which apparently sold so well initially that it only just missed out on entering the Indie charts.
Both The Yogots and Spiral Eye have singles scheduled for release by the label early next year. Said a spokesman: "We believe in the old-fashioned way of promoting an act, treading the boards and raising awareness of the bands before the singles are launched. Both The Spirals and The Yogots are due to do a lot of live work out of the area between now and Christmas."
Baz, from Spiral Eye is enjoying the attention Reptile are giving the band. He said "It's really good. There's this little man at Reptile Records whose sole job it to run up a gigantic phone bill for us and The Yogots. Gigs, press, publishers, you name it, and he phones it. That gives us time to just concentrate on being a band."
A 53-seat coach has been hired to transport people to and from the Barrel Organ gig. Cost is £3, which includes admission. Tickets must be bought at least seven days prior to the date and as a packed coach is anticipated it's first come first served. Tickets can be obtained from Spiral Eye or Yogots HQ.
Tamworth Herald – 05/10/90

Musicbox – Spiral Silliness
Spiral Eye/Peter Tuesday/Big Trip/The Great Divide/Sherbert Trees/The Poppy Charmers/Crystal Injection – Lichfield Arts Centre
THE PICTURESQUE and tranquil city of the three sisters tends to bask in its memories of Georgian ways and heroes like Dr. Johnson, Garrick and Huxley, who are not only respectable, but also dead.
Last Wednesday, hard by the Bishop's Pool, Lichfield received its rudest shock since Cromwell's army besieged the city and all but demolished the cathedral in 1645.
Repitle Records took over the Arts Centre to launch its latest compilation of Indie pop groups and seven local bands drew the biggest audience of teenage fashion strutters in living memory.
Local heroes like Peter Tuesday and Big Trip rose to new heights in their quest to conquer the Midlands. The Great Divide played a mysterious and parallel set in the picture gallery while The Poppy Charmers and Crystal Injection did their stuff to a delighted audience in the main auditorium.
Less familiar to the trendy natives were Sherbert Trees on a marauding visit from Tamworth. "Who were they?" the kids scuttled around asking, "They were good!"
Spiral Eye on the other hand were on a marauding visit from another world. The audience had come to see their Lichfield favourites and probably had no idea who these hypnotic monsters were, but they watched with curiosity, then with enthusiasm, then with rapture. They joined the Spirals on another planet.
At the end of their set they played the usual encore but the audience demanded more. They played 'Uncertainty' which is their golden oldie and is usually no longer in their repertoire. But still the audience demanded more.
Rev. Dr. JC Feedback
Tamworth Herald – 05/10/90
Musicbox – Gig Guide
Saturday – THE EXPRESSO BONGO ORCHESTRA – The Embassy Suite, Admission £4 (before 10pm) £4.50 (after 10pm). No admission after 11pm. No jeans.
Sunday – THE WICKED THINGS (+ support), The Rathole, 7..30pm-10.30pm, Admission £2.
Sunday – FLY ON THE WALL, SHAKESPEARE'S MONKEYS, SATELLITE SPY, Tamworth Arts Centre, 8pm, Admission £1.50.
Wednesday – VESUVIUS – The Riftswood, 8pm, Admission free.
Thursday – BANNED IN YELLOW/THE SLOW CLUB (+ support), The Rathole, 8pm-1am, Admission £2
IRON MAIDEN/WOLFSBANE – Derby Assembly rooms. SOLD OUT
THE EXPRESSO BONGO ORCHESTRA should liven things up at The Embassy Suite on Saturday evening, while top Brummie funksters WICKED THINGS, hope to make their mark on Tamworth on Sunday night when they play The Rathole as part of a mini-UK tour. The bands last single 'Goodby to Her' although failing to make the top 40, won them a Radio One session and their first national TV appearance. A brand new single 'Wicked Things' will be released to coincide with the tour that also includes a date at Birmingham poly on October 26.
Also on Sunday, Phoenix Productions make their debut, with a three-band bill designed to highlight up and coming Tamworth bands.
On Wednesday, VESUVIUS, a band created through adverts place din MUSICBOX, play at The Riftswood. The band consists of former PLAN-B vocalist Rob Bell, Phil Smith, ex-Kubla Khan, Jon Fogan and Steve Claymore.
At The Rathole, the following night are BANNED IN YELLOW and The SLOW CLUB. While WOLFSBANE play Derby Assembly Rooms as part of their Iron Maiden tour.
Tamworth Herald – 05/10/90
Musicbox – LIVE REVIEW
…and our man loved 'em live!
WOLFSBANE/IRON MAIDEN – Southampton Mayflower Theatre
This was the first night of a nationwide tour supporting Britain's biggest heavy metal band and you could have forgiven Wolfsbane for being a little over-awed by their surroundings, at what surely must have been one of their most important gigs ever.
But if they were at all daunted by the prospect of taking on a packed theatre full of Iron Maiden fans, then they certainly didn't show it.
In fact most of the crowd seemed to know most of the songs and those that didn't were won over as the set went on.
The sound quality wasn't brilliant – when is it ever for a support act? But the quality of Wolfsbane shone through clearly.
They ran through a selection of the best of the tracks from 'Live Fast, Die Fast' and the new 'All Hells Breaking loose At Kathy Wilson's Place' mini album (see above), and produced a very powerful collection of their very best material.
Highlights were new songs 'Totally Nude' and 'Kathy Wilson' and old faves 'Manhunt' and 'Loco' but it really is difficult to pick out the highlights of a performance which was difficult to fault.
And the hordes of Metal fans shared this appreciation. Their reaction to Tamworth's finest was unbelievable throughout the show and it reached a peak with the final, mighty magnificent 'Paint The Town Red' which had the entire theatre clapping along.
This was Iron Maiden's concert and Iron Maiden's audience, but, just for a while, Wolfsbane made it their own.
Although Wolfsbane were brilliant, Iron Maiden put the whole performance into perspective.
They've been going for more than ten years, but the Southampton concert proved that they can still turn out powerful exciting music, and haven't deteriorated over the years into the sort of cliché-ridden Spinal Tap act that (for example) Whitesnake have become.
Most memorable moments were current top-ten single 'Holy Smoke' and the appearance of the mighty Eddie – a 20ft tall version of the Frankenstein style creation which features on so many Iron Maiden album covers.
Iron Maiden have nothing to prove.
The fans knew what to expect and they enjoyed every minute.
And Wolfsbane, if they have anything left to learn, couldn't be doing it in better company.
SEAN ATKINS
06/10/90
The Expresso Bongo Orchestra
The Embassy Suite
07/10/90
The Wicked Things
Support
The Rathole
07/10/90
Fly on the Wall,
Shakespeare's Monkeys
Satellite Spy
Tamworth Arts Centre
10/10/90
Vesuvius
The Riftswood
10/10/90
Banned in Yellow
The Slow Club
The Rathole
10/10/90
Iron Maiden
Wolfsbane
Derby Assembly Rooms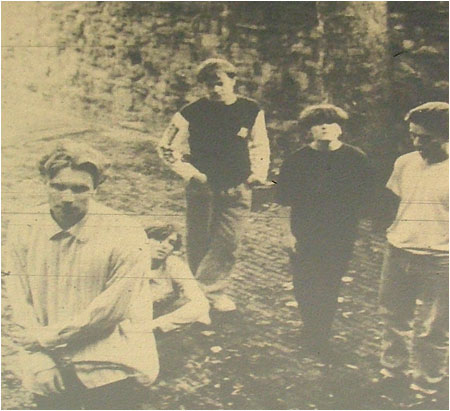 Tamworth Herald – 12/10/90
Musicbox – Gibbers Assured of Success!
LOVEABLE MOPTOPS (and the only band in the world named after a headline on the page opposite) Emma Gibbs Loves Badges release their debut single next Monday (October 15) on the Utiopia label – with rave reviews pouring out from the press already.
Issued on good old fashioned 7-inch vinyl and distributed by Backs/Rough trade, the single, a two-track affair consisting of 'Assured' and 'Patience', has already caused quite a buzz with the staff of the NME who voted it as being 'last week's single that should have been single of the week', and went on to describe it as an 'effortless piece of crooning indieness with ragged intrusions of wah-wah guitars.' The also placed it number five in the 'What's going on the NME's stereo' chart, behind The Charlatans and The Happy Mondays, but on front of Pop Will Eat Itself! High praise indeed for Lee Revelle and co.
On Monday, to celebrate the release of the single, Emma Gibbs loves badges will be heading out into the wilds of deepest Norfolk and playing a gig in Norwich.
Look out for an interview with lead crooner (and ace Tamworth Rock festival author), Lee Revelle in next week's MUSICBOX.
Tamworth Herald – 12/10/90
Musicbox – See the Spirals squat to stardom!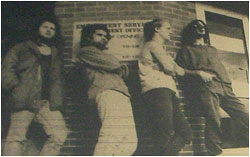 THERE'S still a few seats left on the coach trip to see SPIRAL EYE, THE YOGOTS and THE MONEYGODS at Birmingham Barrel Organ on Thursday, October 25. Tickets, which are £3, include admission and return coach travel, and are available from Spiral Eye or The Yogots.
THE YOGOTS have released details of a few more up and coming dates. As well as the above-mentioned Barrel Organ bash, Yogot-ites can catch them at The Hare & Hounds, Kings Heath on October 15, then at Leicester Poly (supporting The Fireflies) on the 27th and at the Golden Cross, Aston on November 2,
SPIRAL EYE will this weekend play a gig at a London squat allegedly in a police 'no-go' area. One agent who had expressed an interest in seeing the band live was invited to attend but when told of the venue replied 'no way!'.
Tamworth Herald – 12/10/90
Musicbox – Band-made to wrap up deal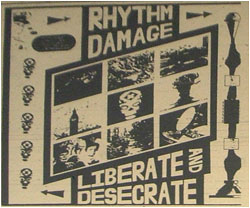 Rapidly rising (and ageing) would-be superstars Rhythm Damage have taken the first tentative steps on the road to the top, by securing themselves an impressive management deal – with a Manchester agency.
The deal, which will link Rikk's boys (surely the most un-Manchester band in existence) with two other like-sounding outfits, namely Unit 93 and Borderland, is with Band-Made Management, and came about thanks to legendary local photographer Steve Ellis, who is a friend of Band-Made supreme Steve Jensen.
The new deal looks sure to give a boost to Rhythm Damage's soon-to-be released single, while a top Manchester gif is already being lined-up for the threesome, sometime in the New Year.
Meanwhile, having absolutely nothing whatsoever to do with the above at all, Lincolns have started a 'Bass in Yo Face' night every Wednesday, with rave sounds provided by Damage Control.
The fun kicks off at 9pm and goes on 'til late. Be there or be triangular, (what??)
Tamworth Herald – 12/10/90
Musicbox – Snips
BY ALL accounts Birmingham outfit WICKED THINGS were a sensation at The Rathole last Sunday, unfortunately just 12 people were present to witness their set.
Tamworth Herald – 12/10/90
Musicbox – Snips
NIGHT FLIGHT are looking for a vocalist to complete their current four piece line-up. The Nuneaton-based 'melodic rock band' formed two years ago, list Bon Jovi, Magnum and Whitesnake among their influences.
Tamworth Herald – 12/10/90
Musicbox – Snips
WOLFSBANE'S nationwide tour supporting IRON MAIDEN comes to a close this week with dates in Manchester, Torbay, Poole, Hanley and finally ay London's Hammersmith Odeon. Their mini-album 'All Hell Breaks Loose At Kathy Wilson's Place' was officially released last Monday, October 8 on Def American Records.
Tamworth Herald – 12/10/90
Musicbox – Snips
AMONG those recently spotted plank-spanking in the Expresso Bongo Studios are former ONE ON ONE star DAVE INGHAM's London-based band, SUGARTRAIN; THE RED CARDIGANS and legendary Royal Familyman EDDIE MADDEN accompanied but other former Smith and Jones persons.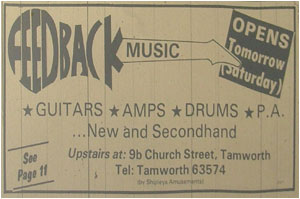 Tamworth Herald – 12/10/90
Musicbox – Snips
THE EXPRESSO BONGO ORCHESTRA themselves are recording the follow-up to their debut 'Simply E.B.O.' collection. Their 'difficult' second offering already years in the making will hopefully find its way onto vinyl sometime next year.
Tamworth Herald – 12/10/90
Musicbox – Snips
KINGSBURY-based non-Tamworthians Birdland have signed a new deal with Toshiba/EMI for the release in Japan of their debut Lazy album which they are due to start recording shortly.
The album should be out in early 1991.
Tamworth Herald – 12/10/90
Musicbox – THEY'RE JUST TOO COOL
The Expresso Bongo Orchestra – The Embassy Suite, Tamworth
IS THE average Saturday night Embassy-goer ready for the EBO? On this showing the answer is probably a resounding now, but there's always hope.
The 'enigmatic' Bongos led by that cool cat with the baton, Paul Speare, delivered two classy sets that presumably were too classy as they appeared to confuse the Embassy crowd somewhat.
Not knowing whether to dance or clap along, most of the lounge lizards simply forgot how to enjoy themselves for an hour or so, and simply sat and watched with mouths ajar but at least with their toes a tappin'.
The heavy, heavy bongo sound was probably wasted on the Embassy regulars, but full marks to equally 'enigmatic' Jayne Fletcher for trying something different.
These vats were cookin' even if the punters weren't connected!
12/10/90
Phoenix Productions
Eight Ball Joe
Chemikill
WDK
Satellite Spy
Tamworth Arts Centre
Tamworth Herald – 12/10/90
Musicbox – Gig Guide
Friday Phoenix Productions present Eight Ball Joe/Chemikill/WDK/Satellite Spy Tamworth Arts Centre, 8pm till Late, Admission £1.50.
Sunday
Two Lost Sons/Emma Gibbs Loves Badges – The Rathole, 7.30pm-10.30pm. Admission £2.
King Pleasure and the Biscuit Boys – Lichfield Arts Centre, 7pm. Admission: £5.
Monday
The Yogots – The Hare & Hounds, Kings Heath, Birmingham.
Emma Gibbs Loves Badges – Norwich Arts Centre
Tuesday
Wolfsbane support Iron Maiden – Hanley Victoria Hall, Tickets £12. SOLD OUT
Thursday
The Giraffes – support to be announced. The Rathole, 8pm-1am Admission £2.
Wolfsbane support Iron Maiden Hammersmith Odeon London. Tickets £12. SOLD OUT.
14/10/90
Two Lost Sons
Emma Gibbs Loves Badges
The Rathole
14/10/90
King Pleasure and the Biscuit Boys
Lichfield Arts Centre
15/10/90
The Yogots
The Hare & Hounds
Kings Heath, Birmingham
15/10/90
Emma Gibbs Loves Badges
Norwich Arts Centre
16/10/90
Iron Maiden
Wolfsbane
Hanley Victoria Hall
18/10/90
The Giraffes
The Rathole
18/10/90
Iron Maiden
Wolfsbane
Hammersmith Odeon
London
Tamworth Herald – 19/10/90
Musicbox – Yes! Spirals Sign
DELIGHTED Spiral Eye last week signed a three-album deal with indie label Demi-Monde Records with distribution through Rough Trade.
The label who currently have the likes of GONG and HAWKWIND on their books in managed by former Hawkwind member, Dave Anderson, who the Spirals met last week to finalise details of the deal.
Spiral Eye's vocalist Baz Fox, said:
"It was a wicked buzz. Spiral Eye have been greatly influenced by Hawkwind which was probably why we felt so at ease with him. We've slept in ditches to watch Hawkwind live so it means a lot to us."
The Spirals first album is scheduled for release in March 1991, and recording will commence in November for six weeks at a studio in the Welsh hillside. Apparently the studio is so remote that the nearest human life is in a village six miles away.
Baz said: "We'll be living in two stone cottages next to the studio so if we want to record at three in the morning we can wake up the producer and do it. It's brilliant! One minute we're having to scrounge the petrol money to get to a gig and the next we're being put up in penthouse accommodation."
Recently the band's management Magic Ear, negotiated a one-ff single deal with Lichfield-based Reptile Records for Spiral Eye and The Yogots in an effort to get both bands up the next step of the ladder.
"Many people scoffed when Magic Ear did the deal with Reptile," said Baz. "They said it was a backward move for us because Reptile had no credibility. But it proved to be just the opposite for us. The whole idea of Reptile is to act as a stepping stone and we started to get a reaction from record companies and promoters almost straight away. People who hadn't wanted to know became more interested overnight simply because we had a single deal with another company. You wouldn't believe the difference that makes.
"Things have just moved so fast since we signed with Magic Ear. We were doing quite well under our own steam but they brought in that extra expertise and guidance that we'd been lacking. They did all the groundwork with Demi-Monde and I understand they were most impressed. Bayley from Wolfsbane spoke to them too on our behalf, which again helped, but a lot of really hard work has gone into all this and its paid off. They and Reptile certainly helped to start our ball rolling and hopefully the same will occur now for The Yogots."
Ian Gibbons of Magic Ear said "We believe it's a really good deal. Demi Monde are completely into what the Spirals are doing and I think they see them as being the band to take the label forward. They've got old-age hippy bands and new-age hippy bands and I think Spiral Eye will be the bridge between the two. The market for them is fantastic."
Baz agrees. He said; "Already there's talk of promotional dates in Italy and Germany. Apparently the label does really big business over there. Gong are absolutely huge across Europe and there's a big revival of their stuff here now. The only sad thing is that because of the recording we'll not be playing live much in the near future, so The Barrel Organ gig next week with The Yogots is probably the last thing we'll do for ages."
Mike Turner
Sam Holliday Footnote: Returning from my hols to discover this news brought a smile to my face as wide as Buttercup's girth. Spiral Eye have been one of the best reasons to breathe in Tamworth for eons and I for one can hardly wait to hear them hit vinyl. Wonderful news! Wonderful band!
Gig footnote: A 53-seat coach has been booked to take Spiral Eye and Yogots fans to the gig at The Barrel Organ, Birmingham on Thursday, October 25. Tickets are £3 which includes coach fee and admission to the gig. As a packed coach is anticipated anyone wishing to travel should book now.
Tamworth Herald – 19/10/90
Musicbox – The thoughts of Chairman Lee
GIBBSMANIA has struck the world with avengeance. After four years of hard work and happy meanderings through the pop world, Emma Gibbs have finally struck a chord with the national music scene.
Their excellent debut single 'Patience' has been made the Single of the Day by ITV's Oracle, the 'almost single of the week' by NME and has been praised on the Peel show. As a result, interest in the band has reached such a premium that copies of lead singer Lee Revelle's now legendary Rock festival programme are being sold for many times their face value on the black market.
Will success change our loveable, cuddly Lee and his cohorts? How do they rate the current Tamworth scene? And what do they think of the bizarre new advert for …a aftershave? We sent along our intrepid scribe Mike Turner to find out answers to some of these questions (We'll skip the avert one!). Mike reported back with the following slices of the Lee Revelle/Emma Gibbs manifesto…
Lee Revelle on Emma Gibbs and Tamworth
We're the second best band in Tamworth. We've been on Radio One had our record played to a million people, had a really good bit in the NME, which again thousands of people will have read but we still couldn't attract a big crowd at The Rathole on our own. It's weird.
The problems with Tamworth?
"The problem with Tamworth bands is that it's all just a social thing now. No one goes to see anyone because they want to see them – it's just another night out. The Town's music scene is in need of a good kicking at the moment, everyone's suffering from Tamworth band syndrome."
On getting up and doing it…
"When I was about 15 or 16 I can remember going to see Echo and the Bunnymen and thinking 'I'd love to be in a band but could never be that good." And then when I saw Love On Board and Sitting Pretty at the Arts Centre and realised that anyone could do it if they wanted to badly enough."
"We were just mates at school and decided we'd do it. No one could play at all. One night we just got up on stage and did three songs. Anyone in the audience must have wondered what was going on, it was a right row! T probably looked like these drunks had just invaded the stage."
On drinking…
For years Emma Gibbs loves Badges were known as 'that drinking band." Lee said: "It's taken us three years to shake off that tag. People would see us walking to gigs (we had to walk to our own gigs as we had no transport) and they'd say 'there's that drinking band'"
"At one point we were the only new thing happening in the town, now we've been around so long it's a bit embarrassing."
On what the single success will mean…
Realistically it'll mean we'll be able to get better gigs and possibly a good support slot. Actually it's got us more than we thought it would. The NME thing was really good. We're probably the second biggest band in Tamworth now but nobody here cares."
And the reviews…
Emma Gibbs Loves Badges – Assured/Patience (Utopia)
'Assured' deserves to be immortal.
Mike Turner
Emma Gibbs Loves Badges – Patience (Utopia)
We love it! Ever since it arrived in the office 'patience' has been sending the Beat Box posse into frenzies of delight. A quirky lyric and a jittering guitar hook are what make 'Patience' stand out from the Indie crowd. An intelligent lyric, a catchy melody, and it is on the Utopia label. What more do you need
Channel 4 ORACLE Review 'Single of the Day' Monday
Emma Gibbs Loves Badges – Assured/Patience (Utopia)
The enfant terrible hits the jackpot. We always suspected he had the tunes and the charisma but what perhaps we may not have noticed before is that this man really can CROON. His vocals on this are quite magnificent, showing off his usual belligerent arrogance but adding a touch of the warming Perry Comos. Excellent lyrics, a gorgeous melody or two and a single to play and brag about.
Sam Holliday
Tamworth Herald – 19/10/90
Musicbox – Snips and News
MUSICBOX will be going back down the drain again from now on because jagged old Stranglers fan Sam Holliday is back! The column has been excellently handled in my absence by young Michael j Turner with the help of messrs Warrillow and Atkins and it is I am sure a great blow to all BOX readers that I'm back in charge. It is quite wonderful however to discover that in my absence, Spiral Eye have been signed up, Emma Gibbs have been gloriously praised by the NME and Wolfsbane have been making even bigger strides towards inevitable world glory. Perhaps I should go away more often I hear you cry! Seriously though, thanks to everyone who has kept the column busy and exciting and thanks also to all the musos and friends who cam along to the wedding of Carla and myself and enjoyed (I hope) a very memorable day. Incidentally as you may have seen in the BOX, I got my old punk rock outfit The Classified Ads back together on the night and we completely blew apart lesser mortals Catch 23 and Wolfsbane who also kindly did a song apiece with the Wolfies letting me sing 'Paint The Town Red' with them. After that Bayley, the Iron Maiden tour will be a terrible anti-climax for you!
19/10/90
Bad Rock 90
Ark
Burton Town Hall
Tamworth Herald – 19/10/90
Musicbox – Snips and News
Burton Town Hall tonight (Friday 19 Oct) sees "Bad Rock 90" featuring three Burton bands plus Richard Deane's Ark. Tickets £3 and £4 from Centrepoint Indoor Sports Centre, Corporation Street.
Tamworth Herald – 19/10/90
Musicbox – Snips and News
The Searching are on the search again. This time the band are looking for a bass player to join their combo and if that sounds like the sort of thing that tickles your fancy ring.
Tamworth Herald – 19/10/90
Musicbox – Snips and News
Just a word about the coverage of Wolfsbane's Kathy Wilson collection which has staggered even the usual OTT MUSICBOX reviewers. The reviews we have seen have been to put it mildly amazing. 'Sounds' gave it five stars and praised it hugely. 'Melody Maker' went bananas and said it was one of the best rock records to come out of the Midlands since Slade and 'Kerrang!' also gave it a maximum points rating and made my reviews of Stranglers records look like slag-offs. All fingers crossed now that the Great British record-buying public will react with the same enthusiasm and send the boys hurtling to their long overdue chart status.
Tamworth Herald – 19/10/90
Musicbox – Snips and News
Fifth Amendment, a Nuneaton-based band are on the lookout for a new drummer.
Tamworth Herald – 19/10/90
Musicbox – Snips and News
We have received a letter from a new band Drivin' South who say (correctly) that their current lead singer Eddie Madden has never been part of the Royal Family as was mentioned here recently. Mr. Madden – he of Terroah legend – now fronts the Stones/Hendrix style band with Simon Hayward on bass, Terry Cooper on drums and Mark Taylor on lead guitar.
Tamworth Herald – 19/10/90
Musicbox – Snips and News
A new Tamworth HM band (and we certainly need some new ones) make their live debut in Lichfield tonight (Friday). The band – Quest – begin their career at Lichfield Arts Centre and more info on the show is available from Mark or Dave Rogers.
Tamworth Herald – 19/10/90
Musicbox – Multi-styles and multi-talented
Vesuvius – The Riftswood
So Vesuvius finally erupted.
In pleasant surroundings at The Riftswood, 150 people witnessed the first gig by a talented band made up of ex-Plan B singer Rob Bell, ex-Kubla Khan lead guitarist, Phil Smith, keyboardist and composer Jon Fagan, drummer Andrew Smith and rhythm guitarist Steve Claymore.
What surprised many of the turn-out was the diversity of styles that Vesuvius could play from rock 'n' roll to rock to rhythm and blues to soul to funk, although their versatility could result in an illustration of the adage "You can't please all the people all of the time."
When the nerves had evaporated things finally went right for Vesuvius. The crowd soon go into the swing of things but one couldn't help but notice that the bands own songs composed by A-Level music student Jon Fagan and employing Vesuvius' Mensan Manager and lyricist Matthew Rowley, lifted the mood of the onlookers more than their cover version.
For their first gig together, they were very good and when sound levels are sorted out they will probably be rated among the best bands who have come out of Tamworth. The potential is there for the real eruption but it won't be long.
Georgie Humphries
P.S. Jon Fagan said after the gig that he wants his shirt back.
25/10/90
Spiral Eye
The Yogots
The Moneygods
The Gift Faction
Barrell Organ
Birmingham
Tamworth Herald – 26/10/90
Musicbox - Vulgar delight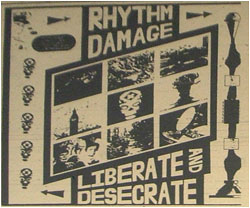 Rhythm Damage – Four Track EP (Utopia Records)
It's been a pretty good time for local records lately.
We've had the ace Wolfies LP, the confident and 'Assured' Emma Gibbs 45 and now this – a four track insight into the crazy world of Rhythm Damage.
This first outing by The Three Musketeers is an impressive, unpredictable and varied collection which works brilliantly for three tracks and only misses out on a full five star rating because of a rather messy final slice of Damaged Goods.
Let's get that one out of the way first. It's called 'Tamworth's Kickin' and despite the enthusiastic contribution of the Suicide Petch team it simply doesn't gel. It goes on far too long and lacks that essential rap ingredient – the irritating hook – ending up doing no real justice to either the Damage men or the Suicide Petchites. Listen carefully (it is after all about Tamworth) and you may hear your name mentioned but sadly after a couple of playings that is where your interest in that track ends.
But, and it is a BIG but, the rest of this EP is soooooooooooooo good we can forgive even that lapse. The three remaining tracks – 'Taste the Rod', 'N-R-Gyze' and Catch 23's 'Twisted Mind' – all work wickedly well and the various input of producers Paul Speare, Blaze Bayley and Damage Control themselves combine to make for a series of songs which have vibrancy, life, humour and considerable quality,
'Taste the Rod' opens up proceedings and despite it's lyric and theme (did I really hear it played at a Catholic wedding once??) is a jaunty little dance number which extends Manilow Quay's vocal to the fullest and has a memorable hook-line which I urge you to sing if you're in the presence of The pope. 'Twisted Mind' follows on and is absolutely fab. It always was a classic song and when Catch 23 decided it no longer fitted in with their new pop dream. Messrs Damage, Wain and Quay picked it up off the cutting room floor and bastardised it beautifully. It's angrier, nastier and more punchy than ever before and it could well make a separate hit single of it's own accord. It always was a great song of the late Eighties and Rhythm Damage have successfully taken it into the Nineties with style.
Even that though cannot compare with the best track on the EP – and the one that is worth the price of the record all on it's own. 'N-R-GYZE' always was the band's best song as it combines their essential quirky qualities with a genuine dance understanding that they have always had and really should promote further in the future.
It is a song that could be massive in my humble opinion because it would fit perfectly into an alternative disco and an 'ordinary' disco because it has the beat, the melody and the drive that cuts across rigid musical barriers. It is a major masterpiece and has been given the full Expresso Bongo treatment to great effect.
That's yer lot then, four tracks to keep you firmly on your toes and three at least to keep firmly on your record deck. Rhythm Damage have proved beyond any shadow of a doubt that behind the hype (and there is always hype when Rikkety Quay is involved!) there is real substance, real talent and real songwriting skill. Vulgar, violent and rude but surprisingly cute at times. Get vulgar, get damaged, get this record.
Sam Holliday
The single is available from band members, The Tavern in the Town, Innersleeve and more.
Tamworth Herald – 26/10/90
Musicbox – Stardom without a Catch
Catch 23 Exclusive News
Catch 23 – who still rank as the best pop band EVER to come out of this area – may have played their last ever gig.
Horrified? Well it's not quite that bad because something rather big is in the wings which could mean the band being forced to change their name and their image in afresh bid for stardom.
Too much we can't reveal at the moment but let us just say that even after several disappointments in recent months, Catch 23 are now more convinced that ever that success if just around the corner – and so am I. Alan Webster, the band's ever-enthusiastic manager, gives an honest and revealing insight into the situation with the band circa October 1990 – and it has a plain message to all bands in a similar position locally…
"We always believed that natural talent combined with hard work would eventually bring results but our lengthy discussions with various A&R men have made it clear that this is not enough and unless a band can guarantee record sales they are wasting their time. Nowadays it is not the band themselves who get major record deals, it is just a handful of top managers who control everything. These managers can get a record deal for their band literally within hours because they live and work in London, have plenty of money and are known by all the right people," said Alan.
So, how does this general appraisal of the current music biz affect the Catch boys? Alan goes on…
"To achieve success we must convince one of these select few managers that we could be the next big thing and to do this we have to get everything right as far as image is concerned and that includes choosing a new name."
Catch 23 have never made a secret of the fact that they want to be serious pop stars. And consequently, their musical style has changed. But, the fact that they turned down the chance to work with Stock, Aitken and Waterman proves that they are determined to retain their credibility as a live act. As Ray Clenshaw, the main songwriter within the combo explains, if recording a non Catch 23-song gets that first elusive hit, then so be it…
"We feels we write good pop songs and that many of them could be hit singles but to get the break we need we may have to record someone else's material. If that gets us into the charts, then that is fine by me. There is plenty of time to record our own songs when we have made it but first we MUST get there. Unlike most pop bands we have the ability to progress because we can play live'"
Intrigued? I bet you are and if all goes to plan you won't be disappointed by what is going on within that little corner of Atherstone at the moment. For many a long year now I have predicted that Steve, Ray, Nick, Jase and Neil would be STARS one day and at the end of last year I predicted that Catch 23 would get a contract in 1990. Time is running out, but I stand by it. Watch this space.
Tamworth Herald – 26/10/90
Musicbox – Phoenix hosts Emma and Co.
The Phoenix Concert series hits the Arts Centre on Sunday once again fulfilling it's mix of blending established Tamworth bands with those previously unseen writes Jo Marsh.
Single giants Emma Gibbs are joined by new boys Fly On The Wall and Crystal Injection and the line-up is completed by The Jim Durkins and E-Culture Cast Off making their Tamworth debut.
Emma Gibbs will be making their final appearance in the Town for what could be a very long time as they concentrate on plugging their debut single throughout the land. Avid BOX readers will know all about this lot and people who aren't BOX readers won't be reading this anyway so onto the rest of the team…
Fly On The Wall are fast establishing a reputation for enthusiastically brittle pop and return to the Arts Centre with a view to impressing both their large and getting-larger following and non-believing newcomers alike. Just one of many new bands that have recently revived the fortunes of an ailing Tamworth music scene. Fly On The Wall have enough individuality to stand out from the common herd. The Jim Durkins meanwhile boast above average lyrics, a regard for Stone Rose socking and an enormous following in their native Manchester and their adopted Birmingham. The Jim Durkins could just be the biggest and best kept secret currently residing in the West Midlands.
Completing the line-up are Crystal Injection. A band who have already woo-ed Arts Centre audiences with their striking new wave sound. Crystal Injection should immediately appeal to those of a spooooky nature although they will be trying to take their alternative onslaught still further than that.
Good line up methinks. See what you feel.
It's at the Arts Centre, it's on Sunday, it's an 8pm start and it's a snip at £1.50 a head.
Tamworth Herald – 26/10/90
Musicbox – Snips and News
The Fireflies provide the big name Rathole attraction on Sunday night. The band from South London are a curious match of the Byrds and The Pixies and are currently on a major 30 day University blitz. Support is assured and could come from any number of sources including Vindaloo Breakfast, Sherbert Trees or a new band called Ostrich County. Whatever happens it will be 8pm onwards. Sunday night, The Rathole. Incidentally, contrary to popular belief there was a Rathole show last week and a pretty good one at that. Birmingham's Butterfly Net teamed up with Manchester's Fontanelles for an enjoyable bash reviewed hopefully next week.
Tamworth Herald – 26/10/90
Musicbox – Snips and News
The Jeese Presley Mystery require a guitarist for a Sixties/garage sound which includes influences like the Kinks, The Troggs, MC5 and The Stooges.
26/10/90
Drivin' South
Prince of Wales
Tamworth Herald – 26/10/90
Musicbox – Snips and News
Drivin' South (Eddie Madden's new combo) are on the gig prowl three times this weekend. Tonight (Friday) they play The Prince of Wales, Tamworth then on Saturday they are at the Crazy Horse, Nuneaton and on Sunday night they play The Park inn, Kettlebrook.
Tamworth Herald – 26/10/90
Musicbox – Snips and News
Scavenger, a new band dedicated to pepping up Atherstone's rock scene has just been formed. Gong on vocals, Gary Worrall on bass, Chris Bassford and Kenny Jones on guitar and Pixie Parks on drums all join forces for a band with a 'heads down hippie metal attack'. More info is promised soon.
Tamworth Herald – 26/10/90
Musicbox – Snips and News
Eight Ball Joe have arranged a gig in Nuneaton on Friday, November 2 and tickets are now available from band members.
Tamworth Herald – 26/10/90
Musicbox – Local live reviews and comments
Banned In Yellow/Sindy's Sonic Garden/The New Puritans plus more – The Rathole
Despite the presence of a couple of Birmingham bands, this was very much a Tamworth show. It was rather like being back at the Arts Centre but with wallpaper and carpet instead of NME's and cigarette ends.
The 9.00 explosion was Sindy's Sonic Garden, still regarded as a relatively new band although they made their debut over a year ago. Their youthful approach to music, fairly reminiscent of early Birdland, showed much promise but even more fulfilment . Unlike most bands of this genre, the varied sequence of 'wah' and 'eeeeekk' distinguish one three minute blast from another. Loud, harsh and vigorous, yet fresh, raw and almost kittenish, they're enticing of one lone self-mutilator was not a true reflection of the audiences opinion of those blooming Rupert Bear type musicians. Too flabbergasted to hurl while being seized by their melliferous toffee is an accurate appropriation. Follow with gusto.
Yet the next band didn't and followed almost immediately, sufficiently unnoticeable for our ears to recover from the atrocities inflated by the Sonics. The song construction was finely simplicite [sic. Ed] but the overall musical style seemed to have been taken from whoever or whatever was passing at the time.
The follow-up to this annoying disturbance comprised of more troops of Birmingham would-bes. A positive identification of Mick Jones, some funky bass, a wood-block and a couple of doo-be-dos thrown in for good measure – pesky me! Shouldn't be so pessimistic. After the feeble yawps of the previous Birmingham band I expected an equally dismal dismay [sic. Ed] from these but was slightly surprised.
And surprised again. Who was it that said 'I like watching the New Puritans because I haven't been lucky enough to see the Wedding Present yet? An ultimate quote but a little outdated. At least they have a sound all of their own and quite a pleasure! Did they unknowingly alter their monosyllabic monochordic ploddings or did one announce 'it doesn't go like that anymore, arrrghhh'. Whatever, here's hoping this change in originality is not monocarpic is just the beginning. They were alright before, but they have shown us they can be good.
Banned in Yellow however share a different opinion, the one which goes along the lines of 'if it worked once stick with it'. What's the betting they are the same songs as well. Their close set showed experience but they have had those uncountable years to perfect it. Whereas Munchies and Mr. Dog modify only the name, Banned in Yellow have incorporated this along with much time ad line-up transfiguration, yet neither succeed in altering the taste of composition. The one unsettling perplexity was the impressive vocals, capable of bewitching submission. Perhaps they had anaesthetised the accompanyist [sic. Ed] into a palsied repetition.
Melba Washington
An amazing review with occasional touches of brilliant insight and occasionally baffling analogies. Incidentally are MUSICBOX writers becoming steadily more intelligent or am I just slowly going senile? Whatever the case, intriguing stuff Melba. SH [Complete bollocks methinks – Ed.]
Tamworth Herald – 26/10/90
Musicbox – Eight Ball Joe – Phoenix Productions Event – Tamworth Arts Centre
YOU know the old gag about the bloke who rings up the football ground and says 'What time does the game start?' and they say 'What time can you get here?'.
This was a case in point.
I know this was arranged at short notice, and they didn't want this date, but when will local promoters learn that Friday night shows just don't pay.
By the end of the night, the bands could have gone round and shaken the audience individually by the hand.
Which was a shame, because openers, Pond Weed (who?) weren't bad during what was their first ever gig, and Eight Ball Joe were simply excellent.
Half an hour or more of tight gritty blues played in a manner that always makes me wish I'd persevered with guitar lessons and delivered a smile.
Don't ask about song titles, because generally they're not that relevant. The point is that this is great, gutsy toe-tapping good time music, that definitely perked my evening up in a big way.
Eight Ball Joe won't ever sell truckloads of records but for a great live show, they're a guaranteed winner.
Sadly, by the end of their set, the evening had degenerated into a shambles, with the bar closed early, and Chemikill not hitting the boards at all. I'll watch them next time though – as long as it's not on a Friday night.
Martin Warrilow
27/10/90
The Yogots
The Fireflies
Leicester Polytechnic
27/10/90
Drivin' South
Crazy Horse
Nuneaton
28/10/90
Drivin' South
The Park Inn
Kettlebrook
28/10/90
Phoenix Concerts
Emma Gibbs Loves Badges
Fly on the Wall
Crystal Injection
The Jim Durkins
E-Culture Cast Off
Tamworth Arts Centre
28/10/90
The Fireflies
Plus support
The Rathole