Tamworth Bands History : 1990 :
June
Tamworth Herald – 01/06/90
Musicbox – And now hip-hop hits Tamworth
Gig Preview
Tamworth's varied and exciting music scene adds another strand this week when the sound of hip-hop hits the Town.
Tuesday night is the night for the action when The Marmion Pub in George Street hosts the show by local hip-hoppers Suicide Petch 'n' The Juice MCs.
This combo features one male rapper, one female singer and one scratch mix dj and it is the sort of sounds that will be unique to Tamworth gig goers.
The band say that they have been around in some formation for around four years but it is only now that they are really confident of breaking big.
"We plan to be big in 1990," says a band statement. "We are loud and mad party freaks."
The group – who say they are responsible for the Glascote Heath kids anthem 'Chip Shop Posse' have just finished a new demo 'Hit The Floor 1990 style' and tracks from this will be played at the Marmion on the night.
They are made up rapper Wordzworth, dj Petch and singer Tee and they are confident their sound will be a winner locally. Following this debut show at the Marmion they hope to play at The Rathole shortly and then go on to build a base for hip hop in and around the Tamworth area.
It all sounds like a very interesting night indeed so if you fancy copping something different why not take your dancing shoes to the Marmion on Tuesday night.
Don't forget, the band are called Suicide Petch 'n' The Juice MCs and they are hoping for a big turnout on the night.
01/06/90
Kraze
Daylight Robbery
Tamworth Arts Centre
Tamworth Herald – 01/06/90
Musicbox – Krazy squad back in Town
TAMWORTH's best unsigned heavy metal band, Kraze, return to the Arts Centre stage tonight (Friday) after a long break away from the local scene writes Sean Atkins.
The band, which includes a few new members, warmed up for the gig with a support slot alongside Manchester's Dirty Trix at the Lichfield Arts Centre a couple of weeks ago.
Kraze took the opportunity to show off their excellent new material – which features on the demo – and to try out, what appeared to be, a slightly harder sound than the 1989 version of the band.
At Lichfield, they were let down a bit by the sort of poor sound that support bands get. But despite that, it was clear that Kraze are as good as ever and ready to re-establish themselves as one of the town's top bands.
They might also re-establish the Arts Centre as a music venue after an amazing 'dry spell' where – during the last few months – there have been hardly any gigs there.
Kraze are supported by Birmingham heavy metals band 'Daylight Robbery'. T-shirts and tapes will be on sale on the night.
Tamworth Herald – 01/06/90
Musicbox – A Musicbox marriage!


THE MUSICBOX dating agency claims its first ever success tomorrow (Saturday) when the marriage takes place of former DHSS singer Anice Byfield and Soil Brothers star Steve MacNamee.

MUSICBOX claims a stake in this meeting of minds because it is through the local music scene that the dup first met. Both Mr. MacNamee and Miss Byfield were invited to take part in the second recording of TAMAID – the local musos charity – at which point Anice spotted Steve and said something along the lines of 'Cor!'.
Suitably impressed by this, your friendly neighbourhood MUSICBOX editor went up to Steve at a subsequent Arts Centre gig, pointed at Anice, and said 'that girl has got the serious hots for you!'. This oh-so-subtle MUSICBOX introduction left Anice very red indeed but meant that she simply had to go and speak to Steve. And the rest (as they say) is history.
When the duo walk up the aisle tomorrow they will be combining a number of bands of the past. Steve has mainly been involved in the various aspects of his yee-hah champs The Soil Brothers but Anice's track record is altogether longer and embraces the likes of Sitting Pretty, Orange Blossom Special, Orange, DHSS and many more. Anice's greatest musical moment came when she was able to sing a song based on her beloved 'Gone With The Wind' (DHSS anthem 'Clark Gable') while Steve's undoubted greatest moment came when he penned a tribute to one of his heroes with the Soil Brothers magnificent tune entitled 'Sam Holliday Said'. I always vowed that I would get my own back for that Steve and oh boy have I done so now!
MUSICBOX would like to send Uncle Steve and Auntie Anice our very best wishes for tomorrow's event and we are all sincerely looking forward to a post-wedding disco that does NOT have the Birdie song on view. Have a great time both of you.
Tamworth Herald – 01/06/90
Musicbox – Pure Genius
The New Puritans – Night Moves
There are more local gigs than ever at the moment – and The New Puritans appear to be playing quite a few of them.
But their hard-working attitude and their habit of always putting on a good, powerful show is obviously not enough…because Night Moves wasn't even one-quarter full for the gig.
The Puritans were at their best – with powerful songs like 'The Jailor' and 'No Such Chance' followed by the inevitable Polish version of 'Green Door' – that all went down very well with the 'crowd'.
But the handful of people watching the puritans were the same enthusiastic crowd that travel to Bradford or the Mean Fiddler to see them…and I couldn't help getting the impression that it was all a bit of a shame.
Sean 'Two Haddocks, One Brain Cell' Atkins
Tamworth Herald – 01/06/90
Musicbox – Festival Update
FOLLOWING last week's decision by Festival chairman Sam Holliday and Vice Chairman Rikk Quay to resign their positions, Catch 23 manager Alan Webster has become the acting chairman of the festival.
He will hold the position until Sunday June 17 when a full vote will take place of the new chairman and vice chairman at what should be a very lively meeting indeed.
Alan Webster has made it clear he does not want the job but several people are already thought to have thrown their hats into the ring for the top two positions.
The situation is this. If you would like to be considered for the position of either chairman or vice chairman you must contact Alan on 715581 and let him know your interest. Then the first item on the agenda of the June 17 meeting will be the election. One band one vote will be the order of the day (democracy always wins) and then a new chairman and vice chairman of the festival will be installed.
Dear Rock Festival Committee
After the fiasco of last Sunday night's rock festival meeting we, Rhythm Damage, have decided to withdraw our application and terminate our placing in the 1990 event after a unanimous band decision. We feel that the egotistical values of a certain percentage of bands overshadowed the ethos of the concept of the festival as a whole. We do hope that the future of the Tamworth Rock Festival will go from strength to strength and wish the new committee all the best in forthcoming years and maybe at that point Rhythm Damage will be able to play an active role again. But unfortunately the Tamworth Rock festival in its present format is totally incomprehensible and we find it completely against our moral principles to comply with pettiness of pre-77 values. Do egos rule? Long live the 1990's Tamworth Music Scene.
Chris, John and Rikk, Rhythm Damage.
Tamworth Herald – 01/06/90
Musicbox – Mr. Sam Holliday is doing a good job at Musicbox shock horror claim
Dear Sam
Each week when I read the Musicbox page I realise more and more how much you help and encourage local bands. I know this applies to Fetch Eddie because I am involved with them. All the other bands know as I do that you care.
What I would like to see, is a few 'thank you Sam' letters on the Musicbox page.
Here is mine.
Thank you Sam for everything. Let's see a lot more added to mine.
Sincerely and gratefully yours,
Phyllis,
Stonydelph
Tamworth
Tamworth Herald – 01/06/90
Musicbox – News and Snips
TWO great out of town bands – The Moment and The Heart Throbs form the basis of an impressive week at the Rathole.
The Moment, the stylish Clash/Dexys combo, will headline a three band Rathole show on Sunday which also features Fetch Eddie and Good Question Derek.
The Moment, who had their earlier Rathole gig cancelled at the last moment after the singer had a throat injury, will bring their brass dominated sounds to the Lincolns venue for a keynote show.
In support will be our very own Fetch Eddie, of whom few superlatives are over-estimations, and a well respected Birmingham pop band with the excellent name of Good Question Derek. T runs from 7.30-11 on Sunday and looks a pretty epic show.
On Thursday the Rathole hosts one of its biggest gigs yet in the shape of The Heart Throbs. This is a very key gig for the venue as the Heart Throbs represent one of the best young bands in the country at the moment. Support comes from The Trudy and the night runs from 8-1.
Tamworth Herald – 01/06/90
Musicbox – News and Snips
A keyboard player is sought by a Tamworth-based band. The group say they are desperate to find someone so they can erupt onto the local scene. All the band members are experienced musicians rehearsing on Sundays in Amington and if you want to find out more why not phone Matthew.
Tamworth Herald – 01/06/90
Musicbox – News and Snips
Because of the Bank Holiday, this column had to be completed before Monday night's rock festival fundraiser so we can't tell you how it went sadly. Hopefully more info next week.
Tamworth Herald – 01/06/90
Musicbox – News and Snips
Dance Stance have been lined up for their biggest gig yet supporting James Brown's band at Cambridge on June 18. Wolfsbane meanwhile will be teaming up with fellow Tamworthians Magnum in an open air festival on Saturday July 14.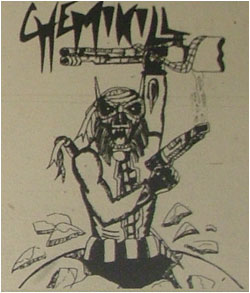 Tamworth Herald – 01/06/90
Musicbox – Killer night assured
BLAZE Bayley, the Wolfsbane crooner, offers his vocal charms to Chemikill at Tamworth Arts Centre on Sunday night in a special fundraising gig for the Festival.
Chemikill team up with Rhythm Damage and Flowers in the Attic in a three band show which promises to be a fun event for all concerned. And to give it that extra, unusual edge, Chemikill will be joined for one song by Blaze Bayley who will add a touch of Wolf to the Chemi-stry.
The idea of the show originally came from everyone's favourite metal monsters Chemikill who wanted to raise money for the festival. The wanted a varied line-up to attract a varied audience and they have certainly got that now.
Chemikill – with their one-off appearance by Bayley – top off the bill and will produce their usual wham-bam-slam attack on the senses via their new line-up of Gaz on bass, Chris on drums, Ant on guitar and Gordon Tea Pot Throat Ripout on vocals. Great name Gordon!
In support of these looneys will be the Flowers and the Damage boys. The Flowers are comfortably the most sensible act on the bill with their wirey, stylish Bunny sounds certain to attract a good percentage of the audience while Rhythm Damage provide the sampled anarchy of the night.
Rhythm Damage have certainly had a high profile lately for their manic sounds but when your watching them on Sunday just listen closely to some of the bass line and you nay realise that they are a killer dance band as well. Just take an ear's worth of new fave 'Taste the Rod' if you doubt that opinion.
That's the lot then – Chemikill, Rhythm Damage and Flowers in the Attic – and an exciting line-up it is too. Once all the expenses have been taken out, all the funds will go towards the festival so if you want to enjoy yourself as well, why not get along. Entry is a highly reasonable £1.50.
03/06/90
The Moment
Fetch Eddie
Good Question Derek
The Rathole
03/06/90
Chemikill (plus Blaze Bayley)
Rhythm Damage
Flowers in the Attic
Tamworth Rock Festival fundraiser
Tamworth Arts Centre
05/06/90
Suicide Petch 'n' The Juice MCs
The Marmion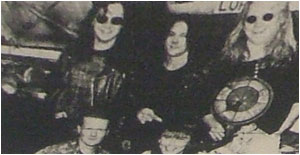 07/06/90
The Heart Throbs
The Trudy
The Rathole
08/06/90
Scream
Chemikill
Litany of Fear
Tamworth Arts Centre
Tamworth Herald – 08/06/90
Musicbox – An Action-Packed Week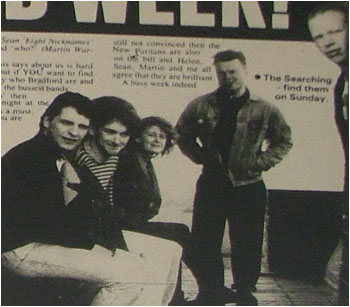 TAMWORTH boasts three top shows this week – and thankfully none of them clash with one another.
Top out of Towners like Bradford and the Trashcan Sinatras will be on show as will local favourites like The Searching and Scream in a week of smiles for local gig-goers.
Friday night, Sunday night and Thursday night will all offer music for the discerning ear and serious gig-hoppers can expect an expensive week.
In brief the line-ups read…
Friday (Tonight) – Tamworth Arts Centre: Scream, Chemikill and Litany of Fear.
Sunday – The Rathole, Lincolns: Trashcan Sinatras, The Laurels and The Searching.
Thursday – The Rathole, Lincolns: Bradford; The New Puritans.
A brief resume on who is doing what based on the limited info we have…
Scream, Chemikill, Litany of Fear – Tamworth Arts Centre tonight.
A powerful line-up of local talent this one and one which should produce a large Friday night audience.
Topping off the night will be Scream who will be making their first Arts Centre show with their recently re-organised set up. The band have already impressed with the shows at The Rathole and in Leicester and they are keen to establish a form base for local domination at tonight's key show.
In support will be eccentric metal madmen Chemikill making a swift return to the venue after Sunday's Festive Fundraiser and Litany of Fear who will be in outdoor Festival action for the first time in 1990. Many nice things have reached my ears about Litany of Fear and as they feature the delightful Kev Urwin they can do no wrong in my book.
A powerful way to spend your Friday night this.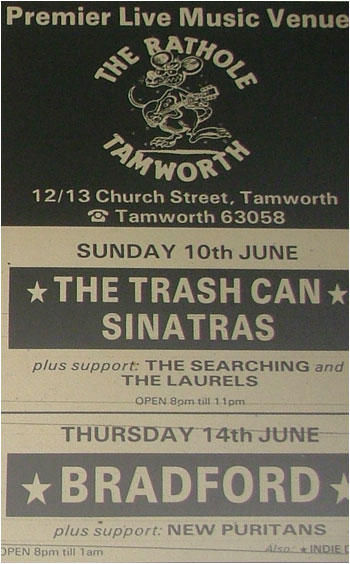 Trashcan Sinatras/The Laurels/The Searching – The Rathole, Sunday.
The Searching return to Tamworth for the first time in eons as part of a three band package on Sunday night. The Searching, a former Best band in Brum finalist are renowned for their accomplished and stylish pop and they are very welcome back in Tamworth. Spearheading the whole chitty-chitty-bang-bang will be the Trashcan Sinatras who I am reliably informed are big in Birmingham and 'pretty damn hot' with it. As I have received no information from the band I can tell you no more than that. As for The Laurels, well I know nothing about them and I refuse to make any jokes about them being a Hardy bunch. I hope I'm above that. It's at the Rathole anyway so make your own mind up on Sunday.
Bradford/The New Puritans – The Rathole, Thursday.
A VERY big band this one. Radford are as big on the music scene as the Town is on the map, and their appearance at Tamworth is another one of those coups that The Rathole appears to be making with increasing regularity. As I am just an old punk reactionary who rarely knows about new out of Town bands, I asked fellow Heraldites what they knew about Bradford and received such enlightened comments as 'they are very famous I think' (Helen Machin), 'I've seen them mentioned in Music Week a few times' (Mike Turner), 'never heard of them' (Sean 'Eight Nicknames' Atkins) and 'who' (Martin Warrilow).
What this says about us is hard to attain but if YOU want to find out exactly who Bradford are and see one of the busiest bands of the 'mo' then Thursday night at the Rathole is a must. And if you are still not convinced then the New Puritans are also on the bill and Helen, Sean, Martin and me all agree that they are brilliant.
A busy week indeed.
Tamworth Herald – 08/06/90
Musicbox – Aaron James quits Fetch Eddie in shock move
AARON James, Fetch Eddie's guitarist and main songwriter has surprisingly quit the band.
Aaron, who has been the mainstay of the band for four years, decided to throw in the towel last week meaning the cancellation of Sunday night's proposed show at the Rathole.
Fetch Eddie are intending to carry on without Aaron but there is no doubt that the loss of the man who penned all their greatest tunes will be a major blow to their credibility and sales appeal.
Fetch Eddie The Baby's Gone Blue burst onto the scene four years ago and first caught my attention when they sent me a copy of their debut demo which I reviewed enthusiastically in MUSICBOX.
Mixture
Their mixture of Squeeze-style pop and gentle white reggae proved an unusual and compelling sound and they began to play live to increasingly enthusiastic responses. By the time they played their second Tamworth Festival they had become established as one of the area's finest groups and their massive impact on the MUSICBOX poll proved that they had a two-way love affair with Tamworth audiences.
Aaron, who became a father earlier this year, decided to quit the group because he felt unhappy with their present direction. And, in addition he was a little disappointed with the speed in which the band were not progressing.
Aaron has said he will take time off now before considering his future, but he has made it clear he wants to stay in the manic world. As for Fetch Eddie, the word is that they are carrying on with new musicians but here at LE BOX we wonder if they will ever be the same without their main and very, very talented songwriter.
Or indeed without their main fan – the lovely Phyliss, Aaron's grandmother – who is very sad about Aaron's departure and views it with the same sadness as everyone who has at one time fell under the band's hypnotic spell.
Tamworth Herald – 08/06/90
Musicbox – Festival resignations – your letters
The following letters have been received at MUSICBOX following the resignations from the top echelons of the Rock Festival committee by myself, Sam Holliday and Rikk Quay. Two have come from Alan Webster – one in his position as Acting Chairman and the other in a personal capacity – and the other from Mark Hynds, once a fierce critic of the local scene. Even though they are a bit embarrassing for us to be seen in print, I am very touched by the sentiments expressed as indeed I'm sure Rikk will be.
Dear Sam,
On behalf of the Tamworth Rock Festival Committee, I would like to express the regret felt at your decision to relinquish your position as Chairman. We understand your reasons, and it is sad that you should have been forced into this position by a relatively small group of egotistical people. However, as far as we are concerned, the Rock Festival belongs to Sam Holliday, and we will look after it for you in the hope that there can be a full reconciliation, at some time in the near future. The loss of Rikk and Eddie is equally regrettable and we trust that you will all continue to be involved in some way.
Thanks Sam.
Alan Webster,
Acting Chairman, Tamworth Rock Festival Steering Committee
Sam,
Last Monday night's Indoor Festival preview showed exactly why the festival will now sink lower and lower, weighed down under the influence of sad old men, bad attitudes, inflated egos and 20 minute blues instrumentals.
OK, I agree with something as subjective/emotive as music it would be unfair to stop people playing on the grounds that someone doesn't like them/doesn't think they're good enough. But when faced with something so obviously wrong, there should be no doubt, no concession based on past 'victories'.
The criteria to play this year's festival was simple – three gigs since the last event. If you haven't played three times can you honestly expect people to believe you are enthusiastic about your band?
Mind you, judging by some of the mindless drivel served up on Monday, the lack of action in some camps has proved a blessing in disguise. [Mark named names here but MUSICBOX is far too kind to print them…]. On the other hand, The Fat Moggies spent their ten minutes trying to string together drums/bass/vocals/guitar, never quite making it, but all the more exciting for that.
You see, just because it didn't work on paper, it shouldn't be 'allowed' according to your serious musicians, but that's because great pop doesn't work to some age-old formula, its formula changes everytime – everytime some spotty kid kicks his new 'Kays catalogue guitar or 'Chad Valley drum kit' across his bedroom floor and gets a sound he's never heard before, or thinks he's never heard before.
Youth! Excitement! (Yogots), Style! (Fat Moggy), Noise! (Vindaloo Breakfast) Sex! (Yogots again) these are the things worth championing, worth getting worked up about in music. Worth resigning from a committee of dull out-dated groups.
Sam Holliday left the Festival with his integrity intact, and before his idea of rock-pop music became tainted. All because he cares too much. A true music fan and a new romantic. The sort of person who deserves your respect.
Mark Hynds
Dear Sam
I have been connected with the Tamworth music scene for nearly five years now, and during that time there has always been a friendly atmosphere and a willingness to help each other.
This year however, attitudes seem to have changed and at the last festival meeting, like many other people, I began to wonder where we have lost our way. When people not only criticise but openly abuse the 'champion' of our cause, it really is time for action. Sam Holliday's impartiality and thorough knowledge of the local music scene cannot be questioned and when he came up with a line-up (approved by the committee), it should have been accepted without question. Instead, we had a bitter argument and it was obvious that common sense would not prevail.
I know that Sam regarded this year's line-up as being the best ever, especially with the return of Dance Stance and Bash Out The Odd after several year's absence and the refusal of certain bands not to accept that they had been left out, unfortunately left Sam and Rikk with no alternative but to step down.
The Rock Festival was Sam's baby, and as he said in his letter it has grown up into a monster, which is out of control. This year's festival must go ahead despite the unsatisfactory line-up, but we must learn from this dreadful experience and make sure that the committee is strong enough to promote Tamworth music to its best advantage. If a band does not already have a substantial following in the area I personally do not feel that they warrant a place in the line-up and question their motives. It should be an honour to be invited to take part in the Festival and not a divine right.
Although we feel for Sam and Rikk, no one will help by withdrawing in sympathy. Regrettably, they have made their decisions, but anyone who respects them will work to make sure that the Festival continues with the same ideals. Sam still believes in the Festival, he just cannot be dictated to by selfish people who will take a mile but are not prepared to give an inch.
A temporary steering committee has been formed and is in the process of drawing up new rules, which it is hoped will be implemented immediately after this year's Festival. In the meantime, we all need to pull together to ensure that Sam's past work has not been in vain.
Alan Webster
Sam Holliday replies:
I am indebted for these kind comments although I hope the term 'new romantic' in Mark's letter isn't implying I'm an early Spandau Ballet fan! In addition to these letters I have received many, many supportive and supporting comments from local bands including Wolfsbane, Catch 23, The Yogots, Emma Gibbs, The New Puritans, Spiral Eye, Dance Stance, Scream, Chemikill and more. I was particularly touched by comments from Jase The Ace (Wolfies), the Catch 23 boys and Bayley who brought me a bunch of flowers on behalf of his band. All of this proves that the spirit which Rikk and I thought had gone forever has merely been obscured by pettiness and it has restored a lot of our ailing faith. I just hope the next chairman and deputy will keep that spirit alive and thanks again to all those who have shown basically that they care.
Sam (on behalf of Rikk as well).
Tamworth Herald – 08/06/90
Musicbox – Those Festive fundraisers
HUNDREDS of pounds were raised last week by two special concerts to raise money for the Tamworth Rock festival.
The major event was the eight band show at Nightmoves which was a huge success and that was followed on Sunday by another good fundraiser at the Arts Centre.
We haven't got space to do an in-depth report on both shows but using what I have heard and what I have seen here is a brief resume of what took place.
Friday, Monday began with Fat Moggy who delighted most of the audience with a show full of originality and wild abandon. Even Mike Fleming said they could potentially be a BIG cult band. The Naked Touch were apparently quite sedate and calms as were Never Say Die who boasted some fine guitar work. The Magnets weren't too happy with their sound but it seemed OK to most people while the Yogots also came off stage with a frown despite one or two absolute gems including a relative newie which was good. Vindaloo Breakfast were mine and many people's band of the night with a killer show of attacking guitars and punchy vocals that brought back happy echoes of 1977. Excellent. Banned in Yellow stunned my 'oppo' Sean Atkins but didn't quite reach their Mean Fiddler heights in my opinion although 'going Green' was CRUCIAL. Finally, Rhythm Damage played a hugely popular set of anarchic pop which delighted most. Personally I thought they were far better at the Arts Centre on Sunday where they played what I regarded as their best set yet. Even technical hitches couldn't ruin a set in which two songs – 'Energise' and 'Taste the Rod' were absolutely magical. Also at the Arts Centre, Flowers in the Attic showed that they have become a bit more sombre in recent months and have perhaps lost some of their angelic charms while Chemikill played with stunning precision and ear battering power with Bayley's contribution adding sugar to the metal strawberries. End result, two successful nights and a lot of much needed DOSH.
Sam Holliday
Tamworth Herald – 08/06/90
Musicbox – It's a nice day for a White Wedding
The first MUSICBOX marriage passed off wonderfully on Saturday when ex-DHSS and Orange singer Anice Byfield became Anice MacNamee after marrying Soil Brothers star Steve. A great day was had by all not least Reverb Sounds king Den Byfield who looked 12 foot tall as he gave his daughter away to young Steven. Anice looked lovely. Steve looked almost handsome as well and everyone had a brilliant time even though Rikk Quay was dj. Next marriage to look for is MUSICBOX dep Ed Martin Warrillow who waves goodbye to freedom in July!
10/06/90
Dance Stance
Bash Out The Odd
The Rathole, Lincolns
10/06/90
Trashcan Sinatras
The Laurels
The Searching
The Rathole, Lincolns
14/06/90
Bradford
The New Puritans
The Rathole, Lincolns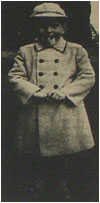 Tamworth Herald – 15/06/90
Musicbox – Most important Fest meet ever?
ALL the many bands involved in this year's Tamworth Rock festival are being called to a full vital meeting on Sunday night.
The meeting, the first since the now infamous band-selection assembly last month, will be critical for two reasons.
All the bands who are playing in the outdoor event must bring their register, fee of £6 per head. No excuses will be accepted after all the turmoil and any band not paying will not be playing.


A steering committee must be elected to supervise the running of Festival 1990. As you know, the Chairman and Vice Chairman of the festival for the past six years both resigned after last month's meeting and replacements are needed. What looks likely is that the meeting will be asked to vote for a steering committee for this year before ultimate decisions are made for the running of the 1991 event. More should be explained on Sunday but it will all be on a strictly one vote per band format.
The Tamworth Rock Festival has taken a bit of a battering over the past couple of weeks but with the event now just a month away, all attention must now go on making the event as big a success as possible.
As regards, the overall organisation, in the past couple of weeks a steering committee based around Alan Webster, Blaze Bayley, Mike Fleming, Lee Revelle and Den Byfield have been co-ordinating various aspects of the festival and they will be in control of Sunday night's meeting.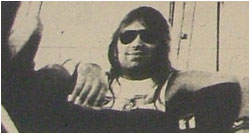 A permanent successor to the Chairmanship and Vice-Chairmanship is yet to be determined but among names that have reached MUSICBOX's ears as contenders are John Reeman, Neil Marklew, Mike Turner, Ian Gibbons, Den Byfield and Blaze Bayley.
As for the band splaying the event, the night will be important to learn of developments, with equipment, staging and line-ups. Blaze Bayley, who will be co-ordinating most aspects of the stage, will tell bands what they need and what they must bring with them on the day and in addition there will be discussions on promotion and on-the-day organisation.
Putting all these various strands together you will see that Sunday night's meeting is CRUCIAL. If you are in a band that is in the event then you have no reason not to be there.
It's at the Tavern on Sunday, it starts at 7.30pm and I for one predict an interesting night.
Get there…
*The two Indoor Festival fundraisers realised more than £330 profit. Thanks to all the people who helped reach this tally – the bands themselves and all the off-stage workers.
Tamworth Rock Festival 1990
The full official line-up for the seventh annual Tamworth Rock Festival
Friday July 13 – Tamworth Arts Centre Indoor Party. Admission £1.50
Broken Dreams, Never Say Die, Vindaloo Breakfast, The Magnets, Eight Ball Joe
Saturday July 14 – Tamworth Castle Grounds. 12 noon – 7pm. Admission free.
12.00 – The Naked Touch
12.30 – What's This Heads Down Mindless Boogie About Nothing
01.00 - Sherbert Trees
01.30 – Flowers in the Attic
02.00 – The Big Noise
02.30 – Chemikill
03.00 – Catch 23
03.30 – Kraze
04.00 – Bash Out The Odd
04.30 – Emma Gibbs Loves Badges
05.00 - Shock Culture
05.30 – Spiral Eye
Sunday July 15 – Tamworth Castle Grounds. 12 noon – 7pm. Admission free.
12.00 – Litany of Fear
12.30 – The Cuddly Spiders
01.00 – The Herb Garden
01.30 – Breaking Point
02.00 – The First Conspiracy
02.30 – Dance Stance
03.00 – King Woderick and The Yogots
03.30 – Banned in Yellow
04.00 – The New Puritans
04.30 – Scream
05.00 – Wolfsbane
Line up subject to alteration.
Tamworth Herald – 15/06/90
Musicbox – Win Wolfie gear – or buy Wolfie gear!
WOLFSBANE fans – and local musicians – have a chance to get their hands on some of the band's prized possessions.
For the band are selling some of their older equipment – while at the same time they are running a competition to raise money for a local charity.
First the competition. The band have kindly donated a Wolfsbane CD, a t-shirt and a baseball hat (all autographed) in order to raise money for the Guide Dogs for the Blind appeal run by the Pip Club which Jeff's family in particular are very supportive of. To win these autographed, unique items jut pop into the Pip Club (that's the Drayton Manor Cricket and Social Club, Fallow Road, Fazeley) or ring them and make a bid. The highest bid for the whole package wins it and all the money goes to charity. Get bidding!
As for the equipment for sale, well, the band are selling some high quality bass and drum gear which was used right up until their recent tour. Jeff describes the bass gear he is selling a 'huge' while the drum kit is a full powerful double-bass kit.
"It is good quality equipment which has played on some very famous stages. It is in perfect nick and should be ideal for local bands," said Jeff.
Interested in the bass stuff? Interested in the drums?
Tamworth Herald – 15/06/90
Musicbox – SNIPS
Two local music fans who are heading for Glastonbury are on the lookout for a lift. If you are heading for the Glastonbury Festival and can provide space for Lizzie and Lee they are both happy to share costs.
Ark, the popular rock band featuring our very own Richard Deane, have announced a series of dates. They are one of the star attractions on Friday June 22 at the FOD Promotion Indoor Festival (alongside Risky Business and Virgil Splint) and they follow it with a trek to JB's in Dudley on June 28 and Selly Park Tavern on July 5. On a more global basis, France has requested 1000 copies of the band's CD album and they have been invited once again to play a number of top European shows. Keep your eyes on this lot…
A new promotions and production company is being set up in Tamworth. It is all a bit of a mystery at the moment but the promoters have a venue lined up in Tamworth and now want bands to come forward to play it. This is all quite genuine and quite tantalising so if you want to know more – and want to register as a band for the venue – why not ring HP Productions.
Eight Ball Joe have been in touch with some info about their current activities including news of their new full line-up (Chris Ferdinand II Bass, Dino La Rocka ; Drums and Jo Delfuego : Guitar, Vocals) and their latest demo 'Dance Higher, Dance Faster'. This sprightly tape had been enthusiastically reviewed by that awfully nice chap Geoff from Baddesley who said 'these guys know what they are doing and believe me they do it so well. If this tape was a person it would eat and drink all blues. Blues, beautiful blues'. As we have had no room to review any demos all year (all these flippin' gigs to preview!) that's as near as we get to recommending a tape. By the way, Eight Ball Joe are always on the lookout for support with Tamworth bands.
Tamworth Herald – 15/06/90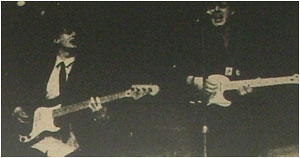 Musicbox – Bash Out The ODD Bash in The New
BASH Out The Odd make their eagerly awaited return to Tamworth action on Sunday night with their new line-up.
The band are in action at the Rathole alongside two well respected Birmingham outfits – The Boatymen and The Butterfly Net.
For the Tamworth crew it will be their first Town appearance with new guitarist Paul Whitehead and they are looking forward to playing a fresh new set with a collection of fresh new songs. The band say that the atmosphere surrounding them is very optimistic and exciting and they are keenly awaiting their latest gig. As for the two Birmingham bands, well both come with a strong reputation with the Butterfly Net in particular having a serious buzz around their ears.
Looks like being a nice one, it's at the Rathole on Sunday and a big crowd is assured.
Tamworth Herald – 15/06/90
Musicbox – Mean night out in July
THREE of the area's best bands are joining forces for the Second Tamworth London Showcase in July.
The first London Showcase featuring Catch 23, Banned in Yellow and The New Puritans ranks as the best gig of the year to date and this second one on July 1 promises to be equally exciting,
This time Banned in Yellow will be joined by Spiral Eye and Rhythm Damage in a show full of quality and variety. The Spirals already have a base in London but one of the nicest things about this show is that after more than ten years in the local music business, Uncle Rikk Quay will be making his London debut. A very good reason to get along indeed.
It takes place on Sunday July 1 and tickets including coach and admission are a flat £5. The buses will run from the Assembly Rooms and possibly Atherstone and you MUST book in advance by contacting either Rikk at the Tavern, Neil at The Rathole, Lee at Notes or the Spirals probably at Hamlets.
Tamworth Herald – 15/06/90
Musicbox – Metallic Mania
THURSDAY night is metal night at the Rathole. For on Thursday the Rathole opens its doors to three cracking and accomplished metal bands – Wrathchild, Deviance and Kraze.
Wrathchild of course are very big (and very loud) news to metal circles and their last appearance in Tamworth was hugely appreciated by the Town's many metal-heads. If you Like It Hot you'll probably like this lot a great deal. Deviance meanwhile are the hottest metal bunch from the Nuneaton area and come with a big following and an even bigger reputation for hard, fast, metal attacks.
And as for Kraze? Well what can we say other than that they are cooler than ice and harder than granite. Pretty boy (and pretty girl) metal of the highest quality and the sort of sounds that have already been established in Tamworth and beyond as being very powerful.
Wrathchild are the name act but the two high-quality support acts ensure that Thursday night should be a riotous success for the denim, leather and studs brigade.
17/06/90
Bash Out The Odd
The Boatymen
Butterfly Net
The Rathole
18/06/90
James Brown Band
Dance Stance
Cambridge
21/06/90
Wrathchild
Deviance
Kraze
Tamworth Arts Centre
Tamworth Herald – 22/06/90
Musicbox – 20 bands line up for Fest
A TOTAL of 20 bands will now take part in the Tamworth Outdoor Rock Festival in just three weeks time.
Originally the line up featured 24 bands and promised to get a little bit overheated but it has now been trimmed to a more manageable and traditional 20 group line-up.
The new line-up has been caused by Rhythm Damage's decision to pull out, the split up of both The Herb Garden and The First Conspiracy and the fact that the King Woderick crew will no longer be able to take part due to one of their number not being available on the days.
What is left is 20 good, varied bands for the two main days in the Castle Grounds and a further four powerful combos on the Friday night at the Arts Centre.
The new line-up was thrashed out at an impressive Rock Festival meeting on Sunday. Following the debacle of the last meeting this was a far more united front by Tamworth's musicians and it all passed very smoothly indeed.
A decision on a permanent Chairman and Vice-Chairman for the festival was withheld until later this year and in the meantime a steering committee spearheaded by Den Byfield and Blaze Bayley will ensure that this year's Festival will go ahead.
One of the most exciting innovations in terms of organisation this year will be Blaze Bayley's Stage Crew. The Wolfsbane singer (gently!) bullied everyone into submission and has now grabbed a whole team of guitar, bass, drum and keyboard experts who will help to make the days run smoother.
From YOUR point of view as a punter what you should see is an altogether smoother and calmer running festival with a whole bunch of cracking bands to enjoy.
Among the many peaks to enjoy during the weekend will be festival debuts from the likes of Bash Out The Odd and What's This Heads, a welcome return for the mighty Dance Stance and key shows from the area's two most popular bands, Catch 23 and Wolfsbane.
For Wolfsbane, their Sunday night appearance will follow hot on the heels of their major all day fest show with Magnum on Saturday July 14 and will give Tamworth fans a chance to taste the glories that Iron Maiden fans will soon be able to lap up on their forthcoming national tour.
In addition Catch 23 will play their first major Tamworth show for FAR too long. Chemikill will produce the only thrash metal the Fest has ever seen and elsewhere there is more goodies to enjoy than a 10p mix from Fourbouys.
The countdown for the festival is now on so cancel all your other plans for the weekend of July 13-15 and get set to BOOGIE!!!
Tamworth Rock Festival 1990
The full official line-up for the seventh annual Tamworth Rock Festival.
Friday July 13 – Tamworth Arts Centre Indoor Party. Admission £1.50
Broken Dreams, Never Say Die, Vindaloo Breakfast, The Magnets, Eight Ball Joe
Saturday July 14 – Tamworth Castle Grounds. 12 noon – 7pm. Admission free.
12.30 – What's This Heads Down Mindless Boogie About Nothing
01.00 - Sherbert Trees
01.30 – The Red Cardigans (formerly Flowers in the Attic)
02.00 – The Big Noise
02.30 – Chemikill
03.00 – Catch 23
03.30 – Kraze
04.00 – Bash Out The Odd
04.30 – Emma Gibbs Loves Badges
05.30 – Spiral Eye
Sunday July 15 – Tamworth Castle Grounds. 12 noon – 7pm. Admission free.
12.30 – The Naked Touch
01.00 – Litany of Fear
01.30 – Cuddly Spiders
02.00 – Breaking Point
02.30 – Shock Culture
03.00 – Dance Stance
03.30 – Banned in Yellow
04.00 – The New Puritans
04.30 – Scream
05.00 – Wolfsbane
Line up subject to alteration.
Timings may alter. Bands may be on either 15 minutes before or after published times.
Tamworth Herald – 22/06/90
Musicbox – First Conspiracy in shock split
THE First Conspiracy, one of Tamworth's most consistently popular bands, have split up.

After three years on the scene, the band have decided to call it a day to the surprise of their followers. Guitarist Roger Moore announced the decision in a short phone call last week. "It's a shame and we are all a bit sad but it just seemed we needed a fresh challenge," explained Roger.
Roger refused to say exactly what had caused the split but hinted that it may not be the end of the story: "we will hopefully be back in one form or another in the future," he said.
The First Conspiracy will be best remembered for several great shows over the years where their mixture of succulent melody and power-guitars made them an instant hit with old punks and new rock fans alike. Their first demo remains as one of THE classic Tamworth area tapes and their lead song on it 'Passions Burning' rates as one of the very best original tunes to be penned by local musos. They had an awful lot going for them and a steady, loyal support and there is no doubt that Tamworth will be all the poorer in their absence. Let us just hope that the Second Conspiracy isn't too long coming because these are musicians and songwriters who we can ill afford to lose.
Sam Holliday
Tamworth Herald – 22/06/90
Musicbox – Bongos Bong in as the Empire starts to Fall
MUSICBOX News and Snips
TWO gigs are due to grab your interest on Sunday night.
First at the Rathole we find the multi-instrumented, multi-talented Expresso Bongo Orchestra while around the corner at the Arts Centre, Empire Falls have booked a slot.
The Bongos need no introduction to anyone with taste and their high energy brass attacks should delight all who trot along on the night. It is nice to see them play at the Rathole because they are certain to attract a few more of the alternative types who may have missed the Bongos before. A word in all their ears – you're going to love them. Support comes from out of Towners The Lorraine Parade.
At the Arts Centre meanwhile we believe that Empire Falls are in action. They have booked the date but we have received little information by way of details. Empire Falls claim a host of very impressive influences – from the more aggressive and intelligent alternative pop sectors and their debut single has been doing the rounds locally to some acclaim. More info we do not have but that's the score – the Bongos at the Rathole and the Falls at the Arts Centre.
22/06/90
Slam!
Tamworth Arts Centre
Tamworth Herald – 22/06/90
Musicbox – SNIPS
Tonight (Friday) a new 'club' starts at Tamworth Arts Centre. It will be called Slam! And will be a varied collection of music (probably along the lines of the Euphoria! Shows) along with new groups. Slam! Hope to give bands who have yet to play the area their first taste of live action in an unintimidating atmosphere and it starts tonight with the debut of the much talked about (but never before seen) Sonic Vibes from Polesworth. The music runs from 8-12 (the bar shuts at 11 please note) and it is being organised by Mark Hynds and Chris and John Sherbert. Sounds different, sounds groovy, starts tonight. Costs a mere £1.
Tamworth Herald – 22/06/90
Musicbox – SNIPS
Thursday night's Rathole fare brings together Swervedriver and The Wild Poppies. These two bands need no introduction at all which means that MUSICBOX knows as much about them as it does about the current state of long jumping in Outer Mongolia.
Tamworth Herald – 22/06/90
Musicbox – SNIPS
A new band are looking for a bass guitarist and drummer to join a young and enthusiastic HM combo in Tamworth. Musical influences include Malmsteen/Skid Row etc. and anyone interested must be dedicated so no time wasters please.
Tamworth Herald – 22/06/90
Musicbox – SNIPS
Sa Sa and Good Question Derek are in action at the Chequers in Hopwas on Wednesday night (June 27). These two keen and enthusiastic pop bands will be providing their sounds for a mere £1.50. It runs from 8-11.
Tamworth Herald – 22/06/90
Musicbox – SNIPS
Flowers in the Attic have changed their name to The Red Cardigans. The band are hoping it may increase their 'Angelic charm' in response to my recent slag off!! No chance boys.
Tamworth Herald – 22/06/90
Musicbox – SNIPS
Don't forget July 1 sees three of the area's best bands – Banned in Yellow, Spiral Eye and Rhythm Damage in action at the Mean Fiddler in London. Special coaches have been booked and to ensure you have a got a place on one of them contact either Neil at Nightmoves, Rikk at the Tavern or any of the Spiral men at Hamlets.
Tamworth Herald – 22/06/90
Musicbox – SNIPS
Mick Rutherford's combo The Loose Connection have earned a top support slot with Saxon at the Mildenhall Rock and Blues Festival on Saturday August 4. They will join Saxon, Mammoth, The Brothers Grimm and several more acts on the bill. Tickets are £13.50.
Tamworth Herald – 22/06/90
Musicbox – SNIPS
Catch 23 may be in action at Bedworth Civic Hall next Tuesday although this has not yet been confirmed. Contact big All if you want to check it out.
Tamworth Herald – 22/06/90
Musicbox – SNIPS
And finally on the vital subject of the World Cup, Rikk Quay has confidently predicted that Cameroon will win the World Cup while Sam Holliday has confidently predicted that England will. On the evidence of this many people have confidently predicted that both of us will end up in straightjackets before Christmas.
Tamworth Herald – 22/06/90
Musicbox – Suicidal Smiles
Suicide Petch and The Juice MCs – The Marmion
'Make some Noise!'. So much enthusiasm, so much energy – this was real Hardcore Dance music.
Where were the ravers with their Monday's Spock Haircuts? You weren't missed.
Bad support band, bad PA but it didn't matter. These guys were kicking some serious ass. Dance Hysteria. Take Note. Rave on Skins.
Steven and Co.
This debut gig was also greatly raved about by the Rhythm Damage crew. Rikk Quay said Tamworth had never seen or heard anything like it before and became an instant fan. MUSICBOX TIP. Watch out for them.
24/06/90
Empire Falls
Tamworth Arts Centre
24/06/90
Expresso Bongo Orchestra
The Lorraine Parade
The Rathole
26/06/90
Catch 23
Bedworth Civic Hall
27/06/90
Sa Sa
Good Question Derek
The Chequers
28/06/90
Swervedriver
The Wild Poppies
The Rathole
Tamworth Herald – 29/06/90
Musicbox – And now one more venue!
Tamworth's music scene has been given a further shot in the arm by the opening up of another new, regular venue for local bands.
This time it is the Hopwas-based Chequers which has opened up for gigs reviving memories of the late Seventies/early Eighties when it was one of the most important venues in the Tamworth and Lichfield areas.
The revived venue has been put on the map by a new promotions company – HP Promotions.
This has been set up by two enthusiastic local music fans who see the Chequers as an ideal venue for local talent.
They opened the doors for the first time on Wednesday when they paired popsters Sa Sa with good Question Derek and they are now appealing for more bands and entertainers to come forward.
"We want this to be a venue for all-round entertainment. We want local bands, comedians and unusual acts as well and we think it is an ideal place," said a spokesman for HP Promotions.
The HP team are certainly inheriting a famous venue in local music terms. In the late Seventies/early Eighties it was the home of many important local shows involving the likes of Ice and Flash Harry and more recently Spiral Eye played a key show at the venue.
The appeal of the Chequers is that it is close to both Tamworth and Lichfield and it was frequented in similar numbers by both Town's in the past. Therefore if you play the Chequers you may well play to a new audience altogether so HP Promotions want to hear from you NOW!
Tamworth Herald – 29/06/90
Musicbox – The Kings have abdicated
King Woderick and the Yogots no longer exist.
This most popular of local bands have gone through a major transformation which will cause shockwaves throughout the musical area.
Have they split up like The First Conspiracy and The Herb Garden? Have they lost their key guitarist like Fetch Eddie or have they lost all their sense and employed George the Roadie as new manager?
No, nothing as catastrophic as that, the band have just dropped the first three words in their name. As of now King Woderick and The Yogots have become simply The Yogots. The reasons for this involve the fact that record companies and agents didn't like the longer name and MUSICBOX Editors continually referred to them as The Kings, The Wods, The Wodders and more. Now all we can call them is The Yogots.
Seems fair enough, so keep your eyes peeled here for more info on The Yogs.
Tamworth Herald – 29/06/90
Musicbox - SNIPS
Vesuvius, a committed local rock 'n' roll blues, funk and soul band are urgently looking for a female singer and electrical piano player or keyboardist. Age ranges in the band at the moment range from 16-30+ so anyone is welcome to apply. The band are very friendly, relaxed and dedicated and if you think you can fit in contact the admin-man Matthew. The band win the MUSICBOX Brownie-Point of the Week award for completing their letter with the words 'thanks for your excellent music page'. Such taste.
Tamworth Herald – 29/06/90
Musicbox - SNIPS
The mighty Bomb Disneyland are headlining Thursday night's Rathole show. The band whose press cuttings pack alone is weighing down my desk, have played support to New Model Army and have had their first album produced by the Army's Justin Sullivan and Rob Heaton. 'Sounds' gave their debut album three and a half stars ('a good and crunchy punk-metals sound' they said) and Metal Hammer gave it a mighty five stars explaining it is 'essential listening'. Methinks this is a band that local punters especially the old NMA brigade is going to love. The Rathole provides the venue on Thursday, The Prudes supply the support. You provide the noise.
Tamworth Herald – 29/06/90
Musicbox - SNIPS
STOP PRESS – Chemikill return to the Arts Centre on Sunday night with the powerful Eight Ball Joe in support. Entry is £1.50 it runs from 7.30 onwards and a fun night is assured. Incidentally, Chemikill are after a second guitarist into Metallica, Slayer and Metal Church.

Tamworth Herald – 29/06/90
Musicbox – 'London calling to the faraway Town'
THREE of Tamworth's best bands combine their multi-faceted talents in London on Sunday night for a special Mean Fiddler bonanza.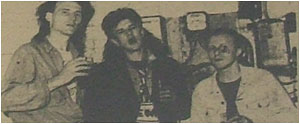 Banned in Yellow, Rhythm Damage and Spiral Eye are the three bands who will be in live action on another night which is certain to help promote the good name of Tamworth in the capital of British music.
Last time a 'Tamworth Showcase' was staged at the Mean fiddler, Catch 23, Banned in Yellow and The New Puritans brought the house down with a classic combined show and there is every indication that Sunday's Capital-bash will be just as tasty.
This one has been put together by the Banned in Yellow who are confident they have produced a varied and exciting line-up.

Spiral Eye look set to headline the whole spectacular. These electrically-charged modern rocksters have been playing around the country with regularity and gaining good notices wherever they go. The simple reason for this is that quite simply they are brilliant and are almost as good as a Paul Gascoigne cross, a Des Walker tackle or a Stuart Pearce free-kick. (Yes, I've got World Cup fever too…)
Equally tasty are the two bands that will provide the powerful platform for the Eye boys. Rhythm Damage have played but a handful of concerts but have already established a formidable reputation. Their appeal lies in their originality, their brash and uncompromising stance and their love of the peculiar. There is a chance that Sunday's show will enjoy the added appeal of an appearance by rappers Suicide Petch and The Juice MCs in a sparkling combination of rap and rasp.
Competing a strike force almost as lethal as Platt, Lineker and Waddle (sorry, slipped again!!) will be Banned In Yellow. This show will be particularly poignant for the group because it was at the Fiddler last time where they really seemed to have come of age. There had been dark hints for some time that they had made a dramatic bid for world stardom and their Fiddler bash earlier this year proved that all the rumours were true. They were spellbinding that night and with the same wicked sound system and same enthusiastic support on Sunday they should be wicked again.
Quite a collection of talent I am sure you will agree. If you fancy getting along, tickets and coach details should be available from Neil at Lincolns, Rikk at the Tavern or any of the members of any of the bands involved.
It should be a great night out and it's about time that London experiences some REAL culture.
Tamworth Herald – 29/06/90
Musicbox – Butty is on the Loose
LARGER than life dj Buttercup (or should that be larger than a fridgefreezer dj Buttercup?) has been 'released' by the Tavern in the Town for one night a week.
Now, the Butty roadcrew will hit The Riftswood every Wednesday night for a 60s and 70s disco par excellence.
Tamworth Rock Festival 1990
The full official line-up for the seventh annual Tamworth Rock Festival.
Friday July 13 – Tamworth Arts Centre Indoor Party. Admission £1.50
Broken Dreams, Never Say Die, Vindaloo Breakfast, The Magnets, Eight Ball Joe
Saturday July 14 – Tamworth Castle Grounds. 12 noon – 7pm. Admission free.
12.30 – What's This Heads Down Mindless Boogie About Nothing
01.00 - Sherbert Trees
01.30 – The Red Cardigans (formerly Flowers in the Attic)
02.00 – The Big Noise
02.30 – Chemikill
03.00 – Catch 23
03.30 – Kraze
04.00 – Bash Out The Odd
04.30 – Emma Gibbs Loves Badges
05.30 – Spiral Eye
Sunday July 15 – Tamworth Castle Grounds. 12 noon – 7pm. Admission free.
12.30 – The Naked Touch
01.00 – Litany of Fear
01.30 – Cuddly Spiders
02.00 – Breaking Point
02.30 – Shock Culture
03.00 – Dance Stance
03.30 – Banned in Yellow
04.00 – The New Puritans
04.30 – Scream
05.00 – Wolfsbane
Line up subject to alteration.
Timings may alter. Bands may be on either 15 minutes before or after published times.
Any problems for bands re: times or organisation please contacts either Den Byfield or Blaze Bayley.