Tamworth Bands History : 1990 :
February
02/02/90
Shock Culture
Bradford Battle of the Bands
Rios Nightclub
Bradford
02/02/90
Euphoria
Tamworth Arts Centre

Tamworth Herald - 02/02/90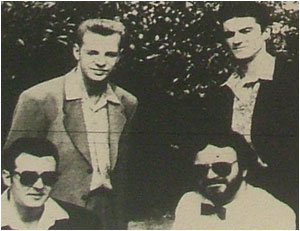 Musicbox - Dance in the Attic
Tamworth's wildly extravagant music scene offers you, the punter, no less that THREE very differing shows this weekend.

Tonight (Friday) the Euphoria experience takes over the Arts Centre and then on Sunday night once again you are faced with a choice.

At the Tamworth Arts Centre, Bunnyboy's Flowers In The Attic team up with The Sonics while down at the Lincolns soulsters Dance Stance will make their second appearance in recent months alongside the Herb Garden.

It leaves you once again with a puzzler about where to park yourself on Sunday but here are a few clues to what you can expect throughout the whole weekend…

Tamworth Arts Centre
Euphoria 3 (Tonight, Friday)
Not much info on this apart from a brief note from my friend Jo Marsh which reads and I quote…
'Admission 8-9.30 equals £1. 9.30-midnight equals £1.50. The promises are - pulsating rhythms, pounding feet and NO power cuts. Probably.'

I also understand that Flowers In The Attic are involved but the only way to find out is to get along and see for yourself.
Tamworth Arts Centre - Flowers In The Attic/The Sonics
(Sunday night)

After various rumours about split ups etc, Flowers In The Attic come in from the 'outside' for a key concert at the Arts Centre. The band, who are also in the process of demoing, are back on the scene with avengeance and keen to show they have lost none of their pre-Christmas edge. Joining them will be the Sonics a band from the indie side of life who will no doubt provide perfect accompaniment to the Flowers. One point here The First Conspiracy, who were originally on the line up, will not be playing. Regardless it starts at 8pm.

Lincolns - Dance Stance/ The Herb Garden

The new Lincolns venue provides the backdrop for one of the areas best old bands and one of the best new ones. The Dance Stance - who were in action at the Empire, Leicester Square on Monday - will be bringing about their big, bold and brassy soul sound to your ears with the able backing of the sweet alternative pop of The Herb Garden. For the Stance it will be a chance to cash in on their triumphant Amington Liberal House show before Christmas while for the Herb Garden it will be a chance to show off their new line up and their fine array of original material. It lasts between 7.30 and 10.30 pm and looks to be a big fun event.

*Bash Out The Odd were delighted with their sell out Lincolns show on Sunday night and are now urgently seeking a new date at the venue. 'It was a brilliant gig which we enjoyed thoroughly and we are keen to get back there as soon as possible.' Said bassist Mark Mortimer.
Tamworth Herald - 02/02/90
Musicbox - Ark For Arks Sake!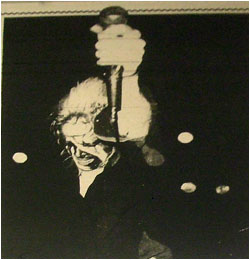 ARK, one of the few bands with a local connection who can genuinely claim to have an international following, will be making a rare live performance in Tamworth tonight (Friday).

The modern rock band- who claim they can appeal to fans of everything from Metallica to Genesis - are playing at the Amington Old Liberal House with the support of a top Tamworth act.

Ark, who feature Tamworth drummer Richard Deane, have already earned support slots to the likes of It Bites and they have a fan club through out Europe which has been strengthened by continued European gigs.

Tonight the old Ark boys descend on the Old Liberal house and are confident of a big turnout once again.

'We know for a fact that a lot of people will be travelling from around the Midlands for the gig and we are all looking forward to the show.' explained Richard. 'Describing our sound is very difficult but we genuinely feel we can please anyone who likes rock music from metal to progressive sounds. There is something in there for everyone.' he said.

The band who come complete with a very visual stage show as the picture above reveals, will be backed by a leading Tamworth band who have asked to remain anonymous. In case that's got you thinking, suffice to say they are very, very good indeed.

The two band shows kicks off at around 8.30 tonight with the doors opening an hour before that. Get along and groove.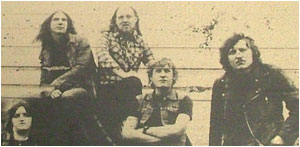 Tamworth Herald- 02/02/90
Musicbox - Great bands of the Eighties- Part Four

BHX
A band of many members but the same unified ideal - to put metal into the forefront of the Tamworth music scene.

Starting around the same time as the Wolfies, BHX included many notable musicians over the years including Sitting Pretty and Great Express man Julian Amos, LO Girls star Rob Rea and current Ark sticksman Richard Deane. The man usually at the helm was vocalist Mick Goodby who held together a very tight and successful ship indeed.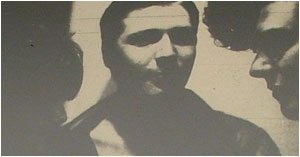 The Magnets
The Magnets are another group who have had more members than the SDP (not hard really). They started as just a tricky twosome in Andy Baldwin and Rikk Quay and although they went through many, many formations, Andy was always the man who kept the synth outfit buzzing. Currently still battling away they have a special place in most peoples hearts as one of the forerunners of the current exploded music scene and the only exponents of Tamworth, new romanticism. A very old and unusual pic the one above [taken by me – Ed!], and just look at Rikk Quay's quiff...
Tamworth Herald - 02/02/90
Musicbox – Wanted – Reviewers
As discerning BOX readers may have noticed, the local scene is currently enjoying one of its biggest boom period for years. The Arts Centre is booked solid for months, Lincolns is now putting bands on regularly and the Amington Liberal House and the Chequers are also offering regular rock shows. What this means is that this column needs YOUR help even more than ever to keep up to date with reviews. Over the past few months we have been delighted with the amount of well-written freelance reviews that have hit our desk and we now need that help even more. Personally having edited this hectic column for nearly seven years now and seen literally hundreds of gigs in that time, my desire to go to every gig locally is understandably waning a little bit so I need YOU the gig-goers to keep me, and our readers, posted with what is going on. If you're at any local gig, or not so local ones featuring local bands, why not write it up, send it in and I will do my level best to use as many as possible. MUSICBOX, I proudly believe is one of the reasons why this area has about 50 odd bands when similar size towns doesn't get anywhere near double figures so to keep our proud tradition going send in those reviews with fresh impetus. Get scribing and send to Sam Holliday Musicbox Editor, Tamworth Herald.
Tamworth Herald - 02/02/90
Musicbox – SNIPS
The excellent Searching are on the lookout for a new singer. The band did have a replacement line-up following Pete Williams's departure but it hasn't worked out so they need a new singer to front their highly-respected outfit.
Tamworth Herald - 02/02/90
Musicbox – SNIPS
Two very different local bands are seeking support acts in the next few months. First a pop/soul band called The Naked Touch are seeking to team up with a similar act and if that sounds interesting to you then ring… Secondly, the Damage boys (that's Rikk Quay's new combo) want a support act soon. Contact Rikk at the Tavern.
Tamworth Herald - 02/02/90
Musicbox – SNIPS
Reptile House recording studio in Lichfield are currently offering a 'January Sale' of sorts; For every one paid-for-day in the studio you get another one free.
Tamworth Herald - 02/02/90
Musicbox – SNIPS
A new band – Amber Cascade featuring Steve King, Brian Lacey and Alan Bayliss are looking for a new guitarist and a keyboard player. More info from Steve or Alan.
Tamworth Herald - 02/02/90
Musicbox – SNIPS
Breaking Point's new demo 'guilty' has excited the interest of RCA Records. If you want to see why you can buy a copy of the tape at £1.50 from Rebel records. The three tracker features Kev Briggs, Daydo and Fave Miller and was co-produced by Breaking Point and Rikk Quay who also adds some keyboards. The band are still after a permanent drummer.
01/02/90
Catch 23
Bristol
Tamworth Herald - 02/02/90
Musicbox – SNIPS
Catch 23 last night (Thursday) took part in perhaps their most important ever gig. The show at Bristol was watched by a host of senior record company men (six from the same company no less) as well as member of Aswad and The Housemartins plus the management of the Wedding Present. All these connections may seem strange but hopefully they will start to come together soon and all will be abundantly clear. Watch this space because things are hotting up for the band.
04/02/90
Flowers in the Attic
The Sonics
Tamworth Arts Centre
04/02/90
Dance Stance
Herb Garden
Lincolns
04/02/90
New Puritans
Sonic Gauge
Tamworth Arts Centre
07/02/90
Bash Out The Odd
Something Pretty Beautiful
The Falcon
London

Tamworth Herald- 09/02/90
Musicbox - Lincolns enjoys a great month
Lincolns has only been running weekly gigs now for about a month but already it has already earned a great deal of commendations from local bands and punters. Here the club D.J. Colin Wall takes us through the first month with his highly subjective view on the gigs so far. It's Colin's view, so take it away old chap...

To start at us off at Lincolns the headline band was KRAZE, one of Tamworth's favourable rock bands who performed quite well accomplishing their task seemingly without problems. However, considering the length of time they have been together - you would expect them to present their show with a little more finesse.

Week two gave us BIG NOISE to start things off. Now a lot has been said about this band, generally bad things. So, I will give you the open verdict. They may not be the best local group around, but they do have one thing going for them - they don't give up.

In onto the stage for dance floor in this case and deliver the goods. Its a little out of sync in places and the vocalist is boisterous at times, but their style, a modern alternative 'indie' rock sound shouldn't go a miss.

Headline this time round were RAPE IN YELLOW. With most up and coming bands you tend to categorise their sound. With these you can't. They're all over the place. Quite a solid performance which reflected traces of 'INXS', 'The Stray Cats' and a glint of 'Terry Hall'. Here was a band which could well put Julian Cope in his place- with a more mature level in their playing ability, (and a bit of serious time in the recording studios to do the trick). We have a local outfit that could be going places.

And then came week number three. Now everyone should know I'm a bit of a rocker, but Blues music has never been my cup of tea. Now on reflection to that I can honestly say LITTLE TERRY'S BLUES BAND and ALSO SMITH AND JONES were two of the best performances this town has seen in years. A night to remember. They equalled each other. Both performed very tight, and even Dave Smith would agree, our Terry couldn't arf play that Gob-tron harmonica.
I would simply recommend a visit by one and all next time either band play. (And it does appear they may play together in the future.) I think you got the drift in that performance- Fantastic!
Which then brings to this last week. Up first were THE FAT CONTROLLERS, and after a few minor problems settled in for a gig which would go down well supporting either 'The Primitives' or 'Transvision Vamp'. The female vocalist came across very well. the guitarist mixing the lead and rhythm in a very tight manner He pulled out a performance which was worthy of a headlining position. Which leaves us with BASH OUT THE ODD.
Now imagine mixing 'The Jam', 'Smiths', 'Dexy's Midnight Runners' and 'Teardrop Explodes' all together. You get BASH OUT THE ODD. Sort of music that them. Musically they were very professional, played very tight, looked good and the brass section seemed to be having a real good time. But their vocalist, Mark Brindley, was a domineering, nauseating and patronising ******. He really got to me and a number of punters too.
There was no need for the language he was using and although the general amount of people who entered regarded this as the best night yet as far as I was concerned BASH OUT THE ODD need a new front man.
All told this is a venue that has things happening. Remember it was once the Rat Hole.
COLIN WALL
Sam Holliday Footnote -
For a Quo fan to knock Kraze for lacking 'finesse' is a bit rich. And the comments on Mark Brindley are seriously out of order. I think he is one of the best things about the band and one of the best singers around and he gives the group an original and distinctive sound. Still it's all about opinions and I am sure Mark will give you his when the band return to the venue next month.
Tamworth Herald - 09/02/90
The toughest choice yet? Sunday Gig Previews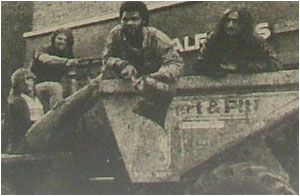 Tamworth's music followers have a real puzzling choice on Sunday as the Arts Centre and Lincolns really clash for the first time.
In recent weeks, the choice of bands has been so different at the venues as to make the audiences totally different. But this week the Arts Centre hosts the majestic psychedelia of Spiral Eye and new Tamworth loonies Vindaloo Breakfast while down the road at Lincolns acclaimed indie stars The Motorcycle Boy from Birmingham join up with Banned In Yellow (ex Rape In Yellow). Such is the potential similarity that Lincolns originally wanted Spiral Eye to the support the Motorcycle Boy and it means that followers of good quality non-mainstream pop are going to have to search their souls.
At Lincolns The Motorcycle Boys will line up with the newly revitalised Banned In Yellow/ The Motorcycle Boy are fronted by ex Shop Assistants vocalist Alex and their recorded output includes a top 75 single called 'Big Rock Candy Mountain'. They are regarded very highly by Indie circles and with the band now working with Wonderstuff's producer and claiming to be getting close to a New Order sound they are regarded as one of the Midlands brightest hopes for the 90s. Supporting them will be Banned In Yellow who, I am reliably informed, played their best ever gig at Lincolns a few weeks ago. They have re-established their sound and look in recent months and the end result is an all round entertainment force. The gig lasts between 7.30-10.30 at Lincolns.
Down the road at the Arts Centre, Spiral Eye hit the stage for the home town leg of their major British tour. The band fresh from their excellent result in the MUSICBOX poll, are clearly one of the favourite acts in the area and with the energy of manager Roger Clarke behind them they see a lot of good things on the horizon. In support are a band called the Atom Seed who are 'not from these parts' but who come highly recommended by the Spirallers. In addition the venue welcomes the debut show of Vindaloo Breakfast a band described as 'sarcastic but cool' and including four notable musos usually to be seen under the table at Hamlets. They should be interesting to put it mildly. This show is an 8-11 affair at the Arts Centre.
That's your choice then, the Motorcycle Boys and Banned In Yellow at Lincolns or Spiral Eye, Vindaloo Breakfast and Atom Seed at the Arts Centre. Even though I am the world's number one Spiral Eye fan, even I'm not sure which gig I'm going to watch which makes me wonder if it isn't all a bit ridiculous that the two venues are competing for the same Sunday night audience when there are six other perfectly reasonable nights in the week. Take your pick but this is one of those weeks when you simply MUST go to one of these gigs.
*As I genuinely haven't decided which gig I am going to; if you don't see my messy blonde locks at the gig you see, then please review it for this column!!!
Tamworth Herald - 09/02/90
Musicbox - Herbs Grow And Dance Dance On!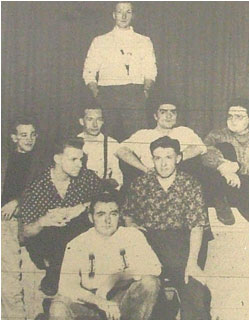 Dance Stance, Herb Garden - Lincolns
Herb Garden
The first thing I discovered about Lincolns while watching this band was don't stand too far back. I thought I was in a pretty good position until I realised I couldn't see singer Lisa at all. All I could hear was her Siouxsiesque voice penetrating my ear drums but I never saw her until after the final crashing bar of the set. Still, never mind, what I did hear was more than enough to convince me that, although still far from flawless, the band are getting it together. There sound is a little better defined now, helped by a more powerful and urgent guitar sound and there are some very sweet moments amongst the occasionally sombre outpourings. At times the sound still drifts a little but there are definitely encouraging signs that this band knows what they want and where they are going. All they need now is to buy Lisa some stilts and we will ALL be happy.
Dance Stance
Back for their second Tamworth show in three months and back with a vengeance. having discovered that the best place to watch a band is down the side of the stage I was able to see and hear the outfit at closer range than before which gave me a chance to really understand the professional strengths and sheer craftsmanship of the group. The tight funk of the groups sound has rarely sounded better but what you see and hear at close quarters is that there is a hell of a lot of power and precision with the band these days. This was a far better show than their impressive Liberal House bash because the band seems to have more energy and looked far more relaxed which allowed for a more enjoyable show for all concerned! Musically they never put a note wrong and the general level of instrumentation was first class.
The keyboard playing of Dean Harvey was magnificent, the solid power of Sheasby and Ford in the rhythm section was dramatically powerful and lead singer Paul Hanlon was in a fine spirited mood which probably had something to do with the fact he had just become a daddy! (Hello Jasmine) Of the songs 'Certain Feeling' , 'Like Brother' and one which I think was called 'Home' were the pick but all these took second best to brilliant finale of 'Grandmas Philosophy'. This was a cracker of a song; full of a mass of 'false' endings, stunning instrumentation and with so many facets and movements that it was like watching a 12 inch remix being played out live in front of your eyes. It was a brilliant finale to a highly enjoyable show which showed Dance Stance at their strong, funky best. They may be an outrageous bunch of smoothies but its a smooth groove that bodes well for the future. So good its wicked.
Sam Holliday
Tamworth Herald - 09/02/90
Musicbox – NEWS – SNIPS
The current crop of two Sunday shows has made Tamworth Rock Festival meetings virtually impossible at the moment. However, we will have a meeting in the next couple of weeks but for your diaries the date for the festival has already been set. It will be the same weekend as last year (ie July 14 and July 15) so cancel your holidays now. Incidentally it should be a celebration festival because just seven days before on Sunday July 8, a Nigel Clough hat-trick will win the World Cup for England. Ah, well, one can but dream.
Tamworth Herald - 09/02/90
Musicbox – NEWS – SNIPS
Bash Out The Odd have confirmed their date for Lincolns. It will go ahead on March 11 as a follow up to what was regarded as a triumph three weeks ago. They will be supported by Rhythm Damage who will be making their debut. Sad blow for this BOX writer is that on that same night I will be at The Stranglers show at the Hummingbird and will miss it. I will be watching four pensioners instead of one in the form of Ridiculous Quay.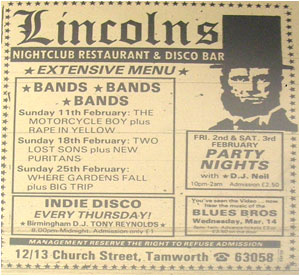 Tamworth Herald - 09/02/90
Musicbox – NEWS – SNIPS
The all new Banned In Yellow are hoping to run a coach to a major show in Cannock later this month. For more info on the gig, the venue and the cost why not ring one of the Harwoods.
Tamworth Herald - 09/02/90
Musicbox – NEWS – SNIPS
Dance Stance, who are due at the Mean Fiddler later this month, have been booked into a major studio for the start of March. The band have been invited into Tony Visconti's studio, the Basin in London, for several days work. It promises to be the most important recording session in Dance Stance's career, watch this space for more info.
Tamworth Herald - 09/02/90
Musicbox – NEWS – SNIPS
The First Conspiracy have a couple of out of town gigs for your diary. On Feb 12 they are at the Old Varsity in Selly Oak and on 23 Feb they will be at Lichfield Arts Centre with Shy. A gig at Lincolns at the end of March has also been arranged.
Tamworth Herald - 09/02/90
Musicbox – NEWS – SNIPS
Wolfsbane will be kicking off their 'I Like It Hot' tour at Tamworth. The gig, a low key event which will only be advertised in this little old column, will be the start of March and already looks like being a world beater. Miss it at your peril.
Tamworth Herald - 09/02/90
Musicbox – NEWS – SNIPS
Catch 23's special promotional gig at Bristol was a huge success. In spite of the appalling weather conditions record company watchers plus the Aswad management and Stan Culleymore from the Housemartins all joined the screaming hordes of teenage Catchophiles to enjoy a first rate show. The atmosphere around the band is now getting very exciting indeed and my assertion at the end of the MUSICBOX poll report that 'if they don't get a record contract in 1990 then I'm a banana' remains very firmly intact.
Tamworth Herald - 09/02/90
Musicbox – NEWS – SNIPS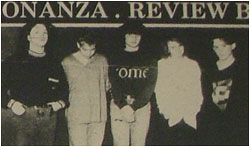 My request for freelance reviewers has already borne happy fruit which proves there are a lot of people out there who realise that I can't be in six places at once and do occasionally like to have another life outside of gigs. We have had two Shock Culture reviews and a splendid Flowers in the Attic one as well and hopefully all will be printed, plus anymore that hit my desk, next week. Keep 'em coming.
Tamworth Herald - 09/02/90
Musicbox – NEWS – SNIPS
Lincolns have added a few more gigs to their busy agenda. On Feb 18 The New Puritans team up with Londoners Two Lost Sons, on Feb 25 Where Gardens Fall are in action and on March 4 there is a trio of acts in Magnificent Lkage, Honeyjump and Bob Baroque. March 11 sees Bash Out The Odd and Rhythm Damage together and then on March 25 the Eddie Armchair version of DHSS team up with the First Conspiracy.
Tamworth Herald - 09/02/90
Musicbox – NEWS – SNIPS
A new bluesy band with a 'sense of humour' are after a bassist. If you're a ling of the four strings and can smile to boot ring for more information.
11/02/90
Spiral Eye
Vindaloo Breakfast
Atom Seed
Tamworth Arts Centre
11/02/90
Motorcycle Boy
Banned in Yellow
Lincolns
12/02/90
First Conspiracy
Old Varsity Tavern
Selly Oak
Tamworth Herald – 16/02/90
Acid House Landowners Charged
Farming brothers John and Michael Hodgetts face a charge of allowing their land on the fringe of Tamworth to be used without an entertainments license for last Septembers all night acid house party that attracted over 2,000 young 'ravers'.
North Warwickshire Council has brought the prosecution against John Hodgetts of Priory Farm, Stonydelph and Michael Hodgetts of Woodhouse Farm, Stonydelph.
Neither man was present at Atherstone Magistrates court on Wednesday when the case was adjourned to May 9.
Also accused of holding the party at Robey's Lane, Stonydelph, without a license are party organisers Simon Raine-Thrall of Coleshill Road, Sutton Coldfield and Mark Wadham and Simon Ricks, both of Victoria Road, Sutton Coldfield.
Tamworth Herald- 16/02/90
Musicbox - Win An Original Wolfsbane U.S. Jacket!
Musicbox is this week delighted to offer our readers a very special Wolfsbane prize indeed. For band bassist Jeff Hateley has kindly donated a special brand new denim jacket emblazoned with a huge colourful Wolfsbane design for a special contest.

The jacket, one of only four in Britain, was sent to Jeff and the other three members of the group direct from America, Jeff, who admits he is far too modest to wear anything promoting the band so blatantly ('and anyway, it's too big for me' he said.) is happy to offer the garment to the MUSICBOX reader who can come up with the best reason for wanting it.

It is basically a traditional dark blue denim coat which is made unique by having a large Wolfsbane logo and pic elegantly embroidered on the back. No fan should be without one!!!

If you fancy getting your chest into this crucial item all you have to do is write to me, Sam Holliday, and explain why on earth you want it. That's all, just send in your reason for wanting this item and then you could be the coolest fan in Town. Entries please to Sam Holliday. Give Me The Wolfsbane Jacket Or Else Contest, Tamworth Herald, 10, Aldergate, Tamworth, Staffs.

*The date for the mega Wolfsbane Tamworth Arts Centre show will be on Sunday 4 March. You won't see that date in any of the national music press previews because the gig is intended to be just for YOU the loyal local punters. More info nearer the time but just in case you've got your diary's ready other dates for the band locally include Walsall Junction (March 17), Birmingham Irish Centre (March 20) and Milton Keynes Woughton Centre (March 23.) Elsewhere the band will be playing at places as wide apart as Glasgow and Cambridge if you fancy a wander.
16/02/90
Euphoria
Tamworth Arts Centre

Tamworth Herald - 16/02/90
Musicbox - A 'mere' two gigs!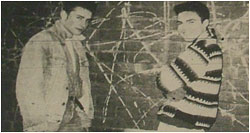 Tamworth has another two gigs on offer this weekend - but thankfully they are two days apart.

Tonight (Friday) Emma Gibbs are spearheading the Euphoria extravaganza at the Arts Centre and then on Sunday night The New Puritans team up with Infinity at Lincolns. There is no conflicting Arts Centre show on that night so here are the two to choose from...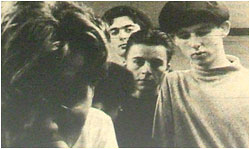 Euphoria (Arts Centre, Friday)
Jo Marsh writes...'The ever expanding and ecstatic euphoria continues tonight offering, in addition to the usual strobe-crazy raving, a rare Tamworth appearance from the ineffable Emma Gibbs Loves Badges. The last Euphoria was an unparalleled success for both dancing and live music and the format remains unchanged with an 8 o' clock commencement and entry a mere Pound until 9.30, and £1.50 afterwards. Emma Gibbs add live music to the night and have got dancier, happier, sexier and even well-travelled since their last Tamworth show. This Arts Centre gig comes amidst a series of dates that takes them among others to the Far East (Norwich). Be early - for Tamworth's growing clan of 24 hour party people- the weekend starts here.

New Puritans/Infinity - Lincolns
(Sunday)
Infinity have been brought in as a replacement for Two Lost Sons and bring to Lincolns the Indie/alternative pop you will have seen before in their previous guises as Psychedelicatessen and Infinity Incorporated. Highly watchable stuff it is too. As for the Puritans, well as you all know these cheeky chappies are a major First Division squad. Loud, guitar-buzzing, post punk sizzlers are a speciality! Get along, it's only a pound!

Tamworth Herald - 16/02/90
Musicbox - Review Bonanza Review Bonanza

Shock Culture - Bradford
(The FIRST Version)

As one of the 60 odd fans who travelled last Friday to Bradford to see Shock Culture in Battle of the Bands 1990, I must say what a delight it was to see the band in such excellent form. They surprised us all with no less than five new songs, 'Why can't it be the same' and 'Unfaithful' are my favourites and with the addition of Chris Bates on keyboard they finished their act the new classic 'Six Ways'.

The three other bands in the contest were 'New Morning' , 'Big Man Aviators', and 'Show Me Heaven'; On talking to Shock Culture's bass guitarist Moz and lead guitarist Gaz they seemed to think that 'Big Man Aviators' and 'Show Me Heaven' were the ones to beat. Lead singer Daz was just pleased everything went well, what with the new songs, introduction of keyboards, and all the hard practice having paid off.

Come 12 o'clock the judges returned with the vote, 'Big Man Aviators' was the first band to go through, it was now a two horse race, the Tamworth and Nuneaton fans were roaring for Shock Culture, but Shock Culture did not qualify, nor did 'Show Me Heaven'. The biggest disappointment of the night, 'New Morning' took the vote, this band who played two covers and a five minute instrumental were no way near up to the quality of the other three bands. They were I believe a local band, not that it should make any difference should it!

What the hell, everyone had a good night anyway in spite of that. And a final word to the band members, Daz, Gas, Moz, Lorna and Chris, you now have a cult following from Nuneaton as well as Tamworth. When you make the big time which you will, they are a credit to you. Good Luck Shock Culture. Get gigging locally soon.

Review by Edward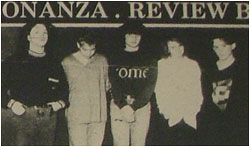 Flowers in the Attic
Birmingham Poly/ Euphoria

'What have Pink Floyd, Genesis, The Stranglers. The Clash and Flowers in the Attic got in common? Answer: None of them appeared in the 1989 Best Tamworth Band, part of the Herald's MUSICBOX poll, and yet these are all mighty bands. And on Wednesday The Flowers' proved it.

To a packed Birmingham Poly the lads rocked the night away (With some help of the Flowers' formation 'Bezitupers'!) There new song got 'em out for the count. This was a truly wondrous show, and chants of 'more, more, more' echoed around the sweat stained room.

Next came their part in Euphoria 3. A depleted audience did not help much, but they managed to pull through (the drummer only dropped his sticks once) The set was short, but to the point and left everyone with bated breath waiting for Sunday nights gig to prove, yet again that they are the only decent band in Tamworth.

Review by Mr Brady

Sindy's Sonic Garden
Tamworth Arts Centre

'TTTSSTSCCHCCHXX'...but far, far louder. That's how it sounded. Sindy's Sonic Garden gel a bit of a song and even less of a tune gloriously together to leisurely become the most believable Tamworth band in cons. They at least have an attitude, you see.

It plainly matters to The Sonics this ten minutes. The lack of interest from the fifteen or so onlookers concerns them not one bit. When they simultaneously whack their guitars against the floor it reeks of neither dodgy rock posturing or pastiche plagiarism. It is nothing but a genuine climax to the most frenzied performance. A performance that made me grin like a demon throughout, and one that left my ears vibrating in chainsaw ecstasy for, ooh...minutes afterwards. Sindy's Sonic Garden are young, loud, abrasive, cute and quite, quite incredible.

Review by Jo Marsh

Shock Culture
Bradford
(The SECOND version)

Fashion victims 1, 2, 3, 4 and now 5. Club Rio, the land of cheap Newky Brown, strange accents and deaf judges. Battle of the Bands, Bradford.

Excellent set, bad result man! Congrats to the boys (and girl) on a fantastic performance with five new tracks. With one new track 'Unfaithful' dedicated to our man Ken Barlow (which went down like a pork chop at a Jewish wedding with the local Bradford crowd).

Confidence oozed from every speaker. Much, much, more clearer vocals, upfront guitar, bostin' bass, nice touch on keyboards from new boy Chris Bates, and the drums. Well congratulations to Lorna who as she stepped off the coach was met with a barrage of questions. 'Where've you been?', Where's your kit'. She jumped straight on an alien kit and sticks to perform one hell of a set and she's still got the blisters to prove it!

The vote result was very disappointing as the Shockies were beaten out of the next round by a bunch of cover version merchants.

Thanks for the support of the college, who sent a coach load of cheers, dancers, drunks and fans-alike.

Review by Mary
P.S Own up who ever erected that wire fence outside of the coach at the end of the night because it wasn't there at the beginning.

Spiral Eye/Vindaloo Breakfast/Atom Seed/Banned In Yellow/Motorcycle Boy
Lincolns/Arts Centre

All five bands were brilliant, marvellous, excellent, triumphant and fab. Both venues were superb, packed and full of joy. How do I know? Well, I don't. You see like most of you I was suffering a terrible dilemma about which venue to go to and which gig to see and then something tremendous intervened to make up my mind- ILLNESS! yes, while you were bopping in either aisle I was sitting in bed watching Mike Tyson suffering from something that could have been caused by a 'vindaloo breakfast'. I am now hoping that some kind souls out there will tell me how both gigs went but this is further proof (if it was needed) that having two good gigs on the same night to choose from makes you ILL!!!!!

'Non-review' by Sam Holliday
Tamworth Herald- 16/02/90
Musicbox – Snips – News
Three fifths of Scream Dream are back on the warpath! Paul, Star Trek and Ted are back in business and are looking for a bassist. If gangly pop/rock is your bag why not ring Ted.
Tamworth Herald- 16/02/90
Musicbox – Snips – News
Emma Gibbs, New Puritans and Flowers in the Attic are staging a Euphoria trip to Birmingham on Tuesday Feb 20. You MUST book tonight at the Arts Centre's Euphoria bonanza. Coach and entrance is a ludicrously low £3.
Tamworth Herald- 16/02/90
Musicbox – Snips – News
Did anyone spot Gino Pirelli's sad story in the Herald last week. Gino has become homeless because his tent blew away in the gales but what I am sure most of you noticed was that the splendidly named Gino looked remarkably similar to our very own George. The reason was that it IS our very own George who is variously known as Gino Pirelli, Kevin Anderson, Obelisk, Riff Raff and Stonehenge. He may not have a tent at the moment but he would have a hell of an entry in 'Who's Who'.
Tamworth Herald- 16/02/90
Musicbox – Snips – News
The Arts Centre is looking to build up a register of local bands to help fix up shows and support slots. As this column knows only too well, many out of town bands ring up looking for support acts and if the Arts Centre had all YOUR numbers and details to hand they might be able to fix you up with one or two nice one. Ring Chris Waring to give your name and contact numbers for future reference.
Tamworth Herald- 16/02/90
Musicbox – Snips – News
The Big Noise are in action at the Battle of the Bands in Bradford on Saturday March 3. A coach is on the way picking up at Polesworth and Tamworth and anyone interested should ring Ben.
Tamworth Herald- 16/02/90
Musicbox – Snips – News
The Ruby Blaze will definitely not be in action at the Arts Centre this weekend. They had originally been booked into Sunday night but they have had to pull out due to the slight problem that they have split up
Tamworth Herald- 16/02/90
Musicbox - More MUSICBOX! More Muff Ed! Less Colin!
Musicbox Letterbox...

Sam,
Good on yeh Sam, get more freelance reporters in, great idea! Let everyone know that Tamworth is alive with talent (some more than others!) It's about time we had more reviews hitting the page, however I find it hard to believe that you can do your 'level best to use as many as possible'. No slander intended Sam, honest.

I have long thought that 'MUSICBOX' was the best read, the best page in the herald, and that's where my point lies - PAGE!

Every week we are advised that the Herald has more pages, more news, more classifieds, more sport, but no more MUSICBOX.

The 1989 festival was two weekends of entertainment, yet still only warranted one page a week. Yet when Scooper goes for a walk, your page gets cut in half. You even have to share your page with advertisements.

The print on the page seems to get smaller in an attempt to fit everything in, but still there's not enough.

Tamworth seems, as you say, alive with bands. We are regularly being mentioned in 'Brumbeat' and Blaze of Wolfsbane seems at home in the gossip columns of the Nationals. They all started here, in MUSICBOX. So, wouldn't it be fair to give new bands the same opportunity and coverage that they could have received seven years ago, which you can't possibly do on one page.

I app...........review every gig, but the many, like me, on the edge of the music scene, want to be drawn into the heart. So I'll pledge to the readers, more reviews, more photos, more gossip, and please Sam, more page!
Karena
Langdale Court, Amington, Tamworth
P.S. Great Bands Of The Eighties is great!

Sam Holliday replies -
Thanks for the encouraging comments but in 'defence' of the rest of the paper, MUSICBOX now gets more space than it has ever done. Once we were consigned to a couple of columns a week but now we have the majority of a page which is supplemented by adverts which do, at the end of the day, pay my wages to be able to sit here and write all this. Just to reiterate our manifesto, MUSICBOX is designed to reflect the whole young local pop scene but as it has snowballed into something bigger than even I first hoped, I need as much support as possible. 'I love a column like this weeks which is full of YOUR views, YOUR reviews, YOUR comments and it is the amazing feedback that this column gets that keeps me going when the inevitable brickbats start flying. I would much prefer to merely compile a column full of your reviews than restate mine all the time because it then truly becomes a column BY the readers, FOR the readers. Many people don't realise that MUSICBOX is a labour of love and as my full time job of Sports Editor of the paper gives me more than enough pleasure and pressure without all the hassle of these seven columns. I often wonder if its worth carrying on at all. This week's column proves it is.

Sam,
When can we see Muffed play the Arts Centre.

This band have a good following and an unusual set. As they are keen followers of bands such as Birdland, this is where influences come from.

Lets seen them at the Centre soon.

A Muff Diver (LFB)

Sam Holliday replies - I too have heard good things about Muffed especially from Atherstonian Birdlander John Webster. Their non-appearance at Lincolns a few weeks ago disappointed many many but fear not I hear they will be hitting the stage shortly, perhaps along with The Fat Moggy. Personally I am looking forward to seeing Muffed because any band that plays Ramones covers must be seriously cool.


Dear Sam,
Re: The Colin Wall letter/review of Bash Out, we thought a petite clarification was necessary.

Firstly, we're not moaning but even so I think the aforementioned DJ has grabbed the wrong end of the stick (Fnnnnnrrr!) on Mark Brindley's rather tongue-in-cheek banter with the crowd at Lincolns.

OK, so maybe Mark swore too much, but really it was all just a joke rather than a sweeping damnation of all and sundry, and after all it was a rock gig and not an evening out at the theatre.

That Mark was 'dominating' is surely a compliment, and NOT a detraction, and there's nothing wrong with a front man being just that - being a focal point and visual.

If anyone finds him nauseating, then that's a matter of opinion, and to be honest we care not a jot, because everyone is entitled to their own beliefs.

But Mark is not, as anyone who knows him will contest, patronising, and to state that shows a complete lack of awareness of what the word means.

Finally, just for the record, this has been written by the rest of Bash Out without the knowledge of Mark, and we'd like to say categorically that the band wouldn't be the same or as successful without him.

As a person, he's quiet, groovy and far-out, and as a singer, he's the best in Tamworth by a million miles. Bash Out don't need a new singer but maybe Lincolns need a new DJ!

Yours Bash Out The Odd

Sam Holliday replies- Much of this I agree with. I spoke to Mark at Lincolns the other week and he admitted he was a bit outlandish on the night but he is after all a front man and I personally would rather be insulted by a Lydon than smarmed over by a Goss.
18/02/90
Rumblefish
New Puritans
Infinity
Lost Sons
Lincolns
20/02/90
Emma Gibbs
New Puritans
Flowers in the Attic
Hare and Hounds
Birmingham
23/02/90
First Conspiracy
Shy
Lichfield Arts Centre
Tamworth Herald- 23/02/90
Musicbox - OK, Let's MEET Tamworth Rock Festival 1990

It's time to get the Rock Festival bandwagon rolling again.

Yes, this week we are, for the first time, calling on all the bands interested in taking part in the Tamworth Rock Festival to descend on the Tavern In The Town for a meeting to launch the whole event.

As you may have seen in last week's Herald the council has now given the official go ahead for the festival and now it is time for the musicians of the Town to get down to the serious business of organising it.

As most of you will know, the Tamworth Rock Festival remains unique and distinctive because it is totally organised by the musicians themselves who do everything from the important jobs like cleaning up to the less stressful jobs like 'playing the gig'.

The first step along the road to those two hectic days in the Castle Grounds is to find out who wants to play, who wants to provide moral support and who wants to offer their practical help for Festival 90.

In order to do this, we are calling the first of many meetings at the Tavern on Sunday night. Sadly it means clashing with gigs in the Town but such is the booming nature of the local scene that it is almost inevitable that this will happen.

We are all looking for all the bands who want to perform over the weekend of July 15/16 to come along on Sunday night and register their interest. At the same time they will be able to make their opinions known on everything from sound at the festival to promoting the event and the night will be an ideal time to show just how many bands this crazy musical area now boasts.

Before you do so much as leave your doors to hit the Tavern on Sunday, a prior warning to everyone is that the festival is already in the financial dung heap. It happens every year but this year looks worse than ever so any musician not willing to put his hand in his pocket might as well stay at home Sunday night.

The meeting on Sunday will be at 7. 15. We are making it that early so it doesn't hurt the two gigs on the night, and we would ask everyone to be punctual. The simple message is, if you want to play Festival 90 you MUST get along on Sunday. If you can't make it but want to register your interest contact Sam Holliday or Rikk Quay in advance of the meeting but don't forget and then moan later.

Just remember the festival has got so big these days that we can fill the line up with ease without chasing anyone so it is up to YOU to make sure you don't miss the bus.

The Rock Festival remains the event of the year. On Sunday night at the Tavern in the Town you can make sure you are a BIG part of it. See you there.

Tamworth Herald - 23/02/90
Musicbox - Gardens Fall and Chemi-kill!

Once again Tamworth is a 'two-gig Town' on Sunday night - but the shows couldn't be more different.
At Lincolns there is an alternative pop-pairing in Where Gardens Fell and The Big Trip while down the road at the Arts Centre it is time for a trip to metal hell with Chemikill and Deviance.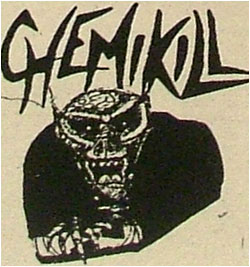 The Lincolns duo are somewhat unknown quantities to the area but both come highly recommended Where Gardens Fall - who already have a 12 inch single out - have been featured heavily on the radio throughout Europe and this gig will be the first of several to promote their new single. In support will be The Big Trip who claim to have 'notorious energy and charisma' and have been compared to everyone from Joy Division, Mudhoney and Hendrix to New Kids on The Block! Lincolns entry is a solitary pound note.

Meanwhile down the road at the Arts Centre the legend of Chemikill returns. The band, surely the loudest, fastest and ugliest of Tamworth's metal fraternity, have lost none of their unique charm and warn that this concert is only for the mentally insane. Support will be Nuneaton metal merchants Deviance who come very highly praised and the whole car-bashing experience is set for an 8pm start. 'The Mosh Will Begin' promise Chemikill but you've got to be at the Arts Centre first.

There, couldn't be a simpler choice could it? Now take your pick and get moving on Sunday night.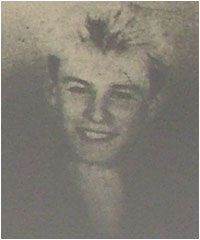 Tamworth Herald- 23/02/90
Musicbox- Steve sets the hearts-a-fluttering

Catch 23 - Atherstone Memorial Hall

Any person with an inkling of taste for music went to see the mega-talented Catch 23 on Friday February 9 at Atherstone.
Yet again it was a stunning show with the best rendition yet of 'Stand Back' and a particularly heart-touching version of 'It Must Be Love' at which point lead singer Alb (Or Steve for those less informed!) sent plenty of hearts a flutter.

Another added attraction was the special guest appearance of Selly the Rabbit who made a brilliant debut in the show. The climax of the evening had got to be 'Love Explosion' where they really excelled themselves and after a particularly long show they all still seemed to have limitless energy- well, at least enough to talk to their fans anyway.

The musical talent of this soon to be pop sensation never ceases to amaze me and the hoards that arrive to see them.

I am sure they will be the biggest thing to hit the charts in as many years as I can think of…

Review by 'Catch 23's' biggest fan – Lisa Lander

Infinity - Lincolns
A nice slice of guitar music which successfully married the melody of the sixties with the drive of the Eighties. There was plenty to admire within the groove of Andy Lane's latest creation but it was the power and tightness of the band as a whole which won me over. Each song rippled with musical muscle and the structure and construction of the songs performed, showed a deceptive amount of craft and ingenuity. Particularly impressive (and these guys rarely get the attention they deserve) was the laudably aggressive bass playing which had touches of the uglier side of the Stranglers or New Model Army and helped to keep the sound very much in check. Good stuff all-round and a band who seem more defined and sure of themselves than in previous guises. One to watch.

Review by Sam Holliday

Vindaloo Breakfast – Tamworth Arts Centre
It was like Jimi Hendrix on Mogadons.
'Review' by Jack Napier.

The New Puritans – Lincolns
A band whose two main protagonists seem so young, fresh-faced and sweet it seems ridiculous that they can create such biting and bristly material. But they certainly do and, although my limited view of proceedings rather hampered awareness, my feeling remains the same that the New Puritans are a very 'big noise' indeed. As I have often said, their strength lies in the song writing which leaps from all-out guitar war at one juncture to softer more dreamy material at the next without you being able to spot the join. The guitar work is exemplary from start to finish but credit also to Ben and Carl who provide able and impressive back up and are now as much a feature of the band's permanent state as Rob's quiff. Best tracks of the night were 'The Jailer' and the impeccable 'Rainy Hour' the latter of which is a minor masterpiece. Another useful show from one of my local favourites and if anyone has a tape of theirs to give away, I would gratefully accept it as a 'Wedding Present'…

Review by Sam Holliday

Tamworth Herald- 23/02/90
Musicbox – Sam Holliday is an utter fool shock-claims!

Dear Sam

Having just read your review on The Alarm, I conclude that you're a real stiff.

Two hours of the lads was too much for you? Why? Because you obviously hadn't found out Mike Peters had grown his hair and you no longer bore him the slightest resemblance.

As for it being draughty you wouldn't have noticed if you'd let your out-dated hair down and got involved.

Anyway, a cold draught might one day put paid to all of your wasted hot air.

Yours alarmingly,
Jertsy Bolofski

'Stiff' Sam Holliday replies-

I don't think I EVER bore a resemblance to Mike Peters. After all I am rarely to be seen posing on the top of disused mineshafts, looking like Bono and spouting welsh. I've seen the Alarm six times and that gig I reviewed was the 'sixth best' so I stand by it. And finally I would just LOVE to see your haircut for advice on how to do it properly 'Jertsy', Right, more abuse please…


Dear Sam,

I recently attended the gig at Lincolns, 4th February to watch Dance Stance/The Herb Garden. I saw you in the crowd, but I'm not at all sure you were paying attention judging by your reviews last week.

You have reviewed The Herb Garden before, and while you are always very careful not to offend, I detected an underlying opinion suggesting that this band were not really worth watching. So I went to watch, and what I saw (I must be taller than you) was a band who looked very nervous, but quite determined as they began their first number. Quite good, I thought.

Then as the next six or so tunes pumped out of the speakers, they grew in confidence and an important fact dawned on me: I was listening to a set of (all but one if I'm not mistaken) original material with a varied and melodic sound, which, even if played with fairly obvious amateurism, got to me much more than the tighter, and more professional offering from the more experienced headliners, Dance Stance.

Don't get me wrong, I have seen Dance Stance a couple of times before, and I can see that their several years experience has produced a band who rarely put a musical note wrong. But, isn't it all a tiny bit similar?

I mean, I only recognised the number they performed on Uncle Bob's T.V. show by the chorus lyrics. I'm sorry, but the tunes are too 'samey'.

Still I enjoyed the evening very much, Lincolns have a very good venue there - let's hope it continues to pull the crowds.

But, finally Sam, could you be a bit more encouraging towards Tamworth's 'young hopefuls', and remember that this is the Tamworth Herald, not the N.M.E., and the gig was a couple of unsigned bands playing Lincolns, not The Rolling Stones (Overpaid and overproduced) at the Hollywood Bowl!

Yours
Kerry McHugh
Glascote Heath

'N.M.E' Sam Holliday replies-
This is a truly remarkable letter because it flies in the face of all the criticisms that is usually thrown at me. Most people say that I am far too kind to our local bands and write too many nice things about them and yet here is a suggestion that I need to be MORE encouraging. In a sense I see that as a compliment that at last someone has spotted the devil in me! As for The Herb Garden well, there is definitely promise there but it will take more time to fully blossom and I'm sure the band realise that. I think they have got better with every gig and at this stage no one can ask for more. Your views on the Dance Stance are up to you and I know the band are not everyone's taste. But to me they represent true professionalism and real class and when they do hit upon that one killer tune which you perhaps rightly point out is still missing, I predict they will blow the charts apart. Thanks for writing anyway and I WILL try and remember that these are Tamworth venues and not the Hollywood Bowl. I don't think that will be too hard actually.
25/02/90
Chemikill
Deviance
Tamworth Arts Centre
25/02/90
Where Gardens Fall
Big Trip
Lincolns