Tamworth Bands History : 1990 :
April
01/04/90
April Fools Day Special
Carter the Unstoppable Sex Machine
The Rathole, Lincolns
01/04/90
The DHSS
The First Conspiracy
Vindaloo Breakfast
Tamworth Arts Centre
01/04/90
Penny Candles
Hallelujah Trail
Night Moves
05/04/90
Benny Profane
Support
Night Moves
Tamworth Herald – 06/04/90
Musicbox – Loads-a-Gigs!
IT'S another very hectic week for gig-goers with top quality bands like The Guana Batz and The Money Gods hitting the area alongside local celebs like DHSS, Flowers in the Attic and Broken Dreams.
With the Dance Stance and Rhythm Damage show at Night Moves (see separate story on the right) it leaves Tamworth with another four gigs this week – three of which take place on Sunday.
In addition to Sunday's fare there is also the return of former Rathole faves The Guana Batz who hit the upstairs of Lincolns on Thursday for what is certain to be a rockabilly delight. Here's what is going on – and where.
Sunday Night…
Night Moves – Dance Stance/Rhythm Damage
An unusual combination of soul and nausea extensively previewed on the right of this story.
Lincolns (The Rathole) – Flowers in the Attic/Moneygods/Broken Dreams
A very varied trio indeed which offers everything from good Indie sounds to Americanised rock.
Spearheading the duo are Burntwood based outfit The Moneygods who come with a very strong reputation. The band, signed to Reptile Records have a debut 12 inch single due out very shortly and they have already earned good praise from reviewers around the Midlands. Joining them will be fellow Indie force The Flowers in the Attic. Heralding their return to the world, sultry Steve wrote me a note explaining…
"For this performance there will be six members of Flowers in the Attic as we now feature 'Big J' on backing vocals, tambourine, violin and sexy dancing. Only 'Outside' survives our overhaul of songs and new songs include 'Ugly man' and 'Spitting Snakes'. The crowd is sure to be dancing."
Teaming up with this duo is a Tamworth band making their world, universe and Rathole debut – Broken Dreams. I knew nothing of this group until I met one of them in the urinal of the Arts Centre on Sunday and he rather merrily told me they were an Americanised rock band influenced by Journey.
"The other bands are a bit different to us," he admitted. "But it is a gig after all."
Certainly an intriguing trio, get along to the Rathole on Sunday to find out more.
Tamworth Arts Centre – Gift Faction/A Cast of Thousands
One of Birmingham's hottest bands – The Gift Faction – team up with Lichfield crew A Cast Of Thousands for this Sunday night bonanza. The Gift faction are an up and coming duo who have been causing a stir for some 12 months and have been compared in local press reviews to everyone from Depeche Mode to Sisters of Mercy. The Faction are apparently being courted by several major record labels and this is your chance to find out why. The Thousands meanwhile are described as having a 'notably melodic blend of hard rock and some of the tastiest hooklines to emerge from a Midlands band in years'. A very interesting combination indeed I am sure you will agree and if you need more convincing, rumour has it that Central TV might be filming the gig so make sure you put your best gear on chaps.
Thursday Night
The Rathole (Lincolns) – Guana Batz/The DHSS
A potentially winning combination of psychobilly romping and DHSS power. Headlining of course are the six-album cult heroes The Guana Batz who made such a massive impact on their first Tamworth appearance some years ago. Most of you will know what the Batz are all about and their enormous travelling support should make Tamworth a colourful place on Thursday night as quaffs, scooters and chicken dancers hit the town for the first time in eons. In support will be DHSS making a quick follow-up to Sunday's Arts Centre debut. Those impressed by Sunday will have a chance to enjoy a second portion and those less impressed will be able to see if my review below was right, wrong or right ridiculous. Thursday night, The Rathole, fun.
Tamworth Herald – 06/04/90
Musicbox – Sunday View
DHSS/First Conspiracy/Vindaloo Breakfast – Tamworth Arts Centre
Vindaloo Breakfast
Breakfast is the first meal of the day and one which is supposed to set you up nicely for the rest of the waking hours. As such it is important that the first course of it is refreshing and palatable and unfortunately this wasn't the case on Sunday. Vindaloo opened with a track that seemed to be going nowhere and it took a while for them to recover from it. But by the time we were into the main course – the bacon and eggs of the set – things had started to perk up and the final course was very tasty indeed. At best Vindaloo Breakfast are a post-punk modernist industrial outfit who have touches of Gang Of Four and the Psychedelic Furs and have a stark and grey look which reflects their sound. It is a wee bit bleak and it is certainly not music to take to bed with you if you're pondering suicide, but a final and powerful last track perked things up considerably and left the band with a very encouraging reaction for what was only their second gig. They are not ready yet to storm the world but I think it is worth sticking around for the Vindaloo Lunch to see how things develop. A curiosity.
The First Conspiracy
This wasn't actually vintage Conspiracy – bit it was still probably the highlight of the night. Coming on to a roar that implies that the band have a touchingly loyal following, the group sizzled and jerked their way through a surprisingly short set which again showed that they are a tighter, stronger and strangely happier band than I think they have ever been. They appeared to have reconstructed many of their earlier numbers and supplemented them with a couple of relative newies and a cracking Smithereens cover to make for a wholly satisfying collection. Suntanned Lisa bellowed it out like a 'good un'. Beth and John combined for a powerhouse backing and Roger again tickled my fancy with some lovely guitar touches that again reminded me of early Stuart Adamson. Bands don't last this long unless they've got something about them and the First Conspiracy really have. Nice one.
DHSS
I am probably the worst person in the world to preview the new DHSS. I was so close to all four members of DHSS '89 (professionally and personally) that I knew that no matter what I said about DHSS '90 it would upset friends as well as musicians. Well I am sorry but it has to be done. Put as simply and as kindly as I can, this was NOT DHSS. The image I have of that band was of a powerful punk-inspired collection of strong personalities with a wicked and irreverent outlook on life. The computers of old fitted in with their 'the present is crap, we are the future' philosophy and their image, their style and of course their tunes made them one of the best bands we have ever seen in Tamworth. Sadly, this was like watching K-Tel plays DHSS. I have previously slagged off the computers, but compared to the limp noise that emerged from 'real' musical ' instruments, Atari ST's have acquired a magical appeal. Oldies like 'DHSS' and especially 'Vicar's Hand' were massacred beyond belief and no matter who wrote the songs (and the arguments were raging afterwards) pinching obvious Quay screams or Reeman guitar solos made it all a bit embarrassing. On the plus side the version of 'Clark Gable' was significantly tasty and the anthemic 'Until The Love Bites Fade' was quite excellent, but I really believe that the only way DHSS 90 stand a chance is to totally divorce themselves from DHSS 89. They will always be compared to the old combo – and I always fear unfavourably – and perhaps their best hopes lie in the one or two new Adam Cukrowski tracks that sound pretty good to my ears and show the way forward rather than they way back. This is a very hard review for em to write but I just left the gig feeling depressed. Imagine if you will how a Wolfsbane fan would feel if Bayley left the band and then 12 months later turned up with a new band playing 'Fell out Of Heaven' And 'I Like It Hot'. It wouldn't be the same because it isn't the same' This was the first time I have ever seen DHSS fail to get an encore and that speaks volumes itself. The band are keen to get out of Tamworth as soon as possible and maybe they will be more fairly judged then. But for the time being the whole thing made me feel sad and I really feel that Adam, Ed, Jessica, Andy and Martin need to assess whether they want to be a first rate band of their own or a second rate version of someone else. Sorry, but true.
Reviews by Sam Holliday
Tamworth Herald – 06/04/90
Musicbox – Extremes meet for FUN!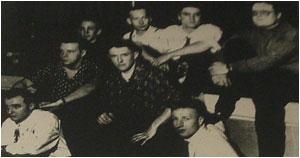 The unlikely combination of smooth soul sensation Dance Stance and self-confessed vulgar-boys Rhythm Damage team up at night Moves on Sunday for a special double-header.
The two bands who are going to be teaming up again together soon, represent two kinds of musical extreme and should produce a very unusual audience indeed. If offers those who like stylish dance a chance to hear the Rhythmic nightmare of Rikk Quay's latest combo and offers the Night Moves audience a very special night indeed.
For Dance Stance it will be the latest in a series of concerts 'back home'. After a lengthy local absence the band have played one or two local shows of late – and sold them out – and they have been delighted to see that absence really has made the hearts grow finder from their loyal followers. They play good, intelligent and solid soul which has lost none of it's shine over the years and remains one of the glitziest sounds ever to come out of this area.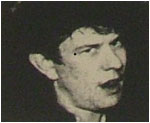 Glitzy sounds is not quite how I would describe Rikk Quay, Chris Wain and John 'Windy Miller' Damage's lot. The Damage boys who made their debut a couple of weeks ago went down an absolute storm and if you want to know what they sound like well this is how the whole band describe themselves…
"The Vulgar Squad have all the appeal of a Bririani curry splattered all over the paving slab – and we are just as hard-hitting" they say "Experimentation is the only way forward in music – if it moves sample it."
The band represent a joint attack on the eyes, ear nose and throat which is intended to HURT. The contrast with Dance Stance is absolutely amazing and the end result I feel should be exactly the same.
The venue is Night Moves the time is 8pm on Sunday, so get along and get set for one of the oddest combinations sine Ian Ormondroyd met Tony Daley.
Tamworth Herald – 06/04/90
Musicbox – Letterbox
DEAR SAM,
AT 46 I might be classed as a 'Golden Oldie' even so I can and still do appreciate good sounds and more to the point can recognise talent when I see and hear it.
In my opinion one of the best sounds to come from this area in a long time does not seem to get press support it deserves. I refer to 'Dance Stance'.
The talent of these lads can be appreciated even more on their two latest numbers as they differ from their 'typecast' soul sound
I bet you will agree that in the last six months their professionalism has increased 100 per cent.
Stan Taylor,
Atherstone
Sam Holliday replies:
Age is no barrier to taste I can see! I hardly think we 'underestimate' Dance Stance though, as this column has been serious fans for a long, long time.
08/04/90
Dance Stance
Rhythm Damage
Night Moves
08/04/90
Flowers in the Attic
Money Gods
Broken Dreams
Lincolns (The Rathole)
08/04/90
Banned in Yellow
Hare and Hounds
Birmingham
08/04/90
Gift Faction
A Cast of Thousands
Tamworth Arts Centre
09/04/90
Catch 23
Atherstone
12/04/90
Guana Batz
The DHSS
The Rathole (Lincolns)
13/04/90
Great Stans Cabaret
Jo Brand
Also Smith and Jones
Old Liberal House

Tamworth Herald – 13/04/90
Musicbox – A big Easter bonanza!
It's another CRAZY week for local music fans who have so much entertainment to choose from it's mindboggling.
Nationally known comediennes, nationally known blues bands and a trip to London are just some of the things on offer to all you young and lively pop-pickers out there.
You can travel to Amington for a laugh, travel to Lichfield, Birmingham or London to cheer on Tamworth-based bands or stay at home and take your pick from three town centre concerts this week. It makes you almost wish we were still in the days of one gig per week doesn't it?
Still, where to we start to describe this week's feast? Well, I suspect the biggest thing of all for most of you will take place on Sunday night when five coachloads of Tamworth and Atherstone pop fans (i.e. 250 people) will hurtle down the M1 to see a special Tamworth Showcase at the Mean Fiddler in London. Catch 23 will spearhead the show alongside The New Puritans and Banned In Yellow and with the vocal support of 250 local musos it promises to be a capital night out. That bundle of fun comes in the middle of the following list of locally-orientated musical events…
Take your pick from this little lot. First the basic list of gigs, then a bit more information on each. We won't go over the top with these previews because it means we have even less room than ever for the equally important task of reviews, news and comment.
Friday Night, Old Liberal House – Great Stans Cabaret starring Jo Brand and Also Smith and Jones.
Sunday Night, Mean Fiddler – Catch 23/New Puritans and Banned In Yellow.
Sunday Night, The Rathole, Lincolns – Climax Blues Band/Also Smith and Jones
Sunday Night, Night Moves – The Touch/The Big Trip
Sunday Night, Lichfield Arts Centre – The Naked Touch/Loveless/Head in the Heavens
Monday Night, Hare and Hounds, Birmingham – The Searching
Thursday Night, The Rathole, Lincolns – Borghesia/Flowers of Evil
Here's a bit more on each of these gigs although we don't have a tremendous amount of details on some of them I'm afraid…
Friday Night
The Great Stans Cabaret (Old Liberal House, Amington)
The features the incredible Jo Brand of Saturday Night Live fame plus Alas Smith and Jones, Ken Bell, Pike's Peak, Bue and Terry Cavell. Jo Brand is an excellent comic, known as The Dea Monster and Famous for her self-deprecating, wicked sense of humour. Sex, weight and drugs are among her topics of convo. Elsewhere there are plenty of other smiles and of course the uplifting sound of the Jones boys. The venue is the Old Liberal House, Amington, tickets are available on the door and when will more MUSICBOX readers realise that this is a cracking night out that most of them would love???
Sunday Night
Catch 23/New Puritans/Banned In Yellow (The Mean Fiddler, London)
A big night this for all three bands and a real tribute to Tamworth. The Mean Fiddler which has been delighted with Catch 23's recent appearances offered the venue to the band for a night for a special Showcase and they invited two kindred spirits (i.e. the Puritans and Banned In Yellow) to join them in a bonanza of the best in local music. Five coaches will be travelling and some places should still be available. We won't be back until late but you haven't got to get up on Monday have you?
The Climax Blues Band/Alas Smith and Jones (The Rathole, Lincolns)
A powerful line-up and one which looks set to clean up the crowds of slightly older music fans. The Climaxers have a reputation for being one of the hottest live bands on the planet while the Smith and Jones combo are equally adored locally. The theme is good quality r 'n' b and although tickets cost a fiver there won't be a single complaint afterwards judging by the reaction afforded to both bands the last time they teamed up. One of the biggest gigs of the year so far for Tamworth, a large crowd is assured.
The Touch/The Big Trip (Night Moves, Bolebridge Street)
Tow out-of-Towners in action and two well-respected bands they are too. The Big Trip have already made an impact in Tamworth but The Touch will be a new one for Tamworth's music fans. I haven't much idea about either group but being as all you out there are far more wised up on the Indie pop world than I have ever been. I am sure you know it's a good one.
The Naked Touch/Hands To Heaven/Loveless (Lichfield Arts Centre)
The Naked Touch, a Tamworth-based soul band featuring our very own Mike Fleming star in this three band show which is being hyped as one of the biggest in Lichfield for months. Head in the Heavens are extensively tipped to be the 'next big thing' and already boast a glowing single review from Melody Maker. The Loveless are an explosive Indie band apparently. The Naked Touch aren't.
Monday Night
The Searching (Hare and Hounds, Birmingham)
The first re-appearance for many months of one of Tamworth's most original bands. After teaming up again with singer Pete Williams, the group will descend on Brum for a set brimming with newies and oldies alike. A Tamworth gig is assured shortly.
Thursday Night
Borghesia/Flowers of Evil (The Rathole, Lincolns)
The first Yugoslavian band to hit Tamworth! Yes, The Rathole opens its Thursday night doors to welcome Borghesia, a respected Yugo outfit who are doing just a handful of British gigs. The band, who have earned a lot of press interest, will be teaming up with Flowers of Evil, a four piece all-female band who already have an album out on Sonic Death Records entitled 'Curse of the Power'. Two bands, one very interesting night.
Right that's your lot. If THAT isn't enough to give you a busy Easter I don't know what is, but all I can say is how thankful we are that the Arts Centre is shut on Sunday.
Tamworth Herald – 13/04/90
Musicbox – Snips, News, Snips
A new Tamworth-based rehearsal room is offering its facilities for local bands. Paul, from the Church Street-based Stone Cross says that he has a room doing nothing which would ideally suit local bands to practice.
Tamworth Herald – 13/04/90
Musicbox – Snips, News, Snips
If you think the Rock Festival has gone a bit quiet then you are right! The reason is that with all these other gigs on a Sunday we are having no time to meet but we are going to HAVE to meet soon, so apologies in advance to any gigs we clash with. The next FULL meeting (i.e. for every band) will take place a week on Sunday – April 22 at 7.30pm at the Tavern. Mark it in your diaries NOW.
Tamworth Herald – 13/04/90
Musicbox – Snips, News, Snips
Just a note from the First Conspiracy who want to publically praise Carl from the Big Noise for his support and hard work during the course of their recent demo. The band were delighted with Carl's enthusiasm in producing the tape and want it publically known. So well done Carl old chap!
Tamworth Herald – 13/04/90
Musicbox – Sunday View
Rhythm Damage/Dance Stance – Night Moves
A JOINT effort this by Box scribes Sam Holliday and Sean Atkins. It was intended to be a Holliday solo-effort but during the course of Dance Stance he was well and truly 'Bayled' and his vision of the mighty soulsters was somewhat blurred. Right, on with the show….
Rhythm Damage
A band who dares to be different. A band who dare to confront audiences with images and sounds that they may not want to face and dare to keep the pressure up until the final moment. A band who thrive on the obnoxious, revel in the mire and love to crawl through their murkiest of undergrowths. And yet despite it all, a band who can still put a smile on your face. Whether it is Rikk's outlandish song links. Chris and Jon's outlandish hair pieces or those annoyingly nagging samples, there is always something to keep you smirking and few bands have the pleasure factor that this combo have. And they also have the beat to boot. The word rhythm (even if it is a yucky one for me to spell) has a well justified place in the band's name because the tribal early Ants drum attacks dominate the sound and keep your toes twitching throughout. It works best of all on a track called 'Energise' which has a huge commercial appeal and the sort of melodic rhythms that would suit Night Moves on its non-gig nights. Elsewhere the excellent version of Catch 23's 'Twisted Mind' and the final track with its TOTALLY unprintable title were undoubted highlights and the whole set was an honest, no compromise collection which earned an enthusiastic and genuine reaction. A daringly exciting band who are doing exactly what they want to do and look set to take a pretty large audience with them as they travel into the sampling equivalent of the Twilight Zone. The natural successors to Abba.
Sam Holliday
Dance Stance
THIS was the first time I had seen Dance Stance (apart from on 'Bob says Opportunity Knocks') and I was just glad I got to see them in Tamworth while they are still playing locally. The band are so professional, the songs are so catchy, and the sound is so powerful that even if you don't like Dance Stance, you have to appreciate what they do and the way they do it. But I did like them and their Hue and Cry/Curiosity Killed the Cat style showed yet another dimension to the healthy local music scene. Sadly though, the big Night Moves crowd dwindled during the consistently good set as people left early for their buses/taxis/chips etc… But that's Tamworth on a Sunday night.
Sean Atkins
Tamworth Herald – 13/04/90
Musicbox – Your letters, Views and Comments
DHSS 'an April Fools Day joke?'
Dear Sam,
I've just come back from the DHSS gig and still can't decide whether it was just another of Eddie Armchair's April Fools Day jokes! Having read Ed's pre-gig hype of the DHSS being the best band to come out of Tamworth in ages and then seeing them in the flesh, I can only assume that he is the greatest comic talent since Sid James!
The new members gave a classically hamfisted performance in the style of Tommy Cooper whilst the new singer did her best to drag it down even further throughout the set of abysmally played oldies. Listening to them bumbling through once great numbers like 'Body on a Slab' or 'Vicar's hand' reminded me of the nauseous feeling you get as a working men's club band plunge hopelessly into 'Jailhouse Rock!'
The old DHSS had their problems, but they made up for them with a towering stage presence, a lorry load of killer tunes and a sound completely removed from anything Tamworth has ever heard.
The 1990 DHSS have nil stage presence, look incredibly boring and sound like just another fifth rate indie band. I felt quite embarrassed for Ed, and even more so for the members he kicked out, who obviously made the band what they were.
So come on Ed, get your act together. Even your mother wouldn't have enjoyed this gig!
Love, Maxine (DHSS Fan, Tamworth)
Dear Sam,
Since a letter was printed in a recent copy of the Tamworth Herald, we at Rock Against The Poll Tax have been very pleased with the response from local as well as national bands.
On a national level we have received backing from bands as diverse as Spandau Ballet, The Primitives, Jimmy Summerville, Beat International, Egypt, Wolfen and Tony MacFee and the Groundhogs, on a more local level, Dance Stance, Shock Culture, Crosstown Traffic, Big Noise and The Jessie Presley Mystery have shown their support.
We are now in the process of negotiating for a venue for the poll Tax Mega-fest and we are hoping to make an announcement about this in the near future.
We still need, however, other local bands to get in touch.
Also needed are local venues who will donate them for concerts to raise money to finance the outdoor festival.
The money, after expenses, will be put into a trust fund, to be used to help people over the legal difficulties caused by the Poll Tax.
We would like to thank you for your support in this matter.
Local groups and venues who wish to donate their services for this cause please ring Mick.
Yours faithfully,
Mick, Rock Against the poll-Tax
Dear Sam,
Just a quick note to say I went to see Wolfsbane at the Irish Centre, Birmingham and I agree they were brilliant! I can't wait till the next album and tour.
From a Wolfsbane fan with a very sore neck!
Jane, Atherstone
Dear Sam,
After going to see The Yogots again on March 30th, I don't feel it's safe to go and see them anymore.
The Yogots were fantastic as usual, brilliant drumming from Tim and Jonathon's hypnotising eyes did their job.
It's not them, it's the part of the audience who they bring along. Who the hell do they think they are? I was standing at the side watching what they were doing. I witnessed one punch two people in the face for accidentally knocking him when dancing and another swore profusely at someone who moved to stand at the front.
It's getting worse at every one of their gigs, people are too scared to dance in case they get punched in the face, including me.
Come on Yogots do something about them, you know who they are and they're ruining your gigs. They act like your minders or more realistically your owners.
A Yogots Fan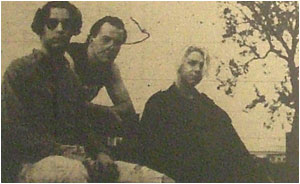 Hello Sam,
This is just a quick review of last Tuesday's gig by the Big Noise at Sobers in Nuneaton. They were excellent, dancing with the crowd, dancing with themselves, and still playing perfectly for almost an hour (must have been the lack of alcohol),
Some unusual cover versions filled up their set, including a blistering 'Helter Skelter'. It's about time they played in Tamworth again. I think I wouldn't mind a copy of the video someone was doing at this gig, mad!
Cheers,
Mary,
Hartshill
Sam Holliday's Footnote:
It is wonderful to get so many letters and the more the merrier as far as this column is concerned. But please bear in mind that the amount of stuff we get in means we can't usually print your letters immediately. Thanks again.
Tamworth Herald – 20/04/90
Musicbox – Bands called up for Rock Festival meeting
SUNDAY night is meeting night for all those involved in this year's Tamworth Rock Festival.
Due to the incredible amount of Sunday night gigs lately, we have had to hang fire with the meetings but we decided last week that enough was enough and we needed to meet.
Plans
Therefore we are calling on ALL the bands who want to take part in the Festival this year to get along on Sunday. As we are now only a matter of 12 weeks or so away from the Festival itself this meeting is the one that is a make or break as far as bands are concerned. If you're not there on Sunday you won't be in our plans, so if you can't make it please contact Sam Holliday or Rikk Quay as soon as possible. On the night we will discuss various aspects of the Festival, not least how we will select the bands, how we will finance the event and how we will promote it. We are looking this year to have t-shirts and promotional items once again and we are looking for ideas. Our latest idea is to have a picture of Festival stalwart Mike Fleming with an axe in his head as the Festival symbol. Surprisingly Mike is very keen on the idea but if you have any better one, please bring them with you.
Helpers
As well as all the bands concerned, we are looking for attendance from helpers, committee members and all those with any interest at all in staging this most important of Tamworth cultural events for music fans.
We start the meeting at 7.30 to give you time to go to a gig afterwards and we can't stress enough that this is a meeting you MUST attend if you want to be involved.
15/04/90
Climax Blues Band
Alas Smith and Jones
The Rathole, Lincolns
15/04/90
Catch 23
Banned in Yellow
New Puritans
Mean Fiddler
London
15/04/90
The Touch
The Big Trip
Night Moves
15/04/90
The Naked Touch
Loveless
Head in the Heavens
Lichfield Arts Centre
16/04/90
The Searching
Hare and Hounds
Birmingham
16/04/90
Banned in Yellow
Rock Against Meat
Derby
19/04/90
Borghesia (from Yugoslavia)
Flowers of Evil
The Rathole, Lincolns
Tamworth Herald – 20/04/90
Musicbox – Lincolns Preview


Tamworth legends 'Breaking Point' make a long-awaited return this weekend when they team up with Birmingham-based Indie act Korova Milkbar for a promising show at Lincolns.
Breaking Point's permanent members Kevin Briggs and Daydo present yet another new line-up for the show on Sunday night which should attract followers of the band's own brand of very powerful music.
A quite different attraction will be provided by Korova Milkbar who went down well when they played at Lakin's last December.
That gig showed quite clearly that New Order fans are in for a treat because Korova are very heavily influenced by the Manchester synth band.
Reviewer Sam Holliday said the band were virtually a copy of New Order but – most importantly – were very good at it, and that's what counts.
Korova will be supported by Breaking Point – a band who refuse to be pinned down to any one influence.
Kevin, who promises virtually all new material for the gig, said: "There is no one influence – we are influenced by too many bands and styles.
"How would you describe a band like The Icicle Works? We are as different as that."
But he added: "The music is still Breaking Point although it is more solid, and more wholesome – it is still very powerful and romantic."
For the new line-up Kevin and Daydo are joined by their 150th (at least) drummer Steve Watkins. The band has now extended to a four-piece with Dave Ross on keyboards adding anew dimension to the Breaking point sound.
Breaking Point have definitely moved on but Kevin says that they may include one of the 'oldies' in the set. Let's hope so, because the old Breaking Point were surely the best local band for Alarm/U2 fans during the 80s.
So, to find out what the Breaking Point of the 90s will be like, and to see Birmingham's answer to New Order get along to Lincolns (above Manhattans) on Sunday evening.
Gig previews by Sean 'Two Haddocks' Atkins
Tamworth Herald – 20/04/90
Musicbox – Town set for a taste of Oz
Tamworth is a three gig Town again this weekend – but thankfully one of them is on Saturday for a change!
For, as well as the Breaking Point and Korova Milkbar gig extensively previewed on the right, there is also a visit to the Arts Centre on Saturday of the sophisticated sound of George Villiers and then a full blown Indie gig at Night Moves on Sunday featuring The Australians and The Great Divide.
The George Villiers and Australians gigs couldn't be more different and if you want to know more about any of the shows this week, then just read on…
George Villiers (Tamworth Arts Centre, Saturday night)
George Villiers is described as a 'composer, lyricist, multi-instrumentalist and heir to the Earldom of Jersey'.
Breaking Point/Korova Milkbar (Lincolns, The Rathole, Sunday)
Powerful combination of modern pop/rock previewed in full.
The Australians/The Great Divide (Night Moves, Sunday)
A big coup for the Night Moves team this, as they welcome Liverpool faves The Australians for a major show. The Australians have been heavily featured in NME, Melody Maker et al and have already supported the likes of The Inspiral Carpets, James, Man from Delmonte and The Waltones and they have a single out that has been produced by James-man Larry Gott. The group have been summed up as a melodic maelstrom of catchy tunes and scrambling guitars and they were hugely praised in Melody Maker for being 'the first band in the world to write a love song to a girl called Beryl'. Big band this, well worth a watch. In support will be the rather more familiar Great Divide who hail from the Burntwood/Lichfield area and have already made quite an impact on the Tamworth area. End result? Nice show.
Tamworth Herald – 20/04/90
Musicbox – Local gig reviews and comments
The Moneygods/Flowers in the Attic/Broken Dreams – Lincolns
The debut performance of 'Broken Dreams' led to the arrival at the 'Rathole' of countless parents, brothers and sisters, not forgetting aunties and uncles, all of whom turned up to encourage their loved ones.
The band were visibly nervous early on, but the large crowd put them at ease with noisy responses to the majority of the standard rock numbers that they churned out.
Perhaps at times, some of the songs could have done with being a bit shorter and although auntie Agnes thought it was all rather loud there were encouraging signs for the future.
'Flowers in the Attic' were a total contrast to 'Broken Dreams' with their Wedding Presentesque' guitar sounds that were reminiscent of the 86 area. The frontman's haircut kept me fascinated for a good while, and although the tunes were there, more stage presence is needed to keep the interest of the paying public.
The 'Moneygods' have recently signed a record deal and are building up quite a reputation for themselves with rave reviews in the press as well as frequent airplay on the radio.
Tonight they dished up a set that went someway to justifying the media exposure they are receiving.
Their half-hour set consisted of short, punchy tunes with biting lyrics whilst visually the band were brilliant. They jumped around the stage constantly and the singer's clubfooted gymnastics aided and abetted by a collection of cheap children's toys certainly caught the audience's imagination.
Their originality resulted in enthusiastic shouts for an encore, and they deserved it. What a shame Auntie Agnes had already left!
Report by D. Seckham
Dance Stance/Rhythm Damage – Nightmoves
(An alternative version of our review last week…)
It has been the best part of three months since I last saw Dance Stance perform live. So tonight would either put the icing on the cake or blow the candles out.
The stage was set, the atmosphere tense, their build up absolute and to a tee. The opening number just a moment away and wham! The power failed on us. Complete darkness. Was this an omen. I wondered.
Power restored, it was on with the business. Dance Stance were here to do one thing and one thing only – to funk out. Wasting no time 'Words on Fire' and 'Picking Up On Changes' put them well on line for a hot night ahead. 'finding Another Way' was next in the set. The front lines of the audience strutting away to their pulsating beat. You'd have thought this was the rehearsal for the Top of the Pops TV show.
This band has started to more than impress me. Front man Paul Hanlon was not only a very good singer, but was very watchable even from a distance. The individual skills of each player were so much improved since my last encounter with them. They were proving to be much more than a local bunch of guys having fun. They were tight playing together, and each song was more notable for its own character, and much improved awareness of what an audience was really after.
For me this was a totally new experience on the local scene. They were 'hot', they were 'Funk', they were 'Havin' a good time' but most of all so were the crowd.
New songs included 'Home' and 'Gather People', 'Sweetest Pain' shone out as a ballad I won't forget in a hurry. Here were a band following in the footsteps of 'Level 42', with a ring of 70's nostalgia in the new 90's mould. If any A&R scout was out that night, I'd say a record deal isn't so far away. What's the betting 'Push comes to shove' isn't their first single.
In the support roll, 'Rhythm Damage' proved their potential as Tamworth's leading acidic contenders for the 90's.
Rikki [sic.] Quay and the boys have a sound which has never really been covered in the town and if taken seriously could bring them a record deal for the underground sound which is becoming more of an asset to the music of this country.
He may look like Gary Glitter but his music is far afield from the Glitter sound.
Report by Colin Wall
King Woderick and The Yogots/Herb Garden/Benny Profane (Night Moves)
THE Yogots were on stage five minutes after the doors opened due to the fact that the lead vocalist had to be at the airport for 9pm, which is why they cut short their set.
Despite that, their performance wasn't rushed, and they delivered an impressive set that received an enthusiastic response from the handful that had arrived promptly.
The Yogots certainly have the foundations of a strong pop sound and are creating a certain originality in their music. They have plenty of good tunes but they should be wary of trying to do too much at once.
Next up were the Herb Garden, although the vocalist, Lisa, has a distinctive voice and their songs make a pleasing sound, they have yet to capture that sparkle that will make them stand out from the crowd.
By the time headliners Benny Profane came on Nightmoves had a healthy crowd in attendance. Both of the previous bands could learn a lesson from a band that have been causing quite a stir.
Report by Belvedere.
Tamworth Herald – 20/04/90
Musicbox – The DHSS debate rages on
MUSICBOX has received another letter from a distraught DHSS fan following their debut concert at the Arts Centre a couple of weeks ago.
The letter from a Tamworth-based fan called Goldie – who has written to the Box about the band before – included lines like 'what a complete and utter shambles' and 'what took 18 months to create took 20 minutes to destroy' and even 'what was once great is now a laughing stock.' We had intended to print the letter in full as we want to give all our readers their say but after some thought I decided against reproducing the whole letter. MUSICBOX is, by tradition, a very positive and optimistic column and it makes me feel a little uncomfortable that on top of my less than complimentary review of the above gig we have now had two other 'knocking letters' about the DHSS show. It struck me that although we expected a lot because of the name DHSS, we maybe overlooked the fact that two of the band's members in particular had hardly trod a stage in their lives before and it was after all, a debut concert. I am therefore offering either the band – or people who saw the above gig and enjoyed it – the 'right of reply' to try and redress the balance. I never want this column to be just a fanzine-style knock-knock-knock section and although I know that I – and my two correspondents – genuinely didn't like the DHSS gig in question, I am equally keen to hear from anyone who DID. If the band want to reply to criticisms I will be happy to print those as well, because this column is not in the business of attacking talent but promoting it. Has Sam Holliday become a censor of opinion I hear you cry? Ye he has because this is, after all, the Tamworth Music Scene and not the Manchester one. My original review was damning enough without adding further salt to the wounds.
Tamworth Herald – 20/04/90
Musicbox – Stop Press
Although this column had to be completed by last Thursday because of the Easter deadlines, I recalled the page for a couple of reasons, mainly to tell you that on Sunday night, I and 250 other local music fans saw the BEST local gig I have seen all year. It was ironically enough 100 miles away in London where Catch 23, Banned in Yellow and The New Puritans turned in a truly outstanding three band show. More info next week.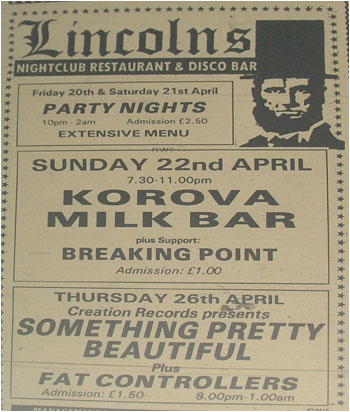 Tamworth Herald – 20/04/90
Musicbox – Stop Press
Lincolns stages a new Indie/dance disco every Wednesday from this week entitled 'Utopia'. It runs from 8-12 costs just a pound and you are invited to bring your own sounds.
Tamworth Herald – 20/04/90
Musicbox – Stop Press
The Rathole venue at Lincolns claims a real coup on Thursday when Julian Cope's brother Joss appears with his band Something Pretty Beautiful. This has only just been arranged (hence the small preview) but it looks a nice one. It starts at 8pm with full support.
21/04/90
George Villiers
Tamworth Arts Centre
22/04/90
The Australians
Great Divide
Night Moves
22/04/90
Korova Milkbar
Breaking Point
Lincolns (The Rathole)
25/04/90
Utopia
Lincolns
26/04/90
Something Pretty Beautiful
The Rathole, Lincolns
27/04/90
Spiral Eye
Nutmeg
Sherbert Trees
Tamworth Arts Centre
Tamworth Herald – 27/04/90
Musicbox – It's Eyes Down
Dateline: Friday April 27. Venue: Tamworth Arts Centre. Bands – Spiral Eye/Nutmeg/Sherbert Trees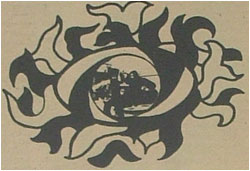 THOSE loveable chappies from Spiral Eye hit home base tonight (Friday) when they spearhead a three band show at Tamworth Arts Centre.
The Spirallers will be enjoying their own version of 'Friday Night Live' alongside the tasteful Sherbert Trees and highly regarded psychedelic crooners Nutmeg.
It is a show which promises a lot and judging by the endearing popularity of Spiral Eye it should break the usual sequence of disappointing Friday night audiences.
Headlining the night will be the Spiral boys who are in Tamworth action for the first time for several months. The band who have been travelling around Britain playing a series of impressive shows are looking forward to coming home and showing loyal local followers some of the tricks they have picked up en route.
"We are trying to cram as many gigs in as possible at the moment but we like to come back to Tamworth every so often and play a show like this," explained singer Baz. "We are particularly pleased this time to have not only the Sherbert Trees with us but also Nutmeg who really are a happening band."
The Spirals have started to attract good attention throughout the UK having earned fanzine interest in the South and also being hyped as a heavy metal sensation in Barnsley! They are now keeping a particular eye on the London scene and they are hoping that their frequent trips to the Capital will result in some much needed national press interest.
"We are looking very hard to contact people in London and it is starting to pay off although we can't say too much at the moment," said Jim.
Teaming up with the MUSICBOX faves will be the Sherbert Trees a band who have the unlikely distinction of being one of Rikk Quay's favourite groups. The Sherbert Trees are one of the few groups in the area that genuinely deserve the term 'unique' and all we can advise is if you want to see what they're like you are going to have to get along on the night. Let's just say they suit the bill perfectly and are always interesting.
Completing tonight's show are Nutmeg who hail from Cambridge. Spiral Eye met them at a concert in London and were absolutely wowed by them. They play classic late Sixties style thrash psychedelia and they have already attracted some of the national attention that Spiral Eye crave.
"They are an excellent band and I am sure they will go down very well," said Baz.
It sounds like a fine night of entertainment and if you can break your normal 'I am not going out on a Friday night' philosophy, methinks you are going to enjoy this one'. Entry fee is a ludicrously cheap £2.
Tamworth Herald – 27/04/90
Musicbox – Great Scott – It's Great Stan!
Great Stan's Easter Show – The Old Liberal Liberal House, Amington
Also Smith and Jones
The band the Mayor complained about – what a recommendation. Smith and Jones were brilliant as usual and the only problem was that the set was too short – but apparently there had been complaints and we don't want to offend anyone, do we?
Review by Sean 'Two Haddocks, One Greenhouse' Atkins
Tamworth Herald – 27/04/90
Musicbox – Snips
Bash Out The Odd have parted company with their guitarist. Somewhat cryptically they stress that it certainly wasn't musical differences that caused the divorce. The band are now actively seeking a replacement and if you want to take up the gauntlet why not ring Mark Brindley or Mark Mortimer.
Tamworth Herald – 27/04/90
Musicbox – Snips
The Tamworth Rock Festival is now well on the way following a highly successful meeting on Sunday night. Around 36 bands expressed an interest in one of the 20 places in the Castle Grounds and in the next couple of weeks all will be decided on who plays where, why and when. In the meantime on Bank Holiday May 28 there will be the Tamworth Indoor Rock Festival at Night Moves. This will be a fundraiser par excellence with eight bands in action from 7pm until the early hours. More info on that one soon. The next full meeting for the Festival will be on Sunday May 20, the next COMMITTEE meeting will be Sunday May 5.
Tamworth Herald – 27/04/90
Musicbox – Gig of the year


Banned in Yellow/New Puritans/Catch 23 – Tamworth Showcase, Mean Fiddler, London
EVERY so often you go to a 'local' gig which makes you remember why you got involved in the local music scene at all. This was such a show.
For sheer quality and atmosphere I can only compare this amazing night to a Tamworth Rock Festival or perhaps a final of one of the Battle of the Bands events of old. It was a night when simply everything went right and it meant that this show must now go down as one of THE classic local gigs – and by far and away the best of 1990 so far.
For a start there was the crowd. Around 250 local people from Tamworth, Atherstone and their environs travelled down the M1 to view this gig and when supplemented by a few hardy Londoners they helped to create a wonderful atmosphere. Even though many people had gone to see one band specifically all three bands were accorded a respect and an enthusiasm that was very touching, and all (deservedly) received encores for killer shows. Throw in a great DJ, a splendid sound system and a hungry anticipation, and the stage is set for a cracking show. And oh boy did we get it.
First up were Banned In Yellow who were simply STUNNING. It had been a relatively long time since I had seen this bunch, and the transformation is quite mindnumbing. All of a sudden they seem to have come of age, musically and personally, and they now look and sound quite brilliant. Their set was laced with some of the sharpest, strongest and most naggingly loveable tunes my ears have been treated to in years, and with Graham Harwood dominating the stageshow they were as much a treat visually as they were soundwise. They were full of confidence, new found aggression and contemporary relevance and in the space of one 30 minute set they jumped from being a mid-table first division team to being right up there challenging for the championship. They were quite magnificent and if you don't believe me see them the next time they hit Town and I guarantee you will be as knocked out as I was. Welcome to the big time O'Yellow ones.
Following that mouth watering starter should have been difficult but The New Puritans made it look easy. They were relaxed and jovial throughout their snappy set and the power that they managed to produce would have blown the speakers of many a heavy metal act. Like Banned In Yellow, The New Puritans base their stance on strong, attractive melodies and powerful ear-grabbing presentation, and tonight was as good a set as I have seen from them. Relative oldies like 'The Jailer' and 'No Such Chance' were equalled by new material of a distinctly 1978 variety, but all had to take second place to that gorgeous ditty with the 'keep me in the circle' hook, that reminded me of early Balaam and the Angel. Another terrific show from a band who can do no wrong in my books. Apart from Rob's abysmal jokes that is!
And so to the grand finale – Catch 23. On any other night with any other support you would expect Webster's Warriors to wipe the floor with the opposition without really trying, but tonight they really had their work cut out to justify their headline slot. Well, surprise, surprise, they DID rise to the occasion. Despite starting weakly with the unsuitable opener 'What You Want' the band went from strength to strength and by the end of their powerful set they sounded as good as they have ever been. New material like 'I Believe' and the anthemic 'Pride and Joy' stuck in the mid long after the amps had been switched off, but the band's fresh approach to older songs like 'Catch This' and 'Stand Back' gave them a new burst of life that proves that you CAN improve on seeming perfection. As with both Banned In Yellow and The Puritans, they were as good to look at as to listen to and as with the two bands that preceeded them, they were called back for more and delivered in real style. Another killer show from a band who surely can do no more now but wait for the ink to dry on the paper of the record contracts.
Sadly Catch 23's departure saw the end of this quite magical night. For those of us lucky enough to be on Bayley Cooke's coach there was still the treat of a solo show by the Wolfie king on the way home but I am sure everyone else had enough magic moments of their own to reflect upon.
The Mean Fiddler is a tremendous venue which was graced with three tremendous bands on the night. I strongly urge these same three bands to get together again and arrange a return trip NOW. They may not be able to repeat the sheer joy of this night but if they produced a gig that was half as entertaining it would still be superior to most other local shows you will see this year.
When the Tamworth area can produce three bands as good as this, you are left wondering whether we really need top name out of Towners hitting the area. All three of these are serious challengers themselves and if they arrange a second trip to the mean City take a tip from a rejuvenated MUSICBOX Editor and don't miss it. It was a night to treasure.
Review by Sam Holliday
Tamworth Herald – 27/04/90
Musicbox – Sunday's Best
SOME of the area's top bands hit the Town this Sunday as local gig-goers have another crop of concerts to choose from.
Bands like Dance Stance, Rhythm Damage, Sa Sa, Banned In Yellow and a brand new combo called Trappzat will all be competing for your attentions at the three major venues in Tamworth ensuring another Sunday feast for the musical faithful.
Here are the line-ups in a nutshell followed by more detailed previews…
SUNDAY
Nightmoves – Banned in Yellow/Good Question Derek/Sa Sa
The Rathole, Lincolns – Dance Stance/Rhythm Damage
Tamworth Arts Centre – Trappzat
And now for some more information (where we have it) on what you can expect to see should you make the Sunday night move to the dancefloors.
Banned In Yellow/Good Question Derek/Sa Sa – (Nightmoves)
A timely appearance for Banned in Yellow who are in at the ideal time on their absolute triumph at the Mean Fiddler. Banned in Yellow, have transformed incredibly in recent months into an all-powerful modern pop combo who have more in common with the likes of The Stone Roses than of the old Rape in Yellow. There is great deal to admire in their grooves and following their glorious London show they can confidently expect a very warm homecoming on Sunday. Joining them will be kindred spirits Good Question Derek, a Birmingham-based band who have the same influences and musical motivation as the Yellowites. There is a bit of a buzz about Good Question Derek at the moment and you can find out why on Sunday. Completing the show will be Sa Sa who have been missing from the Tamworth shores for absolutely AGES. The band, one of the few unashamedly pop outfits in Tamworth, made quite an impact a couple of years ago with their well written pop and dance music and this will be their first Tamworth town centre platform since then. They should suit the upbeat mood of the night very well indeed. The venue is Nightmoves, the gig promises a lot. It starts at 8pm.
Dance Stance/Rhythm Damage (The Rathole, Lincolns)
The return of one of the area's most unlikely – but still most successful – combinations which combines wild Foetus style music with calm, cool and controlled soul gear. The Damage boys, who will be producing their own free 'Vulgar' fanzine for the night, have already impressed with their anarchic agit-pop which is played and presented with real showmanship. Ugly to look at, ugly to listen to but immensely popular already. Strange tastes these Tamworthians. Joining these monsters of shock will be the all together more chirpy Dance Stance. The band, who have really re-established their local profile in recent months, have developed their punchy pop/soul crossover to a fine degree now and as this will be their last Tamworth shown for some time they are hoping to go out with some kind of a bang. You will all know what Dance Stance sound like, you all know it's smart stuff and you all know this will be a good gig. So what the hell am I rambling on about then!!! It's at the Rathole, it starts at 8pm.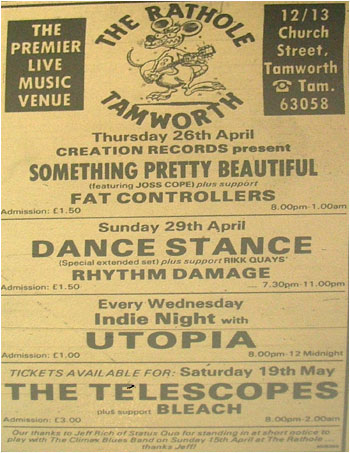 Trappzat (Tamworth Arts Centre)
One of those wonderful gigs about which this column knows NOTHING whatsoever. Trappzat have booked themselves into the Arts Centre for the night but have sent no information to this office (at time of going to press) and have left none at the Centre itself. If you've heard of them, get along.
28/04/90
Banned in Yellow
Vonnies
Burton
29/04/90
Dance Stance
Rhythm Damage
The Rathole, Lincolns
29/04/90
Banned in Yellow
Good Question Derek
Sa Sa
Nightmoves
29/04/90
Trappzat
Tamworth Arts Centre