Tamworth Bands History : 1990 :
September
05/09/90
Burton Rock Festival
The Gatecrashers
Satellite Spies
Breaking Point
Scream Dream
Eight Ball Joe
Burton Town Hall
06/09/90
The Brilliant Corners
Banned in Yellow
The Rathole
06/09/90
Spiral Eye
The Yogots
Moy Club (Hope and Anchor)
Islington
Tamworth Herald – 07/09/90
Musicbox – King Rikk!
RIKK QUAY was appointed as the new Chairman of the Tamworth Rock festival following a mammoth three hour meeting of more than 20 bands on Sunday night.
The Festival's first ever AGM voted former Vice Chairman Rikk into the top slot on the night and the Rhythm Damage singer pledged to make the 1991 event the best ever.
Rikk who resigned earlier in the year as Vice Chairman decided to go for the Chairman role only at the last minute but he won the two-way vote against Herald reporter Mike Turner who had offered some radical and exciting new ideas to the Festival agenda.
Elsewhere in the vote many old faces were voted onto the committee again but there is one New Kid On The Block. He is 20-year-old MUSICBOX scribe Sean Atkins who was voted in as Vice Chairman ahead of Ian Gibbons and Den Byfield. Elsewhere in the 'Officers Class' Mike Fleming earned the nod as Treasurer ahead of John Garforth while the Secretary's position went unanimously to the excellent hard-working Alan Webster. As well as votes for these officers, four other committee men were chosen out of more than 15 nominations. Former Festival Chairman [sic. Treasurer] Ed Armchair topped the poll followed by Wolfsbane starlet Blaze Bayley and they were joined on the committee by PA man Den Byfield and ace songscribe John Reeman. The committee was completed by the local authority representative, Labour Coun. Dick Hudson and former Fest Chairman Sam Holliday who despite not changing his original decision was made Life President, a role he sees as mainly keeping his old mate Rikk Quay in a sober condition.
That's the ten man team then – one that is committed to keeping up the high profile and positive tradition of the Tamworth Rock festival and one that is already buzzing for July 1991.
Tamworth Herald – 07/09/90
Musicbox – Drummer
Loose Connection, in the midst of a huge amount of top quality concerts are urgently seeking a drummer to gig IMMEDIATELY.
Tamworth Herald – 07/09/90
Musicbox – Demo Watch by Sean Atkins
Litany of Fear – Jesus (Rating (Out of Five) *
I like to think I've got a fairly broad taste in music, but I couldn't enjoy this tape. The five tracks on this demo are very heavy going to listen to and they don't sound any better on the second or third hearing.
As to whether they sound any better when you play the tape a fourth time. I don't think I'll ever know.
The music is serious goth – and I mean serious. You just can't imagine anyone smiling when this was recorded. It really is depressing music with only the occasional bit of good guitar work to make it bearable.
The only good point (and it's a very important one) is that you'll love this tape if you're a LOF fan.
I've seen them play a couple of time and I can guarantee that if you like them you'll like this.
'Jesus' is a good example of what LOF do, they are good at what the do, but (unfortunately) I don't like what they do.
Sean Atkins
07/09/90
Glascote Heath Vibe in the Area
Emma Gibbs Loves Badges
Sindy's Sonic Garden
Perfect
Bagpuss
Tamworth Arts Centre
Tamworth Herald – 07/09/90
Musicbox – Glascote Heath's big night out!
FOUR of the allegedly sexiest bands ever to come out of Glascote Heath unite tonight (Friday) for a glorious show at the Arts Centre.
The gig features a debut performance from the wonderfully-titled Bagpuss, the first opportunity to see the perfectly-named Perfect, a welcome return from Sindy's Sonic Garden and a table-topping show from those masters of the universe Emma Gibbs.
The 'Glascote Heath Vibe in the Area' kicks off with Bagpuss who are on the Indie side of the fence but boast a Paul McCartney lookalike on bass! Another new band on the night are Perfect, a fresh combination of the various talents of Mark Hynds, John Popstar and the astonishingly sexy Wilf Williams. In between them will be Sindy's Sonic Garden a band who frighten the life out of any lovers of the safe sound and who are described in my press release here as the 'most exciting, genuine rock experience to have hot Tamworth in the last two years'.
Completing the night will be Emma Gibbs in what is a desperate and unashamedly attempt to plug their excellent (MUSICBOX's word not theirs) new single 'Assured/Patience'. The gig is seen as a warm up for the band's Islington Powerhaus show on September 10 and if it is half as good as their Fest show, it will be a boster! It starts at 8, costs £1.50 (£1 to UB-40 holders) and looks like FUN.
Tamworth Herald – 07/09/90
Musicbox – Gig Previews
Gritty Monkys line-up
Tamworth is a two gig Town again on Sunday with two very contrasting shows on offer.
At the Rathole former Strap On Jackites True Grit team up with powerful metallurgists Suicide Blonde while down the road at the Arts Centre there are Indie pleasures to enjoy in the shape of The Shakespeare Monkeys, The Sherbert Trees and a new local band the Thrice Nays.
First a quick look at the Rathole fare…
The Rathole – Suicide Blonde/True Grit - £2 entry fee.
Headliners are True Grit a band who as Strap On Jack were one of the most popular out-of-town acts ever to hit Tamworth. The band, who recently grabbed support on the tour of The Almighty, are releasing an album this week entitled 'Get Educated' which is being distribute via Warner Brothers. Described as an excellent mixture of rock and blues they will be backed by a metal band who have a lot of big noises about them. The band in question – Suicide Blonde – are described as being in the Quireboys kind of arena and have earned much praise in Sounds and Kerrang. Regarded as one of Birmingham's best hopes for future glory their combination with the Tru Gritites should make for a fine night. It costs £2 on Sunday between 7.30-10.30.
Tamworth Arts Centre – The Shakespeare Monkeys/The Sherbert Trees/ The Thrice Nays - £1.50 entry Fee (I think!)
A fine trio of new Indie blood this featuring two of the area's most enterprising and much vaunted new acts and one completely unheard outfit. The two 'relative' oldies are The Sherberts and The Monkeys both of whom impressed at the Rathole recently and are keen to warn the cockles of your hearts yet again. Completing the line-up are The Thrice Nays a brand new group who describe themselves as 'a bizarre mix of Black Lace/Wonderstuff and Indie fun." Sounds good.
And oh! Yes, a final point. Apparently, The Monkeymen have been called many different things in the past (mainly by this paper) but the DEFINITIVE is The Shakespeare Monkeys so get it rights!!!
Tamworth Herald – 07/09/90
Musicbox – Local reviews and views
Rhythm Damage – Lincolns
Upon entering this establishment of near solitude, there came a sudden realisation that at least there would be no problems getting served at the bar.
This was going to be our premier viewing of the Rhythm Damage.
The three so called members of the band clambered onto the stage with all the elegance and grace of a Mutant Ninja Elephants rendition of Swan Lake.
Cowabunga! The throbbing trash rhythms had started as Quay proceeded to demolish every conceivable idea that he was ever a singer.
Sick!
The ramblings of this sick individual were comparable to that of a certain name-less Iraqi leader, after which they burst into a track which they claimed to be taken from their new single 'Taste The Rod'. This track has as much chance of being played on Radio One as (the following metaphor was far too controversial to appear next to Scooper! – Sam).
Then suddenly, after twenty minutes of destruction, a sound of sheer delight echoed around the room – the band had left the stage.
They came, they saw, they got drunk. So did we. They were an absolute wonderful experience, and like all wonderful experiences, they're over too quickly.
The Fish Sisters
PS We wish to remain anonymous as we have recently moved to the area and wish to review more groups in the near future!
Tamworth Herald – 07/09/90
Musicbox – Local reviews and views
Dance Stance/The Slow Club – The Rathole, Tamworth Herald
The Slow Club were so, ermm, affluent.
The exuded brazen self-confidence, bronze Mediterranean sun tans and a kind of 'we're well-off, but we'll dress down to be street-cred kids' attitude.
The singer had bags of stadium-rock pretentions and a voice which bellowed dramatically around the Rathole's smart nightclub atmosphere. But cool, they were not.
Undoubtedly one of the most professional-sounding bands to have played at the Church Street venue. Sutton's The Slow Club admittedly cranked-up a good dance groove for the first three or four numbers, but I'm afraid no band is going to succeed unless it has tunes or some kind of gimmick.
The Slow Club have neither, and for me, they were so affluent-looking to the point of being your perfect yuppie band!
If someone could write them some decent tunes and teach the singer how to dance, then maybe, just maybe, their superb musicianship could sail them on to charts success. But I wouldn't bet on it.
Dance Stance were missing a trombonist, and in their first three or four songs, sounded bland, stuttering and not up to tonight's task of pleasing a disappointingly low turnout.
The out-front sound didn't help at times, and it wasn't until half-way through the set that things picked up, with a much harder-sounding Nick reed on guitar really in outstanding form.
Although most of the songs are getting very familiar now, Nick's guitar-playing and backing vocals, were something to behold and it gave extra power and spice to a set which feels outdated in places.
Improve
Singer, Paul Hanlon's voice seems to improve every gig through, and he's far more adventurous than ever before, taking his high falsetto bits to even higher places.
Highlight of the night was their raising version of Sly Stone's 'Dance to the Music'.
But myself, and several other people around me, felt cause to wonder whether Dance Stance are plodding round and round in circles, getting nowhere, or are they slowly, but surely, reaching their ultimate goal of chart success? I think it is a narrow line which divides it, and I'm not the one to say which side of the line they currently lie on.
Mark Mortimer
09/09/90
True Grit
Suicide Blonde
The Rathole
09/09/90
Shakespeare Monkeys
Sherbert Trees
Thrice Nays
Tamworth Arts Centre
12/09/90
The Big Trip
14/09/90
Litany of Fear
Sherbert Trees
Tamworth Arts Centre
14/09/90
Wolfsbane
Roma
Gates of Purity
Lichfield Arts Centre
Tamworth Herald – 14/09/90
Musicbox – Gigs Galore
We have no less than five fine local concerts for you to think about this week featuring top local faves like Wolfsbane, Catch 23 and Sherbert Trees as well as classy out of Towners like Walk on Fire, The Prudes and more.
The gigs – three in Tamworth and one each in Lichfield and Bedworth – offer local punters a chance to enjoy a whole array of talents so without further ado here is gig-list followed by a more detailed breakdown.
Tonight (Friday)
Tamworth Arts Centre: Litany of Fear/Sherbert Trees
Lichfield Arts Centre: Wolfsbane/Roma/Gates of Purity
Sunday:
The Rathole: Walk on Fire/The Wilsonz
Thursday:
The Rathole: The Prudes plus support
Bedworth Civic Hall: Catch 23
And a little more detail? Well tonight, Friday you can make the short journey to Tamworth Arts Centre to enjoy the double talents of Litany of Fear and The Sherbert Trees. The duo, both of whom walk on the wilder side of life, offer an interesting mixture of gothic enterprise and modern experimentation and the gig costs just £1.50 on the door and runs from 8pm onwards. Meanwhile up the road at Lichfield Arts Centre, Wolfsbane play one of their final warm-up shows before the Iron Maiden Tour when they join forces with Roma and Gates of Purity. Lichfield fans – and a fair sprinkling of Tamworth travellers – are sure to lap this one up and it costs just £3.50 with a £1 reduction for the unemployed.
Sunday night has only one show on offer – the pairing of Walk On Fire and The Wilsonz. Headliners Walk On Fire are a rock inspired act whose big lists of names of the calibre of Bryan Adams, Alex Harvey, Frankie Miller among influences and they offer 'strong' songs, memorable melodies and most of all 'a voice'. Having recently recorded with a man who has worked with Big Country and The Cars they look a different kind of band for Tamworth and could go down well. Support is provided by The Wilsonz, a band who have been compared in the past to Wolfsbane and have the same kind of 'live fast, die fast' style material. MUSICBOX has heard good things about this band. Nuff said.
And so on to Thursday night where Atherstone heroes Catch 23 make a welcome return to live action with a concert at Bedworth Civic HALL. We don't know a great deal about this one.
Meanwhile nearer to home. The Rathole hosts the highly-rated Prudes. This is a band of serious note who have made regular incursions into the Indie and Alternative charts and boast a mixture of good guitars, Smiths-appreciation and a bevy of adoring press critics in their pockets. Big band, big night and big (as yet unknown) support act which admirably rounds off a BIG week of gigs.
Tamworth Herald – 14/09/90
Musicbox – Demo Reviews by Sean Atkins
Smiles from Adam and Catchites
Catch 23 – Pride and Joy
Rating out of five stars *****
Phew, what a relief! I'd been hoping for a tape from a band of this quality so that I could give out more than three stars now and then, hopefully, the rating system would begin to make sense. And if ever a local demo was worth five stars it is this collection of six tracks from Catch 23. It is just the sort of tape the band needed to produce after the last flurry of record company interest faded away. It's aimed at showing the record companies the sort of product they wanted to here but – most importantly – it shows that although Catch 23 have souled out quite a bit, they definitely haven't sold out. 'Pride and Joy' is a personal fave of mine but every track works well and demonstrates the range of the band's music, which has matured considerably over the last year or so. They've moved on a lot, but they haven't left anything behind, as 'One of Those Days' proves – it's an example of the lively catchy sort of pop song that Catch 23 have always done so well. Catch 23 are back in a big way and these very dance-orientated tracks signal the way forward for the band, hopefully into the charts. So, next time you so Top of the Pops, remember that good pop bands do exist...they just haven't been signed yet.
Sean Atkins
Tamworth Herald – 14/09/90
Musicbox – Demo Reviews by Sean Atkins
Adam – Slave Driver
Rating out of five stars ***
Adam (his second name is Cukrowski and very difficult to spell) is part of a big but very exclusive club. Hw is one of the increasing number of people whose biography can include the words "formerly with The DHSS". He was involved with the new DHSS, the one with 'real' musicians which never really worked as well as it could have done. This tape was recorded a year ago, before Adam's spell with the department, and it demonstrates the sort of powerful pop we all hoped for from the DHSS. He took a back-seat with DHSS as a guitarist but on this tape he is very much in charge as a singer (and not a bad one), songwriter, guitarist and even adding backing vocals himself. It's very much a solo project but he is not a one man band. And the band that accompanies him on his demo is one of the best, Banned In Yellow. Their influence gives the three songs on this tape the same hard powerful and professional sound which has made Banned in Yellow one of Tamworth's most promising acts. Apparently, Adam has got an album coming out soon to be titled 'Work, rest and play louder'. It's all very ambitious stuff but, if the quality of these songs is anything to go by, he's obviously doing the right thing.
Sean Atkins
Tamworth Herald – 14/09/90
Musicbox – Arts Centre back on the map
The Tamworth Arts Centre looks set to have a renaissance.
The venue, which has been somewhat overshadowed by The Rathole in recent months, is to come alive again soon with a series of concerts under the banner of 'The Phoenix Events'.
We have received an official press release about the aims of the events which reads thus…
"The Phoenix Events will be a series of weekly gigs at Tamworth Arts Centre featuring a wide cross section of Tamworth bands, providing a showcase for the more established bands and a platform for new bands trying to break through. The Events will be non-profit making for the organisers, giving bands an opportunity to capitalise on their own popularity by taking a direct share of any proceeds. The Events will in addition be fundraisers for the Tamworth Rock Festival of 1991. Some places are still available for bands wishing to participate in the gigs during October."
Tamworth Herald – 14/09/90
Musicbox – News, Snips
MUSICBOX has received a lovely letter from Mrs Marjorie Harrison whose Tamworth born son Charlie recently played bass as part of Rod Stewart's World Tour. Charlie a quite brilliant musician who is very proud of his Tamworth roots, flew his mother out to America for a tour of the States which she loved every minute of. Disneyland, the Universal Studios, Hollywood, San Francisco and Cape Canaveral were all on Marjorie's visit list and she left saying that it had all been a 'wonderful experience'. Marjorie is a smashing lady and we are happy that she has had a tour of America to talk about as he son describes his tour of the World with Rod Stewart.
Tamworth Herald – 14/09/90
Musicbox – News, Snips
Bash Out The Odd are seeking a new guitarist again. If you think you can help out the band contact Mark.
Tamworth Herald – 14/09/90
Musicbox – News, Snips
Ark have announced a major date at Goldwyns in Birmingham at the end of the month. The popular outfit who can claim fans all over the Continent, will be in action in a late-night slot at Goldwyns on September 27.
Tamworth Herald – 14/09/90
Musicbox – News, Snips
In case you are wondering about the whereabouts of reviews of the Emma Gibbs and Rhythm Damage singles, we are waiting until they are commercially available before we review them so you can rush out and buy them as soon as we print the details.
Tamworth Herald – 14/09/90
Musicbox – News, Snips
Wolfsbane's HMS Fan club is now standing 700 strong. A splendid tally considering only a handful of those come from Tamworth and there are members on both sides of the Atlantic.
Tamworth Herald – 14/09/90
Musicbox – News, Snips
A new rehearsal room in the Tamworth area is available for bands who may be interested. We can't give too much information but Mark on … should be able to tell you more.
Tamworth Herald – 14/09/90
Musicbox – Gig Reviews
Two-and-a-half great gigs
Eight Ball Joe – The Rathole
I've heard so much about Eight Ball Joe in the last three months or so that I thought I had to go and see them for the first time. Within five minutes of the trio walking onto the stage with so much enthusiasm I was converted into an Eight Ball Joe fan. Good honest rock and roll was what I was hearing – no hype, no gimmicks just good time music. Their musical influences seem to stem from musicians like Gary Moore and such-like but their attitude definitely comes from the likes of Motorhead. Serious band with a bit of humour thrown in free of charge, go and see them for yourself next time they play. If they may you feel like they made me feel they'll have a very big following very soon. Thunderous drummer, brilliant bass player, great guitarist with a good voice. Good band.
Emo Emerson
Tamworth Herald – 14/09/90
Musicbox – Gig Reviews
The Yogots/Spiral Eye – Hope and Anchor, London
THE last time I saw Tamworth have such a stranglehold on a London venue was when Graham Smith's red and white army took over Wembley Stadium some 16 months ago. Although then it took a replay for Tamworth to win, The Yogots and Spiral Eye scored a resounding victory in just one foul swoop.
First up were The Yogots, who huddled onto a stage so small that the Rathole must have felt like the Hummingbird in comparison. Yet this proved to be both theirs and Spiral Eye's advantage. The 'intimacy' of such a venue gave both bands the opportunity to really play upfront to an audience and those in the room that could be described as impartial locals, were treated to two powerfully sweaty sets, by two bands very much on song.
By the time The Yogots were through, the place was smoking, after Spiral Eye had put their trance on everyone, the Hope and Anchor was in need of a fire brigade. Hit stuff? You better believe it, London was burning.
The scene outside the venue afterwards, was more reminiscent of Church Street, Tamworth on a Thursday night, than a North London high street – everyone standing around, dripping with sweat, enjoying the cosmopolitan mixture of merry banter and wonderful after-gig chips.
Tamworth or London, both acts have proved themselves capable of delivering the goods anywhere. From small seeds etc, etc. Tonight the hope was well and truly anchored. The boys did good!
Mike Turner
Tamworth Herald – 14/09/90
Musicbox – Gig Reviews
The Great Divide/Brilliant Corners
As a Leicester City fan I'm used to a long wait (I'm still waiting for them to get out of Division Two) but, by the time this first band (Great Divide) appeared on stage, I was beginning to lose patience. I think it was about 10pm when the Burntwood band launched into their set and they were greeted by the disheartening buzz of a crowd talking amongst themselves. It was a shame really because The Great Divide were actually pretty good and they are a band I'd really like to see again.
A big influence and one they successfully make use of is Manchester band James. The set was a bit below par according to one fan, Ed Armchair, but I still found their brand of Indie pop very enjoyable and an unexpected highlight.
Quite honestly, I'd gone along to see the re-emergence of Banned In Yellow who were scheduled to play the Rathole. The fact that they weren't playing meant that this was a local gig without a local band and that was a bit of a let down. The Brilliant Corners, who headlined the show, have been enjoying a lot of publicity nationally and obviously have quite a following. They certainly weren't bad and their powerful guitar-based music went down fairly well but they definitely weren't anything special. As has often been said – they were good, but not that good.
Sean Atkins
16/09/90
Walk on Fire
The Wilsonz
The Rathole
20/09/90
The Prudes
plus support
The Rathole
20/09/90
Catch 23
Bedworth Civic Hall
Tamworth Herald – 21/09/90
Musicbox – Rathole Preview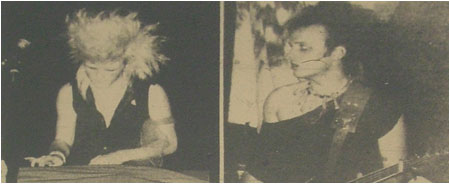 Ex-'Pats' Hit Tamworth
MANCHESTER outfit The Fontanelles make their Tamworth debut on Sunday night in a late change to the Rathole line-up.
Until the weekend it looked as though The Candy Skins would provide the big name attraction at the Rathole this weekend but they have now had to pull out.
But, fear not pop-pickers for in the Fontanelles – who feature two well known ex-pat Tamworthians – you have a gig to savour.
The Fontanelles are quickly establishing themselves as a major act on the buzzing Mancunian scene and although they pointedly remove themselves from the obvious modern connections…
"We are a band from Manchester not a Manchester band. I think it is important to realise that fact," explained bassist Paul Clements.
What the Fontanelles actually play is a very wide mixture of styles. Their influences range from the hard-ass garage sounds of the Sixties, via the hipper end of the rock dinosaurs market like Iggy, The Stones and The Stooges right through to the punk joys of The Clash and The Ramones. Despite all those heavy, hard and nasty sounding influences, they are still remarkably poppy as well and there is so much to enjoy in what they have to offer that you should find much to make you smile.
The local connection in the somewhat ugly shape of bassist Paul Clements and his wide-boy keyboard man Derek Goodwin. Both of them played in the notoriously cataclysmic Classified Ads in the early Eighties and were responsible for some of the smallest audiences ever seen in Tamworth gigs. (Rumours abound incidentally of a Classified Ads reunion concert soon but no-one has been able to confirm it due to the old lead singer disappearing into a black hole after news that High Cornwell left the Stranglers). People who remember Paul and 'Bo' Derek from those heady days may be surprised at the direction the Fontanelles now take but they should also remember that the duo are rarely – if ever – boring when they hit the stage.
Support act in this re-arranged bonanza of a show are The Hover Chairs an absolutely massive band in their home town of (err, not sure about that) with their brand of music which is sort of (err not sure about that either.) Yes, you've got it, a MYSTERY band!!! That's yer lot them and what a combination. Sunday night, Rathole, 8pm. Be there.
STOP PRESS – The Rathole may be staging another show on Thursday night featuring such local luminaries as Bash Out The Odd and Vindaloo Breakfast. Please check with the bands and venue for information.
Tamworth Herald – 21/09/90
Musicbox – Snips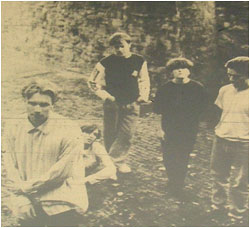 Everybody's favourite dance men, Emma Gibbs Loves Badges, hit the airwaves for the first time last week when their debut single was played on John Peel's Radio One show. 'Assured' (which includes a naughty four-letter word or two) was played to the nation's youth on Thursday night and it left the Glascote Heathites absolutely BUZZING.
"I think we have reached the pinnacle of our career now we have has a real life Peel rambling about us," enthused lovely Lee.
The fabbo record, which I saw Steve Danger of Wolfsbane clutching with sheer pride on Thursday is now available locally although Lee bitterly regrets that they haven't as yet been able to set up a signing session at Inner Sleeve…
Tamworth Herald – 21/09/90
Musicbox – Snips
Wolfsbane began their national sell-out UK tour with Iron Maiden this week.
The band will be traversing across the country over the next couple of weeks playing to packed audiences wherever they go and undoubtedly earning yet more press acclaim. In the midst of the tour their new six-track mini-LP should be available so keep your eyes and ears peeled as Wolfiemania finally hits Britain.
Tamworth Herald – 21/09/90
Musicbox – Snips
Catch 23 are finally emerging from a relatively long period of isolation. The band have deliberately kept a low profile throughout the summer but are now raring to go again with their excellent new demo which was reviewed here last week. As they explain in their latest Newsletter…
"We felt our priority was to record a new top class demo to get the attention of everyone in the business. The next few months are crucial for Catch 23 but we consider the experience we have gained over the past 12 months will stand us in good stead when we next mount our attack on the record companies."
The band played their first gig since the Festival at Bedworth last night (Thursday) and there is talk of a link-up soon with kindred spirits Dance Stance at the Rathole.
Tamworth Herald – 21/09/90
Musicbox – Snips
Reluctant Tamworthians Birdland are still getting linked with the Town. The brilliant bleach blonde boys from Kingsbury were recently reviewed in the London Evening Standard where their Tamworth links formed the basis of the article. It read (and I quote)…
"Until recently Tamworth was best known for Sir Robert Peel, it's historic manifesto and a rare breed of pig. It was only when former Teardop Explodes luminary Julian Cope returned to his roots that Tamworthians emerged with a rock and roll heritage. Move over Manchester, get lost Liverpool. Now here comes Birdland, four mop-top blond bombshells with garage punk fixations dating back to Patti Smith and … that is moderately liberating."
While it is unlikely that Birdland see this column, if any ARE reading it, keep up the good work boys and MUSICBOX would always welcome your views on your adopted home because it needs all the homespun heroes it can possibly get.
Tamworth Herald – 21/09/90
Musicbox – Snips
Johnny Seven, a Grendon-based local music fanatic (and a very nice guy to boot), is looking to set up new music fanzine in the area. The fanzine to cover all sorts of music including the local stuff will be known as Planet Seven and it's editor is now seeking contributions and ideas from any fellow fanzine fans out there.
Tamworth Herald – 21/09/90
Musicbox – No longer the single of the week
MUSICBOX Editor Sam Holliday says farewell to single life tomorrow (Saturday) when he marries his girlfriend of three years, Carla Cordell.
The move is undoubtedly the final nail in Sam's coffin and he must now divert all his attention to stopping the horrors of Phil Collins CDs and suburban respectability entering his ageing punk rock shrine.
What this means is that for the next three weeks or so I will be taking a break from the column so MUSICBOX will be taken over by MIKE TURNER. All correspondence, news items, information and reviews should be passed on to Mike who will do his level best to keep MUSICBOX as the greatest contribution to the written word since Shakespeare discovered his final illness was not, after all 'much ado about nothing'.
Tamworth Herald – 21/09/90
Musicbox – Reviews, reviews and yet more reviews
Wolfsbane/Patriot/Babyface – The Rathole
BEFORE we start, let's have a brief cheer for Babyface and Patriot, two bands of not inconsiderable talent, who may very well be on the first steps of the long ladder to the top.
Babyface need a bit more variation in their set, Patriot (who even managed to win over Mr. Holliday) need very little, apart from a new name and a big break.
And then one day, they might be Wolfsbane – with singles played on Radio One, support slots with Britain's biggest metal heroes, and a justified reputation as one of the best live bands around.
Put quite simply, when Wolfsbane decide they want to shake the rafters, rattle the ceiling and blow the speakers. I can't believe there is a better band in Britain.
The start here was awesome, with 'Steel' proving itself the best of the new stuff on the forthcoming EP/LP/mega-sized triple single or whatever it is, and 'Killing Machine' sounding better than it ever had
s.
From then on, they careered through classic after classic in a manner that really ought to have the Iron Maiden fans forsaking the delights of the bar for the delights of pure musical talent.
Although it took an understandably low-key Bayley half the set to really get into the wild frontman routine, eventually clambering over scaffolding and speakers while belting out the terrific 'Totally Nude', and although this wasn't the liveliest most exciting Wolfsbane set I've ever seen – they were sill immensely watchable throughout.
The band loves playing and it shows enthusiasm and energy pours out of every sweat gland in a manner that just means you can't take your eyes off the stage.
At one point (I think, through the haze, it was 'Fell Out Of Heaven') I even found myself getting out the old imaginary air guitar, something this relatively aging rocker hasn't done for years.
For an hour-and-a-half they blew away my problems, and that after all, is what rock 'n' roll is all about, isn't it?
Yes, Wolfsbane are as good as ever, and getting even better.
If you've got a ticket for the tour, you're in for a treat. If you haven't (and every single date is sold out by the way) camp out on the pavement outside the venue and try and get one.
You know it makes sense.
Martin Warrillow
Tamworth Herald – 21/09/90
Musicbox – Reviews, reviews and yet more reviews
Glascote Heath Rave – Tamworth Arts Centre
The Arts Centre once again staged one of those gigs that prove what an undiscovered fem Tamworth is in the national music scene – if only for its diversity of quality and style. Fly On The Wall opened the evening with a sparkling debut set of refreshing quality played with unpretentious confidence which quickly won over an enthusiastic crowd. A band to see again at all costs. (Yogots please attend and take note).
Unfortunately, Sindy's Sonic Garden soon dispersed the crowds with a noise in praise of the great God of Feedback celebrated through an angel Wah-Wah pedal. I yawned into oblivion. Next came Perfect, a duo that came across as having real potential, good ideas and great guitar work. Pity about the drum machine though. Good but not Perfect. Emma Gibbs were the cream on the trifle. Lee Revelle's pyjama jacket looked cleaner and more immaculately pressed than ever before and so were the band. People danced to a set that is strong enough to play anywhere at anytime. Hopefully they will.
Adam Taylor
(I think the surname is Taylor but his name was hard to read. His report however wasn't so send more reports Adam!!)
Tamworth Herald – 21/09/90
Musicbox – Reviews, reviews and yet more reviews
Suicide Blonde/True Grit – The Rathole
22/09/90
Sam Holliday
Carla Cordell
St. Edithas and the Embassy Suite
22/09/90
Classified Ads
Embassy Suite
23/09/90
The Fontanelles
The Hover Chairs
The Rathole
26/09/90
Spiral Eye
Peter Tuesday
Big Trip
The Great Divide
Sherbert Trees
The Poppy Charmers
Crystal Injection
Lichfield Arts Centre
27/09/90
Ark
Goldwyns
27/09/90
Bash Out The Odd
Vindaloo Breakfast
The Rathole
Tamworth Herald – 28/09/90
Musicbox – Life on the road with a wolf!


ON THE eve of WOLFSBANE's nationwide trek around the UK supporting IRON MAIDEN and the imminent release of their new EP "All Hell Breaks Loose At Cathy Wilson's Place", Wolfies drummer STEVE DANGER talks to MIKE TURNER about his hopes for the tour, the band's new EP, and how he's solve the Gulf Crisis.
"Well for a start, Saddam Hussein's definitely on our guest list," says Steve during a phone-in interview session from the record company's London offices.
"Hussein's a nutter isn't he? He's got to go hasn't he?
Do I sense just a hint of patriotism there?
"Yeh, I'm very patriotic. I am and why not? In America when there's a crisis everyone pulls together and supports the leader as he tries to sort things out. Here, they refuse to conduct at the Proms!"
Enough of mundane things like a potential global war, tell us about the UK tour with Iron Maiden.
"Well, apparently, we were one of about six other bands in with a chance of getting the support slot. We're with the same agency as Iron Maiden so that helped I think, but Steve Harris liked us and we got it. He'd heard our stuff and liked it. I don't know if there was any 'buy-on' deal done as well."
How involved are you with the business side of things? Are you pressured at all by the record company?
"No, not at all really. We know that sooner or later we're gonna have to have a hit and make some money or we'll get dropped. But there's no immediate pressure. We're aware that the money doesn't come from a bottomless pit, but we're OK at the moment, we just get on with things."
The band are also well aware that the attention Iron Maiden will attract from the media during the tour could well have a positive knock-on effect for Wolfsbane, particularly with their 'Holy Smoke' single slamming into the charts at number three last week.
"Yeah I guess so. It'll be even better if our record goes in a number one though won't it? Hopefully we'll do well out of it, that's the idea isn't it? But it's not as if we haven't done any groundwork to deserve it. We've toured all over the place for four years. We've paid our dues. The only difference is we'll be playing to full venues this time."
Which shows are you particularly looking forward to?
"It'll be great doing places like the Hammersmith Odeon. It's just a pity there's no really local dates for us. There's gigs in Derby and Leicester, but it would've been nice to do the NEC with them. Then again, if it all goes well they might just add us on the bill with Anthrax for the second leg of the tour, you never know."
How long are you being allowed to play for each night?
"Forty-five minutes each show. In fact the set we played at the Rathole last week was exactly what we'll be doing, so you saw it first in Tamworth."
You obviously still have a high regard for Tamworth and it's local scene.
"Yeah, well we still live locally don't we. We're aware of what's happening. During the tour we'll still be heading back home after some of the shows near the Midlands. For the others it's the rock 'n' roll lifestyle in the hotels."
What about after the tour?
"Well, hopefully, the record will do well and then anything can happen. Maybe we'll tour Europe and then possibly America."
And the follow-up to 'Live Fast, Die Fast'?
"Soon, hopefully. We've had plenty of time during this last year to write new stuff but we've hardly done anything. When we found out we'd got the tour then obviously it was sensible to have something on sale to coincide with things so we decided on the EP to bridge the gap. We didn't quite have enough time to do an album so this was the next best thing."
And the recording of the EP see all of the band in agreement for once.
"Yeah, we had a real good time making it. Without a doubt it's the best thing we've recorded yet. Everyone in the band's happy with the way it's turned out which is pretty unusual for us. Normally everybody's got different ideas about how we should sound and there's usually lots of arguments about sessions. So for us to all feel the same is pretty rare.
STOP PRESS
Musicbox's South Coast sources report that Wolfsbane got a hero's reception from the 2,000 strong crowd in Southampton on Tuesday night.
Tamworth Herald – 28/09/90
Musicbox – Bash Out star in six-band bash
GIG OF the week in the area is the six-band bash at the Rathole on Thursday highlighting groups featured on the forthcoming Reptile Records LP.
The album, which also features Spiral Eye and The Yogots, was put together by The Rathole and Ian Gibbons's Magic Rear Outfit.
Headlining the special preview night are the ever-improving Vindaloo Breakfast, whose brand of listenable hardcore noise is drawing increasing praise.
Apart from Bash Out The Odd, the rest of the bill is made up of non-Tamworth bands.
Peter Tuesday, Crystal Injection and The Big Trip, all hail from Lichfield, while guests, The Lost Forest are an up and coming Birmingham-based band.
Ian Gibbons, of Magic Ear said: "As the LP includes bands from all over the area, the idea was to play a number of gigs around the place with some of the out-of-town bands, introducing them to other audiences and other audiences to them.
"Vindaloo Breakfast are strong contenders to established bands like Spiral Eye and The Yogots, so they got the headline slot. Bash Out The Odd are better than ever now, and at long last they seem to be delivering what everyone expected of them. It looks like being a really good night, I think people will be pleasantly surprised by what they see."
The show runs from 7.30pm – 1.00am and admission is a mere £2.50.
This Sunday there is a two-band line-up at the Rathole featuring Beef and Born Blind. Times are 7.30pm-10.30pm and admission is £2.
Tamworth Herald – 28/09/90
Musicbox – Chemikill shoot to the top in fine Arts Centre bash
Chemikill – Tamworth Arts Centre
I was on my way to the pub when I was astounded to see that Chemikill were playing at the Arts Centre as support to The Sherbert Trees and Litany of Fear. I didn't review those bands as no doubt there is someone who enjoys their sounds better than I do but it was great to see Chemikill as a late addition to the bill.
At last it seems as if they have got a stable line-up with an extra guitarist called Mick and old veteran Mick Goodby on vocals. As I watched it soon became apparent that even though Mick was a little worse for wear this was going to be a great gig. Their music has changed a lot with the extra guitarist adding edge and the vocalist singing very well. They even resurrected the old BHX standard 'The Reaper' which sounded even better that the original. The highlight of the set was 'The Ripper' and the instrumental 'Into The Unknown'. Also smilemaking was the way the new guitarist played 'Last Of The Summer Wine' on the mouth organ!
Malcolm The Metal God of Glascote
Tamworth Herald – 28/09/90
Musicbox – Holliday stars in Tamworth's gig of the year!
THE CLASSIFIED ADS – Embassy Suite, Tamworth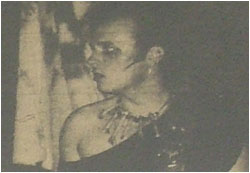 ELVIS LIVES! The Beatles get back together! The Alarm make a good record! The Classified Ads reform!
Unfortunately only one of the above is true. Nearly six years after going their own separate ways into the big bad world, The Classified Ads throw their caps in the air one more time.
To the uninitiated, The Ads were the schoolboy band that starred Sam Holliday in his pre-Musicbox days. A band with a social awareness that at their sweet and tender ages they had no rights no rights having, a band that showed anger really could be power.
Last Saturday, The Ads returned to the town from their various corners of the world and re-united for a short, sharp set at Sam's wedding reception.
And what a reunion! Those of us who could remember how good The Ads were in their day, were not at all disappointed, and the mystique that surrounds the almost legendary lads, was not shattered.
The years have obviously been kind to them all. They all seem as sane as they ever were. Sam remains Sam – the original man in black – mic-hugging, head bowed, giving it his all. If you closed your eyes it was the early 80s all over again. In fact, 'The Summer of '81' and 'Brilliant America' are just as relevant today, in this summer of violence with the American presence in the Gulf, as they were during those days of riots and Reagan.
As if seeing The Ads wasn't enough, the congregation were treated to a quick blast from Catch 23 and a wonderful five minutes of Wolfsbane, who had stopped off from their tour with Iron Maiden, just to share in Sam's day. The party peaked when Sam played the role of the 'fifth' Wolfie and became backing vocalist on 'Paint The Town Red' – only this time singing in tune.
As wedding receptions go this was a corker. I still can't get over seeing The Ads on stage at the Embassy. With the tinsel curtain backdrop it was like 'The Ads' go Vegas!' A splendid time was had by all.
Don't leave it another six years 'til you do it again though, eh lads?
MIKE TURNER
On the morning after, Ads guitarist Paul Clements pleaded with us not to review this – but never having seen the Ads before Saturday, all I have to say is 'Great potential, great songs…but they really ought to get a new singer!"
MARTIN WARRILLOW
Tamworth Herald – 28/09/90
Musicbox – Snips and News
Word reaches the ears of Musicbox that a certain well-known, but sadly departed local band could be set for a surprise semi-reformation. Can't say any more at the moment, but watch this space for further details.
Tamworth Herald – 28/09/90
Musicbox – Snips and News
The new local fanzine mentioned here last week has undergone a name change already! Planet Seven is now to be known as Gardens of Delight and will be a mainly gothic/punk style zine which should first hit the streets in October.
Tamworth Herald – 28/09/90
Musicbox – Snips and News
Ian Gibbons is currently involved in a major two-year course for aspiring pop managers in London. During the course of his sessions he hears snippets of news and record company inside info that could help local bands and he is always happy to pass on such advice. One such item at the moment – which may be of interest to bands releasing singles – is a contact number for a major independent distribution channel for local bands wanting national exposure. Ian will provide it via Magic Ear.
Tamworth Herald – 28/09/90
Musicbox – Snips and News
Following on from last week's piece on Tamworth's own Birdland, we have received a strange review by one Johnny Yen of their new controversial single 'Rock n Roll Nigger'. According to Johnny…"These bleach boys use this song merely as an excuse to shout ever so naughty words like 'whore'. This is so totally banal, don't buy this record. A local band used to play this song but they obviously grew up and dyed their hair…"Strange indeed. Still with the Kingsbury wonders, their album is set for release in January.
Tamworth Herald – 28/09/90
Musicbox – Snips and News
Tamworth hip-hoppers Suicide Petch and the Juice MCs hit the Marmion again on Tuesday October 2. Fresh from their appearance on the new 'Rhythm Damage' single, due to be reviewed here shortly, the lads will also be airing tunes from their new demo, which is released this weekend and should be on sale at the gig. Support is expected to come from an as yet un-named acid-house combo.