Tamworth Bands History : 1987 :
December
Tamworth Herald – 04/12/87
Musicbox – Gems among a week of gigs
MUSICBOX reviewers have been out and about in the last week or so catching up on a host of bands at various venues. Here is a selection of their comments with the code to the reviewers being SH – Sam Holliday; DC – Dan Collins; HM – Helen Machin and DR – David Reeves.
Dance Stance – Leicester University
It's two years since I last saw them – and it won't be that long until the next time. They are, quite simply, brilliant. They played a host of great songs in a set that lacked nothing. Paul Hanlon's white soul voice was a revelation with drummer, Phil Ford, bassist Neil Sheasby and the ever-present brass trio impressing also.
DC
The Searching – Aston University
The Searching played a frenzied set, producing a spectacular combination of songs. As they raced through a triumphant set, they received a first-rate response – especially from the Searching faithful. Their show earned them victory in this, the heat of the Birmingham 'Hottest Band in Town' contest and who knows we could see The Searching become the eventual winner, so stay tuned.
DR
The Conspiracy – Tamworth Arts Centre
Another uptempo, powerful set from a band who clearly have a lot going for them. Strong songwriting and excellent musicianship were especially in evidence, particularly from the understated and under-rated Paul bethel on bass. The band's main problem is their lack of onstage presence and confidence. Vocalist Lisa Cooke has a good voice and a good image but she needs to look more lively on stage because a bored-looking singer is the quickest way to a bored-looking audience. The Conspiracy's problem is surmountable and if tackled the sky is the limit for this enjoyable quartet.
SH
The Great Express – Tamworth Arts Centre
Day by day (gig by gig) The Great Express seem to be moving further and further away from 'pop music'. In their early days it was the mixture of the melodic and the meaty that gave them their wide-ranging attack but now it seems the pop fizz has been replaced by a rock slug. The sound sis getting heavier all the time and although there are still many moments of magic within it, I occasionally wished they would turn down the guitars and aim to caress rather than batter the eardrums. The Great Express go thundering on, but their engine now seems to be being stoked from a different source.
SH
Breaking Point – Tamworth Arts Centre
At the end of Breaking Point's set, lead singer Kevin Briggs said, with a certain degree of bitterness, that this would probably be the band's last ever main Tamworth show. This announcement, treated with apathy by an apathetic audience, finally confirmed that Tamworth and Breaking Point were about to divorce. This sorry state of affairs came about partly because of Breaking Point themselves, but probably more so because of a Tamworth public who refused to give the band the credit they deserved. Just because Breaking Point are that little bit older that little less 'cooler', that little less compromising and that little more arrogant, the Tamworth music scene has decided to desert them. It is a sad end to what has been a very important story in the Tamworth music scene, and an end which some of us at least will feel rather disillusioned by. Breaking Point were yesterday's heroes and yet today are ignored. Today's heroes – Please take note.
SH
New Age Gypsies – Tamworth Arts Centre
Brilliant as ever. Although they never seem completely satisfied with their performance, to my mind this was faultless. Luke's frenetic drumming combines with Gong's ever-powerful vocals to produce a superb set including favourites such as 'These Dark Days' and 'World Without End'.
HM
Kubla Khan – Tamworth Arts Centre
This was a great stage performance and a lot of credit must go to the amazing lead singer who had enough energy for 50 and managed to persuade a mixed Arts Centre audience that this is what they came for. Wonderful.
HM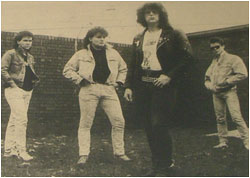 Shellshock – Tamworth Arts Centre
I was told that this band were 'very heavy'. It was a lie. They were even heavier. A wild flashing beat with thundering vocals that all but converted a long-time heavy metal hater like myself. Shellshock were superb and enthralled the crowd with a powerful, deafening metal mixture that was actually tuneful. I can still hear them now.
HM
Tamworth Herald – 04/12/87
Musicbox – Reggae boys return – by huge demand!
THE SOOTHING SOUND of modern reggae returns to Tamworth Arts Centre tonight (Friday) when the highly popular Progression make their third appearance.
The band have been brought back (in classic theatrical lingo) by 'popular demand'.
The last time the Wolverhampton dubwise heroes hit the Arts Centre – on the final night of 'The Rathole' – the venue was packed to the rafters and everyone present regarded it as one of the best shows they had ever seen.
The band received many comments and letters from ecstatic punters urging them to return to Tamworth and they were delighted to do so.
For anyone who has missed Progression so far, they play music which covers every type of modern reggae from melodious romantic numbers to uptempo high-energy numbers.
Every song they played at their Arts Centre show – including a showstopping version of 'Let It Be' – produced wild scenes of dancing from the riveted audience and there is no doubt everyone will go along with their dancing shoes again tonight.
The show starts at the Arts Centre at around 8pm and believe me, if you like to dance to superbly-executed and impressively flowing music, you will NOT be disappointed.
Tamworth Herald – 04/12/87
Musicbox – STOP PRESS
THE ALL-NEW DHSS were due to make their final trip into the recording studio last night (Thursday). The band, which comprises Rikk Quay, Edward ian Armchair and John Reeman have been rehearsing for some months and are eagerly awaiting the chance to show off their wares publicly.
According to John Reeman, the sound is very original, powerful and impressively lyrical.
"Edward ian Armchair's lyrics are a real revelation and I think people are in for a pleasant surprise when the new DHSS finally hit the streets." He said.
Tamworth Herald – 04/12/87
Musicbox – 'All mouth and groin'
YOU JUST can't keep a good band down can you? Wolfsbane - remember them – were reviewed in lat week's 'Sounds' magazine for their show at the Marquee. The review was absolutely OTT and to my mind summed the band up perfectly. It referred to Bayley as 'all mouth and groin' and gave totally justified praise to the loveable Jase The Ace whose relative youth we all tend to forget at times.
The closing line of the whole review, however, was the classic killer punch. It declared that only The Cult came close to Wolfsbane in the race for best heavy metal band in Britain. And as those of us with discerning taste know that The Cult are frankly appalling, that means that 'Sounds' agree with me – Wolfsbane are THE best British heavy metal band!