Tamworth Bands History : 1987 :
August
Tamworth Herald – 07/08/87
Musicbox – New guys make for a real curious night, rats
THE RATHOLE throws open its doors on Sunday night to welcome in three relatively new local bands.
Happy hippies The New Age Gypsies, new Tamworth band Jabberwocki and the all-new A5 will team up for a show which looks very promising.
Atherstonians The New Age Gypsies are certain to provide a lot of interest on the night as they bring their resurrected late-Sixties sound to the Arts Centre. As you may have seen in last week's MUSICBOX, the band dress like members of the Charles Manson family but have a sound which adds an Eighties touch to a Sixties ideal.
This will be the first concert for Steve 'Gong' Haddon, Rich 'Houdi' Hudson, Steve 'Grott' Saunders and Luke 'Puke' Gordon and the curious are expected to be out in force to hear something which probably will be very curious indeed.
Also making their Tamworth debut on the night are Jabberwocki – who last week started their rock and roll careers with a show in Birmingham alongside Ruffian on the Stairs. The band who describe their sound as rock with a commercial feel have been together in their present format for just three months and feature Rachel Vince, Richard Reeves, David Caswell, Andrew Wood and Karen Wood.
They list their influences as the likes of Peter Gabriel, It Bites and The Fixx which certainly makes them rather different from the Gypsies who they team up with.
Completing the line-up are the most experienced of the three acts – the seemingly indestructible A5. The band who now line up as Chris Edden (bass, vocals), Karen Webster (vocals), Steve Hayes (drums) and Pete Fulleylove (guitar) have moved more into the U2 vein of late but add the likes of New Order, Cocteau Twins and the Banshees to their influences.
The quartet who describe themselves as 'original and unlucky' will follow the 'Rathole' show with four concerts on consecutive nights making it a full A5 tour! On Monday they are at Megas Winebar on Tuesday at Kaleidsocope, on Wednesday, they team up with Catch 23 at Charlottes in Leicester and then on Thursday that are at the Blue Posts in Burton.
Sunday night's unique concert – another local showcase of new talent – starts at around 8pm and there seems something for everyone. And with The New Age Gypsies in town it promises to be a pretty cool night – maaan.
Tamworth Herald – 07/08/87
Musicbox – it's black magic for the punks
The Conspiracy – In the Beginning (Demo)
PUNK ROCK has had a somewhat chequered history in this area. Despite the mass of black-clad types who abound, there hasn't been a great deal to cheer about. Many bands have tried to master the alternative act – DHSS, The Reliants, Femme Fatale, The Calling, Terroa, The Classified Ads among them – but very few have stayed the course, leaving the Town's men in black frustrated and bedroom-ridden.
Well now we have a band who could well institute a return call to arms, a group who have zest, power and the sort of punch which Mike Tyson would be proud of.
The Conspiracy – a name taken from 1977 if ever there was one – have been together for just a few short months but the excellent debut demo shows they have already perfected a style and personality all of their own. It is based around the splendid guitar work of Roger Moore - an always innovative and positive musician who has been on the rock and roll shelf for far too long.
Roger, who used to create 100mph rants along with Andy Tuffield, Brian Pear and Andy Wiggall (collectively The Restricted) has taken his early earthy roots and combined them with modern-day Cult-style influences to create a never-predictable and always interesting new sound.
The first track of this five-song demo (which I rate as one of the finest Paul Speare produced is the crunch de la crunch. 'Passions Burning' is a real bone-shaker of a track combining Roger's Ruts-style guitar work with Lisa Cooke's impressive lead vocal which reminds me of the lovely Pauline Murray of Penetration fame.
Amazing
The song has a rip-roaring riff, a spacy drum sound and a tune which sticks to the brain and is as hard to remove as a spider from a bath. Next up is 'Blood and Roses' where the inevitable Siouxsie and the Banshees comparison becomes relevant.
The song swirls along dreamily with the help of some…style acoustics and another dance floor beat which is sure to get the Doc Martens stomping when played live. After this track the tape descends into the world of The Cult – a world I actually feel rather depressing but one in which The Conspiracy seem to hold a strong and powerful position.
The two tracks which swim in this water – 'Just look Around' and 'Little Children' – both have an energetic atmosphere of their own and should please the many black 'n' proud types who have fallen for the Cult one-trick.
In the latter track Roger's amazing leaps and bounds guitar improvement becomes glaringly obvious as he goes on how own magical mystery tour while bassist Sonny – both cut a slogging onslaught which Killing Joke would be proud of.
The tape finishes with an extended remix of my favourite track 'Passions Burning'. This has an even better intro and a sound which stays at a high peak from the first bar to the last. Extended or at its original short length, this is one hell of a track.
All in all this is a tape which I can't recommend highly enough. It seems to work on every level and shows remarkable confidence and purpose for a band so relatively young and fresh. It achieves the goals that Femme Fatale were always searching for but rarely reached and should give Tamworth's (horrible word coming up) 'alternative' types a real reason to smile.
You can catch The Conspiracy at the Tavern in the Town shortly and I would urge you to make sure you don't miss them. If – as I spend long wistful hours wishing – a punk revival is the next big thing, The Conspiracy could well have timed their entry to the world perfectly. Let the revolution begin.
Tamworth Herald – 07/08/87
Musicbox – Getting shirty at festival call-up
SNIPS – A full meeting for everyone involved in this year's Tamworth Rock festival will be held on Sunday night. As well as dispensing with the normal organisational business, musicians and organisers will be able to get their hands on the festivals lovely gruesome t-shirts and the equally bright 'n' breezy posters. All bands involved in the festival's two tiers – Castle Grounds and Arts Centre – are urged to attend the meeting which will take place at 7.45pm.
Tamworth Herald – 07/08/87
Musicbox SNIPS
Still with the Festival. Emma Gibbs Loves Badges have pointed out that they will now be known under a new name – Anne Magrock Experience. Lee and the boys are also due to enter the world of the demo tape shortly, and have attracted the interest of at least one big name.
Tamworth Herald – 07/08/87
Musicbox SNIPS
The Great Express are on the look-out for a new drummer. Dave Burgess will be leaving for college in September and after that the band will need a full-time sticksman. Dave has said he will be happy to play at the band's next two concerts – at the Tavern and the Festival – but he will leave after that/ If you would like to team up with The Express ring Mark.
Tamworth Herald – 07/08/87
Musicbox SNIPS
CAROUSEL have changed their name. The group – who feature Andy Stokes, Alan Wilson, Heidi Thomas and Brian Lacey – will now be known as The Parade which of course was the old name under which Bryan and Andy used to trade.
Tamworth Herald – 07/08/87
Musicbox SNIPS
Shellshock are still on the lookout for a permanent singer to replace the soon to depart Andy Mottram.
Tamworth Herald – 07/08/87
Musicbox SNIPS
More details have filtered through about new Atherstone-based band Kubla Khan. The group who are made up of Brad Riley, Mark Emerson, Dave Merrca and Tez Smith were all once involved with the popular Spirit of Water and have adopted many of their ideals and styles. "We are aiming to be a bit of a mystery band and when we start gigging, the punters will be pleasantly surprised" said bassist 'Emo'.
Tamworth Herald – 14/08/87
Musicbox – Rathole explodes in real style.
THE RATHOLE proudly gives a platform to one of the most exciting new bands on the Indie Scene – on Sunday night – Blow Up.
Joining them on a fairly impressive bill are The Rosehips, Emma Gibbs loves Badges and The Ferocious Apaches. Rosehips are described by no less a mortal than Rob Cross as 'fairly standard indie music' but it is fairly standard indie music that has attracted considerable attention.
Also having attracted a lot of attention – most of it unfortunate – are the dual Tamworth Angels – Emma Gibbs loves badges and The Ferocious Apaches. To be honest I am not sure if both bands or a single mixture of the two will be playing as those boys talk so quickly all the time. Whatever the case, get ready for some MaryChainBunneymenIndieRock madness.
Tamworth Herald – 14/08/87
Musicbox – New age? New hope?
Final line/Jabberwocki/A5/New Age Gypsies – The Rathole
YES, an intriguing, divergent night this. Proof positive that new bands are emerging and appearing all the time, and yet more evidence that Atherstone is producing more musicians per head of population than just about anywhere. Anyhow, the facts and figures…
The Final Line
There isn't a lot I can say about these because I didn't see a minute of their set. Opinions varied afterwards but according to fellow Herald scribe they were 'sort of loud, danceable and very good'. Seems reasonable.
Jabberwocki
Not really my cup of tea all this. Jabberwocki were clearly aiming for an early Seventies sound, the sort produced by the likes of Family, which is about as alien to my culture as eating lizards. The best bits were the double usage of female talent, Dave Caswell's musicianship, the unusual instruments and a song called 'I Don't Remember'. The worst bits were an overlong drum solo which outstayed its welcome, a complete lack of onstage identity and presence and the fact that Jabberwocki were playing to totally the wrong audience. It all reminded me of the New Seekers actually. Anyone remember those anarchists?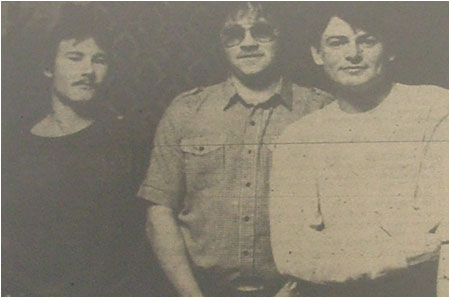 A5
Back with a bang. A5 have re-emerged from their lay-bys to produce probably their finest new collection of songs to date. The band's usual experimental ideas have now been joined by a gritty aggression which works on several musical levels. Guitarist Pete Fulleylove has developed a meandering Edge style sound, while Bassist Chris Edden has tuned his bass to that wonderful old Jean Jacques Burnel feel which carried the whole thing superbly well. Several fine numbers were revealed and I was left with the distinct impression that A5 could well be the (surprise?) hit of this years festival. Highly recommended noise makers.
New Age Gypsies
Whole lotta Zeppelin. The New Age Gypsies will feel well satisfied with this set which completely won over an admittedly very biased audience. It reminded me of a mixture between pre-punk rock (aka Zeppelin) and post-punk rock (aka the Cult) and this mixture proved curiously palatable even to those like me with (relatively) short hair. Steve 'Gong' Haddon is a charismatic, lively singer with a powerful voice and another mention must go to Rich 'Houdi' Hudson who clearly enjoyed testing and teasing his audience with his cocktail of axe-attacks. A band who will always have a market and who you will like better the longer your hair is.
Tamworth Herald – 21/08/87
Musicbox – Laughing all he way to the Rathole
ONE of Tamworth's best new bands team up with a major Manchester outfit on Sunday night for an exciting looking Rathole showcase.
The Mancunians on view are the highly-rated Laugh.
Joining these Northern warriors are WIN and…hopefully Fetch Eddie, a duo which has made this town sizzle over the past few months.
WIN who are one of the 'Rathole's' most prolific and consistent performers, offer a powerhouse of modern sounds which combine a plethora of slashing guitars, moody meandering vocal lines and enough rhythmic rumbles to make any self-respecting foot stomp. This most powerful of bands should feature (for the first time) Stuart Blane on drums on Sunday night. Stuart a veteran campaigner who has drummed with the good (One On One), the bad (Classified Ads) and the ugly (Aardwolf) should add some steel grit to a band who are on the verge of greatness.
Also in this top class vein are Fetch Eddie The Baby's Gone Blue. Their music is more of the whimsical pop variety, but is so full of majestic moments and happy harmonies that it can (and has) won over just about everybody. The band, who are currently recording a debut single, may play as a vital warm-up before their major appearance at the Tamworth Rock Festival next week.
All the elements combined led me to think this will be a special and enjoyable 'Rathole' show which should whet-our pre-festival appetites very nicely.
Tamworth Herald – 21/08/87
Musicbox – Festival Fever
THE Tamworth Rock Festival is now just seven days away and the final preparations for the extravaganza are almost complete.
Excitement for this year's festival has reached a new peak and with coverage in magazines as varied as Brum Beat and Sounds, it seems more people than ever will know what Tamworth has to offer for four fun-packed days.
Musically, the whole event seems to be more varied than ever. Bands who seem to play everything from mid-Sixties to post-Eighties music will be involved, with most of them regarding the festival as their gig of the year.
One of the most inspiring things about the 1987 Festival is the massive amount of new bands who have been signed up to play. Groups such as The Conspiracy, Future Field, Final Line, New Age Gypsies, Zealout and Kubla Khan have played a handful of concerts between them and they should prove an interesting foil to the more experienced outfits such as Breaking Point, Wolfsbane and Catch 23.
The Festival is divided into two sections once again – two hectic nights at the Arts Centre and then two long languid days in the Castle Grounds sun.
At the Arts Centre on Friday August 28, Stranger Than life top off the bill which also features Emma Gibbs, The Pakistani Brothers and a band who trade under the name of The Sexy Pistols and of whom nothing is known. 24 hours later at the same venue, Atherstone will once again invade Tamworth bringing them the New Age Gypsies and The Final Line to team up with The Jim Crows Blues Co. The Ferocious Apaches and the eagerly awaited Conspiracy.
With the two Arts Centre nights completed, the rock and roll revolution will carry on at the Castle Grounds. Festival organisers are currently deeply in prayer that the sun will decide to bless the Castle Grounds with its presence again, and if so around 1,000 people are expected to lap up the varied delights on offer.
The outdoor section of the festival starts at 12/30 on Sunday with Kubla Khan and is then followed by (in this order at 40 minute intervals) The Searching, A5, World Intelligence Network, Catch 23, Rape in Yellow, Zealout, Platinum Hi and The Great Express. On Monday the festival concludes with nine more stylish, varied bands that should attract another bumper audience. The pink Tomatoes kick it all off swiftly followed by Future Field, Shellshock, Jabberwocki, Wolfsbane, fetch Eddie, Depth Charge, Ruffian on the Stars and Breaking Point.
That's a grand total of 27 bands – 20 of whom have never played the festival before showing the continued strength and vitality of the area's lively music scene. Cancel all other minor distractions (Reading Festival, wedding, funerals etc.) and get ready for fun, fun, fun.
*Will all musicians attend a final 'briefing meeting' on Sunday night at the Tavern in the Town. It starts at 7.45 and everyone is urged to attend.
Tamworth Herald – 21/08/87
Musicbox – Here they come – Ready or Not! - SNIPS
NEW Coleshill-based band Ready or Not have lined up two important concerts in the next couple of weeks. Tomorrow (Saturday) the band travel to play at Kingshurst Community Centre and then on August Bank Holiday Monday the band are one of the key attractions at Coleshill Carnival. There they will be playing a 90 minute set on the back of the lorry which should be interesting to say the least! The band who are made up Chris Jordan, Steve Dutton, Carl Preece, John Bradin and Rick Colley will be on stage at around 8pm at Kingshurst tomorrow.
Tamworth Herald – 21/08/87
Musicbox – SNIPS
Wolfsbane's imminent world-domination became even closer last week when they were ecstatically reviewed in Sounds. The magazine's key metal scribe Paul Elliott handed out the sort of adjectives Wolfsbane are now being permanently labelled with, and indicated that he would follow the review with a major interview. With more big concerts on the horizon and more major press coverage promised, the Wolfsbane bandwagon seems to be running at an unstoppable speed towards inevitable glory. Yippee!!
Tamworth Herald – 21/08/87
Musicbox – SNIPS
The Great Express have found a new drummer in Simon Harvey. Simon, who was originally from Shropshire, but is now Lichfield-based, will join the Express after the Festival which itself will be the last show from Dave Burgess.
Tamworth Herald – 21/08/87
Musicbox – SNIPS
The Cuthroats, Tamworth's psychobilly faves are searching for a new drummer. A kit is not essential but enthusiasm to play maximum psycho music most definitely is. More details from Bill.
Tamworth Herald – 21/08/87
Musicbox – SNIPS
Hippy relics Paul Clements and Derek Goodwin have unveiled their new band Napalm Nancy. The group are hoping to make their 'Rathole' debut shortly alongside the new band fronted by Max Body of Ausgang fame.
Tamworth Herald – 21/08/87
Musicbox – SNIPS
The Rathole has definitely booked The Toy Dolls for a major show at the end of September. The band who were among the earliest punk/new wave acts but are probably best known for that 'Nellie the Elephant' thingy should be one of the biggest 'Rathole' attractions this year and a great night is in prospect. The 'Rathole' is currently looking to booking many more golden oldie acts, and among those favourite to be booked are Sweet and (wait for it) The Bay City Rollers. Nostalgia time indeed.
Tamworth Herald – 21/08/87
Musicbox – SNIPS
The New Age Gypsies were understandably rather miffed last week when someone pinched their cymbals after their triumphant Rathole show. If anyone knows of there whereabouts the band have promised a 'no questions asked' response for their safe return. And, as the band's drummer is actually called The Undertaker, that seems very reasonable to me!
Tamworth Herald – 21/08/87
Musicbox – SNIPS
The Conspiracy make their debut performance next Thursday (August 27) at the tavern in the Town. Tamworth's newest, brightest punk popsters will also be in action two days later at the Festival.
Tamworth Herald – 21/08/87
Musicbox – SNIPS
Parade lead singer Brian Lacey has just returned from 'vacances a la France'. In typical Tamworth style the whole thing was somewhat flawed for bubbly Brian when he went to Boulogne…and his luggage went to Calais. Oh la la!
Tamworth Herald – 21/08/87
Musicbox – SNIPS
PUNK and Judy's are bringing a piece of 'Oomp Pa' music to Tamworth next Wednesday (Aug 26). They will be having a special Bavarian Bier Keller night featuring a band called the Wonderschon Shunkel Band and plenty of cheap and even free German beer! It all costs just £1.50 and tickets are available from Punch and Judys in Lichfield Street.
Tamworth Herald – 21/08/87
Musicbox – SNIPS
Shellshock are STILL looking for a new metal lead singer. Give them a break and ring Graham…
22/08/87
Ready or Not
Kingshurst Community Centre
27/08/87
The Conspiracy
Tavern in the Town
Tamworth Herald – 28/08/87
Musicbox – BIGGEST FESTIVAL YET OFFERS 27 GREAT BANDS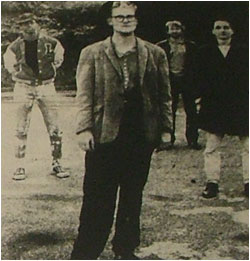 A rip-roaring weekend of rock
YES, IT'S HERE AT LAST! After all the months of planning and preparation, Tamworth will this weekend unveil it's biggest and best rock festival ever.
Over the next four days no less than 27 bands – not to say alternative poets, disc jockeys and general eccentrics – will combine their talents to give the town's pop pickers a week to remember.
Tonight (Friday) the whole event kicks off with an action-packed Arts Centre show to be followed on Saturday night with another night of new bands at the same venue. And then on Sunday and Monday, Tamworth Castle Grounds will be taken over for 16 hours for a massive live extravaganza of music covering 18 varied and exciting groups from all over the Tamworth and Atherstone area.
It all adds up to four hectic, juicy days so here is a blow-by-blow account of what to expect, where to expect it and where not to go if you want to avoid it!!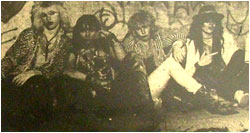 FRIDAY
Tamworth Arts Centre
WELL WHAT A START. For just 50p you can get to see five totally different bands who represent just about every form of musical extreme in this little old scene of ours. Heading the lot our The Wilsons who have been added as late festival funmakers and should provide many moments of bopping delight. Joining the Wilsons are the brash barmy boys known as The Pakistani Brothers, the all-new all-electric Stranger Than Life, the arrogant and animated Oliver Reed Combo and another late addition The Parade. That is five potentially explosive acts for less than the price of a Curly Wurly each. Be there early (8pm) 'cos it is going to be full.
SATURDAY
Tamworth Arts Centre
ANOTHER case of sheer daylight robbery when just 50p once again gets you masses of good original music. The Conspiracy, Tamworth's new alternative hopefuls make their eagerly awaited Arts Centre debut and are joined by the rocking, rollicking blues of Jim Crows, the powerful mid-Seventies attack of New Age Gypsies, and the passionate and highly-tipped indierockers Ferocious Apaches. The fifth band on the line-up is still to be confirmed as there is a possibility that The Final line may have split up. If that is so, new Burton FM soundalikes Vienna will be slotted in as special guests so whichever way you look at it your ears cannot fail! Remember it starts at 8pm and get there early.
SUNDAY
Tamworth Castle Grounds (11.30am-7pm)
AND SO, to the main course. Once again the festival will be sited at the top of the Castle Grounds, just in front of the tennis courts and once again it will all be totally FREE.
You will see no less than nine bands on Sunday and a further nine on Monday with the only sort of rock uncatered for being that horrible stuff that breaks your teeth at Blackpool. It all begins at 11am when the Reverb/Buttercup disco blares into action and then 90 minutes later the first band – Kubla Khan – hit the stage. This oh reader, is what happens next…
KUBLA KHAN (12.30) – A new and enthusiastic rock band with a slant to the mid-Seventies and wicked sense of humour. Should be very good scene setters.
THE SEARCHING (1.05) Another relatively new act whose own brand of rock searches across a broad spectrum enveloping influences that include The Damned and the Cure.
The A5 (1.40) – A tremendous unit who are improving all the time and have now acquired a harder more distinctive sound. Aggressive, tuneful and toe-tappable.
WORLD INTELLIGENCE NETWORK (2.15) – Totally fab, leather-jacketed bunch who manage to Cope with being compared to Cope all the time. WINners.
CATCH 23 (2.50) – Youthful, fanciful popsters with hope in their hearts and electricity in their blood. They make great pop music. It's as simple as that.
RAPE IN YELLOW (3.25) – Like Moses, this band have spent a long time in the wilderness and now return with a commanding set. They play original, whimsical Sixties based pop music.
ZEALOUT (4.00) – Another new band who walk on the Atherstone side of life. Zealout play broadly based rock music and regard this show as their first major introduction to the world.
PLATINUM HI (4.35) – Zooming all the way up from London this combo (who feature former Tamworth fave Rob Rea) play colourful metal music with brash style.
THE GREAT EXPRESS (5.10) – Concluding Sunday night's revels are one of Tamworth's hottest properties. The Express have already raced to the top of the league with their power charged, energetic and unusual creation. A great end to a great day.
MONDAY
Tamworth Castle Grounds (11.30am-7pm)
MRE MIRTH, music, magic and majesty on offer today with some of the best sounds outside of my record collection. As with Sunday, the bands will appear at roughly 40 minute intervals so you should never be very far away from something you are REALLY going to like. Here is the day's itinerary so get your Filofax out.
FUTURE FIELD (1.05) – A new intelligent AOR based rock band with a host of ideas and several accomplished local musicians. Soothing music for the fun.
SHELLSHOCK (1.40) – Pure, unashamed heavy metal from a band whose enthusiasm is a refreshing as Brew X1 in the Sahara. Loud, proud and metallic.
JABBERWOCKIE (2.15) – Original unit who play music like of which Tamworth has never seen before, multi-instrumentalists overflowing with notes and notions.
WOLFSBANE (2.50) – The kings, the bosses, the boys. Wolfsbane's dictionary definition is 'everything that is good about heavy metal music'. They've got the LOT.
FETCH EDDIE (3.25) – Clean, loveable pop music which is as pure as the average Vestal Virgin. Ace tunesmiths who could set the afternoon alight.
DEPTH CHARGE (4.00) – One of Tamworth's old favourites with new life and a new line-up. Look out for guitarist 'Tanya' (See rock festival t-shirts for more info on that!)
RUFFIAN ON THE STAIRS (4.35) – Commercial pleasing soul sounds from a band who combine the best of Tamworth and Lichfield. Promise to be quite special.
BREAKING POINT (5.10) – Longstanding heroes, who combine the powerful with the passionate and have been sorely missed from our stages of late. But absence makes the heart grow fonder they say, so get set for some nostalgic cheer.
So that's the whole line-up. In betweens each band you will see and hear djs, comperes and poets like Buttercup, Edward ian Armchair, Dave Hewitt, Kevin McGough, Bue, Rikk Quay et al and there may also be some surprise guest celebrities popping up as well. In the event of rain over Sunday and Monday there may be alternative arrangements but you must be at the Castle Grounds to find out what they are.
Whatever happens this is Tamworth's biggest musical event of the year and one which every music-loving person from 6-66 should enjoy immensely. So clear your weekends, clear your heads and get set to be bombarded from every possible angle by every possible sound.
*Festival t-shirts will be available tonight Friday (£3.50) and programmes at a mere 25p)
Tamworth Herald – 28/08/87
Musicbox – 'Stance' off to Jersey
THE ONLY major local band who are not playing this year's festival are of course our old favourites Dance Stance.
But these chaps didn't give up their prized festival place for nothing. In fact it took the lure of Bergerac, and the Jersey sun, to take Dance Stance away from the Castle Grounds, because this weekend they play two major concerts in the Channel Islands.
The soul superstars will be playing one outdoor show and one indoor one, both at very prestigious venues and both destined to give Dance Stance some of their biggest exposure to date. We wish the boys well as they make their bid for overseas supremacy.
31/08/87
Ready or Not
Coleshill Carnival