Tamworth Bands History : 1987 :
October
Tamworth Herald – 02/10/87
Musicbox – Oh what a night, late September here in '87
The Toy Dolls / Catch 23 / Wilsonz – The Rathole
You know those really dreadful people who harp on about the 'good old days'? Well, I am about to become one of them. For this superb concert saw The Rathole at its old, packed sweaty best, and saw three bands playing music that would have seemed quite apt during the halcyon days of punk rock.
It was a night when everybody could forget their woes, bounce on their toes and remember just how good live music was – and can be again.
Opening the show were The Wilsonz who waited until late in the set before announcing the mega-tragic news that this would be their last–ever show. Before it however the band turned in a splendid cross-section of butchered cover versions, with a ridiculously speedy version of 'Ace of Spades' and a mind-blowing 'Born To Run' being the undoubted highlights. But it's still bye bye to the Wilsonz and I suppose that means we will have to make do with the revolting Wolfsbane now. Life is cruel!
Also cruel is the fact that Catch 23 aren't really world-dominating superstars. The fact that they are not massive has nothing to do wit Catch 23 and everything to do with the fact that the music business is run by tone-deaf morons. Catch 23's show was once again packed from start to finish with lively, thumping power-pop with one or two newies such as 'Sanity' and 'No More Lights' being the outstanding moments.
Visually and musically the band has now progressed into a new (higher) league and if they can remain patient, committed and musically inventive the world really is their oyster. As the final example of their talent, they played one number 'Soldiers of Fortune' which was scribed by guitarist Ray Clenshaw when he was just ten years old. At that age I was still writing to the Whizzer and Chips'.
And so to the finale – The Toy Dolls. None of us really knew what to expect and were slayed with a series of tuneful million-miles-an-hour blasts form the (1977) past. At odd times they reminded me of The Dickies on acid or The Adicts reminded me that it is still possible to smile at concerts without losing your street cred'.
By the end of their ear-battering burst of power, we were all left deaf, dumbstruck and sticky – three factors that tell you, you have seen a great gig.
It all went to prove that Tamworth needs more punk rock in the future. The public love it, the venue suited it and the atmosphere warranted more. It was, as they say, a might to remember. Just like the good old days in fact.
Tamworth Herald – 02/10/87
Musicbox – Reggae bounces back
Reggae makes a swift return to the Rathole this weekend – and the venue itself makes a one-off switch to Saturday night.
Tomorrow's show will once again feature Wolverhampton rap-specialists Progression who this time will line-up with pop favourites Fetch Eddie The Babies Gone Blue.
Progression have been rebooked so quickly because their show two weeks ago was hailed as one of the best ever seen at the Rathole. Those who did turn up made the night a real party affair with dancing-a-plenty and an atmosphere which left all those who were …
Progression's music is a fusion of more commercialised reggae and clever dubwise sounds, which create a contrasting and powerful on and off stage feeling.
Completing the line-up are Fetch Eddie – who are also in action again tonight (Friday) at Aston university. Fetch Eddie have been picking up supporters at an alarmingly impressive rate and it is hoped a lot of them will turn out on Saturday night to enjoy their contribution to a fine evening. Fetch Eddie's sound starts as pop and goes through the whole musical range ending up at reggae – which is how they come to be on Saturday night's billing.
So a very good night in prospect and one in which The Rathole will test the waters of Saturday night concerts. And with only the slimy Jeremy Beadle on TV in opposition, is there really any reason to miss tomorrow's show?
Tamworth Herald – 02/10/87
Musicbox – SNIPS
Tamworth can this week welcome its first ever hip-hop band. The group USS, base themselves at the Glascote Shopping Centre where they regularly entertain bemused shoppers with their hip-hop fresh rap sounds. The band, who are all relatively young, have been strutting their stuff for some time now and are made up of Master Scratch Petch, MC Rapper, AJ Rock, MC Rapper Treach Kid and synth-man Peach. The outfit have already composed several of their own numbers and are toying with the idea of playing live in Tamworth. The town's oldest hip-hopper Rikk Rap Quay is already interested in playing a show with USS so watch this space fresh boys…
Tamworth Herald – 02/10/87
Musicbox – SNIPS
Two of my favourite bands in the Universe – World Intelligence Network and Fetch Eddie the Babies Gone Blue – are in the middle of recording their debut singles. WIN have just re-recorded their classic 'Memories' which will be the 'A' side while Fetch Eddie are currently working on 'He'll Love You Till You're Pregnant' and reggae smash 'Too Much to Ask For'. Incidentally my very favourite band in the known Universe – The Stranglers – are also due to release a single soon. They will be releasing a cover version of The Kinks 'All Day And All Of The Night' which will be followed by a new live album before Christmas. This Stranglers info incidentally is a world exclusive first, which proves if you want to know tomorrow's news today, Musicbox is the space to watch.
Tamworth Herald – 02/10/87
Musicbox – SNIPS
Wolfsbane found their ugly mugs in Sounds last week when they were asked about the five times they came closest to death! They will be following this with a soon-come interview and a big piece in metal bible 'Kerrang'. Get up and smile.
Tamworth Herald – 02/10/87
Musicbox – SNIPS
Congratulations corner this week starts with Conspiracy bassist Paul who has just walked down the aisle and into unchartered shark infested water known as 'marriage'. Also congrats to former pop celeb Ian 'Poge' Harding who has walked away from London University clutching a First Class Honours Degree. Poge, who was involved in a host of bands at the start of the Eighties, was also a leading exponent of a unique Tamworth sport known as 'wicketball' much favoured by past and present members of Thirty Frames A Second, Classified Ads et al.
Tamworth Herald – 02/10/87
Musicbox – SNIPS
Ride on in fine style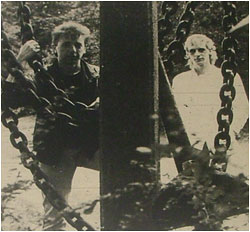 TWO of Tamworth's most experienced and distinctive songwriters have just released their debut cassette mini-album.
Under the guise of Plan B, Robin Norman and Nigel Roe have produced an eight-track album packed with stylish diversions and impressive musical ideas.
The duo, who last played together as part of the ill-fated Eyes, decided to record some tracks after Robin Norman's venture with Gaf The Horse In Tears sadly disintegrated. The two musicians found they shared a lot of influences and ideals so set about making the album 'Ride' at Masefield Drive's very own Plexus Studios.
With the help of session musicians Stu Blain and Adrian Goodman who both played on one track apiece, the duo turned their varied ideas into a consistent, but still highly varied mini-album. The sound – for those influence-spotters out there – has touches of Peter Gabriel, Rush, Genesis and on a very local basis, latter-day One On One. It also boasts expected excellent musicianship particularly with Nigel Roe's unconventional keyboard work.
Of the tracks on offer, the best to my ears are the sprightly and lyrically cynical 'Stop Me', the well-balanced 'She's So Fast' and the relaxing late-night feel of the title track 'Ride'.
It is very much, however, a complete work, to be played as a whole entity and to be enjoyed as such. It is also an admirably brave and ambitious first step for a band who have never played live, and that alone should make it interesting for those who crave for music that swaps wham-bam-thank-you-mam, for moments of total subtlety.
The eight-track tape should be on sale shortly from band members, local record shops and The Organ Centre and if you fancy something original, pleasing and musically very inventive. I suggest you forget about BP shares and invest in this instead.
Tamworth Herald – 09/10/87
Arts centre chief sacked
The manager of Tamworth Arts Centre has been sacked after only months in the job.
John Garforth, who took over the administrator's job in April, when former manager, Nick Ewbank left, was dismissed due to what the Arts Centre described as "personal difficulties".
Mr. Garry Malpas, chairman of the Tamworth Arts Advisory Committee who took the decision said the move had not been prompted by any particular incident.
"All I can say at the moment is that it was due to personal problems Mt. Garforth had been suffering." Said Mr. Malpas.
He added that the Arts Advisory Committee was preparing to advertise the position, which involved the day-to-day running of the Arts Centre. In the meantime, Mr. Dave Fortune, is serving as acting administrator.
Mr. Garforth (50) had more than 25 years experience in arts administration before coming to Tamworth.
The Herald was unable to contact Mr. Garforth this week.
Tamworth Herald – 09/10/87
I'm a-heading back to the top says Sixties' Mr Soul
TAMWORTH'S very own soul superstar Edwin Starr is set to smash his way back into the music charts with a storming new single.
Edwin's success looks certain, because his new record – called 'Whatever Makes Our Love Grow', and premiered before a capacity crowd at a recent Embassy Suite concert – has been produced by the top team Stock, Aitken and Waterman.
The hit-making trio scored a string of chart-toppers, including the 70's style 'Roadblock', all of the Mel and Kim records and the number of Rick Astley number one 'Never Gonna Give You Up'.
They also produced singles by Banarama and Samantha Fox – all of which did remarkably well in the national charts.
Now Edwin, who lives in Polesworth, has signed a deal with Richard Branson's Virgin Records and has teamed up with Stock, Aitken-Waterman to bring out the new disc – an up-tempo, brassy song with a strong vocal and a feel very reminiscent of his work with Tamla Mowtown in the 1960s.
Speaking at his home, Edwin told the Herald: "Obviously, with Stock-Aitken-Waterman being the flavour of the month I would have been crazy to have passed up this chance.
"I like the record and I think it will satisfy both types of audience – those into the current 'house' and hard funk scene of the 80s and those who like my music from the 60s," he said.
"I played the record for the first time in Tamworth some weeks ago, and it went down very well. I have also played it on the 'Solid Soul' TV show and it was very well received there, too," he said.
"A lot of people are calling this a comeback record – it ain't a comeback 'cos I ain't never been no place."
Tamworth Herald – 09/10/87
Musicbox – The end of a dream


IAN GIBBONS – one of the most colourful and influential characters in the history of the local music scene – is set to leave Tamworth shortly, bringing an end to the town's now famous venue 'The Rathole'.
It was following the hugely-successful Toy Dolls concert that Ian decided that 'enough was enough' and it was time to set about attacking his next venture – London.
Ian plans to travel down to the capital in the next couple of weeks leaving in his wake a venue which has become established throughout Britain as one of the most progressive in the country.
During the 12 months it operated at both 'Manhattans' and 'The Arts Centre', 'The Rathole' became the focus of the whole of the local music scene and for the first time in many years attracted name bands from outside of the area. Ian gibbons' band selections were often controversial but there was no denying his bravery at paying occasionally frightening amounts of money to bring top class names to the area.
"In some ways I guess I was taking a lot of risks, but through it all I think we had a lot of fun. I have nothing against Tamworth because I love the area but I just feel it is time to move on and there was no better way than after such a great concert as the Toy Dolls," said Ian.
The list of bands that have appeared at the 'Rathole' reads like an Indie scene 'Whos, Who'. Many of the bands who played at the venue have now gone on to bigger and better things including Pop Will Eat Itself (last week's NME cover stars), Mighty, Mighty (one of the biggest new Indie bands in years), red Beards (now a major national act) and many more.
The biggest names of all – Dr. Feelgood, Toy Dolls and Guana Batz – all played very successful concerts and among the many other bands who have hit Tamworth for the first timer were Strap On Jack, Beki Bondage, The Bomb Party, Rosehips, Surf Drums, Wunderstuff, Wrathchild, Rumblefish, Rank Ellsen, Psycho Surgeons, Briar, Progression, Blythe Power and Thatcher On Acid. In among that list there will be many bands who will yet go on to become bigger national stars and Ian's greatest pleasure is that Tamworth people will then be able to say "we saw them first…"
"The Rathole always aimed to mix good national bands with local groups. It is good for the local bands to be able to say they played with some of these groups, and I have been very happy with the way things have gone," he said.
There is no doubt that 'The Rathole' did have its critics but through it all Ian and fellow organiser Chippy stuck to their guns. They may not have always been right – they are the first to admit they have made mistakes – but they brought to Tamworth a style, charisma and identity it had previously never had.
On a personal note I must say that Ian's decision to leave fills me with an immediate sense of nostalgic sadness. I have occasionally been his greatest critic – but at other times his greatest supported because I realise that what he has given to Tamworth is a national identity which it will probably take some years to regain. The local scene will of course carry on and prosper but without one of its major driving forces there may be a period of uncertainty that we do not yet even appreciate. For all his charity efforts, music management, Rathole organising and Tamworth commitment, Ian was literally one in a million. A new and exciting future beckons in the post-Rathole scene but let us not forget the immense contribution this venue has made to the continuing stability and growth of a music scene that is the envy of towns three and four times as big.
Tamworth and Ian Gibbons were probably due an amicable separation but one thing is certain whatever he decides to do in the future I can only see success. He has that rare quality – optimism – that should never result in failure when combined with that other quality, talent. Ian Gibbons I salute you on behalf of a local music scene that is too quick to slam and very slow to praise. "The Rathole" is dead but Ian gibbons will not dies with it.
"The Rathole" will officially wind up tonight (Friday) with a show featuring reggae stars Progression and Fetch Eddie The Babies Gone Blue. Unfortunately this concert had to be cancelled at the last moment on Saturday due to unforeseen problems but the "show will go on" tonight at the Arts Centre. It will be "The Rathole's" swan-song and a very good show to boot…
Sam Holliday
Tamworth Herald – 09/10/87
Musicbox – Get set to get fresh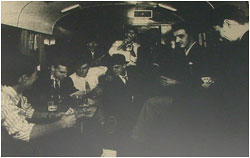 The ever-ambitious Dance Stance have just announced details of their first-ever major headlining tour.
The MUSICBOX band of the year, fresh from a triumphant tour of Jersey, will be playing at a host of top Universities throughout Britain on what they hope will be the tour which will 'break' them nationally.
The tour, which goes under the title of 'The Freshness and Youth Tour' will take the band to venues as far apart as Southampton and York and will see them playing to big audiences at every turn. Apart from the college dates the band will also be in action at other venues including Richard Branson's 'Goldiggers Club' in Chippenham which is now run is association with Virgin (Is there a hint there boys?)
As well as the date sprinted here, the group are hoping to add several more and they are determined to do another one in Tamworth as soon as possible.
…first concert at Loughborough university on Saturday October 17. Coaches will run from Tamworth…Atherstone and Nuneaton for the meagre price of £2 you will be able to travel along to cheer the soul wonders on at a very impressive venue. If you want to reserve seats on the Dance Stance supported coach contact either Nick or…
on a regular basis running right up until Christmas. They anticipate the success of the shows will lead to yet more bookings and they have said that their policy of 'we will play anywhere' means they could turn up in the most unlikely places in the next few months. They have even been appointed to…for themselves at last.
On the recording front the band are continuing their policy of getting all their material down on tape and they have just put together their latest trio of tunes – years of Production', 'Higher Ground' and cover version 'Snatching It Back'. There is talk of a new single in the not-so-distant future but hopefully that will be on a label that has coughed up much-deserved readies to grab Dance Stance.
Elsewhere the band have told punters to look out for the band's first feature film – 'Dance Stance in Jersey' which apparently shows the TRUTH of their Channel Islands adventure and they have also warned their vast army of supported that Andy Codling has acquired a tasteful new haircut AND a tasteful new jacket. It all sounds a little hard to believe.
But new jackets or not, there is no doubt that this new tour will be a great boost to Dance Stance's future plans to conquer the rock and roll world. The band carry with them an awful lot of local hopes so if you want to cheer them to success ring these numbers, get to Loughborough and get set…
Tamworth Herald – 09/10/87
Musicbox – Meeting Called for Festival
WIL ALL members of the Tamworth Rock festival Association please attend a special meeting at the Tavern in the Town on Sunday night.
Special Rock festival booklets have now been produced and will be available on the night.
Tamworth Herald – 09/10/87
Musicbox – Escape Again!
'THE ESCAPE CLUB' alternative disco looks set to become a regular fixture after the success of the opening night last week. The charismatic organiser Kirk Thrust said he was 'very happy' with the way it went.
Speaking on the telephone from where he claimed was New York, Kirk told Musicbox "I wasn't there myself but my boys tell me everything went very smoothly. "I'm looking to run Tamworth into the alternative Heart of England – that should pull the tourists in! We'll play anything from The Mary Chain to The Clash to the Smiths to The Sisters of Mercy. "Obviously we haven't got every single record people want but the boys tell me people brought their own last week – that's fine. Apparently everyone who went enjoyed it so we hope they'll come again, bring their friends and even their grandparents and make an even better night of it," he added.
The Escape Club meets again on Thursday (October 15) at the Jolly Sailor – and once again entry costs a phenomenally-low 75p, less than the price of a pint!
Tamworth Herald – 16/10/87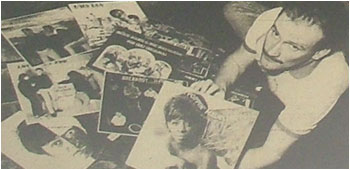 TO DESCRIBE Leigh Smart as a fanatic would not be overstating the case. For the 30-year-old glazier has spent thousands of pounds and 18 years amassing a record collection which, if each were laid next to another, would stretch from the bottom to the top of Mount Everest.
He started his collection in 1969, when Marvin Gaye and Tammi Terrell's Tamla Motown classic "The Onion Song" became the first of over 30,000 he has bought to date.
Tamworth Herald – 16/10/87
Musicbox – The Last Blast
Rathole Review – Fetch Eddie/Progression – The Rathole
WELL, what a fitting end.
This was the last concert ever at 'The Rathole' but instead of it being a morbid wake, it was a triumph of hope and power.
The audience was as big as I have ever seen it in eons, but probably more importantly than its size, was the crowd reaction and participation.
Every single person brought with them their dancing shoes and by the end of the night the Arts Centre was a sea of moving, swaying bodies all being carried along by a reggae sound that was a pure delight to the ears. Fetch Eddie put everyone in the mood with another punchy, impressive set which reached its peak when it captured the mood of the audience with the classic thumping reggae sounds of "Too Much To Ask For" which was simply stunning.
Following Fetch Eddie's fresh and appealing set came Progression who turned in one of the most enjoyable performances I have seen at 'The Rathole'. The Wolverhampton reggae-warriors were as uplifting as a trampolene and just as bouncy. Their well balanced set ranged from fast – almost ska-style – boppers, to oh-so-sweet moments of melodic majesty, which kept the audience guessing and dancing throughout.
The reaction at the end of their set was the most enthusiastic I have ever heard at the 'Rathole' and the band's appealing lead singer couldn't even introduce the encore because of the huge shouts and claps which rebounded around the Arts Centre walls. But the end of the concert eventually came, and with it followed the end of 'The Rathole'.
It was the most suitable end I could have imagined. A truly excellent concert played and received with a spirit that symbolised 'The Rathole' at its best. Nights like these are nights to treasure. 'The Rathole' is dead, long live 'The Rathole'.
Sam Holliday
Tamworth Herald – 16/10/87
Musicbox – Sixteen studio smiles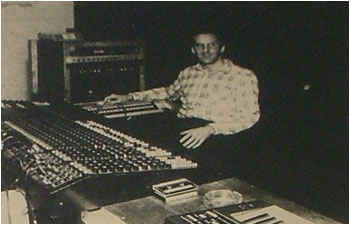 TAMWORTH'S 'Expresso Bongo' studio has now re-opened as a 16-track complex which has been vastly improved and upgraded.
Studio chiefs, Paul Speare and Phil Smith decoded to make the major changes because of the continuing success of the popular centre.
Since it opened just over two years ago, the Bongo has become established as one of the best studios of its kind in the Midlands and has attracted a lot of interest from groups throughout the region. And of course it is THE place for local bands virtually all of whom have been to the complex at least once.
"The local bands have been our bread and butter and been loyal throughout," said Paul Speare. "The success of the local scene has helped us a great deal and I am sure the bands will like coming to us even more now the studio has been improved."
Among the many successes the studio has had over the years is a string of singles including a chart smash for Neil Rushton's Inferno label – plus work with every type of music from heavy metal to light classical. Paul is rightfully proud that the studio can produce every type of music possible, and with the new 16-track facility the range will be extended still further.
"The 16 tracks will give bands so much more scope to get exactly the sort of sound they want," he said. "The difference is marked and the fact that we are now a 16-tracker should attract yet more interest."
As well as doubling their track-facility, the studio also seems to have doubled in size. The main reception area/control room is now very much bigger and gives band members ample room to relax and listen to the music as it goes through the various stages before the 'final mix'.
"There has always been a good atmosphere here and I am confident groups will find that even better now," said Paul. "The control room area will now be a lot more relaxed and I think everyone will find the studio a lot more comfortable."
With all the improvements running into thousands of pounds, Paul and Phil may have been tempted to raise their prices significantly. But instead they have put up their costs just modestly, in order not to price the bands out of the market. And they have guaranteed for that small extra cost, bands will now get a lot of extra sounds!
The studio is open most days of the week and if you would like to book a session ring Paul or Phil. This is yet another Tamworth music success story and who knows if it gets any more successful it may yet become a 32-tracker!
Tamworth Herald – 16/10/87
Musicbox – SNIPS
TWO big out-of-town concerts for you to look out for this weekend. Tomorrow (Saturday) Atherstone heroes Dance Stance set forth on their 'Freshness and Youth' tours with an opening concert at Loughborough University. The show is seen as a very important one for the band who are now receiving interest for record companies at a pleasingly regular rate. Some tickets for a special Tamworth and Atherstone coach to the concert may still be available if you want to know more (and you do don't you?) ring guitarist Nick 'Hunky' Reed. On Sunday night it is the turn of Fetch Eddie to try to make their mark in the wide world. The four popsters will join three other top Midlands Bands at a special show at Birmingham Town Hall. The concert which is to be recorded by BRMB is regarded as a major showcase which is a further illustration of the increasing power of Aaron and the team.
Tamworth Herald – 16/10/87
Musicbox – SNIPS
STILL with out of town successes Wolfsbane played an 'outrageously amazing gig' (Bayley Cooke's words!) on Friday when they were the undoubted shining light of three metal bands at Edwards No. 8 in Birmingham. The band went down superbly and sold more than £100 worth of merchandise on the night alone. Record company interest is also starting to grow and MUSICBOX is now taking bets on the date the band finally get signed up and on the glory trail. What a band!
Tamworth Herald – 16/10/87
Musicbox – SNIPS
I am very pleased with the reaction to last week's article about the demise of 'The Rathole' Many people have added their voice of sadness to the fact that Tamworth was losing the venue and others have echoed my support of Ian Gibbons in whatever venture how now takes on. As for the future locally, well concerts will return to the Arts Centre on a more general level and there is also talk of a new organisation altogether taking over the running of the venue. They plan to call it 'Shirley's Temple' which should give a clue to some of you out there, as to whom we are discussing. More details about this potentially exciting venture in future columns.
Tamworth Herald – 16/10/87
Musicbox – SNIPS
Mike Fleming has now left Ruffian on the Stairs after musical differences and has joined up with a Birmingham band with the bizarre name of Muddah Gende.
Tamworth Herald – 16/10/87
Musicbox – SNIPS
Former Terroa and XPD star John Reeman is on the lookout for backing vocalists to help him with some original, commercial pop songs.
Tamworth Herald – 16/10/87
Musicbox – SNIPS
One of Tamworth's most knowledgeable music fans Leigh Smart is featured this week on page 8. Leigh who has an amazing collection that puts most record shops to shame (he has 33,000 discs would you believe?) has the sort of overall knowledge that makes him the undisputed Tamworth king of pop quizzes.
Tamworth Herald – 23/10/87
Musicbox - Gigs galore – and so much more!
TAMWORTH Arts Centre is all set to stage a series of top local concerts following the untimely demise of 'The Rathole'.
The Centre's acting manager Mr. Dave Fortune has reassured all local bands that he wants to see a good deal of concerts in the future. And already the Centre has been able to announce a series of gigs which should keep the music scene booming even without the popular 'Rathole' venue.
The first of these major shows is on Sunday November 1 when headline-making Wolfsbane enjoy their first Tamworth appearance since the Rock Festival. The gig is one in an impressive tour which will see the band stalk around the country no doubt slaying everyone with their vicious metal. Their re-appearance at Tamworth should be a magical event especially as the bill also includes Atherstone's ever-popular Catch 23 and new punk heroes The Conspiracy. We will give more details of this mega-event next week.
Following it, on Sunday, November 8, is another intriguing threesome. The band who will catch most of the attention are Napalm Nancy – a Manchester-based combo who feature former Classified Ads stars Derek Goodwin and Paul Clements. The duo, who look like Mike Monroe and Mick McManus respectively, play hard, original rock along with four other northern warriors. They will be joined on the night by Lean Street – the exciting new Birmingham outfit fronted by ex-Ausgang singer Max Body – and popular Brothers of Mercy combo Dawn After Dark. Once again more info on this show nearer the time.
Also on the horizon in the next couple of months at Tamworth's premier venue are Future Field, Breaking point, Strap on Jack and special Christmas party for band members and supported alike.
"We are keen to keep up a good relationship with all the bands and just because 'The Rathole' is o more it does not mean the end for groups at the Arts Centre," said the enthusiastic Dave Fortune.
If you would like to book the venue you can contact Dave on Tamworth ….. and he will be happy to discuss terms. In the meantime however pencil these first two dates in your diary (Sun. Nov 1, Wolfsbane, Conspiracy, Catch 23) and Nov. 8, Napalm Nancy, lean Steel, Sawn After dark) and get ready for yet more Arts Centre concert specials.
Tamworth Herald – 23/10/87
Musicbox – AMAZING!
WELL, what a con!
We made an 80 mile round trip to see a 'local band' and instead of seeing a local band we saw this slick, ultra-professional and quite amazing national chart act called 'Dance Stance'. After getting over the 'disappointment' of not seeing a local band with local enthusiasm and local limitations, I decided to settle down and enjoy what was on offer – and believe me that was an awful lot.
Dance Stance have not only improved of late they have undergone a total metamorphosis from the local band most Tamworth and Atherstone audiences remember at their last local show (which I think is probably about 12 months ago amazingly!)
What we have now is a group, oozing professionalism and power is now so overpowering it makes you wonder what on earth can stop them from achieving their destiny. The stageshow itself is a revelation as the band bounce around with the look and confidence of a group who know they are half way there, and feel the other 'half' is imminent.
Musically the group seem to have defined their sound more clearly and their brass 'crew' now sounds like an integral part of the whole attach instead of just a pleasing sideline as it was when it was first I introduced. Thus we have a strong 60 minute set which never falters once and in which oldish classics (aka 'Sweetest Pain' and 'Action Stations') have a new life and spirit, which is quite overwhelming. Best of all was the slightly newer songs like the stylish 'Years of Production' and the pick of the bunch 'Higher Ground' which show that this band have a commercial strength which will soon prove irresistible to a record company man with pound signs in his line of vision.
Comparisons? Well in among the set I spotted ABC style, Dexys emotion, James Brown danceability, Curiosity Killed The Cat commercialism and best of all Dance Stance originality. Up against an impressive audience most of whom had never witnessed the band before, this combination proved a totally winning formula, and by the end of the night the whole dance floor was burning and the band were literally dragged back for two killer encores.
From the very first time I saw this band, I knew they had something special. That potential they hinted at then, is being realised even more than even I suspected and am now even more convinced that those of us who have had faith in the band from the start are about to be rewarded for our loyalty by seeing this band right at the top where they deserve to be.
Dance Stance can now forget about merely getting INTO the race – they can now go for the gold. The other side of paradise is getting even closer.
Tamworth Herald – 23/10/87
Musicbox – SNIPS 'N' GOSSIP
Dylan's getting rock and rolder
ONE of the local music scene's most endearing characters – the legendary Dylan Haddon – celebrates an important rock and roll milestone today (Friday). For Dylan who has had more groups than the average groupie (think about it!) is the majestic age of 30 today. His wife Karen (or probably ex-wife after this!) rightfully decided we should all know about this and sent in this excellent photo of our Dylan when he was an angelic schoolboy with a lovely basin cut.
He was then known by his Christian name Lyndon and when he was pictured here little did he know that one day he would go on to be a rock and roll megastar with bands like Spirit lake, Spirit of Water, Trojan, Cosmic Emotion, Marcus and Exodus among others. So on behalf of your wife, children Marc and Gareth and all Musicbox readers, welcome to your 30th birthday Dylan and remember you're only as old as the plectrum you feel.
Tamworth Herald – 23/10/87
Musicbox – SNIPS 'N' GOSSIP
Fetch Eddie made some useful contacts at last week's important Birmingham Town Hall with three other Birmingham acts. Although the band were very upset about their sound. BRMB disk jockey Robin Valk…three tracks that were recorded on the night, over the airwaves. He also stressed that he thought the band had all the ingredients to make it…impressed with Fetch Eddie's biggest fan, wonderful Mrs. Phyliss James, another somewhat older teenager whose enthusiasm for the band is as infectious as the flu but far more pleasant.
Tamworth Herald – 23/10/87
Musicbox – SNIPS 'N' GOSSIP
Former BHX singer Mick Goodby has just become the latest in along list of local rock and roll daddies, Mick seems suitably and understandably delighted by this lovely event, and he is already planning how to keep the child in the lap of luxury, by once again seeking a band to front. So if you want to contact a first class singer who can ALSO change nappies, then this is your man.
Tamworth Herald – 23/10/87
Musicbox – SNIPS 'N' GOSSIP
Mike Fleming has written to MUSICBOX to say he did not leave Ruffian On The Stairs, the band have actually split up.
Tamworth Herald – 23/10/87
Musicbox
Don't forget, this Saturday the Tavern Motorcycle Club stage another of their popular outdoor concerts in the Stable featuring Crosstown Traffic. And also on Thursday night, indoors the Tavern welcomes Three in a Bed and The Crazy World of Arthur Fowler. More details on both shows from the venue itself.
Tamworth Herald – 30/10/87
Musicbox – The boys are back in Town!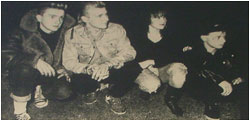 TAMWORTH'S music scene will explode into life again on Sunday night when all-conquering Wolfsbane headline an exciting show with two first-class support acts – Catch 23 and The Conspiracy.
The three band line-up promises to be a tremendous concert and a real celebration of the amazing strength of the local scene.
For Wolfsbane – who have literally been 'slaying 'em' wherever they go – the gig will be a keenly-awaited and very exciting homecoming. Wolfsbane have gone from strength to strength on a national basis, but have never forgotten their Tamworth roots and they regard Sunday's Art Centre show as one of the most important of their current batch of prestigious gigs. The Town's most outrageously loveable quartet are almost certain to be snapped up by a record company very shortly, and they have reached the stage where virtually every gig they do is received somewhere with the sort of review which makes my ecstatic MUSICBOX comments on the band seem positively hostile!
Their set, their look, their appeal and their strength seem to be growing and maturing by the minute, and even the band seem a little taken aback at the mass adulation that has been apparent at all their shows of recent months. Tamworth has every reason to be very proud of these hell-raising, heavy metal heroes and there is no better way of demonstrating that pride than y packing the Arts Centre to the rafters and giving these boys the sort of reaction that will be heard in the ivory towers of EMI, CBS and the rest.
Wolfsbane (however far they go) will never forget Tamworth – on Sunday we can show that Tamworth will never forget them.
Joining Bouncing Bayley and his Bad Boys on Sunday will be two other groups who have that ability to make you tingle in places you didn't tell your grandmother about. Catch 23 are of course about as essential to the scheme of things as breathing, and their high-powered, high-energy sound shows no sign of diluting even as the boys reach their relative old age of the mid-late teens. Catch 23 are a tremendous bunch of people who also harbour a tremendous sense of purpose. Their purpose on Sunday will be simple – to entertain the hordes who have given them the incentive to carry on. It is an ambition they will find easy to realise.
Completing a tremendous line-up are Tamworth's newest cult band The Conspiracy. The band - who have only been with us a matter of months – have already become established as one of Tamworth's brightest new hopes and have given the Town's alternative and punk fans a new spark of life after a somewhat barren time. Their sound – a kind of Siouxsie and the Banshees meets The Cult affair – is till just being formulated but it has already shown enough ingredients to make me feel it could be as vital and strong as Mike Tyson.
With Wolfsbane's power, Catch 23's energy and The Conspiracy's style, the show on Sunday night looks set to be one of the highlights of this hectic rock and roll year. If you want to see how good this area is musically get yourselves along to the Arts Centre on Sunday and let those wonderful bands do the rest.
Classic entertainment this way cometh.
Tamworth Herald – 30/10/87
Musicbox
Wolfsbane will be selling tickets for their epic Marquee show on Friday November 13 at this weekend's show. It cannot be stressed highly enough just how important this top class London headliner really is and the boys need as much local support as possible to impress the expected mass ranks of press men and record company promoters who will be at the gig. Tickets – including coach and entry are a very reasonable £7.50 and if you go to no other non-local show this year then get to this one. Brian Edwards will give you more info on Sunday night.
Wolfsbane are all set to appear in both 'Sounds' and 'Kerrang' on Wednesday. Both should feature full page interviews so place your orders now.
Tamworth Herald – 30/10/87
Musicbox - SNIPS - Gavin's Turn Now!
DONALD SKINNER'S brother Gavin, has joined him in the studio on work for the new Julian Cope album. Julian's band were 'sans' drummer and so Gavin seemed an ideal temporary stand-in to work on the record. Gavin is of course the drummer with top new outfit Primal Scream and apparently this highly-talented Python-loving sticksman has impressed both the Screamers and the Cope camp. How many more Skinners are their lurking in Wigginton awaiting mass stardom? I think we should eb told.
Tamworth Herald – 30/10/87
Musicbox - SNIPS
The Escape Club's alternative disco is escaping for the time being but may be back in a new venue and a new guise in the future. DJ Kirk Thrust said following last week's Jolly Sailor venture that he had enjoyed the two discos so far bur financial considerations – i.e. Kirk lost dosh – means he will have to stop and think for a while before allowing Tamworth to escape again.
Tamworth Herald – 30/10/87
Musicbox - SNIPS
Mark Mortimer went into the studio last week to produce the latest 'solo' tape to add to his collection. Despite being basically a solo venture, mark also employed the likes of Tim Goode, Julian Amos, Martin Kelly, Barry Douce, Ted Wilson, Paul Speare and the much-missed Batman to help him make the tape which we hope to look at in the near future.
Tamworth Herald – 30/10/87
Musicbox - SNIPS
The Dance Stance's wildly wonderful concert at Loughborough University last week was followed by an interview by a suitably fawning Radio Leicester. The group are in action again tonight (Friday) when they take their soul shoes to North Staffs Poly on the latest of their 'Freshness and Youth Tour' dates.
Tamworth Herald – 30/10/87
Musicbox - SNIPS
I fulfilled a life-time ambition last week by getting a letter printed in the almighty New Musical Express. The letter about – shock horror – The Stranglers was about the four millionth I have written to the paper in what had become a personal crusade to go for success. It just goes to show that if you try, try and try again you can succeed. There has to be a moral in there somewhere for Mike Fleming and his hopes of being a popstar.
Tamworth Herald – 30/10/87
Musicbox - SNIPS
The Hamilton Hammond Extension are due to go into the studio soon to make a one-off tape of a song called 'She's Smug'.
Tamworth Herald – 30/10/87
Musicbox - SNIPS
News has reached MUSICBOX of a new and potentially world-beating metal outfit who recently made their debut alongside Briar. The group, Kraze, are a Tamworth-based team who will be playing, glam-orientated power music. Kraze are made up of Mitch Michaels (Lead Vocals), Kaz Paul and Bev Paul (backing vocals), Carl Anthony (solo guitar), Rif Silva (rif guitar), Al Page (bass) and Ron James (drums). The band are due to nit the recording studio soon so we may have more information then…
Tamworth Herald – 30/10/87
Musicbox - SNIPS – Girls hit the road!
A5 – who have surprised and impressed a lot of people with their new style – look set to cause an even bigger stir.
For Steve, Pete and Chris have now added two female singers to their attack and the trio of troupers feel they will add a new dimension to A5's rapidly expanding musical canvas.
"The girls joined the band at the start of September and it is hoped they will make the group more versatile and appealing live," said Steve Hayes.
The two new lady A5'ers are Andrea Thompson and Angela Wheldon who will be helping out with vocals.
The group are hoping to record their debut single in the not too distant future although they have no immediate plans for any more Tamworth-based shows.