Tamworth Bands History : 1987 :
January
Tamworth Herald – 02/01/87
Musicbox - Dance Stance take a bow – You're top of the poll


ALL hail the Dance Stance! For the Atherstone-based soul kings have deservedly won the annual MUSICBOX poll, top band award for the first ever time.
The group held the top spot from the first day of the poll until the last, and despite a strong challenge from XPD in the latter days, the good money was always on Paul and the lads to snatch the title.
The Dance Stance won the top band award in what has been a record-breaking MUSICBOX poll. After throwing out several dubious entries we were still left with well over 600 votes – a proud record and one which proves that the local scene is as health as ever.
As well as winning the top band award, Dance Stance also won the top concert (two of their other shows made the top twenty), were just pipped for the top local song award, and had four members in the local personality section. In addition their "Other Side of Paradise" 45 finished as 22nd best single, making it a year to remember for this tremendous band.
They won it and deserved to win it, and judging by the massive amount of votes they polled, an awful lot of people agree with me that next year will be Dance Stance's year. Their 1986 has been brilliant – and their '87 could be better still.
Coming in a strong second in the top local band award were XPD who obviously caught a lot of people's perverse imaginations with their extraordinary approach to music.
Rikk, I am delighted to say, also ended up as second personality of the year – a fine tribute for this Peter Pan popstar. He may not be 14 any more but his youthful enthusiasm and genuine belief in Tamworth's music scene is an inspiration to us all. Well done Rikk, and I reckon you know ought to buy me a pint with your pension money.
Best ever
Elsewhere in the top local band section, Kara showed they have really picked up a lot of supporters. Catch 23 made another strong representation and perhaps most pleasingly One On One came in with their best ever poll result – a strong fifth. They had have a marvellous 12 months including of course winning the Battle of the Bands and with four songs in the top local song section it shows that there is a lot of genuine respect for this excellent quintet throughout the whole local music scene.
There is also plenty of respect for Wolfsbane (what's "well done chaps" in Saudi Arabian?) who continue to hold a big place in everyone's hearts, and new boys Soil Brothers, Attica and Thirteenth Reunion, who also polled well. One pleasant surprise was now defunct Cradle coming in at 15th and polling ten times as many points as 'Cradle 2' The Calling. The message is simple Paul, Niz, Murray et al – reunite!
The rest of the local band section is quite straightforward, but just to let you know, there were three points for the band you chose first on your poll form, two for second and one for third.
Finally in this section, just to say that in all 32 acts were voted for, so to the following (in no special order) someone DOES love you – Ruffian On The Stairs, Beyond Elysium, The Calling, Orryot, Mutant Zombies, Cuddly Spiders, Love On Board, Burnin' Sky, Kevin McGough, The Great Express, Spartan Cruise and the very wonderful Classified Ads.
TOP LOCAL SONG: Won with style by XPD whose Sigue Sigue Mary Chain 'Bombs Away' exploded to the lead early on. As those of us who recently sung on it for TAMAID know, it is a lively, exciting track, and for winning this section the XPDians will be able to put a special gold disc up in the Tavern.
Elsewhere there were strong votes for several new faces and one or two older ones. It was nice to see 'Ode to Nicki' by Breaking Point gaining it's (belated) recognition and also good to see the likes of 'Get Up', 'The View', 'In My Car' and 'Love Explosion' doing rather well. And no, I haven't heard 'Exploration Cul De Sac' by Emma Gibbs either, so don't ask me about that one!
TOP LOCAL CONCERT: It was a good indication of how many good local gigs there have been this year, in that around 50 different shows were voted for in the poll. Dance Stance cleaned up with XPD, Strap on Jack and Wolfsbane all proving popular, but I was particularly leased to see so many votes for the Tamworth Rock festival and the Battle of the Bands concerts in general. Those two events really were the outstanding ones of the year and deserved their top ten billing.
It's 'Gibbo'
TOP MUSIC PERSONALITY: Well it had to be Gibbo didn't it? The man has done so much this year that if anyone else won I would have called for a re-election! Well done Ian, you've done brilliant work all year and I hope this vote of confidence will give you the boost to make '87 even better.
Elsewhere it was nice to see recognition for Ray Sheasby, Paul Speare, Denis Byfield and Buttercup, four vital 'backroom boys' who stoke the engine of the local rock scene. Without such people we wouldn't be in the healthy state we are now in. Oh, by the way the TWO sets of people who tried to hype their dogs were 'rumbled' and I stopped all votes for Terry Torso – who happens to be a mannequin with XPD. I mean, there are enough dummies around here anyway!
TOP ALBUM: Well what a reactionary bunch you are! Genesis, Madonna, Peter Gabriel and Paul Simon? Is this some kind of joke? Still, never mind. Three of the top four albums are excellent, and it was nice to see that Sigue Sigue Sputnik (who I adore) are also well supported, and that New Model Army continue to be a popular act around here. Incidentally, we have all sorts of rubbish voted for here (not only Genesis!) which shows just what a bad year it has been for long players. So what about the singles then?
TOP SINGLE: Again there were some right royal turkeys voted for here, but how fitting that '"World Shut Your Mouth' should take the top slot. Julian and Donald take a bow, your home town loves you! Elsewhere, The Smiths continue to tickle your collective fancies while Bon Jovi show that among the metallic ones out there (hello Murray Pickett) they are the face of the glam year. Pleasingly, 'Other Side of Paradise' (Dance Stance), 'Ode to Nicholas Romanov' (Breaking Pint), 'Clutching at Straws' (Wolfsbane) and 'Cold Turkey' (Dream Factory) all picked up votes in this section. Next Year let's hope one of our local bands can win this section again.
TOP NATIONAL BAND: As an indication of the variety of bands followed by MUSICBOX readers, more than 100 national bands were picked, ranging from the marvellous to the horrendous (Marillion managed TWO whole votes, amazingly). Once again your choices for the top twenty are hardly packed with radical revolutionary new bands.
Dire Straits – emphasis on the dire – Level 42 and Paul Simon, for crying out loud!) but there were enough decent bands lower down in the poll to make me smile – Psychedlic Furs, Ramones, The Waterboys etc.
So what conclusions so we draw from this year's poll? Well it showed conclusively that this area is a boom zone for music, and the enthusiasm local bands seem to be whipping up is very exciting. All we can do is await 1987 with renewed optimism and I would like to take this opportunity not only to thank all the local bands, managers and followers for making this a wonderful year for us all. And to all those who voted for The Stranglers for whatever dubious reason – I have one last message – I love you.
And now for my personal choice
HERE are my annual awards to the people who I think deserve a final pat on the back for 1986. These are strictly my choice and have not been voted for as the rest of the poll has…
TOP BAND – Dance Stance
TOP SONG – 'Feel your Touch' – The Dream Factory
TOP GUITARISTS – Tim Latham, Nick Reed, Paul Anthony, Jase The Ace, Trevor Mugglestone, Les Jones.
TOP DRUMMERS – Phil Ford, Stu Blaine, Gavin Skinner, Rob Chivers, Jason Notman, Richard Deane.
TOP BASSISTS – Pete Wright, Daydo, Glen Lewis, Mark Mortimer
TOP KEYBOARD PLAYERS – Joss Cope, Rikk Quay, Nick Smith
TOP SINGERS – Dave Ingham (again!), Paul Hanlon, Bayley Cooke, Mick Goodby, Steve Webster, Dave Smith
OTHER INSTRUMENTALISTS – Andy Codling, Paul Speare, Adrian Goodman
BEST LIVE BANDS – Wolfsbane, The Soil Brothers
MOST IMPROVED BANDS – Catch 23, Kara
BEST GIG – Tamworth Rock Festival (all of it!)
BEST DEMO – Terroa
BEST SINGLE – 'Other Side of Paradise' (Dance Stance)
BEST SONGWRITERS – Kevin Briggs, One On One
BEST LYRIC WRITER – KEVIN BRIGGS
BEST HAIRCUT – Mike Fleming
WORST TROUSERS – Mike Fleming
BEST DRESSED PERSON – Jeff Hateley
BEST DJ – Buttercup
BEST ESTATE AGENT – Eddie Madden
WORST BARMAN – Rikk Quay
BEST EXAM RESULTS – Steve Webster
BEST EVENT – The Rathole selling Thunderbird wine
BEST CUSTARD PIR THROWERS – One On One
BEST OVERALL MUSICIAN – Duane (Thirteenth Reunion)
PERSONALITIES of '86: Ian gibbons, Rikk Quay, Chippy, Mark Mortimer, Steve MacNamee, Eddie Madden, Paul Hanlon, Buttercup, Rob Cross, Blaze Bayley, Paul Speare, Richard Cuttler, John Reeman, Denis Byfield, Ray Sheasby, Jase The Ace, Dave Ingham, Murray Pickett, JF Bombshell, Dave Smith, Clive Bartram, Kevin McGough, Edwin Starr.
SAM HOLLIDAY
Tamworth Herald – 02/01/87
Musicbox – SNIPS
The New Year starts with a great concert at the Rathole on Saturday. Attica will line up with top Northern new-punk outfit The Psycho Surgeons for a night destined to be the first of many great concerts throughout the year. The Rathole may have to shut down soon for repairs, so don't miss this last great blast on Saturday night. Get along and enjoy yourselves. Or else!
03/01/87
Attica
The Psycho Surgeons
The Rathole
Tamworth Herald – 09/01/87
Musicbox – FULL STEAM AHEAD FOR THE EXPRESS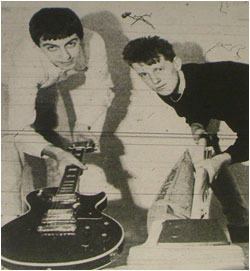 THE Great Express have lined up a whole series of spring concerts – including a prestigious London show – to launch themselves on the local and national scene.
The band – former Dream Factory man Mark Mortimer, ex-Parade singer Bryan Lacey and old Europe After The Rain drummer Dave Burgess – will play five local shows in eight days in March before moving to bigger venues outside the area in April.
The best concert of the whole mini-tour is on Wednesday April 22 when the Express will join two top Indie bands for a special three-band show at The Tunnel Club, Greenwich, London. The venue is one of the leading underground showcentres in London and has featured no less than the almighty Clash in its dim, distant past.
"We are particularly pleased to get that show," said Mark. "It is the first time I have played in London and it is quite a prestigious gig."
Low-key
The band hope to run a special coach to the Tunnel Club show, with fans being charged just £5, including all travel and entry fee.
Before then the band have arranged five low-key local concerts for March. They see the shows as useful warm-ups before a national assault later on and they hope it will give local people the chance to see what they are made of. They will begin their local express tour at the Blacksmiths Arms (March 3) followed by Kingsbury Youth Club (March 4), Blueposts Burton (March 5), Tamworth Youth Club (March 6) and The Marmion (March 11).
Once the band have got these local shows under their belts, they will begin a national campaign starting with a show at Stockingford Labour Club (Sat, March 14) then the Castle Club, Tattershall (Sat, April 18) and the London show on April 22.
"We will be adding a lot more shows around this time hopefully and the list is by no means complete," said Mark.
The band have only been together a short time but already they feel their sound is coming together very well. Mark and Bryan were determined to make their joint sound far removed from that of The Dream Factory and The Parade – and at this stage they seem to be on course.
"It almost sounds like the old DHSS," said Mark. "It is very trashy, powerful and loud with a strange bag of influences including The Byrds, Bob Dylan, psychedelia and new wave."
And Mark adds pointedly "It certainly is not mod!"
Tamworth Herald – 09/01/87
Musicbox – Looking to make great sounds
THE New Year obviously makes people think of new wave bands and new ideas, and here we have a number of groups and individuals looking to form groups to take 1987 by storm. There are several more in the wings but for the time being if you want to become a rock and roll star this could be your big break…
Former Dream Factory and Terroa drummer Batman is on the lookout for dedicated musicians to play music in the Simple Minds/U2/Spear of Destiny frame. Batman wants serious musicians to contact him.
A new group comprising of former Femme Fatale member Debbie and former Australians Connor and Teeks are looking for a good solid, drummer to join their already established outfit.
An ambitious, dedicated singer/guitarist is on the lookout to join or form a strong rock/pop band playing catchy, danceable powerful music. Darren says he is keen, enthusiastic and dedicated and expects anyone he joins to share these same qualities.
Former Orange Blossom Special and Love On Board bassist, Glen 'Turnips' Lewis is on the lookout for a guitarist and drummer to form a band which he wants to perform 'really cool pop stuff man'. If that sounds like you, contact Glen.
The Great Express are desperate for a keen, committed young keyboard player. If you think you fit the bill, the person to contact is Mark.
Tamworth Herald – 09/01/87
Musicbox – HIGH SPIRITS, ROUGH EDGES
THERE has been an awful lot of concerts going on over the Christmas period and here is a brief resume of those I caught among the festive haze…
Dream Factory – (Final Concert)
Ironically I suppose, this must go down as one of the Factory's best gigs. It will never be betted (because they probably won't play together again!) and what made it really special was that the spirit for once outweighed the professionalism. In the past, the Factory have been so tight, so precise that occasionally they lost some of their edge and feeling but not here. It WAS rough around the edges, and occasionally chaotic but this helped the sound and the atmosphere Tremendously. New Factory followers and fans alike warmed to the rough and ready but still sweet and dynamic sound and I for one was left with a sense of emptiness when the band left the stage for the very last time. It was the end of a Tamworth institution but thankfully it was a fitting end. Sad but triumphant.
Kara – The Rathole
Bringing a touch of Americana to 'little' ole England Kara turned on probably their strongest set yet. I am not, and never have been, and never will be a fan of metal music, so when I am entertained by it, I know that something is going right. Rob and Paul stood out as the best musicians on the night, but what made Kara so strong was that they worked well as a unit with all five inputs making up a valuable complete sound. The only criticism – and it was one I shared with others – is that Kara cover played cover versions. They didn't need them because their own material is strong enough without them. I mean, it's bad enough having to endure Bon Jovi on the radio without having to hear them at the Rathole as well!! Still, gripe apart, a nice show chaps.
The Redbeards from Texas – The Rathole New Year's Eve Show
Either I was drunk or they were. Because I didn't enjoy this one very much. The Redbeards seemed to be going through the motions, and ended up seeming quite ordinary. Not even the 'Thunderbird' wine could brighten my outlook on the band, and I got the feeling they (like me) were suffering the one-over-the-eight problem. They have perhaps overdosed on Tamworth for the time being, and judging by the unusually muted response and limited size of the crowd I wasn't the only one who was disappointed. At least Rem played the Buzzcocks though.
Tamworth Herald – 09/01/87
Musicbox – Gigs
SHELLSHOCK make a return to the gigging scene on Wednesday proudly parading new singer Andy. The group along with a disco will be at the Café D'Armour in Burton which is just around the corner from Central Park. Entry is a mere 25p.
The Infamous Sleaze Brothers, a local Feelgoods style outfit, will team up with Earthquake, The Artful Dodger and the excellent Falling Boys in a special four-band show at Lichfield Arts Centre on Friday night. The doors open at 7.15 and there is a tremendous variety of music on offer for just £1.150 or £1 for the unwaged.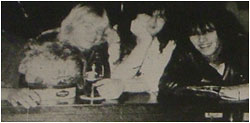 Freight Train have had to postpone a special headlining tour for January because of the extra-curricular activities of guitarist Donald Skinner. His brother, Gavin seemed particularly peeved about this, because it was he who rang up to confirm the dates in the first place. And then had to ring back and cancel!
Tamworth Herald – 09/01/87
Musicbox – HOT NEWS FROM DUBAI'S WILD SIDE
WOLFSBANE have communicated to the outside world at last! Tamworth's wildest, wackiest outfit seem to becoming Tamworth's most sunburnt and happy outfit as well. This postcard landed on my desk the other day and I have since heard from Jase The Ace's brother Bruno Edwards (he of Shellshock fame) that things are going very well in Wolfsbaneland.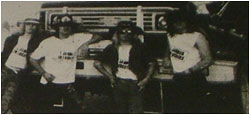 "They have got sickeningly good tans apparently and are having a lot of fun. They are allowed to do almost anything as there are few restrictions on the white sector of Dubai." He said. Bruno went on to say that the group are having to play a fair few cover versions and their audience are a bit older than they anticipated.
Still, I bet every single Tamworth musician would swap places with them. A certain local reporter wouldn't mind either…
14/01/87
Shellshock
Café D'Armour, Burton
Tamworth Herald – 16/01/87
Musicbox – BARMY NIGHTS AND WOLFISH GRINS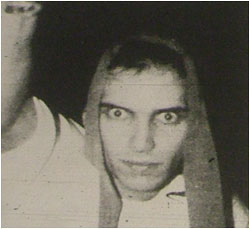 They're back: Boys from the Hotstuff
SUNBURNT WOLFSBANE have just returned from a 'four week party' in the Middle East port of Dubai. The band had originally been booked to play for 'up to two months' but their contract was cut short when a second band was brought in to vary the overall tour.
But despite the sudden termination of their contract, the band was still left full of admiration and immediate nostalgia for their first ever 'World Tour'.
"It was wonderful," enthused guitarist Jase The Ace, "If I knew in advance what was coming up I would still want to do it 100 times over."
The whole experience has brought Wolfsbane closer to one another and more aware of just how different they really are. Unsurprisingly, there was no-one who looked remotely like them in the whole of Dubai, they say, and as such they were treated as real mini-pop stars.
"Everywhere we went people were coming up to us and asking about the band. All the nightclubs and discos let us in despite our clothes and we made some really good friends," said the sickeningly brown Jeff Hateley.
The typical Wolfsbane day started with a considerable lie-in in bed followed by a considerable lie-in in front of the pool. By about four in the afternoon the band were getting ready for a soundcheck and then later they played a concert at one of two classy venues.
After the gig, the band would hit the English/American nightclubs until four or five in the morning where (unsurprisingly again) they became the focus of attention.
"The clubs were always happy to see us despite our clothes which is very unlike Britain. We would also be allowed to go crazy to things like David Lee Roth and we always used to take over the dancefloor," said Jace The Ace.
On the music side, Wolfsbane were required to play a fair few rock cover versions alongside their own material. Among these new covers was what sounds like an intriguing version of the wonderful classic 'Born To Run'.
"You should hear my voice on that one, " promised Blaze Bayley. "The whole song sounds great," The audience Wolfsbane were playing to consisted of American and British oil workers and nationals, , most of whom were considerably older than Jeff, Jase, Blaze and Steve.
"Those who did like us seemed to love us and they were dancing all over the tables at some concerts," said Jeff. "On the last night we just turned everything up and went barmy and everyone seemed to enjoy it."
As an example of the sort of hotel Wolfsbane were playing at, the New Years Eve show – which included our fave metal men in the line-up – cost a staggering £50 a ticket. "Imagine that, £50 to see Wolfsbane," smirked Jeff. "You struggle to get people to pay 50p around here!"
Wolfsbane did manage to mix the enviable cocktail of sun, sand, sex and rock and roll with a little sightseeing. They were quite impressed with what they saw although they did miss a lot of things about their home country.
"I missed the grass" said Jase. "Everything is so white and barren over there." Jeff also missed something you wouldn't expect to miss very much – hedgerows! But apart from that there was little difference between the international side of Dubai and the international side of Tamworth.
"It's funny – everyone slams England and Tamworth but you can get to miss it," admitted Jeff. "Christmas was a bit strange being away from home."
Wolfsbane were also keen to find out what had been happening in the local music scene – and were disappointed it was not a lot.
"What have you done to the music scene, while we have been away?", enquired new drummer Steve. The band are particularly disappointed that the temporary closure of The Rathole robs, the town of a decent regular venue – especially as they are itching to show off their new found live power and enthusiasm. They are also bursting to show off Kingsbury-based drummer Steve, who is described modestly as a 'god' who fits into a Wolfsbane versus the world very well indeed.
"He really is great and we all got on so well it was amazing," said Jase. So, a small step for Wolfsbane but a big one for Tamworth's rock kind. The band strongly recommend that any other local outfit that gets a mere sniff of a tour like this ought to grab it immediately. They had an amazing time and know that even if they split up tomorrow (which they won't) they will have a marvellous memory of what being a pop star really is all about.
Tamworth Herald – 16/01/87
Musicbox – SNIPS
MARTIN LEAVES RED TO GO AND MIX THE BLUES
AN AMBITIOUS and dedicated blues guitarist is on the lookout for musicians to help form the ultimate local blues band. Martin Johnson, who was once part of the r 'n' b based Red Corvette, wants a singer and a separate harmonica player to form a group playing what he calls pure, strict blues.
"I don't want to play bluesy music or rock/blues but old blues songs in a straight blues style. In the best tradition of blues the music will be simple and good," he said.
Martin has already recruited a drummer and a bassist and he is now keen to find the final parts of his blues jigsaw. If you would like to help, contact him.
The Great Express have found their missing link in the shape of 18-year-old keyboard player Chantel Weston from Amington. According to Mark Mortimer, after just one practice it was clear Chantel was here to stay and the band are delighted to have recruited her.
Reaction to the MUSICBOX poll result was very encouraging with most bands pleased with how they have done, and some not to happy with the way I stitched up Genesis and Marillion! Local freebie fanzine 'Panic' has just released its own review of the local year naming Emma Gibbs as the best hope for '87. Duane as the 'coolest dude' and Julian Amos as the best guitarist.
Among its other awards, I was given worst haircut (this rare beasty hasn't seen scissors in five years!) 'Clutching At Straws' won the worst song; Neil Sheasby won the biggest ego; Rikk was voted Grandaddy of Rock and I was delighted to receive the 'Best Runner Around and Get things Organised For Other People Who Don't Appreciate It One Little Bit' award. I will even forgive the 'Worst Haircut' jibe for that chaps.
Ian Gibbons and Chippy have spent the past week desperately trying to find a new venue now that the Rathole is having major structural changes. They would be grateful for any suggestions as to where the local rock scene can (temporarily) make its new home.
Cuddly Mike Fleming got married on Wednesday and MUSICBOX would like to send him the very best wishes. It just shows what a new haircut can do…
Dance Stance have announced a number of top university concerts for the Spring. Their single, which has been selling very well and has received a lot of Mercia Radio airplay, is also having a national release this week so keep your eyes on the music press.
Just a reminder to people involved in TAMAID – your contributions are now needed so we can get the tape out as soon as possible. There is also talk of a special TAMAID concert and we will give more details when this starts to take shape.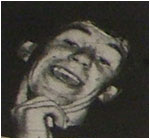 LOOK OUT ROGUES
We are hoping to run the first Rogues Gallery of 1987 in the not-too-distant future so your contributions are now requested. I already have a couple of particularly evil shots (look out 'Attica') but we want bags more so we can shrink the size of the average local ego. So find out your favourite nasty pics of your favourite local pop stars and let me have them as soon as possible. Mugshots this way please.
Tamworth Herald – 23/01/87
Musicbox – Let's face it, your bad side's showing


WELL, here they are – the latest bunch of rock and roll nasties to make you smile into your cornflakes. Once again we have scoured the dustbins to find the pictures they tried to hide, and once again MUSICBOX has done irreparable damage to the egos of your average local popmen. So, feast your eyes on these little beauties safe in the knowledge that ten people this morning go out and buy balaclavas…
Tamworth Herald – 23/01/87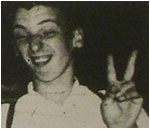 Musicbox – Heat is on as Battle cry echoes
TAMWORTH Arts Centre is to stage another "Battle of the Bands" contest throughout February. The event will be held for the third year running as part of the Tamworth young People's Arts Festival.
This year there will be just three heats with the winners invited back to a gala final where they will be joined by last year's winners One On One enjoying 'automatic qualification' in true World Cup tradition.
And this year as an extra carrot to bring the punters in, there will be a top prize of £50 for the winning band.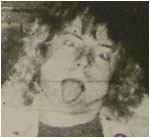 A full meeting is to be called on Sunday night at the Tavern and all bands who want to take part can come and find out what is involved.
Celebrity Judge
Basically the event will follow the same winning format as the last two successful contests. Four bands will battle it out in each of the heats with one winner chosen by a panel of three judges.
The winners will then be invited back to a final where hopefully a celebrity guest will come along, choose the overall winner and pronounce them as Tamworth Young People's Arts Festival Band of the Year.
The heats will run on Saturday 7, 14, 21 of February with the final the following weekend. For the bands it offers a chance to keep on gigging at a particularly quiet time locally and for the areas rock fans it offers four great nights of varied music for just £1 a night.
One cautionary note to all bands involved is that there are only 12 places available because of problems finding the full 16 last year. That means that if more than 12 groups want to take part, a special draw will have to be held on Sunday night to determine who is in – and on what night – and who is out.
All the bands who would like to take part – or anyone else that wants to get involved – can attend the meeting upstairs at the Tavern in the Town on Sunday starting at 8pm.
If any groups would like to take part but cannot attend will they please contact me, Sam Holliday, before Sunday.
In the meantime the rest of the area's bands can get ready for four excellent rocking nights which give one of them a lovely £50 cheque and a title for good measure.
23/01/87
Olde Golde
Wilnecote Parish Hall
50's Night
Tamworth Herald – 23/01/87
Musicbox – SNIPS
STRAP ON JACK return to the local scene next Friday by popular demand. The trio who many people thought outclassed the Feelgoods at the duo's recent Assembly rooms show will line up with local rock favourites Kara for a fine double-header at the Arts Centre on Friday, January 30. Tickets cost just £2 and with a lack of gigs lately, a big crowd is anticipated.
OLDE GOLDE, a well established and acclaimed rock and roll outfit, will play a special 50s night show at Wilnecote Parish Hall tonight (Friday). Tickets for the show are priced at a reasonable £2 and the band have promised a wide mixture of sounds including ballads and more spirited r'n'r. The group is made up of four well-known local musicians from the Tamworth area and is available for gigs via Jeanette Hopgood.
Great Expressman Mark Mortimer and Scooter Boys From Hell favourite Dan Collins will join top Coventry soul DJ Simon Bonsor in a special five hour disco extravaganza at Rumours in Nuneaton on Monday night. 'Soulites' from all around Britain will be there for a Northern Soul disco special which will also feature music including psychobilly, mod, Tamla, punk and psychedalia.
Tamworth Herald – 23/01/87
Musicbox – Jason's Tribute
With so many people so quick to slam Tamworth, it was a pleasure to meet former Shellshock singer Jason Tinsley on the train last week. Jason now live sin Congleton and although he fronts a top rock band called Idols (due to play at the Marquee soon) he says he really missies the town and its rock scene, he says from his experience the Tamworth music scene is unrivalled in its strength and variety, and he really misses the tremendous spirit around here. He also says that MUSICBOX is also unique in his experience.
Tamworth Herald – 30/01/87
Curtain up on a new manager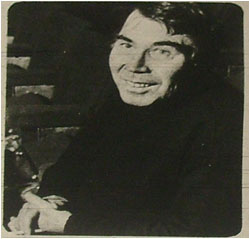 TAMWORTH Arts Centre has a new manager – Mr. John Garforth from London, who has over 25 years' experience in arts administration.
Due to take up his post in March, he is presently manager of the Questors Theatre Company – one of the most prestigious amateur companies in London.
Miss Jackie Steele, chairman of Tamworth Arts Advisory Council, said she was 'delighted' at the appointment.
"His experience in arts administration is very wide-ranging, from local authorities and arts centres to multi-purpose venues – he really knows his business," Miss Steele said.
She added: "The theatre in particular is his love, and he has written plays.
"John's view of hard work is that it is fun. He seems to be the sort of person who will relish the challenge of taking on the job here, and will put a lot into the arts in Tamworth generally as well as the Arts Centre itself."
A reception is being planned for him, so that he can meet all members of the Arts Advisory Council, and borough council officials.
30/01/87
Strap On Jack
Kara
Tamworth Arts Centre
Tamworth Herald – 30/01/87
Musicbox – Where have all the rock bands gone?
IS TAMWORTH'S rock scene in a state of crisis?
This was the question in a lot of people's minds after Sunday night's rather painful list of local casualties who could not get involved in this years 'Battle of the Bands'.
The likes of Attica, Soil Brothers, XPD, The Magnets, Royal Family, Dance Stance, Great Express, One On One et al, all have alternative commitments and will not be able to take part, but what is perhaps more worrying is that there are not many newer bands coming through to take the old one's place.
Last year's 'Battle of the Bands' attracted twice as many would-be entrants to the contest and the amount of bands who have since split up or disappeared is becoming quite alarming.
This time last year for example, the Battle of the Bands featured no less than ten bands who have since split up or cannot take part this time.
Split up
For the record, that is Caprice, Burnin' Sky, Orange, One On One, The Australians, The Parade, The Me, The First, Spirit Lake and The Cradle.
In addition over the past year or so we have seen the likes of Terroah, Femme Fatale, A5, Pulsebeat, Gaf the Horse in Tears, The Mutant Zombies, Beyond Elysium, The Dream Factory and the Cuddly Spiders either split up or disappear, and as an outsider looking in, I can't help feeling Tamworth's rock scene is in a state of mini-crisis.
At this rate it looks as if the Tamworth Rock Festival itself could be in doubt – and the simple question is – where have all the bands gone?
The slide became apparent towards the end of last year but what is clear is that the audiences are still there – it is the bands they may not be.
Serious
The Tamworth music scene now commands a large and loyal following but of they have nothing to follow, their interest may soon wane and wander. To lose upwards of 20 bands in just 12 months is very serious indeed.
Tamworth needs a 'new wave' of bands to come forward bringing fresh sounds, fresh ideas and a fresh hope to the area. Tamworth and indeed Atherstone and Coleshill, can be proud of what it has achieved musically in the past couple of years. Let's not throw it away now 'Get out those guitars and PLAY!'
Tamworth Herald – 30/01/87
Musicbox – Battle lines drawn for the big nine
TAMWORTH's post-Christmas band crisis was reflected on Sunday night when just nice bands declared they were fit and able to fight it out for this year's 'Battle of the Bands' title.
With many bands committed to other concerts – or simply immersed in apathy – it means each of the heats will feature just three bands instead of the anticipated four.
Organisers did consider delaying or abandoning the Arts Centre concerts, but it was felt that the enthusiasm of the bands who did want to play, would cancel out the problems.
The draw for the three heats was completed on Sunday and it means the battle-lines are drawn thus:
Saturday February 7: Kara, Breaking Point, Rape in Yellow
Saturday February 14: Depth Charge, Shellshock, Catch 23
Saturday February 21: Wolfsbane, Cheesy Helmets, The Calling.
Each of the bands will be given 30 minutes apiece to impress a three or four-man judging panel and the winning bands will then be invited back to a gala final on Friday, February 28.
The winners will pick up a trophy donated by the Tamworth Young People's Arts Festival and a £50 prize – they will also carry the title 'Battle of the Bands Winner 1987'.
Entry on all four nights will be just £1 with any profits going towards the TAMAID fund for the Quince Tree Special School at Amington.
We will give more details of the various heats in the forthcoming MUSICBOX columns, but for now get your pencils and mark down Saturday February 7, 14, 21 and Friday February 28 as nights not to be missed. Four great nights are in prospect!.
Tamworth Herald – 30/01/87
Musicbox – REVIEWS
*****Big smiles
**** Gig grins
***Big smirks
**Big frowns
*Big tears

Catch 23 – Demo **
DESPITE the fact that this demo was recorded when Moses was a lad, Catch 23 still insisted I reviewed it. I can't really see why though. For the average Catch 23 fan – like me – this tape is very disappointing and lacks all the band's onstage fire, power and strength. It sounds oddly tame with the only highlight being the excellent 'Next Step' which sounds like a strange marriage between the Dream Factory and the Doors. Go see them live instead. Sorry Steve, but you did INSIST.
RUFFIAN ON THE STAIRS – Unnatural Practices****
Very calming, very relaxing and very pleasant demo from the pre-Fleming Ruffians. Gentle warm sounds with a dreamy, dancy feel. It's nice.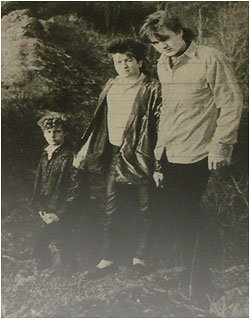 RAPE IN YELLOW – Demo*****
Rape in Yellow. The ace of this week's pack. This superb debut demo by a brand new Tamworth band is full of style, promise and atmosphere and shows an amazing maturity considering the collective ages of those involved. It has a modern psychedelic feel with Julian Cope's imprint clear from start to finish. The tape is magnificently packaged and presented and the sound quality and production is second to none. Musically it has a dream-like quality and enough unpredictable edges to convince me that here is one very exciting find.
"Green is Gone" is the highlight of the three songs and Graham Harwood's distinctive and original vocal is the musical stand out. A tremendous and original demo and one that sets this Dosthill-based band off to a good start indeed. This band deserves further investigation.
Tamworth Herald – 30/01/87
Musicbox – GOSSIPBOX
WHAT has cuddly Buttercup got in common with cuddly Wolfsbane, cuddly Dream factory, cuddly Dance Stance and cuddly Breaking Point? Well, Tamworth's meaty, beaty, big and bouncy DJ is all set to release a single.
Under the name of Butty and the Wide Boys (that is Chris, Rick and Des Parrot) the single is a Dead or Alive style…
Also in the studio at the moment is Anice Byfield who has teamed up with four art-school types (yawn) for a new band.
Tamworth Herald – 30/01/87
Musicbox – Strapping meal
STRAP ON Jack, the biggest, meatiest three-piece around, return to Tamworth tonight (Friday) for an exciting Arts Centre show.
The band will line up with local metal merchants Kara in a night which should re-establish the Arts Centre on the local concert map.
Strap On Jack, for those who don't know, play an aggressive mixture of r 'n' b, pop and punk and every one of their previous Tamworth gigs have been hugely successful. Kara meanwhile are also a band on the up and up, and their strong following and stronger sound ensure a healthy turnout for tonight's double-header.
Bear in mind that this is not the Rathole and hence will be starting earlier (8.30) but get set for a great night of entertainment.