Tamworth Bands History : 1987 :
March
02/03/87
TSB Rock School
Catch 23
The Dome
Birmingham
04/03/87
The Great Express
Kingsbury Youth Club
05/03/87
The Great Express
Blueposts Burton
06/03/87
The Great Express
Tamworth Youth Club
Tamworth Herald – 06/03/87
Stalls ban 'puts centre at risk'
A TAMWORTH arts chief has warned that the future of the town's arts centre could be in doubt unless a borough council planning decision is reversed. Mr. Reg Pimm, chairman of the centre's management committee, said a decision to refuse change of use for part of the premises could lose the centre up to one third of its overall income.
Tamworth Herald – 06/03/87
Musicbox – Crowning glory for the kings of rock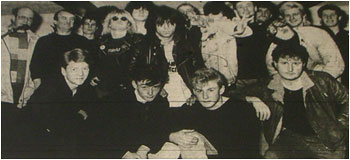 SUPER WOLFSBANE turned in the performance of their rock and roll lives on Friday night to deservedly scoop the 'Battle of the Bands' title for the first time.
Wolfsane were simply outstanding and even their rivals on the night knew they had come up against a rock and roll tidal wave. Catch 23's guitarist Ray Clenshaw summed it up perfectly "If you're going to lose, you might as well lose to the best," he said.
But talk of victors and vanquished must be held for a few minutes, because the real winner of this whole contest was the Tamworth music scene itself. All four finalists turned in superb performances in front of the biggest crowd ever seen at an Arts Centre concert.
Equally pleasing was that the continued support of the area's music fans means that somewhere between £300-£350 was raised for the local pop charity 'TAMAID'.
This will be held until the TAMAID demo is available in the next few weeks, and then a cheque will be presented to the Quince Tree Special School at Amington as a token of the goodwill and good spirits of the local rock scene.
Everyone should be proud of their efforts over the past four weeks and none more so than the four finalists themselves who helped to give the judges – Messrs. Stuart Blaine, Denis Byfield, Mark Mortimer, John Reeman and Martin Webster all manner of headaches.
Opening up the proceedings were The Cheesy Helmets who turned in a shorter- than-allowed but still very strong set. It was loud, brash and adventurous and once again Richard Cuttler and Mark Brindley bounced around the stage as if they had just discovered the ancient art of the pogo. Guitarist Andy was also very impressive, slicing away at his machine with devilish delight and with Richard and John adding power and subtlety respectively, it was a fine mesmerising set.
Next up were Catch 23 who were greeted with the sort of roar that showed they have carved a very big niche in a lot of people's hearts. Once again the group showed enthusiasm, spirit and inspiring confidence and although their set didn't match the one they produced in the heat (how could it?) it still showed that there is so much this outfit have to offer.
Best of all was the final crucial number 'Twisted Mind' where the band displayed a touch of amateur dramatics to complement a staggeringly tuneful number. It was my song of the night.
And then came what can only be described as 30 minutes of pure joy – Wolfsbane. The group were in tremendous mood and this reflected in the way they played, slayed and drained the hungry, sweating crowd.
Everyone of their numbers was played to musical perfection and their look and stage presence would be the envy of many national heavy metal bands.
All the songs "Get Up", "Dance To My Tune" and the rejuvenated "Clutching At Straws", brought applause the like of which the Arts Centre has never seen, and by the end of their set you would have to be devoid of all five senses not to realise that here is an almighty force. I loved 'em to bits.
New Song
Finally up were Breaking Point who had the unenviable task of following Wolfsbane. Well, Breaking Point are as professional as amateurs can be and their style won over many new friends. One new song in particular "Hitman" was quite outstanding, and the most exciting thing about this most exciting band is they seem to be writing newer and better material all the time.
They have about as much chance of drying up as the River Tame and I for one found all my hopes for Breaking Point rekindled after their strong and increasingly passionate set.
So to the finale. All four bands were called up on stage, given a bottle of champagne and the result was announced – Wolfsbane were the Tamworth Young People's Arts Festival band of the year. They picked up individual prizes (plus a deserved one for Brian Edwards), a £75 prize and the knowledge that no-one begrudged them their victory after such a sparkling set.
It brought to an end four great weeks on the local music scene. Weeks that proved that the enthusiasm of both bands and followers show there are signs of life.
Tamworth Herald – 06/03/87
Musicbox – SNIPS
Come on over says John
JOHN JAMES the former Tamworth Rock Festival workaholic, has just taken over a new pub in Lichfield – and he is keen to put bands from Tamworth on at the venue. Already he has put Breaking Point on the stage and he is now talking about adding the likes of Wolfsbane and One On One. If you are interested in playing in Lichfield at John's new venue, give him a ring. When you speak to him, ask him by the way if he's still got my 1984 Tamworth Rock Festival video!
11/03/87
The Great Express
The Marmion
Tamworth Herald – 13/03/87
Tour band plays on after £5,000 raid
A TAMWORTH rock band who could be on the verge of 'making it big' have pledged to continue an imminent British tour…despite having £5,000 worth of crucial equipment stolen.
Thieves broke into Dickens' coach and stole instruments and equipment in a midnight raid. A brand new mixing desk – used to control sound levels during live performances – and a case full of 24 vital microphones went as the raiders plundered the bus.
Also stolen in the Nuneaton raid was a valuable Yamaha electric piano and a high quality Westone bass guitar – both vital to the band's enigmatic melodic rock sound which has won them fans up and down the country.
The band were all set to start on a major tour which will take them to venues in places as far apart as Cardiff and London. And because they were not able to afford insurance premiums on their equipment, the tour looked certain to be scrapped.
But they dug deep into their pockets and came up with £1,500 – enough to buy 13 replacement microphones. They will use second-choice instruments to take the place of those taken and are ready to hit the road.
And shortly after the current tour, Dickens are set to travel to Germany where a series of important dates have been lined up. Lead singer Mick Rutherford said "I can't describe my feelings about the people who took the equipment."
Tamworth Herald – 13/03/87
Musicbox – MORE bouquets for Wolfsbane
THE 'BATTLE OF THE BANDS" obviously provoked a lot of comments – most of which were as ecstatic as my own. We even received a couple of letters about the whole concert, one of which expressed an alternative viewpoint on the proceedings.
Mark Hynds said of the bits he saw…"Every night seemed to feature another load of the old HM musicians with only Wolfsbane being able to breathe life into the old. As for the others, well there were the Cheesy Helmets and Emma Gibbs although Emma's set was spoilt by a beer monster!"
Mark described the 'best' band as being Wolfsbane (does ANYONE dislike them?) the 'brightest' being Catch 23 (although he felt they fell between the Dream factory and Dance Stance stools) and the saddest, being Breaking Point. Mark concludes by saying 'at the moment I can't wait for the Great Express who I think will be the most exciting prospect from Tamworth this year' Interesting…Another letter came from someone else who was completely bowled over by Wolfsbane.
After criticising me for calling the band 'thrash metal' ( he felt they were closer to Kiss than Metallica) David Lee Roth's Jockstrap (that's what he called himself) praised Wolfsbane to the skies "Jeff came on grinning and went off grinning and who wouldn't. I really hope Wolfsbane keep the faith and push on because one day they will succeed and they dominate the world, nay the universe," he says.
Such unbridled enthusiasm, I can handle, but Mr. Jockstrap blew it all with his P.S.; "Your jokes stink." How dare he!
MUSICBOX is always happy to receive letters on anything to do with the music scene locally or nationally, so keep them coming!
Tamworth Herald – 13/03/87
Musicbox – Raring to meet a 60s legend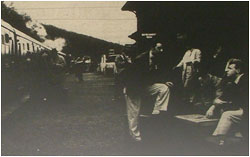 CONFIDENT Dance Stance will tonight (Friday) play their biggest concert to date – as support act to the legendary soul star Geno Washington.
The Musicbox band of the year will travel to Keele University for this prestigious gig and they are bursting with enthusiasm for the impressive show.
"We are definitely looking forward to it and as Geno is in the same sort of ballpark as we are musically, it should be an interesting night," enthused rubber-legged guitarist Nick Reed.
The fact that Dance Stance are even on the same bill as Geno shows the amazing strides they are now making. Under the wise and committed management Ray Sheasby the band have started to really believe in themselves and follow the edict that the sky really is the limit.
On Saturday they played in front of an estimated 1,000 people at Warwick University and tonight they can expect another rhuge audience. It seems a far cry from their local concerts and Nick admits that after a while even the nerves start to calm down a little.
Nervous
"I think I have got used to it by now but this sort of concert would have frightened me to death three years ago if I was still in Love On Board. Generally though, things are going so well that we don't get too nervous anymore," he said.
Dance Stance already have a whole series of major gigs lined up for the rest of the year. These include concerts at Trent Polytechnic, Nottingham University, Aston University and one highly secret 'megabash' which the whole band keep teasing me about but won't actually reveal!!
Just as pleasingly for their local fans the groups have lined up a special show at the Embassy Suite on Friday April 10. That promises to be a very exciting party night but for now all the band's attentions are focused on tonight's prestigious and important show.
"It is a very important night for the band and I am sure they will not let anyone down," said Ray.
Tamworth Herald – 13/03/87
Musicbox – SNIPS
Paws with the Alley Cats
A BRAND new local band, influenced mainly by The Stray Cats make their Tamworth debut tomorrow (Saturday) night. The group, The Alley Cats, are influenced by the likes of Duane Eddy, Eddie Cochrane and the Guana Batz. The Cats featuring Daz, Rick and Mark Wright make their debut at Kettlebrook Working Men's Club and according to drummer Mark they hope to find a fair few local people interested in what they have to offer. "I believe there is a bit of rockabilly in most people who like the Meteors, King Kurt and so on and we would like to make a name for ourselves sin Tamworth," he said. "It all sounds very intriguing so if you want to see something different pop along to Kettlebrook on Saturday night and give The Alley Cats a chance to dazzle you…
Tamworth Herald – 13/03/87
Musicbox – SNIPS
Commiserations are in order to see the loveable Catch 23 who missed out on a place in the national TSB Rockschool contest by just one measly point. The group were very pleased with their short set at the Dome which was particularly praised by two members of "Fuzzbox" who acted as judges. But in the end that one point was the difference between a place in the London final and a sad journey back to Atherstone. Still the band picked up some useful contacts and could be in line for a radio interview so the whole trip was certainly worthwhile.
Tamworth Herald – 13/03/87
Musicbox – SNIPS
The Great Express have finally settled on a new line-up. The highly-talented and much-respected Ted Wilson had joined the band on lead guitar, while the second guitar and lead vocal has been given to former Orange and Sitting Pretty favourite Julian Amos. The new line up is now working very hard on their material but it looks as if all the March/April concerts will have to be postponed
Tamworth Herald – 13/03/87
Musicbox – SNIPS
Richard Cuttler, The Cheesy Helmet and Recharge studio boss, has now achieve yet more super stardom. As you may have seen Richard's mug has been splattered all over the back of Julian Cope's new album "Saint Julian" – Richard is seen stoking a fire while the main cover of the record shows Julian deep in the heart of Cuttler's scrapyard at Freasley. We will be looking at "Saint Julian" in more detail next week hopefully.
Tamworth Herald – 13/03/87
Musicbox – SNIPS
The Lichfield Battle of the Bands will be running throughout May and bands from the Tamworth and Atherstone areas are being sought to take part. Tetley's contest offers a £300 prize for the winners so there really is nothing to lose and everything to gain. If you are interested contact Tetley…
In the meantime our own Battle of the bands winner, Wolfsbane, will join Shellshock and three Lichfield bands in a special Enots show on Friday, March 20. More details nearer the time…
Tamworth Herald – 13/03/87
Musicbox – SNIPS
Dickens are back! Mick Rutherford's outfit have hit the road again and following two successful Nuneaton gigs last week they play the strangely-named Church (that's up North somewhere according to Mick) on Saturday, then the Colin Campbell venue in Coventry on Thursday, 19 and possibly Tamworth Arts Centre.
14/03/87
The Great Express
Stockingford Labour Club
14/03/87
The Alley Cats
Kettlebrook Working Men's Club
18/03/87
The Great Express
Castle Club, Tattershall
19/03/87
Dickens
Colin Campbell
Coventry
20/03/87
Lichfield Battle of the Bands
Wolfsbane
Shellshock
Storm
Roma
Earthquake
Cerebus
Enots
Tamworth Herald – 20/03/87
Musicbox – What a night!
Dance Stance – Keele University
AT FOUR o'clock on Saturday morning I crawled into bed suffering from a headache, earache and the start of a truly evil cold.
It felt as if I had just come back from a crazy, wild party – and in a sense I had. For I had spent the past twelve hours being bowled over by a group who can no longer be considered on a 'local band' basis.
For in every sense Dance Stance have now arrived. On Friday, in support of the mighty Geno Washington (who was quite wonderful) Dance Stance were treated like, acted like and (most importantly of all) played like STARS.
Their dressing room was bigger than some venues, their audience was large and enthusiastic and their sound showed it had matured and prospered amazingly the past few months alone.
All the potential some of us have noticed in the past is being realised and to add to my statement last year that Dance Stance were destined for stardom. I now feel convinced that the area can brace itself for its first, truly homegrown success.
Songwise, I was particularly impressed with 'Win or Lose', 'Sweetest Pain', 'Falling Down' and the crowd-pleasing Blues Brother cover 'Going Back to Miami'. My overall favourite though was still the band's first sell-out single 'Other Side of Paradise' which is a truly remarkable song which deserves to rip the national charts apart. It even caused me to do a most un-Sam-Holliday-like thing – dancing. And any soul music that can get ME dancing can impress anyone!
Individually it is hard to pick out anyone because all nine musicians – and I mean all of them – are extremely talented and would shine in any band they played with. But I guess, a special word should go to singer Paul Hanlon. His cocky arrogance is endearing in itself and his on-stage personality and voice has matured beyond belief in the past few months. He now sounds and looks every bit a star and even his lingo (everything is 'wicked' and everyone is a 'dude') makes you realise he has that little bit extra that puts Dance Stance one major step ahead.
On the night the sound didn't help the bound much, but they still showed enough confidence, ability and talent to convince me that here is a band we can all feel proud of. Gradually an awful lot of people are waking up to the inevitability of Dance Stance's imminent success. I may have gone to bed feeling appalling on Saturday morning but Dance Stance went to bed happily thinking 'we are one step closer now'. It was some night.
SAM HOLLIDAY
Tamworth Herald – 20/03/87
Musicbox - Soiled Goods Again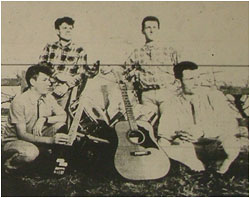 The Soil Brothers make their long-awaited Tamworth return on Saturday night when they hit the Arts Centre. Although my details are sketchy, it seems they may be teaming up a 'fabbo splinter band' and 'some darkish rap band who massacred Eddie Cochrane covers". It all sounds a bit odd to me but in the words of r. polo why not suck it and see. The Arts Centre bash starts at 8pm on Saturday.
20/03/87
Dickens
Tamworth Arts Centre
Tamworth Herald – 20/03/87
Musicbox
It is possible Dickens may be playing at the Arts Centre tonight (Friday) although at time of going to press this had not been confirmed. If you want to check, contact the Arts Centre on Friday night.
Tamworth Herald – 20/03/87
Musicbox – Bye, Bye Odeon?
IT WAS with amazing sadness and amazing disbelief that I heard last week that the Birmingham Odeon is to shut as a venue in the summer. Despite its faults the Odeon is the surefire guarantee that we will be able to see the many, many major bands who are too small for the NEC and perhaps too big for the Powerhouse. Without the Odeon, Birmingham will probably miss many big gigs and I for one would urge everyone who cares about live music in the Midlands to support the 'save the Odeon' petitions that will doubtlessly start appearing shortly. Many of us have great memories of great gigs at the Odeon. It is up to us to ensure we have more memories in the future.
Tamworth Herald – 20/03/87
Musicbox – SNIPS
CATCH 23 have just become radio superstars. The Atherstone boy-wonders were featured on Mercia Radio when singer Steve 'OK I stuttered a bit" Webster and Ray "I Sounded Much Better" Clenshaw were put under the interviewing grill.
They held up very well and told the interviewer about their look, their sound and their hopes. They also hinted at a possible single in the next few months which I for one think is a great idea. Right then chaps, the next stop is the John Peel show…
Tamworth Herald – 20/03/87
Musicbox – SNIPS
THE TAMAID tapes have now been mixed and are ready to be sent away, for release in the next few weeks. The songs are 'Youth Is Our Future' and 'Bombs Away' and both sound very good indeed, and an impressive sleeve is currently being put together by Messrs. Edward ian Armchair and Jed Moore. We will have full details about the tape – and how you can get it – very shortly.
Tamworth Herald – 20/03/87
Musicbox – SNIPS
WOLFSBANE, who have just released a tremendous new demo, will join Shellshock and four other bands in a special 'Groupflood' event at Lichfield Enots Social Club tonight (Friday). Wolfsbane will headline over Storm, Roma, Earthquake, Cerebus and our own Shellshock. A good night is promised for all and for just £1.50 a head everyone's a winner…Wolfsbane also play The Kaleidoscope again on Monday night.
Tamworth Herald – 20/03/87
Musicbox – SNIPS
MORE letters to Musicbox. Former Dream Factory singer Tim Goode has written to back-up by damning comments on the new Style Council album. Tim described the record as making him feel 'totally appalled' and he was even more distressed after he had 'unfortunately purchased two tickets for their gig at the NEC'. Tim described the show as a terrible let-down and clearly feels the same major sadness at Weller's demise as myself. Not agreeing with me however was Atherstonian Peter Robinson who objected to the constant, contrasting labelling of Catch 23.
Well I don't think I will just leave it at that, but talking of absurd names Pete is a member of the new band, The Little Green Men, who boast a number entitled "If You Shave Off Your Beard Girl, I'll Love You Even More". Very cute.
Tamworth Herald – 20/03/87
Musicbox – SNIPS
ORANGE Blossom Special who last week lost Julian Amos to the Great Express are on the lookout for a guitarist and a keyboard player. The ever enthusiastic combo can be contacted on…and are looking for talented, stylish musicians.
Tamworth Herald – 20/03/87
Musicbox – SNIPS
Atherstone-based r 'n' b kings The Witch Doctors (whose demo I hope to review soon) have announced a series of dates. As well as playing at Leamington Spa, Telford and other out-of-the-area shows, they will be at the Graziers Arms, Nuneaton on March 26, Colin Campbell, Coventry April 2 and 10, Atherstone Rugby and Cricket Club April 22 and Knights Lichfield April 29.
21/03/87
Soil Brothers
Tamworth Arts Centre
22/03/87
The Great Express
Tunnel Club
London
03/03/87
The Great Express
Blacksmiths Arms
Tamworth Herald – 27/03/87
Musicbox – Band reaches new heights
Depth Charge – Demo
THE FIRST thing that struck me when I heard Depth Charge's new demo was that, well, it didn't sound like Depth Charge at all. I mean I know they've changed their line-up and all that, but that doesn't normally mean they have to change their sound as well.
For gone is the Depth Charge of "In My Car" and simple endearing rockers like that and in has come something altogether more expansive and original. What we have here is a magnificently produced tape that bears all the hallmarks of a new and fresh beginning for Depth Charge.
Even Mick Goodby - one of my oldest friends on the local music scene and one who I didn't think could surprise me anymore – sounds like he has had some mysterious operation. His voice has undergone a high-pitched metamorphosis that is a real shock.
Mick now sounds like Robert Plant in his pre-Yuppie-CD days as lead singer of Led Zeppelin. Mick's roar has become a more controlled vocal with a far wider range than he has ever hinted at before.
The opening track as a whole "Only Love Can" (I think it's called that!) is very reminiscent of that mid-Seventies Zeppelin feel with Mick leading the song well and the rest of the band slamming out a well-crafted and original ballad behind him. I remember the last time I saw Depth Charge that some young ladies attempted to bit both my ears off for daring to suggest that Depth Charge sounded like mid-Seventies rock but that is EXACTLY what this tape reminds me of. And let's face it, that music wasn't what you would call successful.
The second track takes us into yet uncharted Depth Charge areas – Genesis country! 'Inner Eye' has a classy, classical feeling which is very well written and very well played.
I respect Depth Charge a great deal and hope this new impressive two-tracker will open even more doors for them in the future.
Tamworth Herald – 27/03/87
Musicbox – Of wolfs and other animals
IT WAS NICE to see Wolfsbane get their ugly mugs into the best selling HM magazine Kerrang! Last week. The only problem was that the photo didn't exactly mix with the information beneath it, and Wolfsbane were completely confused with another set of HM hopefuls! Still the band have already been on the phone and yet more coverage is promised in the future…
Also pleasing to see was that Polesworth's biggest star (!) Edwin Starr has contributed his powerful voice to the special Ferry Aid single "Let It Be". Edwin joined the likes of Paul McCartney, Boy George and Tony Hadley on the record which is due for release this week. Buy the record because it is for a very good cause, but as a piece of advice I wouldn't recommend playing it because it is HORRIBLE.
One of Tamworth's oldest and best known bands A5 have reformed. The group have just released another demo containing four songs (one entitled 'Sex baby') which the group feel very happy about indeed. They have got rid of what they saw as their over-produced sound, and refound their basics and their enthusiasm as the same time. The band are in action at the Crown in Nuneaton on Saturday night.
The Alley Cats who were delighted with their debut show at Kettlebrook recently, are on the lookout for a vocalist to complete their rockabilly outfit. The band who play music influenced by Fifties rock and roll and the stray Cats want good, strong singers to contact them.
Attica return to live action at Knights in Lichfield on April 15.