Tamworth Bands History : 1987 :
June
Tamworth Herald – 05/06/87
Musicbox – Metal monsters pile on the noise
Trio launch some Rathole mayhem
HEAVY METAL returns to Tamworth with a bang tonight when Wolfsbane, Shellshock and Vengeance launch a ballistic music-missile on an unsuspecting Arts Centre audience.
The metal-mayhem looks set to produce another jam-packed Arts Centre attendance to watch three bands of contrasting but determined metallic style.
Heading the bill of course are the four-headed monsters known as Wolfsbane. The group have been playing a massive amount of gigs lately to ever-increasing acclaim and last week's birthday boy Blaze Bayley keeps hinting that something very big indeed is on the horizon.
After tonight's undoubtedly wonderful set, Wolfsbane travel to General Wolf (Coventry) tomorrow and then on to Edwards Number Eight (Birmingham) on Sunday. The latter gig is free as is the Birmingham outdoor rock festival in July which is to be headlined by Wolfsbane.
Teaming up with Tamworth's titans are Shellshock, a band who have developed into something very impressive indeed. Their music begins at straight pop/rock crossover and travels all the way along the metal line ending up as frantic and furious. It is exciting both to watch and to listen to and if they hit top form tonight, Tamworth is in for a treat.
Completing tonight's metal triple bill are Vengeance a Nottingham-based bands who come with the Wolfsbane seal of metallic approval. It adds up to a metal night to match any of the town's rock fans have seen on a long time, so if you want to be deaf on Saturday morning the Arts Centre is the only place to be tonight. Get out the crimpers, get out the leathers and GET ALONG!
Tamworth Herald – 05/06/87
Musicbox – Festival line-up named
THE 18 bands who will line-up for this year's Tamworth Rock festival is the Castle Grounds have now been decided. The lucky 18 – who were chosen from an initial tally of nearly 40 acts – are: World Intelligence Network, Ruffian On the Stairs, Kabberwockie, The Great Express, Shellshock, Rape in Yellow, Catch 23, Depth Charge, Platinum Hi, The Magnets, Breaking Point, Future Field, Wolfsbane, Fetch Eddie, The Searching, A5, The Pink Tomatoes and Dylan's band from Atherstone. In addition Emma Gibbs Loves Badges, New Age Gypsies, Pakistani Brothers, Final Line, the Sexy Pistols, Carousel, Bancock Shock and the Jim Crows Blues Company will play at the two Arts Centre shows which precede the festival leaving a full 26 bands involved in this year's event. Once the final times and line-ups have been sorted out the festival publicity blitz will begin, so get ready for the Hype of the Year.
Tamworth Herald – 05/06/87
Musicbox – SNIPS
THIRTEENTH Reunion drummer Duane can breathe a sigh of relief at last – there is a worse drummer in the universe. His name is Mr. John Reeman who took the sticks for Emma Gibbs' extraordinary show on Sunday and did quite dreadfully. John cheerfully admits he isn't trained as a drummer but he didn't really need to say that.
Tamworth Herald – 05/06/87
Musicbox – Eddie pops in with a tonic but Emma plays it cool
Fetch Eddie The Baby's Gone Blue – The Rathole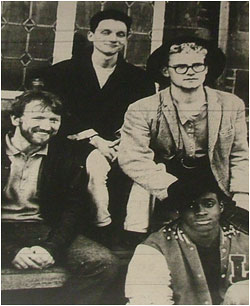 WELCOME back to pop music. For far too long, pop has been either embarrassing or irrelevant in Tamworth but now at last we have a good, strong commercial band who play sheer unadulterated pop music.
This set by Fetch Eddie ranks as one of best Tamworth debuts I have seen in years and proves that the band's growing Birmingham reputation is no fluke. Based around Aaron's meandering, solid guitar and the first class vocal work of Pod. Fetch Eddie play crisp, invigorating music that is jam-packed with luscious melodies and superb arrangements.
The songs are short, direct and very catchy and lead to a host of comparisons including Squeeze, The Beatles, Feargal Sharkey, The police and The Records. Every song had it's merits but the reggae-based 'Too Much To Ask For' and the sprightly 'He'll Love You 'Til Your Pregnant' were the outstanding songs of a quite outstanding set.
Several top local singers told me afterwards that in Fetch Eddie the area has a very impressive and promising band indeed, and it was hard to find anyone who could muster up a word of criticism once the band had left to tumultuous applause. It was a superb set by a great new band and the first really decent pop music in Tamworth since Sitting Pretty at their latter-day peak. The baby may have gone blue but the future looks very bright indeed. A wonderful find.
Tamworth Herald – 05/06/87
Musicbox – Emma Gibbs Loves Badges – The Rathole
LIKE it or not – and most people didn't – Emma Gibbs have an inherent sense of style. Their belligerent, arrogant approach to this concert was based on a thinly-disguised contempt for most of the music that emanates from the stage they made their own.
They produced a set that left most people quite bemused.
They reminded me very much of Thirteenth Reunion, challenging the safe, comfortable music and musicians around them, and doing so in a way that begged respect if not adulation. Lee Revelle's Morrissey cum Morrison impression was horribly riveting (pity about the nipples though) and the rest of the band went through the Jesus and Mary Chain motions without any compromises to normality whatsoever.
Emma Gibbs are in a different ball park to every other band around and they have every right to feel proud of that fact. A musical holocaust.
Tamworth Herald – 05/06/87
Musicbox – Tamworth All Stars – Kettlebrook
A VERY unusual Friday night concert this, featuring various members of Catch 23, Wolfsbane, Great Express, The Calling, Thirteenth Reunion, XPD, Sitting Pretty, Emma Gibbs, The Sexy pistols, The Calling et al. Catch 23 were best of all playing throughout the night, while Wolfsbane played a short but sweet set.
Tamworth Herald – 05/06/87
Musicbox – Shock it to them
Shellshock – Demo
WELL, what a (shell) shock. There I was expecting a straightforward burst of heavy metal and instead Shellshock have produced a very varied four-track tape which shows remarkable maturity for a band who are still relative novices.
This entertaining first demo combines the expected metallic fire with some surprising, attractive pop touches which combine to give the band a far bigger potential audience than I think any of us believed.
It starts with a thundering melodic number "You've Got Another Thing Coming" which sounds like a cross between Wolfsbane and Motorhead, but then straight afterwards comes a spirited pop song called 'Jericho'.
On the flip side the divergence continues with a lengthy, moody number called "Stay Until Night Comes", which starts like big country and then travels into Mid-Seventies Country. Then to complete the whole confusing picture we have my favourite track of all, the energetic rock/pop-punk of "Duty Calls" an instantly likeable and accessible and likeable number.
I have been shellshocked by Shellshock and if you go along to the Arts Centre tonight, you might be also…
Tamworth Herald – 12/06/87
Musicbox – Rathole dates
HERE'S some future Rathole dates to put down in your diary. We will give more details about each show in future MUSICBOX'S but in the meantime skip these down in your little black books…
June 28: Tamworth Showcase featuring WIN/Fetch Eddie and Emma Gibbs Loves Badges
Tamworth Herald – 12/06/87
Musicbox – Rikk reigns again
The Pakistani Brothers : JB's Dudley
LAST Tuesday night saw the birth of a NEW SOUND!
Bolstered up by excessive alcohol abuse, The Pakistani Brothers wove their often anarchic, always new, sound, a sound that could be compared with a world falling apart.
Since 1977, people have been searching for a new sound, a new style, a new ANYTHING. Well it has arrived.
Rikk Quay, Psychotic Dave and Cool Timm wove an intricate pattern of organised madness. Often offensive, quite often 'sick', the set although short, never lost momentum, never flagged and never ceased to amaze. The quality of Rikk's keyboard sampling and backing tapes was quite simply breathtaking. At last Rikk can claim to have found the sound, the image, the style he needs.
Particularly noteworthy was the song 'Sick' which you will be if you never go and see them.
So remember the name 'The Pakistani Brothers' 'cause they are the best.
We wish you had been there. Don't you.
Reviewed by Donna Colclough and Martin Webster
Tamworth Herald – 12/06/87
Musicbox – SNIPS
Steve leaves Scooper shock-horror
THE Soil Brothers will be making their final-ever appearance on Sunday, June 28 alongside Terry and Gerry at Burberries in Birmingham. Meanwhile the band's eccentric lead crooner, Steve MacNamee wrote a tearful letter to MUSICBOX last week, returning his prized Scooper membership card in disgust after I suggested he might be heading for the 'aisle'. "When I saw my name mentioned in the Tamworth Herald in Musicbox I thought that would make my mummy happy but instead it just made me cry and she kept saying 'our little boy is going to leave home' which is a bit silly because I am only 11." Writes Mr. MacNamee. Scooper's loss is the asylum's gain.
Tamworth Herald – 12/06/87
Musicbox – SNIPS
Wolfsbane – who played a return show at the Marquee last night (Thursday) – have recently made a video. They did it at the Embassy with the help of Action Video a Tamworth-based company interested in working with local bands. If you want to join the video age, Action Video can be contacted via Mick Scarsbrook.
Tamworth Herald – 12/06/87
Musicbox – SNIPS
Attica lead singer Eddie Madden, has been in touch to say that his band are very much alive – and are now sounding better than ever. The group are currently rehearsing hard in preparation for a new demo and their appearance in Tetley's Most Promising Band competition currently underway in Lichfield. Attica will be in competition action on Saturday, July 13, at Enots. Other Tamworth bands involved are Wolfsbane, Shellshock and we wish all three the best of luck.
Tamworth Herald – 12/06/87
Musicbox – SNIPS
A Cannock-based band are on the lookout for Tamworth band to support them at a future Arts Centre show. They play traditional, powerful, non-metal rock, and if you would like to join them they are waiting to hear from you. They are called Tusk and you can contact 'Grimble' on…
Tamworth Herald – 12/06/87
Musicbox – SNIPS
ONE of rock guitaring's genuine legends – Mr. Bert Weedon – is coming to Tamworth. This most famous of string-pluckers (say that after three glasses of Thunderbird) will be at the Ritz Social Club on July 4. More information from the club itself.
Tamworth Herald – 12/06/87
Musicbox – SNIPS
The Great Express cross the waters tonight (Friday) for the latest in a series of top shows. The band play in the Isle of Wight tonight.
Tamworth Herald – 19/06/87
Musicbox – Festivals, fun, gigs galore
SNIPS
GAVIN Skinner has joined up with up and coming WEA act Primal Scream. The group, who have just announced a major tour, are soon to release a new single 'Gentle Tuesday'. Gavin joins the band on drums. They will be at Burberries, Birmingham on June 23.
Tamworth Herald – 19/06/87
Musicbox – Festivals, fun, gigs galore
SNIPS
Final Line have added a new keyboard player to their line-up. The group, who hail from Atherstone have recruited Helen Tracey who is set to change the band's sound away from their more rock-orientated feel. The band should make their Tamworth debut at the Arts Centre section of this year's rock festival.
Tamworth Herald – 19/06/87
Musicbox – Festivals, fun, gigs galore
SNIPS
Catch 23 are due to appear at Pebble Mill studios in Birmingham on Wednesday to record a full set of possible transmission. Although the band themselves were somewhat bemused about what was going on, it seems they were spotted at their 'Battle of the Bands' heat at the Dome and somebody out there likes them! We hope to have more details on the bands silver screen debut in the near future.
Tamworth Herald – 19/06/87
Musicbox – Festivals, fun, gigs galore
SNIPS
A meeting will be held this Sunday for all committee members for this year's Tamworth Rock Festival. The meeting at the Tavern in the Town on Sunday (starts 8pm) is for committee members only and anyone who cannot attend should contact Rikk Quay or Sam Holliday.
Tamworth Herald – 19/06/87
Musicbox – Festivals, fun, gigs galore
SNIPS
Dance Stance have finished recording another two songs. The band are hoping to record all their material in the next few months so that when record companies ask to hear a selection of their songs they will have them all 'on tap'. The latest two tracks recorded are 'Heaven Help Me' and 'Falling Down' both of which are bright, bouncy and very commercial. Lead singer Paul Hanlon and bassist Neil Sheasby have just returned from foreign climes looking browner and sunburnt, but being as other members of the group are due to fly off to places like Canada shortly, Dance Stance are enjoying a summer break. They promise to come back with something very big in a matter of weeks and if it is as impressive as Paul's suntan, it could be very groovy indeed.
Tamworth Herald – 19/06/87
Musicbox – Festivals, fun, gigs galore
SNIPS
Along with many other Tamworthians, Rikk Quay and I went to see the ludicrous 'Rocky Horror Show' last week – and came away filled with a desire to recreate it.
The idea of doing a charity Tamworth version of the amazing show was floated before Mike Fleming and if there is enough interest we will go full steam ahead. For those who don't know the musical it is an anarchic burst of sci-fi sexuality, with some tremendous music written by Richard O'Brien. Some of the characters we envisaged for a Tamworth version were Blaze Bayley (Frank N. Furter), Rikk Quay (Riff Raff), Mike Fleming (The Commentator), Anice Byfield (Janet) et al. If anyone's interested in getting together a nine-too-serious version of this silly film let us know.
Tamworth Herald – 19/06/87
Musicbox – Festivals, fun, gigs galore
SNIPS
The line-up for the Zeebrugge Rock Festival which takes place at the Assembly Rooms now seems complete. The concert in July will feature rock bands as well as other attractions and among the bands involved are Wolfsbane, World Intelligence Network, The Jim Crows Blues Company and more. Buttercup will act as DJ.
Tamworth Herald – 19/06/87
Musicbox – Festivals, fun, gigs galore
SNIPS
Don't forget The Great Express are at The Crown, Nuneaton on Saturday.
Tamworth Herald – 19/06/87
Musicbox – Gypsy Treats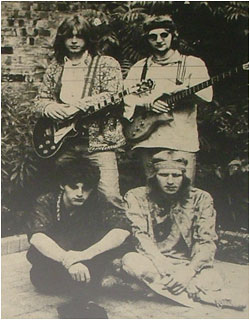 New Age Gypsies – The New Swan, Atherstone
FROM the moment the band hit the stage, we were treated to 40 minutes of original music by four very able musicians.
Guitarist 'Houdi' was the star of the night. He turned in a brilliant performance, which in place had a touch of Jimi Hendrix at his greatest. A song called "These Dark Days" which had a very unholy feel to it was laid down by drummer 'Luke' Morgan and bassist ;Mick Godber' with slicing guitar and powerful vocals from former Spirit of Water vocalist 'Gong'.
The longer the song went on the more you noticed everyone singing and joining in with the chorus.
The best song of the night was the very cleverly-written 'World Without End'; which when Tamworth audiences hear it will become the band's anthem. So all in all, a very enjoyable evening and as far as the New Age gypsies were concerned a very successful evening.
P.S. The band now need a new bassist. For more information contact Steve.
Tamworth Herald – 26/06/87
Pop fans in operation clean-up
Two wage war on eyesore posters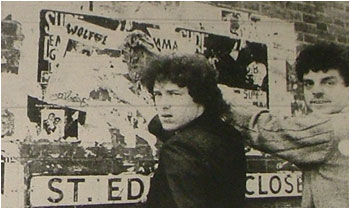 TWO TAMWORTH pop fans have started their own personal clean-up campaign to get rid of the massive amount of posters that have splattered all round the town centre.
Ian Gibbons and Clifford Chipman who run the 'Rathole' music venue, readily admit to having put up a lot of the posters of their own. But now they feel the situation has got out of control, and many town centre walls have begun to look 'very tatty and messy'.
"Bands have just gone over the top with posters and some parts of the town centre look awful," said Mr. Gibbons. "We should have more pride in our town, and as no-one else seemed interested in pulling the posters down we decided to do so ourselves."
Ian and Clifford were surprised to find that it wasn't only bands who put posters around the town. They found posters advertising everything from circuses to council-backed entertainment events – many stretching back over some years. As an example of how long the problems has been around, they even found one poster advertising a rock concert from 1981!
Ridiculous
"It is absolutely ridiculous," said Mr. Gibbons. "I think there should be room to put up posters in the town, but this had got out of hand. Some places, like near Tamworth Church look appalling, and no-one seemed to be doing anything to stop the rot."
Ian and Clifford say that people must be allowed to advertise events as they see fit – but they feel there is no excuse for ruining the appearance of the town at the same time.
"I wish people would have a little more care for their town, because no-one likes to see dirty old posters all over the place," said Mr. Gibbons.
28/06/87
Tamworth Showcase featuring
WIN
Fetch Eddie
Emma Gibbs Loves Badges
Tamworth Herald – 26/06/87
Musicbox – Tasty mix of new talent FOUR of the area's most exciting new bands team up at the Rathole on Sunday night for a unique Tamworth 'Showcase'.
The very different but very entertaining acts on view are – Fetch Eddie The Baby's Gone Blue, World Intelligence Network, Emma Gibbs loves Badges and The Pakistani Brothers. All four of the groups offer local audiences original and innovative sounds, and if you want proof of the continuing success of the local scene, Sunday night should not be missed.
Fetch Eddie for example are certainly the band of the moment. They are currently earning big concerts and big praise at every turn and their sophisticated blend of modern and not-so-modern pop has already won many converts.
Basically it is energetic, tuneful pop music which spans everything from rip-roaring dance tracks to well-balanced reggae. The overall mixture is very palatable indeed, and if they make the same sort of impact they did at their recent 'Rathole' debut they could well steal the show. A very good band indeed.
Another of my favourite new acts are World Intelligence Network - a band who bristle with confidence and commitment. The outfit play alternative pop music which leans towards the likes of New Order, Chameleons and Psychedelic Furs and is based on a manic sound and Mark Brindley's manic vocals.
They have several priceless tracks in their repertoire – particularly 'Memories', 'Disguises' and 'Steamroller' – and they deserve to be mega-mega.
Also on view will be the extraordinary Emma Gibbs Loves Badges. As I get eaten alive every time I try to describe or review the band. I won't even try this time. Let's just say, those people who know Emma Gibbs know that they have a certain in-bred indignant style, and those who don't know them are in for a shock. As I don't want Lee Revelle and Rob Cross to chew my ears off. I will say no more. Emma Gibbs will speak for themselves.
Completing the line-up are the Pakistani Brothers – making their first-ever Tamworth appearance. The group who have been spawned out of the members of The Sway, feature our very own Rikk Quay – the only man to have been in Musicbox more than The Stranglers!
The Brothers made their Dudley debut a fortnight ago and earned the high praise of all the people who travelled over to hear their unique and uplifting new sound. It will be as new to my ears as yours, bit I have heard so many praise-ridden descriptions that I, for one, predict, The Pakistani Brothers will not be the sort of band you can ignore.
So, Fetch Eddie, WIN, Emma Gibbs and The Pakistani Brothers all on the same stage on the same night. It should be a great night indeed, so forget about 'Anzacs' and get your rocking shoes down to the Rathole on Sunday night for a tasty showcase of Tamworth talent.
Tamworth Herald – 26/06/87
Musicbox – SNIPS
CATCH 23 confirmed their reputation as budding sex-symbols last week when they were literally mobbed as a special concert at Pebble Mill Studios. The group were taking part in a worldwide schools' rock festival alongside several other allegedly very awful acts. At the end of their crisp 45-minute set, the band were surrounded by adoring females, all demanding autographs and 'passing lip service'. The band, of course, were totally appalled but went through the testing ritual out of a commendable sense of duty. "It was awful," said a beaming lead singer Steve Webster, "All these girls were queuing up in front of us and we couldn't get away." My heart breaks for the bad.
Tamworth Herald – 26/06/87
Musicbox – SNIPS
Former Wilderness Laine guitarist Sean Keogh has just become the area's first rock and roll doctor. For Sean, who was a very talented songwriter, passed all his medical exams a couple of weeks ago and now holds the Doctor prefix. It means he will be swapping his Stratocaster for a stethoscope and we wish him the best of luck as he carves his way into his new career.
Tamworth Herald – 26/06/87
Musicbox – SNIPS
Former Royal Family lead singer Dave Smith has proved his worth in a totally new field. For Dave has been starring with the Wiggy FC in a special five-a-side soccer contest at Bolehall and has been showing he is just as talented with the ball as he is with the blues.
Tamworth Herald – 26/06/87
Musicbox – SNIPS
Attica have just completed a new demo – one which they are absolutely delighted with. Eddie, Pete and Batman believe the new sound…extremely pleased with the quality and diversity of their new tracks. The group will be in action at the Lichfield 'Battle of the Bands' contest at Enots, Lichfield, on July 11. They have also promised it won't be too long before they make another show in their native Tamworth.
Tamworth Herald – 26/06/87
Musicbox – SNIPS
Don't forget this Sunday (June 28) sees the final appearance by the loveable Soil Brothers. They are at Burberries, Birmingham alongside Terry and Gerry.
Tamworth Herald – 26/06/87
Musicbox – SNIPS
The Magnets have now undergone their name change and go under the monicker Stranger Than Life.
Tamworth Herald – 26/06/87
Musicbox – SNIPS
A running order has now been made for the 1987 Rock Festival and full details will be released at the full meeting on Sunday, July 12. All band members are reminded that on that date, all money for the festival must be paid. As a reminder, it is £6 per band member for the outside festival, and £5 per band for the Arts Centre shows.
28/06/87
Terry and Gerry
Soil Brothers
Burberries