Tamworth Bands History : 1987 :
September

Caption: A section of Sunday's crowd enjoying the festival frolics to the full
Tamworth Herald – 04/09/87
Smiles galore greet four days of rockin' revels
Rock feast is a real sunshine tonic

MUSICBOX Special by Sam Holliday
TAMWORTH 'S massive army of music-lovers mobilised in great force at the weekend to enjoy the finest August Bank Holiday Rock Festival yet.
The four-day rock and roll bonanza was, in every sense, a sunshine success. There were large crowds at both the Arts Centre and Castle Grounds shows, with good feeling among all the bands and organisers, and even a rare and shocking outbreak of warm weather!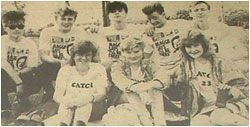 The whole event was voted a big hit by both the crowds and the crowd pleasers and by the time everyone gathered together on Monday night in the Tavern in the Town for a post-festival party, most of the talk was about what would happen NEXT year.
The four days of rock revelry began on Friday night at the Arts Centre with the first of the two new band showcases.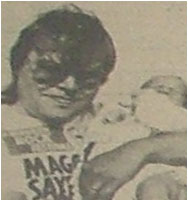 As with the whole weekend all the bands on view stemmed from the Tamworth and Atherstone areas showing the amazing wealth of youthful musical talent that has been banked in this area.
The four bands that kicked off the first night set the pattern for the rest of the weekend – they were all totally different and yet they all won over large sections of a lusty audience which had packed the Arts Centre to capacity.
On the night returning heroes The Parade stole the show to my ears with a powerful burst of new wave energy although the people's choice was certainly the demonic Pakistani Brothers who took every known musical artform and perverted them beyond belief. They went down like beer at a wedding and deservedly so.
Also on the night The Magnets made their stage return complete with that age-old Magnets problem – the keyboards packing in – and some of those old excellent numbers like 'Breath on Breath' which had a dreamy, pleasant effect on a hot, sweaty audience.
Completing the line-up were The Oliver Reed Combo, a band who are undeniably brave and committed and certainly misunderstood.
Their staunchly honest set met with a mixed response but if there was any other reaction The Oliver Reed Combo would probably have felt people had missed the point.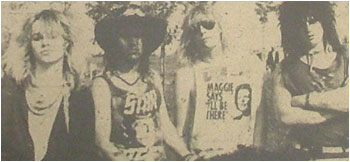 Saturday night continued the lively atmosphere with five more Arts Centre bands getting into that festival spirit. The venue was even sweatier than the night before and by the end of the night most people were forced to prize their t-shirts off with paint-strippers.
My favourites on the night were the fresh and distinctive Conspiracy who have a winning formula of a good guitarist, good songs, pretty, punchy female singer and an ability to make you want to hear more.
The Ferocious Apaches also turned in a surprising, powerful set which I enjoyed tremendously and despite their audience-baiting, it was also pretty hard to dislike the sleazy sounds of New Swan inn kings, Jim Crows.
Party
Also on the night we were treated to a hard-as-nails and just as dangerous show from the New Age gypsies, and a rebel-rousing slice of unashamedly pure plagiarising pleasure from The Wilsons. Put those five varied ingredients together and you had cooked one hell of a party cake, and a perfect appetiser for the two days that followed in the Castle Grounds.
Tamworth Herald – 04/09/87
Pick of the songs
AND THE SONGS of the Festival? Well this year I had to plump for 'Get Up' by Wolfsbane, 'Disguises' by WIN and ironically 'Come The Day' by Breaking Point. I say ironically because that song wasn't even played until the disco after the event, but it contained a line that summed up that whole thing 'come the day we will sing our song in tune – and together'.
Well the day(s) came this weekend, Tamworth's music showed itself to be united as never before and everyone from the ever-busy Bayley Cooke to the bizarre roadie 'George' deserves credit for a festival that provided heroes without villains.
Next year cannot come quickly enough.
Tamworth Herald – 04/09/87
Band's tasty selection
Spotlight on Sunday and Monday
SUNDAY'S mammoth day of Castle Grounds music began at 9am when plainly hungover organisers assembled at the festival site to turn a pretty patch of the grounds into a messy bustling rock and roll arena.
The first people started to arrive around 11.30 and one hour later the first band (playing their first-ever concert, fittingly) took to the stage. Kubla Khan's direct and tight set impressed many people and the mixture of Old Grey Whistle Test-style rock and the odd piece of Tube-stolen sound, received one of the warmest receptions of the day.
The Searching followed with one of the most pleasing and surprising sets of the whole festival with the singer displaying some fine Ian Curtis touches and the band as a whole revealing a strong U2 influence.
The rest of the day continued to throw up surprises, smiles and powerful performances with Atherstone's Catch 23 probably taking the day.
Their bouncy, intelligent pop music completely won over the sprawling sunseekers and proved once again that this band have a double-headed key to future success – youth and style.
Just behind them in my books were WIN who ignored gremlins in their guitars, to provide an uplifting, gratifying set – which also summed up that produced by the bass-driven, newly re-born A5. For sheer gritty pleasures, you then had to look no further that the strangely unappreciated Zealout, while for a mellow walk on the calmer side of life there was always Rape in Yellow who looked Pretty in White and were green 'n' serene.
Completing the night was the meaty metal of Platinum Hi and the psychedelic wanderings of The Hamilton Hammond Extension who featured a strange man in a wig and a drummer who looked remarkably like a machine. All very odd.
The Hamilton boys completed the day and then all eyes, ears and attentions switched to Bank Holiday Monday – could it really go as smoothly as it had so far?
Well to the amazement of all us cynics, things went even better. The sun appeared after giving the wind a chance to show off and everyone settled down for another happy afternoon of varied delights. The big debate at the end of it was who had stolen the show – Wolfsbane or Fetch Eddie The Baby's Gone Blue. Both were superb, and the race was almost as close as Saturday's 100m world final, but in the end my gold medal had to go to Wolfsbane.
When Blaze Bayley appeared at the start of the set on the top of the stage roof looking out on the world you knew you were in the presence of a star. His on-stage charisma, the band's extreme musical power and the general overwhelming Wolfsbane appeal, made the group take the festival by storm and I for one will remember their set for a long time.
On an equally wonderful level were Fetch Eddie whose fusion of Beatles, pop, Squeeze rock and enigmatic reggae united the audience in a way rarely achieved throughout the festival and made a lot of people sit up and take notice of this strangely-named but success-bound young outfit. Elsewhere we were treated to a very fast, furious Shellshock set a perfect sunny afternoon jaunt by the relaxed and relaxing Depth Charge, a splendid musicians greatest hits band called Future Field and another original and certainly stronger show by Jabberwockie.
Throw in a pleasingly undramatic opening set from the Pink Tomatoes, a soothing soul burst from Ruffian on the Stairs and then an all-systems-go piece of fire from the much-missed Breaking Point and you had yet another excellent day of sun which covered every sphere of modern music. If this had been the sixties, I would have said the day was fab.
Tamworth Herald – 04/09/87
Musicbox – Power and glory songs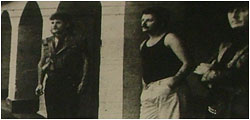 Spotlight on two opposites with a certain bond
The Parade – Demo/Breaking Point – Demo
ON THE SURFACE, Kevin Briggs and Brian Lacey have very little in common. They don't listen to the same music, like the same music, share the same dreams or believe in the same attitudes. And yet these two highly-contrasting individuals have a unique and precious bond – they are both totally natural, gifted songwriters.
For some bands' images, style – even politics – are easy enough to sort out but songwriting is murderous. For both The Parade and Breaking Point this is not the case. These two demos show perfectly their ability to make difficult songwriting seem easy, and prove that to be able to pen the tunes is far more important than to be able tom play them.
The Parade's demo, for example, is a mixture of the all-new line-up in 'live' Expresso Bongo action, and a host of solo acoustic material by Mr. Lacey. The former tracks show that The Parade have settled on a stronger, more defined line-up and sound.
New drummer Alan Bayliss shows surprising confidence and competence for one so relatively inexperienced, while new backing singer Heidi Thomas adds some lovely well-pitched edges to Brian Lacey's more aggressive tones.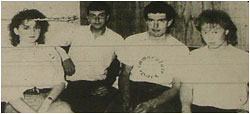 Of the tunes on offer on this 45-minute collection, oldies like 'A Kind Of Living', 'All Of the Time' and especially 'Seventeen' have been given a new uplifting feel while one or two new tracks seem quite priceless. I was particularly won over by the mesmerising 'Understanding You' and the romantic 'I'll Be With you Tomorrow' which reminded me very much of Simon and Garfunkel. This is less of a demo, more of an experiment but on both counts it works very well indeed. Welcome back Parade.
As for Breaking Point, well they have been going for so long now that we have perhaps become a little blasé about their immense songwriting panorama. The two tracks on their latest demo – 'Brotherhood of Israel' and 'Come On Brittania' show that the band can still produce those tear-jerkingly flowing melodies that made Breaking Point such a revelation when they first hit the scene.
'Brotherhood' is the stronger number with its almost metallic drive and thumping chorus, but I was just as impressed with the more pop-angled 'Come On Brittania' where Kevin Briggs' passionate appeal for 'change' adds a harder edge to an unusually soft musical base.
The two tracks together represent Breaking Point at their punching, powerful best. It could be argued that the band have just missed out on a time when this music was more popular, but when they have the ability to write songs like this they should never lose their faith.
They are STILL one of the finest creations of the Tamworth rock scene and when they have the talent of songwriting – which they share with The Parade – they have a talent which is immortal.
Band come and go. Songs live forever.
Tamworth Herald – 04/09/87
Musicbox – Gig reviews
The Hamilton Hammond Extension – The Rathole
A CASE of Tamworth All Stars versus the world. The All Stars were represented by Gavin 'Bag On My Head' Skinner (Primal Scream), Barry 'What Am I Doing Here' Douce (Mighty Lemon Drops), Mark 'Down on His Knees' Mortimer (Great Express), Bayley 'Dig The Wig' Cooke (Wolfsbane), Clifford 'Barmier Than thou' Chipman (Rathole), Vince 'I Could Have Played All Night' Watts (DHSS) and Nick 'Bad Driver' Reed (Dance Stance). Together these boys jammed through two open-ended songs with unbridled glee. A multi-million pound line-up and a highly listenable racket.
Tamworth Herald – 04/09/87
Musicbox – Gig reviews
Fetch Eddie – The Rathole
TWO Eddies are better than none so we had Pod and Aaron doing their Billy Bragg bit while their bassist and drummer disappeared. Still worth it anyway because these boys have style.
Tamworth Herald – 04/09/87
Musicbox – Gig reviews
WIN – The Rathole
MORE powerhouse stuff from a band whose greatness is only just being realised. Some of their newer numbers were especially impressive but it was two oldies 'Rain' and 'Disguises' which stole a mesmerising set. Mark Brindley is one of the most distinctive and impressive singers' around and the band he fronts are amongst the best we have on offer. Cherish them and watch them grow.
Tamworth Herald – 04/09/87
Musicbox – Gig reviews
Express thunders in
The Great Express – Tavern in the Town
THE TAVERN was unthinkably small, agonisingly dark and hot as hell. But onward go the Great Express, hard as nails and heavy as lead – which is their only problem.
Soon the all-new drummer will tae Dave Burgess' place and maybe the sound will bounce again. On the whole the set is a power pop sandblast of flying red with the blue flashes of 'Firework' and 'Witch Well' that leave people wide-eyed and open to suggestion.
Tamworth Herald – 04/09/87
Musicbox – SNIPS
THE RATHOLE is due to field a special local band concert this Sunday featuring a 'greatest hits' selection from this year's festival.
At the time of going to press it was not clear exactly who would take to the stage on Sunday night but in the past Rathole 'showcases' have proven very popular indeed so get along and have a bop to some genuinely local talent on Sunday night.
Tamworth Herald – 04/09/87
Musicbox – SNIPS
The reason The Wilsons had to pull out of Friday night's pre-festival Arts Centre party was because they were booked at the last minute to play at the Marquee under their other monicker 'Wolfsbane'.
An awful lot is happening in Wolfsbane country at the moment with record companies and publishers taking a great deal of interest in their sound.
'Kerrang' has also offered them an interview and there are even suggestions that Wolfsbane could find themselves on the front cover of 'Sounds' as the great British metal hopefuls. Still with the band, their massive success has been proven by a small group of local people forming an Anti-Wolfsbane Association. So if you see AWA on the back of someone's jacket you know you are in the company of a dipstick. Instead of AWA perhaps it should read JEALOUSY.
Tamworth Herald – 04/09/87
Musicbox – SNIPS
Former Soil Brothers singer Steve MacNamee was back in live action at the weekend at the Greenbelt Christian Rock festival. Steve was playing washboard for the Famous Potatoes who were supporting The Alarm at the show. Locally Steve was last seen doing all manner of silly things at Punch and Judy's 'Bavarian Oompah' evening. But don't worry Steve, I won't tell a soul…
Tamworth Herald – 11/09/87
Starr Attraction
SOUL star Edwin Starr was all set to play only his second-ever show in Tamworth – despite the fact that the American singer lives just down the road in Polesworth.
Edwin, who had many major hits on the top Tamla Mowtown record label in the 1960's and 70's sings in a style similar to that of recent chart-hitters Jackie Wilson and Sam Cooke.
His show at the Embassy Suite last night (Thursday) was only his second in the area – and the first was also at the Spinning School Lane night-spot.
He recently released a well-received cover version of the Marvin Gaye classic 'Heard It Through The Grapevine', though his single suffered in sales because it coincided with the re-release of the original.
Most of his live performances now are at soul all-nighters and discos around Britain – though he did find time recently to lend his great voice to several charity records.
Tamworth Herald – 11/09/87
Musicbox – Festival cash-up
THE Tamworth Rock Festival 1987 was – in every sense – a great success. And final proof of that came this week with realisation that the whole venture had made a profit for the second time.
Last year's financial loss was wiped out this year by increased advertising, merchandise and Arts Centre concert money, which leaves a small, modest sum in the Rock festival Association's bank account.
To decide what to do with it, everyone who wants to is invited to a meeting upstairs at the Tavern a week on Sunday (September 27) at 7.30. There are already a couple of ideas in the bag, and as well as talking about the money, the meeting will be a useful time for committee members/bands to discuss this year's event and decide strategy for next year. The meeting will be the last official one for the Tamworth festival '87.
Tamworth Herald – 11/09/87
Musicbox – Metal package set to explode
ONE of Britain's biggest new metal bands make their Tamworth debut on Sunday night. The band, Briar, have just been signed up by impresario Jonathan King who believes that they are going to be very big indeed.
Teaming up with Briar are three more bands of various metallic levels. Atherstone's New Age Gypsies – fresh from two Arts Centre triumphs – return hoping for a happy hat-trick of hippy rock successes, while the all-new Shellshock will regard this as one of their biggest and most important concerts yet.
Both bands will certainly enjoy the experience of playing alongside a band who are very much on the make and Tamworth audiences will also be pleased to see the local debut of Nuneaton glamboys Dressed To Kill.
The band who used to be called Wulfbayne (yep, Wulfbayne) say they think they should go down well in Tamworth because they sound like Wolfsbane (yep, Wolfsbane). If they do sound like Wolfsbane they will go down very well indeed, and they sound a very intriguing prospect indeed.
Do that's it, a package for every Hamlet's- bound metal fan to lap up with glee. People often moan that there are not enough metal concerts in Tamworth, well on Sunday there is one that should make up for all that.
Briar are big news, their three support acts are good news, and the whole thing should be loud news.
Tamworth Herald – 11/09/87
Musicbox – SNIPS
Now…it's the Rathole Network
THE RATHOLE is expanding. No, I don't mean they've knocked the walls down at the Arts Centre, it's just the venue is set to open up 'branches' in both Lichfield and Birmingham. The idea is to create a network of Ratholes which will not only be good for the town's where the venues hit, but also for local bands who will have more, out-of-town stages to aim for.
The Rathole's first venture into unchartered waters will be at Lichfield's King's head pub on Friday September 18. There The Rose Hips and The Surf Drums will line-up with Lichfield's faves Fairweather Friends.
Then on Monday October 5 The Rathole will begin its first series of shows in Birmingham where Mancunians Laugh will team up with The Rosehips. We hope to give more details of these enterprises in the future.
The Expresso Bongo is set to re-open shortly as a 16-track studio. The whole complex has been completely improved and upgraded and owners Paul Speare and Phil Smith are hoping their newly-modernised studio will prove irresistible to loal and not-so-local bands.
Tamworth Herald – 11/09/87
Musicbox – SNIPS
…The Pakistani Bothers…Rikk Quay and the lads have recorded just one tape and played just a handful of shows and yet have become the band you hate to love. Their demo became the surprise hit of the festival with all sorts of people, including amazingly, Jase the Ace of Wolfsbane fame totally won over. Jase wants to play on the next Paki Bros' tape and it looks as if he may get his wish as the band are due soon to record the backing track for the first ever single by Buttercup.
Tamworth Herald – 11/09/87
Musicbox – SNIPS
A5 are planning to make a single in the new year following a very good response to their recent live shows. Still with singles, Catch 23 have almost sold out their 'Love Explosion/Don't Lie' 45 after venturing into the unknown waters of towns such as Kenilworth and Coventry and literally flogging them in the street. Their opening gambit is 'Have you ever heard of Catch 23?' and if the unfortunate respondent hasn't, they are given a massive description until they finally cough up'.
Tamworth Herald – 11/09/87
Musicbox – SNIPS
Two former members of Gaf The Horse In Tears are soon to release their first demo/album. We don't have any more details about the tape as yet but hope to look into the venture in more details shortly.
Tamworth Herald – 11/09/87
Musicbox – SNIPS
Atherstone's very own soul superheroes – the very wonderful Dance Stance – returned bronzed and grinning from a storming series of shows in the sunshine isle of Jersey.
The boys' performances impressed tourist officers in Bergerac-land so much that a return trip is very much on the cards.
Said the irrepressible Paul Hanlon: "We could not have been better received anywhere and I know the whole band would love to go back next year."
13/09/87
Briar
Dressed to Kill
Kraze
The Rathole
Tamworth Herald – 18/09/87
Musicbox – Moved by Starry Magic
Review: Edwin Starr : The Embassy
YOU can't knock Edwin Starr. He can sing that appalling 'Call Me' or 'Billy Jean' and make then sound reasonable. And when he lets rip with '25 miles', 'SOS' and 'War', you could listen and dance all night.
One of the Motown stars of the Sixties, Edwin's gruff, gutsy voice lends itself to any material – from the funky, recently re-released Temps classic 'Papa Was A Rolling Stone'. To the best ballad 'Stand By Me' and the Temps ultimate soulful love song 'My Girl'.
His show at the Embassy Suite last week provided an object lesson in how to get an audience moving. This was the fifth time I'd seen him and to me it didn't compare with the other shows.
But that is admittedly because I'm a diehard '60s soulie and the lads and lasses at the Embassy lapped him up – they loved it.
He mixed a disappointingly small number of his own earlier songs with several modern-day covers – including those earlier mentioned – and there were very few people in the place not on their feet.
A very tight set, with a good sound, was only marred by a poor rendition of 'Contact' – still you can't have it all.
With Jimmy James and the Vagabonds coming to Tamworth soon, all we need now is Eddie Holman or Garland Green and I'll be well-away.
Dan Collins
Tamworth Herald – 18/09/87
Musicbox – Dressed to Kill…stone dead
Review: Heavy Metal Night – The Rathole
I DON'T THINK I am cut out for heavy metal. I don't think my mind is complex, enlightened or intellectually tuned enough to appreciate the sheer quality of bands who 'like to rock'. Therefore I felt somewhat out of it in Sunday night.
Sadly I missed the opening but by all accounts very impressive set by Shellshock and my only smile of the night was reserved for the next act, New Age Gypsies. They played with gusto and spirit and although they were the least 'heavy' band on the line-up, they had the most powerful effect on my ears.
The third outfit on the stage were Nuneaton fave raves Dressed To Kill. They were alright I guess (at a bit of a push) bit it sounded about as fresh and new as an eight-day old bread. Dressed to Kill dressed to please and on both accounts failed somewhat.
And so to the main band on the night – Briar. Briar as you may know, previously won the Birmingham Pernod 'Hottest band' contest and all I can say is, if this is the hottest outfit in Brum, it must be one hell of a cold city. Don't get me wrong – Briar weren't a bad band, they were just so mind-numbingly ORDINARY.
Wolfsbane have more charismatic style in one verse than these boys could produce in their whole set, and they were about as 'hot' as ice. Ok, they look pretty I guess and can play a mean cover version, but if this is the best Birmingham can offer, it just makes me realise how good Tamworth and Atherstone's music scene really is.
Sam Holliday
Tamworth Herald – 18/09/87
Musicbox – Moveable feast as the Rathole expands
THE RATHOLE enters a new phase in its short but very busy like this weekend. Tonight (Friday) it opens up for the very first time in Lichfield and then on Sunday the Tamworth Rathole will feature its debut all-out reggae concert.
Tonight's venture is the first stage in an elaborate plan to make the Rathole one of the biggest musical organisations in the Midlands. Ian Gibbons and Chippy are keen to spread the good news far and wide and that is why they will tonight risk a great deal by staging a major concert in rather virgin territory.
The new Lichfield Rathole is based at the Kings Head pub in Bird Street, close to the city's Arts Centre.
Rathole chiefs will obviously be delighted to se a few Tamworth faces there and they admit they haven't a clue what sort of reaction they will get from the Lichfield public.
The Rathole follow this bold move on Monday October 5, with a regular slot at Sinatra's in Birmingham. Once again the organisers are hopeful that this will provide a firm solid base for 'good indie' music and as many of the bands they are hoping to put on are from the Birmingham area, they are confident of a good response.
In the meantime the Tamworth Rathole itself stages a special concert this Sunday in response to a lot of people asking for some real reggae. The band in question are well-respected Wolverhampton reggae outfit Progression. Little is known of them at this stage but they have a very good reputation for playing strong, pure reggae music that should find a lot of very receptive ears in the town.
It has been whispered that Fetch Eddie – who cover reggae among their 1,000 other music forms – may join the line-up, but this has not been confirmed. Either way it should be an interesting night and another new venture for the increasingly ambitious set-up.
The Tamworth Rathole will also be the scene a week on Sunday for its biggest concert for a long time. The Toy Dolls will top off a bill that also features Catch 23 (did you enjoy stealing my record collection Steven?) and The Wilsonz. More info on this tasty tipple in next week's Musicbox.
Tamworth Herald – 18/09/87
Musicbox – Decade with a herald of punk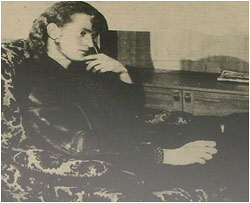 Caption: Edward ian Armchair…in reflective mood ten years after the birth of a Tamworth musical institution.
AN IMPORTANT moment in local history passed last week with hardly anyone noticing.
For this time ten years ago a band called The Reliants were formed in Tamworth. They got together days after the Herald (in pre-Musicbox days) did a half-page special about 'punk rock' (or apparently misquoting) an eloquent young man named Edward ian Armchair.
Eddie believes the article set the punk ball rolling again in Tamworth even though it was intended to say that the new wave was a dead wave in the area. Shortly after the article appeared Edward met up with Vince Watts and Tamworth's first and perhaps truest punk rock band The Reliants were formed.
They did a whole host of concerts locally at a time when apart from one or two rock bands like Ice and Brewster, the Tamworth scene was as dead as the proverbial dodo. In their own way they inspired a whole new mood and feeling in the area and directly or indirectly because of the Reliants, bands such as Those Attractive Magnets, DHSS, The Classified Ads, The Fretz et al felt the desire to actually play music and put the area firmly on the map.
"However boring it may be to the younger bands in Tamworth, I'm confident that the Reliants had a big effect on certain people in Tamworth which has given us a flourishing music scene in the town." Said Edward this week.
And the good news for all of us who were ensnared by the Reliants web, is that the band are hoping to reform in time to do a one-off show at next year's Tamworth Rock festival. To the band itself, the show will be an important trip down memory lane but for many other people it will be the first chance to see a band whose influence on this area cannot be overstated.
Tamworth Herald – 18/09/87
Musicbox – Festival PM
WILL all Tamworth Rock Festival committee members and any other interested musicians please attend a special, post-mortem meeting which will feature an informal talk about future plans and a discussion about what to do with the small profits that has been made. Everyone interested in the festival will be welcome to attend on Sunday night, with the meeting taking place at 8pm in the upstairs room of the Tavern in the Town.
Tamworth Herald – 18/09/87
Musicbox – SNIPS
Strap On Jack – in their new guise as True Grit – return to the area on Saturday night with a special concert at the Stable at the Tavern in the Town. The gig arranged by the pub's motorcycle club will be the first time Strap On Jack have played in Tamworth for a long time and the organisers expect a big turnout particularly from local and not-so-local bikers. Buttercup will act as DJ.
Tamworth Herald – 18/09/87
Musicbox – SNIPS
Breaking Point and The Conspiracy are hoping to team up soon for some special concerts. Meanwhile Breaking Point have organised a concert at The Mermaid in Birmingham with old rock legends The Groundhogs at the end of October. A coach should be going and more info is available from band members.
Tamworth Herald – 18/09/87
Musicbox – SNIPS
Wolfsbane have arranged their biggest concert yet – a headlining show at the Marquee in November. After doing their apprenticeship in numerous support slots, the venue's management offered the band their own night, and they regard it as perhaps their biggest date yet. Special coaches will be travelling down for the event and the band want as many people as possible to travel with them to make it a real rock and roll party night. We will give more details of this in future issues but in the meantime keep your eyes on 'Sounds' magazine where the band are due to be featured shortly.
Tamworth Herald – 18/09/87
Musicbox – SNIPS
Still with concerts, Fetch Eddie are in action at Aston University on October 2 and at Birmingham Town Hall later that same month.
Tamworth Herald – 18/09/87
Musicbox – SNIPS
Donald Skinner has just returned from Japan and America where he has been touring with Julian Cope. Apparently Cope went down very well in these far flung empires and the next venture on the Tamworth man's agenda is a new album. Meanwhile Donald's brother Gavin is due to set out shortly on a major tour with his band Primal Scream. It was thought that the Scream would be supporting Echo and the Bunnymen on their forthcoming tour, but this plan has now been abandoned.
Tamworth Herald – 25/09/87
Musicbox – Dolls come out to play for a fast-moving party
THE RATHOLE this week unveils the biggest show of the year – old punk heroes The Toy Dolls alongside Tamworth's much-loved Wilsonz and Atherstone's much-loved Catch23.
Teaming up with the Geordie giants are The Wilsonz (Wolfsbanes half sisters to the uninitiated). This dynamic band have played only a handful of concerts and have 'covered' a wide range of sounds and impressed everyone en route. They play a set packed with their own fave-ravers and crammed to the brim with pogo-a-gogo qualities. Put simply, the Wilsonz are FUN.
Completing the trio on the night are Atherstone's not-so-young-anymore youngsters Catch 23. This marvellous quintet have the ability to turn an ordinary night into an extraordinary one, and their growing confidence and unparalleled enthusiasm should make them burn the stage to cinders.
In recent months the Atherstone outfit have written a lot of new numbers such as the classic 'Facing Up' and those of you who haven't seen them in a while could be in for a pleasant surprise.
Together this bill makes for one of the Rathole's most ambitious and important concerts yet. A band like The Toy Dolls do not come cheap so if you really want to see 'name ' outfits in the town it is essential you get your dancing shoes on and get along to the 'Rathole' on Sunday night. It will cost you around £3 but every penny will be very well spent.
If you don't get along we will send the elephants around and believe me those beasties are MEAN.
Tamworth Herald – 25/09/87
Musicbox – Escape…it's a Jolly disco
A NEW alternative disco starts in Tamworth on Thursday night – and could become a regular event if there is enough support.
The disco, under the intriguing name of 'The Escape Club' will be based at the Jolly Sailor pub, and will cost just 75p to enter.
The man behind the venture is 'Kirk Thrust' who has done similar alternative concerts outside Tamworth and feels there is a big market to be exploited in the town.
"Tamworth seems to have a great deal of people who are fed up with disco rubbish and want to hear some real music – and that is what I am to provide," Kirk told Musicbox. "We will play every kind of alternative music that people want to hear, and if you're young, aggressive and full of energy, then we want to see you.!
By 'alternative' Kirk means just about every type of record that growls instead of whispers out of the speakers. Among those he lists are bands as varied as The Jesus and Mary Chain, Mighty Lemon Drops, The Clash, The Buzzcocks, Teardrop Explodes, The Who, king Kurt, The Woodentops, The Skids, The Ruts, The Pistols, New Model Army, New Order, Guana Batz and Echo and the Bunnymen.
As I say, the line-up is very varied, and with all the other music Kirk promises to play, the disco promises to be a perfect amalgamation of all the best music from 1977 onwards – with one or two blasts from the distant past thrown in for good dancing measure.
"Tamworth has a lot of alternative people out there standing idle, doing nothing. That is where 'The Escape Club' comes in. If local people want something different I hope they will turn out and support us in big numbers," said Kirk.
Thursday night's disco starts at around 8pm and runs until 11 so if you want a real alternative to disco pap, you know where to go…
Tamworth Herald – 25/09/87
Musicbox – Reggae Heroes Triumph
Progression – The Rathole
PROVING yet again that it's not the quantity but the quality that counts. In front of a Rathole that was emptier than Villa Park on a Saturday afternoon. Wolverhampton reggae heroes Progression took their life in their hands and quite frankly blew the roof off the Arts Centre.
Garnering a reception that was better than most bands get with twice the audience, this talented six-piece stormed through an hour-long set full of brilliant musicianship and songs that had the crowd bopping like I haven't seen in a long while.
Tunes such as the exhuberant 'Zebedee', the thoughtful 'Man Cry Too' and the Rasta-based 'We Know' had the audience on their feet from the start. A reggae-based version of 'Let It Be' and 'Pump Up The Volume' only secured triumph. The Rathole should book them again – and next time, be there – if only to see Dave Smith dance. In a word, magnificent.
Martin Warrilow
Tamworth Herald – 25/09/87
Musicbox – SNIPS
Wolfsbane bashers beware…
I RECEIVED another letter this week from one of my favourite correspondents the wonderfully named 'David Lee Roth's Jockstrap'. Once edited (we are opposite Scooper you know!) David passed on the following comments… "It seems, does it not, that the public and the music press of Britain have at last realised what you me and few hundred Sandybacks have known all along – that Wolfsbane are, in a word, good.
"But while we celebrate the boys' new found fame, a minority of people don't seem to share our point of view. Now we've got a chance to put Tamworth and four genuine geezers on the map, some people seem hell bent on stopping them. So please pass this message on to Jase.
There is of course a much simpler way, just say for the word, Sammy and I "chop the offenders hands off" Nice guy this Jockstrap!
Tamworth Herald – 25/09/87
Musicbox – SNIPS
Jabberwocki are on the lookout for a new drummer.
Tamworth Herald – 25/09/87
Musicbox – SNIPS
The Parade who are hoping to go on a low-key mini-tour before Christmas want a keyboard player to join their ranks. The enthusiastic combo, who will soon make another demo tape, can be contacted via Brian.
Tamworth Herald – 25/09/87
Musicbox – SNIPS
The profit made from this year's Tamworth Rock Festival will be used as a down payment on next years event. Following a committee meeting on Sunday night it was decided to go for gold in next year's festival making it far bigger and more of an all-round entertainment event. We will give more details as they emerge. One person who has decided to 'retire' from the festival organisation next year is Phil Ball, a tireless committee man who has proved to be a lifesaver on more than one occasion. Phil will be greatly missed by us all.
27/09/87
Toy Dolls
Catch 23
The Wilsonz
Tamworth Arts Centre