Tamworth Bands History : 1987 :
May
Tamworth Herald – 01/05/87
Musicbox – Rock Kings Bow Out
TAMWORTH'S music scene was this week mourning the loss of one of it's longest established and most talented bands – One On One.
Although at time of going to press, MUSICBOX was not able to confirm the exact reasons behind the split, I understand that singer Dave Ingham decided to quit the band and the rest of the group agreed to pack it in at the same time.
Whatever the reasons for One On One's split there is no doubt that it will cause a lot of genuine sadness among the town's many music fans.
One On One formed a number of years ago and almost immediately established themselves as the most musically talented group around. Although they were never Tamworth's most prolific live performers, they were always among the most impressive and they were one of the first local bands to successfully export their sound out of the town.
In their time they released two first class demos (the first of which still ranks as one of THE classic Tamworth demos) and there was talk of the group making a single later this year.
Probably their greatest local triumph was last year when Dave, Tim, Gary, Stuart and Andy turned in a masterful show to win the "Battle of the Bands". Many people praised their show, not least celebrity judge Edwin Starr who was bowled over by the group's professionalism and spirit. Everything then seemed to be going their way, and after a fine show at the Rock festival they were voted fifth top band in the annual MUSICBOX poll.
Four of their songs also made the top 30 local songs section. This year however, there were ominous signs that things were not going quite so well for the quintet. First they pulled out of the Battle for the Bans final despite having automatic entry and then they failed to turn up for the 1987 festival meeting. In Tuesday morning this week I received a memo that One On One had split, and the rest of the week rumours and counter-rumours abounded.
On a personal note, I have always had tremendous respect for the band and like many people I could never understand why such obvious talent was not picked up on by sleepy record companies. Musically they were first class, as people they were genuine and enthusiastic and as a band they were treated with admiration and respect by fans and fellow musicians alike.
Probably the greatest compliment of all to the band came on Sunday night when Wolfsbane played One On One's classic "Hold On, Don't Let It Fade Away" by way of a tribute. "They influenced me a lot and this is to show our respect," Blaze Bayley told the Arts Centre audience. It was the ultimate compliment for one of Tamworth's ultimate bands. They will be greatly missed.
Tamworth Herald – 01/05/87
Musicbox
Another group who have bitten the dust are the Soil Brothers. But, fear not, Steve MacNamee (Now Drayton Bassett's premier star) and Malcolm "Supermac" Hallett have promised to come back with something altogether bigger, bolder and brighter.
Tamworth Herald – 01/05/87
Musicbox – Rumbling Rats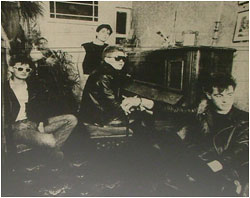 Caption: W.I.N. – winning form
THE RATHOLE this week throws its doors open to welcome Rumblesfish, one of the most exciting and unusual bands in the Midlands.
Joining them will be one of Tamworth's best new bands – World Intelligence Network. If the name doesn't mean too much, it is probably because you know them as The Cheesey Helmets although I am reliably informed that W.I.N. is the FINAL name.
For those who don't know (where have you people been?) W.I.N. play modern pulsating music which draws much from the likes of the mighty Chameleons, New Order and Julian Cope.
The band have an aggressive approach somewhat reminiscent of the late, great Seventies and they have already received interest from record companies and bands alike. The outfit recently made their first demo. "Disguises", which is one of, if not the, best demo I have heard for a long time. It perfectly illustrates the band's powerful, commercial outlook and there is no doubt that they can W.I.N. over Rumblefish on Sunday night, they may get some more work there…
So a tremendous double bill once which promises to delight anyone interested in new, strong pop music. It costs just £2 at the Arts Centre on Sunday night (8.30pm). Don't miss.
01/05/87
Cerberus
Nightshade
Tamworth Arts Centre
Tamworth Herald – 01/05/87
Musicbox – STOP PRESS
Lichfield band, Cerberus who combine a fine visual show with a Hawkwind-style sound will team up with Nightshade tonight (Friday) for another interesting Tamworth Arts Centre double-bill. Cerberus have already made a name for themselves in Tamworth and they will be eagerly awaiting the chance to shine once again.
Tamworth Herald – 01/05/87
Musicbox – Catch This!
CATCH 23 have been unusually quiet over the last few weeks, but we can disclose that they have been far from idle.
According to singer, Steve Webster, the band have just spent four gruelling days in the recording studios, getting together their first-ever single!
They have had to fit this in around their schoolwork and as Steve says: "We all have 'O' levels coming up and any spare time over the next couple of months will need to be spent revising!"
P.S. I have a had a sneak preview of the single and believe me it is EXCELLENT. The 'A' side is likely to be a marvellous, punky number, "Don't Lie" backed by the powerful, pure pop of "Love Explosion".
Tamworth Herald – 01/05/87
Musicbox – Wolves on the loose
Wolfsbane have just set out on an impressive on an impressive tour which takes them to places such as the Kaleidoscope in Birmingham and Mardi Gras in Nottingham. But the real 'biggie' comes in Sunday, May 10, when Wolfsbane line up with Tiger Tiger at The Marquee in London. Wolfsbane are delighted to be playing at the world-famous venue and they have arranged a special coach to get supporters along. It costs £8.75 including entry and coach fare and more details are available by contacting…
10/05/87
Tiger Tiger
Wolfsbane
The Marquee, London
Tamworth Herald – 01/05/87
Musicbox – Festival call!
A FULL meeting of all the bands interested in taking part in this year's Tamworth Rock Festival is to be held on Sunday.
The meeting is a follow up to a recent 'band call' at the Tavern which showed that interest in the Tamworth festival has grown to new heights. Around 30 bands have expressed interest in taking part this year – exactly twice that of the '86 festival. And just for the record they are: Breaking Point, A5, Pakistani Brothers, Catch 23, Steve Birch Band, the Searching, Depth Charge, Rape In Yellow, The Calling, The Wicked, Wolfsbane, Shellshock, Tulid, Fetch Eddie the baby's Gone Blue, Cuddly Spiders, Ruffian On The Stairs, Romanesque, The Magnets, Tokyo raid, Emma Gibbs Loves Badges, Cheesey Helmets, Bancock Shock, X from Atherstone, Zealot, Good Question and The Jim Crowes Blues Company. In addition to all those named who attended the meeting, Attica, Carousel, The Pink Tomatoes, Dylan from Atherstone and The Great Express have also expressed interest in taking part making the biggest and most unusual collection of bands that I have ever encountered.
The meeting starts at 7.30 at the Tavern in the Town on Sunday.
03/05/87
Rumblefish
W.I.N.
The Rathole
08/05/87
The First
World Intelligence Network
Tamworth Arts Centre
Tamworth Herald – 08/05/87
Musicbox – What a week!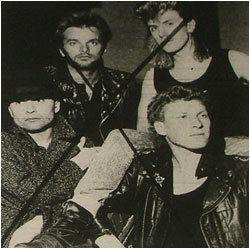 Caption: The First – stylish rock
IT PROMISES to be an amazing week on the local gig scene with Wolfsbane, The Surf Drums, The First and Ruffian on the Stairs all in action.
Tonight (Friday) The First make their 'first' Arts Centre appearance for some time when they will be joined by another band, who have not yet been confirmed.
Then on Sunday night, the Surf Drums come to the Rathole (Arts Centre) where they will team up with Lichfield popsters Ruffian on the Stairs. And finally, if you're feeling really adventurous don't forget that Wolfsbane are at the Marquee on Sunday night taking their mellow country and western sound to meet some appalling heavy metal twaddle known as Tiger Tiger. Whichever way you look at it, this is some week…
Kicking it all off tonight will be The First, a group whose spacy, well-crafted 'big' sound has already tickled the interest of several record companies. Their new demo perfectly illustrates their ability to write strong U2-style material with enough bite and class to leave many of their contemporaries flailing behind. The interest shown by record companies is no fluke, so if you want to see what all the fuss is about make your way to the Arts Centre tonight. They will be joined by a support band making it a double dose of decibel fun.
The, on Sunday night The Rathole takes over the Arts Centre again to welcome The Surf Drums and Ruffian on the Stairs. The Surfers have already played at Tamworth before but since then their punchy pop sound has increased its national profile by enormous strides.
They have been labelled 'the Psychy Psound of Psyxty Psyx' (NME), 'pure potency' (Melody Maker) and 'raw charm' (Sounds). Recent singles have also had amazing reviews: 'one of the best Indie records for years' (Melody Maker) 'excellent' (Music Week) and 'neat' (Sounds). I know 'neat' is hardly OTT but the general impression is that the music press big boys like this band a lot and you should too.
Ruffian who join The Surfers, play punchy soul music and also made a great impression on their last Tamworth show. A good night indeed.
Finally, MUSICBOX sends the best wishes to Wolfsbane as they hit they world-famous Marquee on Sunday night. This most famous of venues, which is as important to us punkologist historians as spitting, will welcome Wolfsbane (latin name Loudos Nastius) alongside Tiger Tiger (latin name Crassus Appallingus). It should be some night and in fact some weekend, so get set to party!)
STOP PRESS: The First will be joined by World Intelligence Network.
Tamworth Herald – 08/05/87
Musicbox – Glen Joins The Starrs
GOSSIPBOX
SOME marvellous news to kick off this week….
Our very own Glen 'Fiddlesticks' Lewis has been chosen to be Edwin Starr's new bass player.
Clen went for an audition with the mighty 'War' monger and heard at the tail end of last week that the band wanted him aboard,
Details are sketchy at the moment, but it seems Glen 'Houseboat' Lewis could be travelling to the likes of Singapore and Germany. What makes this news so nice is that Glen 'Windcheater' Lewis is one of Tamworth's nicest, brightest musicians who is respected by everyone on this little ol' scene of hours. He has bags of charisma and and bags of talent and GOSSIPBOX would like to wish Glan 'Microwaved' Lewis the greatest of luck. What this means of course is that yet another superstar has poached one of our best players. Already Julian Cope has stolen Donnie Skinner, now Edwin has half-inched Glen 'Moonbeam' Lewis. The question is who will be next? Will David Bowie team up with Mike Fleming? Will Rikk Quay gat a call from Sigue Sigue Sputnik? Will Buttercup be invited to join The Nolans. We shall wait and see…
Talking of seeing things, I saw something last week that will one day be much sought after. Charming Dance Stance bassist Neal Sheasby played me a video of the band's first ever gig when they were known as The Crowd. It was an hilarious relic with Neal Sheasby boasting some of the most ludicrous sideburns I have ever seen and Paul Hanlon looking about six years old. The music was still pretty cool though so even though around the scene is beginning to look livelier than ever, and I for one foresee a very bright future all round.
Tamworth Herald – 08/05/87
Musicbox – Emma Gibbs Loves Copey!
CUDDLY Lee Revelle of Emma Gibbs Love Badges notoriety, has recently been 'doing' the Julian Cope tour. Here is his on-the-road report of the proceedings.
10/05/87
The Surf Drums
Ruffian on the Stairs
Tamworth Arts Centre (Rathole)
Tamworth Herald – 15/05/87
Musicbox – Stranger than fiction, here come Ausgang
ONE of the extraordinary bands to emerge from the Midlands over the past few years descends on the Rathole on Sunday night. The band will team up with Dawn After Dark.
Tamworth Herald – 15/05/87
Musicbox – SNIPS
Mick's on the lookout
MICK Goodby, who is no longer a member of Depth Charge, is looking to front a new rock-based outfit. Mick wants relatively experienced musicians with an interesting broad-based rock sounds to team up with him as The Reality Gypsies.
15/05/87
Dance Stance
Spizz Sexual
Jaz Defector
Latin Quarter
May Ball Aston University
Tamworth Herald – 15/05/87
Musicbox – SNIPS
Dance Stance play another one of the mega-mega shows tonight (Friday) when the soul searchers play a special May Ball event at Aston University. The event which is sold out and is for students only, will feature Dance Stance alongside the likes of Spizz Sexual, Jaz Defector, Latin Quarter and another headline band yet to be confirmed. It was supposed to be the Bangles and the Dance Stance (understandably) are rather disappointed that those young ladies won't be playing.
Tamworth Herald – 15/05/87
Musicbox – SNIPS
Dave Ingham, the former One On One singer, regarded by most people as the best vocalist in the area is looking to join an established national band or go solo following the split of his well-respected band. The rest of the band are going to have a short rest before planning their futures although there is a hope of a special one-off final concert. As for the reasoning behind the split it was best summed up by keyboard player Gary Lancaster (who gets married shortly) when speaking to MUSICBOX metal man Colin Wall. Gary said 'Confrontation' due to differing ideas is the musical input of the band led to arguments and the realisation that in the format as it was, it was useless to carry on."
Tamworth Herald – 15/05/87
Musicbox – SNIPS
A committee meeting for this year's Tamworth Rock Festival will beheld on Sunday night at the Tavern in the Town starting at 7.30pm. I must apologise for the late cancellation of last week's meeting which was due to )(here comes Standard Circle 1067) 'unforeseen circumstances'). All committee members are asked to attend Sunday.
Tamworth Herald – 15/05/87
Musicbox – SNIPS
The sick joke of the week has to be EMI Records sending me a copy of the new Marillion single to review. Suffice to say I have not done so, but I have passed the offending (offensive) item to a solicitor friend of mine, who hopefully will sue the band under the Musical Torture Act 1985 which is designed to stamp out music by the likes of Marillion and The Cult.
Tamworth Herald – 15/05/87
Musicbox – SNIPS
Metal men hit Marquee
WOLFSBANE'S debut London gig at the Marquee was a huge massive, metallic success. According to MUSICBOX'S London 'ambassador' Ms. Joanne Caulkin. Wolfsbane were (get ready for it) brilliant!! The best new band I have seen in years.
Apparently blaze, Jeff, Steve and Jase slayed their audience (which included a fair few Tamworthians) and made a big impact of many of the people that matter. A member of the Babysitters spent the whole night raving about the group.
"The Marquee is THE place for a new rock band to play and for Wolfsbane to get a support slot when they have no record label and son on, is amazing. It proves that someone in the agents business likes them.
Wolfsbane turned up with Tiger Tiger who faded into insignificance to Bayley and the Boys and Tamworth's finest exponents of legalised anarchy, received superb reaction.
Wolfsbane had another London show at the Studs on Tuesday night and if they were able to repeat their undoubted Marquee triumph the inevitable path from Fazeley to Fame is around the corner.
17/05/87
Ausgang
Dawn After Dark
The Rathole
Tamworth Herald – 22/05/87
No collar, no tie – an no thistle!
Kevin's T-shirt puzzles the Duke
IT could have been a prickly moment when Kevin Knowles, owner of one-man business Thistle Print, met the Duke of Edinburgh in Tamworth this week. W winner of the town's Business Success Awards, he was the only official male guest at the Royal presentation event not to wear a collar and tie.
He turned out in skin-tight trousers, winkle-pickers, a jacket and plain, white t-shirt, to accept his prize-winner's certificate from Prince Philip.
Kevin, aged 26, who set up his firm to beat the dole queue, told the Prince his year-old business involved screen printing designs on clothes.
And instead of a rebuke for his own form of dress, the Duke asked him why he hadn't printed a thistle on the T-shirt he was wearing.
Better
"I really wish I had now," said Kevin later. "I decided not to wear a suit because I thought it would be better if the Duke took me as I really am."
"I'm sure he is the sort of man who would agree that a suit, collar and tie doesn't make you a better person."
24/05/87
Mighty Mighty
The Great Express
The Rathole

Tamworth Herald – 22/05/87
Musicbox – Salute the all mighty
THE RATHOLE stages one of its most eagerly-awaited concerts on Sunday night when Tamworth's most talked-about new band The Great Express team up with the might of Mighty Mighty.
The powerful double-header is certain to see one of the Arts Centres biggest attendances so far and spectators are promised an exciting, contrasting show.
Mighty Mighty…
…The Great Express. This will be the bands first major Tamworth town centre show and according to bassist Mark Mortimer it should be an interesting night for band and spectators alike.
"People who come along expecting a cross between Orange and The Dream Factory are in for a massive shock," said Mark. "We are very powerful and there is no other band I know what sounds like us."
For those who don't know, The Great Express began as a vision in the mind of former Dream Factory bassist Mark Mortimer. When the Factory split, he attempted to get that vision into clearer focus by recruiting drummer Dave Burgess and keyboard player Chantal Weston. Next, Mark teamed up with his ex-colleague singer/ guitarist Brian Lacey, but when the Mortimer/Lacey marriage ended in divorce, Julian Amos and Ted Wilson stepped in and the Express are now complete. Anyway that's the history, let's talk about the future.
"I feel like an alcoholic about this band – I just can't get enough of it and I just crave to do gigs," said Mark. "I feel very excited about the band, because it is close to my own true musical aims and those of everyone else in the band."
Influences such as Julian Cope and The Mighty Lemon Drops are obvious enough, but at the band's first concert at Nuneaton they were also compared to Crazyhead, The Jam and wait for it – AC/DC.
"AC/DC, can you believe it?" said Mark. "That made me laugh at the time because I think it shows that we're totally different and people will have to just come along and make their own minds up."
As well as Sunday's show at the Arts Centre, the Express will also be in action at the Tavern on Thursday night giving people a chance to make their mind up twice. I for one feel we are all in for a treat – and an unusual one at that.
Tamworth Herald – 22/05/87
Musicbox – SNIPS
A Quay-side solo
RIKK QUAY has set his sights on a solo career after ventures with two Lichfield-based acts proved ultimately fruitless. Following the split with XPD, Rikk worked with both Watershed and The Pakistani Brothers and although may team up with both outfits again his long term aim it to go it alone, "People have bee saying 'go solo' for some time and I guess this might be a good time to do it," said Tamworth's most famous haircut. Always one step ahead of fashion, Rikk is looking to play manic computerised British Def-Jam which he feels will be totally new for Tamworth. "It will blow your mind!" he promises. Meanwhile he is collaborating with erstwhile members and ex-members of Classified Ads, XPD, Wolfsbane and Reverb Sounds to create a one-off band for the Rock Festival called The Sexy Pistols. It will be 'Anarchy in the Castle Grounds'.
Tamworth Herald – 22/05/87
Musicbox – SNIPS
MORE details have filtered through about the new Atherstone band, the Final Line. The group who made their Atherstone School debut last week, have been practising together for some time and have now built up an extensive repertoire for some 15 members. The band is made up of Martin Reece (vocals), Simon Hall (guitars), Richard Ross (bass) and Ade Cheshire (drums) and they say their music ranges from melodic ballads to punk. Personally, I find the new rock revival in Atherstone very exciting. More bands are emerging from the town than ever before and than can only help Atherstone itself and the Tamworth music scene as a whole.
Tamworth Herald – 22/05/87
Musicbox – SNIPS
FORMER One On One Drummer, Stu Blaine who is currently working on a new project is on the lookout for a vocalist.
Tamworth Herald – 22/05/87
Musicbox – SNIPS
ORANGE Blossom Special are searching for a new bassist now that Glen (Elbowroom) Lewis has booked himself for a Starry future. The remaining Orange members want a competent, experienced bassist ready to play immediate concerts and do studio work. The group already have record company interest so 'no beginners or timewasters' is the order of the day. Their collective influences include the likes of Lloyd Cole and Danny Wilson and you can find out by ringing Neil Jones.
Tamworth Herald – 22/05/87
Musicbox – SNIPS
THIS week myself, Rikk Quay and Ian Gibbons travelled to Quince Tree Special School to hand over around £500 raised through various local rock events. The money was collected through TAMAID tapes, The Battle of the Bands and The Children in Need appeal and I must sincerely thank everyone for being so generous in support of this fine charity. People who criticise young people and bands should take a good look at those cheques which prove that local music fans DO care a very great deal.
Tamworth Herald – 22/05/87
Musicbox – Vile, but pretty interesting
THE freebie 'Panic' fanzine is back in business under the new name of 'Get Out Of My Way You ******!' The four-sided freesheet, put together by the likes of Rob Cross and Scarlet Fever includes…
Once again they named Emma Gibbs Loves Badges as the area's best band, followed by Love On Board, World Intelligence Network, The Great Express and The Soil Brothers. Elsewhere the named Duane's navel and Mike Fleming's baldspot as the best places to play in Tamworth and went on to batter local Goths, "Lost Belongings" and a local MP.
28/05/87
The Great Express
Tavern in the Town
Tamworth Herald – 29/05/87
Musicbox – Great Smiles
Concert Reviews – The Great Express – The Rathole
SO, at last, The Great Express has rolled in to town. After months of preparation and musical soul searching, the band has finally unveiled the sound they hope will bury their pasts and glitter their futures. And after just this one set, I think they are on to a real winner.
Like most of the large respectful audience, I was a little confused at the start of the band's set as their opening couple of numbers seemed to go off in a host of different and not always conclusive directions. But gradually the set warmed up, the band warmed up and the audience were treated to an original and very impressive show indeed.
To me the group came over as an aggressive version of the criminally under-rated Church wit touches of The Go-Betweens, The Jam and The Mighty Lemon Drops thrown in. For the most part it was hard-hitting and hard-sounding with the dual use of Julian and Ted's guitars creating a colourful, meandering wall of sound. Songs like 'Laughing House', 'Witch Well' and 'Pieces' fitted into this strong sphere, but just to confuse matters they added surprising pop touches like the elegant 'Heavenly, Heavenly' which sounded like a slice from the Jam's hallmark album 'The Gift'.
But the best was undoubtedly saved until last. The band finished their set with a riveting, brilliant number called 'Over and Out' which started like an early Pink Floyd number, and grew and grew into something large, colossal and quite mesmerising. The last minute or so as the whole band speeded the melody-up bar by bar was quite riveting and done with the sort of exact and exacting professionalism that is the outstanding feature of Mark Mortimer's work. The whole effect was almost numbing and I am convinced that in 'Over and Out', The Great Express have created a classic set-ender.
Confusion about the material on offer and what people thought of it was rampant after the band had gone off stage but I am convinced here is a band who need to be seen several more times to be fully appreciated. There is a lot of craft and skill going on within their music, and perhaps not all of it is discernible on one casual listen. What I do know however is that the band have created something they can feel very proud of, and something that I feel will have a lasting power. As musicians they are also to be commended. Julian Amos handled the taxing vocal lead very well indeed but for me the real star was Ted Wilson who gave an electric performance. For too long now, Ted has been a sleeping star, now he is a waking one, and it won't be long before he is once again challenging for the top local guitarist crown.
The Great Express have, when everything is taken into account, a lot going for them. They are young, powerfully minded and have arrived at exactly the right time. After just 45 minutes of their company I am convinced they are already major challengers.
Tamworth Herald – 29/05/87
Musicbox – Notes Perfect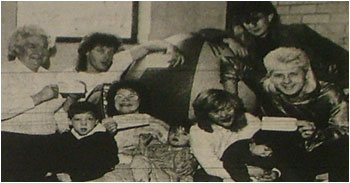 Caption: Cheque that! – Quince Tree Special School and the Opportunities Youth Club representatives, receive £600 worth of cheer from 'Children in Need' organiser Ian Gibbons, and TAMAID organisers Rikk Quay and Sam Holliday.
TAMWORTH'S warm-hearted music fans just handed over a £600 boost to needy local children.
All the money has been raised over the past few months by local bands, musicians and fans rallied around the 'Children in Need' campaign.
More than £375 was handed over by TAMAID, the town's own musicians charity. This money was raised through sales of the new TAMAID tape 'Youth Is Our Future' as well as cash from the year's highly successful 'Battle of the Bands'. All this money has gone to the Quince Tree Special School at Amington which does a marvellous job looking after young handicapped children from all over the district.
A further £100 was handed to Quince Tree Special School by local 'Children in Need' campaign organiser Ian Gibbons – also from rock-related events. And to cap off a morning of cheer Ian Gibbons was also able to hand over another £100 cheque for the Opportunities Youth Club, which aims to help older youngsters to enjoy many of the things most teenagers take for granted.
Altogether it made nearly £600 from nearly 600 sounds, and it proved once again that when it comes to fundraising, Tamworth's musicians really are 'top of the pops'!
Tamworth Herald – 29/05/87
Musicbox – SNIPS
A FULL meeting of all the bands interested in this year's Tamworth Rock Festival will take place this Sunday at the Tavern in the Town. The meeting will start at 7.30 to allow people to visit the Rathole afterwards. All the bands who have so far expressed interest in taking part in the festival MUST attend as a draw will be made to decided who will play and when. A recent committee meeting revealed that nearly 40 bands had shown interest so far – exactly twice that of this time this year. Any group that cannot attend should contact either Sam Holliday or Rikk Quay before Sunday night because once the draw for bands is made the decision will be final. It starts at 7.30 and is at The Tavern in The Town.
Tamworth Herald – 29/05/87
Musicbox – SNIPS
Dave Ingham was in the studio at the weekend working with Rikk Quay on a couple of solo numbers. Dave is currently getting together a personal portfolio which he will then hawk around the London record companies. We wish this fine and talented singer every success as he seeks every success.
Tamworth Herald – 29/05/87
Musicbox – SNIPS
Another band who are currently on the glory train are World Intelligence Network who are hoping to play their first London shows in the near future. Anyone wishing to hear the band's brilliant new demo incidentally can do so by going to the Arts Centre at virtually any hour because it ALWAYS seems to be on when I'm there!
Tamworth Herald – 29/05/87
Musicbox – SNIPS
Finally just a series of one-liners on the local scene…former Freight Train drummer Gavin Skinner recently had an audition with Easterhouse whilst his brother Donaled recently had the world's shortest haircut…Catch 23's single release party will take place on July 3 at the Arts Centre where they will be joined by Wolfsbane who will play a set of cover versions…new local band Jabberwocky are hoping to make their Tamworth debut soon and have already lined up their first out-of-town show…the Final Line's first gig in Atherstone a fortnight ago went down very well indeed according to my 'spies' over there…Soil Brothers man Malcolm Hallett has just got engaged and MUSICBOX would like to wish him every success. Will Soil Brothers singer Steve MacNamee be next to go I wonder…former Orange singer Anice Byfield has left the Coventry band she fronted before Christmas…Tamworth's oldest rock institution The Magnets are all set for a major revamp with a new name and a new sound…and last but not least do you know that bat-eater Ozzy Osbourne once visited the Rathole to see a gig? It is absolutely true but I bet no-one knows WHICH gig…
Tamworth Herald – 29/05/87
Musicbox – More Wonderstuff!
ANOTHER topflight band descend on the Rathole on Sunday night to be joined by two intriguing and unusual Tamworth support acts.
Heading the bill are Birmingham popsters Wonderstuff who will team up with the eagerly-anticipated Fetch Eddie the Baby's Gone Blue and the enigmatic Emma Gibbs Loves Badges.
Wonderstuff are another of the new wave of alternative strong pop bands who have taken over the Midlands lately. They have already trod the famous Rathole boards before when they outplayed fellow stablemates The Surf Drums. They are considered to be one of the hottest bands around and a trip to the Arts Centre on Sunday should reveal why.
Another bands who have been catching the headlines are Fetch Eddie who make their Tamworth debut on Sunday. The band are looking forward to the show almost as much as the audience and their mixture of bright, original Squeeze-orientated pop, is sure to make them an immediate hit in the town. So far they have picked up acclaim and great reviews in Birmingham and beyond, but now Aaron and the boys are coming 'home' – and are determined to do well. It should be a memorable performance.
Completing the line-up are the unique Emma Gibbs Loves Badges – so unique that even their name comes from a 'Scooper heading!' Emma Gibbs play modern acoustic pop which owes much to the heritage of Aztec Camera and more modern bands like the Bodines, their sounds is full of curiously, unfolding melodies and very strong lyrics, and if they create the sort of impact they did at their …show, ANYTHING can and probably will happen.
So three great bands which add up to one great evening. And the three bands will be relatively new to Tamworth ears so if you want to get one step ahead get to the Arts Centre on Sunday.
31/05/87
Wonderstuff
Fetch Eddie The Babies Gone Blue
Emma Gibbs Loves Badges
The Rathole