Tamworth Bands History : 1987 :
November
Tamworth Herald – 06/11/87
Musicbox – Chance to hit the rhythm stick
JABBERWOCKI guitarist Dave Caswell is hoping to set up a unique concert/demonstration in Tamworth of one of rock's oldest instruments.
Dave, a man who has a peculiar fascination for anything out of the ordinary, hopes to bring Jim Lampi to Tamworth for a special demo of the 'Chapman Stick' which looks like a mixture of a guitar and a sitar.
Dave of course has used such an implement with Jabberwocki, leaving many of the audience wondering if he had plugged in a broom stick.
"I want to set up a special forum-style concert which will be a demonstration of the way the 'Chapman Stick' works and I am sure there are a lot of musicians in the area who would find the whole thing very interesting," said Dave.
Dave cannot go ahead with the plan unless he knows there is enough interest in the idea as the costs involved are not small. If you fancy the idea of attending a special seminar and learning something about a very curious instrument, let Dave or myself know and a decision will then be made on the viability of the concert.
Dave says he can be contacted at Hamlets wine bar on Friday night where he will be sinking beer instead of twiddling sticks.
Tamworth Herald – 06/11/87
Musicbox – Triple helping of great musical nostalgia
Saluting the rock of ages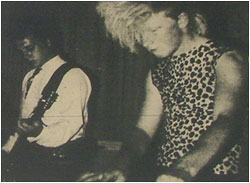 Caption: Napalm Nancy boys …Paul Clements (left) and Derek Goodwin as members of the Classified Ads.
THREE original bands – whose influences span music of virtually every decent genre of the past 20 years – team up for the Arts Centre special on Sunday night.
Spearheading the walk on the wild side are Napalm Nancy who will line up with tough new Birmingham band Lean Steel and alternative 'sex death' favourites Dawn After Dark.
The concert promises to be a unique and precious occasion which should give Tamworth audiences a chance to choose between three very different but not entirely unrelated musical forms.
Most local interest will be pinned on Napalm Nancy who feature former Classified Ads member Paul 'Hairless' Clements and Derek 'The Big V' Goodwin. For these hippy ex-Tamworthians Sunday night's show will be very nostalgic as the last time they played at the Arts Centre was on the final night of the Classified Ads shambolic five-year career.
Since then the duo's musical interests and careers have moved into different pastures and their original punk roots have now spouted branches which include those ultimate enemies of punk – Dylan, Rolling Stones and hippies.
This is reflected in the band's sound – a kind of late Sixties earthy rock which meanders from very hard to uniquely oblique. Their sound is dominated by a gruff and impressive vocal which sounds every bit like Lou Reed after hormone injections from Jim Morrison, Iggy Pop and Donald Sinden.
They should appeal to anyone who likes their rock hard and faintly Old Grey Whistle Test-ish and with lyrics like "I Wanna Die On The Motorway", you know this is not House music.
Best-known
For Paul and Derek – the latter now trades on the particularly dubious name of Rod Action – Sunday will be a nostalgic homecoming, but both have stressed that it will not be a Classified Ads Mark Two. Damn shame I say.
Joining the Nancy boys are two Birmingham-based acts who will already be known to Tamworth audiences one way or another. Lean Steel are best known because they feature the very amiable and talented ex-Ausgang lead singer Max Body.
The last time Max played at the Arts Centre turned out to be Ausgang's last ever show but such is his enthusiasm for Lean Steel that the venue is unlikely to have the same sort of kiss of death effect. Musically I don't know a great deal about Lean Steel but as they have a tremendous amount of style and impressive influences they should make for fascinating viewing.
Completing the show are Dawn After dark, a group who have already impressed Tamworth audiences sounds which remind me of the immortal Sisters of Mercy. They went down a storm the last time they played Tamworth with their tidal wave of alternative charismatic power they will certainly be worth a bop or two on Sunday night.
So a top class three-band line-up which should appeal to everyone who likes the rock of ages. It promises to be an unusual but compelling show, so cancel all other arrangements and get your body to the Arts Centre on Sunday night. It should be groovy.
Tamworth Herald – 06/11/87
Musicbox – Snap, crackle, crunch
Wolfsbane/Catch 23/The Conspiracy
AS my love of all three bands here is hardly a state secret, I will keep this review brief and to the point. So without much ado about nothing here is my view of a very hot evening…
THE CONSPIRACY
Any view I could give here is surely prejudiced by the fact that I only managed to see about three numbers and one of them – yuk, yuk, - was a Cult cover. Still the little bit my ears caught sounded very fine indeed and judging by the enthusiastic comments of virtually everyone afterwards, it seems Roger's Rockers have carved an ever-lasting niche on the local scene. Music to bop to, music to make you smile.
CATCH 23
An all-together harder and more direct set from a band who were in energetic, enthusiastic form. Their pop sensibility was replaced with a more raw and angrier attack with Steve Webster in dynamic form and bassist Jason Notman producing some excellent power-bass playing which once again reminded me of the Grandmaster JJ Burnel.
Highlight of the tracks was the priceless 'No More Lights' which is a modern-day new wave classic if ever I heard one.
WOLFSBANE
Heavy man. All together more ear-crunching set from a band whose talent knows no bounds. In comparison to recent Wolfsbane shows, it was heavier, sweatier, punchier, gaudier, smellier, noisier, nastier, naughtier, haughtier, angrier, sexier and more gauche.
Anyone who leaves a Wolfsbane concert and doesn't feel as though they have swallowed a Bunsen-burner simply isn't playing attention.
Sam Holliday
Tamworth Herald – 06/11/87
Musicbox – Just good friends (LETTER)
IT IS WITH the utmost sadness and greatest regrets that I must inform you of the sudden demise of the amazing Emma Gibbs Loves Badges.
The band intended to use the inadequate 'musical differences' to describe their reasons for the collapse but on further consideration decided that it would be in their interests to reveal the truth.
Unfortunately, this is that after many years of friendship, certain member(s) have developed a crazed loathing for the others to the extent that violent verbal and physical attacks were becoming a frequent occurrence.
The news of this…ecstacy among a number of Tamworth…personages whose hostility merely displays their inability to appreciate Emma Gibbs gargantuan talent and innovative style. Though at least this reaction shows Tamworth is not totally apathetic, if nothing else.
Nevertheless, without intending to distress those sceptics unnecessarily, the band members do intent to continue in their illustrious musical careers in the face of all adversity. We are sure that this factor should placate those, famous and infamous alike, who had realised the immense potential of this remarkable group.
EMMA GIBBS LOVES BADGES
Tamworth Herald – 06/11/87
Musicbox – Poseurs who bring the house down
WHE YOU SPEND hard-earned cash on taxi fares and entrance to what is billed as a 'House Night' you expect more than 'House Nation' and 'Pump Up the Volume'.
A recent Embassy Suite promotion provided just that and proved, once again, that Tamworth should be sited in the south.
Apart from a few regular 'alternative' gig-goers and, at the other end of the scale, house, Hip-Hop, Funk and Rare Groove listeners, Tamworth is a town full of poseurs with no self-respect.
Enough is written in Musicbox every weeks in promotion of Tamworth's thriving hard-core bands scene. So let's talk about House.
The latest dance form from Chicago, it follows on very clearly from Sixties soul, and, together with hip-Hop, steals breaks and melodies from the early days – The Mohawks' 'The Champ' being the best example.
As with Northern Soul , it's all about dancing, and that's why it's become popular in the north. London and the south ahs always been more bothered about haircuts, and only Delirium and The Wag provide any sort of competition with Coventry, Manchester, Nottingham and the like.
If people in Tamworth had the smallest amount of sus, they would never bother with the 'niteclub' scene. They must see that it's all a money-spinning joke. Pepsi and Shirley? Spagna?
Instead of which, they buy 'Pump Up The Volume', a black pilot jacket and call themselves House fans. It's a joke. And it all comes down to integrity.
How can the same people who went to the sadly defunct Rathole and watched The Toy Dolls, or World Intelligence Network, or The Great Express also pay over good money to get into tacky discos, listen to trashy music and be taken for a ride to nowhere.
Nothing will change while the cash keeps rolling in. Let the nightclubs know they're insulting your intelligence. Otherwise, you're only supporting the same people who take your money and mock you.
Dan Collins
An Angry young Schoolboy
08/11/87
Napalm Nancy
Lean Steel
Dawn After Dark
The Rathole
Tamworth Herald – 13/11/87
Musicbox – Wolfsbane glee at Marquee top slot
All eyes on capital trip
TAMWORTH METAL kings Wolfsbane tonight (Friday) play perhaps their most important-ever concert. The group will travel down to London to play a special headlining show at the world-famous Marquee.
The group have already made several appearances at the venue in a support capacity, but they rightfully regard the headlining slot with considerable pride.
What makes the show so important for Blaze, Jeff, Steve and Jase is that it is certain to be watched by more than just an always-enthusiastic crowd.
The last time Wolfsbane played at the Marquee in a support slot, the entire staff of metal mag 'Kerrang' were in attendance as well as scribes from 'Sounds'. And you can bet you last leather jacket that the metallic music press will be there in abundance again tonight.
Also of course the show will come under the closest possible scrutiny from those most powerful of people – the record companies. These devils-without-horns have the power to make or break a band's career but the latest indications is that they want to make Wolfsbane's – and tonight could be the start of that process.
Wolfsbane will be cheered on tonight by a coachload of ecstatic local supporters who will be justifiably proud to see their heroes on that most historic of rock stages.
It should be a night for every member of Wolfsbane, their army of supporters and their backers to savour. It could be a turning point in the band's short but successful career and on behalf of everyone who has a minute interest in the local scene let me say – give 'em hell boys.
As expected Wolfsbane enjoyed a full page colour article in 'Kerrang' last week which came over very well indeed. The band were all pleased with it and now eagerly await the mysterious missing 'Sounds' piece.
Tamworth Herald – 13/11/87
Musicbox – Strong stuff, this cool new marriage
Napalm Nancy/Lean Steel/Dawn After Dark – Tamworth Arts Centre
IT'S AN EERIE kind of experience watching two people who used to be in a band with you, playing in another outfit. The sort of shared memories, nostalgia and jealousy that runs through your veins is inexplicably strong, and it is a feeling I can only compare to watching an old girlfriend kissing somebody new.
So I suppose it is a bit hard for me to judge Napalm Nancy – two of whose members I shared five happy years with as The Classified Ads. But I will try.
Napalm Nancy, are, contrary to what I expected, far from being a born-again outfit. Indeed they sound more like a 1977 garage band that a 1967 spacewalker bunch, and their hard, punch-drunk approach to music is more acidic than acid. Lead singer Dave Kirkwood particularly impressed me with his aggressive, charismatic nonchalance and his vicious edge perfectly complemented the more meadering dual-guitar attack of AJ Stone and Keri.
And the local lads? Well keyboardist Derek Goodwin was totally submerged under a mass of uncontrollable hair and the only time he was seen or heard throughout the night was when he shouted 'turn the organ up'.
Bassist Paul Clements was altogether more voluble and even if he still hasn't learned how to pose properly, his string-plucking has certainly developed and matured a more brutal edge. He still looks kinda cool in a Brando/Any manner and he even overcame the considerable rock cliché of a cigarette hanging off his bottom lip at the start of the set.
Of the sings, the excellent 'Dancing Out Of Time' was a notable highlight but with other power-blasts such as 'Try It Again', 'Tear It Down' and Pere Ubu's 'Final Solution' in the set, the Napalmers are clearly an explosive force to be reckoned with.
All told it was a bold and strong Tamworth debut, and a band who will clearly be very interesting to watch in the future. Elsewhere Dawn After Dark followed the latest, sad pattern of alternative popsters becoming modern rocksters, with a set which had a more metallic attack than a Sisters' subtlety.
Turncoat
Maybe the presence of a similar alternative turncoat from Balaam and the Angel (who was in the audience) proved too much but suffice to say this wasn't my favourite Dawn After Dark set at all. Completing the show was the new band fronted by the marvellous Max Body – Lean Steel. This was an altogether different proposition from Max's old outfit Ausgang and sounded rather poppier and more commercial than his former venture.
It is basically (and surprisingly) guitar music with a cutting edge and although it wasn't perhaps as immediate as the Ausgang attack there was certainly some definable quality there which should grow yet more as Lean Steel stalk the Midlands.
Sam Holliday
Tamworth Herald – 13/11/87
Musicbox – Kubla Khan at home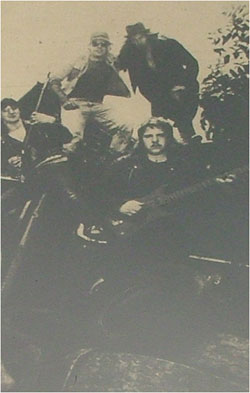 The hugely likeable Kubla Khan will tonight be making their first appearance in their native Atherstone since the Tamworth Rock Festival.
The band who made an impressive debut at the festival will be in action at the Tudor Rose, starting at 7.30pm – and entry will be free. Emo the charming bassist and proud Dance Stance roadies says – "Who needs Drayton Manor when Kubla Khan are playing? It's a day out for all the family!"
Tamworth Herald – 13/11/87
Musicbox – FETCH Eddie the Baby's Gone Blue took one more big step towards their inevitable mega-stardom last week. The band won through to the final of the Birmingham Pernod Hottest Band contest which offers a record contract, money and plenty of exposure to the lucky winners. In addition, our favourite reggaefied pop heroes were spotted in action by a videomaker from the 'Spitting Image' team who was totally won over by what he saw. He offered to do a video for the band at a knock-down price of £100 (compared to his usual feel of £600) and understandably it didn't take long for Fetch Eddie…
Tamworth Herald – 13/11/87
Musicbox – The Conspiracy, fresh from recent triumphs in the Tavern in the Town and the Arts Centre, spread their wings a little to Lichfield next week. The band will be in action at Enots on Friday, November 20 and would greatly appreciate travelling Tamworth support.
Tamworth Herald – 13/11/87
Musicbox – Rumours are circulating that the once-mighty DHSS are set to reform with a new line-up but the self-same sardonic aggression. Details at this stage are sketchy but it seems that the man-of all-rock-and-roll-seasons Mr. Rikk Quay may be at the heart of the new venture.
Tamworth Herald – 20/11/87
Musicbox – Soul boys spinning a slice of CD history

Caption: The prestigious CD single from Dance Stance: it is a history-making move.
HERE IT IS, the Dance Stance CD Single, which has put the band in the rock and roll history books. For our favourite soul kings have become the first unsigned band ever to release a single/EP on compact disc. Until now the only bands to have tried this new genre in single/EP form are 'small' outfits like U2 and Pink Floyd and that is why Dance Stance decided to go for it.
They were commissioned by their independent label backers, What Records to reproduce the four-track EP on CD form, and after keeping the whole thing a state secret, the final product arrived just before the group's triumphant show at Warwick University.
"When we were asked by What Records to do this I thought at first they were joking," admitted the band's manager Ray Sheasby. "But when we realised we would be the only band to have attempted a CD without a big label behind us, we decided to really go for it."
The four-track EP – of which 1,000 have been cut on CD – features the group's magnificent single 'The Other Side of Paradise' and three top-class recent recordings – 'Heaven Help Me', 'Love Parade' and 'Falling Down'. The latter three were all recorded at Paul Spear's Expresso Bongo studio and Paul, along with everyone involved in the release is delighted with the end product.
"It sounds superb" admitted bass guitarist Neil Sheasby, "The quality of the sound is just what you expect from a CD and we are all very please indeed with it."
As a yuppie-CD owner myself (!) I can vouch that the quality IS superb. The music is crystal clear, the sound perfectly balanced and of course the music staggeringly good. It has all the hallmarks we now expect from Dance Stance – class, professionalism, style, nerve and originality.
To produce a CD single is a brave, bold but hugely commendable idea, and if WE are all impressed (most people refuse to believe it even now!) imagine what it will do for the band's national standing with record company big wigs.
The special limited CD is available at £5.00 plus 18p postage from What records, The record Centre, Nuneaton. It can also be purchased from What Records shops in Bedworth or Coalville or from individual band members.
It is worth every penny and should shock a lot of people who need to be shocked both around here and beyond. Dance Stance mean business – and this could well make the record companies realise they have no option but to sign this amazing act.
Tamworth Herald – 20/11/87
Musicbox – It's YOUR pick of the goodies!
MUSICBOX is this week delighted to launch its fifth annual major local music poll. As with the four previous hugely-successful years, we will be asking you, the reader, to choose the best of the year on both a national and local basis.
In national terms that gives you the chance to show just what records people from Tamworth, Atherstone and Coleshill people have been listening to this year. And on a local basis it gives you the chance to honour the groups and individuals who have bought a little light (rock and roll) relief to this area.
The local bands section is obviously the one that provokes the most comment and interest in the poll. Every year bands from throughout the region say (publicly) they don't care where they are in the final rankings, but (privately) devour the findings of the poll hungrily. It is your chance to recognise those who have done the musical business this year and to give them a morale booster for 1988.
All entries in this year's poll must be on one of the official forms we will be printing over the next couple of weeks (no photocopies will be accepted) and all must be sent or delivered to the Herald offices.
For some guidance about what you can or cannot vote for read on, but whatever your musical taste or preference make sure that you DO vote. The bands who do well will love you forever and on the other side of the coin if you fail to salute your favourites you could well ruin someone's Christmas…
TOP LOCAL BAND
The biggest and most important section of all representing Musicbox's view that it is our job primarily to promote the real strength of the local scene.
Last year's winners were Dance Stance and they will certainly be among the frontrunners this year after a series of magnificent concerts and now their new top-class CD single.
The wonderful band, now under the watchful eyes of three major record companies, have improved and improved throughout the 12 months and if they won the title again this year I would certainly be very happy indeed.
On the same high national profile level are of course our very own Wolfsbane. This has been a wonderful year for Jeff, Jase, Bayley and Steve with a host of Marquee concerts, killer demos-a-plenty and of course a hugely deserved victory in the Battle of the Bands.
Like Dance Stance, this time next year, Wolfsbane will be massive and they will start 1988 feeling ever more optimistic if YOU vote them as band of the year.
Also in the top league and certain contenders for the title are Atherstone's ever-maturing Catch 23. This of course has been the year of Catch 23's debut single – the excellent 'Don't Lie' – but it has also been the year when they have perfected their punchy live sound to an absolute 'T'.
Along with Dance Stance and Wolfsbane they have carved a permanent places in local affections and this will be the year when they could have their biggest ever vote.
Behind these three obvious favourites we find several good 'outside bets'. Fetch Eddie are certainly the most popular new band to have hit Tamworth this year, and their wide-ranging appeal should be reflected in a healthy vote.
The Great Express are another band who have made a quick and dramatic impact on the scene and they should score well as should a band who have given me tremendous pleasure this year – World Intelligence Network. Another new outfit sure to make a massive impact are Roger Moore's punk dreamers The Conspiracy and other recent arrivals New Age Gypsies, The Pakistani Brothers, Rape In Yellow, Ferocious Apaches, Jabberwocki, Kubla Khan and The Searching are likely to pick up a fair few votes.
Somewhat older bands like Breaking Point, A5, The Parade, Shellshock and Depth Charge – all of whom have good years in rather new guises – will also be there or thereabouts and I for one predict a very tight and close finish this year.
And my choice. Well Dance Stance, Catch 23, WIN and Fetch Eddie breathed hard, but I just had to give it to Wolfsbane this time. Their patient belief in their own world-conquering power is now being rewarded and they deserve all the credit in the known universe.
BEST LOCAL SONG
As with the best band section, the local band who wins this gets a special Musicbox Gold Disc to keep for 12 months so this is one they will all want to win. Basically it is up to you to choose ANY of our local bands songs and vote for it. There are hundreds to choose from (it took me a while to whittle down to my top 20 this year) but please make sure they are original numbers and they are still being performed by the local band concerned.
BEST LOCAL CONCERT
As with the above two sections, the choice really is mindboggling. It gives you the chance to vote for non-local acts who have hit Tamworth, or the surrounding area this year. Among these we have had the likes of Toy Dolls, Rumblefish, progression and so on, but whether you want to vote for a local band or an 'outsider' the only criteria is they MUST have played in either Tamworth, Atherstone or Coleshill in 1987. My gig of the year was the Tamworth Rock Festival, but the choice is yours.
TOP ALBUM
Once again the vinyl world is your oyster here as we give you the chance to vote for any album released this year. I have chosen my top 20 here but other biggies that have dominated the charts which you may include are Terence Trent Darby, Michael Jackson, Fleetwood Mac, Prince, Pink Floyd, Pet Shop Boys and Sting.
Choose anything you like as long as it's from 1987 and don't worry I won't laugh (too loudly) if you pick something mega-naff!
TOP SINGLE
Once again this year we have had some monster hits (It's A Sin, 'Bad' and 'Never gonna give You Up') and some monstrosities ('Star Trekkin' and the horrendous new Marillion effort.) but the choice is entirely up to you. Just pick the 45 that has tickled your fancy most this year and smack it down on the poll form to let Musicbox writers know what Musicbox readers listen to!
TOP NATIONAL BAND
Basically this is your choice of the band (or solo artist) who has had the biggest impact on your life this year? Last year's winners were The Smiths who are sure to be prominent again this year but this tends to be the section where the most diverse of groups and individuals get the voting thumbs up. My choice is for a punk orientated band called The Stranglers who you may have heard of.
TOP LOCAL PERSONALITY
A section which really took off last year and gave you the chance to recognise those on and off the stage who help to make the Tamworth and Atherstone music scene what it is today. I find it hard to choose this year between the top on-stagers: (Bayley Cooke, Paul Hanlon, Rikk Quay, Steve Webster, Aaron James, Mark Brindley etc.) and the top off-stagers (Edward ian Armchair, Ian Gibbons, Den Byfield, Ray Sheasby, Rob Cross etc.) because they have all done their bit. Oh, what the hell, I'll give it to Bayley because he's big and nasty. But the final choice is yours…
So there it is. My guide to your choices. At the end of the day however – as the immortal sex-machine Hughie Green would say – it's your vote that counts.
So don't just think about it, VOTE. We will keep you in touch with how it is going over the next couple of weeks but as with the General Election, if you don't vote, you don't have a right to criticise the final result.
Let the fun begin!
Top Twenty Songs By Local Bands
1. Disguises – World Intelligence Network
2. Get Up – Wolfsbane
3. Higher Ground – Dance Stance
4. Too Much Too Ask For – Fetch Eddie
5. Facing Up – Catch 23
6. No More Lights – Catch 23
7. Over and Out – Great Express
8. Passions Burning – The Conspiracy
9. Paint The Town Red – Wolfsbane
10. I Think That I Love You – Fetch Eddie
11. Britannia – Breaking Point
12. Falling Down – Dance Stance
13. Society Girl – A5
14. Loco – Wolfsbane
15. Going Green – Rape In Yellow
16. Sick – Pakistani Brothers
17. Duty Calls – Shellshock
18. Try Me – New Age Gypsies
19. Heaven Help Me – Dance Stance
20. Memories – World Intelligence Network
Tamworth Herald – 20/11/87
Musicbox – SNIPS
Heaven with the Smiths
LOVERS of the already much-missed Smiths are in for a real treat tonight (Friday). For mega-Smiths fan Mr. Edward ian Armchair is running a special Smiths-only disco at Tamworth Arts Centre to celebrate the passing of this most important of British outfits.
Edward wants all Smiths fans from the area to descend on the Arts Centre, dance a bit, cry a bit and generally acknowledge a group who will be remembered with affection by all of us who they touched. It starts at around 8pm and ALL you will hear ALL night is Smiths music, more Smiths magic and yet more Smiths music. Sounds heavenly.
Tamworth Herald – 20/11/87
Musicbox – SNIPS
Tamworth Arts Centre will tomorrow (Saturday) stage a special modern rock-based play written by the same savage pen (John Gaunt) which produced 'hooligans'.
The play entitled 'Stars' is about five unemployed youths who share a house in Coventry and dream of a rock and roll escape from the drudgery of urban decay.
Tamworth Herald – 20/11/87
Musicbox – SNIPS
The Great Express return to local live action on Tuesday night when they start the first of what should be a regular series of concerts at Corvettes Wine Bar. The group's ever-active bassist Mark Mortimer has been asked by Corvettes co-owners Phil and Sara to organise special shows and discos at Corvettes and he will be delighted to hear from any band who wants to be involved. Mark has now formed a promoting agency called Wimple Sounds which he says is open to all local bands who want to be promoted. And has promised he can organise concerts for anyone, anywhere!
Tamworth Herald – 20/11/87
Musicbox – SNIPS
Breaking Point, The Great Express and The Conspiracy will be in action at the Arts Centre on Friday, November 27.
Tamworth Herald – 27/11/87
Musicbox – Trio of Tasty Morsels
MUSICBOX always welcomes reviews sent in by you, the readers. It helps us to comment on the concerts we missed and also gives you the chance to show your journalistic talents. Here we have three reviews by Musicbox readers of concerts in the last couple of weeks.
If you ever want to send in local – or occasionally national – reviews, please keep them as brief as possible and please be patient as we have masses of material to get into the column and can't always guarantee immediate publication.
The following reviews are all snippets of their original length, which we hop gives an indication of the respective band's merits…
The Parade – The Tavern
This present line-up is the tightest and most powerful The Parade have ever had. The new partnership of Andy and Alan on bass and drums provides a very powerful backdrop to Brian's unique guitar and vocal sound. They play music they enjoy with sincere lyrics, and they have that unique ability to make people tap their feet. It's great to see The Parade back in action again. They will be one of Tamworth's favourites this time next year – and I can't wait.
Edward ian Armchair
Kubla Khan – The Tudor Rose
Phil Smith's guitar was a highlight all of its own and with Emo's bass and Chad's keyboards it gave the group a very Spirit of Water sound. In front of an audience containing seemingly all of Atherstone's music fanatics (even Dance Stance) they played a great set even dragging the New Age Gypsies vocalist out of the crowd for one number. It was a very good gig by a very good band – and there is certainly something here to watch out for in the future.
James Chick
Wolfsbane – The Marquee
They kicked off with 'Killer' and ran through their best numbers to make an excellent set. The band showed why they are now getting such enthusiastic reviews with Blaze Bayley enjoying several good-humoured exchanges with the packed-out audience. All in all Wolfsbane proved they are the best export the Lichfield and Tamworth area has had in years.
Janice Greaves
20/11/87
The Conspiracy
Enots Lichfield
27/11/87
Breaking Point
Great Express
The Conspiracy
Tamworth Arts Centre
Tamworth Herald – 27/11/87
Musicbox – Here Comes Two Cracking Nights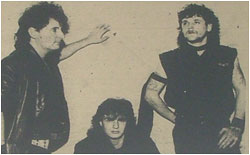 TAMWORTH'S music scene bursts into life again this weekend with two cracking concerts at the Arts Centre.
Tonight (Friday) powerkings Breaking Point spearhead an alternative bash which features The Great Express and The Conspiracy and then on Sunday, rock music takes over with metal men Shellshock teaming up with Atherstone twosome The New Age Gypsies and Kubla Khan.
Both concerts offer a mixture of new and old favourites and both offer the respective audiences a wide range of exciting modern music.
Let's start by looking at tonight's show. Topping off the bill are Breaking Point who are looking to tonight's concert as an important new starting point in their long and enjoyable career.
As well as parading many of their oldies and goldies, the band will be serving up several new tunes all of which they passionately believe stand up to the best of the rest. Breaking Point have, in former times, produced some of the greatest ever Arts Centre concerts, where their mixture of dynamic, power, skilful songwriting and often moving melodies have slayed their audience unmercilessly.
If they can play to their crunching best tonight – as they sincerely hope to do – it could turn out to be a very special set indeed.
Also hoping to turn on the style will be two new bands who have made a big impact on Tamworth this year – The Great Express and The Conspiracy. The Express and now back in business after a lay-off of several months, and they are returning with virtually a brand new set of songs which have been conceived while the band have been away from our stages.
All the new material has fired the group's enthusiasm and when it is supplemented by the likes of 'Over and Out' and 'You Are My World' it should make an excellent set. Completing tonight's intriguing trio will be The Conspiracy, a group who have been busy with live work since their first dramatic attack on the local scene at the Rock Festival. The groups new-wave-based modern rock sound should fit the bill perfectly tonight, and they have the ability to grab the attention and keep it riveted.
Their appeal is wide-ranging, their sound is strong and their talent is obvious. Long with Breaking Point and The Great Express they represent some of the best and most original music Tamworth has enjoyed and all three groups together should make an irresistible treat.
It starts at around 8pm, the entry fee is very modest and it should be a great night out for local music fans at the Arts Centre tonight.
Then, just 48 hours later, there are yet more tasty morsels on offer. The bands on view at Sunday night's Arts Centre bash – Shellshock, Kubla Khan and New Age Gypsies - are all hoping to have a real rock and roll party, which should appeal to everyone who likes their music hard and punchy.
Shellshock are a band who play far too few concerts in my opinion, but always impress o, the occasions they do hit the stage. Their last powerful bash at the Rock Festiival earned them praise from all sides and when coupled with their recent thundering demo it shows a band very much alive and kicking. Musically, the band produce meaty metal with a commercial edge.
It has all the ingredients you expect from metal but has those cute tunes and stylish arrangements that are less familiar in the land of blood, guts and axes. The New Age Gypsies, meanwhile have a reputation as a late-Sixties hippy band but their sound owes much to the likes of The Cult as it does to the likes of Love.
Hard rock
It is hard rock with psychedelic overtones – a neat blend of Sizties abd Eighties which happens ironically to sound very Seventies-ish! If that's confusing, go along on Sunday and you may just see what I mean.
Competing Sunday's show are the highly-likeable Kubla Khan.
Their music has a lot of touches of the immortal Spirit of Water, a sort of anthemic rock sound with sweeping melodies, brash rhythms and glitzy guitars. Their whole sound is influenced by so many different musical strands it unsurprisingly ends up feeling very original. Such was the impression they made at the Tamworth Rock Festival, that they are certain to be lapped up on Sunday.
So that's the second of two fine shows this weekend. Both offer three good strong local bands at knock-down, value for money prices. Both should offer local music fans a real plethora of delights so put your dancing shoes on and head for the Arts Centre tonight and Sunday.
Tamworth Herald – 27/11/87
Musicbox – Danger-ous questions
SNIPS
TAMWORTH'S Favourite jazz/funk/disco combo Wolfsbane are offering a unique prize for their local fans in a special Musicbox contest. The group are offering one of their dynamic new demon (much loved by all at 'Sounds' and 'Kerrang'), a suitable tasteless t-shirt and one or two other goodies to the person who writes to Musicbox with the best description of what makes Steve Danger a man (!) and what shape a rocket it. It's an odd contest although Bayley's original idea was far cruder than that! So get entries in for this unique and splendiferous contest right now. Still with the Wolfies, their Marquee gig was a sell-out success with an amazing £1,500 being taken on the door alone. Stacks of fellow 'smaller' popstars like Girlschool and Balaam and the Angel were in the audience and such was the band…team up with King Diamond at the legendary Hammersmith Odeon. Where will it all end boys, where will it all end?
Tamworth Herald – 27/11/87
Musicbix – SNIPS
A new bunch of heavy metal lunatics called B.O.D (which stands for something totally unprintable near a 'Scooper' page) are after a 'totally insane drummer'. According to bassist Gaz Wain; "We don't care if they have had band experience or not, just as long as they can keep a beat like hardcore like Slayer, Anthrax, Metallica and Sceptic Death" They say they are going to pit some insane dun into the Tamworth music scene with songs about skateboards, Mary Poppins and Howeard The Duck. If you're interested write to G. Wain.
Tamworth Herald – 27/11/87
Musicbix – SNIPS
Dance Stance…Chippenham at the start of December now beckons and the band are looking for local people to get along and cheer them on. If you want to book for a special coach you must do so by Sunday at the very latest by ringing Nick. It will leave the Assems at 6.15pm which should give most people a chance to get away from work. The concert is the latest in a series of successful shows for the local CD kings including a recent mega-bash at Warwick University lapped up by a crowd of 1,400 people.
Tamworth Herald – 27/11/87
Musicbix – SNIPS
STOP PRESS – An excited Rikk Quay (yes, I know he's ALWAYS excited!) rang me on Monday bursting with pride that The Pakistani Brothers demo 'Sick' had been voted tape of the month in the new edition of national magazine 'Underground'. Rikk sees this as the ultimate proof that the Brothers are destined for the world-mega-stardom, and who are we to argue with such a lovely bloke as this?