Tamworth Bands History : 1989 :
November
Tamworth Herald – 03/11/89
Musicbox – Shakin' to the top?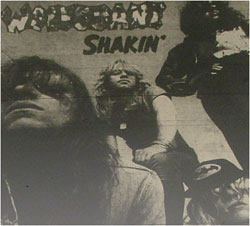 Wolfsbane – Shakin' (Def American Single)
IN which brothers Wolf release their debut single from the fabbo 'Live Fast Die Fast' album.
The single, which came out on Monday in both seven inch and 12 inch formats sees the boys in their more rocky mood, deliberately steering clear of their pop-orientated tracks to try and show metal watchers that they are a serious, credible force.
As such 'Shakin' is not as immediate as say 'I Like It Hot', 'All Or Nothing' or 'Fell Out Of Heaven' and in that sense is probably less representative of the album that a first single off it should be. It begins slowly with a languid guitar piece before gradually building up to a powerful hook-line where Bayley's vocals are tested to their fullest and he passes the test with flying colours. The last couple of minutes are magical and even though I must confess this is not one of my top Wolfie faves I am sure it will be lapped up by people who understand metal far better than I do. On the flip side of the seven inch we find the live favourite 'Brando' which has been given a new fresh lease of life in vinyl and for 12 inch purchasers there is the added delight of the splendin 'Angel' a commercial little ditty which takes Wolfsbane into even more poppy waters.
The MUSICBOX Juke Box Jury votes this a HIT with the proviso that 'I Like It Hot' will be a much bigger HIT still. Watch out for this one on the TV (Chart Show rockslot perhaps!) and see if you can't stop shakin' as well.
Sam 'I Like It Hotter' Holliday
*STOP PRESS – Wolfsbane are due back in Britain on December 10 and several big dates will follow.
Tamworth Herald – 03/11/89
Musicbox – Letterbox
Tamworth Arts Centre? It's a terrible place!
Dear Sir/Madam,
I was at a concert in Tamworth recently. I'd gone to watch a band called Sweet Revenge who had played in a venue in Coventry and I took a great interest in them.
When I arrived there at the venue I got quite a shock. I thought that Tamworth was a big place on the music map.
Andy my friend told me that the people and atmosphere in Tamworth was great.
I can only say he was bulling me.
Everybody I talked to was ace, just ace, but as for the venue – the local Tamworth Arts Centre! If that room was the only place bands can play, I pity them. No lights, wobbling stage and not a poster in sight.
If Tamworth has only one place to play, then all I want to know is, where the hell are all the big names that Tamworth is supposed to be famous for, where they are supposed to perfect their craft?
Then Andy told me that it cost £40.00 to hire the room "What?" I shouted!
A room like that in my area would be destroyed by the fans. In my opinion they should not even pay half price for it. The bands were great, very tight sets. A lot of people were there, having a good time.
I praise Tamworth and the Tamworth music scene, but please get out of the local Arts Centre, or at least get them to do it up a lot.
I am in a band called Claw. We were going to come and play here – but not in that place.
Smily Davis
The Hill
Coventry
Sam Holliday replies – I decided to print this letter because it is the third such one I have received on the same subject and I felt it needed publicising because it came from outside of Tamworth. I happen to be an Arts Centre fan and feel that on a good night it has a perfect atmosphere for a lively show. I must admit however that the £40 fee seems a bit harsh for what bands actually get and the Arts Centre cannot afford to get complacent. Incidentally I have been invited to join the Tamworth Arts Advisory Council (who control the Centre) as a representative for local bands and I would be interested for YOUR comments on what you would like to see from an Arts Centre YOU largely finance.
Dear Mr Holliday
Concerning the review of the Searching gig (10 Oct) by Jo Marsh.
Mark of the Searching got the Sherbert Trees a good sized gig, and the Searching are rewarded by a real slagging off by a Sherbert fan.
I travelled down to Tamworth from Liverpool to see the Searching, not a load of Sherbert dips, with their following of little herberts.
The Searching should cross that bridge – support like that is a waste of bass.
R. Mitchell,
Wavertree,
Liverpool
Sam Holliday replies – I am not sure if Jo Marsh would call him/herself a Sherbert fan and I for one don't agree with the Searching slagging that I printed. However, I don't think it was the Sherberts fault that Jo Marsh didn't like the Searching so knocking them doesn't help. But as regards the general review Jo Marsh responds by saying…"reviews are always from personal opinion. They have to be or they are totally worthless. It was only an opinion and not quite the end of the world." The problem is I think that people have been so used to seeing my slightly more positive reviews of local bands that when someone stands up and shouts 'that's rubbish' it takes everyone by surprise. Makes life interesting though don't you think?
Hi Sam,
It's Emo from Atherstone – haven't spoke to you for ages, how ya doin? I thought I'd write to let you know about this new Atherstone band that Khan Promotions are managing. Line up: Vocals: Graham Tonks, Guitar: Screv, Bass: Geno Valentino, Drums: Darren 'He Spliff' Steelley.
This all new Atherstone band play a style of punk music that is loved and hate by everyone. The band all of which hate each other are fronted by the almost famous Atherstone psychopath 'Tonksy' who watches the 'Great Rock 'n' Roll Swindle' everyday at various levels of intoxication.
The guitarist Screv used to play with the Spirit of the Gypsy Khan and the bass player looks familiar but I just can't place him.
The human joint playing the drums is a Welsh man with an attitude problem. Geno the bass man walked on a Dance Stance practice two weeks ago and just started to disassemble the drums while Paul was still playing them, when the band stopped playing to see what the crack was he just turned round and said, "I'M THE MAN FROM LITTLEWOODS POOLS" and walked out.
They're a bunch of raving lunatics. Everybody hates and loves them already in Atherstone and they haven't even played a gig yet.
Khan promotions are hoping to launch them shortly after Christmas.
The band are still fighting over a name so as soon as they decide I'll let you know.
Emo Emerson, Khan Promotions
Sam Holliday replies – The big question is, is EVERYBODY in Atherstone as mad as a hatter??? We should be told.
Tamworth Herald – 03/11/89
Musicbox - SNIPS
Scream Dream are searching for a new drummer. The search comes following the surprise resignation of Dave Burgess (in sympathy for Nigel Lawson perhaps?) in apparently amicable circumstances. Scream Dream now want a quality drummer who is open-minded about what he/she plays. Although the group are in a rock sphere at the moment they stress that their sound may be changing soon so they want a versatile and powerful sticksman.
Tamworth Herald – 03/11/89
Musicbox - SNIPS
A new rock band will hit Tamworth tonight.
The band, Hero, will be in action at the Chequers, Hopwas where they will have the support of a full rock disco. It costs just a poud to get in so why not pop along and strut your stuff?
Tamworth Herald – 03/11/89
Musicbox - SNIPS
The Ruby Blazes are on the lookout for two new guitarists. The Tamworth-based band who say they are influenced by U2 and The Wolderstuff (and look nothing like Jim Kerr).
Tamworth Herald – 03/11/89
Musicbox - SNIPS
A bassist and drummer are being sought to form a new band whose influences include Velvet Underground, Sugarcubes, The Cure and Jesus and Mary Chain. If this sounds like your 'bag' then call Vic.
Tamworth Herald – 03/11/89
Musicbox - SNIPS
Another new band, who boast a guitarist, bassist and keyboard man are on the lookout for a drummer. For more details of who they are and how they sound ring.
Tamworth Herald – 03/11/89
Musicbox - SNIPS
Work (and other) commitments kept the Box team away from Sunday's Arts Centre bash and the Corvettes gig on Tuesday. Freelance reviews are hereby invited!
Tamworth Herald – 03/11/89
Musicbox - SNIPS
MUSICBOX is this week delighted to welcome a new member to our team. Mike Turner has joined the Herald initially on a six month contract, and he will be contributing a great deal to this column with local and national reviews. Mike, known to many of you as the former Sitting Pretty singer, the owner of Tamdisk Record shop, the editor of Tambeat and writer of Beatles fanzine Every Little Thing (etc, etc, etc.) is a most welcome addition and he joins a team already littered with stars. Team Manager Sam Holliday now has at his disposal a metal man who can dance (Martin Warrillow), a dance man who can 'metal' (Sean Atkins), a Big Noise fan with a big nose (Helen Machin) and of course freelance correspondents of the sneering quality of Jo Marsh and Jack Napier. In addition, we have literally scores of other would-be journos out there to ensure that this column reflects all YOUR tastes and has more people working with it than the Channel Tunnel. Welcome to the squad Mike and remember the golden rule – you can slam absolutely anything apart from the Stranglers.
Tamworth Herald – 10/11/89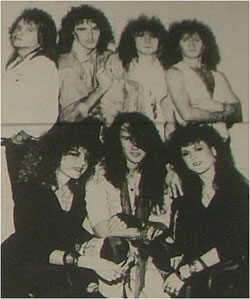 Musicbox – What a weekend!
Tamworth gig-goers are this week faced with one of the most unusual weekends of the year with three very different shows on offer.
Tonight (Friday) two members of former rock legends Sad Café and an ex-Simply Red guitarist will front a special soul/rock band at the Amington Liberal House. Then on Saturday the Castle Grounds Hotel will stage a unique alternative comedy show and finally on Sunday good old fashioned heavy metal returns to the Arts Centre as Kraze make their debut with a brand new line-up.
It adds up to a very varied weekend indeed and it literally should have something for just about anybody who likes to get out and see live action. Here are details of the THREE separate shows you can catch during the course of the next 72 hours…
TONIGHT (Friday) Amington Old Liberal House – Sad Café featuring Cissy Stone.
A very impressive-looking concert this one which brings together some extremely accomplished musicians indeed. Two former members of Sad 'Everybody Hurts' Café link up with an ex-Simply Red guitarist and a host of other top musicians to back a brilliant female singer Cissy Stone who has worked with the likes of Marvin Gaye. The pedigree of the people involved – Cissy Stone, Des Tong, Aziz Ibrahin, Steve James, John Hopcroft, Billy Paul and Chris Taylor – is quite astonishing and the end result is a sound which John describes as original, soul-based rock.
"It is very hard to define but it is mostly original material which has been written for Cissy's voice," said John. "We are due to play a major tour in January and this gig serves as part of a series of warm-up dates where we can see the reaction to our material."
The Old Liberal house has certainly produced a coup in grabbing this band and this is one regarded as a must for the connoisseur. If you like to see well-written material, expertly played and well sung then get along tonight to the splendid Amington venue. Doors open 8pm.
SATURDAY Castle Hotel – Great Stans Cabaret (alternative comedy and music)
Another of the hugely popular Great Stan extravaganza's which brings Saturday Night Love to little old Tamworth. Tomorrow night you will be able to sample the delights of comic types The Mike Spender Sextet (described as 'dangerous humour') Shawn Percival ('looks like a hippy, more perceptive than Bob Dylan and far, far funnier'), Mark Westwood ('a personal friend of Timothy Leary') and of course The Great Stan. Young Stanley will be hosting a 'What's My Question Time Anyway' show described as being a mix between 'Whose Line Is It Anyway', 'Question Time' and 'Animal Magic'. Completing a fun show at the Castle will be r 'n' b boys the Sleeze Brothers and the whole show looks set to keep you smiling. Starts 8pm. Big Fun.
SUNDAY Tamworth Arts Centre – Kraze/L.0 Girls/Libra
Metal returns to the Arts Centre with avengeance on Sunday with a three band show which promises to fill the venue to capacity. Spearheading the whole bash will be the eternally popular Kraze who now boast a brand new line up. New guitarist Daz Tracee and Andre Tzar join forces with new bassman Dave Moore and all your old Kraze favourites for the band's debut with their new line-up.
"It is quite an important show from us because it is the first time Daz. Andre and Dave will be playing with the band," said vocalist Mitch Michaels." As we have had to settle them in we haven't had a chance to write a great deal of new material but there will be a few tracks that will be new to people."
Supporting Kraze will be the much-vaunted LO Girls who have been making an impact throughout the UK and have already established quite a following in and around Tamworth. Completing the show will be Libra, a brand new group to Tamworth ears who hail from Stratford and have a sound which has more progressive rock influences including the likes of Rush. A three band show and lots of smiles are guaranteed.
Tamworth Herald – 10/11/89
Musicbox – Get up the Poll!
MUSICBOX will be launching its infamous and legendary Poll in a couple of weeks and we are giving advance warning so you can decide who are the best local and national bands are this year. Will Wolfsbane walk it? Can anyone Catch the Catch boys? Will the Eye men Spiral to the top? Will Rikk Quay get a single vote??????????? All this and more is up to you so get thinking now.
Tamworth Herald – 10/11/89
Musicbox – Gig Reviews
Freelance correspondent ROBERT HODDLE kindly supplied me with reviews of these two gigs last week. Our thanks to him and on with the show(s)…
The Herb Garden (Tamworth Arts Centre)
A much improved and very interesting sound. I was apprehensive as to how they would sound with new man Rob Kinson but he certainly seemed to add a new dimension creatively. One problem was their visual aspect – i.e. there isn't any! One thing though, I strongly suspected their was a little foul play on Sunday as throughout their set the main lights were left on and when someone kindly turned them off, they were promptly switched on again. Come on!
Infinity Incorporated (Corvettes)
The singers on this night were having particular trouble hearing themselves due to a lack of P. Infinity Inc's summed it up when he said "I might as well be on Top of the Pops. I can't hear myself." It showed as well, although overall, their sound is getting stronger, but why do their songs have to go on so long? Good start, pity about the rest.
Bash Out the Odd (Corvettes)
As expected, this lot coped with the absence of a PA, but even they seemed a little uncomfortable with the situation. Being as professional as ever, they captured the audience for the night with their high energy pulsating sound. I wonder how many pints of sweat Mark Mortimer loses in a set? Strong as they are now, it's going to be interesting to see what direction they are going to go in, or if they add even few more members of the band!
Whats This Heads Down Mindless Boogie About Nothing/Litany of Fear (Tamworth Arts Centre)
I group these two together because I can't distinguish between them. They are both quite entertaining admittedly and both have a strong, heavy sound but all this death, gloom and despair business was used up years ago. This is nearly 1990 and surely there are more stimulating sounds out there than this 'goth' business. The music was left standing by the smoke machine.
Sam Holliday's comment: Watch it Robert, these Heads Down chappies are a mean bunch!!!
The Herb Garden (Corvettes)
Surprised to see these again so soon. Tonight their sound was a bit off. It sounded slightly nervous, probably due to playing a different venue, though for the first time you could actually hear Lisa, the singers voice (and with their being no PA, that's not bad!) Their songs are short and to the point, very like minimalistic music, once the point of the song has been put across, that's it. It also stops you from becoming bored so before you know it, the set is over. The only thing I find strange is that there was no audience reaction on this packed night. Do they think that they're not supposed to clap for the first band on?
King Woderick and the Yogots (Corvettes)
Predictably the younger sixth form female part of the audience went for these though I noticed there was less screaming than I've witnessed before. Tonight they revel in this adoration they've come to expect, which is OK for Tamworth, but what about outside?
The wonderful out of tune harmonica along with the singers' voice sound totally detached from the rest of the band has almost become their trademark. Many of the songs merged into one and I personally found the set far too long. With groups around such as the Stone Roses, (though by no means am I comparing the Yogots to these) I this kind of music leaves me quite cold.
All reviews by ROBERT HODDLE
Tamworth Herald – 10/11/89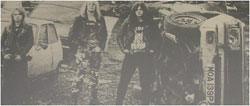 Musicbox – Single? What Single?
That lovely fellow Jeffrey Hateley was on the Hollywood Hotline again this week with full details of Wolfsbane's first three triumphant US shows.
The Wolfie bass maniac explained that in the course of one hectic week in New York they played at a sado-masochist club, a top quality nightspot in Brooklyn and an amazing sleaze pit which came complete with transvestite dancers on the tables. Typical Wolfie fare – and they had a great time.
"The gigs went great and we got some really encouraging reactions," said Jeff. "The sado-masochist club was amazing, there were all chains hanging down from the walls and this huge metal wheel which people could nail each other to. Real fun."
The band, who are currently making a video for 'Money To Burn' were somewhat surprised to find out that they had released a single over here. When I told Jeff that 'Shakin' had hit the shops he was quite amazed and wanted to know what the cover looked like and what was on the b-side. I should have told him to go and buy one the big meanie.
The Shakin' single is also being released on CD.
Tamworth Herald – 10/11/89
Musicbox – News, Snips
Here's a chance for one lucky local music fan to enjoy a three or four month (working) spell in France! Yes, a roadie/sound engineer/driver is being urgently required by a locally based rock outfit who have secured a four month stint in France. If you can fulfil all those roles and still smile ring.
Tamworth Herald – 10/11/89
Musicbox – News, Snips
The Herb Garden who have been very active of late (see reviews) have announced three more pre-Christmas shows. The band who joined Bash Out The Odd at the Barrell Organ on Monday, will be in action on November 30 at the Blue Posts, Burton (with Emma Gibbs and The Sherbert Trees) on December 3 at Lincolns and on December 13 at the Turfs Club, Cannock. More details of these shows as and when we get them.
Tamworth Herald – 10/11/89
Musicbox – News, Snips
FOD have announced details of some of their Lichfield shows in the next month or so. Those who wish to pop over to Lichfield's Sweat Box can enjoy the following goodies:
Friday Nov 10 –The Great Stan Show (see above) with the Sleaze Bros. Friday Nov 17 – Ya Ya Coral/LO Girls/Patriot, Saturday Nov 18 – Steve Murray Blues Band. Friday Dec 1 – Ark/Wreakage/Band of Gypsies, Saturday December 16 – Steve Murray Blues Band/Artful Dodger. Friday December 22 – Christmas Special with Engine/Sleaze Bros/Sticky Gypsy and Big Daisy.
Tamworth Herald – 10/11/89
Musicbox – News, Snips
The new punk band from Atherstone, so graphically described by Emo in last week's MUSICBOX, have found a name. The group, Personality Crisis, are named after a classic New York Dolls track and they are set to play their first gig (wait for it) on the roof of an Atherstone shop on Christmas Eve. They will open with Pistols track 'God Save The Queen' and carry on for 30 minutes unless they (and I quote) 'get arrested first'. Fun place Atherstone or what?
Tamworth Herald – 10/11/89
Musicbox – News, Snips
Here's your chance to take part in one of the biggest rock contests in Britain. The 1990 North of England Battle of the Bands (open to everyone 'north of Watford') are looking for groups from this area to take part in a battle which last year attracted 200 groups and saw the grand finale at the excellent St Georges Hall in Bradford where Catch 23 won the TSB contest. Prizes up for grabs have a combined tally of £4,000 and this is a contest with considerable national recognition. Interested?
12/11/89
Kraze
L.O. Girls
Libra
Tamworth Arts Centre
13/11/89
Bash Out The Odd
Herb Garden
Barrell Organ,
Birmingham
17/11/89
Spiral Eye
Chequers,
Hopwas
Tamworth Herald – 17/11/89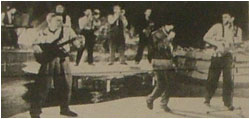 Musicbox – Demo Review
Scene-Stealers!

Dance Stance – Live Sampler
ONE of the saddest things in recent local music history has been Dance Stance's self-imposed exile from the 'scene'.
Because of the sheer size of their operation, not to say their ability to attract mega-bucks elsewhere, the Atherstone based crew have lost a lot of their local presence and presumably a lot of their local support at the same time.
Where once they were one of the jewels in the local music crown recently they have become like a Julian Cope configuration – local in roots only.
This I have to say is a major tragedy and listening to this tape shows exactly why Dance Stance were borne out of this area and such was the initial and immediate impact of their soul-based cocoon that within months of forming they had built up a large following which resulted in two MUSICBOX poll victories and everyone who knew their local music putting them on the same high plateau as old trailblazers, The Dream Factory and the (then) new trailblazers Wolfsbane.
In the two years or so since they have played within 15 miles of this area Dance Stance have matured and improved enormously and it is sad that the mass of local people who initially gave them the self-belief to go forward have missed out on the action. This demo is a wonderful collection of tracks, recorded in a 'live' format where the band just waltzed into the Expresso Bongo, rattled off their tracks one after another and ended up sounding as if they had spent millions putting the tape together.
Such is the strength and presence of the tracks that they are almost literally indistinguishable as one smooth, soulful moment runs into another in a classy and disciplined way which shows the band have become as watertight as (to quote the immortal Blackadder) 'a mermaids brasserie'.
One of the things that does seem to have changed since I last heard the band in action is that they have now promoted two key elements in their sound right to the forefront. I refer here to Paul Hanlon's splendid voice and the entire purpose and position of the brass crew. Paul who has always been a vocalist of considerable power and style, has come on leaps and bounds and is almost starting to sound (and believe me this is a compliment) 'black'. His vocal range and depth has increased tremendously and a Dance Stance song is now worth listening to for his voice alone. How many other bands can you say that about?
The other exciting development is the way the brass section has now become a totally integral part of the sound. Too often groups use brass as a pleasant distraction or worse a mere 'pointscorer' in the musical credibility stakes. But with Dance Stance the sound of those trombones and saxes is as vital and as integral as that of the bass and drums. The brass works amazingly well throughout this demo, supplying useful riffs here and vital rhythms there and making the brass sound as whole and important as anything since 'too Rye Aye'.
Of the four songs here it is the latter two: 'Push Comes To Shove' and 'Worlds On Fire'…
Put together these four tracks represent some of the finest music to have come out of this area all year.
It's a shame that they don't feel the need to be part of the scene that spawned them and as such I appeal publicly to the boys to get back onto a local stage SOON. There are a lot of people out there in MUSICBOX land who had a great deal of faith in Dance Stance and I feel sure they would think all their faith has been rewarded by hearing the sheer quality of the product the group is now producing.
Dance Stance are STILL a wonderful band and still one of my fave-raves. I just wish Tamworth and Atherstone people could see (and hear) how good they really are for themselves again.
Music of this quality deserves to be played at 'home games' as well as far flung away matches. Think on it boys, because if you returned to 'base' I am sure a whole new generation of local music followers would fall in love with you afresh.
Great tape. Great band.
Sam Holliday
Dance Stance have recruited a new keyboard player in the shape of Atherstone man Dean Harvey. Stance man Neil Sheasby describes him as 'amazing' and feels the final piece of the jigsaw has been put together.
Tamworth Herald – 17/11/89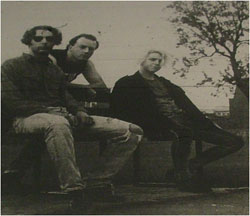 Musicbox – Gig Reviews
Another Big weekend
WE have two nifty looking local gigs to tell you about this week.
Tonight (Friday) the legend that is Spiral Eye returns to Tamworth when they play a special show at the Chequers, Hopwas. This, part of a regular series f rock shows at the venue comes complete with a rock disco and admission is £1.50.
Then, but 48 hours later, Sunday night's venue is the Arts Centre for a splendid four band show of raw young talent.
The Big Noise will spearhead proceedings and they will be joined by The New Puritans (hurrah!), King Woderick and The Yogots and the delightfully named Fudge Tunnel.
Such a line-up would be worthy 50,000 pfennigs of anybody's dosh but it costs just £1.50 so anyone not tempted enough to go will be hung, drawn, quartered and forced to watch Beadles About for two hours a night.
That's it in a nutshell – tonight Spiral Eye at the Chequers and Sunday night The Big Noise, King Wodericks, The New Puritans and Fudge Tunnel at the Arts Centre.
Laugh? I almost did.
Tamworth Herald – 17/11/89
Musicbox – Screamtime
IT is no secret that Musicbox has always believed Catch 23 would make it to the top. But we became more convinced than ever after seeing a video of one of their two Bristol school gigs earlier this week. Having embarked on their professional careers, they are currently touring schools all over the country, and the reception they are receiving can only be compared with that enjoyed by the big teeny-bopper bands of the 60s and 70s.
Twice in a week they so excited their young audiences that the band needed 'protection' both on and off the stage. Hundreds and hundreds of teenage girls screamed continually throughout and bassist Neil Gordon was pulled to the floor by hordes of new-found fans. Had we not seen it for ourselves, we would not have believed that the band could create such mass hysteria. Singer Steve Webster teased and taunted like the sex symbol he always wanted to be and the skilfully selected set of Catch 23 standards and classic covers never allowed the pace to drop. As guitarist Ray Clenshaw said: "Although we were enjoying every minute, it was very scary. We just didn't know how far they would go, because they were pulling at our jeans and grabbing anything they could get hold of."
After an encore which had to be cut short for safety reasons, chants of "We love you" echoed round the hall as the lads signed photographs, tape covers and various parts of the female anatomy, and it didn't take long for all the bands merchandise to be sold.
When you realise that very few people in Bristol had heard of Catch 23 before the gigs, it is all the more remarkable. I am convinced that record companies will be clamouring for their signature and we will have yet another local band making their way up the charts.
As a footnote, Catch 23 are at last starting to make an impact in London and following their two outstanding performances at the Mean Fiddler the band were very pleased to hear this week that the management of the venue consider Catch 23 to be the best new pop band of 1989. As such, they have been invited back to star in their 'Best Bands of '89' showcase the week before Christmas and will be featured in the December advertising brochure.
Tamworth Herald – 17/11/89
Musicbox – Dreamtime!
Kraze/LO Girls/Libra – Tamworth Arts Centre
WELL, on a three-band bill, two out of three ain't bad, as they say.
Libra were enjoyable. Kraze were stunning and L.O. Girls were, let's face it, extremely naff.
First off, Stafford-based Libra, described previously as "Rush-influenced", but sounding to me like Bob Catley had jumped on stage and decided to do a Magnum set.
They started off brightly, with some nice pomp-rock and a fine tune called 'I Can See Africa' but threatened to sink into their own verbosity, before reviving things with a cover of 'Because The Night'. Very much better than the average third on the bill, and perfectly suited for the Tavern MCC's next promotion, if you ask me.
Next up, L.O. Girls, who are unfortunately beginning to believe their own egos. They kicked off with a couple of tunes from their excellent demo, but then the whole thing rather fell apart, thanks to an over-talkative front man and some very ordinary songs.
They may have given up Guns 'n' Roses covers, but they now do Van Halen covers and not particularly good ones at that. Some desperate playing to the audience convinced them that we needed four 'farewell' songs before they finally left, wishing us a 'Happy Christmas' into the bargain. Strange people.
Kraze's catalogue of disaster continued when they hit the boards as Mitch put it 'twinless'. An accident 'in training' had deprived them of one of the delicious duo, but the remaining personnel reminded us, as if we could forget, just how absolutely excellent this band is. The new boys, in particular wizard guitarist Andre Tsar, fitted in perfectly, and with some fine songs like 'Long Hot Summer' to contribute, things look well in hand.
Performance wise, it was as if they had never been away, never mind had three months off, with a fine time being had on stage and among the crowd. A crowd broke out among the Musicbox review crew about which Kraze song is the absolute surefire Top Ten single 'Dance Till Dawn', 'Take the Money and Run' and 'Too Cute To Scream' all got votes, which proves that with a bit of good fortune, which this band desperately deserve, they have the songs, the charisma and the character to be stars. Great to have them back on track.
Martin Warrillow (Who else!)
Tamworth Herald – 17/11/89
Musicbox – STOP PRESS NEWS
A few moments after this page was completed a letter from Arts Centre boss Dave Fortune arrived on my desk answering the criticisms of the venue expressed in a recent letter. We hope to print it next week alongside the launch of the annual poll.
Tamworth Herald – 17/11/89
Musicbox – Corvettes
MUSICBOX received this alternative freelance review of last week's Corvettes show which we thought we would print because it was almost as snarling as a Jo Marsh review. The writer is one Michael Lewis, so take it away Mikey-baby…
A DOUR night
A had gone to Corvettes expecting some good music considering the strong line-up. I was most disappointed. First on were the Herb Garden who played in total darkness and nearly made me commit suicide. The P.A. or lack of it was the main reason for all the trouble. All the vocals were too loud.
Next up were 'Infinity Incorporated'. I had seen them before, so I expected a lot. They played well but the vocals drowned everything out and the drums were non-existent.
The audience crammed into a matchbox sized room didn't help. I've seen more life in a cemetery. After about five sings 'Infinity' gave up and just messed about. Come on lads, you can do better than this! But I did like the song where the lead singer rambled on about Neil Young!
'Bash Out The Odd' were next. I thought I was witnessing the rebirth of 'The Teardrop Explodes'. Never mind more loud vocals and blandness. King Woderick could have saved the night, but they didn't. They were obviously drunk and sounded like a nightmare. But as I've said before the audience didn't help.
They have some decent band to see and they don't react. Was it that bad?
Yes it probably was.
Michael Lewis
(Depressed of Mile Oak)
Tamworth Herald – 17/11/89
Musicbox – SNIPS
DRUMMERS still appear to be desperately thin on the ground and the latest desperate appeal for a sticksman comes from the former Breaking Point stars Kevin Briggs and Daydo. The chaps are in the midst of forming a new band with keyboards player Dave Ross and a drummer is needed to complete the line-up.
Tamworth Herald – 17/11/89
Musicbox – SNIPS
'Bash Out The Odd' have announced a series of pre-Christmas dates. On Friday November 24 they are at the Greyhound in Fulham, on December 1 they join King Wodericks, Deviance, Night Flight and Seize the Day at the Nuneaton Charity Show and then on Sunday December 3 they return to Lakins for the support slot reported below. In addition they will be in action at the Varsity Tavern on December 11 alongside the new Smiths called The Zone.
Tamworth Herald – 17/11/89
Musicbox – SNIPS
A special Christmas party for gig-goers is to be held at the Arts Centre on December 22 which includes a performance of 'A Christmas Carol' by brilliant youth theatre group Tic Toc Theatre. More details nearer the time.
Tamworth Herald – 17/11/89
Musicbox – Wanted – Bands for 'Comiczine'
Tamworth's first alternative comic/fanzine is set for a gala launch shortly – and now they need YOUR help.
The mag 'The Great Stan's Comic' will feature a special series of Viz-style comic strips plus scathing reviews and interviews on the local music and arts scenes.
To launch what is hoped to be a monthly magazine, the organisers are hoping to put together a special free tape full of local bands which will be attached to the first edition of the comic.
Already the organisers have a few contenders for a place on the tape and now they are looking for more. If you would like to donate a song to help launch the magazine then the Great Stans Comic want to hear from you.
Contributions
"We really believe that this comic will be good for Tamworth and will eventually spread out to become a major publication in the Midlands," said one of the excited organisers Chris Gould. "We already have lots of contributions for the first edition but we want plenty more."
It's not just songs that these worthy people are after. They are also looking for cartoons, comments and comedy slots which they hope will combine to make an unmissable publication.
To help launch the comic, the organisers are planning a special weekend of comedy and music at the start of December. On Thursday November 30 they will host a rock night at Manhattans, on Friday December 1 there will be an r 'n' b show at the Old Liberal House and on Sunday December 3 there will be an Indie event at Lakins featuring among others Bash Out The Odd. More bands are being sought for these shows and so if you want to play at any of them, or get on the tape or just get involved in this excellent comic then ring Chris Gould or my old mate Gibbo.
19/11/89
Big Noise
New Puritans
King Woderick and the Yogots
Fudge Tunnel
Tamworth Arts Centre
Tamworth Herald – 24/11/89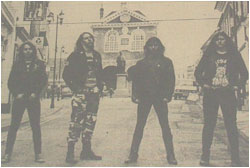 Musicbox – Vote On!

MUSICBOX is this week delighted to once again launch our annual consumertest of your opinions on the local and national music scene.
Yes, it's MUSICBOX poll-launch time again and we are calling on all you readers out there to let us know what your ears have been digesting during the past 12 months.
As MUSICBOX is predominantly (and unashamedly) a local music column, it is the sections on local bands which traditionally cause the biggest stir and interest. And we expect the competition for the prized awards of Top Local Band and Top local Song to be more keenly fought over than ever. That's where we begin our guide to the poll…
THE LOCAL SCENE
Of course Wolfsbane (the only local band who constitute a 'national' band) are red hot favourites in every section of the poll. This has been the year when Bayley's Baddies have not only sold out venues throughout Britain but have made their live debut in America and Europe and released a corking album which we believe will eventually be a huge seller for Fazeley's finest. They have supported Guns and Roses, had more press coverage than Mikhail Gorbachev and one again headlined the Festival with arguably their greatest live show of all time. Can anyone stop them winning Local Band of the Year award for the first time ever?
Well five lads from Atherstone probably can. In the past four years of Catch 23's existence their strengths and qualities have grown at the same speed and magnitude as their support and they now command an ecstatic following throughout this whole area. The nearest thing we have to Bros in the district, they have a massive female following and many, many male admirers a fact reflected by myself and fellow Box writers Sean Atkins and Martin Warrillow putting them in the top local bands of our year. They won the TSB, appeared on several TV programmes and earned acclaim from a host of top pop groups from Aswad to Wizzard. Will THEY take the award? It's up to you.
Apart from the Wolfies and the Catch boys – who are probably the bookies favourites – MUSICBOX is expecting big votes for the likes of Bash Out the Odd, king Woderick, Kraze and Spiral Eye. The Bash boys have had their fair share of membership (and name) problems but they have never lost their quality or their dedicated following and a win in the poll would be a timely boost for Brindley's babes. King Wodericks have also had a huge impact this year and a big following is seen at every one of their gigs as it is as those of the lovable Kraze-types who always do well at poll time. We expect big things too from the eccentric but amazing Spiral Eye who have had a quite splendid 1989. Scream Dream also deserve (and are sure to get) a massive vote for their best ever year and of the new(ish) groups look out for The New Puritans, The Herb Garden and Big Muff to do well. It is also impossible to rule out DHSS who won last year's poll. They have had a somewhat quiet few months but their impact on the town remains strong as I feel does that of Dance Stance as well. Their recent demo absolutely brimmed with quality and as former poll winners it will be interesting to see how much of their original support they still command.
Fetch Eddie – who were many people's choice as Band of the Festival – will probably repeat their success in the poll of last year and such an eventuality would certainly help Aaron James' convalescence. In the same vein, the whole MUSICBOX crew have been impressed with the delicate pop beauty of Emma Gibbs this year. Have you been as well. Tell us?
These are just a few of the contenders – I mean I never even mentioned the (brilliant 27 times) Expresso Bongo Orchestra, the delicious Smith and Jones or sex bombs Whats This Heads Down Mindless Boogie About Nothing for example – but the choice is all yours. If they come from within your area (Tamworth, Atherstone, Coleshill etc.) you can vote for them so think about it and vote for your top three in order.
The local song is for the best (new ) tune of the year written by one of our local bands. Don't choose covers please, just pick the best self-composed tune written by a local favourite and vote for it. You can see how we voted below along with some other possible contenders, but the choice is all yours. You know what you like so vote for it.
THE NATONAL STUFF
It's not just your local opinions we are seeking. We are also looking once more for your album of the year and band of the year. We usually get an incredible variation of bands chosen which inspires us to think how varied the tastes of our readers are so once again we will be expecting everything from the Mary Chain to Mary Hopkins. This time however we are also asking for your band of the 80s. As we enter the Nineties in matter of weeks we are interested to see who you view as being the most important band to YOU personally of the past ten years. It should be a very interesting insight into your views and bear in mind we will look closely at the end result of the poll with a view to formulating future MUSICBOX coverage of your local and national features.
So that's our general introduction to the poll. Just to let you know we will not accept photocopies (the most obvious way of hyping) and we will do our best to stop any other form of hyping as well. We want to know your genuine opinions, your feelings on the national and local music scene and your views on the best vinyl and live offerings of the past 12 months.
The first poll form goes in today and if you're looking for inspiration (or just to deride our lack of taste!) you can see how we at MUSICBOX would vote in the article below.
Think about it and VOTE now. There's bags of musicians out there who would (however secretly) love to do well in the poll so use this as your one chance of the year to recognise the bands who have made you smile throughout the past 12 months.
It's over to you folks.
Preview by Sam Holliday
Tamworth Herald – 24/11/89
Musicbox – How Musicbox writers voted
Album of 1989
Sam Holliday – Live Fast Die Fast – Wolfsbane
Sean Atkins – Change – The Alarm
Martin Warrillow – Not Fakin' it – Mike Monroe
Helen Machin – Thunder and Consolation – New Model Army
Mike Turner – Porcelain – Julia Fordham
Single of 1989
Helen Machin – Stand – REM
Martin Warrillow – Love Train – Holly Johnson
Sean Atkins – Sold Me Down The River – The Alarm
Sam Holliday – Don't Let Me Down – The Wunderstuff
Mike Turner – This One – Paul McCartney
National Band of 1989
Helen Machin – New Model Army
Mike Turner – Simple Minds
Sam Holliday – The Stranglers
Martin Warrillow – Guns N Roses
Sean Atkins – The Alarm
Local Bands of 1989
Sam Holliday
1. Wolfsbane
2. Catch 23
3. Spiral Eye
Helen Machin
1. The Big Noise
2. The New Puritans
3. Shock Culture
Martin Warrillow
1. Catch 23
2. Wolfsbane
3. Scream Dream
Mike Turner
1. Expresso Bongo Orchestra
2. Also Smith and Jones
3. King Wodericks
Sean Atkins
1. Wolfsbane
2. Catch 23
3. Spiral Eye
Band of the 80s
Mike Turner – Duran Duran
Sean Atkins – The Alarm
Martin Warrillow – Pet Shop Boys
Helen Machin – New Model Army
Sam Holliday
1. The Stranglers
2. The Smiths
3. Dexys Midnight Runners
4. Jesus and Mary Chain
5. New Order
(I know I chose five but it's been a busy decade!)
Local Songs of the Year
Martin Warrillow – Fell Outta Heaven – Wolfsbane
Sean Atkins – Killing Machine – Wolfsbane
Helen Machin – No Such Chance – New Puritans
Mike Turner – Tamworth Boys – DHSS/Tamworth FC
Sam Holliday's Top Ten
1. I Like It Hot – Wolfsbane
2. Uncertainty – Spiral Eye
3. Million Eyes – Catch 23
4. Hometown – Scream Dream
5. No Such Chance – New Puritans
6. Worlds On Fire – Dance Stance
7. Absorb Me – Emma Gibbs
8. She's Gone – King Wodericks
9. Touch My heart – First Conspiracy
10. Outside – Flowers in the Attic
Those above are just a few that we suggested between us but here are a few other possible contenders which we liked and you may like to consider. Bear in mind it's entirely up to you but we are looking for locally written (i.e. no covers) songs by local bands. Got that? Anyway what about considering any of these corking tunes…
Dance Stance – Like Brother/Push Comes to Shove, Emma Gibbs – Big League Complex, Kraze – Dance Til Dawn/Take The Money and Run, Bash Out The Odd – Switchblade Love/My World, First Conspiracy – Beyond The Pale, Wolfsbane/Catch 23/Spiral Eye/Smith n Jones – Anything they've done. King Wodericks – Don't Shout Taxi/Bleeding From The Eyes, Fetch Eddie – Ambition/Dance, Expresso Bongo – Jollity Farm, DHSS/Tam FC – Come On You Reds, DHSS – Pennies From Heaven, Shock Culture – Six Ways To Your Heart, The Parade – Rose of North, Scream Dream – Lonely Nights/Tomorrow, The Searching – Lifeline, Big Butty and the Wide Boys – Can't Get My Breath, What's This Heads Down Mindless Bogie About Nothing – Savage in the Wild, Big Noise – Still I Read/Can't Help Myself, Rape in Yellow – Come and Kiss Me, Carl Anthony – Bad case Of Love, Stench – Strangler on the Beach, Soil Brothers – Ugly and Slouchy, Rhythm Damage – I Want To Be Your Pimp, New Puritans – Empty Head/The Jailer.
(All of the above selections especially the local song sections are our own personal views only. You can cote for anything and anyone you like. We haven't been able to see everyone or hear everything so your views will tell us what sort of music we have been missing out on.)
Tamworth Herald – 24/11/89
Musicbox – Letter Box
Support the Centre!
Dear Sam,
With regard to the letter sent in by Mr. Davis recently published in your column about Tamworth Arts Centre. I would like to make the following comments in reply.
Firstly I would agree that the people and atmosphere in Tamworth (Arts Centre) are great and I would like to thank all the bands who have given their support since this letter was published.
We all agree with Mr. Davis that a new stage and better lighting would make for a better gig. I have been pressing the Arts Centre Management Committee for a new stage and improved lighting over the past months. Unfortunately our financial constraints and the multi-complexity of the Arts Centre means that what we would like and what we are able to achieve are not always one and the same.
We are proud of the excellent relationships that exist between ourselves and the bands and their supporters. If Mr Davis & Co. feel they have to smash up a room that doesn't meet their own expectations without regard for other users of the premises, then they are quite welcome to stay in Coventry.
It is our policy to make the Arts Centre available to local bands whenever possible and try only to cover costs. All door money is retained by the bands themselves.
We are aware of the shortcomings of the Arts Centre but we are trying to improve things on a very limited budget. The Arts Centre is run on a self-financing basis and there is no complacency about the situation.
The door is always open for suggestions and constructive criticism (not destructive Mr. Davis!)
One such suggestion has come from KRAZE – that they themselves play here for a weekend and the door money be put towards a new stage!
Yours,
Dave Fortune,
Manager
Tamworth Arts Centre
Dear Sam,
Not having seen the whole 'Whats this…' set at the recent Arts Centre gig I did not feel that I would be able to give a fair review of the evening's entertainment, however, having read last week's Herald, I would make the following comments:
1. Mr. Robert Hoddle should learn the difference between a REVIEW and a biased opinion.
2. Mr. Hoddle was unable to distinguish between What's This and Litany of Fear in what must be compared to a heavy metal fan not being able to distinguish between Jason Donovan and Rick Astley. It is clear that Mr. Hoddle is not a 'goth' fan so what was he doing as the gig in question?
3. Even if musically the group were a …both groups have a very different form of presentation, both verbally and physically, surely as a freelance correspondent Mr. Hoddle should have taken in the whole package!?!?!
4. When Mr. Hoddle was ignoring the 'whole package' did he also ignore the audience, who being one myself, did not think that all this 'death, gloom and despair business was used up years ago'. In future when Mr. Hoddle makes such sweeping statements could he at least have some solid facts behind him.
5. Would Mr. Hoddle also bear in mind that everyone is entitled to their own musical taste and that his few words in a newspaper is not going to make everyone change to his taste!!!
Let's hope in future What's This Heads Down Mindless Boogie About Nothing and Litany of Fear get the fair and INDEPENDENT reviews that both groups deserve. Criticism is constructive, biased criticism is just a waste of space.
Yours,
Karen Woodall
Amington
Tamworth Herald – 24/11/89
Musicbox – A fine bag of goodies
Fudge Tunnell/Big Noise/New Puritans/King Wodericks – Tamworth Arts Centre
Is this 1977 or 1989? Well, with the Buzzcocks reforming, UK Subs, 999, The Vibrators and TRB also gigging again and The Banshees, The Ramones, The Stranglers, Joe Strummer and The Damned all still around one can get a feeling that the white riot is still on. The Fudge Tunnell clearly believe this and their punchdrunk powerplay harks for the days of pins and passion once again. Personally I can't get enough of 77isms and all we need now is Sid to be dragged from the grave, NME to wise up and Callaghan to get back into number ten and we will have gone back to the future. Wistful thinking or the deranged rambling of a boring old hippy? You choose.
The Big Noise
Another positive, well-executed set from a group with considerable charisma and quality. They bop about with a sureness of purpose and poise and make up for a lack of drumkit with on-stage powerhouse performances best characterized in the song 'Volatile' which is as unpredictable as its title.
King Wodericks
The stars of the night – and that's no mean compliment in such a strong line-up. This was the best I have seen The Yogots and they have clearly cleaned up and matured their act considerably in the past few months. The songs, especially one or two of the newies, have real style and substance and every musician now plays his part in a strangely unnerving sound which has strands of two of my very favourite bands, The Psychedelic Furs and Spiral Eye. Quite magical.
The New Puritans
A fine end to a fine night. The Puritans were at their hearty best again, pouring forth with a selection of killer tunes and delicious guitar work that made everybody smile. Onesofter-than-yer-average number (the title of which I didn't catch) was tearjerkingly lovable and there were other moments of fire and fizz. One of the undoubted finds of 1989. Pure.
Sam Holliday
30/11/89
Emma Gibbs Loves Badges
Sherbert Trees
Herb Garden
Blue Posts,
Burton