Tamworth Bands History : 1989 :
June
02/06/89
Scum Ball #3
DHSS
Scream Dream
Flowers in the Attic
The Edge of Faith
Tamworth Assembly Rooms
Tamworth Herald – 02/06/89
Musicbox – Scummy-types head for the Assems!
TAMWORTH Assembly Rooms is the setting tonight (Friday) for a splendid line-up in the second 'Scum Ball' event.
The Assembly Rooms will open its doors to the power of Scream Dream, Flowers in the Attic, Sheffield missionaries The Edge of Faith and the MUSICBOX band of the year, DHSS.
The quartet will join forces for what Scream Dream guitarist Paul Keeton confidently believes will be a real party.
"The great thing about playing at the Assembly Rooms is that everyone seems to enjoy the spectacle," said Paul. "For the bands it is a wonderful ego trip being able to play on such a big stage, and all the punters seem to enjoy going to the Assems as well."
Scum Ball Two aims to be more that-yer-average gig. The organisers have splashed out considerable expense to hire the Assembly Rooms and according to Paul that extra expense (and extra risk) is very worthwhile.
"The Arts Centre is good for smaller gigs but you can't beat getting out onto a stage like the Assembly Rooms and giving it some stick," he said. "Everyone liked the last couple of Assems shows we did and we are confident that a big crowd will turn out on Friday night."
Opening tonight's Scum Ball will be Flowers in the Attic, easily one of the most popular new bands on the scene. The show organisers are hoping that the Atticers will bring in a whole new audience to the Scum Ball scene and a good set is assured.
Following on from the Flowers will be the Edge of Faith, a band who you won't have seen yet. They hail from Sheffield and such is their pedigree that they have already toured with the famous alternative act Salvation. The Edge of Faith are described as unashamed Mission-ites and they sound like good Tamworth material.
Third up tonight will be Scream Dream, the main organisers of Scum Ball '89 and the only band to have played all the three Assembly Rooms rock bonanzas. The band promise a set featuring one or two newies and they are looking to show the world that they have hardened their alternative base.
"We've definitely got a bit heavier," said Paul, "That's entirely because of our drummer whose a real metal-head."
Following on from Screamers and the Metalhead, will be the walking, wailing nightmare that is DHSS. This four-piece have been keeping busy of late and are keenly awaiting the chance to play in the luxurious Assembly rooms arena. It is the same stage that had held The Beatles and The Rolling Stones remember so DHSS should feel well at home with those fellow mega-stars…
"We're gonna be as mega as ever," said eloquent keyboard fraud Rope Quay, "It should be even more fun than watching grass grow."
Reggie Quay added that DHSS would feature a 'very large surprise' in the middle of their set and without giving too much away it is ONE of a) Jason Donavan b) Julius Caesar or c) Buttercup. We don't know which one at this stage.
That's the package then – Flowers in the Attic, Edge of Faith, Scream Dream and DHSS. Throw in the excellent Hamlets bar, a big noisy sound and a lot of fun and you can get for a fine show.
It starts at 8pm so get your scummy selves along to Scum ball 2!
Tamworth Herald – 02/06/89
Musicbox – Fetch the new member please!
Fetch Eddie return to their favourite Tamworth Arts Centre haunt on Sunday night – bringing with them a brand new member of the group.
The Fetch Eddie lads have joined forces with female backing singer Roselyn who supplements her vocals with keyboard playing to add a whole new aspect to Fetch Eddie's sound.
The band are delighted with their new acquisition and feel that things generally are moving very nicely indeed for them. They continue to gig prolifically in the Midlands and beyond and they are hoping by the time they headline the Rock Festival on Saturday July 15 that they will have made significant progress towards national recognition.
Joining the band on Sunday night will be a highly-rated support group called Doodlebug. The Doodlers have played with Fetch Eddie before, and although they are not known to this office the word from glamorous grannie and Fetch fanatic Phyliss James is that they are very good indeed.
That's two good bands then, both in action on Sunday night at the Arts Centre and both worth a look methinks.
Tamworth Herald – 02/06/89
Musicbox – Snips, Snips, Snips
Latest news from the Wolfie camp is that they now look unlikely to be able to join us for our lark in the park (ie the festival). It seems that the band are being lined up for a major tour which starts the weeks before the festival and they have something pencilled in for the fest-days. If it changes (and this isn't a final bulletin) we will let you know. Still with the festival, the three indoor Arts Centre showcases will take place on Friday July 7, Saturday July 8 and Friday July 14. Line ups for these will be announced in a couple of weeks.
Tamworth Herald – 02/06/89
Musicbox – Snips, Snips, Snips
A dedicated and experienced vocalist into Hendrix, Magazine and Love and Rockets is looking for a band with an original sound to join.
Tamworth Herald – 02/06/89
Musicbox – Snips, Snips, Snips
The Buttercup video DID go ahead last week and our man on the spot Sean 'Water Polo' Atkins was there to record the horrific event. Watch this space for more details of the horrible occasion.
Tamworth Herald – 02/06/89
Musicbox – Snips, Snips, Snips
Bash Out The Odd, still having problems finding a settled line-up, have added a new guitarist, experienced axe man Pete Woodward.
Tamworth Herald – 02/06/89
Musicbox – Snips, Snips, Snips
Another letter has hit this desk about the Shock Culture debate. This one, from Louise of Hockley, says that Nick Danger's recent letter claiming that a girl reviewer only liked Shock Culture because she was a member, a relative or a sleeping partner was well out of order. Louise says she is definitely not any of the above but she still thought Shock Culture have great vocals and do great cover versions as well. Personally I think they are a pretty cool band and I can't see why they create such a massively mixed reaction from you, the listeners. Will someone please explain???
Tamworth Herald – 02/06/89
Musicbox – Snips, Snips, Snips
Catch 23 are in action at the Belgrade Theatre, Coventry on Saturday.
Tamworth Herald – 02/06/89
Musicbox – Your local reviews…
ANOTHER MUSICBOX reader-reviewer was on hand at the b and Mr Cyn show last week, so here are the reviews of Kevin K, followed by another report of the recent Big Noise gig.
Big in Texas
Coming all the way from Coventry it must have been disheartening to see only a handful of spectators. The rest of you don't know what you missed!
I wouldn't like to categorise the sound of the music, it's got so many different elements to it, the singing had a definite Siouxsie/Sinead edge to it.
Stand out songs were 'Honey' and 'Don't Know About You' and the last song when they all went mad and the singer from Flowers in the Attic joined in. Supa!
Curious Oyster
Sounding very like The Cocteau Twins with the dreaded 'drum machine'. Very 'Gothy' and soft and warm and cuddly, I'd like to listen to them while lying in batch of milk.
Mr Cyn
One packed Arts Centre and lots of fans ensured a very warm welcome for these young men. They couldn't really go wrong, could they?
Well they didn't and played really well, a bit like Magnum. Who was the guitarist! Sack him now, send him to Canada or something! (Ha, Ha)
One bad point, the keyboard player was wearing a black vest. Still.
Lots of Love,
Kevin K.
Tamworth Herald – 02/06/89
Musicbox – Letters to the editor
Dear Sam,
Well another good night down the Arts Centre – put it this way – one band were good but we were lacking in numbers! Tamworth missed some good sounds from Big Noise who were as brilliant as usual.
Shock Culture improve all the time and they have proved they are better than just some cuddly school band! (so less of the bitching back row). Next come the 'New Puritans', well just fab, no other words and their tape is worth getting with numbers such as 'No Such Chance', but sadly no 'Green Door'. It was basically just a good line-up and lets hope its not too long before they are back!
All the best,
Big Noise fan
Tamworth Herald – 02/06/89
Musicbox
The GOOD news for all of you 'box' readers out there is that Holliday is on holiday as you read this. Therefore I have entrusted my column to the deadly duo of Martin Warrillow and Sean Atkins so expect to see stacks of Kraze from the former and stacks of Alarm from the latter. Please address all your calls, queries and news items to the dup who will then produce magnificent columns for your delight over the next fortnight. The BAD news is that when I get back from my hols I am dashing straight down to lovely Brixton to see The Stranglers so get set for another OTT review.
04/06/89
Fetch Eddie
Doodlebug
Emma Gibbs Loves Badges
Tamworth Arts Centre
04/06/89
Catch 23
Belgrade Theatre
Coventry
Tamworth Herald – 09/06/89

Musicbox – Breathless Big Butty heads cast of thousands

TAMWORTH's growing reputation on the national music scene got another boost this week with news that Tamworth's favourite full-time DJ, rockstar and video personality Buttercup is to star on the cult TV show The James Whale Radio Show.
The video to Butty's latest classic tape: "Can't Get My Breath" (reviewed elsewhere on this page by Sean 'Thirty pints of Lager' Atkins) is to hit the nations TV screens on the Friday night late show's 'Video Mail' slot in the next couple of weeks.
Buttercup and video director Steve Ellis travelled to Leeds last Thursday to tie up the loose ends of the deal which came after show researchers were sent a copy of the video by Butty's newly appointed press officer, DHSS keyboards and computers man Rocket Rikk Quay.
The Yorkshire TV types were instantly bowled over by the sight of our hero, plus several other Tamworth music types including the aforementioned Quay, Wolfsbane's Steve Danger, Rockin' John Reeman and various delighted young women and immediately decided the world deserved to see Buttercup in action.
Tamworth Herald – 09/06/89
Musicbox – Review
Big Butty and the Wide Boys – Can't Get My Breath
LOOKS and image are so important in the pop world these days and the video is often more necessary than the song if an artist is to establish himself as a superstar and teen idol.
Tamworth's own pop-star-in-the-making, Buttercup, has overcome his shy, retiring nature in order to make the inevitable video and the result is…interesting.
Butty and unscrupulous management team drew up a list of exotic locations including Rio, Miami, Honolulu and The Tavern in The Town. Industrial action at every passport office in the country, however, meant that the Corporation Street venue was the only choice.
The cast for the multi-million pint production then needed to be carefully selected. Butty insisted on only the best, of course, but his sympathetic nature got the better of him and he decided instead to use the production to give some much needed work to four DHSS members, two buttercups and an HM drummer (called Steve Harmless for tax reasons).
The stage was set, in true Top of the Pops fashion, for a great mime act of Butty's disco classic which had the specially uninvited audience cheering and dancing and generally doing the sort of things you'd expect of a studio audience.
It is one of the first serious attempts at a music video in Tamworth and the lack of money for the project is made up for by the enthusiasm, hard work and sense of humour.
It cannot hope to compete with videos by chart acts whose 'low budget' efforts cost thousands but it is certainly different and for that reason alone is worth a play on 'alternative' TV shows.
As Martin 'Don't write too much about the Butty vid" Warrillow mentions elsewhere on this page, there are big plans for nationwide broadcast of the video. I hope so, any country that can watch a Jason Donovan video needs it.
SEAN ATKINS
(Butty's UK and European publicity agent)
Tamworth Herald – 09/06/89
Musicbox – Spaced out at Scumball II
FOR THE MANY Scumballers who obviously overdid it at the Assems bar and are having difficulty remembering the evening, let me assure you that you did enjoy it…
FLOWERS IN THE ATTIC
With Sheffield's Edge of Faith apparently enjoying the delights of Britain's motorways (they never did arrive) it was left to Flowers in the Attic to set the Scumball rolling. It's never an easy task to be first on but with the large hall filling up slowly from the back – the band had to look far into the dark and distant reaches of the Assems for their audience.
It was an impressive set and my only complaints would be that the vocals didn't match up to the Flower's powerful music and that the band failed to make use of the fairly big Assems stage.
I'm sure they'll go from strength to strength before we've seen many more Scumballs however.
SCREAM DREAM
LOOKING and sounding undeniably like a cross between The Cult and any good old-fashioned Heavy Metals band you care to name, the Kings of Scumball showed how much they enjoy the venue and the event as they put on a powerful performance.
Part of the timid crowd had ventured nearer the front and it was clear that Scumball II was living up to its expectations.
'Not their best' said a source close to the band, who shall remain nameless, but it was certainly good and will have whetted a few appetites for their Rock festival appearance.
DHSS
THE SCUMBALL demonstrated the strengths and weaknesses of DHSS quite clearly. Their strengths are their ability to play in a large-ish venue and to get the crowd enjoying a load of their now familiar songs, plus splendid new tunes like 'Pennies from Heaven'. The stage also gave Rikk Quay plenty of room to leap around without knocking too much over.
The weakness was the inevitable cock-up as the band's Computer Studies CSE proved insufficient to keep the music to certain songs going for longer than a few seconds. Musically and technically they are excellent but on far too many occasions they show all the organisation of a British rail timetable…and it's a shame. When they are good, they are absolutely brilliant, but when things go wrong, they can be embarrassing.
Shock news following Friday's gig is that Scream Dream vocalist Steve has parted company with the band. Band spokesman Paul Keeton blamed good old traditional 'Musical differences' for the split. Musicbox understands a replacement singer is already being lined up.
Sean Atkins
Tamworth Herald – 09/06/89
Musicbox – Oh what a night!
FETCH EDDIE/DOODLEBUGS/EMMA GIBBS – Tamworth Arts Centre
A HUGELY uplifting night that restored my faith in Tamworth rock music. A good crowd, three splendid bands and some very pleasant surprises.
EMMA GIBBS
Back in the days when these boys were Lee Revelle, Rob Cross and slabs of pointless wailing noise, I'd have been headed for the bar after the first two seconds.
But things in the Gibbs camp have changed – and here they produced a tasty set of classy pop tunes that was very well worth listening to. Despite Lee's Morrissey-style frontman tendencies, reference points included everything from Deacon Blue, through Aztec Camera and Prefab Sprout and the whole thing was really rather fun. I must admit I was quite disappointed when the set ended abruptly. Twelve out of ten for effort (and for the tasteful on-stage surgical collar).
DOODLEBUGS
BIRMINGHAM-based pals of Fetch Eddie's who had obviously bought a big chunk of the audience with them, but still managed to win over the Tamworth half of the crowd.
Musically and particularly towards the end of an all-action set, they came across as slightly Wonderstuff-ish, with thrashing indie-pop guitar, witty lyrics and some rather tasty keyboard effects. But throughout they looked like a band with considerable stage presence (thanks to the talented female vocalist and a guitarist who looked disturbingly like Vince Watts, in a ridiculous ankle length coat and green fez) and some style. As indie-pop bands go (which quite clearly is not my scene) they were thoroughly enjoyable, and I'd definitely like to see them again.
FETCH EDDIE
ONE MORE tiny step up the road to fame and fortune for Phyllis's lads if I'm not very much mistaken.
Tonight, they were in vibrant mood, before an audience that plainly wanted to party, so what we got was a selection of Fetch Eddie's finest dance tunes from 'If I Were You', through the reggae of 'Too Much To Ask For' and new stuff like 'In With the out crowd' and the set-closer, best described in these pages as 'Dance'.
At times they remind me of '77-style Undertones pop, but with the sort of lyrics that can have you bopping uncontrollably one minute, and put a lump in your throat with their poignancy the next. If songwriting quality had anything to do with being stars (which of course it doesn't) Fetch Eddie would be massive tomorrow. As it is they've also got oodles of professionalism, class and star quality that poured out of every second of a bouncy, exciting, smile-inducing set, and which should definitely help them on their way. Absolutely marvellous.
Martin Warrillow
Tamworth Herald – 09/06/89
Musicbox – Wolfish rumour
RUMOURS abound in Musicbox HQ that Wolfsbane are set to sneak back into live action at the Moon Club, at Knights in Lichfield next Monday (June 12).
The boys are said to be playing under the name of their infamous alter ego "The Wilsons" following hard on the heels of another 'secret' gig by Balaam and the Angel at the same venue last Monday.
Sources close to the band (well actually Steve Danger told me) denied that they were playing "It's news to me, we haven't played for ages and anyway Bayley's not back yet," said the Wolfies drummer whose marvellous 'Danger Diaries' wowed readers to music mag Metal Hammer recently. But we thought we'd tell you anyway.
Talking of Blaze Bayley, the lovable lad was due to judge the Lichfield Battle of the Bands last Tuesday along with DHSS's Rikky Quay. Nice to know Lichfield knows where to come to find connoisseurs of fine musical talent.
12/06/89
Wolfsbane
Knights,
Lichfield
Tamworth Herald – 16/06/89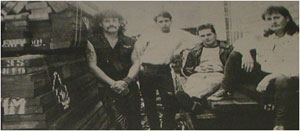 Musicbox – Forget image, here's some real music…

FOUR of Tamworth's most popular and longs-standing musicians look set for an exciting new twist to their carers and the outcome could prove absolutely 'divine'.
Former Breaking Point men Daydo and Kevin Briggs plus Batman and Eddie Madden, whose previous credits include Attica and the mighty Terroah, have teamed up to give a defiant two fingers to bands riddled with 'image', cliché and fashion' and the name of the new line-up is "Divine Intervention".
Aggressive
"This is going to be good, raw aggressive music with no particular direction and no definite image", said Kevin, who finally gave up on Breaking Point after a frustrating few months in which the band went through drummers faster than Ron Atkinson goes through football clubs.
"It's going to be the kind of band that lets the music speak for itself and doesn't set any traps by saying 'We are going to sound like this."
Breaking Point were one of the area's most popular bands for years before being overtaken by floods of new young outfits, but Kevin is confident that Divine Intervention can stand up to the best of the new breed – as they'll have to when they debut on the Saturday afternoon of this year's Tamworth Rock Festival.
"Tight leather trousers and all that stuff is out, it's just going to be us and the music that we enjoy doing," he said.
While Kevin, who penned Breaking Point classics like 'Brotherhood of Israel' and 'Nicholas Romanov' is writing many of Divine Intervention's tunes, the talents of the rest of the line-up aren't being ignored.
Arrangements
"We've got a number of songs written already, and although I'm writing most of it, the rest of the band are certainly having their say as regards the arrangements and the stage show presentation," said Kev.
And the influence of the talented Mr. Madden looks sure to show through.
No old stuff
"Anybody who expects us to sound like Breaking Point is going to be sorely disappointed. There's going to be no old stuff in the set at all, although we might possibly do one or two that me and Daydo wrote while Breaking point were still going," added Kev.
Local dates are a strong possibility in the future although the Festival date (which sees them billed just before the positively youthful king Woderick) will be the first time Divine Intervention play live – the perfect opportunity to create a good impression.
And the final comment? "All we ask is that people come along and see what we're like."
Tamworth Herald – 16/06/89
Musicbox – Eddie's off to Brum
FETCH EDDIE obviously enjoyed their recent Arts Centre show with Emma Gibbs Loves Badges and they are set to perform with the lads again at Sinatras in Birmingham on June 22. The Gibbs Boys are still said to be reeling from their rave review in these columns last week.
Tamworth Herald – 16/06/89
Musicbox – Reviews
A noisy time with our Tracie and Co
LO GIRLS – THE DEMO ***
THE MYSTERY is explained. An unsuspecting Herald hack (well, me actually) described this lot recently as "four Cockneys." Well I now know, after being accosted at the Scum Ball by their manager (a very, very nice man indeed) that they are actually three Cockneys and former Tamworth lad, one-time BHX member Rob Reid, now masquerading under the tasteful name of Tracie Law (And why not. Your Worship?)
Having conquered London, and becoming the only band to play their first ever gig at the legendary Marquee, the boys are now after fame and fortune in Tamworth and intend to blitz us with their hard rock sleaze several times in the next few months.
Their recent performance backing Kraze will have done them no harm, but frankly this demo does them no favours. There is the semblance of a promising song in each of the four tracks, as the live gig showed. But messy vocals and poor production rather spoil the impression and the whole thing gets lost in a morass of noise.
Dump the demo, and see them live. They are much better than this.
Martin Warrillow
Tamworth Herald – 16/06/89
Musicbox – Reviews
BIG NOISE DEMO – EAT AT BENS*****
THE NOISE is getting bigger and bigger. Another fab demo which is even better that the first. Six quality tracks, well-produced with strong vocals and a real sense of humour.
These lad have already proved they're brilliant live and are now well on the way to proving they can do it in the studio as well.
"Hang on to it" may not be THAT inspiring – but say what you will, their sound is UNIQUE – no rip offs here!
Hearing is definitely believing – so 'Eat At Bens' and let the Big Noise boys server you a treat.
P.S. When do we get to see drummer Stuart Farquar??
J.B
Tamworth Herald – 16/06/89
Musicbox – Reviews
The SOIL BROTHERS – Seven Steamin' Stompers*****
STEVE MacNamee's Christian-punk-rockabilly heroes produce the perfect accompaniment for riotous parties, rave-ups and wedding receptions. Seven songs in 14 minutes of tape that merits playing again and again. It's packed with great tunes from the tasteful 'Hog For You Baby' through the sad tale of 'Stood Up' to that delightful tribute to ladies everywhere 'Ugly and Slouchy'. Anyway, any band inspired by 'Elvis, the Ramones, Eddie Cochran and Hank Williams', has got to be OK in my book. Top of the first division – just a shame Newcastle United aren't.
M.W.
Tamworth Herald – 16/06/89
Musicbox – Reviews
WHAT'S THIS HEADS-DOWN MINDLESS BOOGIE ABOUT NOTHING – First Testament
I SPENT the first hearing of this tape wondering what abbreviation of this impossibly long name I could use for the review. All I could come up with was W.T.H.D.M.B.A.N or The What's so I decided instead to give the music some more serious consideration.
Musically the band are easily comparable to New Order in their use of keyboards and their drummer, Mr. Y.A. Maha sounds suspiciously inhuman. The haunting vocals are well suited to this style and the whole sound is refreshingly different to the huge number of rock and indie pop bands which the Tamworth area produces.
It is all spoilt however, by the awful recording of this tape. I look forward to seeing Mindless (another abbrev.) playing live eventually but feel that this style of music works best in a studio. The added noise on this recording makes the band almost in the background and gives the impression that it was recorded in a garage.
S.A.
Tamworth Herald – 16/06/89
Musicbox – Reviews
EMMA GIBBS LOVES BADGES – Second City/Worship***
IF you still think Emma Gibbs is a female solo artist by now you ought to be ashamed of yourself. From fairly confusing beginnings the band have carefully and consistently developed to the point where they can write and perform great pop songs.
Their recent Arts Centre show proved that Emma Gibbs have matured into their own distinctive style and this is supported by these two tracks which sound very polished and professional.
If anything, they sound a bit like Aztec Camera but it is definitely Emma Gibbs, it's good and they look certain to win over yet more fans with their festival appearance.
S.A.
Tamworth Herald – 16/06/89
Musicbox – SNIPS
Who wants what and why…
KING Woderick and the Yogots are looking to take their brand of whimsy pop outside of Tamworth and are on the hunt for gigs. Anywhere outside the Tamworth area (Birmingham, Coventry, Nuneaton etc.) will do, and the lads are looking for their own gigs or the chance to support someone else.
Tamworth Herald – 16/06/89
Musicbox – SNIPS
MR Holliday's trip to foreign parts (and the lack of football in the last three weeks) has obviously wrecked his brain. A deeply distraught Chris (who you recall was the Hendrix, Magazine, Love 'n' Rockets fan looking for a band) has written to correct the phone number Sam printed.
Tamworth Herald – 16/06/89
Musicbox – SNIPS
A TAMWORTH band quoting influences along the lines of Van Halen and David Lee Roth, are on the hunt for a new keyboards player. Mean Business stress that dedication and an urge to succeed are a must.
Tamworth Herald – 16/06/89
Musicbox – SNIPS
A RECENTLY formed Tamworth rock band are looking for an opportunity to play locally.
Tamworth Herald – 23/06/89


Musicbox – Wolfie delight
THE TAMWORTH Rock Festival – now just three weeks away – has been given the best possible boost with news that metal stars Wolfsbane WILL be able to play.
The band confirmed at the end of last week that they would be able to headline the first day of the outdoor festival on Saturday July 15 and their appearance is certain to swell the expected crowds.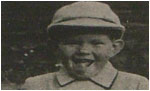 "This is great news for the festival because Wolfsbane are an integral part of the Tamworth music scene," said one of the festival organisers Edward ian Armchair "I am sure everyone will be excited by the news."
The news that Wolfsbane – who have been involved in all the festivals to date – will be able to appear comes on the eve of a major meeting for all the groups involved in this year's event.
As you will see from the full line-up printed on the right, more bands than ever have been confirmed for the festival this year and this final tally and line-up will be confirmed on Sunday night.
The meeting at the Tavern in the Town will also be the one where all the bands involved in the outdoor event must 'pay their dues'. As regular MUSICBOX readers will know the festival is unique in that the majority of the finance is provided by the participating musicians themselves and they will all have to cough up their contributions (£6 per member) on Sunday to assure that they will step out on the Castle Grounds stage over the mid-July weekend.
Interest in the festival continues to surprise the organisers and bands from all round the country are ringing with increasing and surprising regularity to seek a place in the event.
They may not be able to do so but YOU the punter certainly can. For the outdoor festival is free to everyone on the weekend of Saturday July 15 and Sunday July 16 and we want to see as many people there as possible to enjoy the wide variety of music on offer as well as show that all the hard work involved in the event has been worthwhile.
And with Wolfsbane now confirmed it all looks like being the best festival ever!
Tamworth Herald – 23/06/89
Musicbox – Festival meeting
The meeting on Sunday is a MUST for all the bands involved in the Tamworth Rock festival 1989. For all those due to play outside we want your cash! £6 per member per band MUST be paid because there are enough groups who aren't playing outside who would willingly cough up if you don't! Cash or preferably cheques made payable to the Tamworth Rock Festival Association will be accepted, American Express will NOT do nicely. All those due to play indoors must come along and confirm they can play in their allotted slot and all bands who want to appear in the festival programme (and that is all of you) must bring a logo and a pen to fill in various details about yourselves. The whole thing is at the Tavern in the Town, we start at 7.30pm and the countdown for Festival 89 begins there and then! Don't miss it.
22/06/89
Fetch Eddie
Emma Gibbs Loves Badges
Sinatras, Birmingham
23/06/89
Ark
Bash Out The Odd
Lichfield Arts Centre
Tamworth Herald – 23/06/89
Musicbox – The Tamworth Festival
The Indoor Festival (Provisional Line-Up)
Friday July 7 (Tamworth Arts Centre)
What's This Heads Down Mindless Boogie About Nothing, limited Edition, Lincoln Dirty Duncan and The Jim Crows Blues band. Entry £1 starts 8pm
Saturday July 8 (Tamworth Arts Centre)
Shock Culture, Spirit of the Gypsy Khan, The New Puritans and Curious Oyster. Entry £1 starts 8pm
Sunday July 9 (Tamworth Arts Centre)
Special Show – The Wilsons, Litany of Fear, Spiral Fish. Starts 8pm
Friday July 14 (Tamworth Arts Centre)
Flowers in the Attic, Chemikill, Eight Ball Joe, Bash Out The Odd. Entry £1, starts 8pm.
The Outdoor Festival
Saturday July 15 (Tamworth Castle Grounds)
The Cuddly Spiders, Never Say Die, Stench, A5, The Soil Brothers, The DHSS, The Searching, Divine Intervention, King Woderick and the Yogots, Fetch Eddie, Wolfsbane. Entry is free, concert lasts between 11am-8pm.
Sunday July 16 (Tamworth Castle Grounds)
Nightshade, Psychedelicatessen, Emma Gibbs, Rape in Yellow, Scream dream, Catch 23, Kraze, The First Conspiracy, Big Noise, Spiral Eye. Entry is free, concert lasts between 11am-8pm.
The indoor festival line-up may still be subject to change although it seems that the outdoor one is fixed. All bands indoor and outdoor candidates – must attend Sunday night's Tavern in the Town meeting which starts at 7.30pm.
Tamworth Herald – 23/06/89
Musicbox – Snips, News
The New Puritans warm up for their Festival appearance with a show at Nuneaton College on June 27th. The Pure guys will be bashing it out at 4pm on what is an 'open day' event alongside Macoy and The Bicycle Thieves.
Tamworth Herald – 23/06/89
Musicbox – Snips, News
Life After Work, a Lichfield band influenced by the likes of the Icicle Works and Julian Cope, are on the lookout for a new guitarist. The band are looking for someone enthusiastic.
Tamworth Herald – 23/06/89
Musicbox – Snips, News
Fetch Eddie's continuing high profile has been reflected with yet more dates. On June 30th the band are at The Flag, Wembley, then at Snooty Fox, Solihull on July 6, Nobbies, Coventry on July 7th and then back to London on July 31st to play at 'Opera On the Green' in Shepherd's Bush.
Tamworth Herald – 23/06/89
Musicbox – Snips, News
A singer is being sought by a strong and original band who already have a mass of songs in the bag. The group need a talented, enthusiastic and committed singer who will also provide lyrics.
Tamworth Herald – 23/06/89
Musicbox – Snips, News
King Woderick are still looking out for out-of-town gigs and are looking for suggestions and/or support slots.
Tamworth Herald – 23/06/89
Musicbox – Snips, News
Rumour has it that the Buttercup video WILL be on the James Whale Radio Show tonight (Friday). Buttercup and video maker Steve Ellis travelled up to Leeds and were assured the vid' would make the airwaves and they, and many others, will be eagerly awaiting the show tonight to see if it is true. Having now seen the video I would urge you all to catch it if you can because it's fabulous.
Tamworth Herald – 23/06/89
Musicbox – Snips, News
Bash Out The Odd are due in Lichfield tonight (Friday) when they hit the City's Arts Centre for a special show. On the member front, Pete Woodward has replaced Julian Amos as guitarist while Mark Brindley's uncle (who is in his 40s) has joined on drums.
Tamworth Herald – 23/06/89
Musicbox – Say L.O. to a metal bash!
Heavy metal in all its disciplined and refined glory hits Tamworth Arts Centre on Sunday night when the powerful L.O. Girls spearhead a meaty double-decker.
The girls (or rather the boys) will team up with Lichfield-based grit rockers The Brooklyn Dogs who already have a cult following in the area.
The duo promises a loud and powerful attack on the ears and senses and those who have already caught either band live will know they have a slick and attractive sound and look.
L.O. Girls have already established themselves in various corners of the globe (they even have fans in Boston, U.S.A. would you believe) and Sunday will be their attempt to penetrate one of the major music our own – Tamworth Arts Centre.
It starts at 8pm, sounds like a blast to enjoy so get along on Sunday night and HEADBANG!
25/06/89
L.O. Girls
Brooklyn Dogs
Tamworth Arts Centre
27/06/89
New Puritans
Macoy
Bicycle Thieves
Nuneaton College
30/06/89
Bash Out The Odd
Flowers in the Attic
Herb Garden
Tamworth Arts Centre
30/06/89
Loose Connection
Tavern in the Town
Tamworth Herald – 30/06/89
Musicbox – Wolfsbane album – it's out on July 24!
The eagerly-awaited debut album by Wolfsbane will be released by Phonogram Records on July 24.
The album, which will include two tracks lined-up as potential singles – "I Like It Hot" and '"Shakin'" will be the band's first release on their new UK label.
The mighty Phonogram label will be the distributors for all Wolfie products in the British Isles after an agreement with Def Jam records and band bassist Jeff Hateley is delighted with the set up.
"They are a good label with a fine track record with heavy metal acts," said Jeff. "It is a good deal for us and Phonogram are clearly going to be able to give us a lot of support."
The album, released simultaneously on Def Jam in America, is titled "Live Fast Die Fast" and includes a mass of Wolfie favourites. Age-old stage classics like 'Manhunt', 'Money to Burn' and the anthemic 'All or Nothing' are joined by relative newies like 'Greasy', 'Killing Machine' and a startling new ballad 'Tears Of A Fool'.
After hearing a sneak preview of the album I can confirm even at this stage that it is going to be as hot as the current heatwave. After a couple of waxings I can tantalise your tastebuds by saying that 'I Like It Hot' is as good as ANYTHING the band has ever done before and tracks like 'All Or Nothing' and the aforementioned 'Tears Of A Fool' could blow holes through the charts.
When the album is officially released we will give it a massive amount of coverage but in the meantime get your advance orders in now. After all you don't want to be the schmuck who walks into your friendly neighbourhood record shop on Monday July 24 to learn that it's already a sell-out do you?
*Don't forget you can get your FIRST chance to hear the tracks on 'Live Fast Die Fast' when Wolfsbane headline the opening day for the Tamworth Rock Festival on Saturday July 15.
Tamworth Herald – 30/06/89
Musicbox – Three Cheers
There are three gigs in the Tamworth area this weekend, offering local punters the chance to see one or two totally new bands – as well as a couple of old favourites.
Here is your weekend gig guide…
Tamworth Arts Centre – tonight (Friday)
Bash Out The Odd return to the Arts Centre with their new line-up and new set. The band, who are embarking on a series of dates at the moment, will join and alternative-based line-up which also features new local heroes Flowers in the Attic. The Flowers, who describe themselves in their festival biog as having a Bunneymen/Doors sound, will be joined by yet another flowery band in the Herb Garden. A fourth group may also be added to an impressive looking line-up and if the bands can get people out of the 'I won't go to a gig on a Friday' mode, it should be a good night.
Tavern in the Town – tonight (Friday)
The Tavern Motorcycle Club are hosting another of their shows tonight when a blues outfit entitled Loose Connection steam in to the Stable area at the back of the Tavern. Although this is a Tavern Motor Cycle club promotion, it is open to everyone for a mere £1 and a good night is assured for all.

Tamworth Arts Centre – Sunday
Two relatively new bands – Litany of Fear and Whats This Heads Down Mindless Boogie About Nothing – get warmed up for the festival with a double header on Sunday night.. 'What's This' are a new Tamworth goth band who list Fields of the Nephilim at their main sound-a-like/source. It's a big night for Dugi, Paul, John, Y.A.Maha and Kriss so get along and enjoy them. Heading the duo will be Litany of Fear who describe their sounds as 'psycho-goth-thrash-alternative' and by all accounts have a wham-bham sound which should appeal to all Tamworth's spiky tops. Seems like a good old-fashioned LOUD bash – and a fun one at that.
Tamworth Herald – 30/06/89
Musicbox – Tamworth Festival '89
THIS is the definitive line-up for the Tamworth 1989 Rock Festival, which we will be plugging until the event takes place…
The Indoor Festival
Friday July 7 (Tamworth Arts Centre)
Whats This Heads Down Mindless Boogie About Nothing, limited Edition, Lincoln Dirty Duncan and The Jim Crows Blues Company. Entry £1 – starts 8pm.
Saturday July 8 (Tamworth Arts Centre)
Shock Culture, Spirit of the Gypsy Khan, The New Puritans and Curious Oyster. Entry £1 – starts 8pm.
Sunday July 9 (Tamworth Arts Centre)
Special Show – The Wilsons, Litany of Fear, Spiral Fish. Starts 8pm
Friday July 14 (Tamworth Arts Centre)
Flowers in the Attic, Chemikill, Eight Ball Joe, Bash Out The Odd. Entry £1 – starts 8pm.
The Outdoor Festival
Saturday July 15 (Tamworth Castle Grounds)
The Cuddly Spiders, Never Say Die, Stench, A5, The Soil Brothers, The DHSS, The Searching, Divine Intervention, King Wodericks and The Yogots, Fetch Eddie. Entry is free, concert lasts between 11am-8pm.
Sunday July 16 (Tamworth Castle Grounds)
Nightshade, Psychedelicatessen. Emma Gibbs, Rape In Yellow, Scream Dream, Catch 23, Kraze, The First Conspiracy, Big Noise, Spiral Eye. Entry is free, concert lasts between 11am-8pm.
Tamworth Herald – 30/06/89
Musicbox – SNIPS and NEWS and SNIPS and…
Ark, the progressive rock band who feature well-known Tamworth drummer Richard Deane, are due to release a new single shortly. The band who we hope to have a special feature on in the next few weeks, played alongside Mark Mortimer's Bash Out The Odd at Lichfield Arts Centre last weekend.
Tamworth Herald – 30/06/89
Musicbox – SNIPS and NEWS and SNIPS and…
WNE, the excellent tape duplication service who have helped many Tamworth bands, have changed addresses.
Tamworth Herald – 30/06/89
Musicbox – SNIPS and NEWS and SNIPS and…
Wolfsbane were featured on a special 30 minute BRMB show last week with a history of the band's recent success plus a track off the forthcoming album. The group are also set to be extensively covered in the music press over the next few weeks so keep 'em peeled.
Tamworth Herald – 30/06/89
Musicbox – SNIPS and NEWS and SNIPS and…
The Cuddly Spiders are desperate to find a drummer as soon as possible. If you are interested – and remember this gives you a possible festival slot.
Tamworth Herald – 30/06/89
Musicbox – SNIPS and NEWS and SNIPS and…
The Searching will unveil their new drummer – former Sacred Oath stickswoman Vicky Gwinnutt – at the Festival. More things are on the horizon from the band so watch this space.
Tamworth Herald – 30/06/89
Musicbox – Your (moaning) letters
Dear Musicbox,
Regarding the recent review of Emma Gibbs Loves Badges at the Arts Centre. Please check your facts on why the surgical collar was worn as it is not to be taken lightly, as it was worn for a genuine reason not just for 'onstage'. We think an apology is needed.
Yours
Sandra Brown, Helen Clements and Sue Farley
Reply by Martin Warrillow who reviewed the gig…
"Honestly, some people have no sense of humour. That was the first time in recorded history the Gibbs lads have ever got anywhere near a favourable review out of these columns. (Nonsense, Ed.) I thought they were absolutely wonderful, thoroughly enjoyed them and look forward to seeing them again. If this is the thanks I get from their supporters I might go back to calling them tuneless rubbish again…
Seriously though, I've suffered in a surgical collar and anybody who can stand on stage and play a guitar while wearing one deserves considerable credit. I can think of a number of bands (no names, no pack drill) who would have used it as an excuse to pull out of the gig.
Can I come out of the corner now?
Martin Warrillow
Editor's comment – that's not TH Helen 'Bay City roller' Clements is it?
Dear Mr. Atkins,
I would like to ask you one question, were you in full control of your mind the other Friday at the 'Scum Ball' because I just cannot understand your comments. Everybody else seemed to have a different point of view. I have been to numerous gigs by the DHSS and I thought they did one of their best performances. To blame everybody who was involved in the performance was pathetic.
If you don't see the main reason why they have their computer break-downs then don't bother at all. If I was in the DHSS I would have been very offended. So its about time you turned your criticism onto some of the other groups that deserve a good slagging off. If they embarrass you when you are standing watching them then I think you are strongly outnumbered. I am not embarrassed to say that I follow DHSS. The best thing you can do at the next gig is not turn up then maybe they would get a better deal.
Goldie (A DHSS fan)
Reply by Sean Atkins who reviewed the Scum Ball
Hopefully your letter has appeared in full, giving you a chance to say everything you wanted to say. Unfortunately, the weeks the 'Scum Ball' review was printed was a very busy week and the lack of space meant that I could not include a very comprehensive review of the DHSS gig.
I went into Chief Scooper's den and asked our furry friend if I could borrow some of his page but he put his paw done and refused. So I was left with room for just a few sentences which included my observations of both the good and bad points of the DHSS performance. Looking back it does give the impression that I was slagging them off but it is just because there wasn't room for all the praise they deserved.
I may have been outnumbered in my views but I was not alone. Martin 'when DHSS are bad they're embarrassing' Warrillow did help me form my opinions. I honestly believe that DHSS were by far the best band of the Scumball and that they are in a class – along with Wolfsbane and Catch 23 – which sets them well above other local bands. It is because of this class that I expect more from them…like songs lasting longer than 53 seconds!
Sean Atkins (A DHSS fan)
MUSICBOX welcomes all your views and opinions on what we write and we want you to always feel free to send in reviews of concerts we may miss. This has worked very well in recent months and as far as we are concerned the more readers reviews and views we hear the better. It's your music scene and your music column so keep them reports (good, bad or ugly) coming.