Tamworth Bands History : 1989 :
September
Tamworth Herald – 01/09/89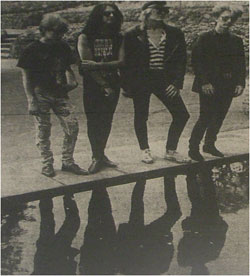 Musicbox – Power is the link!
ONE of the area's best new bands team up on Sunday night with one of the area's best older acts for a powerful Arts Centre double-header.
Scream Dream, now with enthusiastic new frontsman Ian Greatrex, will join forces with the powerful What's This Heads Down Mindless Boogie About Nothing (hereby referred to simply as Mindless!) for a show that promises to delight everyone who slots into a variety of music departments on the alternative fringe.
Scream Dream who say their sound is a mixture of metal and goth music, have been wooing audiences throughout the Midlands and this is the first time their new line-up will hit the 'home ground' of the Tamworth Arts Centre. Ted, Paul, Niz and Dave now have the added strength of singer Ian, perhaps better known to some of you by his former name which I am not allowed to print but has something to do with a major cult Sixties series which included Spock, Kirk and the odd Klingon.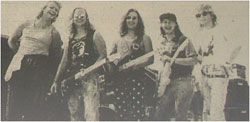 Joining forces with Star Trek's team (damn, it slipped out!) will be the Mindless crew who impressed everyone with their raunchy Sisters-apparel at the festival earlier this year.
Together it makes for a very powerful duo, and with a possible third special guest act on view, it promises to be a nice night out for Sunday evening revellers.
It starts at 8pm, and costs £1.50 on the door. See you there.
Tamworth Herald – 01/09/89
Musicbox – Demo blitz
ONCE again the amount of local demos in the MUSICBOX office is growing and growing. Latest additions such as Catch 23 have been added to others like Carl Anthony and The Gypsy Khan and we hope to review them all shortly so stay patient and keep 'em coming!
Tamworth Herald – 01/09/89
Musicbox – Guitarist wanted
The Herb Garden, who were so impressive at their Arts Centre show a fortnight ago, want a guitarist to join their stylish Indie-pop band.
If you fancy 'touring the world' with the Gardeners then ring Lisa.
Tamworth Herald – 01/09/89
Musicbox – Festival 'too loud'? You MUST be joking
The recent outburst from 'Five Tamworthians' about the extreme noise of the Tamworth Rock festival brought forth much anger from a lot of people involved and the following two letters…
Dear Sam,
In their patronising letters in Musicbox, 18 August, 'Five Tamworthians' tell us that 'a great many people suffered' as a result of the Tamworth Rock Festival. A trite response would be 'name them'. I did notice that they did not complain themselves, but apparently were taking up cudgels on behalf of others. Perhaps we could be given geographical locations and ideas of the level of sound audible there, to help us in assessing future potential stage orientation etc. rather than woolly mutterings about the Noise Abatement Society's research (valuable though it may be).
Sam Holliday made the point in his reply that there is no satisfactory definition of 'too loud'. I would make the further point that the term 'unnecessary noise' was used in the 'Five Tamworthians' letter. Who decides what noise is necessary? By definition, any musical performance (except of course, John Cage's 4 Minutes 35 Seconds) must create noise, therefore noise is a necessary constituent part of musical entertainment.
Does the causing of disease by noise mean that two-stroke bikes with expansion chambers may give me AIDS?
Yours from a very quiet word processor
One non-anonymous ex-Cockney Irish Tamworthian (Mike Fleming) for any other of us that might be around.
Dear Sam,
One thing was abundantly clear about the 'Five Tamworthians' who wrote to complain about the levels of Festival noise.
That one thing is that between them these people so not have the combined IQ of a side salad.
Sorry but it MUST be said.
Yours faithfully,
Jack Napier ' Gotham City' Tamworth Herald
Tamworth Herald – 01/09/89
Musicbox – A case of hype incorporated
MUSICBOX is used to getting rave reviews of bands but when four arrive on the same day about the same band one does get a wee bit suspicious. Anyway is this love or is it HYPE? Make your own minds up…
Dear Sam,
What a great change to find a band playing at the Arts Centre with enough confidence in their own ability to have FUN on stage. I am referring of course to the fantastic Infinity Incorporated. For me and my friends they blew everyone else off the stage.
It was a shame they were on so late and some people missed them, they are certainly not a band to be missed next time around.
Emma, Clare and Val from Amington
Sam,
Re the Arts Centre gig 21/8/89, The New Puritans were as good as ever. The other bands were O.K., but it looks like Tamworth has at least found its own Wonderstuff/PWEI with the last band 'Infinity'. And about time too – keep it up fellas!
Anon.
Musicbox,
Just like you predicted 'Infinity Inc.' were a toe tapping, eye opening headliner, my other raves that night were the New Puritans, but full marks to Amy Lane & Co. for a truly memorable gig!
Mark Cross
Sam,
Who the hell are Infinity Inc. Great songs and great music.
Please Sam can you tell us more about this latest addition to the brilliant bands Tamworth has produced.
P.S. Any chance of a demo lads.
Yours absolutely stunned.
Tamworth Herald – 01/09/89
Musicbox
Fetch Eddie have lined up a major show in London on September 9. They will be playing alongside The Wickermen and Doodlebug in a major three-band show at Opera On The Green, Shepherds Bush. A coach will be travelling to the gig, picking up at Tamworth Arts Centre at 4.45pm on the day. If you want to book on it please ring David. In the meantime, the band are on action at the Irish Centre on August 31 when they join These Tender Values.
03/09/89
Scream Dream
What's This Heads Down Mindless Boogie About Nothing
Tamworth Arts Centre
08/09/89
Sonic Noise Show
Herb Garden
Ferocious Apaches
Tamworth Arts Centre
Tamworth Herald – 08/09/89
Musicbox – Letters
Let's get organised – and thanks for the Fest
Dear Sam,
IAN GIBBONS and I are currently trying to put together a framework for a musicians' collective in Tamworth, with the basic aim of the advancement of Tamworth's musicians by whatever means possible. We hope to draw together bands who can pool knowledge of venues, musicians looking for bands, bands looking for musicians, main acts looking for supports, supports looking for main bands to play with – the list is endless. We are contacting various people, some already known as members of the Rock Festival committee, to form an initial steering committee, and setting up an initial meeting of bands who may be interested. We have some ideas, but we need more – we need the input from bands working locally and around the country to find what can be done to assist.
To this end, we are holding an initial meeting at 7.30pm on Sunday (September 10) upstairs at the Tavern in the Town. Any bands who have been involved in the Festival will know where it is, and as it is on a Sunday, hopefully old habits will re-assert themselves. We need bands and individuals, prepared to work not only for the furtherance of their own egos, but also for the good of others.
We want from this meeting not only ideas of how musicians can be helped in Tamworth, but also volunteers to sit on the committee. We have seen how the Festival committee is composed of the same faces year after year, because no new blood has come forward to become involved. This is no reflection on the members of that committee, but rather on the band members who could become involved if they wished but choose not to.
We want new faces, new names, new ideas. We want anyone who can give use those who come to our first meeting at 7.30pm Sunday at the Tavern. We don't want the great pool of talent in Tamworth to stagnate in apathy – we do want to help those who feel they can help themselves.
Mike Fleming,
Old Belgrave,
Tamworth
Dear Sam,
After reading the letter in Musicbox (18.08.89) accusing the festival of being too loud. I felt that I must write and give my opinions on this.
I am 16-years-old and attended the festival for the first time. I must admit that the only reason that I went was to see the absolutely brilliant 'Catch 23'.
I arrived at the festival expecting to see an audience of teenage fans and was completely shocked, as this wasn't so. There were people of all ages, from toddlers to grandparents and each and every one seemed to be enjoying themselves.
As for the music being too loud, it wasn't really possible for it to be any quieter as the Castle Grounds are very large and were packed out. If it had been quieter, the people who were unfortunate enough to be at the back wouldn't be able to hear.
I personally thought that the festival was fantastic and that you did a brilliant job of organising it. Also, it is a great shame that it is only once a year (Please no more – Sam!)
The final thing that I would like to say is, if so many people disagree with the festival, where has the money come from that has guaranteed it's return for next year?
Thank you for listening to my opinion and I'll see you next year.
The Festival's greatest fan
(Baddesley)
(P.S. Well done Catch 23 for a brilliant gig at 'The Mean Fiddler')
Tamworth Herald – 08/09/89
Musicbox – Cheesy Fun
THE 'POST-FESTIVAL' no-pop silly season, officially ends this Sunday, when the Arts Centre houses 'A Cheese & Wine Party'. It is headed by Emma Gibbs Loves Badges who will be ably supported by Armchair Thrash, Fetch Eddie and a new band to Tamworth eyes: One Happy Song. This line up, at the time of going to press, was incomplete and it is a near certainty that more bands shall be added to make a pulsating party night.
Opening proceedings will be Sutton Coldfield's One Happy Song, who whack out drum machine orientated Cole-esque pop toons by the binfull and will doubtlessly appeal to the gentle Indie fan bred in the area.
Two Bob Ted is the rather silly name given to three members of Fetch Eddie upon ditching of their trademark dance-beat and reaching for the most primitive of weapons…acoustic guitars. It will be the trio's first Tamworth appearance under this guise and is the perfect opportunity to witness the awesome songwriting talent of the gorgeous, pouting (etc) Aaron James.
Next in line are Armchair Thrash, alias Armchair and Reeman from Musicbox poll-toppers DHSS. You know that overused simile about an eagle in full flight…? Well, it has nothing whatsoever to do with the Thrashies, who are more like a charity-shop Fall, with a bit more raunch (courtesy of Reeman's axe-lickin'), a bit more sauce (ooer!) and a lot of very strange tales that have gained this duo rave reviews and a reputation for being ever-so-slightly odd.
Finishing the show will be Emma Gibbs, a band who manage to be DEEP and WIDE and TALL all at once. Their skilful Aztec meanderings and basic pop sensibility make for a set full of pure pop sounds which have started to warm the cockles of everyone's hearts. An enlightening experience is assured.
ANYONE willing to stay and party following the 'Gibbers' will be given free wine and some of those sticks with cheese and pineapple on them that you always had at school Christmas discos. The music played will be a mixture of indie, house, hip-hop and anything vaguely dance-inspiring, the idea being that a good time should be had even if the evening's bands have not been enjoyed (of course they WILL be, so it should be a double good night). Anyone attempting this in the past has been greeted with standard Tamworth apathy, and the big fun good times will only commence if the 24-hour party people are out in force, uninhibited and ready for…euphoria. The doors open at 7.20 and, if enough people meet the challenge, the fun starts immediately.
Reports by JO MARSH.
Additional reporting by Sam Holliday
Tamworth Herald – 08/09/89
Musicbox
Tonight's proposed Arts Centre Sonic Noise show is going ahead despite some confusion. It costs 99p, features (among others) the Herb Garden and the Ferocious Apaches and starts at 8pm. We apologise for the limited info but we were assured up to the last moment that the show was cancelled.
Tamworth Herald – 08/09/89
Musicbox
Don't forget Wolfsbane and Spiral Eye team up at Lichfield Arts Centre on Sunday. The same duo are in Marquee action on Thursday.
Tamworth Herald – 08/09/89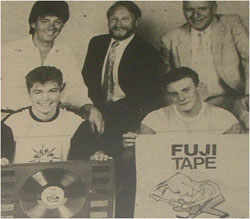 Musicbox – Catch get it Taped!
THE splendid contest which pushed Catch 23 onto the national TV and into the minds of several major record companies, has a new sponsor.
The TSB Rock school which Catch 23 won in such style earlier this year, will now be known as the Fuji Tape Rock School and will follow the same format which has made it one of the biggest national talent scouting contests in Britain.
Last year Catch 23 beat literally hundreds of school/college acts to win the Rockschool and so they were invited down to London last week to launch the new sponsor deal along with their old buddy Mike Read.
If you want to follow Catch 23 into Rockschool fame and glory you need to be between the ages of 13/19 and still at school or college. Application forms are available.
Tamworth Herald – 08/09/89
Musicbox – Gig Reviews
All Reviews by SAM HOLLIDAY
King Wodericks – Corvettes
Blindingly good bash this . Faced with a cramped stage and even more cramped audience, the Yogots went on to offer a cut-price ear-piercing service. They turned everything up and blasted the ear-oles of the Corvettes nation with wild and unabated GLEE. The end result was a spiffing 25 minutes or so that earned them a massive roar of approval from what must be one of the largest and loyallest cult followings for any newish band in the area. What made the short but well-filled set so satisfying was that there were no fillers, just a handful of diverse quirky pop blasts which had plenty to recommend them 'Chapel Street' was the pick of the oldies but even that had to take second place to the stylish 'She's Gone' which had a magical keyboard sound and an eminently hummable chorus. Individual star of the show was definitely Jon Lanz on vocals whose performance revealed hitherto unrealised traits of a major lune and whose sound and look reminded me very much of king Tamworth nut, Saint Julian. Great gig and AT LAST my ears are pierced.
Ferocious Apaches – Tamworth Arts Centre
The last time I saw these (in the Big Muff guise) I complained that their set was too short and their plethora of good ideas weren't given enough time to develop. This I think however was the opposite extreme because it seemed to go on longer than the Boer War. It also claimed just as many victims unfortunately because a large percentage of the crowd who were clearly enthralled by the start of the set started to drift bar-wise towards the end as the movie finished and the post-film credits seemed to outstay their welcome. That's a shame because there is clearly much to appreciate in a set which for the most part reminded me of a band whose influence goes far wider than most people realise – PIL. That old luvverly 'Metal box' bass wobble was there in the controlled hysteria of the music and the guitar went on its own multi-directional tangent which created an image of sound that was almost as unnerving as the film being relayed behind the stage. If only they could find an 'ideal time' for their set this would be compelling stuff.
Frank Skinner – Corvettes
Nice idea this, mixing a bit of modern alternative comedy with music. It has already proven a success at a couple of Arts Centre specials and this mix of mirth and music clearly won over the packed Corvettes show. Frank is very much of the Ben Elton school where there are plenty of 'effin and blindins' but the worse swearword he knows is Thatch. He was particularly savage about the cricketers set for South Africa ad he certainly worked better on this right-on political level than on the somewhat witless toilet gags at the end of the set. The wonderful Ben Elton does both very successfully but unless Frank Skinner wants to be merely labelled as a second division Elton, he really needs to concentrate on one or the other and on the political ground he gets my vote every time.
What's This Heads Down Mindless Boogie About Nothing – Tamworth Arts Centre
We've all heard those jokes. What do you call a man who hangs around with musicians – a drummer. You know that kind of joke, the sort that makes out that drummers are the dumbest thing to hit the stage since Kylie Minogue. Well I would like to make a major defence of drummers after hearing yet another drum machine and computer go AWOL. This perfectly ear-pleasing show was nearly completely ruined by the fact that the drum machine decided it wanted to go 'solo' and for the most part had no connection with the noise the other musos were trying to produce. It tried hard to wreck the whole show but thankfully it failed. This is a very useful band indeed, whose mixture of early Sisters moods and mid-day New Order riffs makes for a very likeable and powerful combination. 'Legion', 'Savage in The Wild' and something about a hill were stand-outs of a set which triumphed through adversity and revealed that Dugi is a supreme frontman with a gritty growling voice and that the band are a cohesive and determined breath of bad air on the music scene. Oh and thanks for the rock boys.
Scream Dream – Tamworth Arts Centre
And so we come full circle. The first time I met Paul, Nix and Ian Greatrex was when they formed a HM band dedicated to blitzing the town along with fellow metals warriors of that day Wolfsbane and BHX. Then Ian went walkies, Paul and Niz heard a few Sisters and Mission records and a new (and exciting) alternative phase began. Now, several years on, Ian is back and with him comes a new sense of power and the final completion of the circle that takes Scream Dream right back into the metal waters. This owed far more to Guns 'n' Roses than it did to any alternative band and you know what – it works magnificently. This was a cracking gig which from the opening blasting, bludgeoning track to the excellent finale 'Lonely Night' was one of a spectacular trio of stand-out tracks along with the superb 'Hometown' and the blistering and bitter 'Tomorrow'. In these power-metal pop spheres the band are in very much a class of their own. It is not fully fledged metal (yet) but it is cleverly pitched somewhere near to it while remaining with the belligerant style of the harder end of the alternative scene. G n R eat your hearts out, the Sacred Oath circle has been completed and this could be the beginning of something even more exciting than the past.
Also Smith and Jones – Corvettes
Certainly not ALAS Smith and Jones because this was most pleasant. Any comparisons with the Original Royal Family is purely deliberate and what we have is that self same boogie-woogie good time r 'n' b thankfully untainted by yucky musical 'progress' and providing the audience with tasteful, sharp and humorous sounds. Dave Smith is still a big star and a big hero even if he is now a slim-line version of his former mighty self. That voice! Those tunes! Those smiling spectators! That's living orite!
10/09/89
Cheese & Wine Party
Emma Gibbs Loves Badges
Fetch Eddie
Armchair Thrash
Happy Song
Tamworth Arts Centre
10/09/89
Wolfsbane
Spiral Eye
Lichfield Arts Centre
Tamworth Herald – 15/09/89
Musicbox – Local Demo Blitz
Demo ratings
***** Mega pretty
****Very pretty
***Pretty pretty
**Pretty ugly
*Kylie
ONCE again it is time to sift through SME of the many local demos that have been sent to our offices over the past few months. Here, Martin Warrillow, Sean Atkins, Sam Holliday and Mike Turner cast their eyes and ears over some of the goodies that have been created in various studios in the past couple of months…
The Expresso Bongo Orchestra – Simply E.B.O.*****
I can't help feeling that the members of the E.B.O. must have had a ball recording this demo, for the real, unquestioning essence of this band lies in their humour. This musical extravaganza swings like a pendulum back in time through the sounds of Sixties soul and Twenties vaudeville. Add to that some weird and whacky sound effects, ranging from the ridiculously sick animal noises on 'Jollity Farm' to the Sgt. Pepper sampling heard throughout, and you have the formula for a splendid time being had by all. There's a party mood throughout the tape, and it's hard to imagine anyone not finding something to their liking amongst the seven or eight tracks (I wasn't quite sure where a couple of them ended – very Sgt. Pepperish!) The E.B.O. are all undoubtedly good musicians who enjoy playing good music. They have a sense of humour too, and don't take themselves too seriously. In this day and age, I for one find that most refreshing. Go on, treat yourself! Get tuned the E.B.O. at a tea room near you soon!
Mike Turner
Gypsy Khan – Too Many Too Late***
I LIKED this track because I felt like I'd heard it before…and I had, plenty of times. It's a great rock and roll track and if you enjoy that sort of thing – which I do – then it is great every time. No surprises in the track itself but it did come as a bit of a shock to hear Jaki Graham, The Communards and Genesis on the B side. Next time you do a demo lads, make sure you record over any old Top 40 recordings or else people might get the wrong idea.
Sean Atkins
Carl Anthony – The Ultimate Dream *****
Splendid collection of FM rock from former Kraze guitarist Carl Anthony, with some fine back-up from his old band.
Carl plays all the strings, as well as some excellent bass lines, and some surprisingly strong vocals, while most of Kraze provide vital back-up on a thoroughly excellent three-song package that just oozes class. Best of the trio is 'Bad Case of Love' but there isn't a bad word to say about one second of this. But then what did you expect?
Martin Warrillow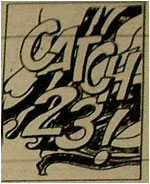 Catch 23 – Live Demo ****
NOT another rave Catch 23 review! Yep, 'fraid so because this is one of the most accomplished productions I have heard from the pretty boys since their formation. Done in double quick time to retain alive feel, the tape contains four well-crafted and intelligent dance/pop blasts that seem to prove conclusively that the band have found a natural identity at last. Each of the tracks has its merits but I especially liked the catchy 'What You Want' and the new version of 'Hangin' On' which has THE most beautiful of piano intros. I will save the fifth star in the review until the toons are re-done for a single but in the meantime take note this is snazzy, classy gear.
Sam Holliday
Curious Oyster – The Howling*
The first 45 seconds or so of this were really good. Eerie, swirling guitars in abundance, lots of flanged echo and all that. Nice little images of a relaxing Sunday evening walk in the autumn mist were springing to mind, and then yeouch! What a din! That voice! I nearly kicked the cat! Ripping off Siouxsie was fine ten years ago, it was a pretty hip thing to do. But now? C'mon, get real. I thought this was the summer of love. Where have you been hiding through the sunshine? Be brave, take off your purple and black shirts and get a tan! Why all the depressive suicidal stuff? Is it really that bad out there?
Mike Turner
Litany of Fear – Doppleganger***
Odd, black leather and Sisters of Mercy – type stuff from a bunch of unrepentant Goths coming way out of left field.
Extremely well produced, yet still managing to sound appropriately doom lade, it's the sort of stuff that on record you probably either love or hate, but that no doubt comes across very well live.
If you can stand the manic depression that this stuff brings on, you'll love it. Me? Well they do what they do very well, but I wouldn't want to hear it every five minutes.
Martin Warrillow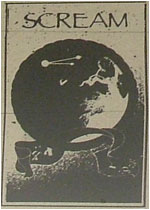 Scream Dream – Hometown****
Nice taster this for the new Scream Dream concept. Although not quite as hevvvy as the recent live performance at the Arts Centre, the songs here still have that powerful melodic approach which would put them firmly into the Rock Charts sphere of the Chart Show. 'Hometown' and the naggingly catchy 'Lonely Nights' are stunners, while 'Morning Sun' is a real grower, a well-written track with a toe-tapper of a hookline. It's a great tape, stopped only from being an almighty one by a very flat and disappointing production job.
Sam Holliday
Tamworth Herald – 15/09/89
Musicbox – Big, Bad Fivesome!
FIVE varied and tasty bands combine their talents for an Arts Centre special on Sunday night.
The Big Noise will spearhead the five-pronged attack which will also see the return of much vaunted duo Infinity Incorporated and the New Puritans, the re-emergence of Shock Culture and the all new Sherbert Trees.
The five acts will all be packaged together and put onto the Arts Centre stage for a mere £1.50 so a cheap and very tasty night is promised for all.
Opening proceedings will be The Sherbert Trees. I asked Ben Machin of the Big Noise to describe the Sherbert ones and all he could come up with is 'no one knows anything.' This is indeed useful so look out for a band that could sound like anything from Abba to Anarchy. Suck it and see.
Second up will be Shock Culture making their first Tamworth appearance for far to long. The band, who were sadly ruled out of the festival for medical reasons (well of a kind anyway) will be more than happy to slice their guitars onstage again and their strange audience of lovers and haters alike will be very numerate again I'm sure.
Third up will be the New Puritans, a truly mighty act who boast a singer with a Bros-like smile and a sound with a Buzzcocks-like edge. According to Ben this is 'music to trainspot to', but don't let THAT put you off.
Following the oh so puritans will be Infinity Incorporated of which I now know stacks. The band – who are widely travelled but have described Tamworth as having an amazing and unique scene – will be out once again to win over the crowd as they did very much at their last Arts Centre show. Hopefully this time they will be on before 4am unlike the last event and we will all be able to delve into their dungeons.
Completing Sunday's pretty package will be The Big Noise a band so spiffingly wonderful that when faced with the group countless record companies have said 'big who?' We won't say too much about the Big Noise because frankly they are very good at saying things for themselves anyway. Simply watch them and smile.
So that's yer lot then. Five potentially cracking bands for just one pound and fifty pence. I know this Sunday night 'War and Remembrance' thing is pretty gripping but go on, get out and enjoy yourself.
It starts at 8pm so get there early and don't miss a note.
Tamworth Herald – 15/09/89
Musicbox – Sunday View
The Cheese and Wine Party – Tamworth Arts Centre
TWO BOB TED
First off, apologies for missing One Happy Song, but we arrived a little late just in time for this combo. The silly name thinly disguised the fact that we were being treated to a performance by the majority of Fetch Eddie early in the evening. They ran through acoustic versions of a umber of old faves which came as a refreshing spin-off to their usual shows. Hopefully this style will win over some of the Tamworth people who are automatically put off Fetch Eddie by their irrational fear of pop music.
ARMCHAIR THRASH
Another acoustic spin-off from a big local band, but in this case the novelty is wearing off. For the first few times this was good for a laugh but there can be surely no future in it when DHSS is bursting with such potential. It is great what two men and a guitar can do – but it is no more than busking and can be done just as easily in a Tamworth street.
EMMA GIBBS
A couple of gigs ago it became clear to me that Emma Gibbs are good – and now they are just getting better. They put in another professional performance which went down well at a considerably less-than-full Arts Centre. Emma Gibbs are now a very well established band with a number of catchy tracks that really stand out. And best of all, it wasn't an acoustic set – the first two were good but quite enough thanks.
Review by SEAN ATKINS
Tamworth Herald – 15/09/89
Musicbox – Snips
The Searching have been signed for a special deal – all thanks to the Godfather of punk Joe Strummer.
The local boys contacted Strummer to try and get a slot on the Rock Against The Rich tour and although he couldn't help he was so impressed with their tape that he passed it on to the WWV label who have signed them for a short deal. It will mean they are featured on a special compilation out now called 'Yup In Flames' and it also means that the band will be releasing a special four-track single early next year. The band are delighted with the news and are now looking forward to promoting their part in the new collection at The Rock Garden and Dingwalls and at their home base of Tamworth Arts Centre later this year.
Tamworth Herald – 15/09/89
Musicbox – Snips
No Turning Back, a rock band very much in the Gary Moore mode, are on the lookout for a strong singer/frontsman. The band, who have many major gigs in the pipeline, need someone with commitment and enthusiasm. Anyone who fancies being a roadie for this interesting rock band should also contact them.
Tamworth Herald – 15/09/89
Musicbox – Snips
The Big Noise who are in the midst of some interesting label deals (more info soon) are still looking to acquire a drummer. They are getting pretty desperate so if you CAN help then please ring.
Tamworth Herald – 15/09/89
Musicbox – Snips
WIN emerge from a period of quiet industry with a CD and single next month. More details on this very exciting news as and when we get it.
Tamworth Herald – 15/09/89
Musicbox – Snips
Curious Oyster are planning an Arts Centre show late in October and they need a support act.
Tamworth Herald – 15/09/89
Musicbox – Snips
A useful preliminary meeting was held at the Tavern in the Town on Sunday night with a view to forming a musicians co-operative in Tamworth. Several good ideas were banded around and a bigger, open meeting will now be called in a few weeks time. Watch this space for more details.
17/09/89
Big Noise
Sherbert Trees
Shock Culture
Infinity Incorporated
New Puritans
Tamworth Arts Centre
22/09/89
Double Vision
Sweet Revenge
Tamworth Arts Centre
22/09/89
Spiral Eye
The Rathole
Tamworth Herald – 22/09/89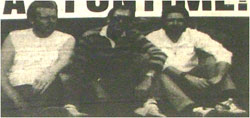 Musicbox – FRIDAY FUNTIME
Local rock fans have a choice of two cracking concerts to attend tonight (Friday).
At one the r 'n' b of Double Vision teams up with the heavy metal of Sweet Revenge, while at the other Spiral Eye play a special rock party at the site of the old Rathole.
Metal
First off, tonight's Arts Centre show which features a top Tamworth r 'n' b group and a well known Birmingham metal crew.
Providing the r 'n' b will be Double Vision, who made a major impression at the Tamworth Rock Festival and have been eagerly awaited to return ever since.
The band, three of whose members are pictured here are keenly looking forward to tonight's show which they feel will please a wide range of music listeners.
Teaming up with the Double Vision outfit will be Sweet Revenge. These are a group from the more metallic end of the rock sphere with a guitarist who has the Van Halen touches.
They are widely regarded as a very strong live act and a spokesman for Double Vision says that the mix of r n b and metal should appeal to a lot of people.
Spectrum
"This promises to be a night music fans will remember for a long time to come," said the Double Vision spokesman. "The combination of music from blues to heavy metal covers a wide spectrum of tastes."
Tonight's show starts between 8-8.30pm and Arts Centre attendance is £1.50
Also in action tonight are everybody's favourite psychedelic rocksmiths Spiral Eye. The band, come back 'home' fresh from a string of impressive shows alongside Wolfsbane. It has been an eye-opening and important series of gigs for Spiral Eye and they will be happy to show how their craft has been improved with tonight's performance.
It is being held at the upstairs of Manhattan in the place most of us remember as The Rathole. The gig has been organised by the Tavern Motorcycle Club and is part of a rock night which also features a dj and lots of metal music. Entrance to the gig is a mere £1.50 and if you can take it, the action goes on until 2.a.m. which means you could go to both gigs couldn't you!
That's the choices then, r 'n' b plus metal at the Arts Centre or Spiral Eye and bags of rock noises at the top of Manhattans. The choice is yours, so get along and have fun.
*The entire MUSICBOX crew – messrs. Holliday, Warrillow and Atkins – are heading for Paris this weekend so we would be very grateful for any freelance reviews of these two shows. Send them in a.s.a.p. to MUSICBOX and providing we haven't lost our heads in Paris we will do the rest.
Tamworth Herald – 22/09/89
Musicbox – Kraze are back in business!
LOCAL rock heroes Kraze look set to bounce back into high powered musical action this Autumn after finally succeeding in their long search for a replacement guitarist – and now the band are busily lining up for a string of major gigs.
Nearly three months after strings wizard Tim Latham took his guitar off for a new life in Canada, Kraze have this week confirmed that two new recruits have finally been signed up to fill the huge gap left by his departure.
The new boys are Tamworth's own Daz Trace, who steps into the limelight from little known local band Force, and Andre Tsar, who hails form the musical backwaters of Stratford-on-Avon, and is a totally new face on the Tamworth rock scene.
The news of their arrival heralds the end of an anxious period for the band, who looked set to continue their climb up the Midlands musical ladder before the final news of Tim's departure.
Several weeks of anxious local rehearsals failed to unearth a replacement and led to an appeal from the stage at this year's Tamworth Rock Festival for any interested guitarists to get in touch.
"In the end, it turned out that our engineer knew Andre, invited him to an audition, and it really clicked." Said a delighted band spokesman.
Martin Warrillow
Tamworth Herald – 22/09/89
Musicbox – Special Review
Sherbert Trees – Arts Centre
Interesting if somewhat over-drawn opening to Sunday's Big band Fivesome night. The band had plenty of likeable bass warblings and a wicked overbearing guitar sound that gave them the occasional feel of a mix between our own King Wodericks and Spiral Eye. Guitar wise and tune wise this was fun but vocally it was a bit dreary and reading lyrics from a piece of paper destroys the whole point of an improvising sound like this. There's some good songs in there but at the moment there's too much Tree and not enough Sherbert.
Sam Holliday
Shock Culture – Arts Centre
Easily the best I've seen this combo as they came over as being far more relaxed and powerful than ever before. The songs had a pleasing consistency and peaked with a gorgeous ditty called 'Six Ways To Your Heart' which seemed to have very much a feel of The Jam meets Catch 23. Catch axe hero Ray Clenshaw obviously saw the connection and raved about the band, and his enthusiasm is entirely justified. Good stuff.
Sam Holliday
The Big Noise – Tamworth Arts Centre
Not the best big Noise gig I've seen I must admit. That infernal drum machine was either too loud or too Bolshie to give the rest of the band a chance to shine and the group themselves seemed conscious of their unhelpful rhythm back up. Songwise this was a real sandwich, with the best two songs being the opener and the closer and the filling being a mixed day of allsorts. Ben Machin was once again an alarmingly good frontman but the sooner he has a backsman with a drumkit the better and bigger this noise will be.
Sam Holliday
Infinity Incorporated – Tamworth Arts Centre
Splendid show which cut out the gimmicks and diversions and went straight for the jugular. Andy dominated the stage and the sound and led his very professional and tight-sounding outfit through a whole range of good, well constructed numbers that brought a pleasingly enthusiastic response. Best track was the opening number but the beauty of this band is that ever song had its merits and there is a consistency in their songwriting which bodes very well for the future.
Sam Holliday
The New Puritans – Tamworth Arts Centre
Deserved headliners on Sunday night this was another dose of good old fashioned ear-bending guitar music. The rhythmic talents of the Big Noise boys gave a real force to the guitar works of the Puritans to produce a set that was always interesting and exceptionally toe-tapping from start to finish. The band's greatest strength is their songwriting which is remarkably mature for their respective ages and shows every sign of developing still further. Whistleability was the order of the day and if you can trainspot to this you can trainspot to anything. Very jolly.
Sam Holliday
Tamworth Herald – 22/09/89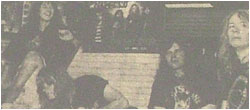 Musicbox – Wolfsbane, Wolfsbane, EVERYWHERE
Aren't you just SICK of Wolfsbane? I mean it was all very well when they were turning up in Musicbox, the Lichfield Mercury and ever-so occasionally Kerrang but now it seems they are being adulated and written about in every publication in the world except 'Practical Caravanning'.
I thought I would be on safe ground however with my tried and tested NME. After all here is a self-respecting metal-hating magazine, that thinks Morrissey is God and Metal is Evil. They gave the Wolfies album one out of ten, called them something unprintable in this column and made it clear that Wolfsbane and NME would never be friends. But then a couple of weeks ago NME did a joint review of the Wolfies live and Bon Jovi live and much preferred our heroes. And then last week NME did a spiffing crawling interview where the once vicious Steve Seething Wells hailed 'Live Fast Die Fast' as 'brilliant' and exalted the band's musical prowess. I dunno with all this and reviews seemingly every week in Sounds, Kerrang, Melody Maker, Metal Hammer etc, etc. Wolfsbane just have to be THE most hyped band in the world. It's disgusting, unfair, unwarranted and down right sickening.
And oh yes, it's rather wonderful too!
Sam 'As if I'd Hype Or Praise Wolfsbane' Holliday
My Wolfsbane quote of the week incidentally is jointly shared by one in Brum Beat and one in the NME. Steve speaking to Brum Beat (who once laughed at the band and who now deserve laughing at in return) said '"We're the first REAL band from Tamworth. You can't count Julian Cope – he defected."
And on a rather more sleazy note my heart broke for the boys when either Bayley or Steve (it wasn't clear which) told the NME…"I wish I could sleep with the same woman three nights in a row." Jeez Boys, it must be HELL.
Tamworth Herald – 22/09/89
Musicbox – Letters
Dear Sam,
Just a quick line about last Friday's Sonic Noise Show. Considering the lack of publicity (not your fault of course) it was a fair turnout on the night, and a good night was had by all.
A wide selection of musical styles were on offer, and all bands came across well. However, two bands really caught the eye. Firstly Flowers in the Attic played a set which was not up to their usually high standards, but was still powerful and enjoyable.
Secondly, a new band called Ruby Blaze played a strong, if rather short debut. However, they lacked a bass player badly, and I hope to see this band in the near future with a full line-up and set.
Yours in anticipation
MATT BARTON
BOX REPLIES…
Thanks for the review Matt. We would have liked to have given this gig a much bigger push but as various members of the various bands will confirm there was a lot of confusion about whether or not the show would go on. As a reminder to all groups our absolute deadline for putting things in this column is Monday at 10am. If you want a BIG preview for a show or whatever then get your stuff to me at least seven or eight days before.
Thanks.
Sir,
Ref: Emma Gibbs at the Arts Centre – Sunday 10th
Typical me, typical me, typical me.
I've started something
Now I'm not quite sure
The ultimate comment on the Tamworth music scene.
Apparently full of 'enthusiastic, bright young things;
Apparently.
Sunday 10 September.
A Cheese and Wine evening with Emma Gibbs Silly Stuff. The message clear, have fun, dance, dance, dance.
The opportunity squandered again.
Handed to them on a plate (literally), but still ignore.
Emma Gibbs – getting there, but already too much of a great-big-now for most. Typical
JUSTINE KING, WOODHOUSE LANE< AMINGTON
BOX REPLIES…
There is no legislation that people who go to a gig MUST Dance along. Fun can be achieved in many other ways methinks. Incidentally I loved the cheese but missed the wine. Typical me.
Dear Sir,
I recently attended the cheese and wine evening with local songstress Emma Gibbs at Tamworth Arts Centre.
To my surprise most people were not dancing (oh not again – Ed!) but standing with their backs to the wall, heads down and arms folded.
Oh how we laughed upon hearing that these people were in fact local youngsters known as 'alternatives'.
Have any other readers had amusing encounters with these boring *******?
B. FEGG, Glascote Working Mens Club
BOX REPLIES…
I've had many encounters with those self-same people. They write embarrassing letters like this one.
Tamworth Herald – 29/09/89
NEVER AGAIN!
Police deluged with complaints of all-night row
Farmers apologise after acid house party rave-up
OWNERS of the land where an all-night acid house party was held at the weekend – keeping thousands of people awake – pledged yesterday "Never again!"
Brothers John and Michael Hodgetts also apologised to the fuming Tamworth and North Warwickshire residents who deluged police with hundreds of protest calls.
And they admitted to having been "completely and utterly duped" into allowing the event to go ahead on their land in Robey's Lane, Polesworth, just yards from the Tamworth boundary.
The acid house party which continued until after 11am on Sunday, attracted 2,000 young 'ravers' from throughout the country. Noise from the giant speakers could be heard six miles away.
Mr. John Hodgetts said he and his brother had rented out the site to a group of lads from Sutton Coldfield calling themselves Spectrum and Co.
"About a month ago they came and asked if we hired out the field for events. They were very polite," he said.
"That was the last we saw of them until last Thursday when they said they wanted to hold a disco in a marquee and it might go on until Sunday morning."
"When they arrived on Saturday with all the equipment, we realised we had been duped, and tried to get the event scrapped."
But, Mr. Hodgetts said, the organisers had brought their own solicitor with them, and no loophole could be found to halt the party.
'Offered £1,000'
He rejected rumours they had made 'many thousands of pounds' from hiring the land. "We were offered £1,000 and £600 was paid in advance. The rest was to have been paid straight after the event, but they left without handing it over."
His brother said, "We wish to make a public apology to everyone whose sleep and peace were so inexcusably disturbed in the early hours of Sunday. We can reassure all concerned that it will not happen again."
Meanwhile North Warwickshire Borough Council, in whose area the event was held, revealed its desperate attempts to try to stop the massive party taking place.
Tamworth Herald – 29/09/89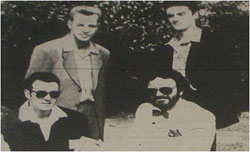 Musicbox – Stance's management boost

FORMER Musicbox band of the year, Dance Stance, have just signed a lucrative long-term management contract..
The nine-piece soul act completed the formalities of the deal last week and are now left with a good deal which has delighted both parties.
Dance Stance have been signed to a top Midlands management group called Goodyer Associates Ltd. The company has extremely diverse interest which includes other noteable signatories like Radio One dj Mike Read, spoon-bender extraordinaire Uri Geller and England cricketer Jack Russell.
The is however the first time that the company has signed a group like this – but they are convinced the Atherstone-based soulmen will repay their faith ten-fold.
"We have many fingers in the music industry but we have never signed an individual group before," explained the company's millionaire owner Ron Goodyer. "We have listened to a lot of bands but have heard nothing to compare with Dance Stance. I honestly believe they could hold their own next to anyone on stage and we're going to do everything to help these guys to the top."
Dance Stance are equally pleased with the deal and are confident they have secured a contract which will benefit them greatly.
"This is a real breakthrough for us," commented vocalist Paul Hanlon. "We have always believed in our ability and now such a respected company as Goodyer are backing us, we can go forward and really show what we can do."
Dance Stance have been with us now for around five years. In that time they have twice won the coveted MUSICBOX band of the year award and have used their Midlands base to propel them to a series of very big and very impressive shows in the UK mainland and in Jersey. They have become one of the most sought after college acts and have picked up a great deal of campus support to boost their bedrock following in Tamworth, Atherstone, Nuneaton and Bedworth.
In addition they have recently hit London in a big way (including a sellout show at the Mean Fiddler) and have also found their way on to the airwaves by becoming the first local band to play on primetime TV on 'Opportunity Knocks'.
Now they have got behind them a company who promise to give them the best possible boost for the future.
"The management contract simply couldn't have come at a better time for everyone," enthused bass king Neil Sheasby.
"We have just produced a demo which is unquestionably our best material to date."
Fans who wish to follow the progress of Dance Stance should write to Melissa or Dave at Goodyer Associates Ltd. And Neil and Hanny had better send a demo to Sam Holliday at the Tamworth Herald or face being hit over the head by a giant haddock!
*The band are looking for a keyboard player to complete their line-up. Dedication and ambition are absolutely ESSENTIAL.
Tamworth Herald – 29/09/89
Musicbox Letterbox
Dear Sam,
After going to the Tamworth Rock Festival, to the Mean Fiddler and then receiving a newsletter. I thought I would put pen to paper.
I went to the Mean Fiddler to see none other that the wonderful, brilliant, fantastic Catch 23. After going to the Fiddler on the Thursday I found I had lost my voice and it never came back until the following Tuesday, that's how good they were! I hope to go and see them next month as well and look forward to seeing them on TV.
Please (1,000,000 times) print this letter.
Diane (A Catchette!)
P.S. Your Musicbox is the only page I read. Keep up the good work!
BOX REPLIES…
Just what is it about Catch 23 that seems to inspire such devotion from young ladies. Is it Ray Clenshaw's hat? Steve Webster's dog? Or perhaps Nick Smith's quiff? I don't know, it's all very mysterious. Love the p.s. incidentally, but try reading the sports pages too, they're just as fab. There's more Catch 23 worship next by the way…
To the Maninblack
About this Catch 23 demo. It's the best thing since the last Stranglers album! It's full of energy, life and power and the best recording from the band yet. My car stereo hasn't suffered so much hammering and the neighbours can't handle the noise levels. What talent – I just can't get it loud enough and it really is a must for Catch 2 fans. As a fellow Strangler addict I hope I get a mention in MUSICBOX on my thoughts on such a good band.
A Maninblack (Ian Moore)
Mancetter
BOX REPLIES…
A Catch 23-loving Stranglers addict! What a combination! What a man! What a hero! What a guaranteed way of getting your name in MUSICBOX!!!!
Dear Sir,
Here are just a few of the gigs at the Lichfield Arts Centre 'Sweat Box' over the next few weeks which I hope you can let your readers know about:
Friday Sep 29 – Demon/Roma/Shock Split/Rainboys (in aid of charity) Friday October 6 – Dumpys Rusty Nuts/Shock Split/TBA Friday October 20 – Marshall law/Gates of Purity/Rough Neck Saturday November 4 – Cloven Hoof/Treason/Patriot.
Also on December 1, FOD promotions will be celebrating their 50th gig anniversary with a special night to thank all those that have supported them so far. Cheers everyone and here's to the next fifty!
Becky Buet
OD Promotions
Lichfield
BOX REPLIES…
Congratulations on the anniversary chaps (and chappesses) and I for one feel FOD deserve tremendous credit for keeping the Lichfield scene alive and healthy after it once threatened to die altogether. Keep it up and see you at the next Festival again folks.
'Letterbox' is always here to listen to your views on the local music scene and we are happy to print anything that won't get either you or us arrested. Please bear in mind that the vast majority of this column is put together the Friday before it appears in print so allow time for your letters to be printed and always include your name and address even if you don't want it printed. Thanks.
Tamworth Herald – 29/09/89
Musicbox – SNIPS
A top class local heavy metal band are on the lookout for a new bass player. The band who have many major gigs in the pipeline want someone who can offer both ability and dedication and so unless you are really able to learn quickly then read elsewhere.
Tamworth Herald – 29/09/89
Musicbox – SNIPS
Rock For The Connoisseur. That's the title of a series of shows being put on at the Chequers, Hopwas, starting this Sunday. The gigs, initially one a month, will provide AOR type rock in a pleasant atmosphere for music fans. It begins this Sunday with a top quality band in this sphere and it costs just £1 to enter.
Tamworth Herald – 29/09/89
Musicbox – SNIPS
According to the Arts Centre, Marshall Law take over the venue on Sunday night for their own brand of metal mayhem. Sadly as we had to go to press early we had no chance to confirm or expand on this so you are advised to check with either the band or the Centre to establish more info.
Tamworth Herald – 29/09/89
Musicbox – SNIPS
As you may have seen in last week's 'Scene Around', another of the alternative comedy and music cabarets takes over the Castle Hotel tonight (Friday). The Great Stan (a mindreader who will explain his theories on talking to the dead and dolphins) teams up with The Cheeky Chappies, Steve Evans, Terry Cavell and from the musical stable our own Also Smith and Jones. It sounds like big smile time so get along tonight to the Castle Hotel. Tickets are either £2.50 or £3.00.
Tamworth Herald – 29/09/89
Musicbox – SNIPS
A vocalist/frontman is sought for an ambitious new Tamworth band in the U2/Simple Minds mould.
Tamworth Herald – 29/09/89
Musicbox – SNIPS
A petition which already contains more than 300 names is currently circulating around the Tavern requesting the James Whale radio show to play the whole of the Big Butty video. As you may know thirty seconds of the fatrock was played a few weeks ago and the petition now calls on the Whale one to play the LOT.
Tamworth Herald – 29/09/89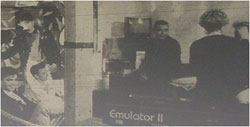 Musicbox – On the box again!

'SEASONED' TV stars Catch 23 will be on the box AGAIN next week. The band will be on television on Tuesday – and two days later they take part in a special promotion at a top London recording studio.
The programme to watch is the first in a new series of 'What's That Noise' and is this Tuesday at 4.35pm on BBC1 Television. The show which is hosted by alternative comedian Craig Charles also features 'lesser known' bands such as Aswad and Texas. One of the highlights according to the band is when they all take part in a 'jam session' playing an old reggae standard. In a very short time Catch 23 have become great friends with Aswad. They are always on the guest list for their major concerts and they were even invited down to the cutting of their latest single 'On and On'. Could they have an ulterior motive, I ask myself?
The day after, catch 23 make another all-expenses paid trip to the capital to prepare for a special demonstration at the CBS Recording Studios. On Thursday the Music Press will gather to watch Catch 23 perform several songs which will be recorded and then played back to them. The day has been organised by Fuji the new sponsors of the National Rock School Competition and Catch 23 have been called in to help launch their new range of audio tapes. The band are expected to feature heavily in Fuji tape advertising in the run-up to Christmas, so expect to see the pretty boys in your magazines over the next couple of months. This unusual departure for the band can only increase their exposure and they should make many more contacts in their quest for national stardom.
Following their truly amazing performance at the Mean fiddler in August, Catch 23 have been invited back on Tuesday, October 24th. If you are fourteen or over and enjoy dance-orientated pop why not come along to this superb venue and be part of the ever-growing Catch 23 appreciation society. You can book your seat on one of the many coaches making the trip by ringing and asking for Big AL.