Tamworth Bands History : 1989 :
August
Tamworth Herald – 04/08/89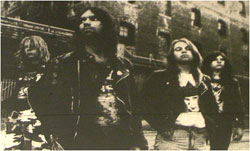 Band rocks straight into record charts – Wolfsbane's first album sells 15,000 in a week

A TAMWORH rock band has shot straight into the national charts with its first album – selling 15,000 copies after just one week on sale. 'Live Fast, Die Fast' which was recorded by Wolfsbane in Los Angeles, has entered the official Gallup-compiled charts at 48…a success which neither the group nor the record company had anticipated.
Local record shops sold out on the day of release, with a high proportion of advance orders making up the figures as the band's Tamworth fans snapped up hundreds of copies as soon as they came on sale.
Wolfsbane, whose four members, Jason Edwards, Jeff Hateley, Steve Ellett and Bayley Cooke still live in Tamworth are currently staging their largest ever tour of Britain to further promote the album.
"We are flabbergasted at the chart position of the album, and hopefully it will really take off when people see it is in the charts," said Wolfsbane's drummer Steve Ellett.
"The record company were predicting a position of around 68 and we were amazed at that, but when we heard it had gone into the charts 20 places higher we could not believe it."
The band recorded the album on the Def American label with producer, Rick Rubin, who has worked with The Cult and The Beastie Boys. It is being distributed in Britain by Phonogram, who are delighted with the success.
"The record has had some excellent sales for a debut album and has sold around 15,000 nationwide," said Phonogram press officer, Paul Bursche.
"Wolfsbane are still not that well known yet, even by hard rock fans, so we have expectation of many more sales.
"The fact that it has made such a high entry into the charts will help because the majority of the record buying public do not recognise a record until it has charted."
The largest record retail group in the country, Our Price, put 'Live Fast, Die Fast' at 33 in their album charts which reflect sales at their 300 stores around the country.
Wolfsbane visited the Tamworth branch of 'Our Price' last Thursday to autograph copies of the album, boosting sales even further. A batch of signed copies were also sent to the Our Price store in Banbury where the band's recent concert in the town had increased demand.
Inner Sleeve, of Victoria Road also reported good sales through advance orders and a rush of buyers from the day of release.
Further afield, What Records which has stores in Nuneaton, Bedworth, Hinckley and Coalville said they had sold well over 100 copies in the first week.
"We sold out in the first week and it is clear that Wolfsbane have a number of fans in the area outside Tamworth," said Neil Sheasby, Bedworth branch manager.
The big Virgin Megastore in Birmingham also sold out of its original stock of the album which was well promoted by posters on display at the store.
Tamworth Herald – 04/08/89
Musicbox – YOU saved the Fest
THE amazing generosity of Tamworth's army of music fans has ensured that the Rock Festival WILL go ahead in the future.
Several late financial blows meant that the festival was destined to lose more than £500 – a figure that would have probably sunk the event without trace.
But, thanks to a huge surge of public support over the festival weekend, the event actually (and remarkably) made a small profit.
The reason it did so was because of the huge sale of fundraising raffle tickets, plus general collections which saw the Tamworth public dig deep into their pockets to ensure that the show must go on…
"We really must thank the Tamworth public for their support," said festival vice-chairman Rikk Quay, "We got the message over that we needed help and they responded brilliantly. It restored all our faith in the event and proved how important it is to Tamworth music lovers."
It was increased p.a. costs (plus other late financial crises) that put the festival under a dark financial cloud just before the event. There was a real feeling that it could mean that this fest would be the last fest – and that's where YOU stepped in.
Repeated calls from the stage to help and support the festival met with an incredible response and as well as selling hundreds of pounds of raffle tickets, the organisers were delighted that people were chucking money into buckets like nobody's business. Among the nicest moments were when two youngsters went forward to buy raffle tickets, found there were none left and threw their four pounds in anyway saying that the festival was their best weekend of the year. Also pleasing was the way the Tavern Motorcycle Club went round collecting cash and also donated a tenner from their own funds. It was such moments of selflessness which brought forth nearly £500 worth of contributions and inspired all the festival organisers.
"We have had a few problems and complaints this year and the money problem threatened to kill the whole thing," said Rikk Quay. "Now we all feel confident for the future and determined to keep the festival alive and kicking."
A festival post mortem meeting was held on Sunday night at the Tavern and provoked a good turnout and much reasoned debate. It was decided to try and improve the quality of the sound and facilities still more in future years and to keep the event as an exclusively local showcase.
It all added up to a positive end to what has turned out to be the most roundly enjoyable festival of them all. The public has shown its support for the festival in a big way (note all the praising letters we received last week) and everyone has now set their sights on next year.
The Tamworth Rock Festival remains the jewel in the music scene's crown. Long may it shine.
Tamworth Herald – 04/08/89
Musicbox – Spiralbane
Tamworthians aplenty will be travelling to the Birmingham Irish Centre on Monday night (Aug 7) when Wolfsbane will continue their current tour with a show with special guests Spiral Eye. Wolfsbane's support for local bands remains excellent and this promises to be a major break for Spiral Eye. Still with Wolfsbane, a coach has been arranged for their triumphant return to the Marquee on Friday August 18. This show looks set to be one of the highlights of the current tour so get along and PARTY.
Tamworth Herald – 04/08/89
Musicbox – Vision On
Top local r 'n' b band, Double Vision, are looking for a bassist to help them with a future important recording session. If you can help, nip in the Tavern and write down your name and phone number and pass it on to Rikk Quay who will pass it on.
Tamworth Herald – 04/08/89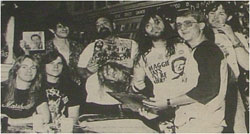 Musicbox – NO, THIS IS NOT Spinal Tap!
Anyone who has seen the brilliant 'Spinal Tap' movie (and for everyone interested in the music business it is a must) will remember one classic scene.
It occurs when Spinal Tap, a fading metal outfit, are invited to an album signing session at a record store in America. For hours they sit tapping their feet as not a single person comes forward wanting to have the band's monickers written all over an album. A bizarre press agent then goes running around the shop shouting 'its all my fault, someone please kick my ass!" to make for an hilarious scene that would put any band off doing an in-store signing session.
Not so our own Wolfsbane. For last week the boys had a special record store signing at Our Price in Ankerside and a major success it was too. When the band first arrived there were a pile of fans there waiting to have their goodies signed and the shop reported a mass more sales to add to an incredible Wolfie album purchase throughout the week.
By the time We arrived most of the throng had departed however and that's why the Laurel and Hardy of the Tamworth music scene – Rip Van Quay and Buttercup stole into our picture. Rikk you will note, has a copy of a Ken Dodd record for signing. Why did he do this? 'Tax reasons' he said.
Tamworth Herald – 04/08/89
Musicbox – They mean business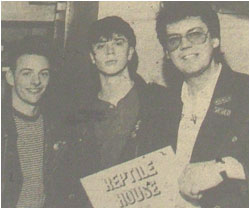 CATCH 23 make their London debut next week when they pay a crucial show at the Mean Fiddler in front of an audience including top agents, management companies and at least one major record label.
The band, who have been under pressure to play London ever since they won the TSB contest, will be in action at the London venue on Thursday night – and by an amazing coincidence Atherstonians Dance Stance are at the same venue 24 hours later.
For Catch 23 the gig will be their biggest showcase to date. Following their triumph at the TSB the band have been hounded by a host of top management and agencies and they will all be there on Thursday night alongside a couple of pop celebrities, at least one Radio One dj (and it is not Mike Read this time) and a leading record company. It's a big night for the band and they were determined to make sure they were prepared for the test…
"Although we have been keen to play London for some time, we just needed more time to get it absolutely right," said manager Alan Webster. "The lads have been rehearsing eight hours a day, putting together a set which is designed to win over the enemy of music industry supremos who have heard so much about the."
Despite the interest shown in the group – and it is genuine unsolicited interest – they are under no illusions of how difficult it will be to move from their current exalted local status to a major national platform.
"A major record company deal for a pop band is really hard to obtain, so what we really need now are good support slots with well know acts, and dates at top venues around the country," said guitarist Ray Clenshaw.
The band have already made on major (and brave) decision to go full-time and their faith has been strengthened by the pleasing reaction they received at the Festival. Although the band themselves did not think their set was as good as it could have been, they picked up a mass of new fans many of whom have already booked onto two full coaches which will be travelling down to the Mean fiddler on Thursday.
The coaches for the Mean Fiddler start from Tamworth and will pick up at various points along the way. More space will be made available to try and get as many people down as possible, so of you would like to come along and be part of the 'star-studded' audience you can get more details from Alan Webster. It promises to be a rollicking good night out so for a fiver all inclusive why not go along and cheer the Catch boys to success?
*Dance Stance are also taking a coach to their Mean Fiddler show. It costs £6 and Neil Sheasby will be happy to provide more details.
Tamworth Herald – 04/08/89
Musicbox – Ark 'Triomphe for Richard!


PROGRESSIVE rock band Ark, who feature Tamworth drummer Richard Deane, have unveiled a series of major dates and events – which includes a prestigious support slot with It Bites.
The band who already have one (pre-Richard) album under their belts, have been selected to play alongside It Bites in Holland in the middle of September. The gig has come about because of a strong and powerful fan club the band have established throughout Europe, one which has amazed new drummer Richard Deane.
"It's great really we people write to us from all around Europe and we even had a letter from Japan. Our album has clearly travelled far and wide and it is because someone liked us in Holland that we were offered support to It Bites," he said.
The gig, at Tilburg, Holland may well be part of a larger European jaunt which may also include Rotterdam and Amsterdam.
Interest
Nearer to home, Ark, who are very much in the rockier spectrum of the Marillion bracket, have lined up a couple of key British dates. They will be playing at the Royal Standard and the Stick of Rock in London and then on October 14 they will team up with the Jeff Mann band at the Marquee.
In addition, the group have a new 12 inch single due soon including titles like 'New Scientist' and 'The Eighth Deadly Sin' and it all adds up to a hectic and exciting time for the progressive outfit.
"We are having a lot of interest and I am really enjoying being part of the band," said former First member Richard.
Tamworth Herald – 04/08/89
Musicbox – All change in the Emma Gibbs camp
EMMA GIBBS LOVES BADGES, voted by many people as the surprise hit of the Tamworth Rock Festival, have made an appeal for three new musicians to join their combo.
The sons of Aztec, want a guitarist, cellist and keyboard player to join them following the departure of established guitar man Rob Kinson, The reason for Rob's departure was something to do with him forgetting songs (well, SOMETHING like that) meaning that the man described by the band as 'that notorious surgical collar siren of the six strings' is no longer a badge-lover.
If you want to play guitar, keyboards or cello for this excellent collection of humans then ring Martin or James.
*The band's next major venture will be an Arts Centre show with Fetch Eddie on Sunday Sept 10. It really will be 'show' as other acts on the bill will include a comedian, a magician and (wait for it) a fire-eater. Sounds fun, more details later.
07/08/89
Wolfsbane
Spiral Eye
Irish Centre,
Birmingham
11/08/89
The Magnets
The George
Tamworth Herald – 11/08/89
Musicbox – The Boys are back in (London) Town!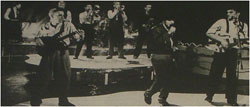 ATHERSTONE soul kings Dance Stance return to London again tonight (Friday) for their most prestigious Capital date yet.
The band will be in soul-ful action at the Mean Fiddler in North West London in what is their first weekend headline slot.
Traditionally at the popular venue, a band must earn their 'spurs' with several midweek shows before being offered a slot over the weekend and Dance Stance have clearly impressed the venue's hard-to-please chiefs.
"We regard this as a fairly prestigious event as it marks our first London appearance at a weekend," explained bassist Neil Sheasby.
The Dance Stance crew will be joined by two London groups – T Cone Hiney and Brazil – for tonight's biggie and they hope to show once again that the Midlands can wipe the floor with London acts any day of the week(end).
The band have organised a special coach to try and give them the best possible support for the show. The price will be £4 for the coach and £2.50 on the door, it will pick up at Tamworth Assembly Rooms at 6.30pm, at Atherstone Memorial hall at 6.45pm and at 7pm at Nuneaton Bus Station.
It's a big night for the former MUSICBOX poll kings and let's hope they put their heart and soul into it and come out with more than just a good show for their memories.
Tamworth Herald – 11/08/89
Musicbox - Demo of the week
A pleasant smell…
STENCH – '"Dragged from the Grace"****
Nice lads, Stench. With a series of song titles like 'Mutant Hill', 'Zombies' and 'Strangler on the Beach' this is clearly not the sort of stuff to play your granny.
But on closer inspection, it's all totally harmless nonsense that strikes me as the illegitimate kid brother of the Soil Brothers. All crawling, rockabilly guitar lines, irresistible double bass riffs and absurd horror-comic lyrics.
Picking a favourite track is tricky as everyone will have you reaching for the tennis racket and knocking out those gorgeous creepy guitar lines that make these songs. A very nice Rikk Quay/Paul Speare production effort as well. Now if they'd stop destroying their instruments at the end of every gig.
Review – Martin Warrillow
Tamworth Herald – 11/08/89
Musicbox
Psychedelicatessen, the band with the most unspellable name in the world, want a new guitarist. The powerhouse popsters want someone who 'must be able to jump around a lot and be creative'. Contact Sue at Our Price Records if this is your kinda thing.
Tamworth Herald – 11/08/89
Musicbox – Why the poll-winners split ranks

AS many puzzled pop fans noticed at the Tamworth Rock festival, Rikk Quay and DHSS are no longer a married couple.
Just seven months after Rikk, Ed, Anice and John claimed a superb victory in the MUSICBOX poll, the band has said farewell to Mr. Quay to the surprise of most people on the local rock scene.
Rikk was one of the originators of the DHSS concept and its loudest supporter. His decision to depart – just days before the festival show – shocked a lot of people so we asked both sides to prepare their own 'statements' on why the split occurred. This is a unique change from just saying 'musical differences caused a blow-out' and it gives a neat insight into how local bands works and think. Fans of the poll-topping group should note that the band is still very much together and underneath this article you will see that Rikk Quay too has decided to boldly go forwards. But first – why did he leave. The DHSS statement kicks us off…
THE DHSS STATEMENT
Rikk Quay has left the DHSS – a mutual and amicable separation.
Rikk remains good friends with all the band but was unable to accept professional and responsible attitudes set by the band.
Rikk's departure will in no way affect live work of the band, his computer operating skills are now in the capable hands of Anice.
Since over 90 per cent of songwriting has been done by Armchair and Reeman, there will be no change in the musical direction the band has pursued over the past 18 months.
Any gaps left by Rikk's departure will be easily filled by the present members taking a more active role in the future.
Yours,
John, Anice and Ed (The DHSS)
RIKK QUAY'S STATEMENT
My reasons for leaving are as follows…
1. At the last band meeting it was stated that the DHSS music would get away from experimentation and the punk image. As experimentation was the prime reason I joined the band, I found this unacceptable.
2. At the same meeting it was unanimously decided that my so called 'cavorting about' on stage was 'appalling'. This I could not accept as I have been the same for years now and will never change.
3. In the last few months I was attending practices and finding that songs were already written. Any constructive ideas I then had were mostly dismissed.
4. The band were bent on professionalism. I totally agree with the idea but before the festival we never practised for nearly three weeks which was not professional in my book. I refused to play the festival because of this and I was told if I did not do so I should leave the band. I agreed and thereby left DHSS.
Yours,
Rikk Quay
THE DHSS FUTURE
The big noticeboard being put up from DHSS is 'no change'. The group will now continue as a three piece featuring Edward ian Armchair, John Reeman and Anice Byfield. They made their debut in this guise at the festival and earned a very good reception for a lively set. Future dates and demos have yet to be confirmed by the band but they are very definitely still together.
THE RIKK QUAY FUTURE
Rikk has begun a new project called Rhythm Damage. This will be a totally new venture for Rikk and he feels that Tamworth will never have seen anything like it before. Basically Rikk will be at the heart of a series of tapes/gigs all of which will feature totally different musicians all working for the same loosely-defined project. He wants any musicians who fancy the chance of experimenting with him in the studio (musically I mean!) to come forward and already he has several who want to work on different kinds of music, all linked under the Rhythm Damage umbrella. It is difficult to describe in print but Rikk certainly knows and understand what he wants and we hope to reveal more shortly. In short he says "I want to destroy every possible music form and any musician who wants to partake in bringing down their own musical style will find a home with me."
Tamworth Herald – 18/08/89
Musicbox – Reasons to be cheerful 1-2-3!
Wolfsbane – Birmingham Irish Centre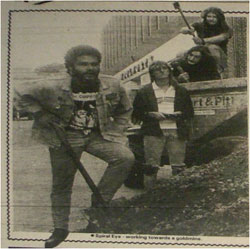 A few days ago, I chanced on an old MUSICBOX column where I reviewed Wolfsbane at one of their first out of town dates. It was August 1986 and I marvelled at the sheer power and presence of the band saying: "Wolfsbane remind me of the Stranglers – they have never EVER disappointed me live'. I went on to add that I could not see how anyone could possibly dislike them and I also pointed out 'make no mistake, Blaze Bayley is a STAR'. Now almost exactly three years on, my vision and understanding of the Wolfsbane enigma has not altered one jot. What has though of course is that now we are talking about a STAR band. This impressively sized venue was pretty well packed, tour t-shirts were being flogged for eight quid a piece and every Wolfsbane song, be it a newie, an oldie or a cover version was greeted with a roar and a shared joy that made you realise just how big this monster has become. Of course Brum is as much the band's backyard as Tamworth and the Birmingham Batallions are clearly proud as punch of Wolfsbane's success. Bayley knows this and gets away with even more murder than usual, taunting the crowd and skilfully goading them into an ever increasing volume of response. Bayley of course still dominates the set and his energy never ceases to amaze an unfit couch potato like me. The way he bops around the stage with elasticity and eccentricity makes him seem like the result of an elaborate camera trick. You simply cannot understand how one man can be in so many places at the same time and you wonder where on earth he gets the zest left to sing as brilliantly as he does. The music? Well, the Wolfies have always had their toonability sussed and here their attack, attack, attack works on every possible level. Classic song tumbles after classic song and you find your butt bopping of it's own music accord. The whole set was note perfect rambling rock and roll quality and never once did the firepower cease. I loved every minute and was left feeling exactly the same as I did when I gorged myself on their meaty might almost three years ago to the day. Then I concluded my review by saying 'If you don't like Wolfsbane, you're dead already'. Never has that statement been truer, but now more people than ever are beginning to realise just what Wolfsbane are and what they can become.
Scary monsters need not be super creeps.
SAM HOLLIDAY
Catch 23 – The Mean Fiddler, London
Brilliant. That is the only word I can find in my well-thumbed Thesaurus which sums up just how good this concert really was.
What made it so exciting and memorable was that in spite of the fact that I have seen Catch 23 more times than most people have seen their parents, I was still left surprised by their set. The band have spent the past few months defining just where they want to go and how they want to sound. They have thrown out all the new wave (how can I still call it 'new') batteries and adopted a model sound based on two vital and cohesive components – dance and melody. This was commercial, tight funk orientated pop of the very highest quality and what made my knees tremble so much was that the best three songs played on the night were all brand new. 'Million Years' was classic pop in the Aural Sculpture Strangler-mode, 'Stand Back' was a thumping seductive Terence Trent Darby number while 'What You Want' was a simple but dazzlingly effective slab of pure pop 'n' dance. Throw in recent Catchkiller 'On Your Way', the modernised and still splendid 'Hangin' On' and five more goodies and you have a set which must rank as the strongest and best Catch 23 have ever put together. It is mature pop music, skilfully played and elegantly performed. Individually they were all brilliant with two outstanding features being their expert use of backing vocals and Nick's versatile and unbeatable tinkling of the keys. The crowd reaction was amazing and with Radio One dh Peter Powell turning up and pulling out his own range of superlatives, the whole night must be regarded as a massive triumph for the band.
More than ever I am convinced that these boys are going to be very, very big indeed and this gig proves that all the work they are now putting into realising their dreams is being rewarded tenfold. I love them to DEATH.
SAM HOLLIDAY
Spiral Eye (Birmingham Irish Centre)
A big night this for the Spiral boys. Here they were face to face with a bunch of Wolfsbane-loving metalmen, wondering if their crazee vision of modern Britain would make any impact on the crowd or whether their faces would be torn apart by flying bottles.
Well, their pretty chops remained intact, and the reaction they received must have delighted them. This isn't really music for the metal masses yet the increasingly enthusiastic response afforded to them by the watching hundreds proved something that I have suspected for a long time – that Spiral Eye have a very, very broad base of potential listeners. This is rock music with it's fingers in many different musical pies, the psychedelic ramblings that made them such an eye opening prospect are still there but nowadays the band have inherited a dramatic sense of power and a pleasing if surprising amount of pop sensibility. What you are left with is quirky but highly hummable rock sounds – tunes to get the toes tapping as well as the brain working. It is a nice combination which works on many different emotions and could give Spiral Eye an almost unlimited listenership. On the night the sound didn't help them too much but their quality still shone through and Baz's warm personality won over many who had probably started watching determined to hate it all.
The Spiralmen have been promised several more Wolfsbane support slots and it is a marriage of extremes that promises to work very well indeed. This is a great band and hopefully these dates will mark the first stage in an ever-more searching spiral of success.
SAM HOLLIDAY
Tamworth Herald – 18/08/89
Musicbox – Flower Power!
Tamworth Arts Centre will stage a unique 'Flower Pop Festival' on Sunday night.
The gig will feature five bands described as representing the crème of Indie talent in the Midlands.
Spearheading the whole show will be Andy Lane's new act Infinity Incorporated. This features former Birdland and Psychedelicatessen man Andy lane, another Psych export Marie Hayes, ex-Reptile Paul Aspel and Sons of Rest mad Tim Adkins.
Together the group will be making their debut under their new name although a demo they have already produced has already earned a Brum Bear review of 'wonderously awful'.
The full line-up for this five act happening is as follows…
Big In Texas – A strong Coventry based band who have apparently earned their place in the gig because one of them 'fancies Steven'. Don't ask me I only write this stuff.
The Herb Garden – Described as 'the unsung heroes of Tamworth's Indie scene' they feature Tim and Lisa of 14 Jackies fame and former Apache Rob Cross.
The New Puritans – Wonderful Buzzcock-guitar ripping act described by my Flowers in the Attic informant as 'David Gedge style hurtling guitar pop music'.
Flowers in the Attic – Described by Flowers in the Attic as 'the best indie dance band in Tamworth' (well they would say that wouldn't they) I can confirm that is a mighty outfit with echoes of the Echo's amazing vocal and guitar work. Excellent gear.
Infinity Incorporated – Otherwise known as Friction, this new band promises to be quite the show stealers. Composed of a seriously experienced line-up, they promise to be an eye-opening and toe-tapping headliner.
That's the package then, and a pretty good one it is too. The local Indie scene continues to thrive and if you want to see why, get along at 8pm PRONTO on Sunday night to find out.
The venue is the Arts Centre, the cost is a mere £1.50 and the scenario is for FUN!
Tamworth Herald – 18/08/89
Musicbox – Letter blasts noisy fest
Dear Sam Holliday,
You have mentioned that you want to keep Tamworth young people active and happy with that horrible, noisy rock festival. (Oh yes, poor darlings will otherwise die. They must have what they want). What about other people? A great number of people suffered and were upset, because of that blaring noise!
Your excuse is also that this only happens on two days in the year. You forget that people have to put up with many other disturbances almost every day!
Unnecessary noise is the most cruel absence of care which van be inflicted either on the sick or well. The Noise Abatement Society's experience on an international scale shows very clearly that noise either directly through it's effects on brain and body tissues or because of annoyance, leading to psychological upset, causes almost every disease in the medical calendar and the hundreds of complaints dealt with every week, come from every section of the community. Home ought to be the place where peace and quiet can be found, where complete relaxation and the rest can be enjoyed!
There is no need to have this kind of music or anything else too loud! Some people have no common-sense to understand that loud noises are extremely harmful and ugly!
Five Tamworthians
For many others
Dear 'Five Tamworthians'
Many thanks for your letter. At first I wasn't sure what to do with it because I thought it was an elaborate wind-up – a fact confirmed by the dubious pseudonym. But assuming it is a real complaint – and I know a lot of people do think like this – I will try and answer it.
The Tamworth Rock Festival does not set out to offend anyone. It is our aim to provide good quality music for local people to enjoy. These people – your patronising 'poor darlings' – are not 13 year old alcoholics as you probably think but a very wide cross section of the Tamworth public. As photos of the event will reveal probably the majority of those who sample our wares are family groups and the huge amount of parents who turn up with their children and thoroughly enjoy themselves convinces us that this has become an event for all music lovers in the district. In order to make sure that all these people hear what is going on it is necessary to make the sound loud enough. Your comment that 'there is no need to have any kind of music or anything else too loud' is very bizarre. Who defines what 'too loud' means? This year, many of the people watching the festival (good ratepayers like yourselves remember) complained it wasn't loud enough. We then heard that people from around the area were complaining that it was more than loud enough so I thought we had compromised well. We were not giving in to the excessive sounds some people were asking for but we were still making sure the majority watching were able to enjoy a decent, well-balanced sound output.
The other point to bear in mind is that the major factor in sound-travel is the weather. As there was no wind or cloud to break up the sound as the sunny festival of 1989, the music carried a little further than usual although frankly claims that people were being deafened in Stoneydelph were about as believable as the Elvis Is Alive and Working in Stockport stories.
As a final point this DOES only happen two days a year and I wish people would adopt a live and let live attitude. I live on a main road where huge lorries pound past my window night and day, 365 days a year. It is irritating to say the least but I do not call for the banning of all transport and the return of horse and carriages. This is 1989 and whether your ears like it or not, rock music is here to stay. The satisfaction our concert gives to people who are otherwise neglected in the area, outweighs all our other considerations. Why not come down yourself next year and sample it first hand? Your sensitive ears may not like it but you may find your pride in the range of young talent in Tamworth is vastly increased.
Yours,
One Tamworthian (Sam Holliday) for many others.

Tamworth Herald – 18/08/89
Musicbox – That old Magnetic magic…
The Magnets (The George)
The Magnets, written off in some quarters as has-beens gave Tamworth a confident performance last week, producing some excellent pop music.
After a shaky start, the band showed they've still got a lot to offer.
Baldrick Baldwin gave a most impressive vocal show backed by Martin Mayhem on drums and Gary 'I Can touch The Root' Overton on keyboards. The band overall have certainly updated their sound and deserve a music-loving live audience as a result.
Negatives? Well, 'Love Is Sadness' seemed a bit slow and my gosh 'Have It All' sounded like that thing they play at 4.30am before JobFinder on ITV.
Any doubts though were eliminated as the band hit back with the hard, strong sound of 'no Shelter' (real single material that) and the climax of the show, the classic 'Nightlife' given a 1989 feel with a much fuller sound. With the right production the band have enough material for a very good album and three singles. The Magnets are back in business – don't ignore them!
Review – Jack Napier
Tamworth Herald – 18/08/89
Musicbox – Bands wanted for local festival
Atherstone and Tamworth groups are being sought to take part in a special one-day festival next month.
The fest, at the Westwood House in Atherstone, is an all-day charity event in aid of North Warwickshire's M.I.N.D.
Already recruited for the gala day are The Directors, Spirit of the Gypsy Khan, Eight Ball Joe and possible Bedworth group Curious Oyster. Now, organiser Pete Walton wants other local bands to come forward…
"Hopefully we will end up with about ten groups which will make it a great day for the area and a good gig for everyone," he said.
If you want to join the event – it lasts all day Saturday on September 9 – then please ring Pete Walton. It's for a good cause and it sounds a lot of fun to boot.
Tamworth Herald – 18/08/89
Musicbox – Band wanted!
A young girl singer, determined to join a pop group in the area has contacted MUSICBOX. She is enthusiastic and willing to work hard to sing chart-based pop music. If you can help, write a note to MUSICBOX a.s.a.p. and we will pass it on.
20/08/89
Flower Pop Festival
Infinity Incorporated
Big In Texas
Herb Garden
New Puritans
Flowers in the Attic
Tamworth Arts Centre
Tamworth Herald – 25/08/89
Musicbox – A Wolfie Sell-Out!
HUNDREDS of disappointed fans were turned away from the Marquee on Friday night when the band's premier London show was a major sell-out success.
Playing for the first time at the new look Marquee – which as doubled its capacity to just under a thousand – Wolfsbane were delighted not only to fill the venue but to sell it out with ease.
As a coachload of Tamworth travellers arrived at the venue at 8.30pm they were greeted by stacks of metalmen walking in the opposite direction saying 'you've all got no chance – its sold out'.
Lo and behold outside the venue there was a mass of leather clad Wolfie fans looking disgruntled as only those bearing tickets were let into the hall.
"It was amazing to see the amount that turned up," admitted bassist Jeff Hateley. "It made me feel very nervous but it turned out to be a great gig."
Such was the massive success of the show that Wolfsbane – who sold out the Marquee when Bros had failed to do so the night before – may be playing there TWICE later in the tour. They have already booked for a cracking show with Spiral Eye on Thursday, September 14, but they may now add Friday the 15th as well.
"The whole of the current 'Booze, Birds and Bad Language' tour has been a massive success to date. Wolfsbane have been packing them in nearly everywhere they go, including through their Scottish gigs and reactions to the shows have been ecstatic.
"It's been great everywhere we go but tonight was the best of the lot," beamed Jase The Ace shortly after Friday's triumphant event."
*A review of the Marquee show appears in the middle of the 'Review Special# on the left of this page.
Tamworth Herald – 25/08/89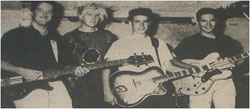 Musicbox – Review Special
The Big Muff – Tamworth Arts Centre
Dark, unrelenting and somewhat disturbing sound which created a real atmosphere all of its own. Taking the New Order style of constant and niggling guitar build up, it ended as a bastardised kind of modern pop which drew the inevitable Spacemen 3 comparisons. To me it had more of a Jesus and Scary Chain feel and was over far too quickly. Dark and dank but immensely listenable with it. Frightening.
The Herb Garden – Tamworth Arts Centre
The band that got most of the attention and praise at Sunday's Flower Festival night – and it was easy to see why. This was stylised and serene Anglo Indie-pop, played with verve, nerve and sensitivity. At times it was deliberately broody and downbeat, but at others it crept into commercial waters and managed to swim therein very well indeed. Excellent Sugarcubish vocals and occasionally haunting guitars combined to make a set which grew in confidence as it grew in stature. A major surprise and a major singing discovery too methinks.
Wolfsbane – The Marquee
More magic from the global warriors who were afforded possibly their greatest reception to date. Faced with a thousand screaming Wolfmen and women, the boys proceeded to dazzle and delight at every turn to make for an audio/visual spectacular of the highest order. The brilliant guitar work of Jase the Ace (so aptly described in a recent review as looking like a guy who 'can't believe his luck') was the shining glory of the set with his 'extro' to the stunning 'Pretty Baby' being the highlight of the night. Elsewhere the cover of 'I Wanna Be Sedated', the majesty of 'I Like It Hot' (which featured about one million stage invasions) and the raw grit of 'Manhunt' were the ones that got the toes bopping but the best was still saved until last with a splendid version of the anthemic 'Paint the Town Red'. That, the closing track of the second encore, closed a set that led to the most rapturous reception I have ever seen awarded to any band loosely termed local. In film parlance there wasn't a dry eye in the house. Utterly, utterly, utterly UTTER!
The New Puritans
Already established as one of my favourites of the local 'new order' this more than lived up to my hopes and turned out to be an exhilarating 20 minutes or so. Crashing guitars, vengeful bass and beautifully crafted songs was the order of the day with the Puritans proving themselves to be capable of handling anything from the hardest of power-sounds to the mellowest of moments. Closing track 'No Such Chance' is hereby declared as a classic and vocalist Robert Frymus and fellow cohort Robin Mason are hereby declared as seriously talented musicians who must be watched with eagle eyes.
Flowers in the Attic – Tamworth Arts Centre
What a great night this turned out to be. Straight after the Indie elegance of The Big Muff, the Herb Garden and then the New Puritans, we had this tasty wall of post modernist new wave sound. Opening in great style with the highly memorable 'Outside' the band went on to produce a fluent and fluid set full of Bunneymenesque influence and 1990s relevance. Steve Coniff has the supreme ability to look and sound amazingly cool without actually doing anything and the band as a whole have a uniform sound and look which makes them a very attractive package indeed. Great sound, great band. Only one query – what has candles go to do with steamboats chaps.
Infinity Incorporated – Tamworth Arts Centre
I couldn't stay to the end of this set so perhaps a full review is unfair. But, what I did see certainly made me want to see more because what we have here is something very, very unusual. It looks and sounds at the start like traditional alternative rockgear but it quickly blows apart that feeling by some wild and wacky guitar playing and some very enigmatic vocalwork. It makes the whole thing pretty hard to define but pretty damn watchable. Further comment would be unfair by me as I never saw it all. Anyone out there want to fill in any gaps?
Tamworth Herald – 25/08/89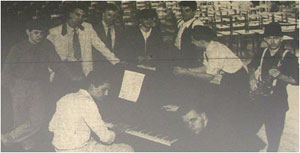 Musicbox – Dirty Dancin'?
Dance Stance (Mean Fiddler)
All the ingredients were here tonight – one of London's top band venues, an all-important Friday night headlining slot and a packed house with a willingness to dance.
Dance Stance came to conquer with self-confidence and an absolute belief in their own ability. They duly took the stage and proceeded to whip the crowd into an electrified mass of movement with only one law, 'bop till you drop'.
Now running like a well oiled machine, the groove merchants blasted through a medley of numbers for a good twenty five minutes, one song ran into another with almost ridiculous ease 'Like Brother', 'Certain Feeling', 'Mighty Mighty', 'Push Comes To Show', all reeled off keeping up an impossible tempo.
A short break for 'The Sweetest Pain' and then the second half of the onslaught, 'Grandma's Philosophy', 'Reward' sent the funkmongers to the dressing room only to be called back for the encore by a near frenzied outburst of stomping from the dance-hungry sell-out punters. A special mention for Paul Hanlon whose vocal presence was assured and ran the show in his own unique style, and also the new cutting edge of Mr. Read's gordy funkmaster.
This was Dance Stance functioning on all cylinders, if you weren't there you should've been.
Review N.A. Jones
*Dance Stance were all set to sign a major management contract this week. The band are said to be delighted with the deal which is said to include considerable backing for studio and live work. More details shortly.
Tamworth Herald – 25/08/89
Musicbox – STOP PRESS GIG NEWS
Brilliant alternative comedian Frank Skinner joins King Woderick and The Yogots, Also Smith and Jones (ex-Royal family), Jed The Poet and Armchair Thrash in a unique five act show at Corvettes Winebar on Tuesday night. A cracking night in prospect there, it costs just £1.50 on the door, 8pm is Tuesday's kick-off time at Corvettes.
Tamworth Herald – 25/08/89
Musicbox – SNIPS
An enthusiastic and experienced female heavy metal singer is desperately searching for a new band in the Tamworth area.
Gail, who is relatively new to the area, is influenced by the likes of Bon Jovi, Heart and Pat Benatar and has had experience in an all-girl HM band in the past.
Now she is seeking similar minded musicians to form an all-new metal force in the area.
"I have been away from bands for a little while and I miss it terribly," she said. "I can't wait to get working again."
Gail, who has several song ideas up her sleeve, wants to talk to any like-minded metal merchants to get the new band off the ground.
It sounds an interesting prospect so why not give her a ring.
Tamworth Herald – 25/08/89
Musicbox – SNIPS
CARL Anthony, the former Kraze man who has just released a sparkling and innovative solo demo, is to be featured on a unique hotline-hitline!
For a track from Carl's new demo is to be aired for two long weeks on a special phone-in telephone line which broadcasts new and exciting talent.
The song will be aired from August 28 and should then be heard anytime over the two weeks by ringing the number.
"I hope it will give people a chance to see if they like the sound of the demo and if they do they can contact me for a copy," said Carl.
Copies of the impressive solo work are now available at a cost of £2.00 (plus 50 postage and packing).
Or, if you'd rather wait and taste the pleasures to be found on the tape, don't forget the hotline starts on August 28 and keep a note of that number.
Tamworth Herald – 25/08/89
Musicbox – SNIPS…NEWS
The First Conspiracy are on the lookout for a new drummer. The band want someone who is keen, reliable and 'capable of drinking Newcastle Brown Ale' to contact them. This is a rare chance to join one of the area's top bands, so drummers out there better get ringing!
Tamworth Herald – 25/08/89
Musicbox – SNIPS…NEWS
We have received a couple of letters in response to last week's claim that the festival was too loud. We hope to print them next week but suffice to say that this debate is far from over.
Tamworth Herald – 25/08/89
Musicbox – SNIPS…NEWS
Fetch Eddie have lined up a major show in London on September 9. They will be playing alongside The Wickermen and Doodlebug in a major three-band show at Opera On The Green, Shepherds Bush. A coach will be travelling to the gig, picking up at Tamworth Arts Centre at 4.45pm on the day. If you want to book on it please ring David. In the meantime, the band are in action at the Irish Centre on August 31 when they join These Tender Values.
Tamworth Herald – 25/08/89
Musicbox – SNIPS…NEWS
The Big Noise are playing at Tamworth Arts Centre on Sunday September 17 alongside The New Puritans. A third band is now being sought to join the festivities.
29/08/89
Frank Skinner
King Wodericks
Also Smith and Jones
Jed the Poet
Armchair Thrash
Corvettes Wine Bar
31/08/89
Fetch Eddie
These Tender Values
Irish Centre,
Birmingham