Tamworth Bands History : 1989 :
April
02/04/89
A5
Big Noise
Flowers in the Attic
Shock Culture
Big Muff
Tamworth Arts Centre
07/04/89
The Magnets
The George
Tamworth Herald – 07/04/89
Musicbox – They're Back!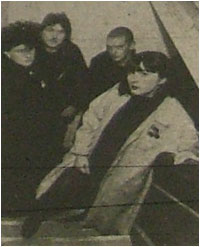 MUSICBOX'S Band of the Year, DHSS will finally hit the Tamworth stage again on Sunday night.
The group, who have been doing an impression of Lord Lucan over the past few months, will make their first live appearance since that famous weekend in December when they supported the all powerful Sigue Sigue Sputnik and then headline the Arts Centre,
Joining Steady Eddies squeezy clean electro popites will be The First Conspiracy, King Wodericks and debut-making thrash merchants Chemikill. It makes for a very lively and exciting four band line-up and one which looks set to give the Arts Centre another bumper attendance.
For DHSS of course it will be a belated thank-you show to all their loyal supporters. The band were as delighted as re-instated eunuchs to win the MUSICBOX poll and were determined to do a show to thank everyone. To say it is a little late would be an understatement but band spokesman, Ridiculous Quay says that the wait will be more than worth it.
"We may have been away for a long time but Dracula kept rising from the grave and he remained popular," said Quay. "Believe me the wait will be worth it. We can guarantee our crowds - .M.A.D. – that's mutually assured decibels," he added.
Bendy Quay said that the band had spent many millions updating their equipment and they would now be faultless but not funless.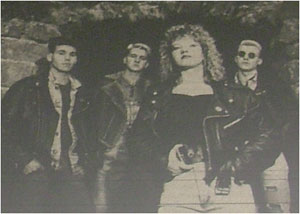 "It's gonna be mega," he said.
DHSS hope to parade one or two new numbers and hope to show that they have lost none of the drive and excitement value that led the Sputnix to pick them out of obscurity and offer them a prestigious support slot. They will aim to make Sunday more than a gig. They are aiming for an event.
Helping to make that so, will be three excellent support acts all of whom will guarantee a far slice of the crowd on the night. The First Conspiracy have also been missing from our local stages for far too long, a fact not helped by some burke (i.e. me) leaving them off the Indoor Festival line-up. The band whose recent demo was a scorcher are keenly looking forward to the show and a good set is assured.
If DHSS and the First Conspiracy have been strangers of the Arts Centre of late, the same cannot be said of another act on Sunday – King Wodericks and The Yogots. This band seem to have become the Love On Board of the late Eighties, making the Arts Centre their second home and improving considerably with every performance. With a big and committed following to cheer them on, the band seem to have tightened and strengthened their modern Indie sound and they should suit Sunday's mood perfectly.
Completing Sunday's show will be a brand new and very enthusiastic band. Chemikill have been buzzing for some time but Sunday's show will be the first time that Gaz, Chris, Eppy and Ant will have unveiled their thrash sound to the world. They sent me a crazy, chaotic demo to illustrate their thrash metal sound and they are convince it will be a big crowd pleaser in Tamworth.
"The last band that tried to do stuff like this was Scarab," said Gaz, "I know in Tamworth there are a lot of thrashers so we want to see you moshing down to see us ok?"
Yep, that's OK but what exactly IS moshing?
Whatever it is I am sure it will prove another tasty ingredient in a menu of musical delights. DHSS are determined to go for it in a big, big way and with the First Conspiracy, Chemikill and the Wodericks aiming for a night to remember, a great gig seems as certain as rain at festival time.
Mosh on down at 8pm on Sunday and have a ball.
Tamworth Herald – 07/04/89
Musicbox – TV disappointment for Catch fans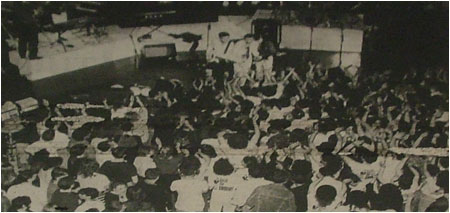 CATCH 23 will NOT be on tv in the Central Region tomorrow as previously thought.
The band's TSB Rockschool triumph will now not be shown in this area until Sunday April 23 and Saturday April 29 because of Central's schedules.
However the show WILL be going out in the London, Granada and virtually every other area tomorrow morning (check times) so dedicated Catch 23 fans had better start travelling now.
The show will be in two parts. The first (in this area on Sunday April 23) will show all the eight bands that competed in the final, the second (Saturday April 29) will show more of the winning three, with Catch 23 heavily featured.
So the message is if you're reading this from virtually anywhere else but the Midlands, this weekend you can see Catch 23 in action. For the rest of us there is a two week wait, but believe me it is worth its wait in gold!
Tamworth Herald – 07/04/89
Musicbox – Catch 23 Letters
Dear Sam,
I'd like to congratulate Catch 23 in their excellent performance at the TSB Rock School Competition, Bradford. They gave their supporters (whose enthusiasm and devotion seems endless) a day never to forget. Their impact on stage was so powerful that Roger Davies, TSB National organiser and judge, almost fell off his throne!
As individuals and as a group, they have enough charisma and charm to make it to the top.
No true supporter of the local music scene should miss this totally inspiring and talented band on the box. Well done Catch 23.
Yours Carla Cordell,
Gillway
Tamworth.
P.S. I'm not one to kiss and tell but Rikk Quay was concealing a bottle of vodka on his person! As alcohol wasn't permitted Mr. Quay obviously got cold feet and proceeded to offer his forbidden liquid to people. I'm not at liberty to mention as I felt it could have been a bribe. However, you will be pleased to know that we managed to dispose of the vodka by consuming it as quickly as possible.
Dear Sam,
I would be very grateful if you could include this little notes in your Music Box page to accompany your report on Catch 23 in Bradford.
Catch23 would like to say a big 'thankyou' to everyone who went and supported them in Bradford on March 22, especially Tosh, Mark Stevenson, Lisa Griffin and Kaine Vesey-Watts.
Thanks very much Sam.
Pete Clenshaw,
Sheepy Road,
Atherstone
Tamworth Herald – 07/04/89
Musicbox – SNIPS
Mr. Fleming gets upset again shock
Dear Sam,
Criticism of a band I'm a member of, I can handle. However, Martin Warrilow directed criticism of Nightshade specifically at me, and extended that criticism into an attack on me generally in a recent Musicbox demo review.
He states that I am churning out the songs. Personally, Although I like them, I didn't write them. Perhaps a little preliminary research (like looking at the cassette sleeve) would have helped here, and revealed that Wendy jinks and Carl Siviter (our singer and guitarist) are co-authors.
He also mentions me being stuck in 1975. What a shame that you missed out on Ruffian on the Stairs and Torn in Two, Martin. However, Sam has a copy of the Torn in Two demo, given to him for review about a year ago. Perhaps he could see his way to letting you have a listen?
Anyway Martin, thanks for the small bit of the review that wasn't an attack on me. I do appreciate criticism on a musical level, and I certainly try to take your criticism 'on board' (as that awful new expression goes), keep on writing, I'll keep on playing, and maybe one day we'll agree.
Your sincerely,
Mike Fleming,
Belgrave,
Tamworth.

Tamworth Herald – 07/04/89
Musicbox – SNIPS
The recent success of Catch 23 and our recent (belated) demo blitz has meant that one or two local gig reviews have been held up a little. In order to not ignore them completely, here we summarise two reviews from recent Sunday night Arts Centre partys.
Scream Dream – Arts Centre
ENGULFED in dry ice smoke, Scream Dream emerged on stage and were soon into the swings of things with new songs such as 'Morning Sun', 'The River' and 'Hometown'. Some of the old favourites namely 'March Winds', 'When The Hour Comes' and 'Dreams' were among the line up and the finishing number was the much-liked 'Crazy Dogs' which provided a fine new ending.
Jane Beech
The Searching – Arts Centre
The band's sound has progressed and so has their musicianship in particular Pete Williams. The set featured many new tracks plus one or two well known numbers ending on the frenzied rock and roll of 'Nothing Matters'. Excellent.
David Reeves
Limited Edition – Arts Centre
An impressive set including fine covers of Stranglers and Stiff Little Fingers numbers. They however didn't seem to want to come off the stage.
David Reeves
Bash Out the Odd – Arts Centre
They came across very well and seemed to impress all who attended. 'Rain Garden', 'Switchblade Love' and 'My World' are just some of the tracks that really stood out but my outstanding memory was the enthusiasm of singer Mark Brindley as he bounded around the stage.
Jane Beech
Curious Oyster – Arts Centre
Very much in the Pixies/Throwing Muses very and very useful material. The three-piece band plus drum machine gave a good performance with the female vocals enhancing the sound.
David Reeves
Tamworth Herald – 07/04/89
Musicbox – SNIPS
New band, All the Presidents Men would like to hear from any singers interested in joining their Indie pop band. They would like to hear from people with enthusiasm, dedication and 'a modicum of intelligence'.
Tamworth Herald – 07/04/89
Musicbox – SNIPS
Two former members of the Human League were in action at the Embassy Suite last week. Adrian Wright and Tim Russell joined up with female singer Virge for a show under the billing of 'WOW'. The trio appeared at the Embassy's Under 18 disco which runs every Wednesday night.
Tamworth Herald – 07/04/89
Musicbox – SNIPS
What's This Heads Down Mindless Boogie have finally found themselves a singer and as such have put themselves in the Festival frame. They conclude this bit of info by stating 'given half the chance, Chemikill will be the next Wolfsbane because they are so good'. Now THAT makes you want to have a look on Sunday doesn't it!
09/04/89
The DHSS
First Conspiracy
King Woderick and the Yogots
Chemikill
Tamworth Arts Centre
Tamworth Herald – 14/04/89
Musicbox – On the ball!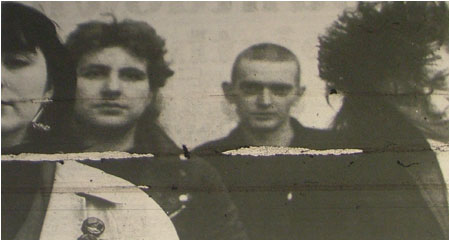 The Town's biggest pop band – DHSS – are to perform a special Wembley song for the Town's biggest football club – Tamworth FC
The town's favourite shock-rockers are to re-write their chirpy anthem 'Ooh, Ooh, Ooh, La, La, La' with a football theme to mark Tamworth FC's first ever trip to a Wembley cup final. It was hoped that last night (Thursday) one or two of Tamworth FC's big stars would descend on the Expresso Bongo studio to add their vocal skills to the track which will then be rush released.
In the meantime the band are still celebrating a highly well attended Arts Centre show which brought a massive crowd through the doors on Sunday night. Here is how it went…
Chemikill
Excellent debut set from a band who are noisy, nasty and nicely Neanderthal. They call this speed thrash metal, but to my old punk schlonk ears it sounded like a vicious variation on Sham 69, Anti-Nowhere League and The Ramones. They looked a lean, mean fighting machine and their attitude and language prove that they clearly came from the Wolfsbane charm school. Horribly attractive stuff.
King Wodericks
Regular readers will note that I have said that the Wodericks add a new dimension very time they play. This time round it was dance-ability. The normally erratic rhythm base was replaced by a kind of fledgling funk and the new tunes produced showed that the band are making more commercial, dance-orientated music these days. A good, well-balanced set highlighted for me by some truly wicked and wild keyboard work. Mention of this show cannot pass without commenting on one of the biggest and loudest supporters. Karen…who verbally attacked me afterwards on everything from God to sexism. Nice girl I'm sure but the sort who belongs behind bars instead of in front of them. Long live Ghandi hey Karen!
The First Conspiracy
Strong set from a band whose epic themes and epic sounds still go down well with their home audience. Their lack of recent live action made them sound hungrier and angrier and even though they still weren't exactly leaping around the stage, their visual impact was stronger than in recent gigs. Best thing of all was the way the relative newies (Beyond the Pale' and 'Touch My Heart' for example) came over more powerfully than the golden oldies, which shows that the band have moved on well and can now look forward with confidence, safe in the knowledge that their songwriting ability is continuing to improve.
DHSS
OK, I'll admit it, this wasn't the best DHSS gig I've seen. It ended up in somewhat of a triumph with the bands many delights pouring out of the speakers with increasing degrees of smileability, but it just took too long to get going. A slight error in the first song seemed to weaken the band's confidence and it wasn't until they reached the mid-point of the set that they began to climb back to the top of Division One with their sound. The last 30 minutes f the set was extremely enjoyable …absence from our stages for several months made them lose their killer edge. A couple more (quick) concerts under their belts and the band will be back on course for world domination but this show proved that there is no substitute for live experience and the band need to find the same sort of love for the stage as they have for the studio. Right, there goes my free drinks in the Tavern!
Review by Sam Holliday
(curiously described on the night as looking like a 'vampire from the Lost Boys) and having a 'footballers haircut' and from Quay at least as being 'a total ***head'!
Tamworth Herald – 14/04/89
Musicbox – SNIPS
Wolfies go European!
WOLFSBANE make their first major excursion into Europe later this month when they open proceedings at the prestigious Aardschok festival in Arnhem, Holland.
The Wolfies will be one of seven bands, headlined by US rockers Queensryche, performing to a packed crowd of Euro headbangers at one of the continents biggest and best all-day rock festivals, on April 29.
The engagement marks a major career step for the band, who have not yet ventured into Europe, despite rave reviews in Britain and the US.
"This is their first European date and it's the perfect opportunity for the band," said band club spokeslady Barbara Edwards. "The idea is that because no one's heard of them out there, it's a good showcase for them and hopefully there should be loads of promoters coming to see what all the fuss is about.
Wolfsbane will open up the show at 1.15 to be followed by Vengeance, Crimson Glory, House of Lords, Flotsam and Jetsam and Queensryche.
"It's the Queen of Holland's birthday which is treated like a Bank Holiday so it should be a tremendous occasion," said Barbara.
Quite what the confused and crazy continentals will make of a band featuring a vocalist described on one music paper this week as a cross between Iron Maiden's Bruce Dickinson and Bill Oddie is anyone's guess.
The Wolfsbane HMS Fanclub is organising a monster weekend trip for the festival, leaving Birmingham on Friday afternoon and returning late on Sunday.
The trek described as "for serious and committed lunatic fans only" will cost £55 including coach, ferry and entrance to the show (£60 for non-fan club members) and is being organised following phenomenal fan demand.
"We've had loads of people asking us how they can get there, so we planned this as a really good weekend", said Barbara.
Anyone interested should contact Brian or Barbara Edwards at Wolfsbane HQ.
Tamworth Herald – 14/04/89
Musicbox – SNIPS
As there is no Sunday concert at the Arts Centre, it seems like a pretty good time to have a Rock Festival committee meeting. Thus, all the committee members (and this is not a general meeting remember) are requested to attend the Tavern in the Town on Sunday night (8pm) for a festival progress report.
Tamworth Herald – 14/04/89
Musicbox – SNIPS
Catch 23 have already had serious record company interest following their victory in the TSB Rockschool contest. We won't give any more details at the moment but it shows that things are cooking…
Tamworth Herald – 14/04/89
Musicbox – SNIPS
The Magnets have returned back to live action in recent weeks. The band, now made up of Gary Overton, Martin Woodings and Andy Baldwin were in action at The George on Sunday, their second appearance their in recent weeks. For those that don't know, The Magnets are THE oldest current Tamworth band who were playing gigs and making tapes when most of the current new breed were still soiling nappies.
Tamworth Herald – 14/04/89
Musicbox – Getting the Bird
KINGSBURY-based rock outfit Birdland are continuing to act out their position as the current rock media darlings.
The group, who have lived in the Tamworth area for the past three years, have deliberately kept away from the local scene but have been featured heavily in the national rock media following the release of their brilliant debut single. Last week alone NME carried a full page review of a recent concert while Melody Maker did a very interesting article which revealed that one member of the band rather fancied Julian Cope but said that most other Tamworth people looked awful 'like Marti Pellow' (Wet, Wet, Wet)! As for the band, they are all bleach blonde boys with a manic, punk-ranting sound which has led them to being described as (rock journalism cliché numero uno) 'the next Sex Pistols'. Get the single, read the reviews and see them live if you can because even if they regard Kingsbury as Birmingham, this column does not so welcome Birdland to the world of the (reluctant) Tamworth area heroes.
Tamworth Herald – 14/04/89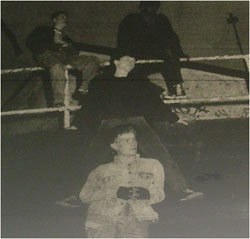 Musicbox – EP plan for the Fetch Eddie squad
THE rejuvenated Fetch Eddie are hoping to record a new EP in the summer.
The group, who made a vinyl debut last year with 'He'll Love You Till Your Pregnant', have been busy writing new material and have a dozen songs in the pipeline. Four of these hopefully will be put together on one EP which will be available towards the end of the summer, hopefully in time for the Festival.
In the meantime the group are planning a number of shows in places as far apart as Coventry and Putney and on June 4 they are hoping to return to Tamworth to headline an Arts Centre show. Support acts have not yet been announced although stablemate Catch 23 and Emma Gibbs are thought to be in the running again.
21/04/89
Kraze
Marshall Law
Tamworth Arts Centre
Tamworth Herald – 21/04/89
Musicbox – DHSS hit by the Wembley fever!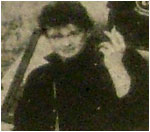 DHSS have carried out their threat to record the OFFICIAL Tamworth FC Wembley football song.
The four piece MUSICBOX band of the year were hoping that the Wembley tape comprising 'Tamworth Boys' and 'Come On You Reds' would be available this weekend for the pleasure of DHSS and Tamworth fans alike.
The idea for the joint venture came from DHSS keyboard man Rikk Quay who suggested it on the long haul back from the Catch 23 triumph at the TSB final in Bradford. At that stage Tamworth were not even in the final but Quay looked ahead and said 'if there is a Wembley song, we want to do it!"
And that is exactly what has happened. Last week the band re-arranged their anthemic 'Ooh, Ooh, Ooh, La, La, La' track, wrote new tongue in cheek lyrics and then hoped that several Tamworth players would come along to complete the vocals.
And to the delight of Rikk, John, Anice and Ed that is precisely what occurred. Following their training session last Thursday night, no less than eight team players descended on the Expresso Bongo studios to join in the punkified rant of the 'Tamworth Boys' song.
Among those taking part were Tamworth skipper Andy Foote, stalwart defended Bobby Atkins and 'star' keeper Dale Belford who is an admitted DHSS fan.
"It took some persuading to get the lads down to the studio but when they got their they really enjoyed it," said Dale.
The song it must be stressed is not yer-average football song. Although the lyrics are the usual jovial, catchy things (i.e. 'Tamworth boys, we are here, see us score, hear us cheer,' etc.) the music has not been compromised one iota. Hence this is the first neo-punk football song and for that very reason, it works wonderfully. It simply bounces along with a power and humour that leaves most football songs looking like, well football songs and clearly shows that DHSS and the loonier end of the Tamworth FC squad make for a winning team.
The two track tape, more details of which can be found elsewhere in this week's paper, should be available as of now from both DHSS and Tamworth FC. And, with DHSS's share of the profits gong to the Hillsborough disaster fund there is EVERY reason to buy the crazy tape…
Tamworth Herald – 21/04/89
Musicbox – Catch 23 on the box at last…
CATCH 23 finally make the airwaves on Sunday morning when the first half of the TSB Rockschool contest is broadcast on Central TV.
The show, which is being shown over two weekends starts on Sunday morning at 11.30am and shows all the eight bands that took part in the TSB Rockschool final. Catch 23 are seen playing their MUSICBOX Song of the Year 'Hangin' On' and although the sound doesn't come over as well through the airwaves as it did live, the band's quality still shines.
The following week the second leg of the TSB contest is broadcast on Saturday April 29 at 11.30am (just before the 'Chart Show') and you will be able to see Catch 23 win the contest. Big Country's Stuart Adamson describes the group as having 'a great look, a great sound and a great future' and the band play 'Catch This'. Watch both weeks folks.
Tamworth Herald – 21/04/89
Musicbox – Arts Centre concert?
HM outfit Marshall Law are set to play at the Arts Centre this Sunday. I would like to give you more info but I have none whatsoever but those who know the band will know a good show is in prospect.
Tamworth Herald – 21/04/89
Musicbox – SNIPS, SNIPS, SNIPS
Bash Out The Odd appear to have hit a 'membership problem', Guitarist Julian Amos seems to have disappeared without revealing what his intentions are to the band and so as a precaution they are advertising for a good quality guitar playing replacement.
Tamworth Herald – 21/04/89
Musicbox – SNIPS, SNIPS, SNIPS
Rumour has it that Psychedelicatessen frontman Andy Lane has been offered a solo contract with IRS Records. Andy who used to work in Tamworth's Our Price, now works in the Birmingham branch of the new shop.
Tamworth Herald – 21/04/89
Musicbox – SNIPS, SNIPS, SNIPS
A bass player is being sought by a good quality modern pop band comprising guitar, drums and keyboards. Record company interest has already been registered and this is a good band.
Tamworth Herald – 21/04/89
Musicbox – SNIPS, SNIPS, SNIPS
L.O. Girls a new HM band including former BHX man Rob Rea, will join Kraze in a special Tamworth Arts Centre Tim Latham benefit show on May 12.
Tamworth Herald – 21/04/89
Musicbox – Letters
To Sam Holliday,
You missed a brilliant gig the other Sunday, five bands played and two shone like beacons!
First on were Big Muff – Brilliant! Unannounced spacemen – My Bloody Valentine with guitar surge.
Second – Shock Culture – well, three covers and weak vocals ruined an otherwise promising band.
Third – Flowers in the Attic – surely headliners soon! Fabulous songs, strong rhythm section, Doors-like guitar and a powerful voice coming from the hottest singer since Jim Morrison – stunning stuff that filled the room!
Fourth – Big Noise – get a drummer lads, quickly! Good songs and again power vocals. Nice guitars!
Fifth – A5 – the Arts Centre was empty by now but A5 played the usual tight set, still sounding like U2.
Well there you are Sam – watch Flowers in the Attic (whoever they are) and Big Noise, back them all you can and they'll be bigger than the Stranglers.
Love and kisses,
Ken,
Dosthill, Tamworth Herald
Dear Sam,
I am the former guitarist with 'All The Presidents Men' (we have split due to 'musical differences', honest!). And I am looking to join an already established band rather than form a new one.
My twangings lean toward 'James', 'Smiths', 'Bunnymen' noises of this world.
Yours faithfully,
Martin
Dear Sam,
'Fetch Eddie' send their congratulations to Catch 23 and wish them all a very successful future, included in this is Phyllis who also wishes them fame and fortune.
Aaron, Pod, (Paul, Lloyd and Brendon.
Tamworth Herald – 21/04/89
Musicbox – Eight Balls of Fire!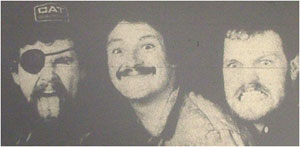 Dear Sam,
Many thanks for printing Martin Warrilow's review of the 'Eight Ball' demo in your recent demo blitz.
However, I feel I should set matters straight. '8 Ball Joe' are not a Nuneaton band as Mr. Warrillow wrongly assumed but are based in Atherstone!
'8 Ball Joe' are, from left to right (see picture) Snake Formby, bass guitar, Dino La Rocka, drums, Joe Delfuego, guitars, vocals.
The band make their Tamworth debut when they play the Tavern tomorrow (Saturday).
The gig is for the Tavern Motorcycle Club and will take place in the 'Barn'.
If you like disgracefully sexist (?) biker rock (quote) and I think you do, come along and review the gig.
Yours sincerely,
B. Prince for '8 Ball Joe'
30/04/89
WIN
Shock Culture
Fetch Eddie
Emma Gibbs Loves Badges
Armchair Thrash
Catch 23
Hillsborough Benefit Gig
Tamworth Arts Centre
Tamworth Herald – 28/04/89
Musicbox – Never Walk Alone!
TAMWORTH Arts Centre looks set to be packed-to-bursting on Sunday when several of the area's greatest bands combine their talents for a special Hillsborough benefit.
The gig has been put through by Emma Gibbs' man Lee Revelle and his contribution cannot be under-stated. He also deserves praise for writing the report below. He actually asked for anonymity, but I felt the report was so good that I would deny his request.
Catch 23, Emma Gibbs Loves Badges, DHSS, Scream Dream, World Intelligence Network and Shock Culture are among the bands participating in a benefit for the Hillsborough Relief Fund at The Arts Centre this Sunday.
In a magnificent gesture, Dave Fortune, the Arts Centre supreme has give free use of the hall for the evening ensuring all of the £1.50 entrance fee goes directly to the Fund.
Likely headliners Catch 23, oozing megastar confidence, have promised a mixture of old classics, interspersed with the odd cover version. Do not expect to leave The Arts Centre on Sunday without having heard the Catch lads blitz The Beatles and The Bunneymen.
Emma Gibbs Loves Badges will be parading an expanded line up for the first time, willing to impress all with a combination of fragile pop songs and massive stage presence. Guitarist Rob Kinson hinted that the bands recent songwriting flurry will be in evidence along with a couple of golden oldies.
One of the first groups to be involved were demonic metallists Scream Dream, who offer a raucous variation to the pop-drenched songs that make up the rest of the evening. Stephen king and his hairy bunch have undertaken to give a no holds barred performance which should delight all those with even slightly greasy tendencies.
Most unusual attraction of the evening will be an acoustic (yes!) stint by certain members of DHSS. Edward ian Armchair was a co-instigator of the event and welcomes the chance to (finally) let his intelligent songwords be heard, feeling that they are sometimes lost in the synth-based racket that is standard DHSS.
Shock Culture made their Tamworth debut a couple of months ago and are steadily improving with age. Expect a refreshing set from the Smiths-influenced pop kids.
Latest addition are W.I.N. performing for the second time in as many months. For anyone too young to remember them, if your pleasures include Cope, The Chameleons and songs about steamrollers, W.I.N. are good for you.
Although it was initially hoped for a full Fetch Eddie set, pod has 'nipped off on his hols'. However, the bands cherubic guitarist Aaron James has pledged his support to the cause and is currently using his connections to form some sort of supergroup. What this entails is anyone's guess but miss it at your peril!
All in all this show has event written all over it. There is a high possibility of more bands being added to the vastly impressive line up, but that this is already (excepting the festival( Tamworth's gig of the year is quite beyond dispute. The running order is to be fought over on the night. So ensure you have a foothold in the door by 7.30, you might miss something historic.
Reporter by Lover-Lee Revelle
Tamworth Herald – 28/04/89
Musicbox – Hit by a carrot!
A couple of weeks ago while reviewing the King Wodericks gig at the Arts Centre I referred to a looney called 'Ten Per Cent Karen'.
She spent all night rather drunkenly shouting at me about the World and its problems and led me to say that she was the sort that 'belonged behind bars instead of in front of them'.
Well, she's written to complain. Not about the looney reference or the drunken suggestion but the fact that her name is not Ten Per Cent Karen but Ten Per Cent Carrot.
Why anyone should be called 10 Per Cent Carrot is beyond me but the letter was jolly good fun as was the 'Lost Boys' cartoon logo (right) that accompanied it.
Peace has now broken out then Oh Carroty one but stick to vegetables and ignore the wet stuff!
Tamworth Herald – 28/04/89
Musicbox – 'I fought the law and the Kraze won!'
Marshall Law/Kraze – Tamworth Arts Centre
A rip-roaring night of quality heavy metals proving that Kraze have exactly what it takes to be stars and that three-chord thrash metal doesn't have to be tuneless rubbish.
Quite simply, Kraze were absolutely wonderful. From the opening strains of "Kraze love to rock" through the tremendous finale of the Tim Latham penned "My Favourite Blonde" this was as good as I've seen them. Watching this I was again convinced that there is nothing wrong with this band that a big recording contract and a lot of high-quality studio time couldn't put right. The raw materials are there in the image, the stage show and crucially the songs. If you don't come out of a Kraze show humming something you've just heard you must either be deaf, dead or both.
Someone, somewhere surely took a risk signing Guns 'n' Roses. Rick Rubin has taken a risk signing Wolfsbane. Won't someone somewhere please take a risk signing Kraze? What they will get is a band with a clutch of great songs, an image that can't miss and a huge amount of self-confidence.
They also did Van Halen's 'Ain't Talkin' 'Bout Love' where young Mr. Latham proved what a loss he is going to be to the local music scene. If you actually bother to listen, this man knows how to construct a guitar solo better than anyone locally with the possible exception of Jase Edwards. He takes the songs to the kind of level where you feel A&R men absolutely have to listen and Kraze are going to miss him. His farewell gig is on May 12 at the Arts Centre. Be there or miss one of the musical events of the year.
Marshall Law didn't let the side down either. They came out sounding like heads-down three chord metal in the Metallica/Slayer style, and personally I was reaching for the earplugs.
But they turned my opinions on their head with a great performance full of wily asides and if this is possible, pop-metal thrash songs with hooks you could actually like. They may not be stars, but they'll never be short of an audience at this kind of level, and a typically cynical Arts Centre audience gave them grudging approval. They were fun. Kraze were much, much more. Kraze should be stars.
Report by Martin 'Krazy' Warrillow
Tamworth Herald – 28/04/89
Musicbox – Yes they ARE on TV!
CATCH 23 will definitely be seen winning the TSB Rock School contest on Saturday morning (11.30am) I say definitely because a late change in last week's TV schedule put the first half of the show on Saturday instead of the (billed) Sunday – meaning many people, including me, missed it.
Following their latest TV successes, Catch 23 are fast becoming 'hot property' with more TV spots in the offing and several management companies chasing them. As well as the second part of the TSB Rock School Competition on ITV tomorrow (Saturday) you can also see the lads being interviewed on 'Central Post' next Friday at 5.10pm. It seems that the radio One DJ, mike Read is telling everyone he meets about the band and there is a real 'buzz' around the Capital. Acting manager, Alan Webster has been contacted by the managers of no less than three No. 1 chart acts, all of which are anxious to see the group. Several gigs at top London venues are being hastily arranged for July when they leave college, and it seems likely that they will be called down to make record company demo recordings in the near future. Catch 23 have also been asked to perform at the Nuneaton Carnival in June, and towards the en of May they are planning a special concert at North Warwickshire College for the official presentation of the prizes which they won in the TSB.
Tamworth Herald – 28/04/89
Musicbox – A winner!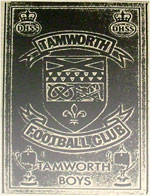 Tamworth Boys and The DHSS – 'Tamworth Boys'
IN which Tamworth's two greatest exports come together to produce possibly the finest five minutes of music since the last Wolfsbane EP.
Inspired by DHSS man Rikk 'Who is Russell Gordon anyway?" Quay, this stunning two-tracker combines DHSS's manic brilliance with the style, guts and sheer charisma that is Tamworth FC these days. To the music lovers out there 'Tamworth boys' is electro-punk of the very highest calibre and to the footy freaks, it is a football song to match any Cup final record you've ever heard.
The massed choirs of Tamworth (Belford, Ward, Foote, Heaton, Holliday and the entire crowd from the Gloucester game) provide backing vocals to DHSS's "Ooh, Ooh, Ooh" tune in a waxing that should already be a candidate for local song of the year. Bouncy, powerful and wonderful fun, just like Tamworth FC really. And if you didn't want to buy it already, let me tell you that half the proceeds go to the Hillsborough fund. Worthy cause and a classic moment in Tamworth's history.
Review: Martin Warrillow