Tamworth Bands History : 1989 :
December
01/12/89
Great Stan's Cabaret
Also Smith and Jones
Pink Cadillacs
Mighty House Rockers,
Amington Liberal House
Tamworth Herald – 01/12/89


Musicbox – What a Blowout!
Great Stan's Weekend Blowout

TAMWORTH will this weekend host three unique concerts to raise money for the town's ambitious alternative-comic project.
Three shows – one concentrating on r 'n' b, one on alternative comedy and one on top quality local music – will combine during the course of the next three days in a unique moneyraiser.
Tonight the Old Liberal House in Amington will host 'a stompin', gut rockin', hard drivin' rootsy rhythm and blues' session, on Saturday night the venue is the Castle Hotel for a special alternative comedy show and then on Sunday night Lakins will stage a splendid Indie rock bash bringing the likes of Bash Out The Odd and the Yogots alongside Birmingham favourites Korova Milkbar.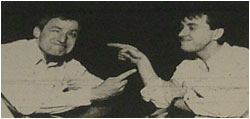 All the shows, plus one held at Manhattan's last night (Thursday) are designed to bring money pouring into the coffers of Tamworth's alternative comiczine 'The Great Stan's Comic'. It is hoped that the first edition packed full of silly comic strips, attacks on the local and national music and arts scene and much else will be out in January and the success of this weekend will really get it moving.
"We are all very ambitious about this," said organiser Chris Gould. "We want to make the comic as professional as possible and we need the money to do so. Hopefully these three shows can really help us."
So what exactly can you feats your ears on this weekend. Well, read on and find out…
R and B Special
Tonight (Friday) – Amington Liberal House
If you like to boogie woogie to foot-stomping r and b then the only place to be tonight is the Amington Liberal House in Woodhouse Lane. Our own Also Smith and Jones and the spiffing Eight Ball Joe will team up with the classy no messing style of the Pink Cadillacs and the excellent Mighty House Rockers. The Rockers are regarded as real floorshakers and they already have an album and radio work to their credit. Put together this is a night which should really get the r and b crazies going and it costs a mere £3.50 for four top class outfits. Worth it to see Dave Smith's wincing alone but you will get even more for your money than that. Starts 7.30pm, ends 11.
Comic Show
Saturday night – The Castle Hotel
It's smile time again as the Great Stan spearheads a four comedian (and one band) show at the Castle Hotel. Billed as The Blowout Party it features comedians Terry Cavell, Tim Lacy, Ken Bell and the Great Stan alongside Little Terry's Blues Band. Terry Cavell is described as 'libellous humour', Tim Lacy is regarded as THE man to watch on the Midlands scene and Ken Bell is a fast moving and original comedian. As for Stanley he is doing his 'best of Stan routine' a collection of (and I quote) 'the world's greatest comedy routines'. Sounds are provided by r n b men the Little Terry's Blues band and it starts at 8pm costs £2.50.
Indie Bash
Sunday night – Lakins nightclub
A unique Sunday night venue for a rather unique collection of bands. Lakins opens its doors on the night to welcome in local heroes, Bash Out The Odd, King Wodericks and the Herb Garden and fast-rising Birmingham squad Korova Milkbar. You don't need any introductions to the three local bands except for they are all very good indeed, while Korova Milkbar are made up of ex-members of Wunderstuff stablemates The Surf Drums. Much noise is being made about the Korovas and remember it is in Tamworth where the Wunderstuff started to blossom so you could be on the groundfloor of another major success story. The whole bash costs just £2.50 so get along (and remember it is LAKINS) and have a boogie. Starts 7.30pm.
Got all that? Right, get along to as much of the above as you can and give the comic a boost. You'll die laughing if you don't.
Tamworth Herald – 01/12/89
Musicbox – New stage at Centre
Tamworth Arts Centre is hoping to install a new stage this weekend for the use of local groups.
The downstairs stage will be added to by new lighting in a bid to give the popular Arts Centre venue a new professionalism.
Arts Centre chief Dave Fortune had been hoping to put in a new stage for some time after complaints that the old one was unsafe. He hopes now that the new platform will be in use for the first time when Catch 23 and The Big Noise play the Arts Centre on Sunday December 10.
Dave said he has been delighted with the level of support shown by bands since the publication of recent criticism and metal kings (and queens) Kraze are setting up two special concerts in January to raise money for the stage improvements.
More details as and when we get them but the 'stage' is clearly set for an even better Arts Centre.
Tamworth Herald – 01/12/89
Musicbox – The Centre is ACE!
We all know that Tamworth's music scene is in a class of its own, and 'Musicbox' can take much of the credit for that. However, there is another major reason for its success which we all tend to forget. The Arts Centre.
When a band is formed, they need somewhere to play, and in most towns this is a major problem. In Tamworth, it's simple. All you have to do is ring Dave Fortune at the Arts Centre to find out which band has booked the venue on the date you want to play, a quick phone-call, and you will probably get a support slot. When you have played a few gigs, you join forces with other bands, choose a date, and you put on your own show at the Arts Centre. It really is as simple as that, and because the hire charge for the centre is sensible, you only need to charge £1.50 on the door to make enough money to pay all the bands. The room is big enough to hold most audiences and although it is best with a full rig, the room is small enough for a vocal P.S. to cope. A good crowd is assured, and you can be sure of a constructive review in the local press.
We now take all of this for granted and never stop to think how lucky we are. Just try to book an Arts Centre out of Town and see what happens. The odds are that your application will have to be put before the committee for consideration and in the unlikely event that you are allowed to play the cost and restrictions placed upon you will be prohibitive.
Of course, the facilities at the Arts Centre must be improved, but the cost of bringing them up to an acceptable standard are minimal and we could possibly raise sufficient funds in just one night. A word of warning though, there are people waiting in the wings who will try to move in and run things when someone else has paid for the improvements. At the moment, bands are able to promote their own Sunday night gigs, and we should try to keep it that way.
Other venues in Tamworth are being used for regular gigs and providing all of the bands are being paid, and they are not held on Sundays, we should wholeheartedly support them. However, if they start to clash with Arts Centre shows, we should want no part, as they will do more harm than good.
It is the Arts Centre which is the life-blood of the Tamworth music scene and next time you doubt it, just ask yourself how much you get paid elsewhere. We need someone who understands the needs of local bands sitting on the Arts Centre Committee and we can make it an even better place. Any spare time Sam?
Alan Webster,
Manager – Catch 23,
Atherstone
Tamworth Herald – 01/12/89
Musicbox If this is Friday it must be Cleveland
WOLFSBANE are now in the midst of a 20-date American tour which is taking them to all the greatest cities in the country.
Tonight (Friday) the Wolfmen are in Cleveland, tomorrow it's Cincinatti and on Sunday while most of us will be at Lakins, Tamworth the Fazeley crew will be in Grand Rapids, USA.
The tour which will see Wolfsbane playing alongside thrash men Overkill, was somewhat dropped on the Tamworth boys out of the blue. They were told about it just a couple of days before it was due to start and they then had to find a way of getting two and a half thousand miles across country to the first show – in Indianapolis.
"We haven't a clue what sort of venues we will be playing," said Jeff last week. "Knowing how it has been so far in America we will be playing in strip joints and the like."
Among the dates Wolfsbane have already played as you read this are Chicago, Milwaukee and Roseville while in the next couple of weeks they will be visiting Disneyland (Orlando), J.R. Ewing (Dallas) and Civilwarsville (St. Petersburg).
The whole bash is due to end in New York on December 23 before the band rush back to little ol' England for Christmas.
"It's all very hectic but it should be fun," said Jeff.
The band's 'Shakin' single which has done well in metal charts – has so far peaked at 105 in the national one. As Jeff says 'we are pleased with how its done. It was never meant to be a big hit – that can wait until the big commercial pop sell out of 'I Like It Hot'.
Tamworth Herald – 01/12/89
Musicbox – SNIPS 'N' NEWS
Shock Culture – who were in action in Coventry earlier this week – have line up a special post-Christmas show in the same City on Thursday December 28. They will play at the Dog and Trumpet with Cult-esque Sweet Sanity. A coach should be running so keep reading this column for info.
Tamworth Herald – 01/12/89
Musicbox – SNIPS 'N' NEWS
Chemikill are (yet again) seeking a vocalist to complete their line-up. They want someone dedicated and willing to put in 100 per cent and don't want (and I quote) 'time wasters like previous vocalists'.
Tamworth Herald – 01/12/89
Musicbox – SNIPS 'N' NEWS
The abysmal Brum Beat – which has consistently slammed (or more often than not ignored Tamworth and Atherstone bands) has been at it again. In the latest edition of the tiny organ, the mag describes Wolfsbane as being 'atrocious' live and slams Bash Out The Odd's excellent singer Mark Brindley. This from a magazine that in the same edition praises Don Williams. Crucial maan!!
Tamworth Herald – 01/12/89
Musicbox – SNIPS 'N' NEWS
Saddest news of the day/week/month/season is that Scream Dream appear to have finally bitten the dust. It seems as if the Teddy (Wilson) boys have gone their separate ways criminally leaving behind one of the best bands we've seen in years. I remain hopeful that this is not a definitive split and would ask you, their fans, so vote for them back together again. I couldn't bear not hearing 'Hometown' again.
Tamworth Herald – 01/12/89
Musicbox – SNIPS 'N' NEWS
An alternative/indie disco spectacular will round off a fine Christmas party for local musicians at the Arts Centre on December 22. Following a performance of 'A Christmas Carol' by brilliant neo-anarchist theatre group Tic-Toc the disco will blaze into the night to set Christmas off to a flyer. Tickets are very well priced at £3 for good theatre and good dancing all in one and they are available from the Arts Centre. Miss it not.
Tamworth Herald – 01/12/89
Musicbox – SNIPS 'N' NEWS
The Big Noise are being entered into the North of England Battle of the Bands contest. They will be in action at the Royal Standard in Bradford on January 6 and they are hoping to get a coach organised. Nearer to home next week (Sun 10) Big Noise will join forces with Catch 23 at the Arts Centre and on the following Sunday they will be part of the New Big Christmas Puritan Noise Experience. More details soon.

Tamworth Herald – 08/12/89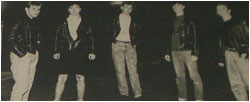 Musicbox – ATHERSTONE INVASION!
THE two greatest bands ever to come out of Atherstone descend on Tamworth this week for a brace of top quality gigs.
On Sunday Catch 23 will join forces with the Big Noise at the Arts Centre and then on Tuesday night the area can at last say a big 'welcome home' to the mighty 'Dance Stance'.
To get these two globetrotters to play in the same area so close together heartens those of us who would love to see them unite for a special major Tamworth concert for all those that take their pop 'n' soul seriously.
For Catch 23 their trip to the Arts Centre is hardly an unusual event, but for Dance Stance, who are appearing at the Old Liberal house in Amington this is a keynote gig and their first in their home area for the best part of three years.
Here is a preview of both gigs starting, chronologically with Sunday night's Arts Centre bash.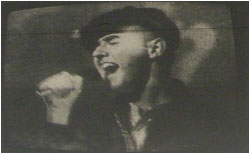 Catch 23/Big Noise (Sunday)
For the ever improving Big Noise (who are already doing well in the BOX poll) Sunday's gig will be the latest in a long series of bashes at the Arts Centre to build up a hardcore following and there is no doubt that Sunday's team up with Catch 23 should open them up for a new audience altogether. Catch 23 appeal to a wide cross-section of people, all of whom appear to get 'hooked' the moment they discover their power and pop passion. The band currently on a nationwide tour which will take them to Lancaster, London, Bath and Birmingham in the next seven days or so have been moving into ever more poppy waters of late and some of their new material (i.e. 'Stand Back', 'Million Years' and the splendid 'What You Want') should make an immediate impression on Tamworth on Sunday. The band who are now fully professional are very keen to play at Tamworth again and they are looking for Sunday to be a major pre-Christmas triumph. Get along and make their day!!!!
Dance Stance (Tuesday)
The Amington Old Liberal House can expect to be pretty full again on Tuesday night as the soulful Dance Stance return to a local stage at last. The band, who for various reasons have had to hibernate of late are keen to show their loyal local followers just how much they have learned on their trips around the country. The former MUSICBOX band of the year (they won the poll twice) have gone through several soulful stages since their last appearance in the area but they have never once lost their position as being one of THE most outstanding live performers ever to surface locally. I for one am busting a gut or three to see them again and I fancy many more people will be too. They are backed by 'Huggy' Jones (hi Neil!) and the action starts at 8pm at the Old Liberal House, Amington. Groovy night guaranteed.
03/12/89
Korova Milkbar
Bash Out The Odd
Herb Garden
The Yogots
Lincolns
07/12/89
New Puritans
Big Noise
Rape in Yellow
Roma
Manhattans
08/12/89
Expresso Bongo Orchestra
Spread Eagle,
Polesworth
Tamworth Herald – 08/12/89
Musicbox – SNIPS, NEWS
As MUSICBOX had to be completed a week ago today (that's last Friday!) we have 'missed' reviews of the various big shows that took place at the weekend.
Fear not however the intrepid BOX crew were out and about watching various gigs and we should have reviews next week. If you want to send in your own, freelance versions then please do and we may tie them all together in a review special.
Tamworth Herald – 08/12/89
Musicbox – SNIPS, NEWS
Amazing news reaches these ears that the legendary BUTTERCUP may have some serious record company interest. Apparently an RCA chappie has heard Butty's 'Can't Get My Breath' tape and declared it a HIT. He has passed it on to another cohort and the rest could be very interesting.
Tamworth Herald – 08/12/89
Musicbox – SNIPS, NEWS
DHSS have pulled out of a proposed gig at the Arts Centre next week.
Tamworth Herald – 08/12/89
Musicbox – EBO-DUO
THOSE wacky doyens of all things saxy, the Expresso Bongo Orchestra are in action twice this weekend.
Paul Speare's collection of fun popsters are at the Spread Eagle, Polesworth tonight (Dec 8) and tomorrow. Tickets are nearly all sold out however but if you want to check on availability check with the venue or the Expresso Bongo Studio.
Tamworth Herald – 08/12/89
Musicbox – Wolfies can be better than Iron Maiden
Wolfsbane are used to getting amazing coverage in England but just feast your eyes on the comments printed below. The come from THE American metal mag RIP Magazine, a national paper that is hugely influential. Their scribe says that Wolfsbane can be the biggest thing from Britain since Iron Maiden and could indeed eclipse them. It is unbelievably positive stuff so we are printing it as it is. Cop-a-load of THIS:
"WOLFSBANE are four brash, bad to the bone, scruff dawgs, baring teeth and drooling to tear up stages anywhere. Their gigs in England are legendary and only getting better with age.
But then gritty vocalist Blaze Bailey is the stuff legends are made of. His penchant for off-stage debauchery is what books are written about. More importantly though, onstage Blaze owns the place. His voice has the charisma of David Lee Roth's, but blaze's range is wider and mucho more powerful. The Ace hiding up Wolfsbane's sleeve is their axeslinger, ironically dubbed Jase 'The Ace' Edwards. Jase tears into the fretboards like few can and while the Van Halen comparison is inevitable, Jase is as exciting as Eddie once was. The backbeat of bassist Jeff Hateley and drummer Steve 'Mad Dog' Danger is solid, steady and earthshaking.
Their debut, Live Fast, Die Fast is two solid sides of decadent heavy metal played the way it was made to be played – loud.
Songs like 'Shakin', 'Man Hunt', 'Greasy' and 'Tears of a Fool' show a rabid dog on heat ready to attack.
England's heavy metal throne has been sat on proudly for far too many years by Iron Maiden. Tamworth natives Wolfsbane are the first serious competitors out of the UK since. Wolfsbane could possibly make Maiden an old hag. This is not hype, or for that matter's case of crying Wolf. Wolfsbane have the bite needed to back up their loud bark. It's time to Live Fast.
RIP Magazine, US, December
10/12/89
Catch 23
Big Noise
Tamworth Arts Centre
12/12/89
Dance Stance
Old Liberal House
15/12/89
Whats This Heads Down Mindless Boogie About Nothing
Shock Culture
Tamworth Arts Centre
Tamworth Herald – 15/12/89


Musicbox – FESTIVE FUN!

WE have plenty of pre-Christmas shows to tell you about this week so feast your eyes on the collection of goodies below and get set for plenty of smiles in the next few days…
Tonight (Friday) – Tamworth Arts Centre
A hastily arranged show this which sees Whats This Heads Down Mindless Boogie About Nothing team up with Shock Culture for a Friday night bonanza. With the possible addition of Special Mystery Guests this promises to be a tempting alternative to Friday night pub crawling and it starts at 8pm.
Sunday Night – Tamworth Arts Centre
You are cordially invited to the Bignewyogotsherbert Christmas Show which offers you four top quality local bands and the possibility of a few carols! As the rather long title may suggest the four bands you can see are The Big Noise, The New Puritans, King Woderick and The Yogots and The Sherbert Trees all of whom have more fizz and bubbles than a bucket full of coke. It costs a mere £1.50 and apparently fancy dress is optional. I'm not sure about the Christmas Carols but I am sure this will be a heap of fun gig-goers!
Monday Night – The Castle Hotel
Another happy collection of mirth and music is in view as the meaty, beaty big and bouncy Also Smith and Jones spearhead 'A Silent Night'. As well as enjoying the Smithies, you can laugh to the likes of Frank Skinner, Terry Cavelle, Shaun Percival and the amazing Jed 'Everton nil' Moore. Music is also provided by former Strap on Jack men, True Grit and Nick Lowe and all told this promises to be a riotous night of debauchery. It's at the Castle Hotel remember and it should set Christmas off with a bang.
Monday Night – The Mean Fiddler, London
Catch 23 return to their London base again on Monday as part of the Best Band of the Year series. The boys will be taking a horde of their t-shirted fanatics again and if you want to see if there are any seats left ring. Could be a big night for the band this so here's hoping for real festive cheer!
Tamworth Herald – 15/12/89
Musicbox – Manhattans Marvels!
MANHATTANS – New Puritans/Big Noise/Rape in Yellow/Roma
New Puritans: A great performance which sadly didn't attract the audience it deserved, but those who had made the effort were not disappointed. A superb set which included the brilliantly catchy 'Laugh At Your Face', 'No Such Chance' and a Polish (?) version of Green Door. Pure enjoyment.
Big Noise: A volatile set from Ben, Carl and Ana who seem to have reached new heights of confidence, giving a powerful stage performance where even Ana was seen to move…Highlights of this one were the excellent 'Can't Help Myself' and a brilliant cover of the Buzzcocks 'What Do I Get?'. With the help of their new drummer (at last) the Noise can only get bigger.
Rape in Yellow: Generally a much tighter, slicker performance from these and they got a great sing-along reception from the few people who turned up. Much improved classics and some great new stuff. A very enjoyable set with old favourites "Reggie Receipted" and "Hippy Dog Inn" topping the lot.
Roma: Very Kraze-like, very loud, very good. A group of excellent musicians and a powerful vocalist – Roma are sure to go down well on any heavy metal night. Not my sort of music really, but nonetheless, this group undeniably have great talent as both musicians and performers. And I have a sneaking suspicion that they've got a 'Feeling For Love'.
Review by Half An Eric
Tamworth Herald – 15/12/89
Musicbox 23 more reasons to smile
Big Noise/Catch 23 – Tamworth Arts Centre
The Big Noise – The Biggest Noise yet. Yep this was the finest show and one which brought them a very encouraging reaction indeed. There were positive whoops of delight throughout as the area's most tuneful rocketeers blasted through a set full of punch, drive and unashamed aggression. Their 'What Do I Get?' was a pleasing (and surprising) addition but their own numbers held their own with as much command as the covers and clearly won over a largely Catch 23esque audience. At the end of the day Ben Machin was grinning so broadly anyone would think he had scored a century. As if.
Catch 23 – the ultimate commercial pop sound. Where once Catch 23 had the same aggressive neo-punk mentality as the Big Noise they have now gone straight down the road to pop and fortune and found they can handle that new sphere…
…'Hangin On' and 'Love Explosion' have been altered and perfected in new, dancefloor style while the bands new material continues to shine…
If the get signed up along with Fetch Eddie and Emma Gibbs we could provide such a force of real pop from this area that Stock, Aitken and Waterman would go out of business. Dream on.
Sam Holliday
Tamworth Herald – 15/12/89
Musicbox – SNIPS
TV Times!
LOCAL bands are being offered the chance to follow Catch 23 and Dance Stance into TV 'stardom' through a new programme to be screened on Central in the New Year.
'First Night' a listings programme about the acts in the Midlands, plans to feature local bands playing live in the area.
"We are looking for bands who are playing live locally to appear on the show to publicise their concerts in the area," said researcher Jo Dyer, of programme makers, Mentorn Films.
Tamworth Herald – 15/12/89
Musicbox – SNIPS
Fetch Eddie may be out of sight at the moment but they're not out of action. They are planning to go to Ireland to record new material in the studio used by well-known folk duo Foster and Allen.
The band are crossing the Irish Sea to take advantage of an offer from Ross's uncle Dave Allen (not the comedian, I think!) to use these facilities in the new year.
Completing the picture is the news that Aaron's hand is now fully repaired.
Tamworth Herald – 15/12/89
Musicbox – SNIPS
The Herb Garden are looking for a bass player with 'ability and new ideas'. So if you fit the bill, give Tim a ring.
Tamworth Herald – 15/12/89
Musicbox – Review
Neat Night in Night Club!
The Great Stans Indie Bash (Lakins)
LAKINS is not the most obvious place to go to see live music in Tamworth. More associated with using your ears for music and your eyes for lust instead of all your senses for pop music, it is a strange feeling to see people hit the Lakins floor for anything other than the latest Madonna single. But, Lakins does suit live music quite perfectly. The bar is in such a position that you can order your pint while still eyeballing what the guitarist is doing to his axe and there are nice comfy chairs at the back when the going gets tough and the tough get a headache.
The only drawback I found from this surprising expedition was the fact that in a bizarre Freudian twist, the groups played on the floor while the audience were raised above them on a stage of sorts. Such a swap has a therapeutic effect on those of us without the gall to hit the stage on your own merits, but does tend to mean that any musician under seven feet tall struggle to assert themselves.
Lisa, the talented singer from the Herb Garden, is certainly not seven feet tall and not only did she have to face everybody's kneecaps before anyone else, but she was also saddled with a pretty dreadful opening number which gave no hint of the many wonderments to come. For there were certainly Herb Garden wonderments to behold, oh reader. There were one or two songs that were straightforward pop gems and one or two tunes which swayed the audience with a gentle but commanding force. Also wonderful was the guitar work of in particular Mr. Rob Kinson, Esq. A man who has clearly found his niche, found his confidence and found a skilful and original touch. With Lisa improving by the second and ending on an absolute peak, I was left feeling there were roses in bloom in this quickly blossoming Herb garden.
Equally impressive were The Yogots, a band for whom no superlative is now an over-statement. They were simply excellent again showing melodic strength and understanding, and a very keenly developed sense of audience pleasing. The keyboard work by the charismatic new key tinkler was first-class throughout bringing the inevitable Holliday adulation of being 'Stranglerish' while the vocals leapt out of the speakers and grabbed every available organ with venom. Truly one of the great bands of this area, and any group that can afford to leave out a classic like 'Mind Disease' simply must be contenders. Wickedly good.
Third up were Korova Milkbar, who were an altogether calmer experience. They had real touch of class, showing their ability to use the best ideas that new Order have created in their own brand of modern pop. The New Order cloud hung over their whole set, but the quality of their own tunes was like a ray of sunshine bursting through the plagiarism. A fine band and let's face it, if you are going to try and copy anyone, it may as well be one of the all-time greats.
And so to the finale, the ever-popular Bash Out The Odd. It had been eons since I last saw them and by the end of the night. I wondered why it had taken me so long to lap up their bountiful wares again. The band hasn't changed a great deal in recent months, but they have certainly improved and diversified to the point that the set is beautifully executed and includes nothing remotely like a filler track. Every precious tune and riff has to prove its worth in a Bash out song and there is no room for anything without the hallmark of pop quality. Relative oldies sit happily next to new and vital numbers and they all share the same ingredients of melody, musical power and blistering brass. Vocal king Mark Brindley continues to hypnotise as his Copeish overtones reach the parts other singers cannot reach, while Stu Blane once again proved that on his day he is in a class of his own.
Overall, this was a heady mixture of pop sensibility and soaring, searing guitars all of which combined to delight a partisan, but clearly impressed, Lakins crowd. End result? Four good bands, one good venue and one very pleasant evening indeed.
SAM HOLLIDAY
17/12/89
Big Noise
New Puritans
King Woderick and the Yogots
Sherbert Trees
Tamworth Arts Centre
18/12/89
Also Smith and Jones
Castle Hotel
22/12/89
Tic Toc Theatre Company - A Christmas Carol
Euphoria Disco
Tamworth Arts Centre
Tamworth Herald – 22/12/89
Musicbox – EUPHORIA!
CHRISTMAS starts with a bang tonight (Friday) when Tamworth Arts Centre stages a unique mixture of anarchic theatre and a top quality Indie disco.
The play is provided by the excellent Tic Toc Theatre Company who specialise in getting young bottoms on seats and have already triumphed with other magical moments like the football nutters lament 'hooligans'. Tonight's offering is 'A Christmas Carol' the Dickens classic which has been somewhat stylised and includes a lot of live music and a lot of fun.
Once you have enjoyed that undoubtedly festive fun you can then take yourself downstairs in the Arts Centre to a special Euphoria disco. Music form the likes of Happy Mondays, De La Soul, Inspiral Carpets, Stone Roses, Pixies, Wonderstuff, Birdland and The Wedding Present is assured and this promises to be the first of a series of such cult-discos.
"Euphoria will be a Friday night 'happening' and hopefully it will take place every two weeks with a 'rave' and a band," explained one of its protagonists Lee Revelle in a recent manifesto. "The first one on December 22 should be a real highlight and the bar will be open until midnight! It will be the last chance of the decade to enjoy an event at the Arts Centre and with any luck people will leave their regulation sour faces at home and start to bev it up!"
Sounds fun and at £3 for a joint play and disco ticket (admission is by ticket only from the Arts Centre) you should not miss this if you can avoid getting ridiculously sloshed at lunchtime.
Happy Christmas.
Tamworth Herald – 22/12/89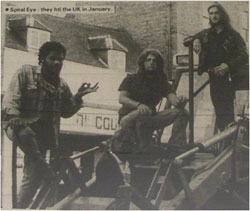 Musicbox – Eye, eye off they go!
SPIRAL Eye are launching a major national tour in the New Year.
The band, fresh from a series of triumphant shows with Wolfsbane, have set up concerts in places as diverse as Huddersfield and Newport.
The Spirallers, who have just released their 'Uncertainty' demo, kick off their tour with a show at the Opera On The Green, London on January 9 and they follow it with
Jan 11…Pisces, Telford
Jan 30…The Plough, London
Feb 1…TBA Newport, Gwent
Feb 11…Tamworth Arts Centre
Feb 12…Barrel Organ, Birmingham
Feb 13…Angel, Bradford
Feb 15…Huddersfield
Feb 17…Railway, Coalville
Feb 19…New Arms, Retford
Feb 21…Wombwell, Main
Feb 22…Newcastle Under Lyme
Feb 23…York Tavern, Bridgend
More dates are expected to be announced and for more details on these, plus news of a coach to the London gig in Jan 30 – watch this space.
Tamworth Herald – 22/12/89
Musicbox – Sophisticated Pleasuredome
Dance Stance – Amington Old Liberal House
DOES absence make the heart grow fonder? Well, in this case it would certainly appear so, for after being away from these shores for nigh on three years dance stance managed the remarkable feat of absolutely PACKING out this atmospheric venue on a cold, wet Tuesday evening. They were pouring in from both sides of the A5 from very early on and by the time they hot the stage, Dance Stance must have been very touched indeed at this mass show of loyalty and solidarity from their undeniably strong following.
The night began with Huggy Jones who frankly never stood a chance. One man and a guitar was simply not enough to overpower a massive volume of noise and gossip, a.p.a. that was ready for literally 'bigger' things and also the police who took the opportunity in the midst of Huggy's set to warn people (via the club officials) that they were going to book a lot of people outside for illegal parking. Huggy had no hope and you ended up feeling a bit sorry for him. He needs a more intimate audience and a more intimate venue and then we will be able to discover if this really is an intimate pleasure.
And so to the main act – the soul-funk kings Dance Stance. Coming on stage to a huge roar and a cry of 'welcome one of the best lice acts in the Midlands' the band launched straight into a set brimming with quality and professionalism. I have seen this band a lot of times over the years and the transformation from earnest pop-modsters to accomplished funksters has been quite amazing. What they now have is an abundance of technical skill. THE most polished live sound I have heard from any local band and a stunning brass crew who supplement the overall sound with thunderous style. Paul Hanlon has become a very watchable and effortlessly listenable lead singer and the individual skill of Nick reed in particular makes the band a shining example of just how good you can get if you give your life and soul to your music. Songwise the band have taken a perhaps deliberate departure from commerciality to write songs of craft and imagination. As I found with their excellent new demo, the tunes the band now produce may lack the immediacy of some of their previous blasts but if you've got the time and the inclination to give the songs some 'air' you will discover much to delight. 'The Sweetest Pain' was given a refreshing new burst of life but the vast majority of this set was relatively new material making the impressive reaction to each track even more notable. It didn't take long for the audience to start hitting the dancefloor and that is clearly the area that Dance Stance can now command in the rock and roll world. The age of their followers showed that they have left the teenybopper pop audience well behind and are aiming for an altogether different market, one that the likes of Simply Red have already proven can be huge. Those of us who want something instantly whistleable may be disappointed but those who love to dance 'a razzledazzle' 'em are going to lap this up.
Dance Stance are totally different to anything else that this area has produced and they are the sort of band who are going to bring people into live venues who would never bother going to any other gigs. They have enormous class and supreme potential and even if the days of 'The Other Side Of Paradise' are now as far behind them as supporting the Dream factory, their world-beating qualities remain firmly intact.
This is pop for the discerning (middle-of-the-road?) ear and it boasts sophistication aplenty. It is no co-incidence that they were the first unsigned band to release a CD single because this is the sort of music that will sell millions to those for whom vinyl is now a dim memory. Modern dance music for modern dance people. That is the Dance Stance Manifesto of 1989 and it has the potential to attract millions of 'voters'.
Sam Holliday
Tamworth Herald – 22/12/89
Musicbox – DHSS appeal for members
THE once four-strong DHSS unit has been reduced to just one member.
After months of frustrating inactivity the band's lead singer Edward ian Armchair has decided to 'sack' fellow cohorts John Reeman and Anice Byfield. Ed says he is still very friendly with both John and Anice but felt that the future of DHSS depended on the band getting back into action with renewed enthusiasm.
"They have both got other commitments at the moment and I really want to hit the stage again. I am now looking for similar-minded musicians to join me and help get DHSS back onto the road," he said. "I want us to be a strong and powerful band and I am convinced that we can be that again."
If you share the DHSS ideals and want to join Ed (he is really looking for a bassist, guitarist, drummer and female backing singer) then ring him on 50954.
Tamworth Herald – 22/12/89
Musicbox – Next Week
As you sit reading this, I am busy compiling the results of the annual MUSICBOX poll which has once again had the entries pouring in.
I closed my poll box at 10am this morning (Friday Dec 22) so any than came in afterwards ended up in the same place as the envelopes you put Christmas cards in.
Have the local biggies like Wolfsbane, Catch 23, Bash Out The Odd and The New Puritans swept all before them? Have former BOX winners DHSS and Dance Stance made a big impact? Are curious Oyster your choice of the best band of the decade? All this and less will be revealed in next week's soaraway MUSICBOX New Year special. Don't miss it.
Tamworth Herald – 22/12/89
Musicbox – Sunday View
Sherbert Trees
I'd never seen this band before and they immediately struck me as being refreshingly different. The Sherbert trees play some instantly likeable music but they did seem to go on a bit with every song sounding like a 12-inch extended version of what it should be. Still, they lightened things and entered into the festive spirit by wearing fancy dress including a version of 'Silent Night' and giving out free Sherbert to a bemused Arts Centre crowd.
Sean Atkins
King Woderick and the Yogots
THESE boys don't need silly fancy dress and deliberately awful renditions of Christmas carols to do something strange for Christmas, because they're so weird all year round. The best indication of how good they (or any band) are is that the set is over before you know it. They'd ran through a few old favourites, performed a couple of songs I wasn't so familiar with, played 'Mind Disease' and went off stage. In one of the last Arts Centre gigs of an eventful decade (all very historic, isn't it?) The Yogots have proved to be one of the most promising Tamworth bands of the 90s.
Sean Atkins
Big Noise/New Puritans
Well, it is Christmas. Whatever happened to conventional gigs where each band played individually and in sensible stage clothes? Big Noise and the Puritans jointly hit the boards in fancy dress for what can only be described as an extended jam session. Dodgy versions of each others songs, an even dodgier version of Elvis's 'Blue Christmas' (sacrilege!) and a totally shambolic run-through of 'Pump It Up' (for Jim and Helen…).And they got better audience reaction than Catch 23 last week…Strange indeed.
Martin Warrillow
Tamworth Herald – 22/12/89
Musicbox – Letterbox
The Great Stan Blowout – the official verdict!
Dear Sam,
As I said the other Sunday – great write up, logo and everything – Phewww! Hope you enjoyed the bands in the gladiatorial pit on Sunday!
Was the Great Stan weekend a success? Weeellll, moderately. We lost money on Thursday, had a brilliant R&B gig on Friday, so we were back in the black on Saturday. We just broke even at the poorly attended Cabaret and ended up turning over a modest sum on Sunday (It was PA hire which stopped it from being a real success)!
The situation is that we have raised about half the costs of printing, so the comic is going ahead (I would take out a second mortgage…if I had a house).
Saturday night was weird, the first stand up was one of the best acts we have had on. Terry Cavell, stunned the audience with a real savage routine, but the big thing for me was that we put The Great Stan on as the headliner (which is a rather stupid concept) BUT, he went down a storm…it was a real scream…was there anyone there to review it, or would you like a review from a totally unbiased source! The band were brilliant…but where was the audience? Oh well!
I would like to thank all of the bands who took part and Rebel Records, Threshers Wine Bar Lichfield), Inner Sleeve and Our Price for donating raffle prizes…Is there anyway I can do this? Particularly the bands for their effort, but also the raffle donators (as they have no way of knowing that I didn't just walk into their shops and ask for stuff for myself).
But of course, I would like to thank yourself and the Herald for all the support and publicity, it 'really' couldn't have been better.
Have a good Christmas and have fun around the T.A.A.C stone table!
Nice one Sam, all the best.
Chris Gould, 'Funny Business', Tamworth
P.S. The Comic is being launched at The Great Stan's Cabaret at the Castle Hotel on Friday, January 19. Brian the door knows your face now!
P.P.S. I don't know who that man was who did the intro! Gatecrashers! What was he on about?
Tamworth Herald – 29/12/89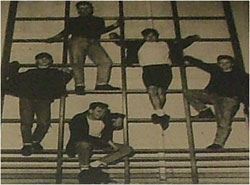 Musicbox – Catch that Wolf!

ALL Hail Catch 23 and Wolfsbane!
That was the loud message that emerged from your votes in the 1989 MUSICBOX poll which once again caused hundreds of you local music fans to put pen to paper.
Catch 23 absolutely massacred all comers for the title of Top Local band 1989 but Wolfsbane deservedly share top billing for once again winning the Top National Band award and adding the LP of the Year title and the Single of 89 to their haul!
It was a poll which we at MUSICBOX feel truly reflected the state of the game here in December 1989. Wolfsbane and Catch 23 have been the busiest and best bands from the area this year and both have in their own way conquered great territories. The Wolfies of course have played live throughout the world and earned mass acclaim from rock journos and rock fans alike. They have released a cracking debut album and will (in my opinion) have their first big hit single in January when the adorable 'I Like It Hot' is released as a new single. Wolfsbane have been mainly responsible for putting a smile back on the face of Tamworth's music scene and I for one love them for it.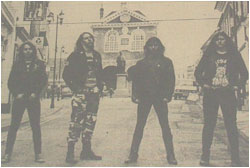 Catch 23 meanwhile, highly deserved winners of the Local Band title, have been impressing all and sundry since they had their TV triumph in the final of the TSB. They regularly sell out venues throughout the country and (I can exclusively reveal and they will kill me for doing so) they have in the past month or so had very serious talks with TWO major record companies who have expressed a real interest in signing them. If they don't get a contract in 1990 then I'm a banana.
1989 was not just the year of Bayley Cooke and Steve Webster however. New bands The New Puritans have made a deserved and dramatic impression on the poll as have Machin's Marvels The Big Noise and it is refreshing to see the high levels of support for the likes of Dance Stance, Fetch Eddie, King Wods and the gorgeous Bros look-a-likes of Spiral Eye. The Dance Stance vote was particularly impressive and as a lot of it came from the Catch 23 camp. It proved again that this duo of North Warwickshire pop kings must think about working together soon because there is clearly a lot of mutual ground (and support) to share.
Elsewhere DHSS showed that (despite months of inactivity) they still clearly have a place in your hearts and one can only wonder how Scream Dream may have improved their already impressive vote had they stayed together. Beyond that top 20 there were a host of other local favourites voted for (in all 46 Tamworth or Atherstone groups got a vote) and it was refreshing to see votes for old friends like Breaking Point and WIN who are clearly out of sight but not out of mind.
Songwise, Catch 23's fans couldn't decide which track they liked the very best so they ended up cleaning up the whole Top 20, but it was good to see a sizeable vote for bands like Shock Culture and Rape in Yellow who both clearly have a hardcore of followers.
Away from the local stuff, your national choices continue to adze and amuse us. Duran Duran were your clear favourites as the band of the decade which is something we at the office here can understand as history has shown them in a better light than they seemed at one point. The Cure did amazingly well throughout the poll as did The Wunderstuff which will be particularly pleasing to messrs. Ian Gibbons and Chippy who introduced the band to little old Tamworth on many occasions when they put them on at 'The Rathole'. One perhaps surprising thing is that in the Band of 1989 award there wasn't a single vote for either Morrissey, the Cult or New Order. A major shock for Tamworth when you consider that Bros made the top 10 and groups like Milli Vanilli and Brother Beyond also got votes. Another interesting feature is that Birdland got a few national AND local votes which prove that even if the band are rather silent about their Kingsbury base they are still in receipt of local pride.
Anyway that's enough summing up, you can read for yourself who did (or didn't do what) and draw your own conclusions. For my part I will only conclude that with a brilliant Tamworth festival, a brilliant Wolfsbane album and brilliant national TV coverage for Dance Stance and of course Catch 23 their year has been, well, brilliant.
The Eighties has ended with a very loud bang. I for one predict the noise from the Nineties will be even louder so stick around pop-pickers because the best is yet to come!!!
SAM HOLLIDAY
(Child of the 60s, in love with the 70s, proud of the 80s and optimistic for the 90s!!)
LOCAL BAND OF 89
1. CATCH 23
2. Wolfsbane
3. New Puritans
4. Dance Stance
5. The Big Noise
6. Fetch Eddie
7. Spiral Eye
8. King Wodericks
9. Rape in Yellow
10. Shock Culture
11. Sherbert Trees
12. Bash Out The Odd
13. Emma Gibbs
14. Scream Dream
15. Herb Garden
16. DHSS
17. Kraze
18. First Conspiracy
19. Stench
20. Smith and Jones
NATIONAL BAND 89
1. WOLFSBANE
2. Wunderstuff
3. Erasure
4. Soul to Soul
5. The Cure
6. Stone Roses
7. Blow Monkeys
8. New Model Army
9. Beautiful South
10. Bros
11. Wedding Present
12. Fine Young Cannibals
13. Simple Minds
14. Depeche Mode
15. Inspiral carpets
16. REM
17. Eurythmix
18. U2
19. Guns and Roses
20. Happy Mondays
TOP LOCAL SONG 89
1. What You Want…Catch 23
2. No Such Chance…New Puritans
3. Hangin' On…Catch 23
4. Million Years…Catch 23
5. Six Ways To Your Heart…Shock Culture
6. Push Comes To Shove…Dance Stance
7. Like Sister, like Brother…Dance Stance
8. Tearing Me Apart…Catch 23
9. She's Gone…King Wodericks
10. Gotta Get out…Catch 23
11. Can't Help Myself…Big Noise
12. Fell Outta Heaven…Wolfsbane
13. No Good For Love…Fetch Eddie
14. Uncertainty…Spiral Eye
15. I Like It Hot…Wolfsbane
16. Reggie…Rape In Yellow
17. Catch This…Catch 23
18. Chapel Street…King Wodericks
19. Tamworth Boys…DHSS/Tamworth FC
20. Saturn in Her yes…Bash Out The Odd
YOUR BAND OF THE DECADE
1. DURAN DURAN
2. The Cure
3. The Smiths
4. Catch 23
5. U2
6. Dance Stance
7. Erasure
8. New Model Army
9. Wonderstuff
10. Depeche Mode
11. The Stranglers (hooray!)
12. Housemartins
13. Pet Shop Boys
14. Jesus and Mary Chain
15. Soft Cell
16. Japan
17. Prince
18. That petrol Emotion
19. REM
20. Echo and the Bunnymen
SINGLE OF 89
1. Shakin'…Wolfsbane
2. Don't Let Me Down…Wunderstuff
3. Keep On Movin'…Soul To Soul
4. Personal Jesus…Depeche mode
5. Lullaby…The Cure
6. Eye Know…De La Soul
7. Right On Time…Adeva
8. Love Song…The Cure
9. You keep It All In…Beautiful South
10. Orange Crush…REM
ALBUM OF 89
1. Live Fast Die Fast…Wolfsbane
2. Hup!…Wunderstuff
3. Thunder and Consolation…New Model Army
4. Decade…Duran Duran
5. The Stone Roses…The Stone Roses
6. Wild…Erasure
7. Disintegration…The Cure
8. Raw and the Cooked…Fine Young Cannibals
9. Dolittle…The Pixies
10. Neither Fish Nor Flesh…Terrence Trent Darby