Tamworth Bands History : 1989 :
May
Tamworth Herald – 05/05/89
Musicbox – Festive fun
The Tamworth Rock Festival is now just a matter of weeks away and interest in the event has reached fever pitch.
As well as the near 40 local bands who have applied to take part in the annual extravaganza, this office has in the past few weeks alone had calls from bands in Dover, Bedworth, Liverpool, London and other far flung places all trying to grab a slice of the Festival action.
Well NEXT weekend (Sunday May 14) you will be able to find out who exactly will be playing and when over the festival weekends. A provisional line-up has been produced for the main outside event on Saturday July 15 and Sunday July 16 and this will be presented to a full meeting of everyone involved in the Tamworth Rock Festival on the 14th at the Tavern in the Town.
Obviously some local bands are going to be disappointed by the end result but the line-up has been geared to give credit to those who are the best established in the Town as well as some of the up and coming stars.
The outdoor line-up has been increased to ten bands per day making it the biggest and boldest festival yet and it is hoped a further 15 bands can be accommodated at special warm up shows at the Tamworth Arts Centre in advance of the outdoor extravaganza.
The middle section of each day – given over to the most popular and successful bands – will include groups of the calibre of Catch 23, Dance Stance, Kraze and DHSS with two universally popular groups – Fetch Eddie and Spiral Eye being invited to take the last-on-stage headline slots on each of the days. For details of all the other bands involved and when they will be playing you must make your way to the Tavern next Sunday night when not only will line-up details be discussed but also other factors such as p.a. finance, staging and promotion will be talked about.
As this is the first selection meeting any band that does not attend – or does not give advance word as to why not – will deem themselves to be out of the proceedings .
See you all there at the Tavern in the Town on Sunday May 14 at 7.45pm.
Tamworth Herald – 05/05/89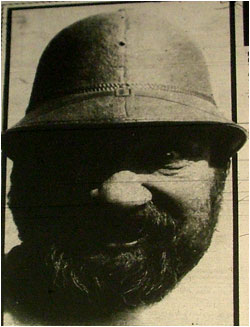 Musicbox – And now he makes records!
Big Butty and the Wide Boys – Can't Get My Breath
This bright young star makes his recording debut with an incredibly catchy rap/dance track with the help of Tamworth's Stock, Aitken and Waterman (who have also been known to trade under the name of DHSS whenever they manage to play live).
The clean cut Rick Astley-style artist lends some added glamour to what is probably one of the most commercial tracks ever to come out of Tamworth.
It is best described as a sort of 'Buttercup meets the Pet Shop Boys meet Run DMC meet the Fat Boys meets DHSS meets SAW meets 30 pints of lager' track…and that's about as specific as it is possible to be.
Musically it would not sound out of place in the charts and is as sure to fill the dancefloor almost as well as Buttercup.
The vocals…well, surprising as it may be, Butty's voice is well suited to the track and his style of rapping may be a little unconventional but why not?
The man has obviously been a hidden talent for all these years and he could well become very big (!). One day you'll be telling your grandchildren that you used to know Buttercup when he hung around with people in Tamworth.
Review – SEAN ATKINS
Tamworth Herald – 05/05/89
Musicbox – Flowers in the Centre
ACCORDING to our Arts Centre 'informer' those loveable Flowers in the Attic are at the Centre again on Sunday night. Sadly at time of going to press we knew no more details than that but if you want to contact your local flower or the Centre itself I am sure they will provide you with more info so get along…
Tamworth Herald – 05/05/89
Musicbox – Bassist on the loose
AN EXPERIENCED bassist is still looking for a local band to join. Darren, a likeable and enthusiastic musician, appealed through MUSICBOX a few weeks ago but is still looking for a suitable band.
Tamworth Herald – 05/05/89
Musicbox – Shocked by a review!
I refer to the letter you printed last week from 'Ken' of Dosthill, Tamworth. In his letter he described 'Shockculture' as having 'weak vocals', I think he needs his ears cleaning out. I thought the vocals were fantastic and the cover versions were extremely well done – especially 'Going Underground'.
Please print this letter as I think the band were done an injustice by Ken's review.
Love, 'L'.
P.S. S.H's reply – who the 'L' is 'L'.
Tamworth Herald – 05/05/89
Musicbox – The Hillsborough Gig
AS we had a Bank Holiday this week our usual schedules were messed up which meant we had to complete Musicbox before Sunday's important star-studded Hillsborough jaunt. Hopefully we will be able to fill in with a special review next week and for all those who took part and attended, well done for being involved in such an important event.
Tamworth Herald – 05/05/89
Musicbox – Where are the DRUMMERS!
There was a time it seemed when drummers were ten-a-penny in the Tamworth area. You couldn't get a bassist if your life depended on it, vocalists were as rare as good ITV sitcoms and guitarists were harder to find that Rikk Quay fans. But drummers? They were EVERYWHERE. There were hundreds of them, breeding like rabbits and bashing skins in every corner of the Town.
But now is seems things have changed. Below we print no less than FOUR urgent appeals for drummers from totally different bands. So, if you're a drummer this is your lucky day. Choose from…
BASH OUT THE ODD
The Bash boys were hoping to recruit former Freight Train man Gavin Skinner to replace Stuart Blane but this has now fallen through. So if you want to join a band with serious record company interest and several major shows planned (including a plum slot at our Festival).
DEATH OR GLORY
A heavy metal band this, one determined to find a sticksperson to complete their powerhouse line up.
SOIL BROTHERS
If you would like to join (and I quote from Steve MacNamee's letter) "Tamworth's top – and no doubt only – red hot and rocking countrybilly boppers' then this could be your big chance. The Soil Brothers have lost the services of Adrian Goodman and want someone who likes Elvis, The Ramones, Eddie Cochran and Hank Williams as a replacement. A snare drum apparently is essential!
A TOP LOCAL BAND
No names, no packdrill here but this is one of the local 'biggies' who have just had an amicable parting with their drummer. The group who have very serious record company interest want someone who is both dedicated and experienced.
Tamworth Herald – 12/05/89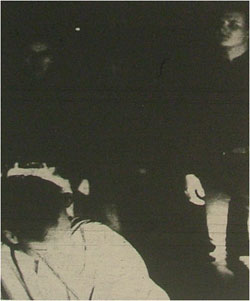 Musicbox – Disaster leads to glory
Hillsborough Benefit Gig
And once again Tamworth's gig-goers prove themselves to be generous sorts. More than £370 was raised from this excellent show and it further illustrated the point that when the chips are down Tamworth area bands are always happy to try and put the coffers up. This show for Hillsborough was good because it was designed for helping those in tragedy but it never dwelt upon pain. We all knew why we were there but we all enjoyed the gig as well. That's the best recipe for charity events – pleasure through pain equals success.
It all began with WIN who went on at a ridiculously early time and were therefore missed by these eyes. Lead singer Mark Brindley said it wasn't much cop but then again he always was a modest kinda chap. Next up were Shock Culture who played a short but tantalising set which was much enjoyed by their lusty young following. The highlight for me was a splendid rip-roaring version of 'Going underground'. There is still hope for our future when young bands choose to cover songs like THAT. Fetch Eddie were next to present themselves and a powerful set was then produced. It was a mix of one or two golden oldies and a couple of strong new numbers with the undoubted key point being a superb finals track called 'Dance' which featured a fine old tune and some marvellous dancing from Phyllis. Emma Gibbs followed and they gave a harder attack than we have been used to, and a very successful one at that. The band are becoming very much guitar orientated these days and those six stringers carry forth some of the sweetest melodies these ears have encountered of late. All together different were Armchair Thrash (that's DHSS minus Rikk and Anice) who turned in the most surprising but also one of the most enjoyable sets of the night. It was basically Ed pontificating on how own curious and somewhat perverted past, future and present with the mad axe man Rocking Reeman for once cooling down and playing some skilful accompaniment. I thought it worked magically. And so to the finale – and what a finale. Catch 23 played a short but dynamic set full of bravado and spirit. Their new tracks showed a maturing songwriting awareness while their oldies were given a new lease of life. 'Gotta Get out Of Here' was the song of the set, the night, the week, the month, the year while the joint tracks with Fetch Eddie's Aaron showed that the band are as versatile as they are skilful. They rounded off a superb night excellently and showed that as Liverpool FC have proved universal sadness can lead to a new sense of universal community.
Review – Sam Holliday.
Scream Dream have apologised for their non-appearance which was due to a misunderstanding. They will be back in action at the Scum Ball at the start of June.
12/05/89
Tim Latham Benefit Show
Kraze
L.O. Girls
Tamworth Arts Centre
Tamworth Herald – 12/05/89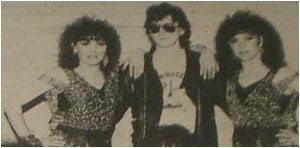 Musicbox – Ta-ta to top Tim

TAMWORTH'S musicians and music fans will shed a collective tear or two tonight (Friday) as an era of the town's rock history comes to an end.
A huge crowd is expected at Tamworth Arts Centre as local rock heroes Kraze play their last ever gig with guitarist Tim Latham before he take ]s his guitar case off into the sunset for a new life in Canada.

Tim once described as the "Glen Hoddle" of Tamworth's guitarists, is emigrating across the pond to try and make his name in the music world as a sound engineer in Toronto and leaves behind him a career that has been indelibly linked with Tamworth's musical history.
Bands such as Omen, Mr. Cyn, Badger and the legendary One On One have benefited from his talents and his seven short months with Kraze have seen them blossom into one of the area's most promising bands.
But now they enter a new era as Tim plays what is sure to be an emotional, party-style last-ever gig at the local scene's spiritual home, Tamworth Arts Centre.
"I'm sure there'll be a tear in my eye, and a lump in my throat as we go on for the final time", he admitted. "But we're trying to make it a fun night, a real celebration of the Tamworth music scene, which has always been tremendous. As far as I'm concerned it's the best in the Midlands and always will be."
Classic
A glance through the pages of Tim's career is like a look through some of the classic chapters of Tamworth music, starting in the early days of Omen with current Scream Dream guitarist Ted Wilson.
"They were a good band, and we stayed together for about three years, then I filled in with a band called Badger before we formed One On One with Dave Ingham and Andy Malkin," recalled Tim.
One On One were personally one of the first and still one of the most impressive bands I ever saw in Tamworth, and Tim admits to being disappointed that they didn't make it to the big time.
"We kept trying for so long, and had such a lot of interest, that in the end we were possibly trying too hard, and just broke up and went our separate ways", he said.
After a short spell with Mr. Cyn, Tim decided to finally make the move to Canada, before Kraze stepped on looking for a replacement for guitarist Carl Anthony.
"They are a really good bunch of people, a tremendous band and I'm feeling a bit apprehensive about going now, even though I knew I was leaving when I first joined the band," added Tim.
"I wish them well and I'm sure they'll go from strength to strength without me," he said.
Judging from Kraze's last tremendous Arts Centre show, tonight's gig should be a real cracker of a party and personally I wouldn't miss this one for the world.
Support are the mysterious but terribly publicity-conscious L.O. Girls and if I was you I'd get there early for what looks like being one of the nights of the year. What with this and Wembley in the same week, can you stand the pace I wonder?
Report by MARTIN WARILLOW
Tamworth Herald – 12/05/89
Musicbox – Get set for some more (big) noises!
THE BIG NOISE return to blast the Arts Centre on Sunday with their very own brand of powerful guitar music. Lead singer Ben Machin has promised the band will be bringing their usual mass of followers (if she can make it!) Volatile stuff this!
They will be joined on the night by Shock Culture, Fudge Tunnel and the New Puritans – and all at the bargain price of £1. How can you resist? Be there or be somewhere else!
The New Puritans welcome trainspotters as usual - and with their new acoustic sound they claim they will "blow the audience's pants off". Could be interesting!
Nottingham-based Fudge Tunnel look set to convert a whole lot of Tamworth music lovers with a sound that has been described as indescribable. Noisy tunes, they say. Could be a great thing for the Arts Centre.
Finally Tamworth's most oft-seen sons of late, Shock Culture will be showing off their ripped jeans and jangly guitar sound complete with tambourines and a lot of energy.
It all promises to be a great night – so come on down at 8pm!
Preview – Helen Machin (No relation to Ben – HONEST!)
Tamworth Herald – 12/05/89
Musicbox – Festival meeting
DON'T forget this Sunday (May 14) a full meeting of all the bands interested in this year's Tamworth Rock Festival will take place.
The event pencilled in for Saturday July 15 and Sunday July 16 has attracted even more interest than usual this year with something like 50 bands in total registering interest in taking part.
As such we must warn all out of the area bands (ie those not in the Tamworth and Atherstone areas) that their chances of playing in the outdoor section of the festival are frankly nil. However, any bands from outside our zone who do turn up and want to play in the Arts Centre warm up shows will probably be accommodated and welcomed.
Sunday night's Tavern in the Town meeting (starts at 7.30pm) will give the first full line up for the outdoor shows which will then (if need be) be altered on the night to make a final line-up which will then be released. In addition we will be looking at the finances for the festival, the organisation and the promotion and any band that wants to play but can't attend must contact either Sam Holliday or Rikk Quay as soon as possible.
In Festival meeting terms this is the "biggie", if you want to play be there. Its on Sunday night at the Tavern in the Town top room and it starts at 7.30pm.
14/05/89
Big Noise
Shock Culture
Fudge Tunnel
New Puritans
Tamworth Arts Centre
Tamworth Herald – 18/05/89
Musicbox – Top 20 for Fest!
A provisional line-up for this year's Tamworth Rock Festival has just been announced.
Following a full meeting on Sunday night of all the groups interested in taking part in July's summer musical madness, a 20 band running order for the Castle Grounds has been worked out.
It shows a line-up packed with variety and musical excitement, one which combines the best of the older local acts with the crème of the newer, younger ones.
The only question mark before the final line-up was announced was over Dance Stance who had dearly wanted to play this year's event. Sadly it seems they won't be able to join the festival fun because of holiday commitments and so their place has been given to 'first reserve' Breaking Point who arrived late on Sunday for the meeting but had always been in the reckoning for a position.
As such the first official working line-up for the Tamworth Rock festival 1989 is as follows…
12.45…The Cuddly Spiders
1.15…Never Say Die
1.45…Stench
2.15…A5
2.45…Soil Brothers
3.15…DHSS
3.45…The Searching
4.15…Breaking Point
4.45…King Wodericks
5.15…Fetch Eddie
And, if possible at 6pm, a special headlining show by Wolfsbane if they are available.
12.45…Nightshade
1.15…Psychedelicatessen
1.45…Emma Gibbs
2.15…Rape In Yellow
2.45…Scream Dream
3.15…Catch 23
3.45…Kraze
4.15…First Conspiracy
4.45…Big Noise
5.15…Spiral Eye
And, once again if possible, Wolfsbane will close the day with a loud slot.
In addition to the above line-up three indoor shows at the Arts Centre are being arranged featuring a mass of quality local bands.
It's all getting very exciting so get ready for a fun, frantic Festival a mere seven or so weeks away.
Tamworth Herald – 18/05/89
Musicbox – Tim's Krazy goodbye…
Kraze – L.O. Girls – Tamworth Arts Centre
An emotional, enjoyable alcohol-laden party might of a gig mixed the farewell tears with big smiles as Tamworth said goodbye to Tim Latham.
As the entire Kraze contingent plus splendid support band L.O. Girls and seemingly half the audience piled on to the Arts Centre's tiny stage for a rapid blast through 'Ain't Talkin' 'Bout Love' it was hard to realise that the next time Kraze take to the boards, there'll be someone else wielding the axe and turning out those piledriving catchy riffs that make Kraze tunes what they are.
With no apologies for repeating myself, in the seven months Tim Latham was in Kraze, he turned a set that had the potential to be a winner to one that definitely was. They will miss him, and I sincerely hope the band pick themselves up. Get out there and march on to stardom.
And on the evidence of shows like this, they deserve it. Kraze have that great quality to sound devastatingly commercial without losing the diamond-hard-edge that rock fans want from their music. That is a winning formula that was patently obvious here, particularly in the spirited mid-set trio of "Caught In The Heartbeat", "Play Dirty" and "Sweet 'n' Sassy".
But everywhere else in the set, you can pick out potential greats, from "Dance Till Dawn" to the obligatory rock ballad "Love Me". They even do a drum solo these days, which is usually Yawnsville at the biggest gigs, but here was just the right length to make it worthwhile.
The sweaty hordes at the front loved it, the folks at the back who can never bear to be more than three feet from the bar loved it, and there was that rare thing at a Tamworth gig, THE AUDIENCE WERE ACTUALLY SINGING. Yes, all around me, hips were definitely moving and toes tapped as people joined in with their favourite raze ditty. That's how much Tamworth's rock contingent likes the band.
The ending was inevitably tear-stained and emotional as after a couple of encores and amid a fair sprinkling of dry ice, Kraze left the stage and all of a sudden, that was it. Good luck to Tim Latham in Canada and the very best of luck to Kraze as they try to replace him.
An honourable mention too for L.O. Girls, four well wasted rock 'n' roll veteran Londoners who brought to Tamworth possibly the only out-of-town vocalist I've ever seen who had between-song raps you could listen to. Despite (or maybe because of) the obvious Guns 'n' Roses influences they turned in a fine confident set and I thought deserved a bit more praise from the crowd, if only for bringing half of London up to the Arts Centre with them.
Review – Martin Warrillow
Rumour has it that One On One may be getting together again for a final Tim Latham show this Sunday as originally mooted and you are advised to check with the band on a date.
Tamworth Herald – 18/05/89
Musicbox – Some like it hot!
Wolfsbane have just made their first ever video.
The group produced the £50,000 video last week at the world famous Shepperton Studios to accompany what will be their first official British and American single.
As we can exclusively reveal this week, the single will be 'I Like It Hot' a relative Wolfsbane newie which will be released in advance of the album in America and just after it here in England.
The video was made with the same crew that recently produced Def Leppard's videos and according to guitarist Jase The Ace the whole thing was MOST exciting.
"It was great fun making the video and we learned a lot from it," he said. "We spent a day on a massive stage at Shepperton with all the big lights pouring down on us and the video will be supplemented with various shots of us around London."
The band don't expect to see the final video for many weeks and the actual date of the album is still a mystery.
" know what I used to think when bands delayed their albums and we are now finding out what it is like at first hand. There is so much to do before you can get the record out but obviously the sooner it comes out the better as far as we are concerned."
Although they will almost certainly be Stateside at the time of the Tamworth rock Festival, Wolfsbane have promised to play the event if they are in Britain. In the meantime keep your eyes out for the 'hottest' video in town…
Tamworth Herald – 18/05/89
Musicbox – Curiouser and Curiouser
Tamworth Arts Centre opens its doors on Sunday night to a top-class out-of-town line-up set up by Bedworth band Curious Oyster.
The Oyster boys (and girls) made quite an impression at their debut Arts Centre show and they hope to build on that on Sunday with the help of headliners Reunion and Big in Texas.
All three have a loosely alternative feel and are keen to attract a healthy sized local audience. Incidentally Curious Oyster are playing a Coventry Poly gig on 25 May and anyone who buys a ticket for just £2 will receive a free copy of the band's excellent new demo.
Tamworth Herald – 18/05/89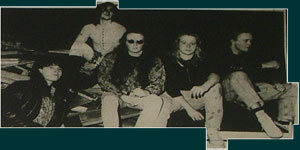 Musicbox – The French Connection
SCREAM Dream have just grabbed a tasty slice of the international action. For the five piece cult (or is that Cult?) act have been booked to take part in a major European festival at the start of August.
The group will join three other British bands at the Lyons (France) festival on August 5 in front of an estimated 25,000 strong crowd.
The band earned this marvellous trek after their tape was eagerly snatched up by a European agency. They agreed to out the band on at Lyons in what has become recognised as a very popular outdoor event.
"This is obviously the biggest thing that has happened to the band and we are all delighted," explained guitarist Paul Keeton. "We are going to be playing in a massive bullfighting arena which last year was full of Europeans dying to hear good British music."
The concert will give the band not only their biggest ever gig but also their first major taste of the high-life. They will be flown out to France and will be put up in a hotel during the course of their stay. It all sounds too good to be true, but the group have the contract to prove it.
"It is all a bit unreal at the moment but we have it in black and white and so everything is finalised. It should be a great weekend.
," said Paul.
Local fans will be able to catch Scream Dream a little closer to home in the next couple of months. On June 2 they play the third "Scum Ball" gig at Tamworth Assembly Rooms up with DHSS, Flowers in the Attic and Sheffield band The Edge Of Faith.
Scream Dream follow this on Sunday July 16 when they play on one of the major slots at Tamworth Rock Festival. And then it is off for a bit of 'ooh la la!"
Tamworth Herald – 18/05/89
Musicbox – Musicbox Letters
Dear Sam Holliday
Despite living over 150 miles from dear old Tamworth I still read 'Musicbox' regularly as I have it posted to me. Thus I am able to enter the April 21st competition (albeit probably too late!) and comment on another article in the same edition.
The answers to the competition (1) Billy Duffy (2) Ian Astbury and 'The Cult' are better than the Stranglers because they had a photo in 'Musicbox' recently and the Stranglers didn't. That can be rectified – Editor.
Re: Keb of Dosthill's letter, and the recent Big Noise etc. gig. This was an excellent gig, once more confirming the quality of Tamworth's local music scene, but why no coverage from the Herald. If new bands are to become established then they must receive some publicity. Musicbox reaches a wide audience within the Tamworth area, so come on 'Musicbox' support our local bands and review some more gigs!
Yours bored with the naff bands of Swansea.
Michael Barton (Swansea University)
P.S. Flowers in the Attic were excellent, especially their dynamic bassist.
Dear Sam,
I wish to refer to the letter printed in the Musicbox on May 5th, written by 'L'.
'L' said that Shock Culture's vocals were fantastic and the cover version extremely well done.
I would like to suggest that 'L' is the singer member of the band, relative or a sleeping partner.
Ken from Dosthill's review on Shock Culture speaks for most of Tamworth music lovers who know the band.
Love,
Nick Danger
Dearest Sam,
I am really sorry but I have got to issue a complaint! I've always thought you were a reasonable person, but it cannot be. I expect you want me to explain.
It's about The Cult Competition you see. You received just two entries (one being mine). Two whole entries! Would it have broke you to have dished out two prizes!! Instead making the unwinner (being me) desperately unhappy!
You see Sam, there's a thing called being 'skint', yes we have all experienced it at one time or another and when you are skint you are unable to buy these few pleasures in life, to me it meant I couldn't buy 'The Cult's new album.
I was truly saddened to find out it was given to someone else especially as it's called the 'Tamworth Herald' and the winner lives in Atherstone. If you won't hand over another album (which I thought you'd be glad to get rid of) then I'll settle for accidentally-on-purpose being the winner of your next 'good' competition – how's that sound?
One thing I was glad about was finding out that a 'Rape in Yellow' man opened my letter – which one though? Me and my mate Paula really like them coz they were the first band we ever saw live at 'The Scum ball' March '88. Well, All for now.
Jenny, Medway, Belgrave Miners Welfare Club
P.S. Well done to all of Catch 23!
Musicbox replies: To the idea that Musicbox doesn't cover 'local music', I say ha-ha! To the idea that we have a Musicbox reader in Swansea, I say yum-yum! To the idea that a few people out there don't like Shock Culture I say boo-hoo! To the idea that Jenny was the next prize I say yes-yes! Sam Holliday
Tamworth Herald – 18/05/89
Musicbox – Gig Review
Fudge Tunnel/Big Noise/Shock Culture/New Puritans – Arts Centre
Fudge Tunnel
LOUD and very rude! Great guitars, great music, this thrash/metal sound went down a storm with the Arts Centre crowd – it was Fudge Tunnel's first appearance in Tamworth and it doesn't look like their last. But what happened to the vocals.
Big Noise
More big noises from the band who know how to make them including two new songs – "Can't help myself" which was BRILLIANT. Their other newie "Volatile" was not so ho, but the powerful "Crawling up the wall" plus the Arts Centre fave – their cover of "Pump It Up" ensured that Big Noise made another big impression in Tamworth.
Shock Culture
WHY oh why do they do cover versions when their own songs are so much better? "Tumbledown" and "Six Ways" were fantastic, but their "Going Underground" was very disappointing. Not that their huge following would agree with me though.
New Puritans
FANTASTIC. I've only seen these once before, but I'm now a conformed follower – even down to buying their demo "No Such Chance" was definitely the song of the night. If you haven't seen them yet, you are definitely missing out. And by the way, Ben and Carl those wigs don't fool anyone and don't pretend it's for tax reasons.
Review: Helen Machin
21/05/89
Mr Cyn
Curious Oyster
Big in Texas
Tamworth Arts Centre
Tamworth Herald – 25/05/89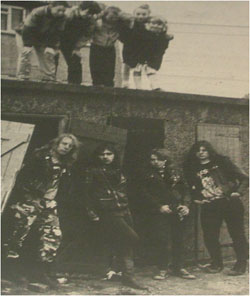 Musicbox – Wolfs live fast, but not just yet
Wolfsbane with their 'younger fans'
Tamworth's biggest band Wolfsbane are back in Town again at the moment taking a well-earned break before a summer of musical madness.
For at the start of July the band's debut album entitled 'Live Fast, Die Fast' will hit the streets in album, cassettes and CD format and will be followed by a major tour both here in Britain and abroad.
Excited record company chiefs believe the album will be a smash success in the UK and state-side and Def American's key personnel have promised to make a visit to Tamworth if the album achieves the hoped for platinum (i.e. one million sales ) status.
The idea of Wolfsbane selling a million albums is really quite breath-taking but the band are just taking everything as it comes.
"Its all good fun at the moment and we are delighted with how the album has turned out," said drummer Steve Danger. "The sound is pretty amazing."
The record looks set to feature six tracks per side and will include the new single "I Like It Hot", several other new tracks and one or two golden oldies like 'Manhunt'.
The band are currently on pretty much of a high after a tour of Britain which has just been concluded. Several big shows stood out, but it was the unique atmosphere of Belfast which the Danger-man will remember most.
"The Belfast gig was excellent. It had a really strange atmosphere yet once the people at the gig got in to what we were doing they went crazy. I don't I'd want to live there but it is certainly the sort of place everyone should visit," said the Wolfie sticksman.
The band's future plans include a lot of drinking in the Tavern in the Town followed by serious rehearsal (see separate story) in advance of their biggest ever tour to promote the album.
It all adds up to an amazing time but what makes it so exciting is that things can only get better when we finally get our grubby hands on the first ever Wolfsbane album.
Sam Holliday
Tamworth Herald – 25/05/89
Musicbox – SNIPS

WANTED – a rehearsal room now!
WOLFSBANE are desperately searching for a new rehearsal room where they can base their Tamworth operations. The band want a good sized room where they will be able to practice regularly and lock their stuff away when they are not around.

Tamworth Herald – 25/05/89
Musicbox – SNIPS
CATCH 23 have been in front of the cameras AGAIN! For on Sunday morning Steve, Jase, Nick, Ray and Neil were at the BBC in London being filmed for the next series of the 'What's This Noise' show which goes out on BBC2. The Catch boys were picked up by a BBC producer who thought they were pretty splendid and put them on the youth pop show alongside 'slightly' bigger acts Texas and Aswad. One thing Catch 23 aren't going to be the end of this year is camera shy…
Tamworth Herald – 25/05/89
Musicbox – SNIPS
An experienced bassist is wanted for a top quality 50s/60s rock and roll band who do a lot of club work. Experience and enthusiasm are essential.
Tamworth Herald – 25/05/89
Musicbox – SNIPS
Breaking Point as was are no more. Members Daydo and Kevin Briggs have now teamed up with Eddie Madden and Batman (ex Terroah) for an all new band who will make their debut at the festival in Breaking Point's slot.
Tamworth Herald – 25/05/89
Musicbox – SNIPS
What's This Headsdown Mindless Boogie About Nothing and Stench are among the latest bands to send demos to the Herald for review. Unfortunately space (in the paper and between my ears) is limited so we would ask people to be patient about seeing these reviews.
23/05/89
Big Butty and the Wide Boys
Tavern in the Town
Tamworth Herald – 25/05/89
Musicbox – SNIPS
Buttercup whose debut single 'Can't Get My Breath' has just been released to an unsuspecting world, has just made a video. Big Butty and the Wide Boys were due to make the celluloid nightmare at the Tavern in the Town on Wednesday night. Heaven help us all.
Tamworth Herald – 25/05/89
Musicbox – SNIPS
Spotted by these eyes last week is the admirable news that Corvettes Winebar is to broadcast the 24-hour-per-day satellite music channel MTV most evenings of the week. As someone who has watched MTV a lot I can tell you no other youth/music thingy comes close so Corvettes may well be worth a trip or two.
Tamworth Herald – 25/05/89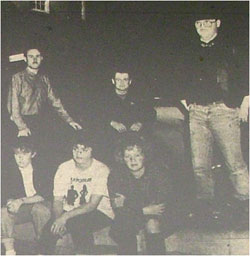 Musicbox – A5's Wilko boost
A5 who have made quite a name for themselves n Northamptonshire of later, have secured a prestigious support slot next weekend.
For on June 3, A5 who are one of our most endurable and long-staying outfits, will team up with legendary r and b rocker Wilko Johnson in a concert in Northampton.
Wilko, who has a string of successful solo works to his credit, will headline the gig at Roadmenders in Northampton and A5 are expecting a good turnout after recent gigs in the area produced quite an A5 appreciation society.
"We regard this as probably the biggest gig we have had," said drummer Steve Hayes. "We are all looking forward to it and we are confident that it might lead to other things in the near future."
The band will be taking a coach down to the show.
Tamworth Herald – 25/05/89
Musicbox – Take your pick!
LAST week we printed a review of the Shock Culture/Big Noise and New Puritans show. In the same week no less than three alternative reviews/letters appeared on the gig, and as I am always trying to open this column to readers, I am using two of them. Right, fire away…
Dear Sam,
I am writing to you to give you my review of the 'Trainspotters' concert at the Arts Centre on Sunday June 14th with Fudge Tunnel, The Big Noise, Shock Culture and The New Puritans.
First on stage was Fudge Tunnel providing an original underground sound, comprising of a lot of feedback which they managed to keep in key with the rest of the music.
Not bad for a first gig, but unfortunately did not go down too well with most of the indie-inclined audience.
Next on were the Big Noise whose set was a bit weak to start with but became a lot stronger further into the set.
Biggest disappointment of the night were Shock Culture whose 'jangly' set merely irritated the more discerning music fans. Although they got a good response from the audience I do believe this is because most of them go to the same college as Shock Culture!
Headlining for the first time were the New Puritans. When they started with 'The second before you go' and 'No such chance' they proved that they are losing The Wedding Present sound and are starting to sound like the New Puritans at last. The Wedding Present covers were covers and not rip-offs and their new song 'So lonely' was the most original sounding to date. The audience were picking up on the electric atmosphere the Puritans were creating, and they loved it, and for the first time since I have been going to the Arts Centre people were dancing.
A fun night out for all the family, that is if they're not trainspotting!
C. Kennedy
Sam,
This was supposed to be a review of the pop kids gig on Sunday, but it's just going to be 'put my Shock Culture brother down time'. His vocals were just so weak they barely tripped out of the P.S. I'm sorry at having to use your column as a source to put my brother down, but if he will storm from the dinner table saying: "I just do gigs for myself," roughly translated as: "I can't take this constructive criticism I'm leaving" then he leaves me no choice!
Well for the rest of the 'fashion' victims performance: Mar 'the bass thing' played another faultless set while Gaz on guitar had a nice shirt and Morrissey haircut: Lorna, for God's sake smile!
The set overall wasn't as tight as it should have been but there was a nice touch when Steve 'Up the Baggies' Webster joined in on the cover of 'Going Underground' – come hanging on.
If you are into the Stuffies, which I am, so it still remains a classic. Nice cover.
A little cryptic ending. Baz take mom's advice take those lessons she is paying for. Finally, 'well done Jane – it wasn't bad was it'.
Yours shockingly,
Mars