Tamworth Bands History : 1989 :
January
05/01/89
1988 – Sean Atkins reflects on events
Tamworth rock band Wolfsbane went to Los Angeles to record their first album with American record company Def-Jam, while Atherstone's Catch 23 come third in the TSB Rock School competition and DHSS were chosen as support band at one of Sigue Sigue Sputnik's December shows.

Tamworth Herald – 06/01/89
Musicbox – The bands they are-a-changing

A5 – Greatest Hits Demo
WHEN a local band is able to put together a strong and varied 11 track greatest hits cassette, you know they have been around for sometime
A5, in their various guises have been around for at least five years now and although their sound has diversified and matured during that time it has always retained that basic individual style that makes it immediately recognisable and immediately accessible.
This unique and enterprising package shows the band for what they are – a determined and persistent outfit oblivious to outside trends and fashions and capable of producing moments of poignant songwriting skill.
It is not by all means brilliant of course. The early tunes do seem a little overtly complex and repetition is creeping into their latter material, but there are still moments of real quality. The best three to these ears are 'She Called The Storm' (from 1984 and a complete stunner), the naggingly catchy 'Exposure' and best of all the triumphant 'Society Girl' from 1987 which sounds all the world like Killing Joke to me.
The best thing of all about compilation tapes however is that you may feel totally different. There are, after all, 11 tracks to sift through to find your faves and I guarantee you will have a good time doing so. An interesting and ambitious idea this from a band whose staying power means that the second greatest hits package should be around in another brief five years…
Review by Sam Holliday
Tamworth Herald – 06/01/89


Musicbox – The bands they are-a-changing

Catch 23 – Hangin' On Demo
JUST take a good look at the fresh-faced chappies pictured here. Could you have honestly believed that one day they would go on (minus guitarist Dave Stevenson on the left) to produce music that would make your knees tremble? Well, I remember thinking at the time of the photo that they had a real something but I didn't realise until quite recently just how much 'something' they really had. Put in a nutshell, this is a work of classic pop music – a four track tape so full of quality and excitement you could throw it at the charts and it would stick there for weeks. The four tunes are so different and so wide ranging in their pleasurable touches that it is no surprise that the band have been struggling to find an image that really suits their music. 'Hangin' On' (mine AND your favourite toon of 88) is just pure, unadulterated pop in the Undertones/'All Mod Cons' vein while the soft and skilfully pre-meditated 'Don't Tell Me' is the nearest thing to a tearjerker that any local band has ever produced. Elsewhere the ears perceive 'Catch this', the band's first and major concession to The World of Dance. This punchy piece of Frankie Goes To Atherstone will surprise a lot of people (it certainly shocked me) and it has the sort of melody and beat that puts it clearly in The Clash's own 'Hitsville UK' pseudo-paradise. Talking of The Clash the tape concludes with the sparkling 'Gotta Get Out Of Here', a song which seems to have walked straight off the Clash's marvellous 'Sandinista' collection with its white reggae/light punk touch and an inspiringly good tune. It will, I feel be a major live favourite and a major shock to even the most seasoned of Catch 23 listeners. A demo of many wonderments, one of the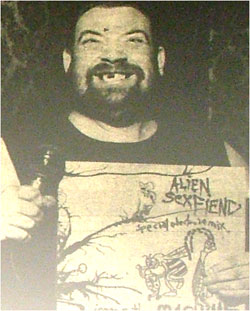 best this scene has ever produced and one which would have seemed impossible from a band who once looked like they do below…Funny old world innit.
Review by Sam Holliday
Tamworth Herald – 06/01/89
Musicbox – DJ of the Year '88
THIS horrible photo has been sitting around on my desk for weeks. When I sent photographer Paul Barber to take his DHSS pics at the Tavern, Butty grabbed hold of him and demanded that he took this sexy photo. Since then he has badgered me to death to print his picture and so reluctantly this week I do so. Ladies and gentlemen – the local DJ of 1988. Big Butty!!
Tamworth Herald – 06/01/89
Musicbox – 'LoveBOX' strikes again
OVER the last five years or so I am delighted to say that MUSICBOX has got masses of musicians in contact with each other to form masses of bands.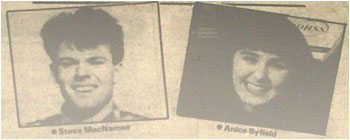 But tomorrow (Saturday) we claim a first – a love union no less. For on Saturday Steve MacNamee (Soil Bros) will officially be engaged to Anice Byfield (DHSS) after they were first introduced by one Sam 'Dateline' Holliday at a recording of TAMAID. Since then it has all been wine, roses and Nukey Brown Ale and very soon Anice will become Mrs. MacNamee. In wishing both of them very much luck, I also declare 'LoveBOX' open and I am now trying to find a match for a certain Tavern disc jockey printed on the right. OK gals it's over to you.
Tamworth Herald – 13/01/89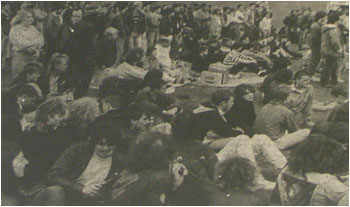 Musicbox – Let's get festive!

THE Tamworth Rock Festival 1989 is officially launched on Sunday night.
Yes, no sooner have you got rid of the Christmas hangover, then here we are again planning the major musical treat of summer '89.
This will be our fifth successive Tamworth two day festival and if you want to get involved again then we want to see you on Sunday.
For in our usual highly democratic style we are calling a meeting on Sunday night at the Tavern in the Town and all the groups who want to be featured in the festival are urged to turn up.
This applies not only to established local bands but to any groups who have only recently been formed who think they may be ready to take to the Castle Grounds stage this summer.
Before those glorious two days arrive however there is a great deal of work to do.
Finance must be sorted out, line-ups must be put together, marketing must be arranged and so on. And in case you don't know ALL of that is done by the musicians of the area themselves who band together in a unique and exciting way to create the annual festival.
This year we are hoping to have an early showcase for the event with a four week indoor festival at the Tamworth Arts Centre. In recent years this has taken the shape of a 'Battle of the Bands' but this time we are knocking the argument-causing 'battle' angle on the head and just having four different fundraising shows which will run on consecutive Sundays in February and March. The make-up of these four shows which should prove very good news for local gig goers, will also be discussed on Sunday night.
Effort
As well as groups we will also be looking forward to seeing anyone on the night who may like to help get the festival running on a smooth course. If you are interested in giving up your time, effort and credibility to help make the Festival '89 a major success then pop along to the Tavern on Sunday night and much joy awaits you.
The meeting on Sunday night is in the upstairs room of the tavern and starts at 7.30pm. If you want to be included in the festival plans but can't get along to the meeting please contact either myself, Sam Holliday, or Rikk Quay in advance but obviously the more people we see on the night the better.

Tamworth Herald – 13/01/89
Musicbox – SNIPS, SNIPS, SNIPS
Tamworth ponce-rockers Wolfsbane earned some amazing press coverage last week. The group were featured in a four page, colour interview in 'Kerrang' and in the same edition of that mag nearly every single one of the paper's writers named Wolfsbane as the band to watch next year. One chap said they would go on to destroy both the USA and the UK, another said they would be the biggest metal band of 89 and so on. Also in 'Sounds' last week the Wolfies were chosen as one of the bands to break in 89 and it all adds up to a massive vote of confidence from the nation's metal scribes. I find it all most cheering but not nearly as funny as all the local people who are suddenly claiming that they ALWAYS knew Wolfsbane would make it and they ALWAYS liked them. At my recent New years Even musicians party at least two old Wolfie-baters came out with all this 'what a great band' nonsense and I could hardly hide my smile. Amazing what a bit of fame does to people's memories.
Tamworth Herald – 13/01/89
Musicbox – SNIPS, SNIPS, SNIPS
The Space Seeds head for the sea-side this weekend when they play two shows in Morecambe. The band are in action at two big venues, one of which is the biggest in the Morecambe area. The band have also been booked in for an Arts Centre show in mid-March but they may be on view before that at the Indoor Festival currently being planned.
Tamworth Herald – 13/01/89
Musicbox – SNIPS, SNIPS, SNIPS
Fetch Eddie who were delighted with their fifth position in this MUSICBOX Poll, have announced three more dates on the road to inevitable world conquest. On January 13 they are at Newman College, Bartley Green on January 15 they are at The Cod Club, Birmingham and then on 21 January they make the short journey to play at Lichfield Arts Centre.
Tamworth Herald – 13/01/89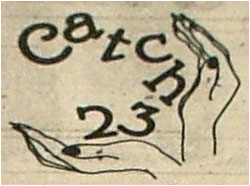 Musicbox – SNIPS, SNIPS, SNIPS
Catch 23 have won through to the regional final of the TSB Rockshow competition for the third year running. The five-piece act have been chosen as one of the seven best Midlands/Wales school age bands once again and they will aim to blast their way through to the Grand Final at the Dome on Monday January 23. Last year the band won through to the national final and finished an excellent third and this year with improved confidence and improved songs they are hoping to go even better. MUSICBOX will of course keep you posted.
Tamworth Herald – 13/01/89
Musicbox – Letters to Musicbox
Dearest Darling Sam Holliday,
HELP ME please! I want to be a singer (no, not a sewing machine foolish person), I feel that I can contain myself no longer, I simply MUST sing.
My musical tastes are all encompassing (y'know Chopin to the Cocteau Twins, that kind of thing). Anyway, I would like to put together a band that plays intelligent songs with a savage Funky edge (Woorrgh!!) sort of 'Talking Heads' meets 'James Brown' (though not in prison!). Get the picture?
So therefore, I was wondering if (grovel, grovel) you could (creep, creep) find it in the heart of your bosom (and I'm sure it's a jolly nice bosom!! – as bosoms go!!!) to give me some space in Snips. Ta very much.
I would like to hear from a nasty bassist, a hot rhythm guitarist, a funky drummer, an outrageous keyboard player and finally, a well-raucous trumpet or saxophone player.
Anyone interested can contact me, Martin.
P.S. Why don't you ALWAYS get a full page then eh??
Tamworth Herald – 13/01/89
Musicbox – Letters to Musicbox
Dear partygoers,
I HOPE you all enjoyed my fab New Year's Eve Wolfsbane welcome-home party. I did, to an enormous extent, and the only thing that marred proceedings for me was that someone out there in Rock and Rollville 'borrowed' my video of the wonderful 'Casablanca' film with Humphrey Bogart. As I am sure you have now had time to watch it, perhaps you would be so nice as to let me have it back, with no-questions asked? Just drop it in at The Herald and you are forgiven forever!
Love
Sam Holliday (no relation)
20/01/89
Italian Band
Doodlebug
Tamworth Arts Centre
Tamworth Herald – 20/01/89
Musicbox – It's D-Day for the Catch Boys
CATCH 23 begin the quest for national glory again on Monday when they take part in the regional final of the TSB Rockschool contest.
The Atherstone popsters will be in action at the Dome against six other top school-age rock bands throughout the Midlands and Wales.
If the Catch-boys go on to win the event they will appear for the second year running in the national final at Bradford where they will be chasing major prizes and a guaranteed slot on tv.
The band will have just 12 minutes to impress a celebrity panel on Monday and they are likely to fill that time with three original compositions.
Dance track 'Catch This' will probably open the set followed by new ska-influenced number 'Gotta Get Out Of Here' and the proceedings will be wrapped up with the MUSICBOX song of the year 'Hangin' On'
More than 100 Atherstone people are expected to make the trip to the Dome to cheer Steve, Ray, Nick, Neil and Jase on and MUSICBOX will be going with them.
Win or lose we will give a full report in the next couple of weeks. Watch this space.
Tamworth Herald – 20/01/89
Musicbox – A Fab Feb ahead!
TAMWORTH's rock fans are in for a real treat throughout February when the Arts Centre hosts a sparkling indoor festival.
Three top quality concerts will be on offer featuring the best of the area's older acts and some brand new local talent.
And to top off the whole indoor extravaganza it is hoped that Wolfsbane will kick off their major UK national tour by concluding the festival on Sunday March 5.
Plans for the indoor festival were sorted out on Sunday night when Tamworth's main outdoor festival for 1989 was launched. Once again a huge crop of bands registered interest in the 89 outdoor festival and at least 14 of these will be involved in the indoor festival in February/March.
At the moment the line-ups are strictly provisional but here they are as they stand at time of going to press. Please note the line-ups could change dramatically and you will have to keep reading this column to find out exactly who is playing and when. Assuming everything does go according to plan here are the line-ups for Tamworth's 1989 Indoor Rock Festival.
Sunday February12
CATCH 23 will headline with the support of one 'oldie' Emma Gibbs Loves Badges and two 'newies' Big Noise and Shock Culture.
Sunday February 19
SCREAM DREAM will headline with Mike Fleming's act Nightshade and two relatively new acts – The New Puritans and Double Vision.
Sunday February 26
DHSS will top-off a line-up featuring The Space Seeds, Never Say Die and King Woderick.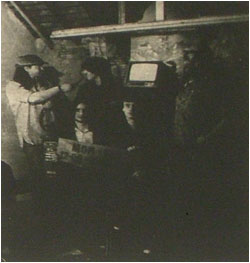 Sunday March 5
WOLFSBANE (contract permitting) will kick off their UK/USA tour by headlining alongside Spiral Eye and Kraze. If the Wolfies can't make it Spiral Eye and Kraze with team up with A.N. Other band.
As you can see from the above, many new bands have already emerged for this year's festival and in addition to those listed look out for several other new groups who have set their sites on the Castle Grounds for July.
In the meantime, pencil the above dates in your diary now. With the first three shows all the money raised will go towards the outdoor festival so they are vital fundraisers as well as tremendous concerts.
All the line-ups will be finalised in the next few days/weeks so keep your eyes peeled on this column. This indoor festival will prove a very exciting sampler for what you can expect this summer so get set for a Fab Feb and hopefully a marvellous start to March.
Tamworth Herald – 20/01/89
Musicbox – Arts Centre goes Italian!
Tamworth Arts Centre throws open its doors on Sunday to two top-quality out-of-town bands – The Italian Band and Doodlebug. It starts at 7.30pm.
Tamworth Herald – 20/01/89
Musicbox – Snips
Nightshade are on the lookout for a new female backing vocalist. The ideal candidate should preferably have some instrumental ability and if you want to find out more the person to speak to is Mike.
Tamworth Herald – 20/01/89
Musicbox – Snips
DHSS are hoping to make some capital from their recent Sigue, Sigue Sputnik support slot. As you may remember they were chosen for the supporting position because their tape was voted the best of nearly 200 by Sputnik agent Rob Hallett. It means that this incredibly tasteful man is now setting up his own record company and if so DHSS could be heading for mega-glamour at last.
Tamworth Herald – 20/01/89
Musicbox – Snips
Among demos which have just been recorded or are in the process of recording are The First Conspiracy, The Searching, Big Noise and King Woderick. Reviews and more details as and when we get them.
Tamworth Herald – 20/01/89
Musicbox – Snips
Hot-news, mega-snippet lovely-gossip bit here. It seems Wolfsbane are being lined up as possible support for the forthcoming major tour by The Cult. Knowing the enormity of the Cult's following this could mean Bayley's Bad Boys playing the likes of the NEC and Wembley. It's only a rumour at the moment but if it comes off remember where you saw it first. If it doesn't forget where you saw it first okay!
Tamworth Herald – 20/01/89
Musicbox – STOP PRESS
Fetch Eddie's concert at Lichfield Arts Centre is on January 27th and not the 21st as previously mentioned.
27/01/89
Fetch Eddie
Lyve
Lichfield Arts Centre
Tamworth Herald – 27/01/89
Musicbox – The Action Men Are Back!
RAPE IN YELLOW return to live action again next Sunday (Feb 5) when they team up with three other acts at a special Arts Centre show.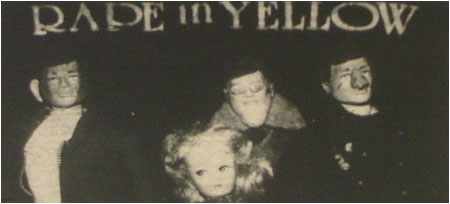 With Indoor Festival gigs dominating the rest of the Sunday's in February it means that no-one can complain about the lack of good music on the near horizon.
Next week's line-up (which should be confirmed in the Herald of Feb 3) should feature Rape in Yellow, King Woderick ad the Yogots, Psychedelicatessen and The New Puritans.
For Psychedelicatessen it will be a real relief because they were due to be at the Arts Centre this Sunday under their own steam but that gig has now been cancelled.
Rape in Yellow meanwhile will see the gig as a launch pad for a busier next few months which includes the recording of a brand new demo with the assistance of former Terroah men Pete Wright and Batman.
Rape in Yellow's action men and Cindy squad are pictured above.
Tamworth Herald – 27/01/89
Musicbox – SNIPS
Two of Tamworth's most popular bands Fetch Eddie and Lyve will attempt to win over the Lichfield crowds tonight (Friday). The rather unusual pairing of the king popsters and the metalmen (and women) is further supplemented by the inclusion of r and b outfit The Sleaze Bros inc. The Sleaze Bros are a Lichfield based outfit who have a string of successful home town shows already under their belts. A good-looking line-up this, costing just £2 (doors open 7.30) at Lichfield Arts Centre.
Tamworth Herald – 27/01/89
Musicbox – SNIPS
A Bedworth-based alternative band who are desperate to find a band to support in Tamworth, have contacted MUSICBOX. The group, Curious Oyster, play music influenced by The Cure, The Banshees and The Cocteau Twins and they are finding it very difficult to find gigs in their own area. They would dearly love to play Tamworth as a support act to any band that thinks they might pair up with them nicely so keep this number by you.
Tamworth Herald – 27/01/89
Musicbox – SNIPS
Tamworth's Drugline Service are to have a tent at this year's Tamworth Rock Festival. Any other groups or organisations who feel they would like to be on site at the festival should contact either myself, Sam Holliday or Rikk Quay.
Tamworth Herald – 27/01/89
Musicbox – SNIPS
Don't forget Catch 23 took part in a major Midlands rock contest on Monday at the Dome and will have a full report on how they did in next week's paper. Nearly 200 people were travelling from Atherstone to cheer them on which proves that their second position in the MUSICBOX poll was no fluke.
Tamworth Herald – 27/01/89
Musicbox – SNIPS
The proposed Arts Centre gig this Sunday (which had to be cancelled) would have featured Psychedelicatessen, Hallelujah Tribe and The Black Shirts, the latter of whom should do something quick about a disgustingly Nazi-style name.
Tamworth Herald – 27/01/89
Musicbox – SNIPS
Punch and Judys unveil a new pop project on Wednesday night. For the next six weeks a trio of different singers/musicians will play special alternate solo shows at the Lichfield Street based pub. It starts on Wednesday with guitarist Ken E. King, continues the following Wednesday with Steve Martyn and is proceeded seven days after that by Jay J Kane who will be performing everything from Pet Shop Boys style music to traditional sixties material. A new idea for Punch and Judys and something to bear in mind if you're looking for Wednesday night entertainment.
Tamworth Herald – 27/01/89
Musicbox – SNIPS
Breaking Point have auditioned former Terroah and Dream Factory drummer Batman. The band, who have had stacks of drummers in their five year history, were very impressed with Batman's stickwork although it is not known whether he will be able to be a permanent addition.
Tamworth Herald – 27/01/89
Musicbox – Win an A5 compilation tape
MUSICBOX is this week offering a unique tape for local music fans to win. The tape 'Then 'Til When' is a 13 track compilation of the best of A5 from 1984-88. The band who have consistently entertained and excited still hold a lot of affection with local gig-goers and if you want to find out why then this is the tape for you.
Tamworth Herald – 27/01/89
Musicbox – A Bogey Solution
Dear Sam,
I would like to put my band's name forward for the Tamworth Rock festival, the band's name is Chemikill. We are also on the lookout for a singer, so if you could help us in finding someone we would be very grateful. We play Power, Thrash Metal in the vein of bands like Slayer, Metal Church , Nuclear Assault.
The band's line-up is as follows: Gaz – bass; Chris – drums; Ant – guitar.
We don't care if the vocalist is male or female, but we need someone who likes a challenge and who is not going to waste our time.
The quicker we find a vocalist the quicker Tamworth gets a band who put out the real stuff to 'mosh' to. So it's up to the Tamworth/Lichfield people who moan they haven't seen nothing new and are bored with the scene at the moment, so take up the challenge.
Interested? Phone Ant.
Dear Sam,
Hello! About that competition, you know 'Win a Rush Album'. Well I'd really like to tray and answer one question.
Well at first I thought it was Bros, but after three hours of hard thinking (no my brain never exploded!), I realised that there are only three lads in Bros and you wrote four names, now isn't that clever!
Well I'm pretty sure they aren't from Bananarama so I just thought of a really god band and came up with Wolfsbane, is that any good?
Well goodbye. I hope the LP will soon be on its way to me!
Finally, would you also do me a big favour and say hello to Paula and Dave in your snips column pleeze from Jenny! Go on coz I think you're Ace. Creep, creep!!
Yours,
Jenny Preston
Medway, Belgrave Miners Welfare Club
SH – Creepiest letter of the week – but it still didn't get the album! Keep those letters (serious, funny/ creepy or stupid) coming, because it saves me having to write stories.
Dear Sam,
Sorry to hear you had your video of 'Casablanca' nicked! If (as seems probable) you don't get it back, I have a copy you can borrow if you like. Let me know if you're interested. The tape is VHS.
Yours sincerely,
Paul Evans,
Wilnecote Community Centre
SH – Thanks a million but I will be patient!